Your kids can have more spooky fun this Halloween with these Halloween food ideas for kids. Enjoy these recipes for more ghoulish snacks, appetizers, desserts and more!
Halloween is for everyone. But we all know kids go nuts for this spooky Halloween! Fun Halloween treats are essential as is a great costume.
All parents know these nights can get hectic. That's why easy Halloween treats are key. On this list, you'll find plenty of cute Halloween food ideas to enjoy this festive Halloween with your little ghouls.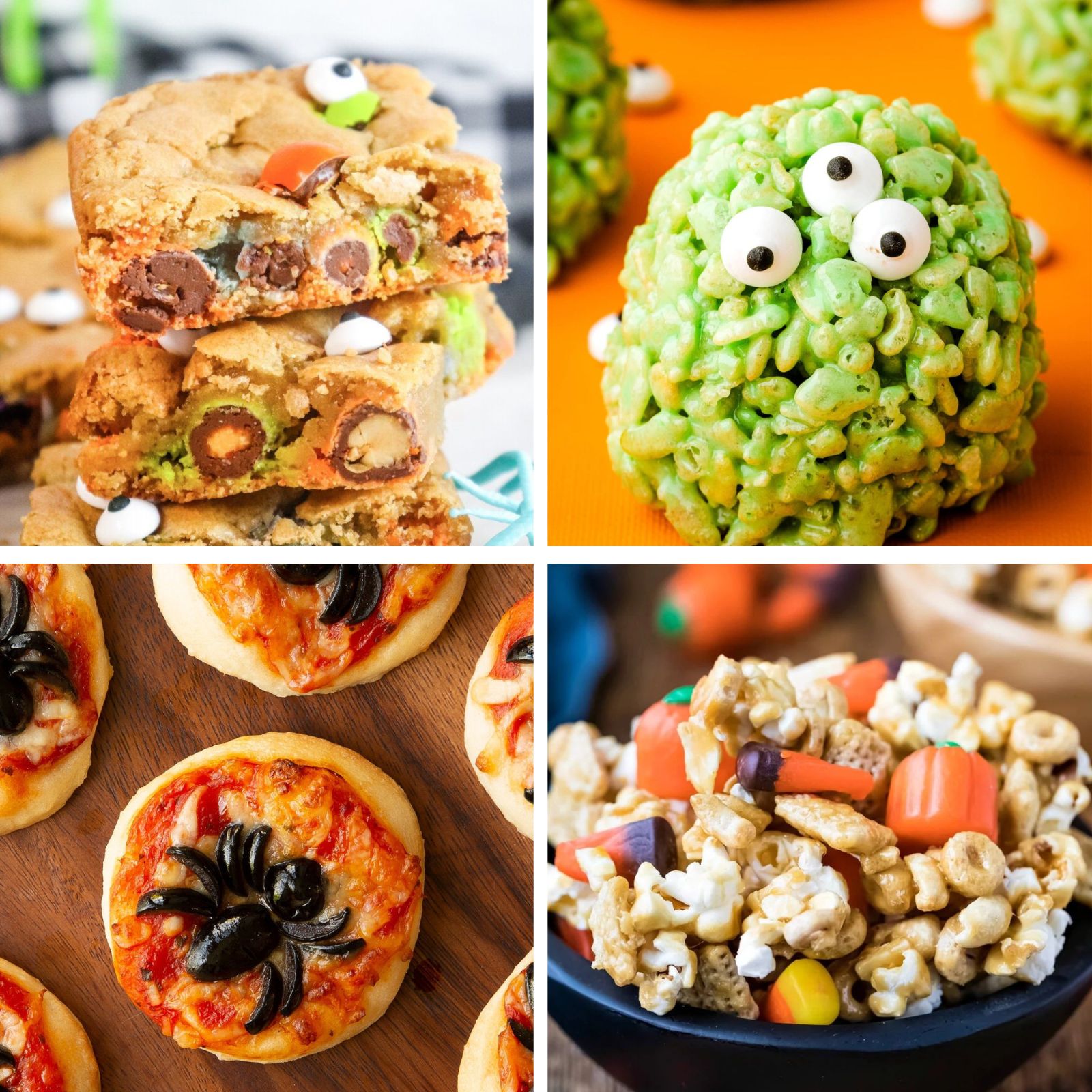 What Should Kids Eat on Halloween?
Halloween is well-known for being a candy-filled day. So, how do you ensure your little one has a balanced night while still enjoying a fun treat?
Introduce some well-rounded foods into their Halloween diet like a healthy Halloween snack.
What Kind of Food Do You Serve at a Halloween Party?
Keep the kids happy with simple fun Halloween snacks that play on the spooky theme. A big sit-down Halloween dinner is a tough party choice, especially when little ones are involved.
So, are you ready for this bone-chilling list? Dive into forty-one Halloween food ideas for kids to enjoy on the spookiest night of the year!
Fun Halloween Food Ideas for Kids
Halloween is the best night of the year to do themed food with spooky vibes. There are many ways to make your food a little frightening. From mummy meatballs to spooky gnocchi and strawberry ghosts!
Check out just a few of these sweet treats below!
Source: inthekidskitchen.com
Embrace the black and orange theme with these adorable Halloween marshmallow pops. These are super easy to make and even easier to eat. Your little goblins will love the crunchy and soft textures!
Grab some broomstick-style skewers, or pretzel broomsticks to complete the Halloween look!
Source: inthekidskitchen.com
Apple bobbing has been a staple activity on Halloween night for as long as we can remember. These spooky caramel apples are a fun nod to everyone's favorite festival activity.
These are delightfully monstrous. They're covered in delicious caramel, nuts, and candy melts!
Source: inthekidskitchen.com
These meatballs are adorable! Each one looks like the head of a mummy with a couple of googly eyes bulging out of the pastry. They're high in protein too. Great for combating a sugar high!
These yummy mummy meatballs would make great Halloween appetizers for parties!
Source: quichemygrits.com
A skillet cookie is one of the best Halloween desserts for a fun Halloween evening. Halloween cookies with a chaotic look and plenty of room for customization!
Check out these healthy Halloween cookies if you are looking for something a little lighter.
Source: quichemygrits.com
Will Halloween fall on a warm night for you? These delightful Halloween ice cream cups are chilling in more ways than one! Each bite is packed with texture and flavor. Plus, they look adorable!
These are super simple to assemble. The hardest thing is melting the chocolate; even that can be done in minutes.
Source: bitzngiggles.com
Next up are these vibrant green swirl brownies that scream Halloween! These are great gifts for neighbors or even to send to school for any Halloween events.
You can change the color of the brownies depending on your Halloween palate. From pumpkin orange to blood red, there are so many options!
Source: thesoccermomblog.com
Blend blondies and candy-bar cookies in this monstrous mashup of a recipe. Your kids will love sinking their teeth into these blondies. They're bursting with unique flavors and textures.
I love how easy these are to whip up in large batches. You'll have no trouble feeding a crowd with these!
Source: cookiedoughandovenmitt.com
Whoopie pies had a big moment a few years ago, and now they're returning. These delicious spider whoopie pies are soft, creamy, and whimsical.
The toughest part of this recipe is making the whoopie pie mixture. Even that part is super simple. Get the kids in the kitchen for a night of spooky decorating and quality time.
Source: artofnaturalliving.com
Are you catering a dinner party this All Hallow's Eve? Keep the kids and adults in attendance happy with this creamy pumpkin pudding. The orange hue is a lovely nod to the holiday.
Keep this recipe in your back pocket for Thanksgiving or Christmas. It's super versatile!
Source: keep-calm-and-eat-ice-cream.com
These Halloween cakesicles are perfect for trick-or-treaters or a party. They're so easy to make and decorate, and the texture is fantastic.
Bite through a crunchy chocolate shell to find moist, tasty cake hiding beneath. Your kids will love it.
Source: littlesunnykitchen.com
Embrace the spirit of Halloween with this super-easy chocolate dirt cake. Transform a simple chocolate cake into a spooky graveyard with a handful of candies.
This is an excellent recipe for leaning into the Halloween theme without spending ages on it.
Source: wildveganflower.com
Do you have time on your hands and a sculptor's eye? Then you can bring this gnocchi to life.
You can make these skulls with any sauce you like. Stick with classic tomato or go for a unique pumpkin sauce to lean even further into the spooky theme.
Source: simplyhappyfoodie.com
I love how creative these eyeball hot cocoa bombs are! They look just like eyeballs, but they're packed with all the ingredients you need to make hot chocolate.
Delight and impress your kids with these candy creations. Drop into hot milk, melt, and enjoy the drink.
Finger Halloween Food Ideas for Kids
Give the little ones plenty of delicious, easy-to-eat treats they can enjoy. They can even take these with them as they hit the streets for some trick-or-treating!
Each recipe is easy to create. You don't have to spend hours in the kitchen to feed the crowd of little ones descending on your home.
Source: thesoccermomblog.com
Kicking things off with simple, colorful finger food that's easily transformed into something spooky. Pudding is a definite crowd-pleaser, so you can be sure all the kids will love it.
Change up the colors or the decorations as you like. You can even get your little ones involved with the decorating!
Source: ihearteating.com
Make a quick and easy snack mix that can feed a crowd! This Halloween snack mix would be at home in a trick-or-treat bag or as the centerpiece of a spread.
While the recipe has some guidelines, you can change it any way you like.
Source: amummytoo.co.uk
The kids can join you in the kitchen for this one! These mini spider pizzas are great for cutting all the sugar. Plus, you can make them with just a few ingredients you likely have in your home.
These cost-effective, quick finger foods are ideal for a party host with little time.
Source: plantbasedonabudget.com
Similarly, these spider bagel bites are a great way to kick off Halloween. Serve up a platter of these creepy crawlies to put your kids in the spooky spirit from when they wake up.
If you're catering a party, these are simple to prepare in advance.
Source: texanerin.com
These whole wheat witch fingers will have you shaking in your boots. These are whole wheat cookies served with jam.
Thanks to whole wheat flour, they have a higher GI content to help balance the sugar. They also look incredibly creepy!
Source: inthekidskitchen.com
Next up, we have a recipe that teaches you to raise slime monsters from the grave! These delightful slime monster cupcakes are easy to churn out in bulk. Plus, the moist cake tastes fantastic.
Top that with an adorable lime-green slime monster for the frosting. You've got a winner!
Source: irishamericanmom.com
These pretzels are for you if you're looking for something super easy to create this coming Halloween. All you need are some candy eyes, some white chocolate, and some giant pretzels.
The salty-sweet combination is addictive enough to have you making these at any time of year.
Source: artofnaturalliving.com
Get your kids in the spirit of Halloween in more ways than one! These adorable meringue spirit cookies are light and airy with an addictive crunch.
Looking for more spooky but nutritious recipes? Check out these healthy Halloween recipes.
Source: itsnotcomplicatedrecipes.com
Rocky road is the ideal Halloween finger food. You can easily make large batches to customize how it looks, and it's excellent as a gruesome gift for the spooky season.
Feel free to go wild with your candy-topping choices. Transform this rocky road bar into a terrifying treat they'll never forget.
Source: livglutenfree.com
These cupcakes are for you if you're looking for a minimal dessert option that will delight children and adults alike. Rich, dark cupcakes are topped with a perfect white frosting.
Two specks of bright, vibrant red finish it off! These cupcakes are ultra-simple and just as delicious.
Easy Halloween Food Ideas
Don't spend all your time in the kitchen making Halloween treats! These recipes allow you to create delicious Halloween food your kids will love while leaving enough time for you to join in the fun.
Source: theshortordercook.com
Remember the snack mix from earlier in this list? These popcorn balls offer a great way to use up any leftovers at the night's end!
Treacly, sticky sweetness coats these crunchy balls bursting with your little ones' favorite candies. Get them into the kitchen with you for an evening of messy fun.
Source: budgetdelicious.com
Who says dinner can't be spooky too? This eyeball spaghetti proves you can create a delicious dinner that embodies the chilling spirit of Halloween.
If you're not a meat eater, don't worry. You can easily substitute the ingredients for their vegetarian counterparts.
Source: tastytreatsandeats.com
Cake pops are a fantastic way to use up leftover cake! Crumble up the leftovers and give them new life as these moist, chocolate-covered, delightfully spooky cake pops.
Serve them as gifts or give them out as treats. Everyone will love these pops!
Source: thesoccermomblog.com
Put a spooky spin on the classic hot dog with these amazing mummy hot dogs! These are excellent finger food since you don't have to handle a bun or sauces as you eat.
They're also great for the host. You can prepare the wrapped sausages in advance. Bake for a few minutes when you're ready to serve.
Source: theinspirationedit.com
Enjoy popcorn the undead way with this zombie-style popcorn recipe. Every bite is jam-packed with flavor and texture. The kids will love digging in!
Sit down with your family, a bowl of this, and your favorite Halloween movie for a magical night!
Source: livglutenfree.com
If you choose this recipe, there'll be more than one witch running around on Halloween night. Perform an act of magic and transform a plate of strawberries into a mini pumpkin patch!
These cute pumpkin strawberries would also be fitting as healthy Thanksgiving desserts!
Source: mimosasandmotherhood.com
Take a boring old pretzel rod and give it new life with this unique idea! These bright green Frankenstein pretzel rods make the perfect companions on the spookiest night of the year.
They don't have to be Frankenstein, either! Make your kids' favorite characters with ease.
Source: thesoccermomblog.com
These spider web cookies are super simple to make. All you need is some comfort with a piping bag! Your kids will love the look and taste of these delicious cookies.
These are great for events. They're portable and easy to make the day before. Store in an airtight container in a cool spot.
Source: kidsactivityzone.com
Rice Krispy treats are a staple of kids' parties everywhere. So, it makes sense to make a Halloween version this coming All Hallow's Eve!
These are super quick to pull together. You can alter them to look however you want. You can craft many characters from sticky Rice Krispies: from slime monsters to ghosts.
Source: simplyhappyfoodie.com
Looking for something super realistic and creepy that your kids will love? This jello brain is the way to go! You need almost no time to create it. Just a few minutes of stirring and a suitable mold!
This makes a fantastic centerpiece with a look and taste to die for.
Healthy Halloween Food Ideas for Kids
Halloween is a night when plenty of candy is guaranteed. Healthy foods are essential! The key is to make them as tasty as possible so your kids will want to dive into these instead of their candy bags.
This collection of healthy Halloween kids' recipes shouldn't be a problem!
Source: allnutritious.com
Sweetly create a traditionally savory snack thanks to this unique recipe! Your kids will go nuts for these healthy apple nachos.
Each bite bursts with crisp apples, speckles of dark chocolate, and plenty of peanut butter goodness.
Source: joyfilledeats.com
Speaking of peanut butter… these pumpkins are your answer to Halloween versions of Reese's peanut butter cups. Plus, they're so much healthier than store-bought candy.
They're so simple to make in bulk. You can easily make these to hand out on Halloween night!
Source: allnutritious.com
Whip up a big batch of pumpkin protein balls ahead of Halloween night to combat the sugar crash! These taste delicious, and they're packed with healthy nutrients.
Take them on the go with you as you hit the streets with your little ones. No tricks here, only a healthy treat!
Source: texanerin.com
These are perfect if you're hosting a Halloween party and don't want to use too much candy in your spread! Crafted from apple slices, nuts, and fruit, these monster mouths are super creepy!
The kids will love sinking their teeth into these monstrous little treats. To prevent the apples from browning, try to make them as fresh as possible, or sprinkle them with lemon juice.
Source: allnutritious.com
Next up, we have one of the recipes I reach for around every fall holiday. Packed with nutrients and humming with warm spiced pumpkin flavor, these cookies are a high-protein treat you can't beat.
Whip up a big batch of these in no time! They're great for heading outdoors to a Halloween picnic or potluck.
Source: mapleandmango.com
Sometimes, simplicity is best! This Halloween vegetable tray is an adorable way to display a bunch of fresh vegetables in a way that will have even the pickiest kids taking a bite.
All you need are some googly eyes and a glue gun to turn clear jars into little monsters just waiting to be displayed.
Source: allnutritious.com
Embrace the fall season with these baked apple crisps. Super simple and warming, these slightly-chewy chips are a great way to introduce some healthy sweetness to the evening.
A batch of apple crisps will keep well in your pantry for a few days. Whip up a batch and save them for when spookily sweet cravings strike!
Source: allnutritious.com
Speaking of embracing fall, our final recipe reminds me of what the autumn forest floor might look like! It's strewn with roast pumpkin, dried fruits, and spices. Each bite is a flavorful delight.
So, which dishes do you think will have your kids jumping out of their skin? Let me know in the comments below. Have a wonderful Halloween!
This yummy sweet potato bake would also make one of the best Thanksgiving potluck ideas for this fall.
41 Spooky Halloween Food Ideas for Kids
These Halloween food ideas for kids are perfect for your theme party. Whether you need a sweet treats, appetisers or snacks, you'll find inspiration here.
Ingredients
1. Halloween Marshmallow Pops
2. Halloween Caramel Apples
3. Mummy Meatballs
4. Goblin Skillet Cookie
5. Halloween Ice Cream Cups
6. Swirl Brownies
7. Halloween Blondies
8. Spider Whoopie Pies
9. Pumpkin Pudding
10. Halloween Cakesicles
11. Chocolate Dirt Cake
12. Spooky Gnocchi
13. Eyeball Hot Cocoa Bombs
14. Pudding Cups
15. Halloween Snack Mix
16. Mini Spider Pizzas
17. Spider Bagel Bites
18. Whole Wheat Witch Fingers
19. Slime Monster Cupcakes
20. Ghost Pretzels
21. Meringue Ghost Cookies
22. Rocky Road
23. Vampire Bite Cupcakes
24. Popcorn Balls
25. Eyeball Spaghetti
26. Cake Pops
27. Mummy Hot Dogs
28. Zombie Style Popcorn
29. Chocolate Strawberry Pumpkin Patch
30. Frankenstein Pretzel Rods
31. Chocolate Dipped Peanut Butter Crackers
32. Monster Rice Krispie Treats
33. Jello Brain
34. Healthy Apple Nachos
35. Peanut Butter Pumpkins
36. Pumpkin Protein Balls
37. Halloween Monster Mouths
38. Pumpkin Oatmeal Cookies
39. Halloween Veggie Tray
40. Baked Apple Chips
41. Apple Sweet Potato Bake
Instructions
Scroll up to get a bunch of easy, yummy, and delicious recipes. Don't be afraid to get creative with the ingredients, you might discover a flavor you didn't know you liked.
Get your shopping list going and make sure you've got all the ingredients.
Get cooking and make your next Halloween Food Idea for Kids!
Notes
Which one of these recipes was your favorite? Let me know in the comment section or on Pinterest!