Whether you have celiac disease, gluten intolerance, or other dietary restrictions preparing gluten-free meals can be difficult. These gluten free meal prep recipes will bring you peace of mind.
Gluten is a protein primarily found in wheat. It is also present in barley, rye, and triticale. In some cases, it can be found in oats too.
Eating gluten-free is also ideal if you want to incorporate more whole foods into your diet.
Having gluten-free options does not mean your food can't be exciting and delicious! Grains, starches, and flours can still be enjoyed as a gluten-free diet.
Some great alternatives are –
Gluten-free flour
Quinoa
Rice, including wild rice
Enjoy these alongside your fresh fruits, veggies, and proteins.
Best Gluten Free Meal Ideas
Many processed foods also contain gluten. That is why it is better to cook your healthy meals from scratch to suit your dietary needs.
Below are some delightful ideas for delicious meals to incorporate into your healthy gluten-free diet!
Source: allnutritious.com
Salmon is a rich source of omega-3 fatty acids. Some have a love-hate relationship with this fish. I guarantee this recipe packed with healthy fats will make you love it!
Ground ginger, paprika, cumin, and garlic flavor your dish. The sweetness in this easy recipe comes from parsnip, carrots, beets, and sweet potatoes.
Alternatively, try serving this salmon with wholesome ingredients like zoodles or cauliflower rice!
If this recipe made you fall in love with salmon, you'll love these other easy salmon meal prep recipes.
Source: gatheringdreams.com
A Japanese-inspired bento box will have your mouth watering. Bento boxes are a staple of Japanese cuisine. It is an upgraded lunch box!
Here, spicy edamame partners with flavorful teriyaki glazed chicken. Rice is a must for your bento box.
Serve with a light green salad from organic ingredients. And finish with a sweet, salty, tangy vinaigrette!
Source: allnutritious.com
Salsa-shredded chicken takes minimal effort to prepare. But it tastes just like a restaurant dish, and it's safe for food allergies and health conditions!
A jar of salsa from the grocery store will do the trick here. Mild, medium, or hot – it is your choice! Simmer the chicken in the salsa, then shred it when cooked.
Serve this flavorful meal with cauliflower rice and roasted peppers. Enjoy the Spanish flavors of these gluten-free meal preps!
Source: healthbeet.org
You cannot be sure that prepackaged salads are gluten-free. They may claim to be. However, there may be traces of gluten In those meal kits.
You can be sure with a homemade salad. You choose what to put in it. The choices are endless with this option!
Go for an apple walnut salad. Or a maple bourbon bacon salad. How about a BLT salad?
Source: allnutritious.com
Chickpeas are high in protein, keeping you fuller for longer. Eaten on their own, they are bland. However, it gives you many flavors to experiment with!
Chickpea salad includes common summer veggies. Combine tomatoes, cucumber, and red onion. Then mix with olive oil, white wine vinegar, and garlic dressing.
Try this out with your favorite veggies. The juicier, the better, makes a more flavorful salad!
Source: strengthandsunshine.com
Are you looking for a taste of the Caribbean? Give this Cuban-style tuna meal prep bowl a try.
Plantain chips are one of the intense flavors here. Your plantain is fried until soft. Then it is seasoned with smoked paprika.
A great thing about this? You can leave the jalapeno tuna in the pouch until ready to eat. Serve with seasoned salad veggies and a zesty yogurt dressing!
Source: allnutritious.com
Chicken is ideal for pairing with your veggies. Lemon adds a sweetness to an otherwise savory dish.
Roasted veggies in this prep are broccoli and sweet potatoes. Roasting your veggies here will aid caramelization.
Your chicken is best marinated overnight. This will produce more depth of flavor! Add further sweetness with dill cherry tomatoes.
Source: theforkedspoon.com
Are you sitting there wondering, what is Kielbasa? Well, in simple terms, it's a flavorful Polish smoked sausage!
Hearty Kielbasa and peppers is a one-pot wonder. Your meal is also packed with chopped onions and sweet bell peppers.
Tender rice and beans go well with this. How about adding some sauerkraut too?
Source: allnutritious.com
This chicken legs dish is packed with protein for full tummies. That is because you are using chickpeas and quinoa too. Both are high-protein foods.
Cinnamon, turmeric, and coriander add warmth to your dish. Natural cranberry sweetness balances out tomato acidity.
Your chicken legs are only lightly seasoned before skillet cooking. The flavor is everywhere else in this delicious dish!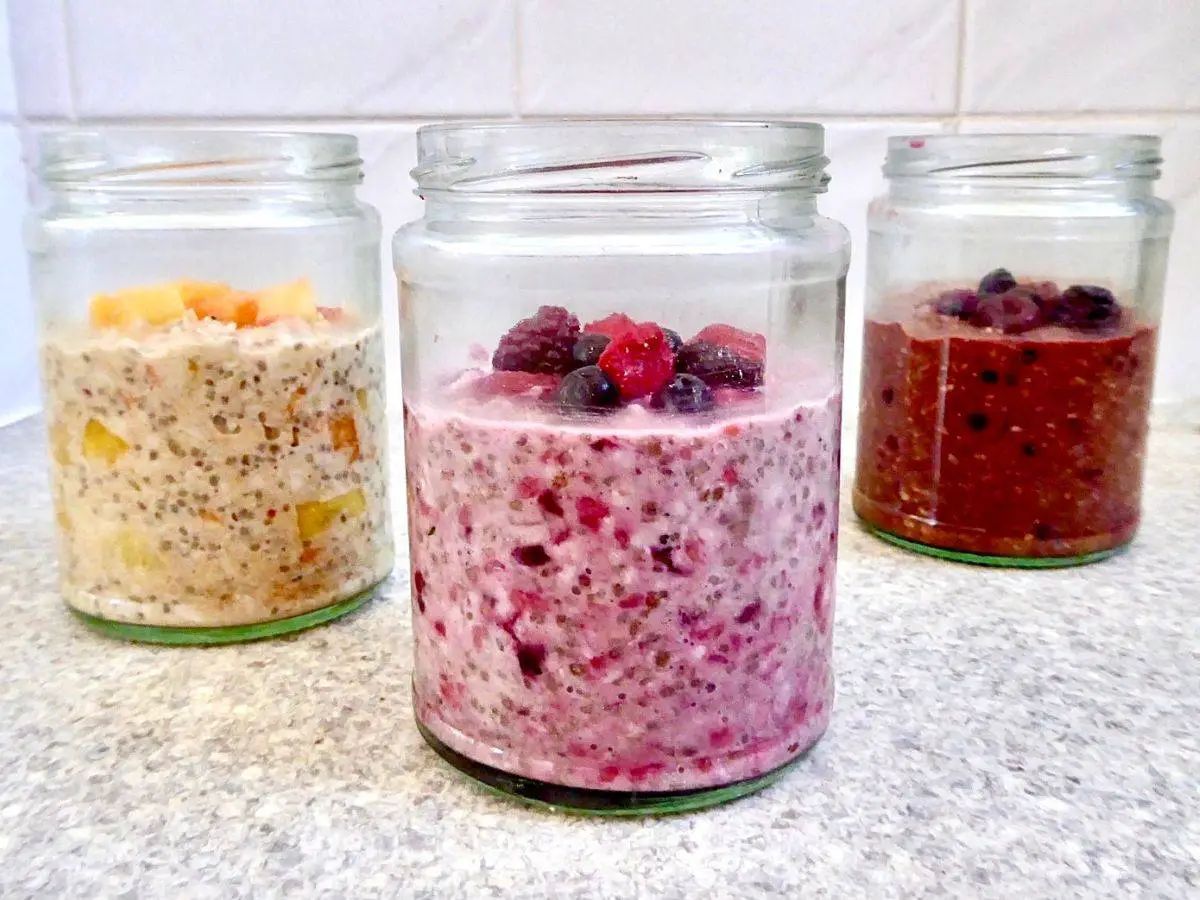 Source: lbhealthandlifestyle.com
Overnight oats are an excellent option for breakfast. Prepare them in the evening and refrigerate them. Then grab and go for a quick breakfast!
You'll need gluten-free oats and chia seeds. These are soaked in milk in a jar. Then they'll be topped with frozen fruit.
They need a stir when you take them out of the fridge. The juice from the frozen fruit disperses throughout for a refreshing taste!
Overnight oats are incredibly versatile. Try different types of milk. Other frozen fruits are an option too. The black forest flavor is delicious!
Check out these other delicious meal prep breakfast ideas to make breakfast easier this week!
Source: allnutritious.com
As you know, quinoa is high-protein whole grain. It's going to fill you up. It will also add some bite and a nutty taste to this casserole.
Red kidney beans add heartiness to this Mexican recipe. You get all the flavors of Mexico here but in a meatless dish.
Use pepper jack cheese to up the spice level. Or chopped chilies – try jalapenos for ultimate spice!
Source: thesoccermomblog.com
Freezer chicken soup is a super quick option for meal prep. The prep involves no cooking – only chopping!
Prep your ingredients and then combine them in a freezer bag. And then freeze.
All it takes is to empty the bag into a pot and cook. Half an hour on the stove, and you have tasty soup!
Source: how2doketo.com
Keto Greek salad keeps you feeling full! It will last a few days in the fridge for quick-packed lunches.
Feta cheese and olives give your salad a delicious Greek taste. Cucumber and red onion add a crunch to the meal.
The Greek-style dressing perfectly complements the flavors!
If you love Greek flavors you will also enjoy this easy Greek sheet pan chicken dinner!
Source: ameessavorydish.com
The buffalo sauce in this chicken dish lends a hot, tangy flavor. You can choose mild or hot, depending on your spice limit.
Shredded buffalo chicken is the star of your meal. Serve with raw onion, juicy tomatoes, and shredded cheddar.
These bowls use fluffy jasmine rice. However, cut carbs by using cauliflower rice instead. Remember a homemade ranch sauce for drizzling!
Source: healthyrecipes101.com
Instant Pots are lovely for warming meals such as chili. This chili recipe lends a full-bodied Mexican flavor.
It is packed with hearty beans and lean ground beef. The spices and broth add a flavor sensation to your recipe.
Complement the robust chili flavor with your toppings. Sour cream, cilantro, and shredded cheese are a must!
Source: pinchofwellness.com
Buffalo chicken and rice bowls are so satisfying! In this version, you will use cubed chicken breast.
Raw, chopped veggies add crunch to your dish. Carrots and celery are good options. Juicy cherry tomatoes bring acidity.
Add some crumbled blue cheese to your bowl. And finish with a drizzle of ranch dressing!
Source: servedfromscratch.com
Curry chicken salad is a twist on a classic favorite. Curry powder, ground ginger, and turmeric add heat and spice.
Add some crunch with crisp apples and toasted almonds. Juicy grapes add a delicious burst of sweetness.
Mayonnaise and sour cream are the base for your creamy dressing. Serve the salad in butter lettuce wraps!
Source: lavenderandmacarons.com
Roasted butternut squash is the ideal veggie option for a salad. Salads are not only for summer, however.
Quinoa salad features festive flavors, perfect for fall salads. Protein-packed black beans are a key ingredient in the filling dish.
Dried cranberries and pumpkin seeds bring festiveness to your salad. This is a perfect side dish for your Thanksgiving gathering.
Source: aussiehomecook.com
This fall-inspired soup is ideal for those with a sweet tooth. Pumpkin and sweet potato lend a vibrant orange color to this recipe.
There is a secret to adding depth of flavor to your soup. That is, roast the veggies first! This will give a delicious caramelized flavor.
Chickpeas add extra protein and help thicken it. If you like a less hearty soup, add a little stock to thin it.
Source: adashofmegnut.com
These sheet-pan veggies will make your soul shine! You'll find the colors of the rainbow in this meal prep.
From bell peppers to tomatoes. From carrots to squash. And from broccoli to purple potatoes. These veggies just burst with color!
Toss the raw veggies with avocado oil, salt, and pepper. Then roast in the oven.
Serve these with proteins throughout the week. Chicken, salmon, and turkey burgers would all work!
These sheet pan recipes are sure to make your meal easier this week!
Source: strengthandsunshine.com
Just because you eat gluten-free does not mean you cannot eat pasta. A rainbow of veggies and tri-color rotini make this pasta salad.
You will need gluten-free pasta. Black olives and grape tomatoes are essential here. They give the Italian feel to your salad.
Olive oil, red wine vinegar, and dried herbs create your delicious Italian dressing. This vegan meal prep will store in the fridge for a week!
Source: strengthandsunshine.com
Falafel is an excellent gluten-free food for appetizers, lunches, or snacking. No oil or frying is needed for this crispy falafel!
Canned chickpeas and chickpea flour make your falafel. This means they are super filling too!
Fresh parsley and cilantro add a heap of flavor. Serve in a gluten-free pita with salad greens. Or snack on them with a tahini dip!
Source: strengthandsunshine.com
Taco chicken takes just five minutes to prepare. It's cooked in the slow cooker. So there are fewer dishes to wash. This is a win!
This is good enough with chicken breasts and taco sauce. However, adding a few Mexican extras is better.
Throw in some sliced onions, diced tomatoes, and green chilies. Shred the chicken when it's cooked. And you are good to go!
Source: avocadoskillet.com
Beans are an excellent source of fiber and protein. This white bean stew embraces Mediterranean flavors.
Think lemon, za'atar, harissa, and capers. Add some dill for a light herby flavor.
The stew is versatile too. You can easily substitute with what you have readily available.
Serve with gluten-free bread to mop up the delicious sauce!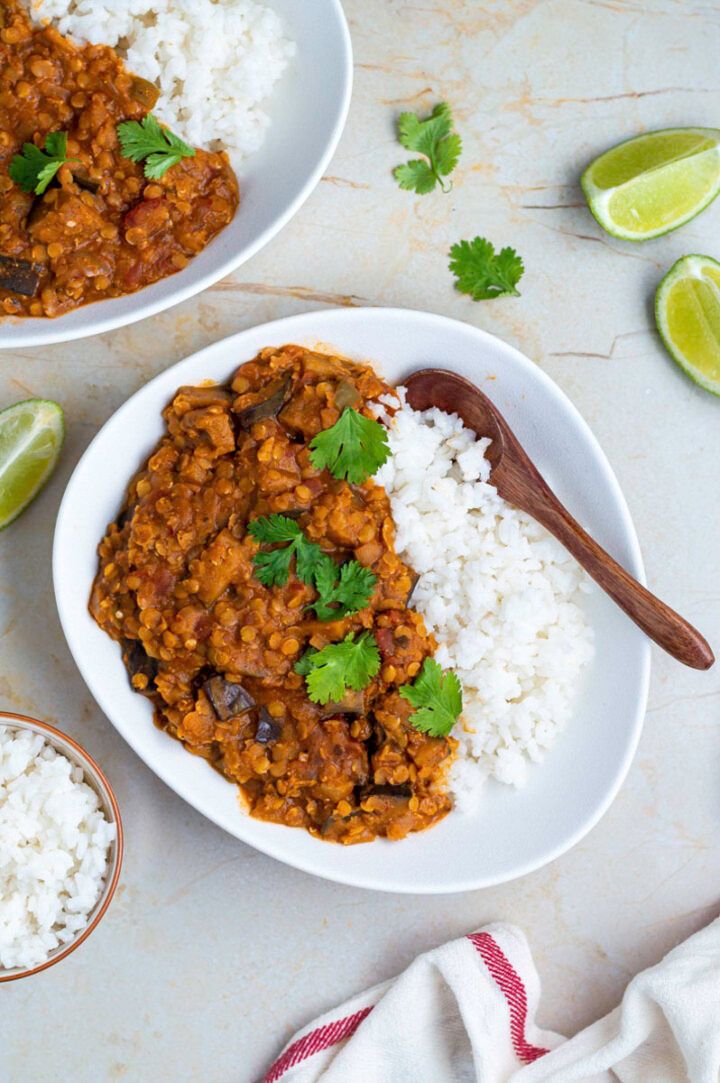 Source: sunglowkitchen.com
Adding lentils to your curry is a great way to make it more filling. Here you will cook the aromatics first to give a strong flavor boost.
The key ingredients to this curry are eggplant and lentils. Plus, creamy coconut milk gives you a delicious velvety texture.
This is excellent paired with coconut basmati and gluten-free roti!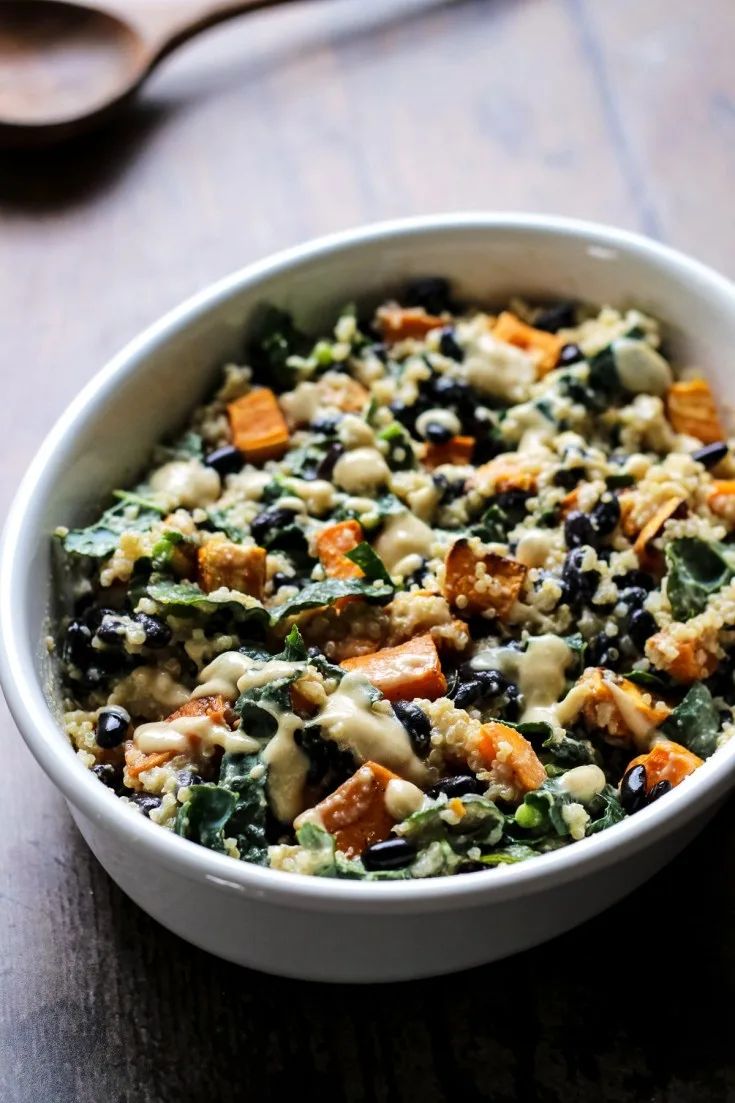 Source: happykitchen.rocks
Sweet potato casserole is a true feast for your senses. And it is a much-loved one-pot wonder!
The contrasting colors of sweet potato and black beans. The distinct flavors of tender quinoa and bitter kale.
A creamy roasted garlic sauce is your delicious base flavor. This dish tastes best with a gluten-free breadcrumb topping too!
Source: clankitchen.com
A slow cooker pot roast is ideal even for a busy weeknight! Only 15 minutes are needed to prep. Then your slow cooker does the rest of the work.
The critical point is to sear the roast and deglaze the pan. This delivers delicious juicy flavors into the broth.
Throw your roast, veggies, and broth into the slow cooker. And then let the slow cooker do its magic!
Source: lovefromthetable.com
Chickpeas are a simple way to make your curry vegetarian. They have the bonus of being filling too.
It is a curry that is full of aromatic warming spices. It is not too hot, so even your kids will love it.
Creamy coconut milk and canned tomatoes create a delicious sauce. Spinach adds a pop of green and nutrition.
Serving with roasted squash will make this a hearty meal!
Source: glutenfreetranquility.com
A quiche is a great lunch option for your busy family. Cook at the start of the week. Then you can take some from the fridge when required.
For this quiche, you will be making buttery gluten-free pastry. This holds the flavorful cheese and caramelized onion filling.
This recipe uses full-fat milk to create your filling. However, heavy cream is another option. Mushrooms would be an excellent addition to the quiche!
Source: plantbasedwithamy.com
The final fish option on this list is this fruity apricot salmon. It is the easiest recipe here too!
Just two ingredients are needed for this. Fresh salmon and apricot jam. How amazing is that?
All it takes is to coat your salmon pieces with the jam. Bake for around 12 minutes. And then broil to caramelize the jam!
Serve with a fresh salad – make this while the salmon cooks. You have a delicious filling meal in under 20 minutes!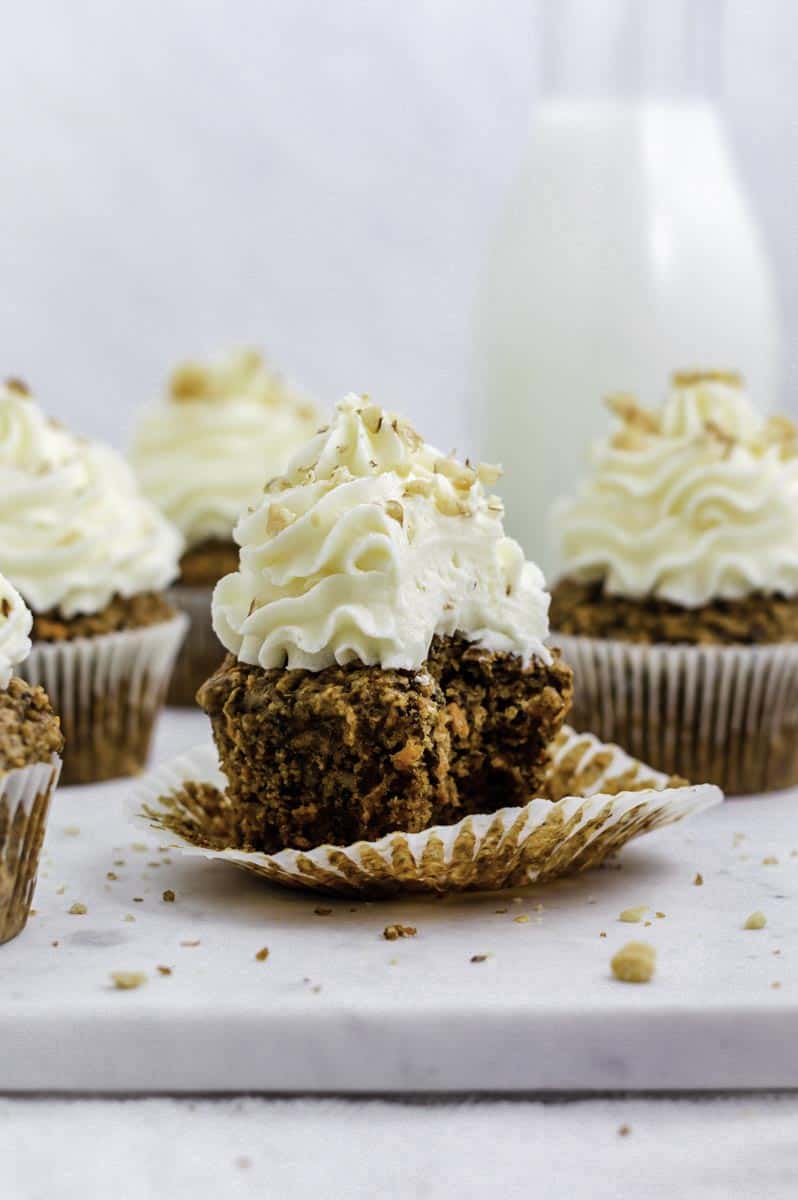 Source: sunglowkitchen.com
Let us finish with something sweet.
The flavor isn't compromised with these plant-based carrot cupcakes. They are naturally gluten-free too!
Dates will provide natural sweetness. Plus, they are packed with crunchy walnuts. Cinnamon, ground ginger, and ground nutmeg provide spice!
You can eat these as they are. Or you can top them with a swirl of frosting. Either way is delicious!
31 Best Gluten Free Meal Prep Ideas
Yield:
2-4 meal prep boxes
Here are some ready-to-eat meals that you can make ahead. We've got all the gluten-free meal prep recipes you need to plan a delicious week!
Ingredients
1. Salmon Meal Prep with Veggies
2. Chicken Teriyaki Bento Box
3. Salsa Shredded Chicken Meal Prep
4. Homemade salad Kits
5. Chickpea Salad
6. Cuban Style Tuna Meal Prep Bowl
7. Lemon Chicken and Veggies
8. Skillet Kielbasa with Bell Peppers
9. Chicken Legs with Chickpeas and Quinoa
10. Overnight Oats with Frozen Fruit
11. Mexican Quinoa Casserole
12. Freezer Chicken Soup
13. Keto Greek Salad
14. Buffalo Chicken Meal Prep
15. Instant Pot Chili
16. Buffalo Chicken and Rice bowls
17. Curry Chicken Salad
18. Butternut Squash Black Bean Quinoa Salad
19. Pumpkin and Sweet Potato Soup
20. Sheet Pan Roasted Vegetables
21. Italian Pasta Salad
22. Air Fryer Falafel
23. Taco Chicken
24. Mediterranean Vegan White Bean Stew
25. Eggplant Lentil Curry
26. Sweet Potato Casserole
27. Slow Cooker Pot Roast
28. Chickpea Spinach Curry
29. Cheese and Onion Quiche
30. Apricot Salmon
31. Healthy Carrot Cake Cupcakes
Instructions
Scroll up to get a bunch of easy, yummy, and delicious meal prep recipes. Don't be afraid to get creative with the ingredients. You might discover a flavor you didn't know you liked.
Get your shopping list going, and make sure you've got all the ingredients.
Get cooking and make your next Gluten Free Meal Prep!
Notes
Which one of these recipes was your favorite? Let me know in the comment section or on Pinterest!