Missing Mexican flavors? These red bean quinoa casserole meal prep bowls are full of flavors, easy to make, and just delicious.
It's vegetarian, and high protein as well!
More and more of us are eating less meat, and adding more plant-based sources of protein to our diets.
And for a good reason: replacing the meat with more plant-based sources of protein helps increase our fiber intake.
Getting enough fiber not only improves our digestion, but it can also even improve our health. Yet, the chances are that you're not getting enough fiber in your diet.
In fact, about 95% of us are not getting enough fiber. Now, that's a pretty alarming number.
But changing our eating habits can be quite hard. Particularly, if you don't have easy recipes that are budget-friendly and taste amazing.
Mexican Red Bean Quinoa Casserole Meal Prep
This dish checks all the boxes. It's vegetarian, easy to make, yummy, and packed with protein.
It also happens to be gluten-free. So, it's great for those who suffer from gluten allergies or sensitivities.
This casserole offers a Mexican spin to your traditional casserole. And it's much healthier.
The corn adds sweetness, balancing out the acidity of the tomatoes. The red kidney beans make this dish hearty, while the red bell pepper adds freshness.
And what would a casserole be without some cheese? Yum!
And let's not forget about the grains. Instead of your traditional pasta, you're using quinoa.
The quinoa adds some bite and nuttiness to the casserole. You'll definitely want this casserole in your weekly healthy meal prep rotation.
Mexican Red Bean Quinoa Casserole – Wonderful for Lunch or Dinner
What I love about this casserole is that it's so healthy, yet super comforting as well.
And even though it's vegetarian, it's pretty filling. You definitely won't miss the meat.
This makes it a great lunch or dinner option. You can even bake it and give it to your friends… They'll love your gesture.
So, what makes this casserole healthy? Well, to start with, one serving contains only 560 calories.
This makes it a dish if you're trying to lose weight.
But you won't feel peckish after eating it. That's because it's packed with protein.
In fact, it provides a whopping 27 grams of protein. A lot of it comes from the red kidney beans and quinoa.
Besides being rich in protein, red kidney beans are rich in fiber. So, they're good for your digestion.
They also contain a lot of magnesium, manganese, and phosphorus, which are necessary for healthy bones. And they're a good source of plant-based iron.
Quinoa is pretty nutritious too. It's an excellent source of manganese, magnesium, and phosphorus.
And it contains much more fiber than traditional grains. And unlike many plant-based foods, quinoa is a complete protein as it has all the essential amino acids.
This makes it a great source of protein for vegetarians and vegans. It is also gluten-free.
If you need to stock up on some, you can get some here.
Now, back to the casserole. Besides being rich in protein, it's also rich in fiber.
Just one serving provides more than 50% of your daily fiber needs. Now, that's a whole lotta fiber.
It also provides almost 70% of your daily Vitamin A needs, as well as more than 100% of your daily Vitamin C needs. So, it helps boost your immune system.
Besides being good for your immune system, this casserole is good for your bones. That's because it provides almost 30% of your daily calcium needs.
And it's an excellent source of iron too. So, it helps keep your energy levels up.
How to Make Mexican Red Bean Quinoa Casserole
Making this Mexican Red Bean Quinoa Casserole is pretty easy. It's pretty much a dump and go dish.
So, it's great for busy weeknights.
One pro tip before you start: Make sure all your ingredients are dry, including the corn as well.
Otherwise, you'll end up with a soggy casserole. And no-one likes that.
To make the casserole, start off by preheating your oven to 350 degrees Fahrenheit.
Next, drain your red kidney beans and corn. After this, you want to wash your quinoa…no need to cook it first.
Make sure you don't skip washing your quinoa or else your quinoa will be bitter. This in turn will make your casserole bitter.
Then, dice your white onion and red bell pepper. For extra convenience, you can use a food processor to do this. This food processor here should do the trick.
Next, grate your cheddar cheese. You can use pre-shredded cheese for extra convenience.
However, I like to grate my own cheese as it's cheaper to buy a block of cheese and grate it, than buy the pre-shredded cheese.
After grating your cheese, mix all your ingredients together as best, you can. Oil your baking pan and dump your mixture, spreading it well.
Then place in the oven and bake for 30 minutes. Finally, turn off the heat and let your casserole sit in the oven for another 25 minutes in order for it to get firm.
Now, this dish has a lot of Mexican flavors, but it isn't spicy. So, it's great for the kiddos.
But if you like it spicy, you can simply use Pepper Jack Cheese instead of cheddar cheese, and add some diced chilis too.
Bon appetit!
How Long Will This Meal Prep Last in the Fridge?
This high protein meal prep will last 3 to 4 days in the fridge. To keep it fresh longer, just be sure to store it in an airtight container.
I recommend these glass storage containers here, which are sustainable and will keep your food fresh for longer.
If you prefer containers that are lighter, these plastic BPA-free food storage containers are a good option.
Benefits of Making Casseroles
We all live busy lives, me included. So, the last thing you want to do at the end of the day is to wash a ton of pots and pans after making a meal.
Casseroles are lifesavers because they're one-pan meals. Not only that, when you pack your veggies, grains, and protein in a casserole, like this Mexican Red Bean Quinoa Casserole, you have a complete meal… No need to steam extra veggies.
They're also super comforting. After all, who doesn't love a good casserole, especially when there's cheese involved?
In addition, they're pretty easy to make. Just mix your ingredients together, dump in a casserole dish, and let your oven do the cooking.
And in the case of this Mexican Red Bean Quinoa Casserole, you don't even have to cook your grains first. Now, that's how I like to roll.
Casseroles are also a great way to use your leftovers and pantry ingredients. So, they help save you money.
They're also good for portion control. This is particularly helpful if you're trying to lose weight.
And talking about portion control, casseroles are great for when you have company coming over.
You know exactly how much to serve each person… No guesswork involved.
This way, you don't have to worry about running out of food before everyone has been served… Eek!
And because casseroles are pretty much dump and go meals, you spend less time in the kitchen. And more time socializing with your guests.
After all, isn't that the point of having company come over?
Other Vegetarian Meal Prep Ideas
Watch Full Instructions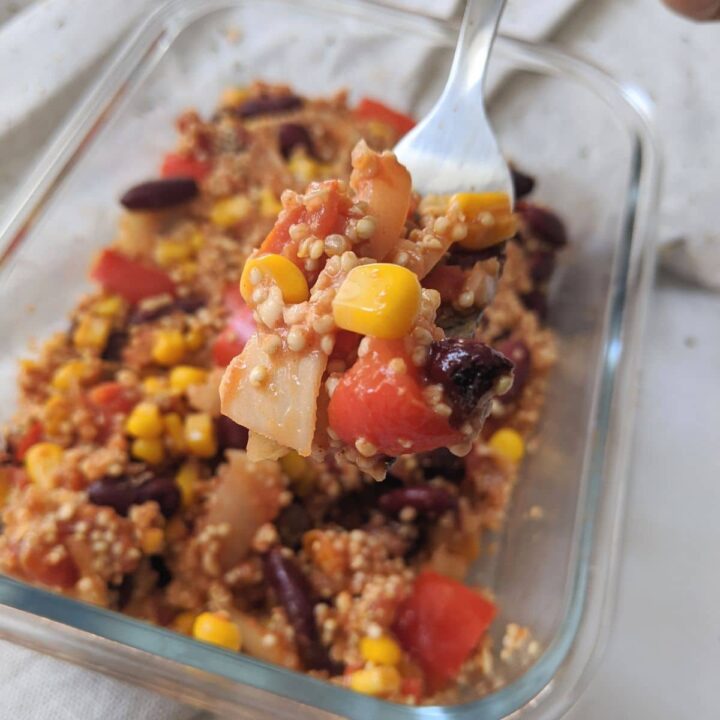 Mexican Red Bean Quinoa Casserole Meal Prep
Total Time:
1 hour
10 minutes
When you're missing Mexican flavors, this red bean quinoa casserole might be just what you need! It's a vegetarian dish that's full of flavors. On top of it, it's budget-friendly yet very nutritious.
Ingredients
1 cup quinoa (uncooked)
1 can red kidney beans
1 large can corn (or 2 small cans)
1 can chopped tomatoes
2 tsp chili powder
1 white onion (diced)
1 red bell pepper (diced)
1 cup cheddar (shredded)
1/2 tsp cumin powder
1/2 tsp garlic powder
1/4 tsp salt
1 cup water
Instructions
Preheat the oven to 350F (180C).
Drain red kidney beans as well as corn, then wash the quinoa. Dice white onion, red bell pepper, and grate your cheddar.
Now mix all of the ingredients together. Afterward, oil your pan and spread your mixture into the pan.
Bake it in the oven for 30 minutes. Then, turn off the heat and let the casserole sit for another 25 minutes.
Afterward, divide the casserole into 3 servings and store it in glass containers. They will last in the fridge for 3-4 days.
Nutrition Information:
Yield:

3 meal prep containers
Serving Size:

1 meal prep container
Amount Per Serving:
Calories:

560
Total Fat:

18g
Saturated Fat:

7.9g
Trans Fat:

0.3g
Unsaturated Fat:

7.9g
Cholesterol:

37mg
Sodium:

873mg
Carbohydrates:

77g
Net Carbohydrates:

63g
Fiber:

14g
Sugar:

15g
Protein:

27g
Nutritional values were obtained with automatic software using the amounts of products used. To get the most accurate representation of the nutritional values, you should calculate them with the actual ingredients used in your recipe. You are solely responsible for the nutritional information obtained to be accurate.