Frozen chicken breasts taste just like fresh meat when cooked. These delightful frozen chicken breast recipes will show you how to get the most flavorful results in the best way!
Whether you have raided the freezer section or have some extra frozen boneless skinless chicken breasts at home, this roundup of tasty, quick dinner recipes will be very much welcome.
Made in the oven, Instant Pot, Slow Cooker, or Air Fryer, we've got juicy chicken breasts for every cooking method.
These delicious best recipes with frozen chicken breast offer great dinner and lunch ideas the easy way. And best of all, they are super simple to make. Perfect for us busy workers!
Can I Cook Chicken Breast from Frozen?
If the question is "Is it safe," then yes!
According to the USDA, yes, you can cook chicken breast from frozen. The only trick is you will have to allow for longer cook time. In fact, 1 ½ times longer for cooking chicken breast.
For instance, if your recipe card calls for 30 minutes in the oven, you will need to cook it for approximately 45 minutes, depending on the size of the chicken breasts.
To be sure, though, always use a meat thermometer to see if your cooked chicken has been fully cooked.
For chicken breast from the grocery store, it should read between 165 and 175 degrees F.
For some methods, like pan-frying, it is a better idea to thaw the meat completely before cooking it.
Are Frozen Chicken Breasts Any Good?
Frozen chicken has a similar nutritional value as fresh. And it will definitely result in equally yummy meals.
Some store-bought frozen meats can contain certain additives. But if you freeze your meat at home, this shouldn't be a problem.
Instant Pot Frozen Chicken Recipes
If you own an Instant Pot and have some chicken breasts in freezer bags, these are great recipe ideas for you.
Source: twohealthykitchens.com
Three ingredients are all you need for this amazing recipe.
One – frozen chicken breasts. Two – a jar of your favorite salsa. And three – a packet of taco seasoning.
Place everything in the Instant Pot, and cook for about 20 minutes on HIGH, depending on the size of your chicken breasts.
Then simply grab two forks and shred up this goodness. Serve with tortillas or as you see fit. And enjoy!
Find a similar recipe here – sheet pan chicken fajitas!
Source: ifoodreal.com
Frozen chicken from the Instant Pot in just 25 minutes. Once you learn how to make chicken breast with the instant pot method, your weeknight dinner routine will change forever.
All you need to do is add water to the pot and place the meat inside.
This recipe focuses more on nailing the perfect from-frozen- Instant cooking. So feel free to customize it and add some spices and flavorings to it.
Source: midwexican.com
The beauty of this recipe is that you can make it with fresh or frozen chicken. You don't need many ingredients – just four. And it is simple and quick. Which is a huge plus if you're busy.
This recipe requires frozen chicken breasts, taco seasonings, salsa, and some broth.
Trust me, it tastes so much better if you use broth (chicken or veggie), But water can also do the trick here.
Serve over rice, in tortillas, or pasta, or simply grab a fork and dig in.
This is a great Saturday dinner idea for a family night!
Source: simplylowcal.com
Imagine this. You have some frozen chicken at home, and you can manage to put nourishing chicken soup on your table in under 30 minutes. What?
Packed with nutrients and great flavors, this delicious soup comes together so easily.
All you need is frozen chicken, broth, tomatoes, corn, beans, and some taco seasoning to flavor it up.
For serving, add some chopped herbs on top. And all that's left is for you to enjoy!
Find more healthy winter recipes like this here.
Source: whereismyspoon.co
Juicy, tender, and incredibly delicious. Easy to slice, shred, and even easier to enjoy.
This simple method for cooking frozen breast in the Instant Pot is a true lifesaver.
All you need is some broth and a few of your favorite spices. And that's it!
The recipe uses oregano and paprika, but basil, thyme, curry, and turmeric will work great here, too.
You can serve this right away or meal prep it for the following days. So delicious!
Source: laraclevenger.com
Shredded chicken from frozen is the dream that every busy worker has while rushing home from work. With this recipe, that's a quick reality, though.
A last-minute meal idea that will save many unplanned get-togethers.
Add your favorite spices, and serve this meat in buns, tacos, or however you prefer. Quite clever for game night, right?
Source: lemonblossoms.com
Suddenly in the mood for some Mexican? Don't worry! If you have some frozen chicken in your freezer, this dish will be on your table in just 23 minutes.
Chicken with salsa, diced green chilies, and some taco seasoning. It makes a spicy and flavorful shred that is dying to be turned into a sandwich or burrito.
Or, you can simply serve it over rice and pasta. Whatever you decide, you really cannot go wrong with this yummy dish.
Source: recipesfromapantry.com
A few pantry ingredients and your Instant Pot is all you need for this lovely recipe.
Peppers, onions, chicken, and fajita seasonings. Cook with broth, not water, for the best taste possible.
You can also add a dash of hot sauce to spice things up.
And you definitely want to serve these in flour or corn tortillas. Unless you're planning on devouring it straight from the pot, that is.
Find more delicious dinner ideas for two here.
Source: therecipewell.com
If you ask me, I'd make this during my meal-prep sessions. It is so loaded with nutrients, protein, and fiber that it makes such a wholesome dish. Just what you need at the office, right?
The ingredients here are quite simple. The recipe includes peas, carrots, garlic, and eggs to accompany chicken and rice.
And it is a nutritious and delicious meal that comes together in just over 35 minutes.
Source: skinnycomfort.com
This recipe states that your frozen breasts are ready to be diced, sliced, or shredded in just half an hour.
The meat is juicy and tender, perfect for many dishes.
There are many ways to season this up. Use your favorite blend, such as Cajun or Tacos. Add seasoned salt, or keep it simple with paprika and garlic powder.
I really love the pineapple juice as a cooking liquid here, and I suggest you give it a try, too.
Source: ifoodreal.com
It is meals like this that I thank the universe for coming up with such a useful appliance like the Instant Pot.
This dish is a full and wholesome meal, and it uses simple ingredients. Plus, it is a real set-and-forget indulgence.
Chicken with potatoes, carrots, onions, and herbs. For a nourishing, flavorful, and nutritious dinner. That will not have you chained to your kitchen.
Find more cozy fall dinner recipes here.
Source: melaniecooks.com
If you have bone-in chicken breast in your freezer, I strongly suggest giving this recipe a try. The result is juicy and moist meat. And you will never think about thawing your meat again.
Freezer to-table has never been quicker or more convenient. Just add your meat and cooking liquid, and that's it.
To flavor this up, just rub a blend of spices over the meat. You can use both water and broth as the liquid.
Source: nourishnutritionblog.com
Creamy and so nourishing! This nutritious mushroom and chicken soup combines wild rice, carrots, celery, and rosemary for flavor and aroma.
The recipe uses milk for creaminess and silkiness. But for a thicker texture, add heavy cream or half and half.
This has to be the perfect warming dish to enjoy on a cold winter evening after a long day at work.
Source: upstateramblings.com
If you need dinner in a flash and you're craving some exotic flavors, make this orange chicken.
An Asian-inspired dish that is loaded with garlic, ginger, and citrusy flavors.
To bump this up a notch, use the optional ketchup and orange zest. It will give more acidity and zing to the chicken.
This recipe pairs perfectly with fluffy rice. Or even noodles. Yum!
Source: fearlessdining.com
A real, authentic chicken soup, just like in the old days. Except in the Instant Pot. And made from frozen.
This warming and comforting bowl of soup is full of nutrients and pick-me-up flavors.
It is loaded with meat, carrots, celery, garlic, onion, and aromatics like thyme and basil.
You can serve this over rice. But I strongly suggest you grab something to dip into this nutritious broth. And nothing does the trick like homemade bread, for sure.
Find more crockpot soup recipes here.
Baked Frozen Chicken Breast Recipes
If you were thinking about baking frozen breast in the oven without thawing, then you better check out these recipes.
Source: recipevibes.com
A failproof baked-from-frozen recipe for chicken breast that anyone can nail. It comes out tender and juicy, ready to be sliced or shredded.
This recipe is so versatile and can be used in many different ways. You can add this chicken to salads, pasta, sandwiches, tacos, or even soups and stews.
The seasonings here are simple. Just some salt, paprika, garlic, onion, and parsley. And it tastes great!
Source: wholesomeyum.com
Technically, this recipe doesn't include a recipe for no-thaw chicken. It features a brining method. And, if you leave your chicken for long enough in the brine, it will thaw.
Then, you can proceed with the next step, which is seasoning and baking.
The method is easy. The ingredients are simple. If you want to try out a recipe that will give you juicy chicken that never turns out dry out of the oven, this is it.
Source: whereismyspoon.co
Okay, so this is an all-in-one recipe that includes six different methods. For baking, boiling, grilling, Air Frying, and pressure cooking.
And whatever method you choose, you will get the same results. Tender and juicy meat that can be used in many different recipes.
If I had to choose, I'd say the boiling part yields the best flavor here, as the celery and bay leaves really give fragrance to the meat.
Source: laurafuentes.com
If you've never baked frozen chicken before, this recipe is the perfect starting point for you. It will give you some pointers on how to achieve that tender and juicy result.
And, the best of it all? You'll find out that cooking chicken has never been so easy!
Just some salt, olive oil, and Italian seasoning for some taste. And your dinner will be served in no time!
Just make sure to plan 50% longer cooking when preparing frozen meat. This recipe cooks average-sized breasts for 45 minutes.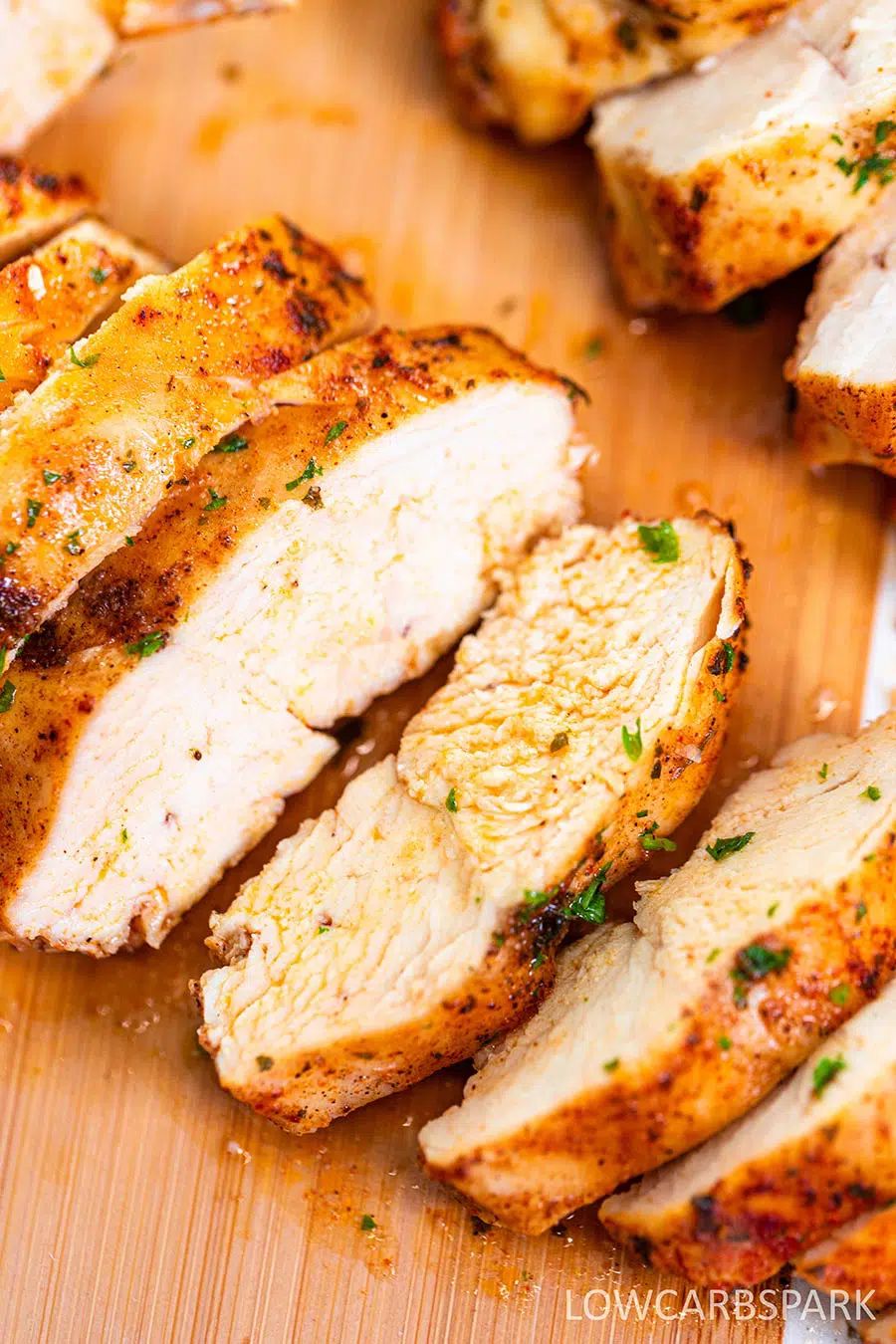 Source: lowcarbspark.com
This is a recipe that comes with a trick! A quick high-temperature bake will prevent you from getting dry or chewy meat.
This recipe may not include a method for frozen chicken, but if you simply increase the baking time by 1 1/2, you can easily get the same result as this fresh chicken recipe.
If you don't like seasoning your chicken right away, wait until it is halfway done. Then add some butter on top and brush the spices all over.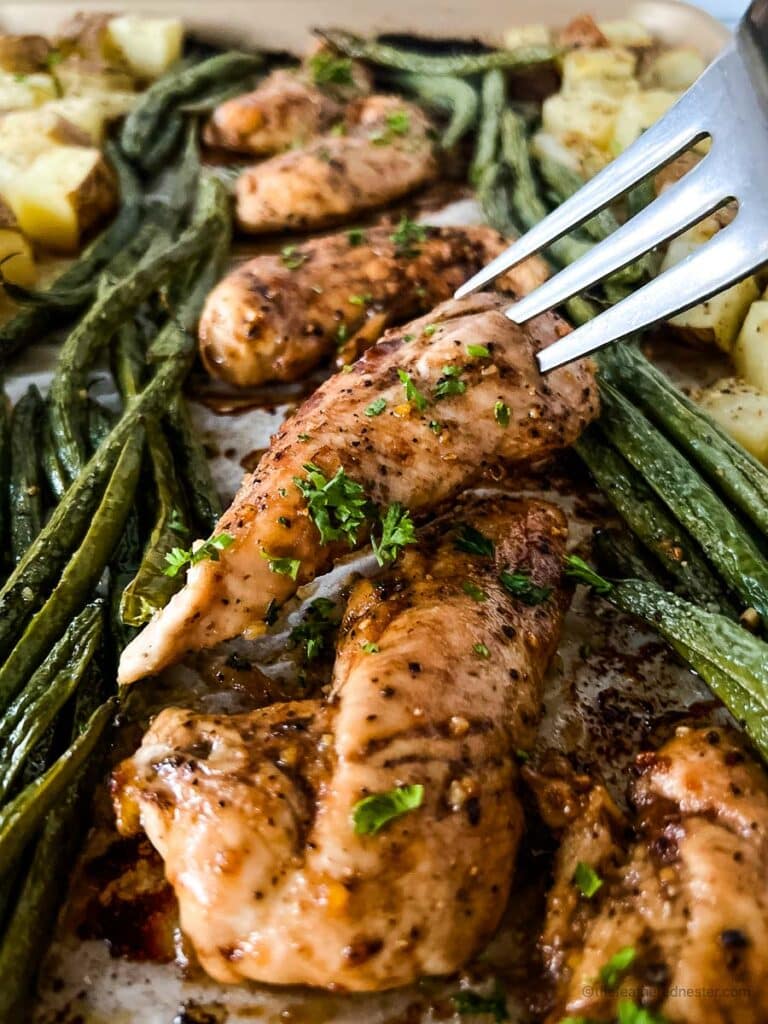 Source: thefeatherednester.com
This recipe, just like the previous one, uses fresh chicken. But as described, you can extend the marinating time to 8 hours with frozen cuts, and no problem.
It will not be a quick meal per se, but it will definitely be one of the most flavorful chicken recipes you've ever tried.
The marinade is Italian dressing. The chicken is combined with potatoes and green beans for a full and hearty meal.
You need to try these other crispy baked chicken tenderloin recipes!
Source: dinner-mom.com
These are not frozen breasts, but if you increase the cooking time to 45 minutes, your freezer meat will turn out so juicy and delicious.
So, what do you need?
Just some butter, lemon juice, garlic powder, paprika, and a teaspoon of lemon-pepper seasoning.
Then, you bake at 350 degrees F, working on your preferred side dish in the meantime.
Slow Cooker Frozen Chicken Breast Recipes
Slow-cooked frozen chicken? Yes, why not? These recipes are the perfect options to try if you have a Slow Cooker and some chicken breast in the freezer.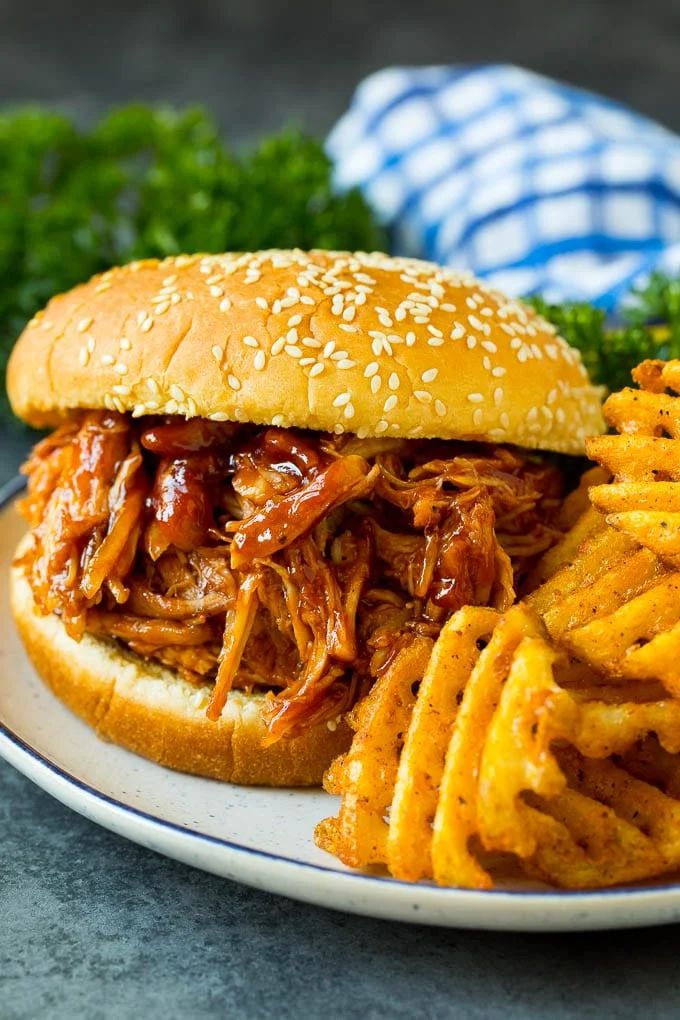 Source: dinneratthezoo.com
Barbecue chicken in the crockpot. This dish is not only full of flavor and juices, but it is also begging you to embrace messy eating. Seriously, it is hard not to get your fingers and chin stained.
The recipe uses both a BBQ rub and a BBQ sauce. So it is full-on barbecue flavors here, guys!
It is hard not to put the sticky shred on a bun. And if you serve it with some fries on the side. Well, who needs fast-food takeout, really?
Find more fun weekend dinner ideas here!
Source: chefsavvy.com
Okay, this honey garlic chicken is cooked with fresh meat, not frozen. But if you add an additional 90 minutes of cooking, you can definitely get the same results with frozen breasts, too.
The recipe is sweet, garlicky, spicy, and with pungent ginger flavors.
I love this over rice, but it is versatile, so other side dishes will work, too.
Source: thefreshcooky.com
Just four ingredients, and that's it. Chicken breasts, cream cheese, parmesan cheese, and Italian dressing.
The recipe is for raw chicken and four hours of cooking. But if you increase that to six hours, you will get your frozen breast perfectly cooked.
It is suggested to serve this dish with cooked pasta, and I couldn't agree more. However, I would love to try these in sandwiches, too.
Source: boulderlocavore.com
This recipe uses chicken breast straight from the freezer. And it makes such a creamy and smooth dish that no one will believe it is so simple to make.
It is a warm and delicious comfort food that is the perfect ending to a lazy Sunday. Just place everything in the crockpot in the morning and enjoy it in the afternoon.
Cream of chicken soup and milk transforms this chicken into an irresistible delight.
Source: rachelcooks.com
Instead of four, you will need to cook the frozen chicken for six hours.
This glazed teriyaki chicken is so full of flavor that it is one of those finger-licking-worthy recipes, for sure.
You can serve it with rice and noodles. Or simply with steamed carrots, broccoli, and/or cauliflower.
Garnish with sesame seeds for a fancier presentation.
Source: thecozycook.com
Chicken and stuffing is a holiday favorite, you have to admit. And if you're craving the festive flavors a bit earlier this year, try this copycat recipe.
You can easily make it with frozen chicken if you cook it for 6 hours.
You combine the meat with sour cream, cream of chicken soup, green beans, and a box of stuffing mix.
And that's it. Six hours later, a creamy and tasty indulgence will be ready to be served.
This is one of the most delicious fall chicken recipes for dinner!
Simple Frozen Chicken Breast Recipes
Looking to further simplify things? Try these easy recipes that will help you cook frozen chicken like a pro.
Source: melaniecooks.com
If you don't know what Chicken Kiev is, let me tell you. It is marvelous!
It is a dish made with chicken breast, stuffed with garlic butter and covered with breadcrumbs.
And the best part about this recipe? It uses store-bought frozen Chicken Kiev. And it is fried in the Air Fryer!
In just 15 minutes, you will have the most buttery, golden, and crispy stuffed chicken recipe ever.
Source: whatsmoking.com
This recipe doesn't really work well with frozen chicken. If you defrost it, you can follow the instructions as they are.
If you don't have time for defrosting, try omitting the injecting part. Instead, lose the butter and combine all the other ingredients. And just place it over the chicken.
Then, increase the cooking time by 1 ½ hours.
If you want to, you can save the butter for later. Once the chicken is cooked, you can shred it along with the butter for some silkiness.
Source: ifoodreal.com
Simple, up to the point, beautifully presented, and incredibly delicious. What more could you want from a recipe?
This Italian-seasoned chicken is made from frozen in the Air Fryer. And it saves you a lot of time and effort.
Really, it is ready in just half an hour.
Source: recipethis.com
Frozen chicken breasts, chicken stock, and some seasonings. You can also use barbecue sauce, which I highly recommend.
This recipe is made in a Ninja Foodi, using the pressure cooking option. If you have an Instant Pot, you can easily make this recipe in that appliance, too.
Shredded and seasoned, this chicken dish can be the protein to many meals.
Source: whereismyspoon.co
This recipe is perfect for those of you who forgot to leave the chicken to thaw on time. Because, guess what? There's no thawing involved!
All you need to do is spray the chicken with a bit of oil. Add some paprika and season to taste. Then, let the Air Fryer do its thing.
This recipe makes perfectly sliceable chicken. And you can easily pair it with rice and other veggie sides.
Source: wenthere8this.com
Without the need to defrost your chicken, everything's a lot simpler.
This recipe cooks it in the Sous Vide and provides you with buttery and flavorful meat that it's super moist.
It may take about 3 hours to prepare, but this is all hands-off cooking. So, really, this is a recipe you set and forget about while you help your kids out with homework.
A pretty good deal on a busy weeknight, right?
Source: melaniecooks.com
This recipe cooks stuffed breast with broccoli and cheese in the Air Fryer, in just 15 minutes.
Who knew cooking could be so easy and quick?
Make sure to flip the meat halfway through to ensure even crispiness and a tempting golden color.
Serve with rice or potatoes for a filling dinner.
Source: whereismyspoon.co
Did you know that you could boil frozen chicken? And this recipe shows you exactly how!
The important thing here is for the cooking liquid to be salty. You can do that by combining water with salt and spices. Or by using a bouillon cube or prepared chicken stock. Either is fine.
This recipe makes white meat that's perfect for slicing. Which means it's ideal for sandwiches!
Source: theforkedspoon.com
This is a wonderful recipe that poaches fresh chicken breasts. If you don't want to thaw the meat, make sure to start with cold water, as stated in the recipe.
If you add frozen meat to boiling water, it will cook the outside of the meat much quicker than the inside. Which means unequal cooking.
Also, increase the cooking time by 50%.
Source: wholelottayum.com
This recipe can be made with both fresh and frozen chicken. It only suggests that you add 5 more minutes of simmering if using frozen breast.
It is just plain boiling chicken in broth recipe, but it results in juicy and tender meat that it's not dry on the inside.
Perfect for those who want to perfect their boiling-meat technique.
Source: hippressurecooking.com
You have a bloc of chicken breast in the freezer? Well, in 20 minutes, it can be turned into a wonderful dinner.
And not just any dinner. But pressure-cooked, tomato-smothered, Indian-inspired, creamy delicacy.
This dish is heavy on ginger and Garam masala, which is where most of the flavor comes from.
You can serve it with rice or Naan for a hearty and super-filling dinner.
You'll want to enjoy these other chicken and tomato recipes!
Source: thecookful.com
The key to perfectly cooking this recipe? Make sure your meat has been frozen individually. That means that the breasts do not touch each other.
The recipe includes tomato sauce, mozzarella, and parmesan cheese.
It is also enriched with breadcrumbs, which gives it a nice texture that works so well with the cheesiness.
Source: busycreatingmemories.com
Another simple recipe that turns your frozen chicken into a delicious dinner in just 20 minutes!
Made in the oven and seasoned with simple flavorings, this recipe is definitely worth saving.
Because, yes! The taste is impressive, and the meat is super moist and juicy. And it doesn't have a dry middle. How amazing is that?
41 Enticing Frozen Chicken Breast Recipes
Explore a world of flavors with our versatile frozen chicken breast recipes. Easy, simple and full of nutrition.
Ingredients
1. Instant Pot Chicken Tacos
2. Instant Pot Frozen Chicken Breast
3. 4-Ingredient Salsa Chicken
4. Chicken Taco Soup
5. Basic Instant Pot Frozen Chicken Breast
6. Shredded Chicken Breast
7. Mexican Shredded Chicken
8. Chicken Fajitas
9. Chicken Fried Rice
10. Frozen Chicken
11. Chicken and Potatoes
12. Bone-In Chicken Breasts
13. Mushroom Chicken Soup
14. Orange Chicken
15. Chicken Soup from Scratch
16. Baked Chicken Breast
17. Healthy Baked Chicken Breast
18. Simple Baked Chicken Breast
19. Oven Baked Chicken Breasts
20. Juicy Oven Baked Chicken Breasts
21. Oven Baked Chicken Tenders
22. Lemon Pepper Chicken
23. Crockpot BBQ Chicken
24. Honey Garlic Chicken
25. Olive Garden Crockpot Chicken
26. Chicken and Rice
27. Chicken Teriyaki
28. Chicken and Stuffing
29. Chicken Kiev
30. Smoked Pulled Chicken Breasts
31. Air Fryer Chicken Breasts
32. Ninja Foodi Frozen Chicken Breast
33. Simple Frozen Air Fryer Chicken Breast
34. Sous Vide Chicken Breast
35. Air Fryer Stuffed Chicken Breast
36. Boiled Chicken Breast
37. Poached Chicken Breast
38. Easy Boiled Chicken Breast
39. Easy Butter Chicken
40. Frozen Chicken Parmesan
41. Italian Baked Chicken
Instructions
Scroll up to get a bunch of easy, yummy, and delicious recipes. Don't be afraid to get creative with the ingredients, you might discover a flavor you didn't know you liked.
Get your shopping list going and make sure you've got all the ingredients.
Get cooking and make your next Frozen Chicken Breast Recipe!
Notes
Which one of these recipes was your favorite? Let me know in the comment section or on Pinterest!