Stuffed chicken recipes are one of the best dish ideas for busy home cooks who want to do something a little bit different.
It's a delicious, affordable way to add a spin to a simple dish and still keep things healthy.
Best of all, stuffing your chicken makes it even better! Stuffing helps keep chicken moist and tender in the best way, thanks to the extra liquid and steam.
In other words, this list is now officially your secret weapon for an easy chicken dinner.
If you're looking for a way to keep your weeknight meals fresh, fun, and delicious (all without blowing your budget), then you're in the right place.
Because whether it's for a dinner party or a casual weeknight dinner with your family, a stuffed chicken will always come through for you. Let's review thirty-one ways you can enjoy this great dish.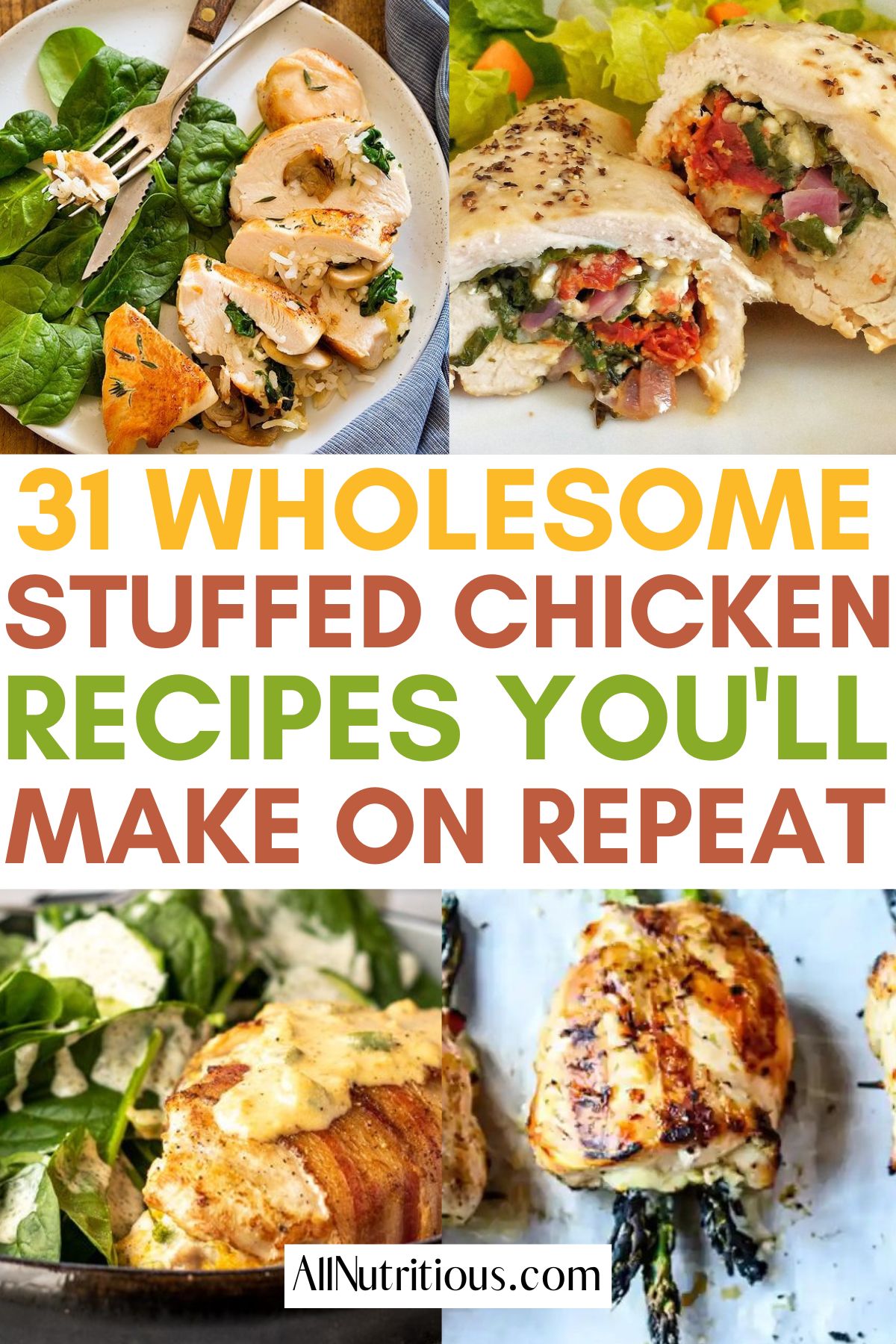 What Can You Stuff in a Chicken?
When it comes to what you can stuff in a chicken, the sky's the limit!
You can stick with traditional stuffing for a classic dish, which is a surefire way to deliver a ton of flavor and great texture.
Traditional stuffing combines breadcrumbs, herbs, spices, and stock to nail the taste for a special occasion.
Similarly, you can opt for rice or grain stuffing to get that injection of high-quality carbs.
This is a great way to put a unique or modern twist on an old favorite delicious stuffed chicken breast recipe.
But that's not all! Inject some variety in different ways (it's the spice of life, after all) into your stuffed chicken with sausage, vegetables, or even fruit stuffing!
There are so many great ways to be inventive here with your favorite ingredients.
And if you're fresh out of ideas, don't worry. I've got some simple, delicious, and affordable recipes the whole family will love to get you started. Let's go!
Easy Stuffed Chicken Recipes
Source: allnutritious.com
I'm kicking things off with one of my favorite stuffed chicken recipes. I can't help it. I just love this recipe so much!
The mozzarella cheese and pesto are the perfect ingredients to make these boneless skinless chicken breasts sing.
Not to mention, this juicy chicken breast dish is also super high in protein and low in carbohydrates, so it's ideal if you're living keto.
With a full-on flavor and a make-ahead style, this is the ultimate stuffed chicken breast.
Source: theroastedroot.net
Next up is an unforgettable, easy stuffed chicken breast recipe featuring all the best Fall-inspired ingredients.
Mushrooms, feta cheese, and spinach combine to create the perfect filling for this tender chicken dish.
I love this perfect meal because you can serve it with any side dishes, and it will still work.
Mashed potatoes, a fresh green salad, even a pasta dish: everything goes with this easy chicken recipe!
Source: thedizzycook.com
Creamy Boursin cheese and a center of fresh spring asparagus bring a ton of flavor to the party in this recipe.
This is technically a rolled chicken breast, but the result is exactly the same, with lots of melty cheese on top of the chicken.
This might seem complex, but really these stuffed breasts only take thirty minutes to make!
While the chicken is baking, you can get on with making some of your favorite side dishes to go with it.
Source: pipercooks.com
This one goes out to the jalapeno popper fans out there! This stuffed chicken breast is the perfect game day dinner, but it would be at home any night of the week too.
Wrapped in bacon and stuffed with spicy jalapeno cheese, this chicken is a definite crowd-pleaser. Salty, spicy, and full of great taste, your family will be begging for seconds once you serve this.
Source: chocolatemoosey.com
I love stuffed chicken recipes because they can transform affordable, humble ingredients into five-star meals. As they say, the proof is in the pudding, so here it is!
This dish uses mushrooms, spinach, rice, and chicken breast to create an upscale dinner for two… that you can create in just under an hour. It's succulent, tender, and so flavorful.
Source: thehealthyepicurean.com
Not only is this a stuffed chicken recipe, but it's also a one-pot meal! This is the ultimate recipe to beat the clock on a busy weeknight while still providing everyone at home with a great meal.
In fact, this is also a make-ahead-friendly meal. Stuff the chicken ahead of time and keep it in the fridge until you're ready to bake it with the rest of your ingredients.
You'll be ready to eat in just twenty-five minutes!
Source: runningtothekitchen.com
Chicken marsala is a well-loved Italian dish that just screams 'comfort food'. That said, it's also a great date night dish with a ton of flavor packed into every mouthful.
Now, imagine all that flavor cranked up to eleven! That's where this recipe gets you. The tomato butter is fatty and acidic, enriching the tender chicken and dialing up the tenderness.
Source: wholeandheavenlyoven.com
Take some inspiration from Switzerland, the corner of the world that knows everything there is to know about cheese. This is a super easy recipe that will definitely up your chicken game.
Ooey gooey cheese, expertly caramelized onions, and rich mushrooms make up the filling of this tasty chicken breast. With the crust on the outside, this recipe would make any Swiss person proud.
Source: wholeandheavenlyoven.com
If you love the idea of cheese-stuffed chicken breasts but you don't want something super rich, then this is for you! The feta and spinach keep things fresh, but you still get that tasty hit of cheese.
While this may look fancy, this dish will be ready in just under an hour. The ingredients list is super basic, so you can deliver high-quality food without breaking the bank.
Enjoy these other tasty chicken and spinach recipes!
Source: agrillforallseasons.com
When the sun comes out, and the mercury starts to climb, it's time to bring out the grill. And when the grill comes out, you have to try this smoked stuffed chicken breast.
The dark, smoky flavor of the chicken is a perfect contrast to the creamy, light cheese stuffing. Serve with a simple green salad to give the spotlight to your chicken, and watch it disappear in seconds!
Looking for a delicious Friday night dinner idea? This is a great one!
Source: savoryexperiments.com
Chicken and apple sauce is one of those classic combinations that you just have to reach for every once in a while. However, it can feel a bit simple if you're after something fancy for a dinner party.
Enter: this spinach and apple sauce stuffed chicken. This is refined, delicious, and a great way to ensure your chicken stays tender. That apple sauce is a real game-changer!
Source: aubreyskitchen.com
We all know that spinach and artichoke pair to make a beautiful dip, but what about something more robust? This is an ooey gooey stuffed chicken breast featuring artichoke hearts and fresh spinach.
Not only is it delicious, but it's also family-friendly! These crowd-pleasing flavors will have every member of your family running to the table.
If you somehow have leftovers, they'll keep in the freezer for up to a month!
Source: xoxobella.com
If you're hunting for a show-stopping meal to blow your dinner guests' minds, you've found it! This is an air fryer bruschetta with a stuffed chicken breast inside it. That's right, it's two layers of stuffing!
This is the last word in fancy Italian cooking. It will seem like you're bringing out a plate of bread loaves to serve your guests. But once they cut into them, they'll find rich, tender chicken waiting!
Source: homanathome.com
Broccoli and cheddar cheese are a match made in heaven. Sure, they go great together in a casserole, but what about something a little more high-protein?
That's where this amazing recipe comes in. Pack a lean chicken breast with delicious cheddar and fresh broccoli to create a kid-friendly dinner that the adults can enjoy too.
Source: persnicketyplates.com
Speaking of kid-friendly high-protein dinners, here's a lighter take on a cheese-stuffed chicken breast! This recipe uses just five ingredients, one of which is Laughing Cow cheese.
The light cheese is a perfect filling for the chicken, keeping it tender and salty without making the dish feel heavy. Paired with the crunchy coating, this is absolutely addictive.
Source: throughthefibrofog.com
I absolutely love ricotta. There's something about this versatile cheese that speaks to my soul, and I know I'm not alone. Deliciously rich and decadent, this recipe uses ricotta perfectly.
The cheese helps keep the chicken super tender, even as it bakes to a perfect crisp on the outside. Low in carbs and high in protein, this is a great midweek meal for a keto household.
This is one of the best Sunday dinner ideas for family night!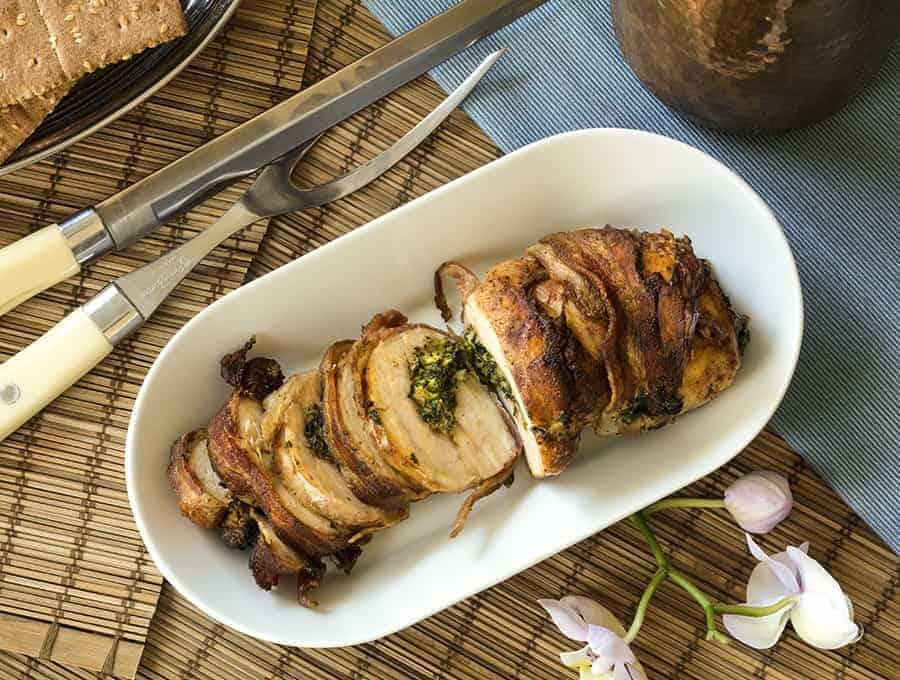 Source: twosleevers.com
Speaking of keto-friendly recipes, here's another one to tempt you! Bacon makes basically everything better, including this chicken stuffed with a cheesy spinach filling.
That's right. Cheese, bacon, and spinach. Need I say more?
I will, though, because this dish also comes together in an air fryer. So, not only is it tasty and high-protein, but it's also super convenient to make.
Source: throughthefibrofog.com
Searching for a fun and flavorful family dinner? I've got you covered with this healthy herb cream cheese stuffed chicken. The stuffing comes together in mere minutes and tastes incredible.
That's not even mentioning the zucchini wrapping, which helps trap all that great flavor inside the chicken breast where it belongs. Serve with your favorite vegetarian sides for a nutritious dinner.
Source: simplyscrumptiouseats.com
If you're low on time and need something healthy to cover your next weeknight dinner, this is the dish for you. Spinach, feta, lean chicken breast, and sundried tomatoes coexist in perfect harmony.
This is a baked dish that comes together in just forty minutes (and only twenty of those minutes need you in the room). Serve with a simple green salad, and you're done! How do you do it?
Source: thefoodblog.net
I've said it before, and I'll say it again: asparagus is a vastly underappreciated vegetable. These light, crunchy, delicious spears of greenery are a great addition to any meal. This one is included!
Imagine biting through a perfectly-cooked chicken breast to find springy, refreshing asparagus waiting at the center. It's such a great balance and a clever way to get kids to eat their veggies.
Source: bluesbestlife.com
Apples, brie, and a delicious pan sauce: this recipe sounds pretty fancy. And don't get me wrong, it certainly tastes high-class. But it only takes twenty-five minutes to make!
The apple and the brie keep each other in balance, helping tenderize the chicken while it cooks. Pair that with a super easy pan sauce, and you've got a dish that just won't quit.
This is a great fun dinner idea for a family night in!
Source: christinascucina.com
Put a Scottish spin on your stuffed chicken breast with this authentic Chicken Braemar recipe! It originates from Balmoral chicken, which is usually stuffed with haggis.
In this recipe, you're called to use black pudding instead. The result is a rich, hearty, flavorful centerpiece for any dinner. Serve with mash and gravy for a winter-friendly weeknight meal.
Source: theheirloompantry.co
Bring the sunshine and scent of Italy into your kitchen with this dead simple thirty-minute meal. This only uses one pan, so you won't have to deal with a mountain of dishes once you're done eating!
The acidic tomatoes are a perfect contrast to the rich mozzarella stuffing, especially when sprinkled with some basil. Deliver some iconic Italian cuisine on any night of the week, no sweat.
Source: belleofthekitchen.com
Bacon, spinach, cheese, and artichokes. Could anything be more perfect?
Whether you need a quick and easy Sunday roast dinner or a dish worthy of your next dinner party, this has got the goods. The bacon-wrapped delight looks just as good as it tastes.
Source: theheirloompantry.co
Here's a wonderfully modern spin on a classic whole-stuffed chicken! Stuffing your roast chicken with wild rice is a great way to keep the chicken moist and the rice fragrant.
Be liberal with the herbs and seasonings here, as you want to impart as much wild flavor as possible onto the dish. This would make a beautiful centerpiece for a summer lunch or dinner with friends.
Source: spaceshipsandlaserbeams.com
Elegant, easy to assemble, and eats like a dream: these are the three things that characterize this sun-dried tomato chicken. The tomatoes in the stuffing really make the herbs on the skin sing!
This is the kind of dish you can be proud to serve in any situation. In-laws coming over? Hosting a game night? Need a quiet date with just the two of you? This dish has your back.
Source: masalaherb.com
Here's another example of how well cream cheese and spinach work together as a chicken stuffing. The soft cream cheese bakes to a perfect texture in the oven, while the spinach adds earthiness.
Both of them help to keep the lean chicken breast rich and moist while it bakes. So you can always be sure that your chicken will be on-par with your expectations.
Source: tastefulventure.com
If spinach and cream cheese doesn't seem like your style, why not pivot to provolone? This is a low-carb, high-protein, weeknight-friendly dinner you can have ready in just thirty minutes.
Best of all, it looks like it leaped straight out of a high-end restaurant's menu! It looks and tastes so fancy, but you only need around ten minutes to actually assemble it. Great on its own or with sides.
Source: masalaherb.com
Chicken cordon bleu is a classic French dish that many people struggle to perfect. But with this simple skillet approach to the dish, you'll nail it every time and blow your guests away.
Ooey gooey cheese and tender ham wait at the center of this crispy chicken breast. This is a rich protein, so make sure to serve it with some refreshing side dishes.
Source: healthytasteoflife.com
Keep things healthy and light with these stuffed chicken roll-ups. Whether you're headed to a potluck dinner or just a weeknight meal, these roll-ups are great to have in your arsenal.
The recipe helps you get the perfect stuffed chicken every single time, so there's no stress, no mess, just great flavor. Get creative and make this dish your own by swapping out some of the ingredients!
This is one of the best weekend dinner ideas for families!
Source: simplystacie.net
Finally, we have one of the most ambitious (and yet, one of the best) dishes on the list. This lasagna-stuffed chicken echoes chicken parmigiana but without the high-carb breadcrumb crust.
This is delicious, rich, and just so happens to be keto-friendly. I call that a win-win!
31 Best Stuffed Chicken Recipes That Are Easy To Make
Savor the perfect blend of flavours and tenderness of the best stuffed chicken recipes that will make you a kitchen hero.
Ingredients
1. Mozzarella Stuffed Chicken Breast with Pesto
2. Mushroom and Spinach Stuffed Chicken Breast
3. Boursin Stuffed Chicken
4. Jalapeno Popper Stuffed Chicken
5. Mushroom Rice Stuffed Chicken Breast
6. Asparagus Stuffed Chicken with Roasted Fingerling Potatoes
7. Tomato Butter Mozzarella Stuffed Chicken Marsala
8. Caramelized Onion Mushroom Swiss Stuffed Chicken Breasts
9. Skillet Creamy Spinach Feta Stuffed Chicken Breasts
10. Smoked Stuffed Chicken Breast
11. Stuffed Chicken with Apple Gravy
12. Spinach Artichoke Chicken
13. Air Fryer Bruschetta Stuffed Chicken Breasts
14. Cheddar and Broccoli Stuffed Chicken
15. Laughing Cow Stuffed Chicken Breasts
16. Herb Ricotta Stuffed Chicken Breast
17. Air Fryer Keto Bacon Wrapped Stuffed Chicken
18. Herb Cream Cheese Stuffed Chicken
19. Spinach and Feta Stuffed Chicken
20. Asparagus Stuffed Chicken Breasts
21. Apple Brie Stuffed Chicken with Pan Sauce
22. Chicken Braemar
23. Mozzarella-Stuffed Chicken Pomodoro
24. Bacon Wrapped Spinach Artichoke Stuffed Chicken
25. Roasted Chicken Stuffed with Wild Rice
26. Sun Dried Tomato Stuffed Chicken
27. Cream Cheese Spinach Stuffed Chicken Breast
28. Spinach and Provolone Chicken Breasts
29. Skillet Chicken Cordon Bleu
30. Healthy Stuffed Chicken Roll Ups
31. Lasagna Stuffed Chicken
Instructions
Scroll up to get a bunch of easy, yummy, and delicious recipes. Don't be afraid to get creative with the ingredients, you might discover a flavor you didn't know you liked.
Get your shopping list going and make sure you've got all the ingredients.
Get cooking and make your next Stuffed Chicken Recipe!
Notes
Which one of these recipes was your favorite? Let me know in the comment section or on Pinterest!