Flank steak is a delicious beef cut from the cow's belly muscles. These tender flank steak recipes will give you the best results for a juicy steak dinner!
Similar to skirt steak, this cut of steak is long, lean, and oh-so-tasty, with a rich, beefy flavor that makes your taste buds joyful.
This versatile meat is perfect for various dishes with a savory flavor, from sizzling fajitas and stir-fries to juicy salads and succulent sandwiches. Flank steak is also a grill master's dream!
This piece of meat cooks up quickly and can be marinated to give delicious flank steak recipes even more zing.
So grab your tongs and get ready to flip some flanks this grilling season – just remember to slice against the grain for maximum tenderness!
From slow cooking to flash frying, check out forty-one delicious ways to enjoy this affordable cut of beef for a tender steak dinner you won't forget.
What is the Best Method to Cook Flank Steak?
Flank steak is a lean cut of beef that benefits from quick cooking methods that help to preserve its tenderness and great flavor. Here's a simple and delicious method for cooking flank steak:
Preheat your grill or broiler to a high heat.
Season the flank steak with salt, pepper, and other desired seasonings, such as garlic or smoked paprika.
Grill or broil the steak for 3 to 5 minutes per side or until it reaches your desired level of doneness. For a medium-rare steak, the internal temperature should reach 135°F (57°C).
Once the steak is cooked to your liking, remove it from the heat and let it rest for 5 to 10 minutes before slicing it against the grain into thin strips.
Serve the flank steak with your favorite side dishes and enjoy!
Marinating the flank steak before cooking can also add flavor and tenderness. A simple marinade can be made with olive oil, soy sauce, garlic, and lime juice. Marinate the steak for at least 30 minutes or up to 24 hours before cooking.
Does Flank Steak Get More Tender the Longer You Cook It?
It depends on how you've decided to cook it! If you're grilling your flank steak – as above –it's important to cook it very quickly at a high temperature.
However, you can take your time if you're slow-cooking your meat. The more time the flank steak spends gently cooking in the sauce, the more it will fall apart.
If you want super tender flash-fried steak, give it plenty of time to marinate before grilling. The heat will seal in those juices, keeping the steak tender while crisping up the outside.
Best Flank Steak Recipes
Let's kick things off with the best of the best! These great flank steak recipe ideas bring the best out of this affordable cut, bringing flavor to the fore while keeping the lean meat tender and juicy.
Source: theheirloompantry.co
Bavette steak – also known as 'broiled garlic flank steak' – is an example of a great way to cook flank steak for an easy steak dinner. Broiling the cut keeps it moist on the outside while adding a tasty sear.
Stuffed with ample garlic, herbs, salt, and pepper, this is a quick and easy steak perfect for a busy weeknight.
Source: maplewoodroad.com
Flank steak is the ideal centerpiece for a carne asada quesadilla. It's a lean, trim meat with a ton of flavor potential.
So, you get something beautiful when you soak it in spices and braise it carne asada style.
Stuff your quesadillas with the prepared steak, top with cheese and fresh cilantro, and grill perfectly. This easy flank steak recipe is also great if you have leftover flank steak!
Source: theheirloompantry.co
Flank steak is also fantastic in salads, thanks to its leanness. This recipe uses a delicious balsamic dressing with a sharp, sweet tang to bring out the heartiness of the meat in the best way.
Imagine this tender meat as the centerpiece of your table! Simple, delicious, and full of seasonal ingredients: this is a great way to enjoy this flavorful cut of beef.
This would be an easy light dinner idea on a hot summer night!
Source: slowthecookdown.com
If quesadillas aren't your thing, there are always tacos! These soft tacos mirror authentic Mexican street food, with corn salsa and rough-chopped vegetables to pave the way.
This is the perfect quick and easy dinner to please your family on a busy weeknight. Everyone can assemble their ideal taco, so everyone wins!
This is one of my absolute favorite flank steak marinade recipes to compliment these cuts of beef.
Source: peelwithzeal.com
Crusting your steak in a thick layer of spice adds flavor to the outside but also seals all the juices inside. Combined, this creates the perfect conditions for tender, juicy flank steak.
This is the secret to getting delicious steak every single time without spending hours over the stove! Check out this recipe for another quick and easy weeknight winner.
Source: carmyy.com
A simple steak bowl is a great way to welcome the week. Tender, medium rare steak atop fluffy white rice with a corn salsa; is there anything better?
Flank steak is nice and lean, so it's a great choice to top this healthy steak bowl. You and your loved ones will be chowing down in under half an hour.
Source: thetoastykitchen.com
Looking for the perfect way to cook a flank steak? This will get you one step closer to victory! The butter and garlic in this recipe create a perfect seal on the outside of the steak.
The inside is a beautiful medium rare. Enjoy this as an appetizer, or serve with your favorite vegetable side dishes for a full meal.
These best steak toppings will take this tender meat to the next level!
Source: agrillforallseasons.com
If you have the time and the energy, smoking your flank steak is a wonderful way to bring out its best qualities. The smoked steak is rich, fragrant, and full of that woodsy taste we all love.
Best of all, the smoking method cooks the whole steak evenly, keeping it super soft all the way through.
This is one of the best Traeger recipes if you are looking to test out your new grill!
Source: theartoffoodandwine.com
Chimichurri steak lives in that wonderland between summer and winter dishes. The bright, herbaceous chimichurri packs a punch, picking up the whole dish and dragging it into summer.
The steak is a simple seared preparation, perfect as a canvas for the punchy, bold, herb-packed sauce.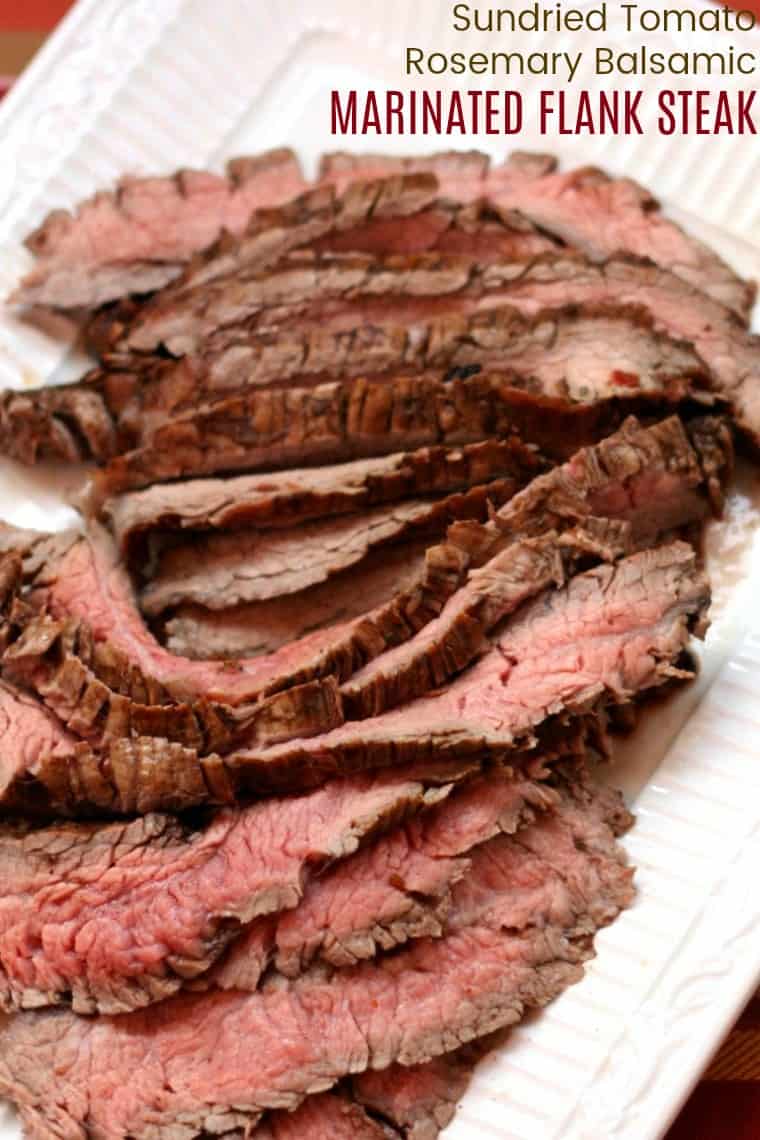 Source: cupcakesandkalechips.com
Marinating your flank steak is one of the best ways to keep it soft and tender as you cook it. This rosemary and balsamic marinade is easy to whip up when you need something quick.
Serve with roast potatoes or fried greens to create the perfect comfort dish on a cold night with the family.
Source: dishnthekitchen.com
While it doesn't have much fat, flank steak is still great for making shredded beef. It becomes tender and flaky when cooked just right, making it ideal for this Mexican shredded beef salad.
In total, this dish won't take you more than an hour to make. It's great for meal prepping, lunches, and dinners, so you can enjoy it any day.
Source: tidymom.net
Sliders are perfect party food and a great recipe to have in your back pocket. Feeding a crowd can be tough on your stress levels – and your wallet – but not with this recipe!
These grilled flank steak sliders are tender, juicy, and packed with all the right flavors. Plus, they're super easy to make in large quantities.
Source: heartbeetkitchen.com
Sometimes you just want a classic roast meal to see you through the end of the week. But you might not want to wait the hours a full-on roast requires. That's when a flank steak is ideal!
This thin, lean cut of meat cooks in no time but tastes like a roast. Serve it with all your favorite fixings for a quicker version of a long Sunday roast.
Source: neighborfoodblog.com
Have you ever had a steak sandwich? If not, now is the time! This recipe offers a simple way to feed a large group without losing hours to the kitchen's heat.
These sandwiches are almost like Philly cheese steak sandwiches but with a unique twist that will make your mouth water.
Source: theroastedroot.net
When it comes to Mexican food, marinated flank steak is just a no-brainer. This kind of simple dish can get you through the end of a tough day. Bright, vibrant flavors and simple techniques are kings.
Serve with all your favorite taco fixings to get the whole family in on the fun of assembling the tacos for themselves.
Source: reciperunner.com
You can use this carne asada recipe in any way you like. Everyone has their signature style, and this recipe lets you find yours.
Once you nail this steak, you can use it in everything from tacos to sandwiches. It's even delicious on its own, with a side salad to help it along.
Source: goodlifeeats.com
I opt for fajitas as weeknight fodder all the time. They're so easy to make, and the clean-up is a breeze. The key to great fajitas is an unbeatable marinade, and this recipe is a contender for sure.
Packed with fragrant spices and a dash of red wine vinegar, this marinade is warm, robust, and slightly acidic. Perfect for a summer night in.
Source: thewoodenskillet.com
A well-balanced steak fajita bowl is a delicious dinner! Seasoned rice, pickled vegetables, and fresh salsa pave the way for the hero of this dish's story: the marinated flank steak!
Make everyone an individual bowl to enjoy, or try serving from one big bowl. Either way, this dish is a show-stopper.
Source: numstheword.com
Balsamic vinegar, steak, and strawberries. While this might sound like a strange combination on the surface, the reality is a well-balanced bowl that will delight your tastebuds.
You can use whichever salad greens you have on hand to complete the bowl. How great is versatility in a recipe?
Source: thewoodenskillet.com
Speaking of delicious salads, here's another take on a flank steak salad that uses summer ingredients to create a perfect mess of seasonal ingredients. The real hero here is the homemade chimichurri!
Paired with fresh vegetables, the brightness of the sauce brings out the tender steak's flavor.
Source: campfirefoodie.com
This recipe is so easy to prepare that its original purpose was a camping dinner. That's right, with just a single heat source and a skillet, you can have this dinner ready to go for the whole family.
The Southwest seasoning on this steak is what makes it sing. If you can, cook it over a fire or grill to give it that delicious char it needs!
Source: thekitchenbucketlist.com
This steak is named for the grill it's cooked on. The Blackstone grill is known for giving a perfect cook with great heat distribution, which is great for nailing a flank steak's cook.
With a Blackstone, you can also cook your vegetable sides simultaneously to allow all the flavors to mingle.
Source: summeryule.com
Who knew you could cook your steaks in an air fryer too? Using your air fryer is a great way to strike the perfect medium rare every single time.
With a crispy exterior and tender interior, this steak is great for all kinds of dishes. Enjoy it on its own, or slice it up to put on top of a salad.
Source: atastefortravel.ca
Also known as 'hilachas,' this delicious Guatemalan shredded beef stew is a fabled comfort food in its homeland. Featuring a lightly-spiced tomato sauce, potatoes, and steak, this is comfort incarnate.
The key to nailing this stew is to cook low and slow. This gives the beef plenty of time to tenderize and fall apart.
Source: slowthecookdown.com
Sometimes, all it takes is a great salad dressing to take a dish from good to fantastic. In this case, a blue cheese dressing with garlic butter is that secret ingredient!
Bring this delicious salad together in less than twenty minutes, as long as you've made time to first marinate the steak for a couple of hours.
Source: thesaltandsweet.com
For the next recipe, we're reaching out to Lebanon for inspiration. Marinated in a symphony of Middle Eastern spices, this shawarma is on a whole other level of flavor.
Add plenty of fresh vegetables and a creamy sauce to the table, so the flavors can work together.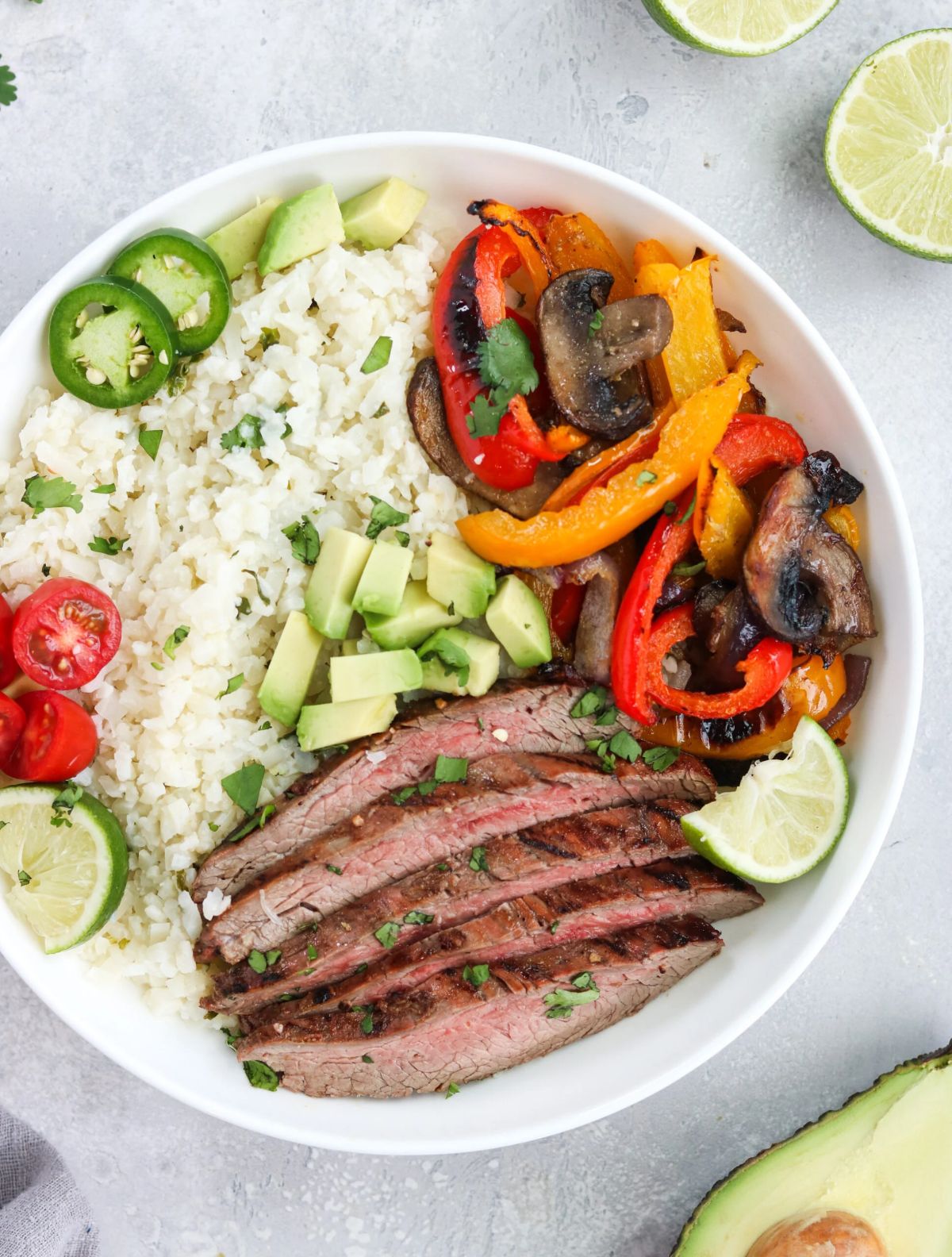 Source: maryswholelife.com
Carne asada is a delicious weeknight option, but it's even better when you enjoy it as part of a bowl. Imagine charred peppers, mushrooms, and coriander-infused rice with your steak!
This is a Whole30-friendly recipe with a heck of a kick, and it's super easy to enjoy on a weeknight. It's also a great meal prep recipe!
Source: jamjarkitchen.com
Bet you didn't know that nachos could get even better, right? I didn't either! But this recipe is here to prove all of us wrong! These flank steak nachos are rich, delicious, and packed with spice.
This is a great communal meal to enjoy with friends and a pitcher of margaritas. Don't forget the fresh pico de gallo and a generous amount of guacamole!
Source: loveandotherspices.com
Need something quick, easy, and delicious? These garlic steak bites knock it out of the park! Cooking these bites is super simple, and the results are undeniable.
It's all thanks to the garlic marinade, which makes the bites tender while packing a ton of flavor into every bite.
Source: jamjarkitchen.com
Add a luxurious spin to your steak salad with a few devilled eggs on the sides. If you're serving this dish to your family, they'll battle it out for every one of the delicious deviled eggs.
With hunks of fresh avocado, cherry tomatoes, and a delicious dressing, this recipe proves that salads can be luxurious too!
Stuffed Flank Steak Recipes
Stuffed flank steak is one of the culinary world's best-kept secrets. Stuffing the steak makes it thinner on each side, which means not overcooking it is essential.
Luckily, the extra ingredients inside help keep the steak moist and flavorful as a countermeasure to the extra thin surface area.
Source: cupcakesandkalechips.com
A braciole is a stuffed Italian steak, while a beef Wellington is a well-known pastry dish that combines mushrooms, beef, and buttery pastry to create the perfect English dinner.
This recipe takes these two parts of the world and brings them together, stuffing the ingredients of a classic beef Wellington into Italian braciole. This is well worth the effort!
Source: plattertalk.com
Fire up the grill and break out the skewers because it's time to char some beef! These delicious pinwheels are a new and exciting way to enjoy strips of flank steak.
Stuffed with a host of Italian ingredients to keep the steak soft and flavorful, these pinwheels are proof that you can think big with affordable ingredients.
Slow Cooker Flank Steak Recipes
Aside from grilling or frying your steak, you can also use your slow cooker to bring out the best in it! Slow cooking this lean meat is a great way to make it fall apart from sheer tenderness.
Since flank steak doesn't have a lot of fat, the sauce you cook it in is where most of the flavor and moisture will come from.
Source: slowcookermeals.com
Mongolian flavors are bold, rich, hearty, and perfect for a cold night indoors. This slow-cooker Mongolian beef recipe is a great way to enjoy your flank steak as tender as possible!
The gravy on the beef becomes super rich and dark thanks to a long time in the cooker. Over a bowl of fluffy white rice, almost nothing in the world is more comforting than this beef.
Source: flavorfuleats.com
Braciole usually takes hours in the oven, which is great in winter. But if you can't stand the heat, that's okay! In the summer months, you can still whip out your slow cooker to enjoy braciole.
This is braciole on easy mode, and it tastes just as good as if it spent hours roasting away in the oven.
If you are looking for fancy dinner recipes for a special occasion, this is a good one!
Asian Flank Steak Recipes
Flank steak is a great protein for cooking Asian food. It's thin enough to cook quickly, absorbs sauces and flavor like a sponge, and fits in perfectly with rice, noodles, or soups.
Source: joyfoodsunshine.com
Marinating your flank steak is a surefire way to make it tender and delicious. Most Asian-inspired marinades include an acidic component that eats away at the meat beneath.
This makes it extra tender! This steak marinade is fantastic, imbuing flavor in very little time. Once you're ready, the steak itself will be ready in just ten minutes.
Source: simplystacie.net
Thai recipes use many fragrant ingredients, so it's a great region of the world to search for inspiration.
This recipe uses peanut butter, adding a delightful nuttiness that contrasts with the other fragrant ingredients. The steak absorbs it all, pushing this firmly into 'delicious' territory.
Source: maplewoodroad.com
Don't give in to the call of the takeout menu! Instead, make your beef and broccoli that will rival your favorite Chinese restaurant's efforts. It's super easy and tastes amazing!
This great meal prep recipe will hold up for a few days. Thanks to the tasty marinade, this stays moist and tender for longer than a normal steak.
Source: simplyhappyfoodie.com
Pepper steak is a Chinese recipe that packs a real punch. Sliced flank steak, bell peppers, and a rich pepper sauce all pair to create a hearty, well-rounded meal perfect for family dinners.
The best part of this is using your Instant Pot since it takes all the effort out of the equation. Got half an hour? Then you have time to make this!
Have extra bell peppers? Try these other tasty green pepper recipes!
Source: runningtothekitchen.com
Lettuce cups are a personal favorite. I mean, they're just so healthy, but they taste so good! Somehow we've struck a balance between great taste and great nutritional stats.
Plus, they're so easy to make! It's like we're cheating.
Source: sabrinacurrie.com
Combine fragrant Thai flavors, crunchy summer vegetables, and perfectly cooked steak into the ultimate salad! This is a beautiful salad to serve on a hot day, especially when you have company.
If you want to change things up, add cold rice noodles to the mix to bulk the meal into something dinner-worthy.
Source: theinstantpottable.com
Stir fry is firmly in the domain of every home cook, offering us an easy way to take care of a weeknight dinner without descending into full-on panic.
This Instant Pot beef stir-fry ensures your steak stays moist and your vegetables stay crunchy, achieving the perfect balancing act we all crave from a stir-fry.
It's quick, easy, and tastes amazing!
41 Best Delicious Flank Steak Recipes You Need to Cook
Get your daily dose of protein with these impressive flank steak recipes - perfect for any occasion. Great for dinner!
Ingredients
1. Bavette Steak
2. Carne Asada Quesadillas
3. Flank Steak Salad with Balsamic Dressing
4. Carne Asada Tacos
5. Spice-Crusted Grilled Flank Steak
6. Easy Steak Bowl
7. Skillet Flank Steak with Garlic Butter
8. Smoked Flank Steak
9. Chimichurri Steak
10. Sundried Tomato Rosemary Balsamic Marinated Flank Steak
11. Mexican Shredded Beef Salad
12. Flank Steak Sliders
13. Marinated Grilled Flank Steak
14. Grilled Flank Steak Sandwiches
15. Flank Steak Tacos
16. Carne Asada
17. Flank Steak Fajitas
18. Steak Fajita Bowl
19. Balsamic Steak Salad
20. Grilled Flank Steak Salad
21. Southwest Skillet Steak
22. Blackstone Flank Steak
23. Air Fryer Flank Steak
24. Guatemalan Shredded Beef Stew
25. Steak Salad with Blue Cheese Dressing
26. Lebanese Beef Shawarma
27. Whole30 Carne Asada Bowls
28. Flank Steak Nachos
29. Air Fryer Garlic Steak Bites
30. Steak Salad with Devilled Eggs
31. Beef Wellington Braciole
32. Flank Steak Pinwheels
33. Slow Cooker Mongolian Beef
34. Slow Cooker Beef Braciole
35. Asian Flank Steak Marinade
36. Thai Flank Steak Kebobs
37. Chinese Beef and Broccoli
38. Instant Pot Pepper Steak
39. Korean Steak and Noodle Lettuce Cups
40. Thai Flank Steak Salad
41. Instant Pot Beef Stir Fry
Instructions
Scroll up to get a bunch of easy, yummy, and delicious flank steak recipes. Don't be afraid to get creative with the ingredients, you might discover a flavor you didn't know you liked.
Get your shopping list going, and make sure you've got all the ingredients.
Get cooking and make your next Delicious Flank Steak Recipe!
Notes
Which one of these recipes was your favorite? Let me know in the comment section or on Pinterest!