Looking for fresh crescent roll recipes you haven't tried before? Check out these delicious options to enjoy some buttery crescent rolls!
Have an extra can of Pillsbury crescent rolls that you don't know what to do with? I've got the solution! Try one of these incredibly soft crescent rolls recipes that are a serious crowd-pleaser.
Whether for breakfast, brunch, or even a snack. Savory, sweet, and even spicy. This roundup of easy recipe ideas with a can of crescent rolls has it all!
Your job is to pick a favorite of these delicious recipes and start cooking. Or should I say baking?
Whatever you end up making with your crescent dough sheets, I guarantee you will be satisfied!
What's the Difference Between Crescent Rolls and Croissants?
At first glance, crescent rolls and croissants may look the same. After all, they share that crescent shape. But they are really different.
For starters, croissants are a flaky, laminated type of puff pastry. Which means they are made by folding butter into the dough. And they're made with cold milk and butter.
On the other hand, crescent rolls are a bit closer to bread. And they're not laminated. And often, they're made with warm milk or warm water.
Plus, crescent rolls are not flaky nor crispy. They are super soft.
Crescent rolls have a more "homemade" flavor to them. While only masterful chefs can make authentic croissant dough.
Best Crescent Roll Recipes
Want to impress your guests with fresh and soft crescent rolls? You cannot fail with one of these incredibly tasty recipes with homemade crescent rolls!
Source: jawnsicooked.com
Let's start with something sweet. These sugary and cinnamon round crescent bites are a cross between a pineapple pie and a cinnamon roll. And that's a combo you'll absolutely love!
Made with store-bought crescent dough, this recipe saves you from kneading. And ensures that the dough will be perfectly soft and satisfying. Not that you're a bad baker. But you know what I mean.
They are also filled with cream cheese, which makes them even tastier.
Serve with your morning cuppa, and start your day the right way.
Source: joyousapron.com
Do you know that ready crescent dough can also serve as a delicious pie crust? Not really sure what I mean? Check this recipe out, then!
A layer of golden brown crescent roll at the bottom, topped with eggs, sausage, and loads of cheese. Then baked for 35 minutes and served as a filling and delicious breakfast.
Ground meat can also be used instead of the sausage. And you can also add some more nutrients by incorporating chopped veggies such as peppers and carrots into the mix.
Source: threeolivesbranch.com
Pizza-filled crescent rolls! Do they really need an introduction? You know they're cheesy, tomatoey, and meaty.
A quick comfort-food afternoon pick-me-up with a can of crescent roll dough. Don't you think?
This recipe uses pepperoni. But you can also omit the meat for a Margherita-style snack.
These soft dough rolls are made with provolone and mozzarella cheese. And are guaranteed to satisfy cheese lovers.
Serve them with some extra pizza sauce for dipping, and watch them disappear.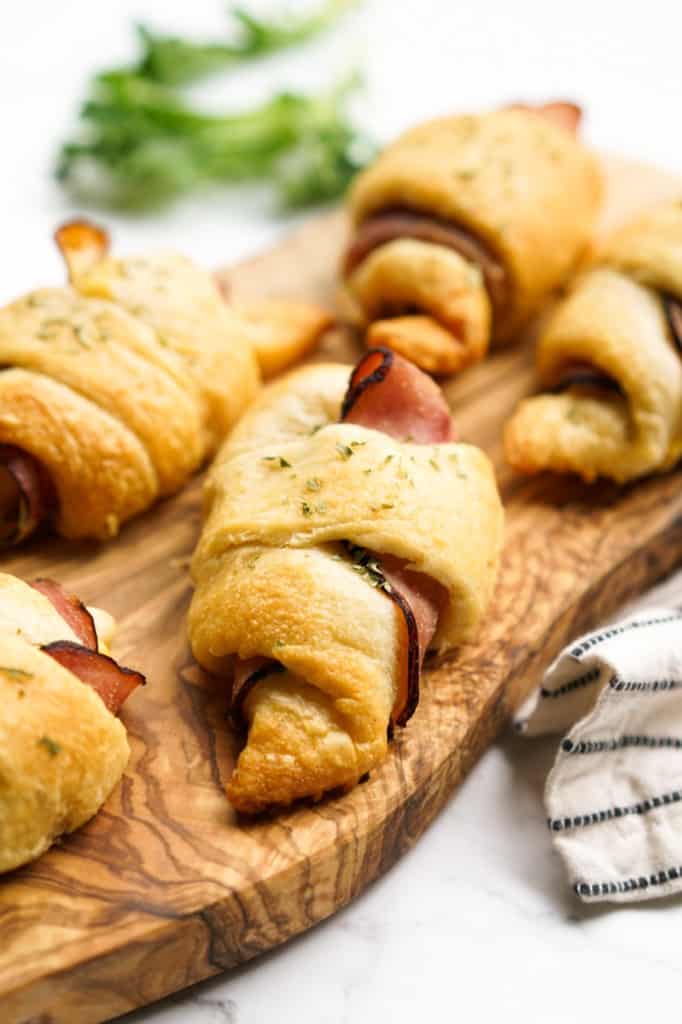 Source: joyousapron.com
When I think of savory crescent rolls, the first thing that comes to mind is ham and cheese.
I'm sure the creator of this recipe shares this ham-and-cheese obsession with me because these roll-ups are incredibly delicious.
And they're so easy to make, which is yet another reason why everyone should try them.
Just put some ham and cheese onto your crescent triangles. Roll each piece of dough up. Brush with mustard. Bake until golden on a baking sheet. And eat until you're full!
Source: threeolivesbranch.com
If you like Jalapeno poppers, then this recipe definitely satisfies your savory cravings.
Cream cheese spiced up with some jalapenos and topped with shredded cheese. That's the filling of these rolls. And besides being super cheesy, it is also very delicious.
Combine that with buttery, flaky, and soft crescent dough. And you've got the perfect addition to your game-night parties.
To make it suitable for the little ones, just substitute the jalapenos for regular bell peppers. Or, even more kid-approved, add some diced ham instead.
Need more ideas? Try these white egg recipes!
Source: butteryourbiscuit.com
The name says it all. Breakfast rolls filled with eggs, cheese, and sausages. Your favorite breakfast ingredients are packed in a crispy crescent package.
This recipe uses small sausage links. But you can also use wieners, bacon, or even ham.
They're ready in 45 minutes. These roll-ups are the perfect thing to whip up as an early riser. Your whole family will appreciate the effort.
Source: littlespicejar.com
Spread with cream cheese filling. And topped with parsley and parmesan mixture. These simple and delicious crescent rolls might be just what your fancy brunch needs.
Plus, you only need 20 minutes to make this perfect side dish. So, they're also the perfect thing to bring to a last-minute party.
This dinner table recipe also features chopped Jalapenos for a spicy kick alongside the flaky layers. If serving to kids, swap it with another veggie or omit it altogether.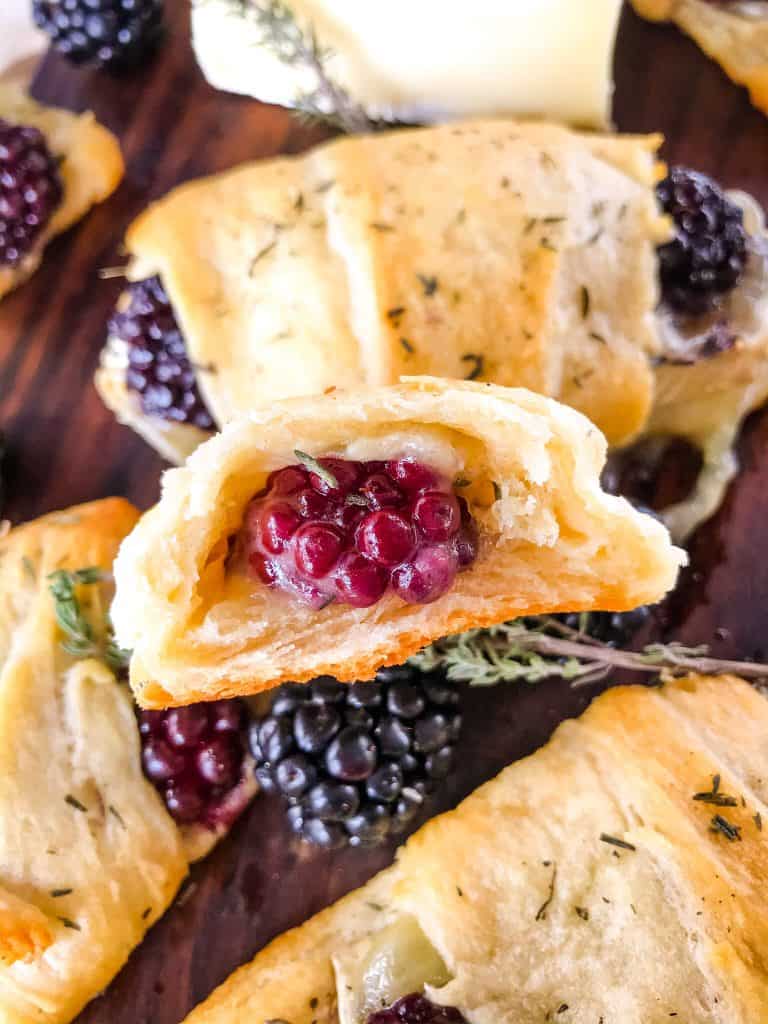 Source: threeolivesbranch.com
Do you like cheese and berries together? Then these crescent rolls are perfect for your afternoon parties.
The contrasting flavors here are incredibly addicting. There is sweetness. There is saltiness. And there is savory dough that's crispy on the outside but super soft inside.
The recipe uses both berry jam and whole blackberries. However, these can be just as delicious with either one of those ingredients.
If you don't like blackberries, blueberries will work, too. Love berries? Try these mulberry recipes!
Source: thecountrycook.net
Perfect for lunch, dinner, or even breakfast. And you know what? I'll probably serve these as a filling snack on game night.
Crescent dough in muffin cups filled with ground beef and cheese. I bet you can almost smell this goodness coming out of the oven.
And how can you not when there are tons of fragrant spices involved?
These taco cups are best if served with salsa. It is almost a crime not to pair these two together, right?
This dish is fun, flavorful, and bursting with meat and cheese.
Source: thesaltymarshmallow.com
Technically, this recipe is made with old croissants. But why on earth can it be prepared with crescent rolls? Hence, it's spot on this list!
If you have a day or two old crescent rolls that are too stale to enjoy, just whip up this sweet dish.
With canned pumpkin and brown sugar, this will easily become your new fall favorite.
The pumpkin pie spice is what makes it flavorful. But it is the half & half that gives it creaminess.
My favorite part, though? The sweet and buttery maple and vanilla glaze – yum!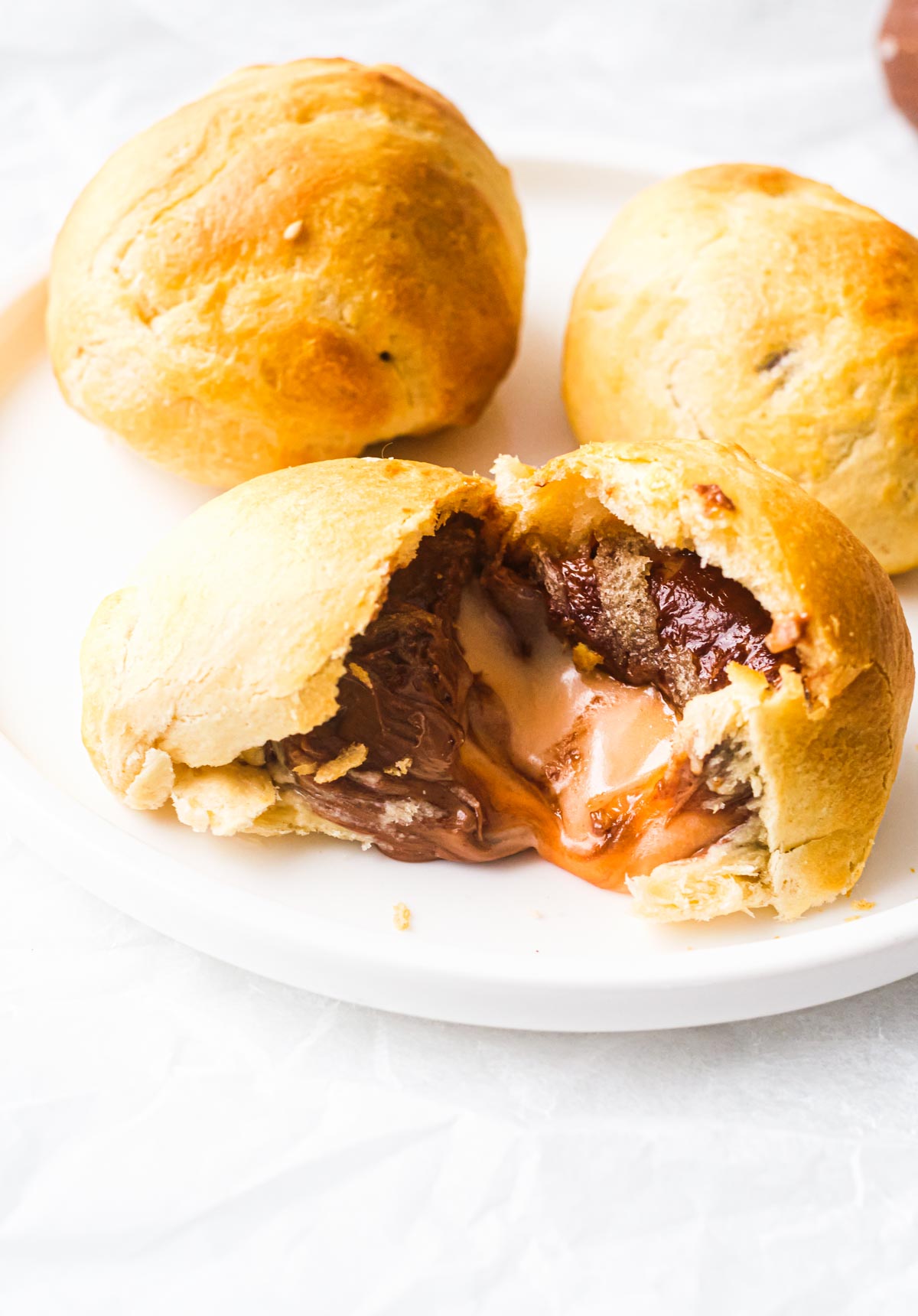 Source: recipesfromapantry.com
Are you looking for a recipe to spoil your little ones for Easter? Then you've hit the jackpot with this dish.
Cadbury crème eggs and store-bought crescent roll dough come together for a chocolaty indulgence.
And if that didn't sound easy and convenient enough, these sweet bites are also made in the Air Fryer. Fuss-free and ready in just 10 minutes. Doesn't that sound too good to be true?
Source: dinneratthezoo.com
Do your kids make a fuss when you serve veggies to them? Put them on a pizza! But not just any pizza. THIS crescent roll dough pizza!
With crescent dough instead of pizza crust, this colorful veggie threat will easily feed a large family.
Topped with cream cheese and a variety of veggies, this is both filling and nutritious.
This recipe uses broccoli, green onions, carrots, and peppers, but it goes without saying that you can use whatever veggies you have.
The ranch dip mix gives serious flavors to the veggies, so even the fussiest eaters will give in to this deliciousness.
Source: alekasgettogether.com
Combined with spinach and tucked into a crescent ball. These three cheeses – parmesan, ricotta, and mozzarella, have never tasted so good.
Gooey, cheesy, crispy, soft, and incredibly filling. Yes, all of that in just under 20 minutes from start to finish.
While this recipe can easily fill four people, it also makes a great crowd-pleaser. That means that if you double (or triple!) the batch, you can easily cover your party.
Source: dinneratthezoo.com
Pigs in a blanket. Everyone's favorite party food. If you don't have a foolproof recipe for this beloved snack, this is one you definitely shouldn't miss.
Cocktail wieners, crescent dough, and a bit of melted butter. That's all you need. And maybe some seeds if you want a nice topping.
It goes without saying that these should be served with ketchup and mustard. No, really, the kids at your party may be furious without these condiments!
This easy snack is a classic birthday party food idea!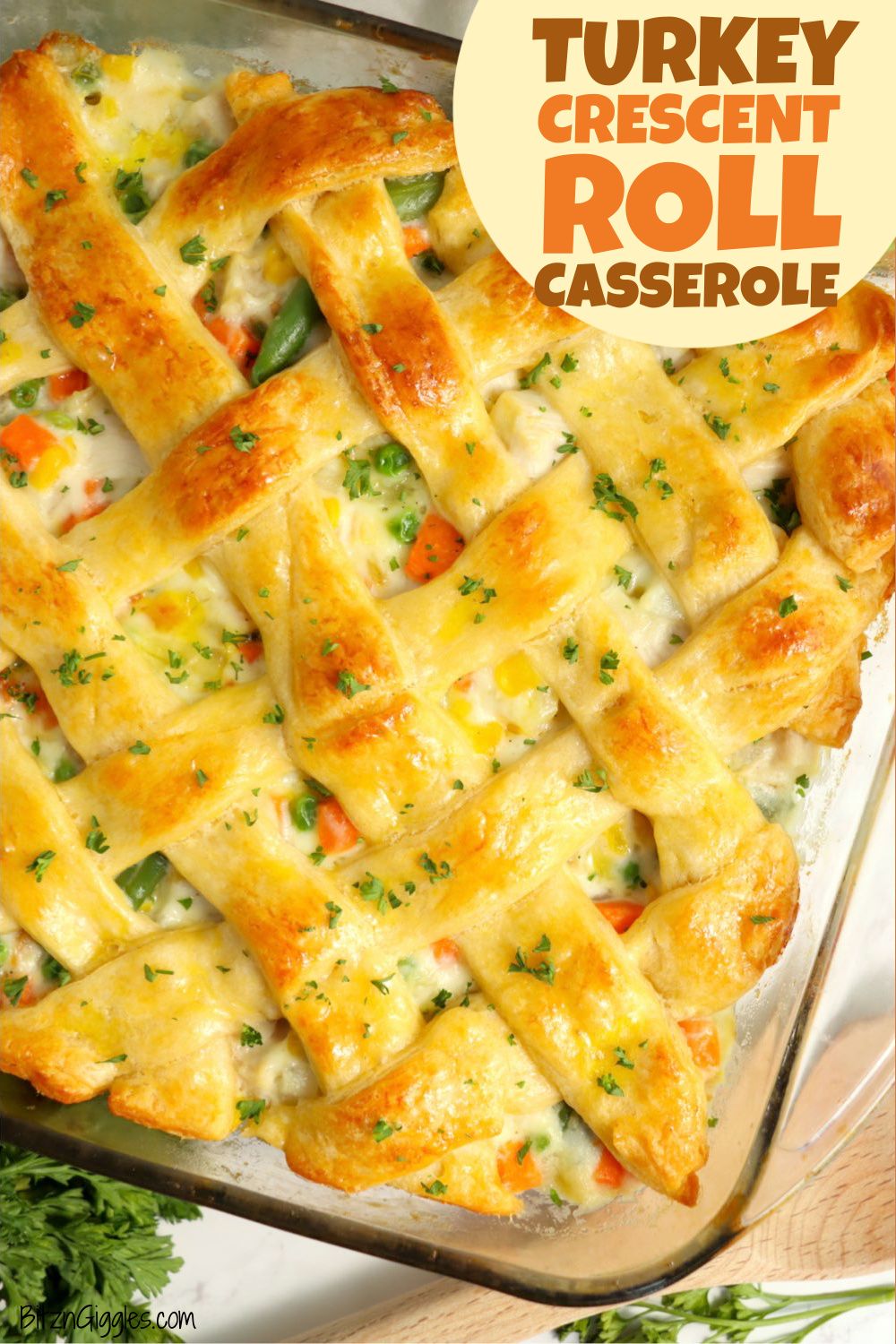 Source: bitzngiggles.com
Cooked turkey, mixed veggies, mayo, and crescent dough. That's what you need to make this creamy and nutritious dinner casserole.
The crescent crust is flaky and buttery. And it gives the dish a crispy texture that pairs perfectly with the meat and veggies.
I suggest you save the recipe for the holiday season because this dish is in desperate need of some leftover turkey.
Source: seasonandthyme.com
Call them packets or pillows, these crispy crescent pockets are filled with cooked chicken and cream cheese.
So yes, they're incredibly soft, cheesy, and meaty on the inside. On the outside, they are crispy, buttery, and super crunchy too.
They are topped with crushed croutons, which is a delicious contrast to all the softness that's going on inside.
When you don't know what to do with your leftover chicken, these lovely pillows should be your first choice.
Source: simplystacie.net
Oreos and crescent dough may seem like an odd combination. But even if you're skeptical, please give this recipe a shot.
This recipe is just what you imagine. Whole Oreo cookies wrapped in crescent dough. Then brushed with melted butter. And baked in the Air Fryer for more convenience.
This festive treat is perfect for carnivals or other holidays your kids enjoy, such as Halloween. And it is super fun to make.
Plus, it's so easy that you can have your toddlers help out, too.
These would make great carnival food for a themed party!
Source: willcookforsmiles.com
Another sweet crescent recipe that features your favorite hazelnut spread (Nutella, right?) and cinnamon.
The fun thing about these sweet treats is that they're twisted into straws. That makes eating both convenient and super exciting, especially for the little eaters.
The cinnamon flavor here serves as a topping along with white sugar.
Don't like chocolaty pastry? You can use fruit jam instead of the hazelnut spread.
Source: 24bite.com
Okay, if you're not a busy (or lazy!) cook, you'll probably want to make your own dumplings. But if you don't have the time or energy, this crescent-dough version will do just fine.
This recipe makes creamy chicken soup with dumplings. And it also features spicy pimientos. They are mild and not too spicy, but you can substitute them with hotter chili peppers.
But I haven't revealed the best part yet. This soup is made in the Instant Pot for a real hands-off dinner.
Source: daniscookings.com
Cannot decide whether to fill your crescent rolls with feta or parmesan cheese? Well, this recipe uses both!
And it also makes crescent dough from scratch. But don't be too overwhelmed by that fact. Only 20 minutes of prep time is required. Plus, the method is explained well for some fail-proof rolls.
If you don't have feta cheese, you can also use another creamier type of cheese. Or even cream cheese.
Source: plantbasedonabudget.com
A sweet treat that you will be making over and over again. And you'll never get bored of the taste!
This recipe is made with store-bought crescent dough. And it is ready in less than half an hour.
The key to nailing the perfect taste is pre-baking the apple slices. That way, you ensure softness that will pair just right with the crescent dough.
The recipe is vegan-friendly and uses vegan butter. But you can use regular butter if you eat dairy.
Source: remakemyplate.com
Are you in the mood for some strawberry cheesecake, but you're also very hungry? Whip up these cheesy strawberry crescent rolls instead!
These are made with packaged crescent dough, so they're also very simple and convenient to make. And they're ready to be devoured in just 20 minutes.
But the thing that will ensure them a special place in your recipe folder? The topping! These rolls are topped with candy melts. And yes, they're as sweet as they sound.
Source: agrillforallseasons.com
Here's another recipe for the hungry cheesecake lovers. Only this one doesn't involve any berries or candy.
Just cream cheese, sugar, and a subtle vanilla taste. Plus, some buttery cinnamon sugar to put on top.
And the good news? This recipe is made in the Air Fryer, and it is ready in just 20 minutes.
Large pockets of sweet cream cheese for the perfect coffee party ever!
Source: mimosasandmotherhood.com
A festive taco ring that will draw the whole family to the kitchen!
Fragrant, flavorful, and super delicious. Plus, filling enough to satisfy eight people. Or four really hungry adults!
This taco ring is filled with ground meat and shredded cheddar. And it's flavored with a Taco seasoning mix. So a pretty good candidate for Mexican dinner nights, right?
Serve with the usual sides like sour cream, salsa, or chopped tomatoes. Yum!
Source: inspiredepicurean.com
Even if you love baking from scratch, these blueberry crescent rolls are so tempting and easy that you will love to cheat baking.
Made with store-bought crescent dough, cream cheese, and lots of blueberries. You can rest assured that these rolls are both creamy, cheesy, fruity, and flaky on the outside.
This recipe uses preserves and dried blueberries. But if you don't mind them oozing out of the rolls, you can use berries in any form.
Source: chefsavvy.com
Individual chicken pot pies have to be the perfect appetizer for any occasion.
They are made with leftover chicken and packaged crescent rolls, so they're pretty convenient to make, too.
Shredded chicken with veggies has never tasted so comforting. And thanks to the flaky dough, they're all sorts of textures that you will enjoy.
And the best part? Kids will absolutely adore this fun finger dinner.
Source: 3boysandadog.com
These crack appetizers are super addicting. Get it? No, really, they are so delicious that you won't be able to stop yourself from eating. Which makes them the perfect party finger food!
This crescent roll is smeared with ranch-flavored cream cheese. It is then topped with bacon, green onions, and cheddar cheese.
The dough is then rolled into a log, and the individual pinwheels are baked until golden and crispy.
Source: iheartvegetables.com
Just tell your kids that you're making special pizza, and everyone will want a slice of this veggie-topped pastry.
And the good news? This is even simpler than making a pizza. You simply roll out the dough and bake it until golden. Then spread the cream cheese over, and add your veggies on top.
Loaded with nutrients, crispy texture, and amazing flavor, this healthy pastry will be a total hit on your table.
This unique pizza is one of the best pool party food ideas for the summer!
Source: passmeaspoon.com
If you've been waiting for a cinnamon-roll recipe, there you have it. The perfect start to a fall day, this sweet and flavorful pastry is the perfect thing to have alongside your morning coffee.
But this cinnamon roll has a secret ingredient. It is actually filled with canned pumpkin. And there's not even cinnamon in it. Wait, what?
The pumpkin here is combined with butter, sugar, and pumpkin pie spice. But the most delicious part? The maple cream cheese icing on top.
Source: xoxobella.com
Made with just three ingredients, these cheesy crescent rolls are perfect for your fall-themed party. Why? Because they're actually shaped like little pumpkins.
And guess what? They're really super easy to make.
You just tuck a mozzarella piece into a crescent ball, then you wrap some twine around it.
Once it's baked, you just put a pretzel stick on top. Pretty slick, right?
Source: trialandeater.com
This crescent pocket filled with spinach and cheese is the perfect meal to share with your loved one. Or you can just slice it up into small slices and serve as an appetizer.
It looks like a calzone, and it tastes like pie. This spinach, pepper, ricotta, and mozzarella cheese is the perfect meatless dinner.
It is also seasoned with Italian seasonings, which makes it even more flavorful.
Source: midwesternhomelife.com
A fun party appetizer that you'll enjoy both making and eating. Because yes, even though it looks like a lot of work, for this ring, you only need 25 minutes of prep time.
The ring is made with ground beef and canned crescent rolls. And it is loaded with cheese, corn, and beans. But it is the taco seasoning that gives it that Mexican flavor.
It's almost inexplicable not to serve it with salsa. However, you can also add guacamole or sour cream.
Source: midwesternhomelife.com
Soft, delicious, and super flaky! These cruffins are perfect for those who enjoy sweet pastry with their morning coffee. But they also make a satisfying afternoon treat.
Crescent roll, chocolate chips, cinnamon, and cocoa powder are needed for these muffin-like rolls. And that's not even the tastiest part.
These sweet rolls are topped with sugary vanilla frosting, which will make you like your fingers.
These cool cruffins are one of the best things to bake when bored!
Source: moneywisemoms.com
The best thing about making these savory pinwheels is that they are super easy. You just roll out the crescent dough, spread the filling, roll it up, slice, and bake.
The filling features ground sausage, cream cheese, shredded cheese, and peppers. But you can add whatever meat or veggie you want to your cream cheese.
Serve with a dipping sauce, and enjoy!
Source: xoxobella.com
Crescent roll cups with ham, broccoli, and cheddar made in a muffin tin.
These rich bites are perfect for breakfast or brunch, and they can serve as a filling appetizer, as well.
They're ready in 25 minutes from start to finish and freeze well, too. So perfect for meal-prep enthusiasts.
Don't have ham or broccoli? Don't worry! These cups are so easy to customize and can be made with other ingredients, too.
Source: chefsavvy.com
Store-bought crescent dough, cream cheese, and dollops of fruity preserves. Plus, drizzled with a simple powdered sugar glaze.
The dough is cut into strips, then twisted, and rolled into a pinwheel shape. It's topped with cheese and fruit and then baked until golden and flaky.
You can use any type of preserve you want. Apricot, blueberry, strawberry… But these are seriously delicious with a cherry topping.
Source: willcookforsmiles.com
There's nothing overwhelming about this recipe. The crescent dough is rolled out, topped with a strawberry filling, then rolled up and baked. And it takes just 10 minutes to prepare.
This recipe makes the strawberry filling from scratch. It includes a lemon touch, and it is also vanilla-flavored.
But the sweetest thing about it has to be the cinnamon sugar on top, which you notice right away. So sweet and yummy, these will become your new favorite treat.
If you enjoyed these crescent rolls ideas, these phyllo dough recipes are sure to be a hit!
37 Best Crescent Roll Recipes (Quick and Easy)
Yield:
4-10 crescent rolls
Prepare to redefine your culinary skills as you embark on a journey through our exquisite crescent roll recipes. These versatile, flaky delights can transform any meal from ordinary to extraordinary.
Ingredients
1. Crescent Cheese Danish with Pineapple and Cinnamon
2. Crescent Roll Breakfast Casserole
3. Pizza Crescent Rolls
4. Ham and Cheese Crescent Roll Ups
5. Jalapeno Popper Crescent Rolls
6. Sausage, Egg, and Cheese Breakfast Crescent Roll Ups
7. Garlic and Parmesan Crescents
8. Blackberry Brie Crescent Rolls
9. Crescent Taco Cups
10. Pumpkin Croissant Bread Pudding
11. Air Fried Cadbury Creme Egg
12. Veggie Pizza
13. Mini Cheesy Calzones
14. Pigs in a Blanket
15. Turkey Crescent Roll Casserole
16. Cream Cheese Chicken Packets
17. Air Fryer Oreos with Crescent Rolls
18. Chocolate Hazelnut Cinnamon Twists
19. Chicken and Dumplings with Crescent Rolls
20. Feta and Parmesan Crescent Rolls
21. Apple Crescent Rolls
22. Strawberry Cream Cheese Crescent Rolls
23. Air Fryer Cheesecake
24. Crescent Roll Taco Ring
25. Blueberry Crescent Rolls
26. Mini Chicken Pot Pies
27. Crack Crescent Rolls
28. Cream Cheese Veggie Pizza
29. Shortcut Pumpkin Cinnamon Rolls
30. Cheese Stuffed Pumpkin Shaped Bites
31. Spinach Ricotta Crescent Wrap
32. Taco Ring
33. Chocolate Cinnamon Cruffins
34. Sausage and Cream Cheese Pinwheels
35. Leftover Ham, Broccoli, and Cheese Crescent Cups
36. Cream Cheese Crescent Danish
37. Strawberry Crescent Rolls
Instructions
Scroll up to get a bunch of easy, yummy, and delicious recipes. Don't be afraid to get creative with the ingredients, you might discover a flavor you didn't know you liked.
Get your shopping list going and make sure you've got all the ingredients.
Get cooking and make your next Crescent Roll Recipe!
Notes
Which one of these recipes was your favorite? Let me know in the comment section or on Pinterest!