Have some leftover ribs? Check these leftover ribs recipes out and see how a leftover meal can be even tastier the next day than the previous day's dinner!
When you go crazy buying ribs for your backyard BBQ party, you are left with tons of leftovers. But don't let that overwhelm you!
Because leftover ribs can taste just as finger-licking as if you've taken them right off the grill!
Whether you have already cooked leftovers or you're left with raw rib trimmings, this article has got you covered with go-to recipes to put those leftovers to good use next time!
From sandwiches, pasta, and casseroles, to soups and stews. These yummy leftover rib recipes will make one heck of a second-day meal in the perfect way.
What Can I Do with Extra Meat from Spare Ribs?
If your meat comes with some extra on the sides that you don't want on your rack when grilling, don't let it go to waste. You can always just trim it, grill it, and have it on the side.
Or you can smoke it, then shred it and add it to other recipes. Tacos, sandwiches, pasta, salads, and even omelets will taste amazing with rib meat.
But you can also dice leftover meat up and cook it in a pot for casseroles or stews in a fantastic way.
If you end up with a bit more fat, you can use that to season up your pans and save the hard work.
Leftover Ribs Recipes
Here are the most delicious recipes you could possibly make with your sticky, leftover ribs in a great way!
Source: forktospoon.com
If you have a couple of extra grilled racks of delicious ribs in your fridge, do not despair. Because this recipe will show you how to reheat them so they are still tender and tasty perfectly.
For the best results, you should do it in the Air Fryer. That way, you won't end up overcooking them.
Don't have an Air Fryer? Don't worry! This recipe also features other methods for reheating ribs. Whether in the microwave, in the oven, or in a skillet.
This delicious recipe will return that sticky glory and be the best use of leftover ribs!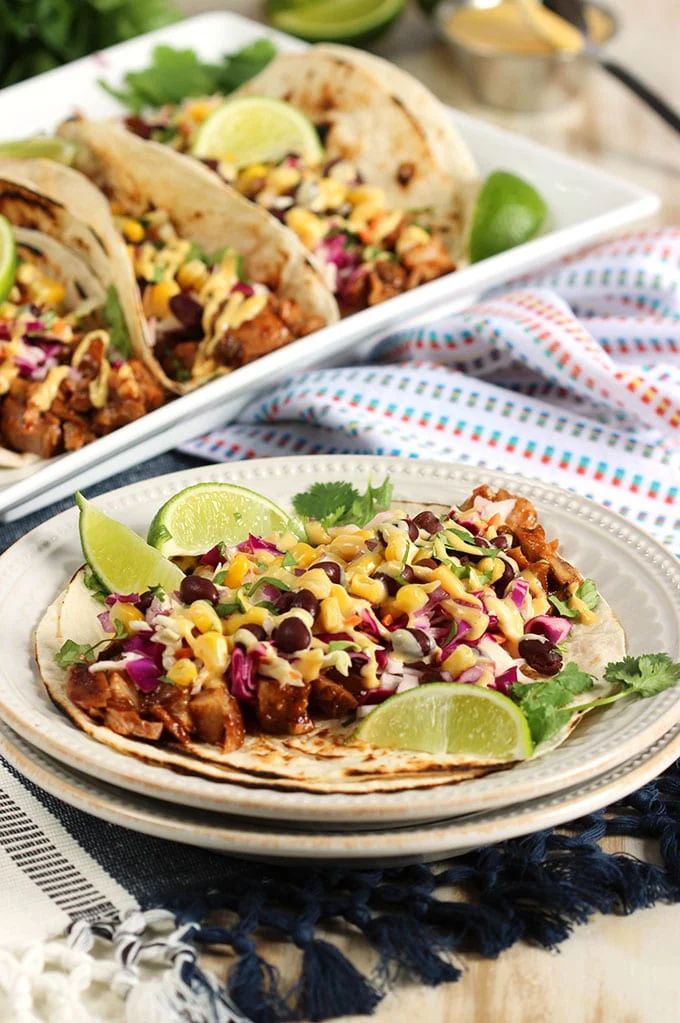 Source: thesuburbansoapbox.com
What's the first thing that comes to mind when you think of leftover bbq pork ribs? Tacos, of course!
And this juicy ribs recipe is definitely a tasty way to use up that smoky rack of ribs in your fridge.
Combined with colorful cabbages, beans, and carrots, these lovely stuffed shells are perfect for your game-night get-togethers.
They are also rich in cilantro, lime, and honey flavors. And they are drizzled with mustard for a spicy kick!
These quick tacos make one of the best pool party foods!
Source: omgyummy.com
This bbq leftovers recipe is not only great for giving life back to your leftover ribs, but it's also a perfect dish to whip up with leftover rice, too.
Packed with protein and fiber, this will fill you up in an instant.
It uses eggs, soy sauce, oyster sauce, and green onions. Simple ingredients, but incredible taste and one of my favorite things!
If this doesn't qualify as the perfect leftover dinner, I don't know what does.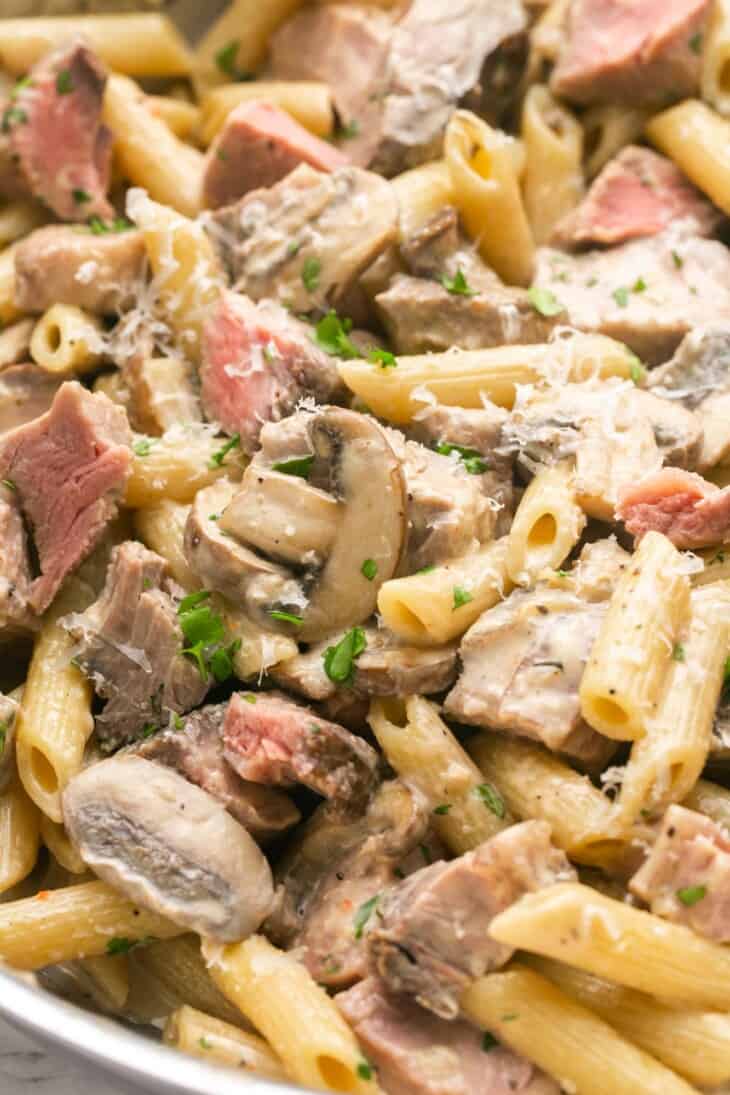 Source: littlesunnykitchen.com
This recipe turns your smoky ribs into a deliciously filling pasta dish!
All you need to add are some mushrooms, parmesan cheese, and heavy cream. And you'll have cheesy, creamy, and protein-packed goodness.
The pasta is seasoned with Cajun seasonings, which seriously transforms the flavor.
The thing you'll love the most is that this dish comes together in just 20 minutes. Perfect for busy nights, right?
This tasty pasta is one of the best Sunday dinner ideas!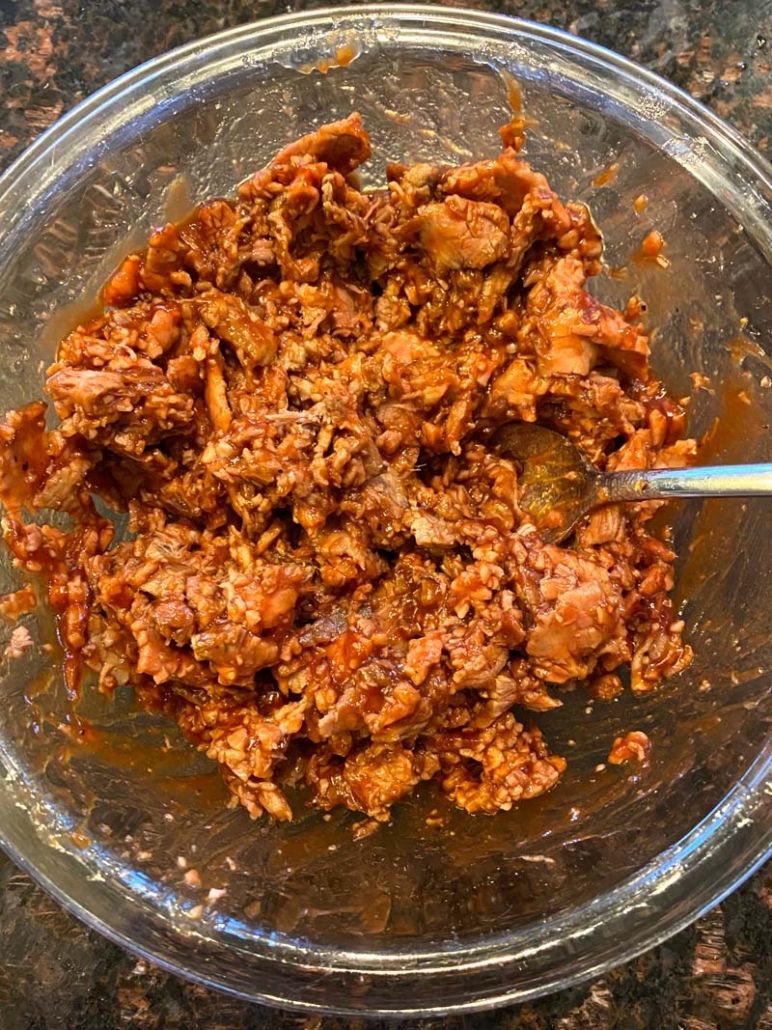 Source: melaniecooks.com
Okay, okay. This recipe doesn't really use ribs. It is actually made with cooked beef. However, you can easily do this with leftover ribs.
You can use large chunks of shredded ribs. Or you can put them in a food processor, as suggested in the recipe.
Either way, the meat is smothered in barbecue sauce, which will make one mouthwatering sandwich filling.
Source: dudethatcookz.com
Fall-of-the-bone ribs are pulled and shredded. And then used to make cheesy quesadillas.
This recipe also uses pico de gallo. But you can dice up whatever veggies you have available.
Use soft shell tortillas for this recipe. That way, you will easily turn it into a quesadilla package.
The cheese of choice is white cheddar, but mozzarella or sharp cheddar will work well, too. This is a perfect birthday party food!
Source: flippedoutfood.com
If you don't know what to do with your leftover prime ribs, the solution is pretty simple. Make this prime rib sandwich!
Hoagie rolls are toasted and filled with a cup of shredded prime ribs. Then topped with sauteed onions and two slices of provolone cheese.
Does that sound like the perfect definition of comfort food, or what?
If you want to spice things up, you can add some jalapenos or drizzle some hot sauce over. Yummy!
Source: recipethis.com
Making soup may not be the first thing that you think of when you look at your leftover prime ribs. But let me tell you, you'd be crazy to pass on this meaty nourishment.
So, what's in this soup? What's not? There are tomatoes, potatoes, zucchini, peas, corn, carrots, beans, and incredible spices.
The soup has enough broth to satisfy your slurping cravings. It is also made in the Instant Pot, which is perfect if you're feeling a bit under the weather. Plus, it will definitely make you feel better!
Source: whereismyspoon.co
Love the idea of turning your leftover ribs into delicious soup? Then this warming recipe will definitely satisfy you, too.
The main stars, besides ribs, are white beans and celeriac. But this soup also features carrots, peppers, and tomato paste.
It is hearty, filling, and just the perfect use of your spare ribs.
Serve it with some crusty bread on the side, and everyone will be asking for a refill.
Source: dinneratthezoo.com
Technically, this recipe is made with pork butt, slow-cooked with onions, bay leaves, and rich citrusy flavors. But you can also make it with your rib leftovers.
You just have to skip the browning part, omit the oil, and seriously lower the cooking time.
So, dump all of the ingredients except the meat in a pot. Cook them for about 10 minutes, then add your shredded ribs.
Cook for 5-10 more minutes, just until they soak up all of the juiciness and wonderful flavors. Then served as desired!
These authentic Mexican bread recipes would pair great with your carnitas!
Source: whereismyspoon.co
Seriously, you better get ready for some finger-licking because this comforting dish will make you do just that. Lick your fingers.
This recipe gives your spare rib cuts an amazingly delicious use. Did you know that you could turn them into such a filling and nourishing dinner?
Cabbages and ribs, smothered in tomato sauce and baked until tender. Even those who are not fans of cabbage will absolutely love this recipe.
Source: pinchandswirl.com
If you have some ugly spare parts left after your barbecue rib party, then this is definitely the best way to use them.
Just place them on a baking tray with carrots, onions, garlic, and celery. Roast them for 40 minutes. Then add to your Slow Cooker along with vinegar, water, and peppercorns.
And voila! You have some delicious bone broth that you can use for other recipes. Or enjoy it right away. Plus, you can freeze it for up to 6 months.
Source: wenthere8this.com
This recipe, with ribs, garlic, shitakes, tofu, and chilis, comes together in the Instant Pot. It is a super comforting and hearty dish. And it has a great amount of nourishing liquid to make you feel good.
It is a Singapore-style breakfast, but it makes one heck of a lunch if you ask me. Perfect to warm you up on a cold work day.
If you have some spare cuts of ribs sitting in your fridge, this is one delicious way to use them.
Source: cookingwithmammac.com
Do you have some raw pork rib cuts left behind? Great! Then you can make this delicious tomato and meat sauce.
This recipe uses canned tomatoes, garlic, basil, and onions. And it makes one heck of a sauce for your Italian dishes.
The best use for this deliciousness? Just boil some pasta and smother it in this rib and tomato delight.
Source: gingercasa.com
This barbecue potato salad is the perfect thing to whip up with your barbecue leftovers. Don't you think?
Smokey leftover ribs combined with eggs, potatoes, and pickles. Smothered in a mayo and mustard mixture that pairs perfectly with your barbecue flavors.
If your ribs aren't smoky, you can add a dash of liquid smoke to the salad to make it more BBQ-worthy.
A perfect summer backyard salad that will bring the whole family together.
Source: bakeitwithlove.com
Have you ever tried making chili with prime ribs? If not, then this recipe is your chance to catch up with the rest of us rib addicts!
Made with leftover prime ribs, tomatoes, and two types of beans. This filling recipe is perfect when served with some cornbread on the side. And maybe a dollop of sour cream to lighten it up.
Because they're two diced jalapenos and a generous amount of chili seasonings in this pot, spicy and flavorful, this dish will have you coming back for more.
This recipe would also work with leftover beef tenderloin!
Source: kosmosq.com
Spaghetti with ribs? Anyone? If you love meaty pasta and you're a fan of meatball spaghetti, this recipe is something you simply have to try.
Although it may sound like an obvious attempt to use up your leftover ribs, trust me, this recipe is anything but obvious!
Loaded with peppers, onions, spare ribs, and a serious amount of barbecue sauce. This has to be a dream of any BBQ lover.
Italians may shake their heads in disapproval, but we'll just go ahead and enjoy these smoky and meaty noodles.
Source: bakeitwithlove.com
These look so cute and colorful that they're practically summer in a cup. Enjoyed in your backyard the day after your big BBQ party.
So what are these, exactly?
With flour or corn tortillas, tostada shells are made. You can put them in ramekins or muffin tin and bake them until crispy so that they can retain their cup-like shape.
Then, you fill them up with refried beans, shredded ribs, pico de galo, lettuce, shredded cheese, and some cream. This recipe uses Mexican cream, but sour cream can be used as a substitute.
Source: plattertalk.com
Did you know that prime ribs and phyllo dough go amazingly well together? No, seriously, once you try this loaded pot pie, you will see what I'm talking about.
The recipe has roasted beef listed in the ingredients, but swap that with your leftover ribs. Then add tomatoes and all the good-old pie fillings.
This pot also combines potatoes, peas, carrots, and corn, and it is infused with red wine and broth.
You might want to use a good quality wine for this recipe because you will definitely be sipping some while enjoying this for dinner. Hearty and comforting!
Have extra phyllo? Check out these easy phyllo dough recipes!
Source: bakeitwithlove.com
Do you have leftover prime ribs? Then you might want to slice them up and combine them with sauteed onions, peppers, and loads of cheese.
For best results, use a hoagie or torpedo roll. As for the cheeses, provolone and American cheese will give you the best melt.
The recipe suggests that topping this sandwich with some horseradish sauce will seriously transform the taste.
Find more carnival food recipes like this!
Source: justapinch.com/recipes
This prime rib casserole is actually a pasta casserole. Penne pasta is smothered in a creamy sauce, combined with leftover rib chunks and tons of cheese.
It is then layered in a casserole dish. And topped with crispy bacon and a breadcrumb topping.
It goes without saying that the dish has to be baked at this point to give you that golden crispiness your whole family will enjoy.
If you don't enjoy baked pasta, just skip the breadcrumb and baking part and enjoy with the cheesy sauce and meat. It will be super yummy either way!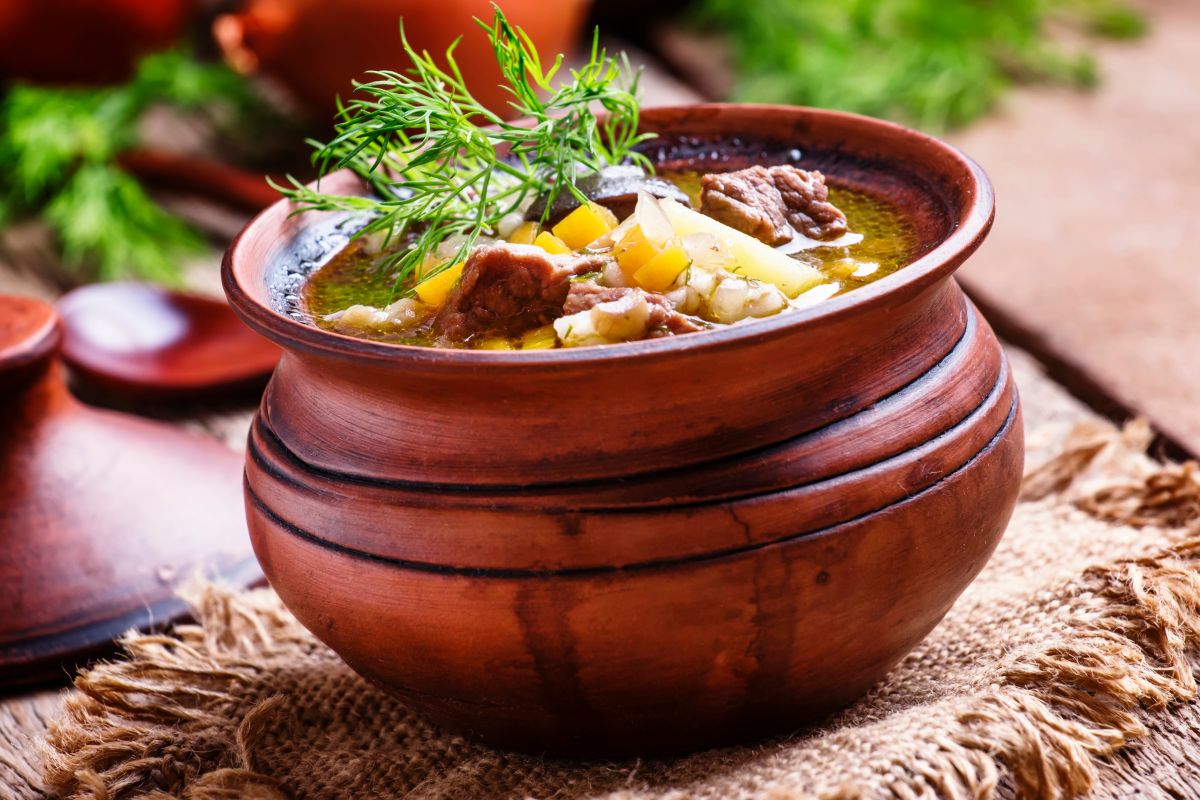 Source: simplyscratch.com
When you look at this soup, it may seem like they're a lot of things going on.
There are leftover prime ribs. There are cremini mushrooms. It is also loaded with diced veggies. It is rich in barley. And it is infused with cabernet sauvignon.
But even though it looks complicated, this recipe is super easy to make. And it is downright tasty, too! Plus, it will nourish you after the first slurp.
This rustic dinner is best served with some crusty or garlic bread on the side. Spoiler alert, there will be a lot of bread-dunking involved.
Source: food.com
This stew uses both the bones and the shredded meat from your leftover ribs. It also combines au jus sauce. Because how can you enjoy your ribs without the sauce, right?
The other add-ins are pretty standard stew ingredients. Potatoes, carrots, onions, beef bouillon, and red wine to flavor things up.
This recipe is made in the slow cooker, so it is also a great dump-and-forget-about-it meal. Perfect for busy or sneezy days when you don't have the time or energy to cook.
Source: systemofabrown.com
Haven't made breakfast hash with yesterday's ribs before? Then you don't know what your mornings have been missing out on.
It takes about 45 minutes to make, but if you're an early riser, this will be perfect for you. As it only takes 15 minutes of prep work.
Cubed potatoes, crispy bacon, onions, eggs, shredded beef, and melted cheese on top. How filling and satisfying in the morning, will that be?
Source: keviniscooking.com
If you've grilled just a bit too many ribs the other day, this recipe will be a total rib-saver.
Shredded and simmered in barbecue sauce. And paired with creamy, buttery, and cheesy grits.
Serve with your BBQ shreds on top of the grits, and enjoy! Really, that's all I'm going to say about this recipe. It is so yummy that you don't even need convincing. Am I right?
Source: theliveinkitchen.com
Barbecue ribs with browned onions and melted cheese. Tucked between two halves of a soft, white bun.
This satisfies all your fast-food cravings. And it uses up your leftover pork ribs deliciously!
If you have some other leftover barbecue meat, you can also use that to make this yummy sandwich.
Source: systemofabrown.com
Tired of your classic quesadillas? Then it's time to jazz things up with this smokey and meaty recipe.
This dish uses up your shredded, leftover rib meat. It also combines it with cheese, refried beans, jalapenos, and sauteed onions.
It is spicy, cheesy, meaty, and loaded with amazing flavors. Pretty irresistible if served with some sour cream or yogurt on the side. At least that's my idea of a comforting dish!
27 Best Leftover Ribs Recipes to Enjoy The Next Day
Don't let those delicious leftovers go to waste. Discover our mouthwatering leftover ribs recipes that will transform your leftovers into delectable new dishes.
Ingredients
1. Reheat Ribs in Air Fryer
2. Barbecue Pork Rib Tacos with Honey Lime Slaw
3. Leftover Prime Rib Fried Rice
4. Creamy Prime Rib Pasta
5. Shredded BBQ Beef
6. Braised Beef Short Rib
7. Prime Rib Sandwich
8. Instant Pot Leftover Prime Rib Soup
9. Pork Rib Soup
10. Pork Carnitas
11. Pork Ribs and Cabbage Casserole
12. Pork Bone Broth
13. Instant Pot Bak Kut Teh
14. Italian Meat Sauce with Country Ribs
15. BBQ Rib Potato Salad
16. Prime Rib Chili
17. BBQ Spaghetti
18. Leftover Prime Rib Tostadas
19. Leftover Prime Rib Phyllo Pot Pie
20. Leftover Prime Rib Philly Cheesesteak Sandwich
21. Prime Rib Casserole
22. Leftover Prime Rib and Barley Soup
23. Prime Rib Stew
24. Breakfast Hash with Leftover Ribs
25. BBQ Pork with Cheesy Grits
26. BBQ Pork Sandwich
27. Cheesy Smoked Rib Quesadillas
Instructions
Scroll up to get a bunch of easy, yummy, and delicious recipes. Don't be afraid to get creative with the ingredients, you might discover a flavor you didn't know you liked.
Get your shopping list going and make sure you've got all the ingredients.
Get cooking and make your next Leftover Ribs Recipe!
Notes
Which one of these recipes was your favorite? Let me know in the comment section or on Pinterest!