Got a bunch of bananas and need to make something? These yummy banana desserts are delicious, easy to make, and make for awesome treats!
Banana is one of the most versatile fruits in the world. You can use it to make almost anything from sweet desserts to savory meals. The sweet, mellow flavor is a delight to the senses.
With a creamy texture and delicate sweetness, is it any wonder that bananas are used in hundreds of dessert recipes worldwide? Today, we're going to explore a few of the Internet's favorites!
What Can Be Made from Banana?
You can make almost any dessert out of a banana, thanks to its versatility. It has an inherent creaminess perfect for making ice cream or blending into whipped cream.
It's also packed with natural sugars, a fantastic ingredient in cakes, muffins, and many other baked goods. I've got the answer if you've ever hankered after the secret for a rich and moist cake.
Bananas!
Cold Banana Desserts
First off, we have cold banana dessert recipes. These cold and creamy treats are all perfect for a warm summer day, from ice creams to milkshakes.
Frozen banana blends to a smooth cream with minimal effort. These easy recipes offer a great way to use overripe bananas with other simple ingredients.
Source: diycandy.com
Making a banana pudding from scratch is a great way to spend your time if you have the time. But we don't always have time to spend on our desserts, and that's where this recipe comes in.
Each bite is wonderfully sweet and creamy, with little chunks of vanilla wafer throughout to keep things interesting.
Make these in advance for your next dinner party to take some load off your shoulders!
Source: whereismyspoon.co
Caramel and banana go together like peas in a pod, so it only makes sense to blend them in a pie. This pie is a symphony of textures and flavors. So, you'd think it takes a lot of effort, right?
The truth is, this is a simple no-bake pie that you can easily prepare ahead. It transports well to take it along to a picnic, a friend's house, or even to work (depending on who needs impressing).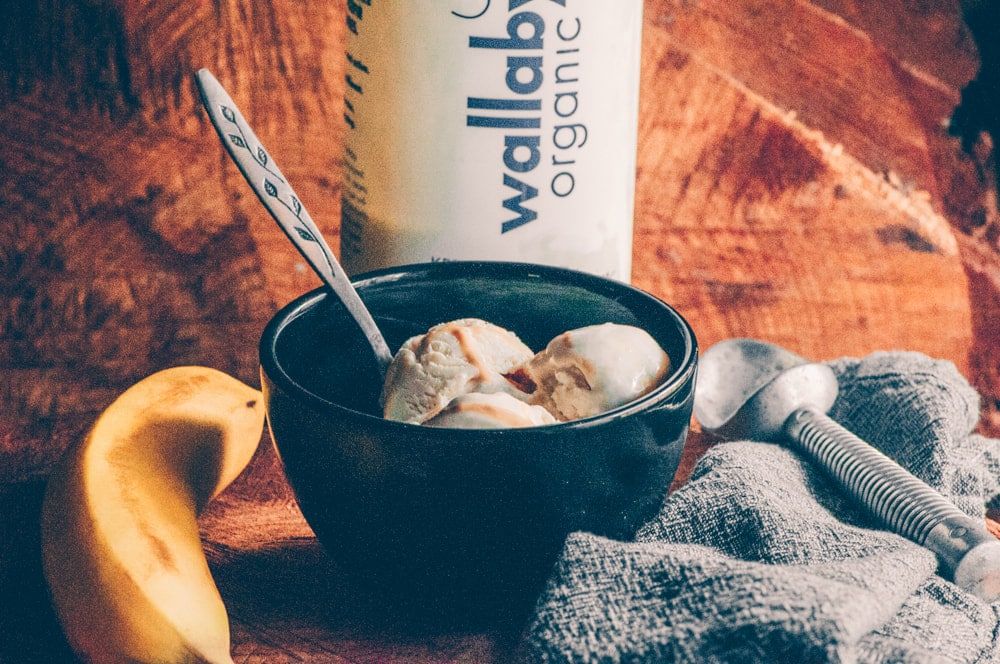 Source: moonandspoonandyum.com
This is the healthiest take on ice cream I've ever seen, but it's also one of the tastiest. Free of refined sugars, this ice cream uses kefir as the dairy base instead of cream.
Thanks to the kefir, this tasty treat is bursting with probiotics. The tahini adds a lovely earthiness that grounds the banana flavor, pulling back the sweetness to something delicious and balanced.
Source: quichemygrits.com
If you love a good banana pudding but are looking for a colder alternative, these popsicles are for you. Each bite is a study in smooth, delicious creaminess.
Chunks of frozen banana and vanilla wafers are sprinkled throughout the mix to add a lovely texture.
If you've got kids, these are a healthy alternative to store-bought popsicles that are sure to satisfy them.
Source: gardeninthekitchen.com
A good old-fashioned milkshake is the delight of people worldwide, and for a good reason. This creamy, sweet, chocolatey treat is the perfect companion to a delicious lunch or dinner.
The great thing about banana is that it provides a mellow canvas, and other flavors are the canvas. In this case, chocolate takes center stage.
This is an excellent option if you want to use natural sugars instead of processed ones!
Source: brooklynactivemama.com
Here's another no-bake recipe you can whip up in no time. This is a clever take on a classic English trifle, but it heroes bananas instead of berries.
Whipped cream, bananas, delicious shortbread, and banana pudding layered together. Each scoop is an adventure into a new series of textures and flavors, so you won't be able to stop!
Finally, add a few banana slices to it for a better taste! Love this? Check out more Whole30 desserts here!
Source: redcottagechronicles.com
Stuck without ice cream and desperately craving a batch? This is an easy banana recipe to christen your ice cream maker with. You can produce smooth and rich ice cream with only a few ingredients.
I'd suggest whipping up a large batch and keeping it in the freezer when your sweet tooth gets a little loud!
Thanks to its mellow sweetness, it's perfect for making sundaes or using milkshakes.
Fried Banana Desserts
When most people think of banana recipes, they think of the fresh version. But fried bananas are an underrated dessert option, and we're going to remedy that right now.
Check out these four tasty takes on fried bananas!
Source: easyanddelish.com
If you've never had a deep-fried banana before, you're in for a treat. These warm and crunchy treats are so scrumptiously comforting. The batter forms a crispy shell that perfectly accents the banana.
Whether you coat them in powdered sugar, serve them with melted chocolate, or eat them as is, these deep-fried bananas are t an absolute delight.
Source: inmamamaggieskitchen.com
This recipe was initially formulated for plantains, even sweeter than bananas when ripe. But don't worry, you can substitute bananas fairly easily into this recipe and get a similar result.
You can enjoy these on their own, top a bowl of vanilla ice cream, or even use them on your pancakes.
Source: thedaringkitchen.com
Combine the warm, sugary medallions of banana with earthy cinnamon; you have a winner. Cinnamon and sugar have always been a winning combination. Here, you're making it with bananas!
These pan-fried cinnamon bananas are easy to whip up in a pinch. They're a delicious finisher to any meal, especially in the Fall, with their warm spice and delicate char.
Source: dailycookingquest.com
Learn the secret to the crispiest, thinnest, most delicious batter Indonesia has to offer. This recipe guides you through the process of making Pisang Goreng, an Indonesian fried banana dish.
Enjoy the play of crunchy and creamy textures with each bite of this tasty dish. The batter should stay crispy for about an hour, so you have plenty of time to get a plate of these onto the table.
Healthy Banana Desserts
The only thing better than a delicious dessert is a healthy one. Bananas are definitely your best bet if you're shooting for both health-conscious and tasty. Let's check out some options.
Source: allnutritious.com
Chia seeds are known for their many health benefits, but they're also a great dessert ingredient! Get your daily dose of fiber while simultaneously enjoying a sweet, creamy, chewy dessert.
This is an easy banana dessert recipe to make in advance. Simply let it sit in the fridge and whip it out once lunch or dinner is made. It's also great to keep a few in the fridge on hand when cravings strike!
Make this homemade pudding with almond milk or any other plant-based milk. You can also use brown sugar instead of maple syrup to sweeten it p.
This is an easy banana pudding the kids will absolutely love. Add banana chips to take this recipe to a whole new level in simple ways.
Source: diycandy.com
Love frozen bananas? This next treat is the perfect recipe to whip out at a kid's birthday party. Imagine a Reese's Peanut Butter Cup with a little bit of banana thrown into the mix; that's what you get with these.
Unlike Reese's, these delicious poppers taste natural and whole. Skip oodles of refined sugar and get your kids eating candies featuring much healthier natural sugars instead.
These are super easy to prepare ahead of time and leave in the freezer, so you can focus on watching the kids!
Source: allnutritious.com
The following recipe is one of mine, and it's one I reach for fairly often. They're the perfect substitute for standard chocolate cookies and great for having in the pantry.
If you're frustrated by a restricted range of sweet treats in your Whole30 regime, these cookies are your saving grace.
Source: mapleandmango.com
Overnight oats are a staple of the online influencer world for a good reason. After all, who doesn't love the idea of a dessert for great breakfast?
These oats are healthy enough to be a filling breakfast option but tasty enough to be a satisfying banana dessert.
They require almost no effort, but your tastebuds will think they're straight out of your local café. Check out more fall desserts here!
Source: kiipfit.com
These banana bread cookies are the ultimate blend of cookies and cake, taking us somewhere close to muffin territory. They're soft, moist, and bursting with the warm notes of a Fall flavor profile.
Cinnamon, nutmeg, and cardamom complement the natural sweetness of the banana. The fully rounded flavors are the perfect way to celebrate this tastiest of fruits.
Source: keepingthepeas.com
Who doesn't love a good banana split? Take the healthy road with this low sugar version which utilizes berries and yogurt instead of ice cream and sprinkles.
Whether the kids are clawing for ice cream after dinner or your stomach is, this healthy banana split will be the perfect diversion.
Source: foxeslovelemons.com
Our final healthy recipe is the perfect default for making fruits memorable: cover them in chocolate! A thin layer of chocolate goes a long way, especially when adding some sprinkles.
These adorable little banana bites are almost like popsicles, but they're much easier to make. They're great for parties because they're fun, delicious, healthy, and simple to make in batches.
Best Banana Desserts
We're capping off the list with some of the best banana desserts that have ever graced the globe.
From moist tea cakes to tasty pudding pies, each recipe is the perfect way to highlight the banana.
Source: crumbtopbaking.com
First on our list of the best banana desserts is a tea time classic: snack cake. These utterly delicious little squares of banana cake are topped with a chocolate frosting.
If you want to add a little bit of crunch, topping that frosting with some crushed walnuts is a great way to add texture. Whip these up for your next potluck and quickly become the party favorite.
This easy cake recipe is so delicious and you can make it the next time you need a quick dessert.
Source: thesuburbansoapbox.com
Next up is a personal favorite: chocolate chip banana bread. You'll find this simple dessert in any grandmother's recipe book. It's warm and reliable; it tastes precisely as comfort and home should.
The bread itself is lovely and moist, and each bite is dotted with tiny pieces of melted chocolate. You can make the loaves in bulk and freeze them to be re-warmed later. After all, it's best warmed up.
Enjoy incorporating those chocolate chips into a classic banana bread recipe and take your desserts to a whole new level.
Source: bakeschool.com
Looking for the best banana cake recipe? Make this delicious cake.
The only thing better than a traditional banana split is one represented in cake form. This is an incredible layer cake guaranteed to impress at parties, from birthdays to holidays.
While it does take a little while to whip up, the result is incredible. Each layer contributes a new note to a flavor symphony, making each bite sing.
Need more dessert ideas? Check these air fryer dessert recipes.
Source: daniscookings.com
Cheesecake is the ultimate treat, even more so when imbued with chocolate and banana. Every velvety bite is bursting with flavor. Despite the complexity of flavor, it's pretty simple to whip up.
You can make this in advance and have it ready for your event the next day. Make sure you store it in an airtight container, then cover it with fresh banana and chocolate just before you serve it up.
Source: diprecipecreations.com
If you're anything like me, you don't just eat vanilla pudding on its own. There's always got to be something to enjoy alongside it. Luckily, the creator of this recipe feels the same way.
This delicious banana pudding dip is a super easy choice for your next party. Make it ahead of time and serve with a platter of biscuits or fresh fruit for the ultimate crowd-pleasing dip.
Source: freshoffthegrid.com
Ready to enjoy a wonderful summer evening with the kids? Get the whole family in the kitchen (or, in this case, around the campfire) to whip up some banana boats!
These are so cute and so fun to make as a family. Not to mention, they're certified delicious. The ingredients are easy to bring on a camping trip to make these around a campfire.
Source: tiffinandteaofficial.com
Can't decide between a cookie and a cake? You don't have to! This banoffee cookie dough celebrates the caramel and banana pairing in a wonderfully soft cookie the size of your face.
If you want one that's easy to slice, make sure to bake the cookie for a little longer than the recipe says. It will crisp to perfection, creating the perfect cookie to slice.
This would make an excellent gift for a cookie, cake, or banana lover!
Source: thekitchenismyplayground.com
When you're bored of traditional banana pudding, this is the recipe you should run to! This is an incredible pie to bring to your next holiday dinner, birthday, or even a totally normal weekday night.
After all, who doesn't love a midweek surprise dessert? Imagine a lemon meringue pie, but instead of the lemon curd, it's a sweet and creamy banana pudding. I call that a real winner of a dessert.
If you have leftover bananas you don't know what to do with you need make these best ever banana desserts recipes. These banana desserts are easy and delicious to make. You will love making these banana dessert recipes for special occasions.
Source: mamagourmand.com
The final delicious dessert on our list is the all-important banana bars! With a delightfully dense crumb and a moist frosting, these bars will make you the neighborhood favorite in no time.
You can easily make these bars ahead of time and store them in an airtight container. Make sure you don't keep them in the fridge, as that can dry them out ahead of time before you serve them.
The best part of this recipe is that you can add chocolate chips and turn this into chocolate chip banana bars!
Can You Freeze Bananas?
You can absolutely freeze bananas! Thanks to all the natural sugars packed into the fruit, you'll probably notice black spots popping up on the skin and flesh of the bananas.
Don't worry, that's normal. It will most likely make the bananas taste even sweeter. Defrost when you're ready to use them or blend from frozen for quick and easy ice cream. Magic!
27 Best Ever Banana Desserts (Easy & Delicious)
Love bananas? Use them to make some of these best Banana Desserts that the whole family will absolutely love.
Ingredients
1. Vanilla Wafer Banana Pudding
2. Caramel Banana Pie with Candied Walnuts
3. Creamy Banana Tahini Kefir Ice Cream
4. Banana Pudding Popsicles
5. Chocolate Banana Milkshake
6. No Bake Banana Pudding
7. Homemade Banana Ice Cream
8. Deep Fried Bananas
9. Mexican Fried Bananas
10. Pan Fried Cinnamon Bananas
11. Indonesian Fried Banana
12. Banana Chia Pudding
13. Frozen Chocolate Covered Bananas Poppers
14. Whole30 Cookies with Bananas and Chocolate
15. Banana Overnight Oats
16. Banana Bread Cookies
17. Healthy Banana Split
18. Frozen Chocolate Banana Bites
19. Banana Snack Cake
20. Easy Chocolate Chip Banana Bread
21. Banana Split Cake Recipe
22. Chocolate Banana Mascarpone Cheesecake
23. Banana Pudding Dip
24. Campfire Banana Boats
25. Banoffee Cookie Dough
26. Banana Pudding Pie
27. Banana Bars
Instructions
Scroll up to get a bunch of easy, yummy, and delicious banana desserts. Don't be afraid to get creative with the ingredients, you might discover a flavor you didn't know you liked.
Get your shopping list going and make sure you've got all the ingredients.
Get cooking and make your next Banana Dessert!
Notes
Which one of these recipes was your favorite? Let me know in the comment section or on Pinterest!