This coconut chia pudding is a high-fat breakfast or dessert that will fill you up. It's coconutty, easy to make, healthy, gluten-free, dairy-free, and vegan.
Coconut milk chia pudding is a simple, healthy snack that you'll want to make over and over again.
Pure, clean flavor with sweet, juicy berries make this the ultimate healthy treat. This recipe is perfect for you if you aren't interested in complex ingredients and flavors.
Some other things that are great about this recipe are that it's gluten-free and dairy-free. Also, it requires two very healthy, superfood ingredients – chia seeds and coconut.
Benefits of Using Coconut Ingredients
You will encounter some major benefits when you add coconut ingredients to your diet. This recipe will use two, coconut milk and coconut cream.
Here are the reasons why coconut milk and coconut cream are good for you.
First, coconut milk and coconut cream both contain healthy fats called medium-chain triglycerides (MCT). You may have seen things like MCT oil or MCT powder.
These healthy fats help promote weight loss and build your metabolism. Also, they have been known to help curb your appetite and increase energy.
Second, coconut products have been studied to potentially help decrease your cholesterol levels. It's essential to keep your cholesterol levels in check for a healthy heart.
Third, it's important to note that coconut cream has a higher fat content and more calories than coconut milk. This will still be ok for your diet, in moderation.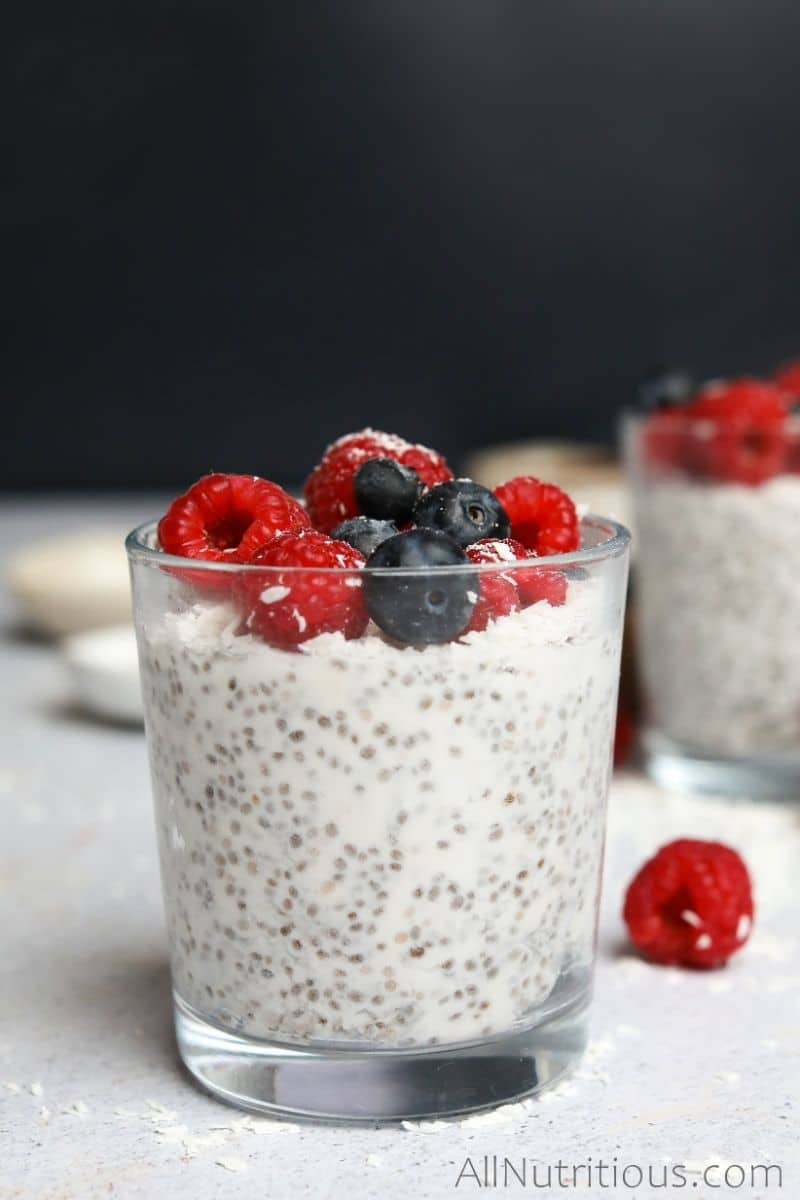 Ingredients for the Recipe
Coconut milk – it can be found with other ethnic foods in the grocery store. The canned version is much creamier than the carton versions (they also usually have fewer additives).
Coconut cream – it can also be found near coconut milk. Here's a little trick if you can't find coconut cream.
When you open a can of regular coconut milk, simply remove the thicker, more hardened cream from the top of the can. That's coconut cream!
Chia seeds – they are the most essential ingredient for this recipe. They have high levels of protein, fiber, and omega-3s. These seeds are gluten-free, vegan, paleo, and even keto-friendly.
Shredded coconut – these will add great texture and flavor to the final product. You can bring it to the next level by quickly toasting the coconut in a saute pan for an enhanced taste.
Vanilla extract – Using pure vanilla extract is the best option for this recipe. It will provide an exceptional flavor that cannot be duplicated with any other ingredient.
If you do not have any vanilla extract, it can simply be omitted. Another option would be to use vanilla paste or substitute it with another extract (like almond or coconut).
Maple syrup – Pure maple syrup is how the pudding is naturally sweetened. It also provides antioxidants, vitamins, and minerals organically.
Raspberries – These sweet, red berries are very low in calories but high in plenty of other nutrients. Such nutrients include fiber, antioxidants, and healthy minerals.
Blueberries – In regards to both berries, fresh will always be better. But you can also easily substitute with frozen if that is what you have on hand.
It's ok to experiment with other fruits, too. Bananas, blackberries, strawberries, and mango are all great options.
How to Make Coconut Chia Pudding
Place the coconut cream, coconut milk, chia seeds, shredded coconut, vanilla extract, and maple syrup in a bowl. Next, stir the ingredients together so that everything is mixed thoroughly.
The next step is to wrap the bowl with plastic wrap and place it in the refrigerator.
It's best to let the chia pudding chill for at least two hours. However, it may need to stay in the refrigerator longer.
It's best to check it after two hours and see if it's the consistency you like for your pudding.
Finally, once the pudding has chilled, it's time to enjoy!
Remove the bowl from the refrigerator. Next, grab two serving bowls or cups.
Then, simply pour two equal servings into the two serving vessels. After you have scooped out the pudding, it's time for the garnish.
Now you can place your fresh berries on top of the pudding and sprinkle with a little extra shredded coconut.
Grab a spoon, sit down, and enjoy your delicious, homemade treat.
Is Chia Pudding Healthy?
Chia pudding is a great healthy snack option. There are a lot of reasons why.
Firstly, chia seeds are considered a superfood that those who follow a healthy diet use regularly.
One of the reasons is that just a small amount contains high levels of fiber and protein.
Also, chia seeds are high in omega-3 fatty acids. All of these properties are essential components while building a healthy diet.
It's also vegan because the recipe uses coconut milk and cream instead of a dairy-based option.
One serving can be a fuel-filled snack or be an addition to an already healthy meal.
Can I Warm Up Chia Pudding?
Maybe you want something warmer as a cozy, winter treat. You can still enjoy chia pudding served warm instead of cold.
It's relatively simple, actually.
In fact, using the microwave will allow you to skip the chilling process. Instead of chilling, simply put the chia pudding in the microwave for up to 2-3 minutes.
Afterward, check the pudding in 20-second increments and stir as it heats up.
Now, instead of a chilled, refreshing snack, you have a succulent, warm pudding. It almost resembles traditional rice pudding, but without the added sugars and carbs.
Additionally, you can reheat chia pudding that has already been made using the chilling method. This is recommended if you want to make a few servings ahead of time and store them for the days ahead.
Other Chia Pudding Ideas
Watch Full Instructions for This Recipe
If you're more of a visual learner, you can check out my video on how to make multiple chia puddings.
Coconut Milk Chia Pudding
Total Time:
2 hours
10 minutes
Coconut chia pudding is a healthy, coconutty, and sweet breakfast. It's gluten-free, dairy-free, and vegan.
Ingredients
1 cup coconut milk
4 tbsp coconut cream
4 tbsp chia seeds
4 tbsp unsweetened shredded coconut
2 tsp vanilla extract
1 tbsp maple syrup
Toppings (Optional)
Raspberries
Blueberries
Unsweetened shredded coconut
Instructions
Mix coconut milk, coconut cream, chia seeds, shredded coconut, vanilla extract, and maple syrup in a bowl.
Cover the bowl and refrigerate for at least 2 hours or overnight.
Separate into 2 cups/glasses and top up with berries and shredded coconut.
Nutrition Information:
Yield:

2 glasses
Serving Size:

1 glass
Amount Per Serving:
Calories:

617
Total Fat:

46g
Saturated Fat:

35g
Trans Fat:

0g
Unsaturated Fat:

8.3g
Cholesterol:

0mg
Sodium:

52mg
Carbohydrates:

48g
Net Carbohydrates:

37g
Fiber:

11g
Sugar:

30g
Protein:

7.8g
Nutritional values were obtained with automatic software using the amounts of products used. To get the most accurate representation of the nutritional values, you should calculate them with the actual ingredients used in your recipe. You are solely responsible for the nutritional information obtained to be accurate.