The best part about warm weather is the excuse to eat all the ice cream! It's even better if the ice cream you enjoy is made by hand. These cuisinart ice cream maker recipes are sure to satisfy.
Impress friends, family, and guests with your tasty homemade ice cream. Thanks to the Cuisinart ice cream maker, there are so many recipes you can try.
Today, we're going to review seventeen ways you can use your ice cream maker to make a sweet treat. Stay frosty, and let's dig into these delicious ice cream recipes!
How Do I Use My Cuisinart Ice Cream Maker?
The key to remember about your cuisinart ice cream machine is that you must freeze a portion before to get the right finished product. The frozen bowl is what turns your ice cream into a creamy solid.
So, make sure you plan your ice-cream-making adventures. You'll want to freeze your freezer bowl for at least six hours, although overnight is better.
From there, it's just a matter of mixing up your ice cream, pouring it in, and letting it run. For best results, freeze your churned ice cream in freezer-safe containers for a couple of hours before eating.
Best Cuisinart Ice Cream Maker Recipes
Each of these cuisinart ice cream recipes will give you an ultra-creamy, tasty, rich ice cream you can enjoy no matter the weather.
Test out the different flavors and secret ingredients to discover one you might have never known you liked.
Whip up a big batch and keep it in the freezer in an airtight container for delicious homemade ice cream flavors whenever the mood strikes you. Let's get started!
Source: cinnamonandcoriander.com
First on the docket is a chilly ice cream that will warm you to the bone. The comforting cinnamon in every creamy spoonful is to die for. It's perfect for serving with apple pie or pumpkin pie!
With ribbons of spicy cinnamon running throughout the heavy cream, this is a great ice cream mixture for fall or Thanksgiving.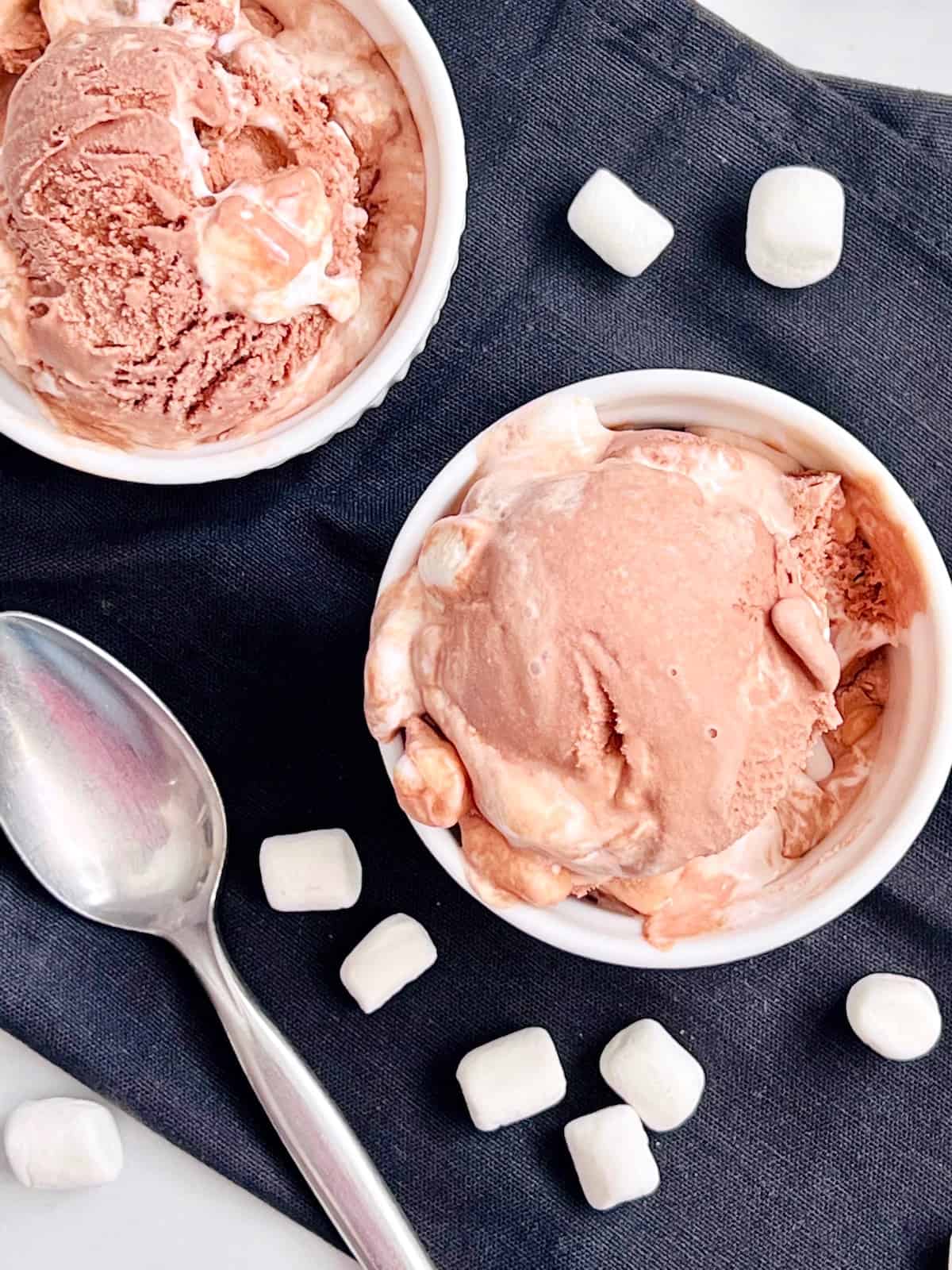 Source: theshortordercook.com
Who doesn't love a cup of hot chocolate? Enjoy that flavor while the sun beats down, thanks to this delicious chocolate ice cream with marshmallow.
Every bite contains a little chewy marshmallow to add some texture. This is an addictive ice cream you can enjoy year-round.
You need simple ingredients like whole milk, vanilla extract, cocoa powder, mini marshmallows and marshmallow creme to make this twist on a classic ice cream flavor!
Source: joyfoodsunshine.com
Next up, we have a classic! Cookie dough ice cream is a fan favorite, so it's a great ice cream to whip up and keep in your freezer.
From midnight snack cravings to fussy children, this solves all your problems. Remember that this needs a little extra time, as you must make the edible cookie dough.
But you can always prepare that to save yourself some effort!
Source: cookingwithcarlee.com
Enjoy all the delicious taste of a red velvet cake with a cooling touch. This pink velvet ice cream incorporates a cheese swirl you'll love. It cuts through the sweetness perfectly.
This is a great place to start if you've never made a swirl ice cream. It's super simple and tastes great!
Source: goodthingsbaking.com
Chocolate and raspberry are a match made in heaven. Add both flavors to a silky vanilla ice cream. You can't lose!
This delicious recipe with fresh fruit is so bold and vibrant and one of my personal favorites. While it's packed with flavor, it looks refined, so it's perfect for serving at the end of a dinner party.
Source: joyfoodsunshine.com
We're back in the realm of classic flavors, and this time it's with a personal favorite: chocolate. This ice cream recipe uses two forms of chocolate!
That said, it's pretty easy to make. You only need seven ingredients to whip this up. It's super versatile, so you can enjoy it with anything you like.
If you are a chocolate lover you must also try these decadent 5-ingredient brownies.
Source: afoodloverskitchen.com
Put a unique spin on movie night with this tasty popcorn ice cream. Crunchy kernels offer an interesting texture, but the best part is the ice cream's flavor.
Sweetness, creaminess, and the lightest touch of salt create an addictive mixture. This is a must-try for popcorn lovers.
Source: theroastedroot.net
This recipe is formulated to work without an ice cream maker, but it's also great in a Cuisinart! It's so simple, so it's perfect for bringing the kids on board and making ice cream as a family.
If you love the combination of chocolate and peanut butter, you have to try this one. It can't be missed.
If you go crazy for peanut butter these paleo peanut butter cookies would pair perfectly with this ice cream.
Source: lovefromtheoven.com
We all know that pumpkin pie with ice cream is delicious… but what if the pumpkin pie was in the ice cream? That's where this genius recipe comes in!
This recipe features a warm, spicy flavor in every bite. The pumpkin spice glaze on top is so addictive. It's the perfect ice cream for fall.
This lovely spiced recipe is sure to be one of the most popular fall desserts at your thanksgiving dessert table.
Source: prettydeliciouslife.com
This one goes out to green tea lovers. Green tea has a deliciously earthy taste that can be a bit much for some people. But when you enjoy it as part of ice cream, it becomes rich and addictive.
Pair that with a dash of lavender and honey, and you've got a winner. Serve this refined flavor for dessert at your next dinner party to delight and impress your guests!
Source: theflavorbender.com
Next up, we have the ideal ice cream for the little ones in your life! This recipe works with any cereal to create an ice cream flavor based on your little one's favorite cereal. How cool is that?
Prep time on this ice cream is only forty-five minutes. There are no complex steps, so your kids can enjoy the fun.
Source: prettydeliciouslife.com
Oreos are well-known for being accidentally vegan, and this ice cream took that one step further. This recipe is gluten-free and dairy-free, but you wouldn't know that from how it tastes!
Each bite is creamy and silky, with all the beautiful flavors you'd expect from cookies and cream ice cream.
Enjoy more of these yummy dairy-free desserts this summer.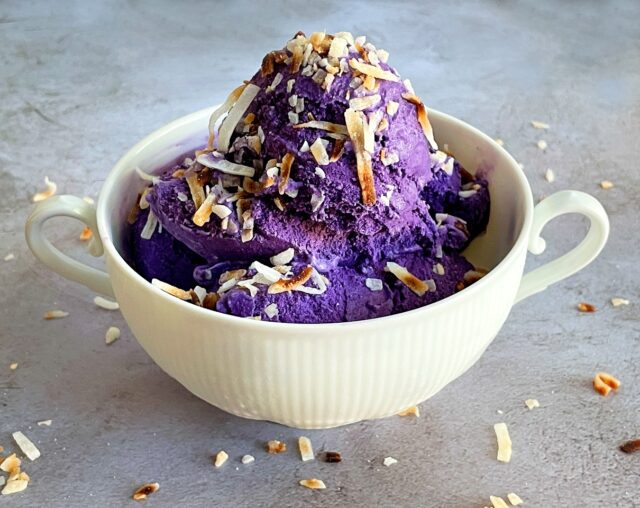 Source: emilyfabulous.com
If you've never had ube, you're in for a treat! These bright purple yams are a common dessert ingredient in places like the Philippines and Japan.
The earthy flavor is great when paired with a creamy sweetness. Don't worry if you've never worked with ube before. This is a super simple recipe anyone can make!
Source: thepeasantsdaughter.net
Sometimes, we can find the best flavors when we look at the past. This roasted strawberry vanilla bean egg yolks ice cream is an old-fashioned taste that will never go out of style.
Roasting the fresh strawberries brings out their natural sweetness, while the vanilla flavor adds a light flavor of custard. The combination is to die for in this ice cream base!
This is one of the best strawberry ice cream recipes with a creamy custard base.
Source: culinaryshades.com
If you, like many others, are a Biscoff addict, this recipe for your own ice cream is for you. This rich caramel ice cream has veins of Biscoff spread running through every spoonful.
Crumbled cookies add a delicious crunch. I think of this as the perfect Christmas ice cream!
Source: keep-calm-and-eat-ice-cream.com
Pistachio ice cream is quite subtle in flavor, but it's a fan favorite for a reason. The gentle nuttiness is addictive!
Make this even better with a crumbling of fresh pistachios to add some crunch. This is super simple ice cream, so it's a great place to start if you've never made it.
Source: cinnamonshtick.com
Finally, we have a crowd-pleasing mixture that everyone can enjoy! Sweet blueberries and light zesty lemon juice swirl around each other in an addictive dance of heavy whipping cream.
The vanilla ice cream helps hold both flavors in check, so they're just tasty enough without being too much. This blueberry ice cream is perfection in a bowl on a hot summer day.
Have extra blueberries? Try them in this yummy blueberry chia pudding!
So, what's your favorite ice cream flavor? Which of these recipes will christen your ice cream maker and ice cream scoop this weekend? Let me know in the comments below!
17 Best Cuisinart Ice Cream Maker Recipes
Looking for homemade ice cream ideas? With these Cuisinart ice cream maker recipes, you can try a new, fun flavour every week!
Ingredients
1. Cinnamon Swirl
2. Chocolate Marshmallow
3. Cookie Dough
4. Pink Velvet Ice Cream with Cream Cheese
5. Chocolate Raspberry Swirl
6. Chocolate
7. Popcorn
8. Peanut Butter Chocolate
9. Pumpkin Pie
10. Matcha
11. Cereal Milk
12. Cookies and Cream
13. Ube
14. Strawberry Vanilla Custard
15. Biscoff
16. Pistachio
17. Lemon Blueberry
Instructions
Scroll up to get a bunch of easy, yummy, and delicious recipes. Don't be afraid to get creative with the ingredients, you might discover a flavor you didn't know you liked.
Get your shopping list going and make sure you've got all the ingredients.
Get cooking and make your next Cuisinart Ice Cream Maker Recipe!


Notes
Which one of these recipes was your favorite? Let me know in the comment section or on Pinterest!