Made a delicious ground beef meal the night before? Don't let the extra meat go to waste, use it to make any of these flavorful leftover ground beef recipes.
We all know the feeling. We've made a delicious dinner, but we turn around and see the leftover ground beef we didn't get to use. The sight of the expiry date on the package approaches.
What do we do?
We find a way to use it, of course! Ground beef is one of the most versatile ingredients you can have in your fridge. You can use it in almost any breakfast, lunch, or dinner you can dream of.
Dive with me into thirty-one ways you can use everyone's favorite convenient supermarket meat.
What Can I Do with Extra Ground Beef?
The great thing about ground beef is how versatile it is. What you do with it depends on your amount and what else you have in your fridge.
I recommend using extra ground beef to make things like stuffed peppers or burgers. Even a meatloaf would work for busy weeknights. That allows you to breathe life back into the leftover meat.
How Long Does Leftover Ground Beef Last in the Fridge?
Uncooked, your ground beef will last as long as it says on the package. Once cooked, your time starts to run out.
You should safely have about one or two days until your cooked beef isn't edible. In other words, it's essential to use it quickly!
That's what these easy ground beef recipes will help you do. So, without any further ado, let's explore your options and maybe discover a new family favorite.
Best Leftover Ground Beef Recipes
Let's kick things off with the cream of the crop. These ground beef recipes with simple ingredients will breathe new life into your leftover meat. Of course, you can always make them with fresh meat too!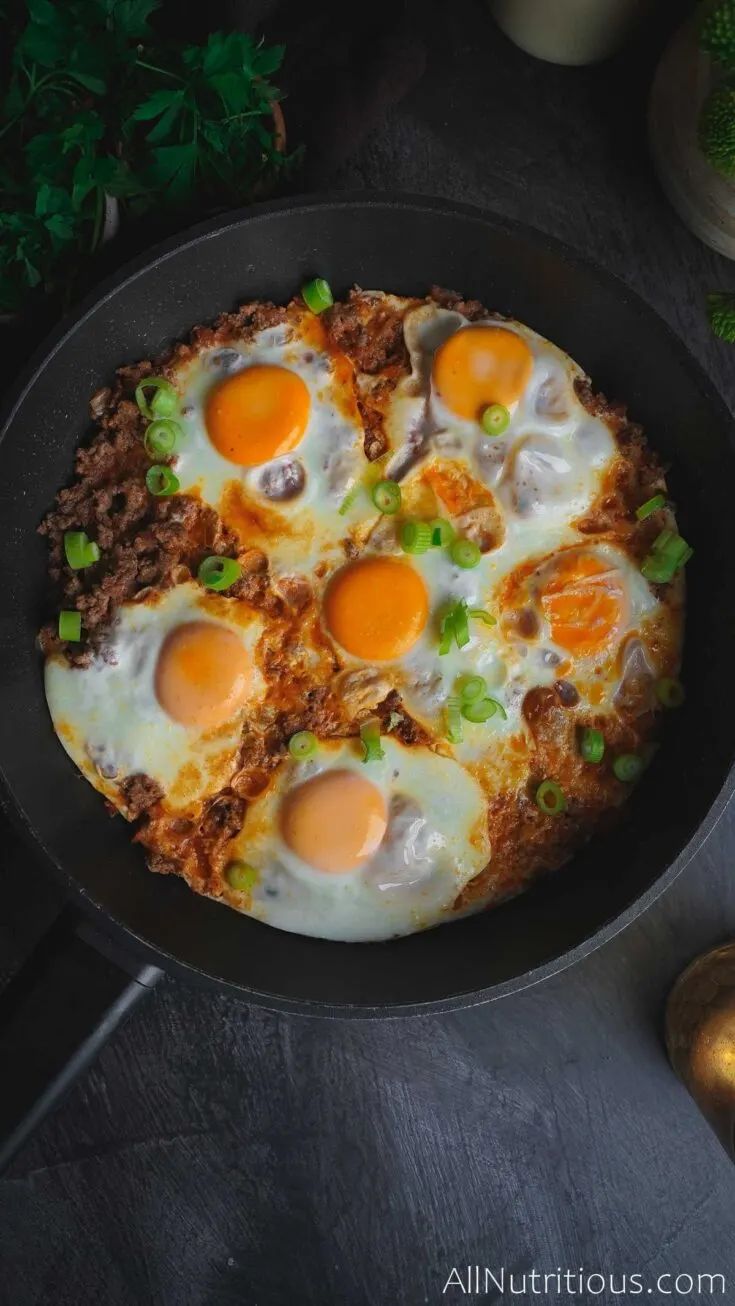 Source: allnutritious.com
First off, the block is a tasty breakfast skillet I always reach for. It only has three ingredients! One of those is a pound of ground beef.
This breakfast is perfect for bringing your lean ground beef back to life. This works quite well if you're using spiced meat or cooked in gravy. Had Mexican last night? Enjoy this the following day.
Source: lanascooking.com
Baked ziti is a super simple pasta dish anyone can enjoy. It comes together in under half an hour, including the prep time! Plus, the ingredients are super cheap.
This meal is ideal for stretching the family meal budget a little further. Rather than throwing the ground beef out, make it taste amazing as part of a cheesy pasta bake with lots of mozzarella cheese.
Source: askchefdennis.com
Cottage pie had to appear on this list. This age-old pie was created to reuse leftovers in the tastiest way possible. So, you know it will do justice to your leftover beef!
The key to making this delicious dish is rich gravy. The sauce makes the beef taste brand new again, while the fresh vegetables help you feel healthy and whole.
Source: siftandsimmer.com
Craving some Korean? This super simple recipe helps you quickly achieve those classic Korean flavors. With leftover mince, this meal will take you five minutes.
The real hero of this meal is the sauce. It's sweet and sticky with an excellent sesame tang. Finish it with a generous sprinkle of green onions to keep it light and fresh.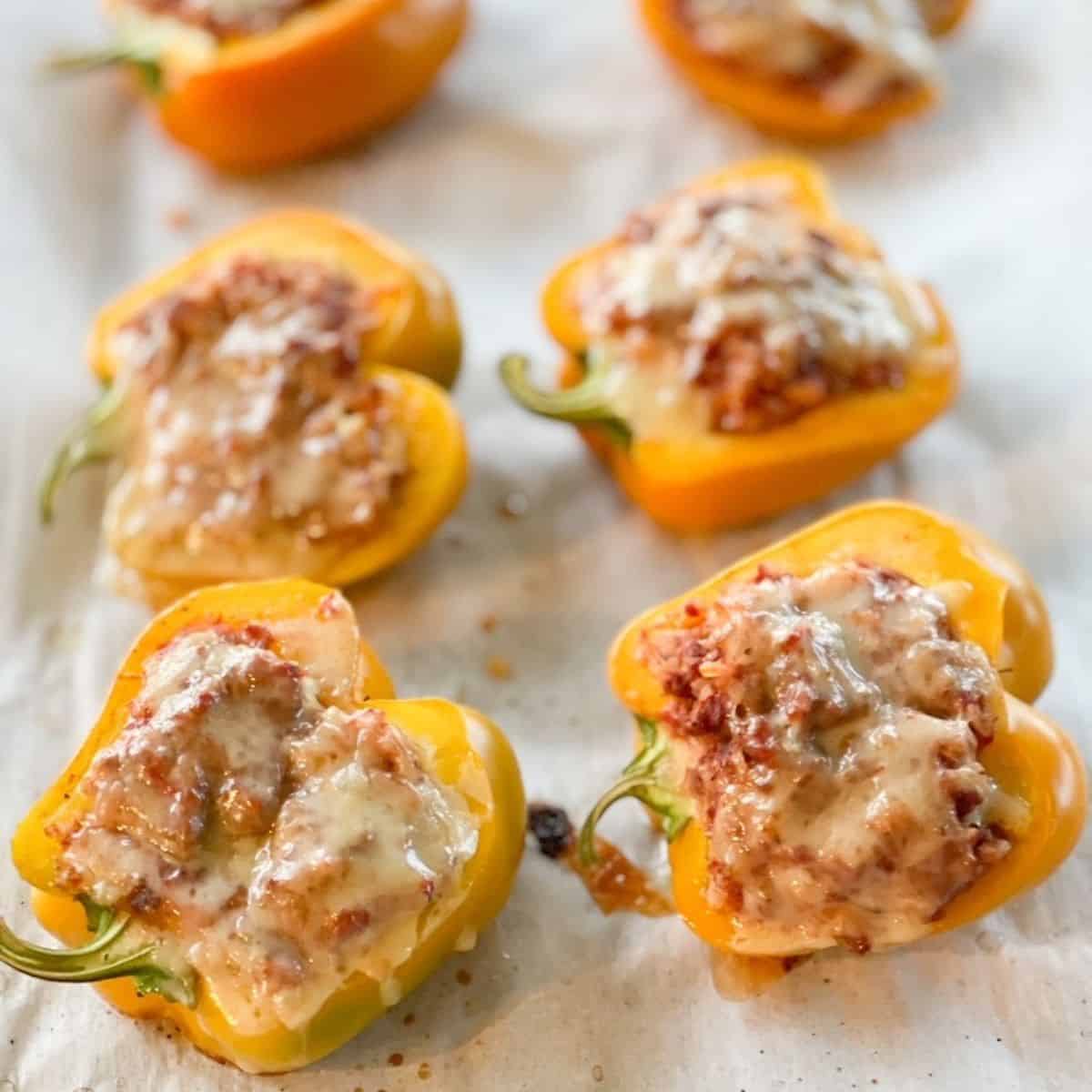 Source: windingcreekranch.org
Stuffed peppers are one of my favorite ways to use leftover mince. Baking the mince in pepper helps renew it, and the cheese on top helps.
Pair that with the smoky flavor of the spice palate, and you've got a winner. This is a healthy take on your ground beef leftovers that won't disappoint you.
Source: thelazyslowcooker.com
The only thing better than leftovers is leftovers made in a slow cooker. It's super easy recipes like this that make being a busy parent or homeowner that much easier.
Aside from how easy this food is to make, it also tastes super good. Even the pickiest eaters will chow down on this mash-up of ground beef and shredded potatoes with cheese.
The best way to top it is with some cheddar cheese and sour cream.
Looking for more inspiration for ground meat? Check out these best ground pork recipes.
Source: thefrugalnavywife.com
Blend two of the best cuisines in the world with this delicious taco pizza. The leftover ground beef makes a perfect spicy topping!
This is a healthy version of pizza that will satisfy those takeout cravings. Fill up on quality food in a cheaper, faster, tastier way than takeout would allow.
Source: pintsizedtreasures.com
A standard enchilada is good, sure. But what happens when you make them a little bit healthier? These enchilada zucchini boats are light, flavorful, healthy, and juicy.
I don't know anything that can't be made better with a little red enchilada sauce, chili powder and cheese as the main ingredients.
This way, you can enjoy your favorite Mexican food guilt-free. Plus, they're so easy to make!
Got lots of extra zucchini in your garden? Try this yummy Zucchini stir fry with garlic!
Source: cookingorgeous.com
Skip the Sunday roast and embrace another English tradition. This minced beef pie is so rich and tasty. It's the perfect way to make your leftover mince feel brand-new again!
While the pie looks impressive, it's not hard to make if you use store-bought pastry. Make this pie your own with a unique flavor profile.
No matter what you made for dinner the night before, this versatile recipe will help you reuse those leftovers.
This mince pie is definitely one of the best meat recipes for dinner.
Source: pintsizedtreasures.com
Hamburger meat, cheese, and tater tots. Need I say more? This ground beef casserole tastes like a plate of loaded tater tots but with many more nutrients hiding in the folds.
This is a perfect weeknight meal to satisfy the picky eaters in your family. Step away from the takeout menu and into deliciousness with this one-and-done delicious meal.
Source: thetastychilli.com
Speaking of super simple recipes, here's one you can make your own! Reuse the Mexican ground beef from the night before to make these dead-easy nachos for you and the family.
The best part about this meal is that everyone can enjoy a different part. Serve the nachos with salsa, guacamole, pico de gallo, or whatever makes your heart sing. The plates will clean themselves!
Source: jamilghar.com
Aloo is Hindi for potato, so this is mince and potato curry. This is a great place to start if you've never made Indian food at home. The recipe is super simple, and the result tastes terrific.
This recipe is a good choice if your leftover mince doesn't have a strong flavor. That way, it can absorb all the beautiful spices you'll be pulling from your spice drawer to make this curry.
Source: acedarspoon.com
Enjoy another healthy take on pizza with this deliciously spiced beef and hummus pita pizza. You get all the best parts of a pizza dinner without the unhealthy cheese overload.
This recipe is more of an idea. You can use a pita base to make any of your favorite pies healthily. Use your leftover chicken, pork, and pepperoni this way too!
Healthy Leftover Ground Beef Recipes
Give your leftover beef new life as something healthy with these tasty recipes. Each one packs your plate with nutrients. Plus, they're all super easy and cheap to make. Talk about a win-win!
Source: montanahappy.com
Cabbage is an underrated vegetable. It's one of those great vegetables that manages to be tasty and cheap at the same time, like the good old potato. The good news is, it's also healthy.
Case in point, this delicious cabbage soup. Bring your leftover beef back to life with this rich and hearty cabbage soup the whole family will love. If you make it fresh, you can freeze it for later too!
Source: eatingglutenanddairyfree.com
Never had a cowboy-style meal before? Then you're in for a treat. This incredible cowboy hamburger soup is both super healthy and delicious.
Each spoon is packed with vegetables. The leftover mince adds a great heartiness that's so addictive! This is a great winter warmer as your week is winding down.
Source: consumerqueen.com
Get all the great taste of a stuffed pepper without the added effort. I love how dead simple this recipe is. It turns out to be a vibrant and healthy soup packed with flavor.
If you want to make this with fresh mince, you can freeze the soup and defrost it as needed. It's great for meal prepping or keeping in the freezer as a backup for lazy nights!
This soup is so good, it's definitely one of the best dinner ideas for tonight.
Source: acedarspoon.com
Keen on nachos but don't want all those carbs? This recipe is your new best friend. Every bite is packed with all the same flavors you know and love from a plate of delicious nachos.
The only difference is that you're using zucchini instead of tortilla chips! With a liberal application of salsa and guacamole, you'll have a healthy dinner that even the pickiest eaters can digest.
Source: thekitchenismyplayground.com
Ignore the siren song of the McDonald's takeout menu and pick a healthy option that tastes just as good. This might taste even better. Everything tastes better without the takeout guilt.
Your kids will love this delicious salad. If you're stuck finding ways to get them to eat their vegetables, give this recipe a swing. You can even let them customize their "burger"!
Source: flavormosaic.com
If tacos are more your thing, here's a tasty taco salad that delivers on the flavor! This easy recipe is like a much healthier version of your favorite Mexican treat.
It still has that excellent tortilla crunch, and filling black beans though.
This is another dinner that's great for picky eaters. Set out a selection of taco toppings and let everyone assemble their plates. The spice profile is perfect for renewing leftover mince.
Source: balkanlunchbox.com
Eggplant is another seriously underrated vegetable. It soaks up flavor like a sponge and gives it back tenfold. That's why it's such a good base for a leftover meal.
The eggplant gives life back to the mince, adding moisture and flavor to the mix. The rest is down to a healthy sprinkling of cheese and plenty of tasty spices.
This is a one-pan wonder I can get behind.
Source: amandascookin.com
Skip the buns but not the flavor with these delicious zucchini sliders. I love using zucchini instead of buns and noodles because it has a great texture and flavor.
Give the zucchini five minutes on the grill before you sandwich the beef between them for a delicious slider.
Easy Leftover Ground Beef Recipes
The words 'leftover' and 'easy' go together like two peas in a pod. Take just a few minutes out of your day to whip up one of these delicious meals with your leftover ground beef.
Source: thefrugalnavywife.com
Any recipe with "lazy" in the title is one I want to have on my roster. It means working smarter, not harder, to get delicious results. That's precisely what these tasty beef noodles deliver on!
Every bite is packed with great flavor. You can enjoy a bowl full of these noodles in just fifteen minutes!
Source: belleofthekitchen.com
Get the great taste of lasagna without all the extra effort. Any soup recipe is a great foundation for reusing leftovers, and this recipe proves the point.
Leftover hamburger recipes like this one are a great winter warmer that the whole family can enjoy together.
Source: drivemehungry.com
I love a good Asian fusion meal, and this one takes the cake! This recipe has no downside, with healthy sides and plenty of flavors. It's dead easy to make.
You can prepare many pieces ahead of time to save yourself the effort. Take it out on a picnic or serve it for a quick family lunch!
Source: brooklynactivemama.com
Super simple and unique, these taco bites are great as a game-day snack or easy weeknight dinner. They're like tacos that won't get your carpet covered in tortilla shards and stray pieces of cheese.
This great ground beef recipe is great for parties too!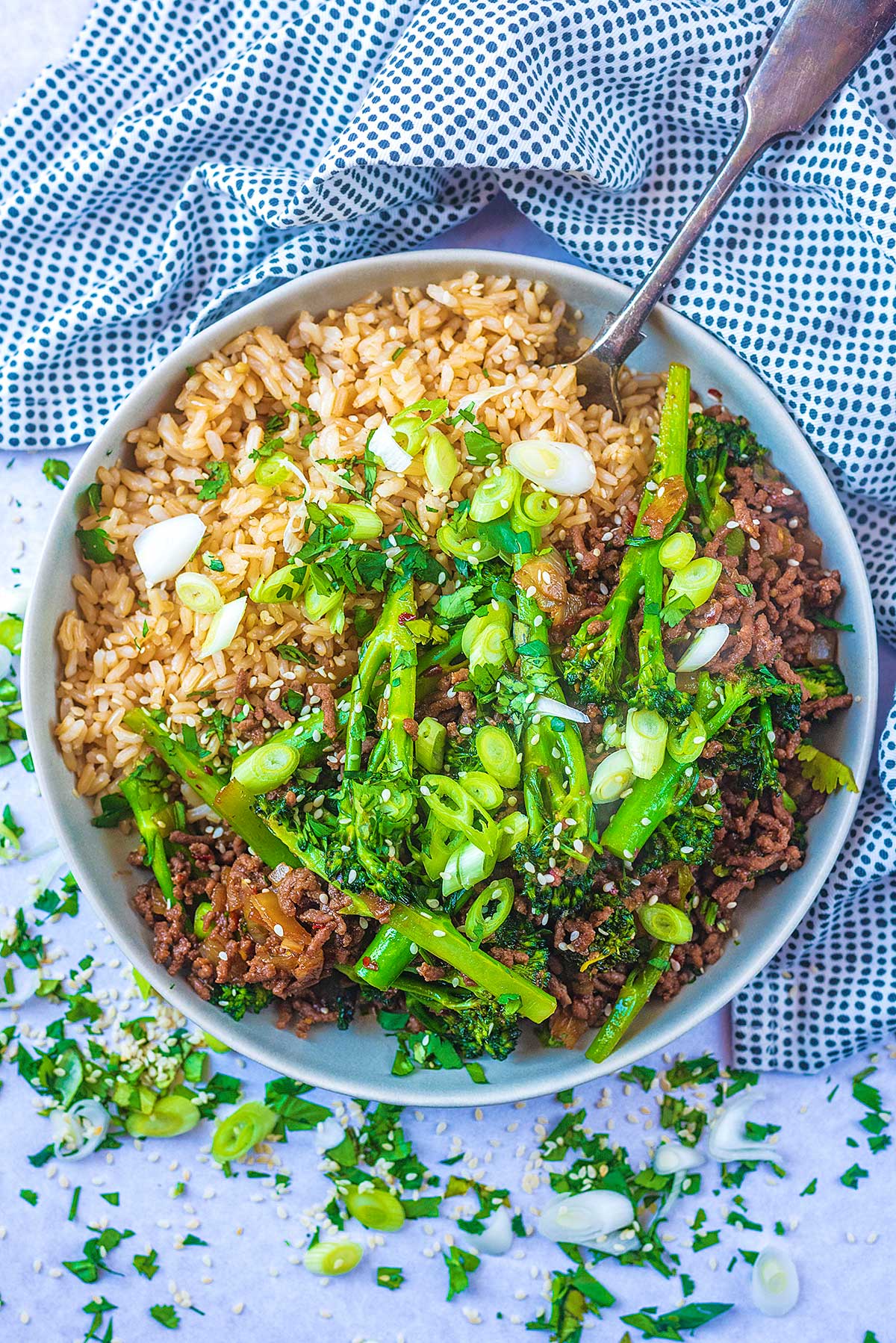 Source: hungryhealthyhappy.com
You need speedy and healthy meals on a busy weeknight. This sticky ginger beef promises to be on the table in ten minutes! Give your leftover beef new life with this delicious dish.
I love how versatile this meal is. It works for lunch and dinner, and you can use whatever vegetables you want.
Source: katykicker.com
Chilli is the unspoken perfect leftover budget-friendly meal. By cooking your leftover beef in a bath of flavor, you'll make it taste brand-new.
This would be the ideal recipe for making Mexican food the night before. The extra spice in the beef will deepen the chili's flavor, making this an even better dish.
Source: fantabulosity.com
The only thing better than chili is chili in a pasta casserole. There's almost no extra effort to make this into a soup, and it's easier to take with you. Grab a dish of this and take it to a potluck.
This is also a great recipe to have in your back pocket to make fresh. It's still super easy!
Source: honestandtruly.com
Beef and rice are two cheap and tasty ingredients for a hearty meal. That's what makes them great for a casserole!
Step into flavor town with this delicious combination that will have your whole family drooling.
If you have both leftover beef, white rice, and a casserole dish this is a great way to use up both at once.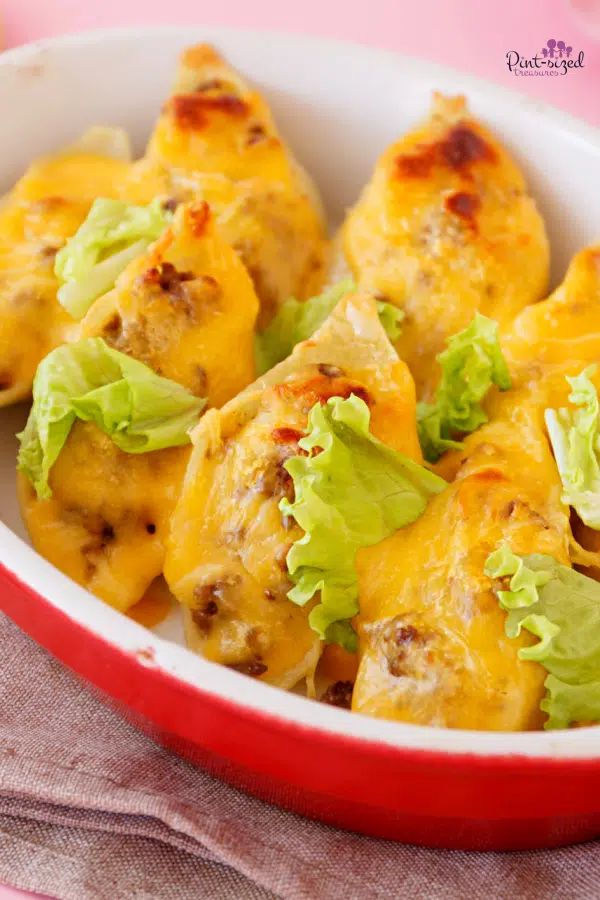 Source: pintsizedtreasures.com
Get all the taste of a great cheeseburger with the bonus of pasta. These stuffed shells will fight those takeout cravings while giving you a dose of simple, delicious food.
There are few things better than an easy meal that tastes better than takeout. Enjoy the luxury!
Source: plattertalk.com
Our final recipe celebrates one of Mexican culture's best meals: enchiladas. Nothing is better than dousing your leftover mince in tasty red sauce and a heap of cheese.
Roast them in the oven to get a delicious char and enjoy with your whole family.
You can enjoy more delicious beef dinners with these tender shaved beef recipes.
31 Best Leftover Ground Beef Recipes
These delicious leftover ground beef recipes are great when you want a healthy, high protein meal the whole family will love.
Ingredients
1. 3-Ingredient Breakfast Skillet
2. Baked Ziti
3. Irish Cottage Pie
4. Bulgogi Ground Beef
5. Smoked Stuffed Peppers
6. Cheeseburger Hashbrown Bake
7. Taco Pizza
8. Enchilada Zucchini Boats
9. Minced Beef Pie
10. Beef and Cheese Tater Tot Casserole
11. Oven baked Beef Nachos
12. Aloo Keema
13. Spiced Beef and Hummus Pita Pizza
14. Cabbage Soup
15. Cowboy Hamburger Soup
16. Stuffed Pepper Soup
17. Mexican Zucchini
18. Big Mac Salad
19. Taco Salad
20. Baked Stuffed Eggplant
21. Zucchini Sliders
22. Lazy Beef Noodles
23. Lasagna Soup
24. Korean Beef Tacos
25. Taco Bites
26. Sticky Ginger Beef
27. Beef Chilli
28. Chilli Mac
29. Cheesy Beef and Rice Casserole
30. Cheeseburger Stuffed Shells
31. Steak Beef Enchiladas
Instructions
Scroll up to get a bunch of easy, yummy, and delicious recipes. Don't be afraid to get creative with the ingredients, you might discover a flavor you didn't know you liked.
Get your shopping list going and make sure you've got all the ingredients.
Get cooking and make your next Leftover Ground Beef Recipe!
Notes
Which one of these recipes was your favorite? Let me know in the comment section or on Pinterest!