You're planning your 4th of July celebration, or you've been invited to a barbecue or potluck for independence day. The best food for the festival 4th of July desserts, right?
But creating something patriotic does not need to be complicated, especially with these easy recipes!
Even if you have a handful of sweet ingredients, you have all you need to create a 4th of July dessert. You can create red and blue desserts that are delicious from only two ingredients this July 4th!
What is the Best 4th of July Dessert?
Many 4th of July desserts include juicy red & blue fresh berries. Blueberries, strawberries, raspberries, and cherries are the perfect colors to show patriotism!
You could use ingredients such as ice cream, buttercream, or whipped cream for a white element.
The best 4th of July dessert will depend on your style and taste. If you favor something eye-catching, you will find that here. You may prefer a minimal look. Again, you'll discover that below.
If you don't want to spend much time in your kitchen, there is a dessert for you. If you love getting creative with your dessert, there is one for you!
Classic American desserts can be adapted to create a modern version. You can evoke memories from the 4th of July celebrations growing up and develop new ones for your children.
Delicious Patriotic Desserts
Finish your 4th of July celebration with a delicious patriotic recipe the easy way that your family and friends will love.
Fun, refreshing, fruity, decadent. There is an easy 4th of July dessert for everyone here to enjoy for the summer holidays!
Source: ihearteating.com
Rice Krispies treats are the perfect fun, easy dessert for the 4th of July! Children especially will love this patriotic version.
Marshmallows, butter, puffed rice cereal, and red & blue food coloring is all you need.
The process of coloring your treats will be repeated three times, leaving one white and adding color to the others.
You'll layer your colored cereal marshmallow mix in a rectangular pan and wait for it to set. You can then cut into rectangles or use cookie cutters for fun shapes! How about patriotic stars?
Source: inthekitch.net
These cooling layered fruit & ice cream treats are easy to make in advance and great for a hot summer day. This gives you more time to enjoy your 4th of July celebrations with family & friends!
You'll find fruity goodness in juicy blueberries. A homemade Jello with fresh strawberries adds a fun texture. At the same time, a refreshing lemon ice cream adds a zesty element!
If you're entertaining a larger crowd, you can easily double or triple the quantity of your dessert. These are best for serving at home immediately after adding your ice cream.
You can make these homemade ice cream treats even more of a festive dessert by adding some mini American flags on top!
Source: ihearteating.com
This patriotic marble Bundt cake is easier to create than it looks. It looks exciting when you cut into it – your guests will be impressed!
All you're going to do is make an easy vanilla cake mix. You will then separate it into three and add color. You will color blue for one portion of the cake batter, and for the other, you'll color red.
Create your marbling by following the images on the recipe, and then bake. Easy and striking! Serve your cake with whipped cream for a complementing taste and texture.
Source: afarmgirlsdabbles.com
These white chocolate-dipped strawberries are an eye-catching treat for your celebrations. You have an easy recipe that your kids can join in with too!
Only two steps are required to create your patriotic strawberries. Dip your berries into melted white chocolate and then into blue sugar. You'll need to refrigerate them to set the chocolate.
These are best prepared a few hours before serving. However, they don't take long. Especially with a group effort!
Source: cookingonthefrontburners.com
This rustic American flag tart is the perfect dessert to impress your holiday guests. It's easy to create but is very patriotic for the 4th of July.
You'll use a pre-prepared puff pastry sheet for your tart base. This leaves you with a flaky, mouthwatering crust.
Mascarpone cheese, powdered sugar, heavy cream, and lemon zest form your creamy, zesty filling.
Create your American flag design with fresh, juicy strawberries and blueberries. Make your fruit shine with an apricot jelly glaze!
Source: twopinkpeonies.com
This fun American flag fruit tray is quick and easy to set up before your 4th of July party. It's the perfect way to make use of fresh summer berries!
Sweet strawberries & blueberries, white chocolate chips, and light angel food cake are all you need for your fruit tray.
You can make your angel food cake. However, it's okay to use a store-bought to make preparation quick. Cool Whip or whipped cream is ideal for serving!
Source: bellyfull.net
This colorful Jello poke cake is perfect for your 4th of July gatherings. A few simple ingredients create a moist, flavorful dessert!
A boxed white cake mix enhances the vibrant red & blue colors. You can make your cake from scratch, but taking a shortcut here is acceptable.
Berry Blue & Cherry Jello add bright color and a fruity flavor to your cake.
Complete your poke cake with Cool Whip or whipped cream. You can add red, white, and blue sprinkles, too, if you wish!
Source: cookcleanrepeat.com
Guests will think you've worked hard to create this Jello ribbon salad. However, it's another patriotic dessert that is easy and exciting!
Cherry & Berry Blue Jello produces your red & blue layers and fresh flavors. Condensed milk adds a sweet, creamy element and your white layer. You will use gelatin to set this one.
This dessert requires time for you to let your Jello set between layers. The result will be worth the wait!
Love the unique look of jello cakes? Check out these other vintage jello recipes!
Source: theoregondietitian.com
These mini fruit tarts are vegan, dairy & gluten-free. And so they are ideal for practically everyone at your celebration! Fresh summer berries create your minimal flag design.
A crunchy almond flour crust provides the vessel for your filling. Add sweet coconut cream to make the perfect summer dessert. Pure maple syrup is the only sweetener you will use for your tarts.
Strawberries and blueberries are the ideal berries for your American flag design topping!
This is one of the most delicious dairy-free desserts!
Source: bellyfull.net
Red, white & blue muddy buddies are the perfect easy 4th of July party snack. You'll find a satisfying crunch and sweet chocolaty taste in each bite!
These are ideal for sharing while watching fireworks at the end of the day.
You'll need a handful of ingredients to make your patriotic muddy buddies. These are rice Chex, white chocolate chips, powdered sugar, and red & blue food coloring.
Your muddy buddies are best stored in the refrigerator to keep them cold & crunchy!
Source: tastytreatsandeats.com
This patriotic S'Mores dip couldn't be easier to create. It's the perfect delicious dessert to take to a holiday barbecue!
Melted sweet chocolate chips are found underneath fluffy red, blue & white marshmallows. You will color your red & blue marshmallows using spray color – so easy!
Your marshmallows create an American flag design that is simple but charming. Serve your gooey dip with Graham cracker sticks for scooping!
Source: chocolatemoosey.com
These no-bake mini cheesecakes are the ideal summer treat for your 4th of July gathering. A crunchy Graham cracker crust carries your cheesecake topping.
Cream cheese and heavy cream produce your delicious vanilla flavor filling. Finish your cheesecakes with strawberry sauce and juicy berries.
You can abandon tradition and use Oreos instead of Graham crackers for your crust. Perfect if you like a chocolaty flavor to your cheesecake!
You might also enjoy these other adorable mini dessert recipes!
Source: mommyevolution.com
Frozen yogurt pops are perfect for cooling down, especially during the heat and excitement of the 4th of July celebrations. Your kids will love this patriotic version!
They won't even realize how healthy they are with wholesome ingredients. Strawberries and blueberries offer a refreshing taste, while milk provides calcium.
There are a few steps and waiting around with this recipe, but it's worth it when you need to cool down. A crunchy granola topping adds fun and a different texture to your frozen pops!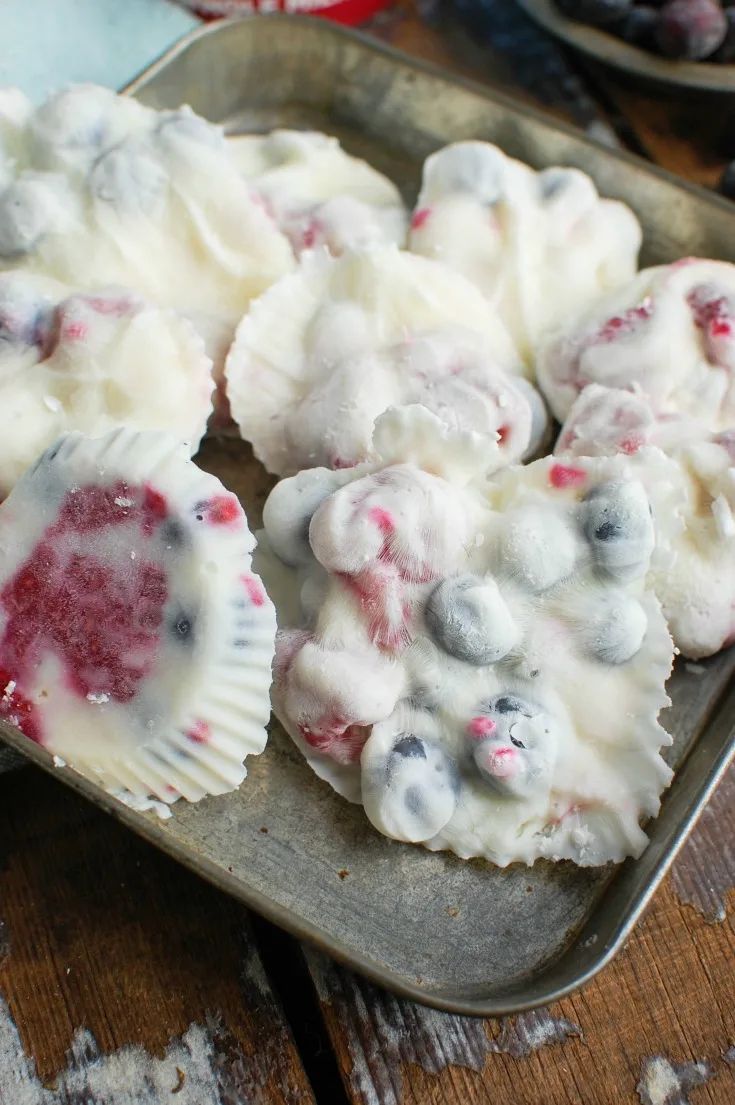 Source: acedarspoon.com
Frozen Greek yogurt fruit bites are a fun snack for summer celebrations. Your kids can help to make these as they are so easy.
All you need to do is mix Greek yogurt, sweet honey, and fresh blueberries & raspberries. Spoon your mixture onto wax paper and freeze.
Try spooning into novelty ice cube trays to make your bites more exciting! You could even freeze in patriotic cupcake wrappers to add to the 4th of July theme.
Source: foxeslovelemons.com
This patriotic ice cream cake has the wow factor! It looks too striking to cut into, but your guests will be glad when you do.
The bottom layer of your dessert is moist red velvet cake. You can make this from scratch or use a box mix to save time and effort.
Your middle layer consists of "American Fireworks" Hudsonville Ice Cream. (If you can't find this, white vanilla ice cream will do.)
It would be best to defrost this a little in the tub before spreading it and freezing again.
Add vibrant blue whipped cream for your final layer. Decorate with juicy berries and sprinkles before serving!
Source: christinascucina.com
Red, white, and blue layered trifles are a fresh, simple, patriotic dessert. They are perfect for whipping up when you have friends over for your 4th of July celebration!
You can make these versatile. Soak your ladyfinger biscuits or vanilla cake in sharp Grand Marnier for adults. Replace this with orange juice for children.
On top of your biscuits or cake, you'll add macerated strawberries. These are soaked for a short time in lemon juice and sugar.
Fresh whipped cream is layered on top of this. Complete your trifles with tasty macerated blueberries.
Source: todayscreativeideas.com
These juicy cherry bombs are a one-mouthful pop of flavor! They're also another dessert ideal for your children to help create.
You only need to dip cherries in bright white candy melts and patriotic sprinkles.
Soak your cherries in your favorite liquor before coating them for an adult version. Vodka or rum would be a good choice!
Source: brooklynactivemama.com
Patriotic cake pops are another fun dessert to celebrate the 4th of July! Nobody can judge you for having more than one piece of cake with these…
Before crumbling it, you must bake and cool a cake to make your cake balls. Your cake balls combine cake crumbs with a delicious cream cheese frosting.
After freezing your cake, the balls harden up. You'll freeze them for a short time, which makes adding the coating easier.
Then decorate them with red, blue, and white sprinkles. Add star sprinkles, too, for extra patriotism!
Source: ihearteating.com
These M&M cookies are ideal for a 4th of July potluck or barbecue. Red, white, and blue M&M's stand out against the soft cookie dough!
You're likely to have everything else you need to create your cookies. Your vital ingredients are butter, sugar, vanilla, eggs, flour, baking soda, and salt.
Add red, white, and blue sprinkles for an extra patriotic touch!
Source: joyfilledeats.com
The keto dough for these fruit pizza cookies leaves you with a crisp shortbread crust. Use this as a base for your creamy, fruity, 4th of July-inspired topping.
Your dough ingredients, including almond and coconut flour, can be combined in your food processor. You will bake dough circles to form your crispy cookie base.
Top your baked cookies with sweet cream cheese and juicy berries. Experiment with your decoration patterns!
Source: laneandgreyfare.com
Mixed berry cake is the perfect showstopper for your 4th of July gathering! Fresh strawberries, blueberries, raspberries, and blackberries add a patriotic theme to your dessert.
Sweet vanilla frosting and juicy berries are sandwiched between soft, golden cake layers.
Using a gluten, nut, and egg-free recipe, your cake is easy to create. It will look incredible on your party table!
This cake is one of the best fancy desserts to impress guests!
Source: belleofthekitchen.com
Easy ice cream sandwiches are an ideal dessert for a 4th of July pool party. You can whip them up in five minutes and freeze them until you're ready to devour them!
All you need are store-bought cookies, vanilla ice cream, and patriotic sprinkles. Assemble your sandwiches with cookies as your "bread" and slightly soft ice cream as your filling.
Roll in red, white, and blue sprinkles for an eye-catching look! Your ice cream sandwiches are best frozen for a few hours before eating.
Source: thesoccermomblog.com
These patriotic swirl donuts are ideal for big and little kids! They require many ingredients; however, the method is quick and easy, so even your children can help.
You'll find patriotic color in all three elements of your donuts, including the donut batters themselves!
Your swirl glaze combines the American flag colors. Finally, you will decorate with red, blue, and white sprinkles.
Source: 365daysofbakingandmore.com
These patriotic rice Krispie treats will look amazing on your dessert table! You have the combination of American colors plus stars from the American flag. Perfect for the 4th of July!
Your star treats are easy to create. You'll color two batches of rice Krispie batter, leaving another white. You will layer each batch into a pan, leave it to set, then cut stars with a cookie cutter!
Source: diyandfun.com
These chocolate-covered Oreos are easy to make but even more fun to decorate! Your children will love to help with this step.
Using melted white chocolate and blue & red candy melts, this is a perfect patriotic dessert.
You can get creative with your colorful drizzles and add sprinkles for extra decoration. Serve in patriotic cupcake wrappers to make your decorated Oreos even more eye-catching!
Source: bitzngiggles.com
This three-ingredient cherry torte is ideal when it's too hot to bake and you want something quick and easy to create!
Cherry pie filling is a vibrant contrast to layered store-bought pound cake and Cool Whip frosting. Red, blue, and white sprinkles add a patriotic feel to your delicious dessert!
Source: lovefromtheoven.com
Chocolate bark is the perfect treat for guests at your 4th of July celebration. It's quick and easy to create and offers sweet and salty flavors. Your children will love getting involved too!
Chocolate and pretzels are an ideal match. Use salted pretzels for a contrasting taste to the sweet flavors. Red & blue candy and sprinkles stand out against the white chocolate and marshmallows!
Source: easybudgetrecipes.com
These cream cheese truffles are a fun alternative way to transform Oreo cookies. They're so easy to make that they are ideal for getting your kids involved in the celebrations!
A handful of ingredients creates your truffles. Your creamy yet crunchy truffle filling combines crushed Oreos and cream cheese.
They are coated in chocolate and then drizzled patriotically with red and blue candy melts!
Source: sustainmycookinghabit.com
Serve up a refreshing 4th of July treat with these coconut milk popsicles. You will be shocked at how easy they are to make but taste delicious!
All you need to make your popsicles is coconut milk and patriotic sprinkles. You'll pour your sprinkles into the mold, half-fill with coconut milk, and freeze. Repeat this step, and you're finished.
Use red and blue popsicle sticks to stay with the theme if you can find them!
Source: lovefromtheoven.com
These popsicles made with fresh fruit will be a hit for your 4th of July celebrations! They are healthy, fun, and refreshing, and though they require work, it'll be worth it.
You will make lemonade to use as the zesty base of your for your popsicles. This will freeze around fresh blueberries, pears, and watermelon in your popsicle molds.
Cut your watermelon into star shapes to make your popsicles more patriotic!
Source: thefeatherednester.com
Bring this fruity cobbler for a 4th of July barbecue or potluck; everybody will be your best friend! It has a tangy taste of summer and looks eye-catching with the color of the berries.
It's a one-pan dish, so you can relax while baking once you've prepared it. You'll make your biscuits from scratch using self-rising flour, sugar, grated cold butter, and milk.
Once cooked, your biscuits will look like delicious islands in a sea of sweet strawberries and blueberries. You could make this more patriotic by making star-shaped biscuits for the topping!
Have extra blueberries? Try out these yummy blueberry oatmeal muffins!
Source: alekasgettogether.com
These pull-apart biscuit bombs are another patriotic dessert that takes on the American flag. The decorations look great and are fun to eat with family and friends!
You can cut the time and effort to make this dessert using canned Pillsbury buttermilk biscuit dough. Fill your baked biscuit bombs to the brim with a creamy cheesecake mix.
This complements the savory biscuits perfectly!
Blueberry and cherry pie fillings work best for the colors of your flag topping. Use more cheesecake mix for your white stripes and sprinkle with powdered sugar.
Source: knifeandpaddle.com
These parfaits are a perfect easy dessert you can make in advance. They include patriotic red, white, and blue layers formed by delicious flavors and textures.
One of your elements will be a sweet, creamy mascarpone mix. Crushed vanilla wafers add a gentle crunch. Juicy fresh raspberries, blueberries, and strawberries will add new flavors.
You'll have multiple layers of each element, leaving fruity, creamy flavors until the last spoonful!
Source: wethreeshanes.com
This patriotic galette looks like you have spent hours on it. However, it's simple to make. You can use store-bought pie crust to make it even easier. You get a fruit pie's flavor, but with minimal effort!
Sweet summer blueberries and strawberries create the centerpiece of your galette. Cornstarch will help thicken the berry juice, so you don't have a soggy pie crust.
Add pie crust stars to your galette for that extra patriotic element. Vanilla ice cream or whipped cream, when serving, adds your final color of white.
Source: burrataandbubbles.com
Try these blueberry strawberry shortcakes for a fruity upgrade on a nostalgic dessert! Alongside the 4th of July celebrations, these will invoke childhood memories.
Your shortcakes contain fresh berries tossed with cinnamon, sugar, orange zest, and Grand Marnier. You can leave out the Grand Marnier if you're serving kids.
Your shortcakes involve some work with folding dough. However, it's worth it for the delicious flaky layers you will have after baking.
Layer macerated berries and vanilla whipped cream between shortcakes to assemble your patriotic dessert!
Source: senseandedibility.com
Berry tiramisu is a lighter, more seasonal version of the classic Italian favorite. Use blueberries, blackberries, strawberries, and raspberries to make it perfect for a 4th of July dessert!
You can make a ladyfinger sponge from scratch if you want to go all out. However, this recipe works with store-bought ladyfingers, too (and takes less effort).
Your tiramisu will be packed with flavor. Sweet marsala wine and blackberry brandy are mixed with egg yolks and sugar to create a sabayon. You'll combine this with mascarpone to make your creamy filling.
Fresh berries are soaked in sugar, lime juice & zest, fresh mint, and strong green tea. You can adapt to your taste using orange or lemon instead of lime. It's versatile!
Source: sustainmycookinghabit.com
Oreo chocolate truffles are tasty and easy to make, and your kids will love helping too!
You will combine finely crushed Oreos with cream cheese for your simple filling. Let your children get involved here and create Oreo balls ready to freeze.
This will harden them to make them easier to coat.
Your chocolate truffles will be coated in white chocolate after a short time in the freezer. Finish with patriotic sprinkles and let the truffles set before tucking into them!
37 Patriotic 4th of July Desserts That are Easy
What better way to celebrate Independence Day than with these 4th of July desserts that are as patriotic as they are delicious!
Ingredients
1. Rice Krispies Treats
2. Layered Fruit and Ice Cream Treat
3. Marble Cake
4. White Chocolate Dipped Strawberries
5. American Flag Tart
6. Fruit Tray
7. Jello Poke Cake
8. Jello Ribbon Salad
9. Mini Fruit Tarts
10. Muddy Buddies
11. Flag S'Mores Dip
12. No Bake Mini Cheesecakes
13. Patriotic Frozen Yogurt Pops
14. Frozen Greek Yogurt Fruit Bites
15. Ice Cream Cake
16. Trifles
17. Cherry Bombs
18. Cake Pops
19. M&M Cookies
20. Keto Fruit Pizza Cookies
21. Mixed Berry Cake
22. Ice Cream Sandwiches
23. Swirl Donuts
24. Patriotic Rice Krispie Treat Stars
25. Patriotic Chocolate Covered Oreos
26. No Bake Cherry Torte
27. Bark
28. Oreo Cream Cheese Truffles
29. Coconut Milk Popsicles with Sprinkles
30. Popsicle
31. Strawberry Blueberry Cobbler
32. Cheesecake Biscuit Bombs
33. Parfaits
34. Blueberry and Strawberry Galette
35. Blueberry Strawberry Shortcake
36. Berry Tiramisu
37. No-Bake Chocolate Truffles with Oreos
Instructions
Scroll up to get a bunch of easy, yummy, and delicious 4th of July desserts. Don't be afraid to get creative with the ingredients. You might discover a flavor you didn't know you liked.
Get your shopping list going, and make sure you've got all the ingredients.
Get cooking and make your next 4th of July Dessert!
Notes
Which one of these recipes was your favorite? Let me know in the comment section or on Pinterest!