If you don't know what to do with your banana peppers, check this article out! Delicious banana pepper recipes with a subtle spicy kick that everyone will enjoy!
Have you totally forgotten about an open jar of tangy banana peppers? Or has your garden just given you an abundance this year? Either way, this article will find a delicious use for them!
With many different ways to cook with banana peppers, this round-up of recipes will bring some tang and heat into your kitchen.
Whether you wish to make an appetizer or a full meal, these recipes with banana peppers are definitely worth trying!
Can You Freeze Fresh Banana Peppers?
Just like any other peppers, fresh banana peppers also freeze well.
Once thawed, they will still retain some crispiness and their tangy taste. They are obviously great for cooking. But thawed banana peppers can also be enjoyed raw.
It is best to freeze them sliced and without seeds. But if you wish to freeze them whole so you can stuff them later, you can just slice the top off and remove the seeds.
What Can I Do with an Abundance of Banana Peppers?
If you don't wish to freeze your banana peppers, there are other great ways to use them. Stuffing them, for one, can give you a great side dish for a few days.
My favorite thing is to pickle them or incorporate them in canned goods and sauces.
Banana peppers will give some kick to many dishes, so the options are pretty unlimited.
Best Banana Pepper Recipes
If you have some banana peppers you wish to cook with, these are the absolute best recipes you have to try and favorite ways to use them.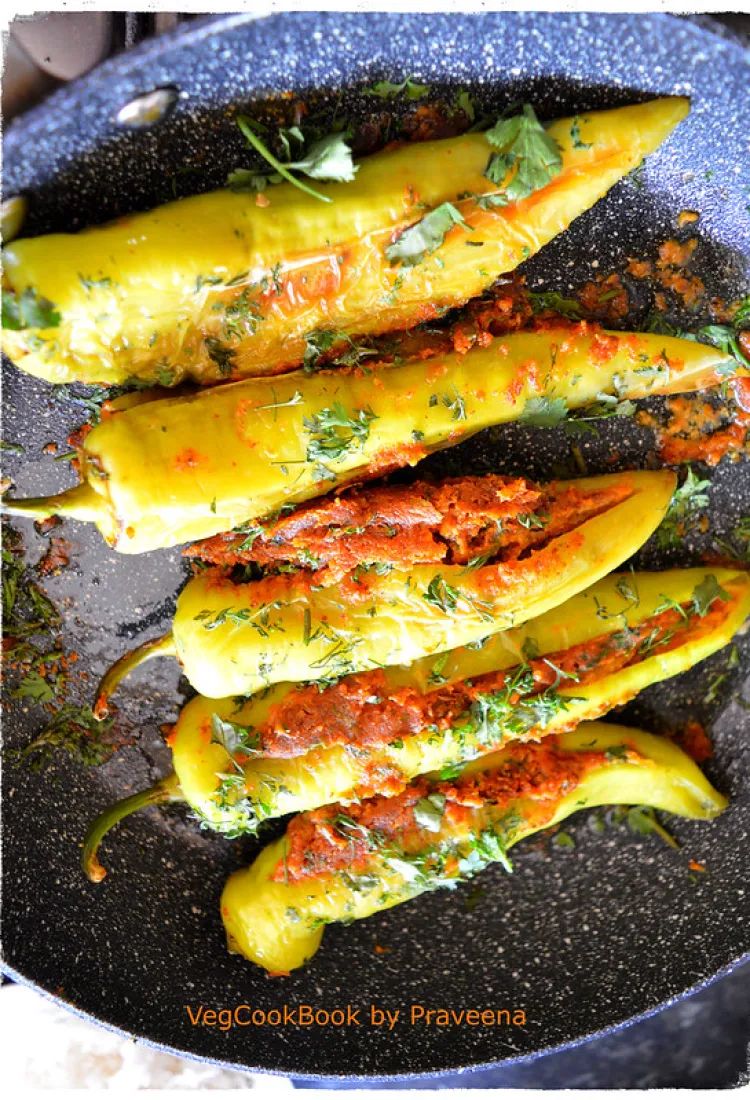 Source: vegcookbook.net
A South Indian delight! This simple stuffed pepper recipe is something that every pepper lover should try.
The stuffing here is made with blended roasted peanuts giving it a unique flavor. It also combines sesame seeds, coriander, chickpea flour, and cumin. And it is super hearty.
The stuffed sweet peppers are fried, and both look and taste delicious.
This stuffed banana pepper recipe is a perfect addition to any meat dish for easy dinners, it also makes one of the best appetizer recipes!
These stuffed peppers are one of the best potluck ideas to feed a crowd!
Source: freshaprilflours.com
Not sure what to do with your pickled banana peppers? Throw them in a salad! This buffalo chicken salad with veggies handles the kick from the peppers deliciously well.
It also features some cheese. And in my opinion, feta works best here.
If you don't like pickled peppers, you can also use fresh peppers in this easy recipe. Just remove the seeds and slice them up.
Source: kendellkreations.com
Okay, if you haven't added pickled peppers to your pulled meat sandwiches, here's your chance to catch up.
The tanginess and a slight heat from these peppers will seriously transform any sandwich game. And this beef-loaded sandwich is no exception.
And with some banana pepper mustard? Get ready for some messy eating, y'all!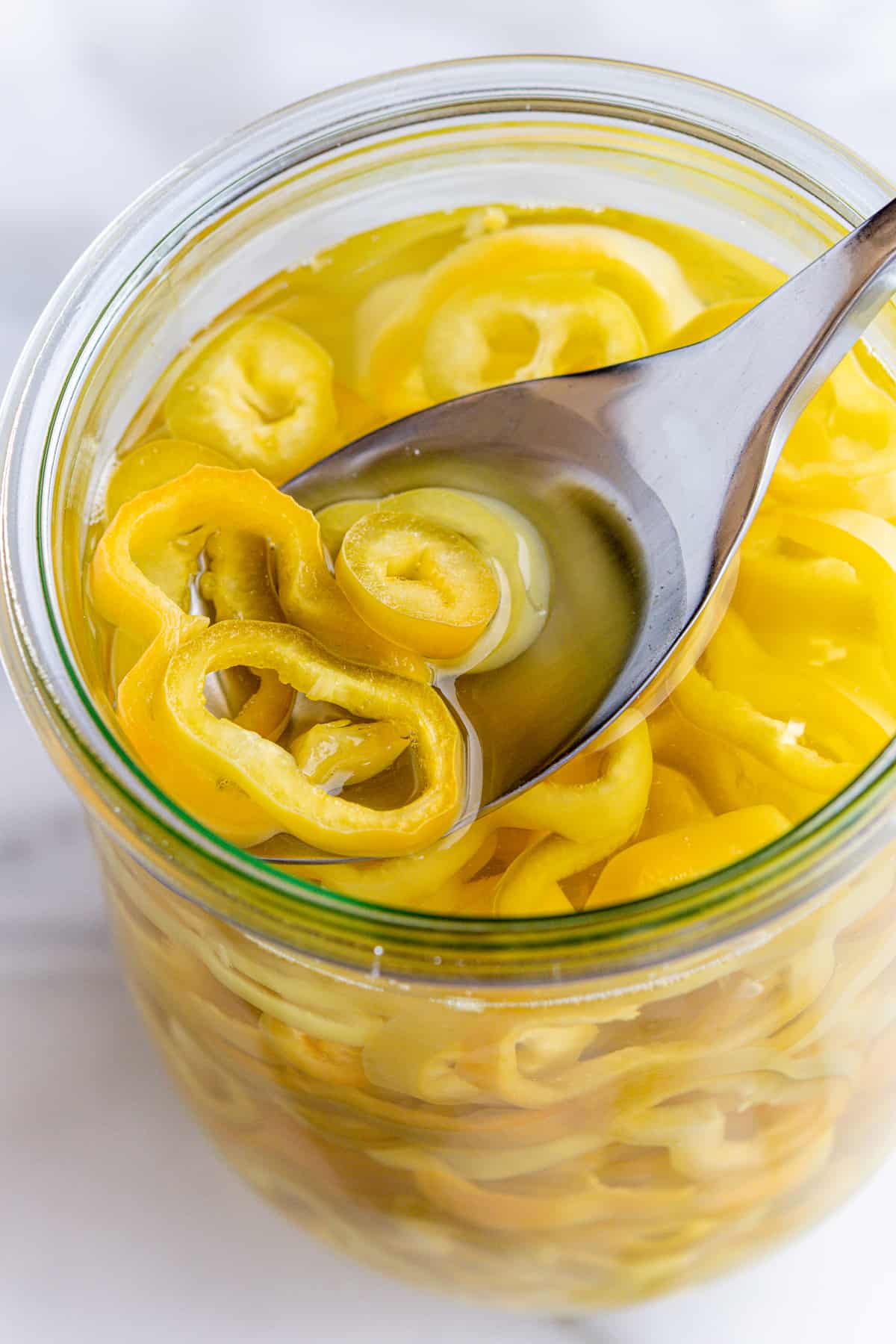 Source: pinchandswirl.com
If you have some fresh banana peppers on hand, make this pickle delight! I tell you, you'll be tempted to eat these slices straight from the jar.
And if you can resist that urge, they will taste amazing with all kinds of dishes. Meat, salads, sandwiches, you name it.
Ready to consume in just one day, this banana peppers recipe goes straight into your canning & preserving folder.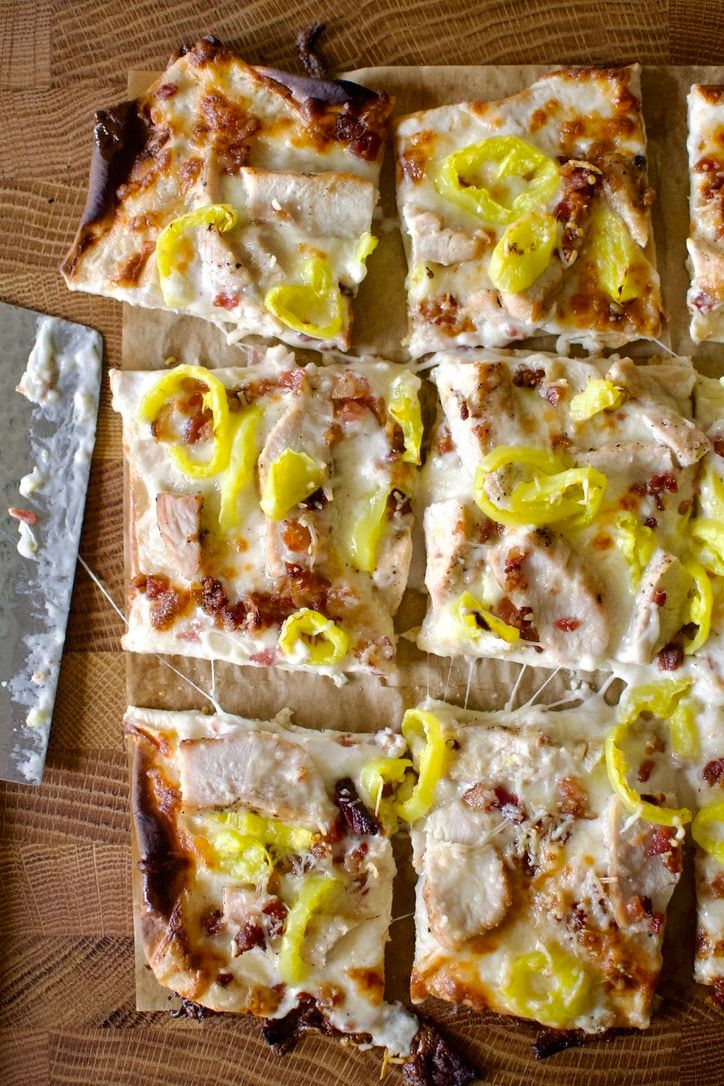 Source: kendellkreations.com
Chicken and mozzarella cheese pizza that is topped with sweet banana peppers. Who needs pepperoni when you have these? Am I right?
Crispy dough, melty cheese toppings, and a tangy and spicy bite that ties everything together.
If you're tired of your traditional pizza recipes, this will be an exciting choice, thanks to the hot peppers.
Make sure to use Alfredo or some other white sauce as the base for the absolute best taste.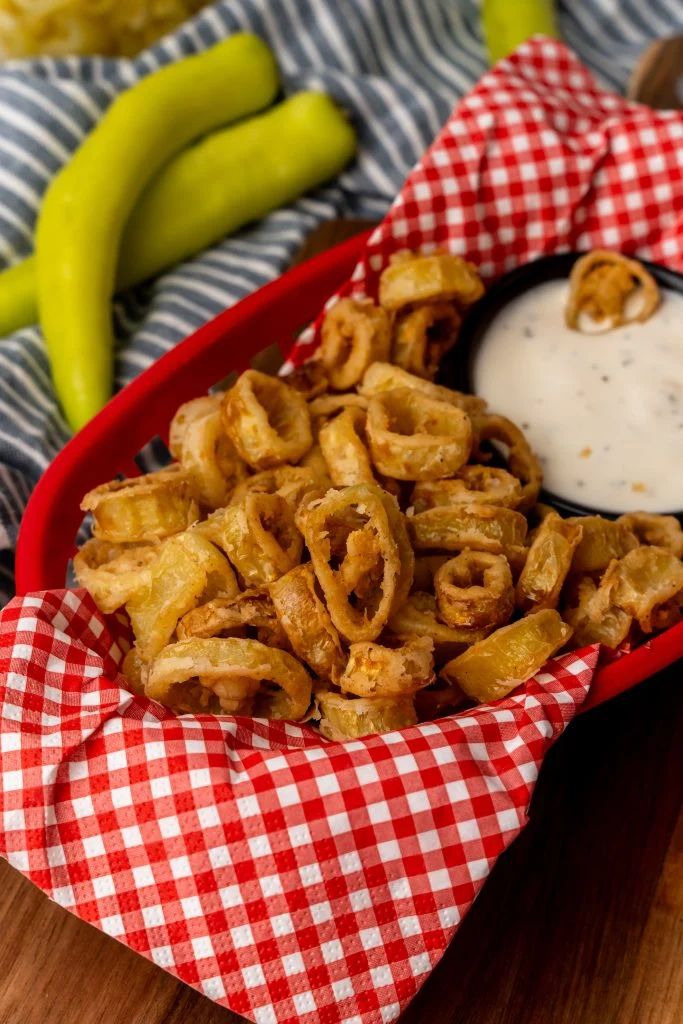 Source: 4sonrus.com
Looking for the ultimate snack with great flavor? Then you're at the right place! Crispy fried banana pepper slices for the best game-night treat ever!
For some more flavor, season the flour with your favorite spices.
You can also make this perfect appetizer in the Air Fryer, but if you don't mind the grease, I really urge you not to.
These are absolutely irresistible when deep-fried, and nothing can give you that same crispiness.
Source: kendellkreations.com
Salted tomatoes. Creamy burrata cheese. And spicy banana pepper slices for some tanginess. This simple salad is perfect for your summer parties.
So delicious and refreshing! Your guests will be super impressed.
And it only features four ingredients if we don't count the salt and pepper.
Do you like to make it more nutritious? Then serve this salad on a bed of leafy greens, and the problem is solved.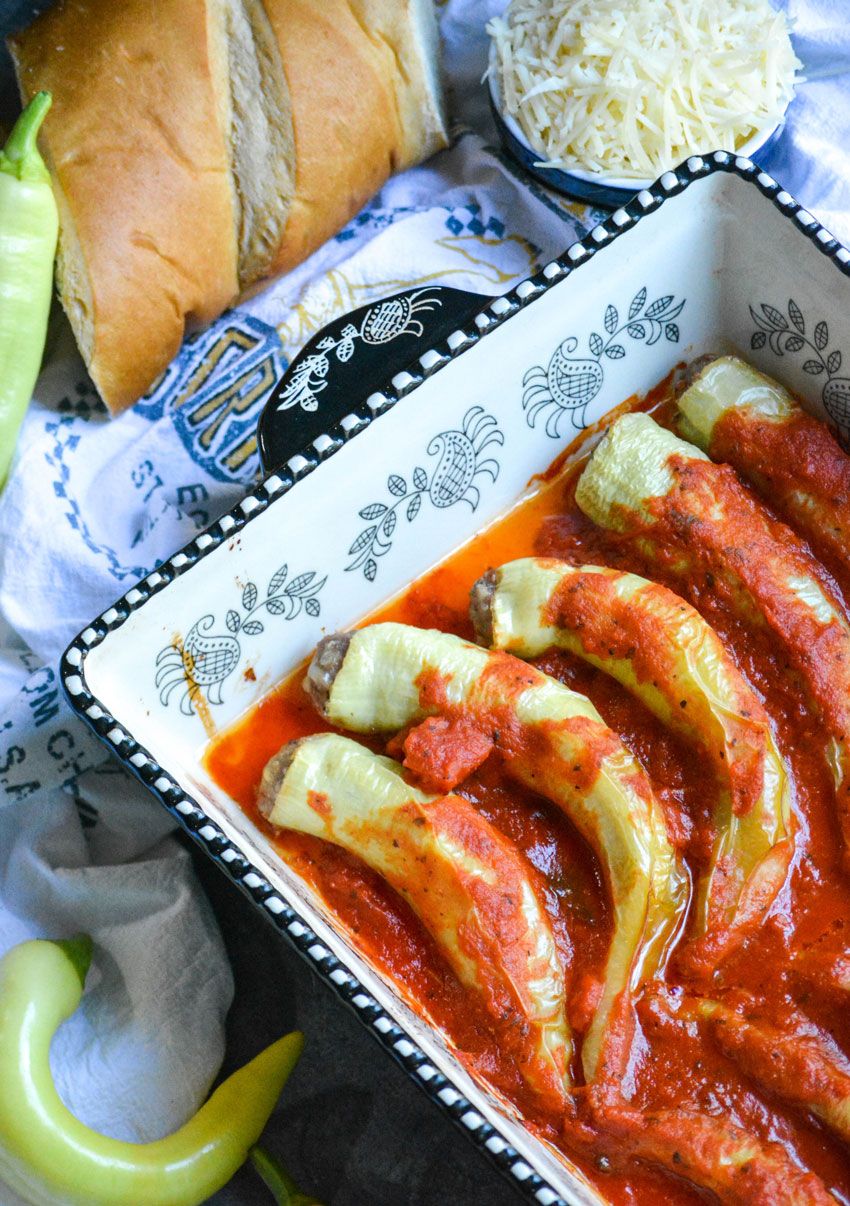 Source: 4sonrus.com
Five ingredients only for this classic stuffed delight. Italian sausage banana peppers packed with cheese and garlic.
They are baked for half an hour. And they are a meaty, cheesy, and tangy treat you need to be serving right now.
The recipe suggests you top them with warm tomato sauce, and I couldn't agree more.
Don't have Italian sausage? Any other kind will work well. Ground beef is also great.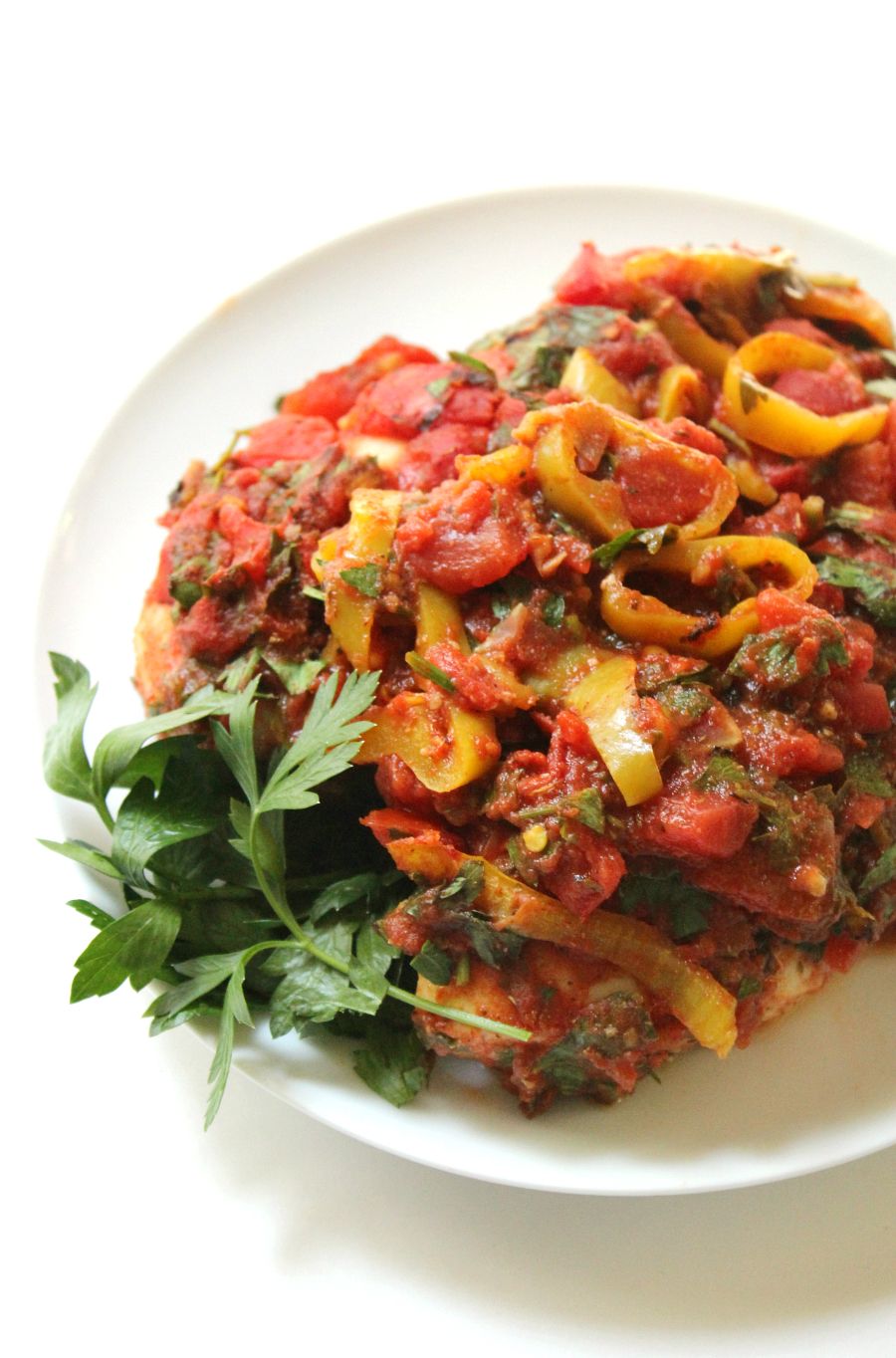 Source: strengthandsunshine.com
A chicken recipe loaded with tomatoes and banana pepper rings. The chicken is baked until soft and juicy. So your dinner with simple ingredients will be anything but boring with this dish.
This simple recipe also uses fire-roasted tomatoes and plenty of fresh parsley.
And it is made in just 35 minutes. Perfect for your busy weeknights what-to-cook-now dilemma for your whole family!
Want to take things to a higher level? Top this mozzarella for some gooey bites.
Source: peasandcrayons.com
When you don't have too much time for cooking, toss this salad together in a jiffy! Healthy asparagus and cucumber pasta dish for a nutritious and filling lunch any time of year!
The salad uses a full cup of banana pepper rings and with a good reason. They offer tanginess and a nice spice to it. Combined with the lemon, herbs, and feta, that tastes amazingly fresh.
For a touch of acidity, champagne vinegar is definitely best.
This pasta salad would make one of the best pool party foods this summer!
Source: entirelyelizabeth.com
What better snack to serve on game nights than a cheesy, pull-apart pizza treat? Creamy and cheesy dip topped with pizza sauce and pepperoni. And garlic pizza balls to dip into that goodness.
But there's more! The pizza dip also features banana pepper rings. And let me tell you, they do magic here.
Bought too much sour cream? Check out these best leftover sour cream recipes!
Source: peasandcrayons.com
This recipe is a great way to use up leftover peppers.
So simple and easy, and yet, versatile and delicious. Pickled pepper slices with onions are officially my new favorite thing.
Season to taste, add some vinegar and keep in the fridge.
Source: cooklikeczechs.com
Banana peppers are stuffed with ground pork, beef, and rice. This classic Czech dish is baked in the oven. At the end of the roasting time, a cup of stock is added for some dipping sauce.
Traditionally these are served with bread dumplings. However, mashed potatoes and white rice will do well, too.
They also pair well with tomato sauces.
Source: mycookingjourney.com
An Indian dish of banana peppers smothered in a peanut and sesame paste.
Ginger, garlic, and curry flavors infuse this recipe. And it is best if you serve it with some naan or other bread on the side.
Mildly spicy and filled with rich flavors. This veggie dish begs you to get your fingers dirty!
Source: twokidsandacoupon.com
You better go shopping for some slider buns because this recipe will be all you think about until dinner.
Italian sausage with peppers and onions. Fried to perfection. And topped with cheesy mozzarella.
Does that qualify as the most comforting sandwich or what?
If you want them to be spicier, you can just sprinkle some hot sauce over.
Source: bonappeteach.com
Are you a fan of the classic grinder sandwich? Then this antipasto salad will be an absolute joy to serve!
Loaded with mixed meats, fresh veggies, and banana pepper rings! Every carnivore will be delighted with this recipe.
The salad dressing is super flavorful and features mayo and parmesan cheese. Which you have to admit, pairs great with the tons of meats here.
These yummy Mexican bread recipes would pair perfectly with this salad!
Source: flavorfuleats.com
If you're a fan of pickled foods, this one's for you!
Hot banana peppers and onions drowned in vinegar, flavored with garlic, and loaded with seeds.
This spicy condiment is super versatile and goes well with any dish. Especially with burgers and juicy sandwiches.
Love hot peppers? You might also enjoy these flavorful Anaheim pepper recipes!
17 Creative Banana Pepper Recipes That Are Easy
Experience a bold blend of sweet and spicy flavors with these delicious banana pepper recipes.
Ingredients
1. Stuffed Banana Peppers
2. Buffalo Blue Salad
3. Pot Roast Sandwiches
4. Pickled Banana Peppers
5. White Pizza
6. Fried Banana Peppers
7. Tomato Salad
8. Sausage Stuffed Banana Pepper
9. Banana Pepper and Tomato Baked Chicken
10. Lemon Asparagus Pasta Salad with Cucumbers and Feta
11. Pizza Dip with Pizza Dough Balls
12. Quick Refrigerator Pickled Peppers
13. Stuffed Banana Peppers with Tomato Sauce
14. Mirchi Ka Salan
15. Italian Sausage Sliders
16. Grinder Salad
17. Pickled Hot Banana Peppers and Onions
Instructions
Scroll up to get a bunch of easy, yummy, and delicious recipes. Don't be afraid to get creative with the ingredients, you might discover a flavor you didn't know you liked.
Get your shopping list going and make sure you've got all the ingredients.
Get cooking and make your next Banana Pepper Recipe!
Notes
Which one of these recipes was your favorite? Let me know in the comment section or on Pinterest!