Not a big fan of turkey? Try these alternative Thanksgiving recipes are easy and delicious.
The traditional Thanksgiving meal of turkey and fixings is delicious. However, sometimes you want something different for the holiday season main course!
Surprise and delight your guests with something a little bit new.
Ready to shake up your upcoming holiday meal and start a new tradition? Put a delicious modern spin on a classic thanksgiving menu with these thirty-one alternative Thanksgiving meals.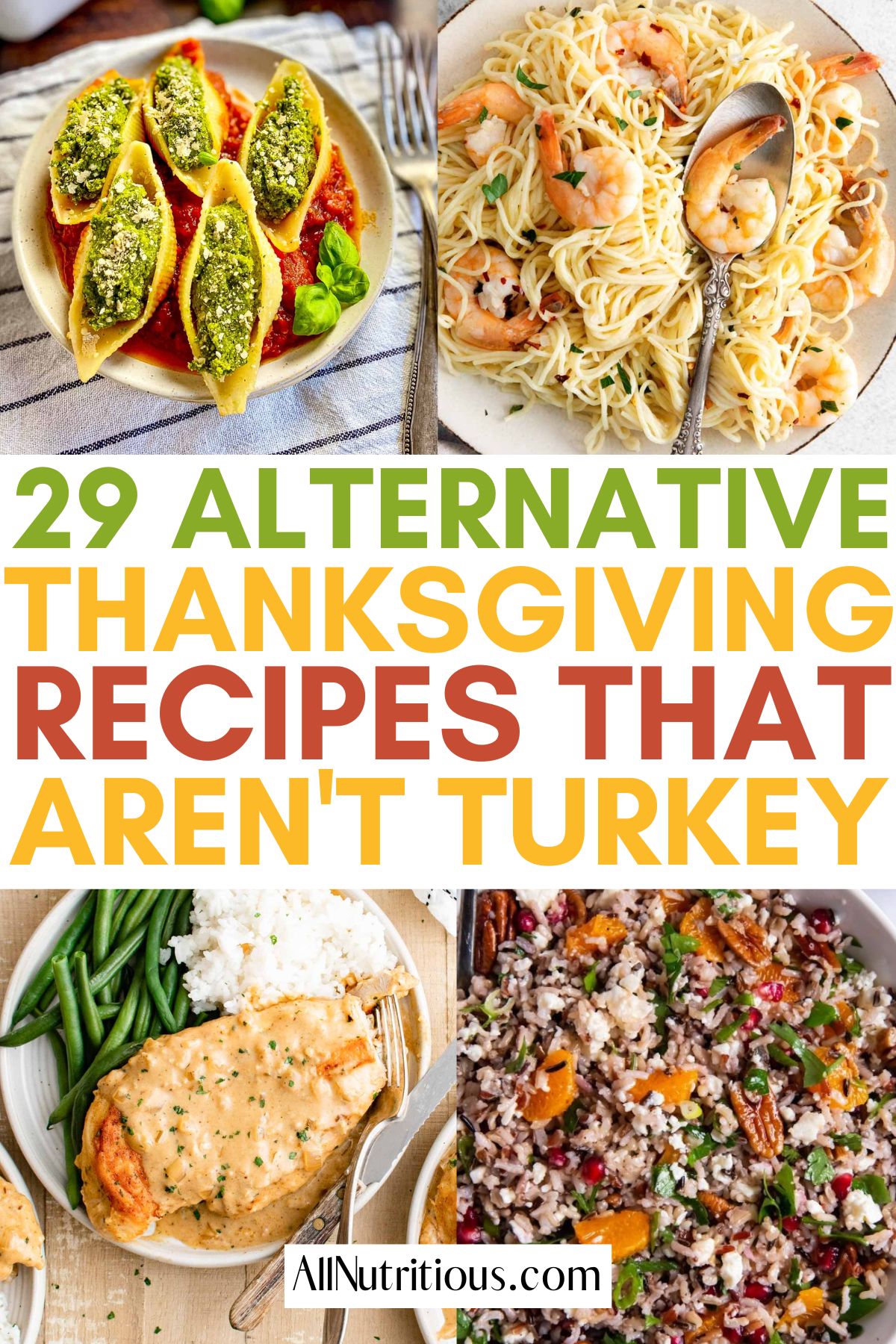 What Can I Serve at Thanksgiving Instead of Turkey?
Nailing your Thanksgiving dishes is all about creating the right flavors with a festive touch. As long as you're liberal with your fixings and include plenty of fresh herbs and warm spices, you can serve just about anything other than turkey.
On top of it, you can still enjoy the comforts of a classic Thanksgiving table.
If you're looking for the closest relative to your traditional turkey, cornish hens or a chicken or two will definitely do your Thanksgiving turkey justice at the dinner tables.
Alternately, a crown roast of pork or pork loin is a wonderful white meat option that's a little unique. It will still provide holiday flavors at your family gatherings.
Are you searching for a vegetarian or vegan option? Pasta, rice, or soup embodying those classic Thanksgiving flavors will satisfy you as thanksgiving dinner alternatives to the traditional bird.
You can even enjoy some vegan thanksgiving recipes that will become family favorites and leave you with fewer leftovers.
So, what are you waiting for? Explore the many ways you can bring a sense of Thanksgiving to your holiday table this year with this whole list of thirty-one delightful favorite thanksgiving recipes for this time of year.
Chicken Thanksgiving Meals
Chicken is one of the most versatile proteins out there. Its similarity to turkey makes it an excellent substitute for Thanksgiving.
Allowing you to enjoy all your favorite flavors at much less cost.
Source: recipesfromapantry.com
Smothered chicken is the ultimate Southern comfort food. Every bite is doused in lashings of delicious, velvety onion gravy.
The smell alone is enough to have your mouth watering.
If you're not up to dealing with an entire turkey this Thanksgiving, this new spin on smothered chicken will serve you well.
Enjoy moist, flavorful, comforting chicken that goes beautifully with a plate of stuffing. Be sure to wash it down with a glug of sherry wine!
Check out more stovetop stuffing recipes here.
Source: flavormosaic.com
The best part of Thanksgiving is spending time with friends and family. So, why disappear into the kitchen for hours at a time when you could create this simple crockpot-style chicken?
It's beautifully charred and packed with flavor, cooking in a delightful vegetable and chicken broth. The result? A moist, crispy, unbelievably easy dish that will happily take center stage.
You can even serve it with your green bean casserole and mashed potatoes!
Check out more slow cooker chicken recipes here.
Source: myorganizedchaos.net
This incredible turkey alternative will take care of your entire Thanksgiving dinner in a single pot. Roasted vegetables, herbs, and tender chicken legs all roast together to create an irresistible dish for special occasions.
All the different aromas blend to form a knockout of a dish, all with barely any effort! Spend your Thanksgiving with your loved ones, not sweating up a storm in the kitchen.
Serve it with some green beans and classic dinner rolls!
Source: flavorthemoments.com
A spatchcock chicken is simply an entire chicken that has been butterfly cut. Allowing more surface area to come in contact with heat and spice and serves as a good alternative to roast turkey for special dinners.
The result is an unbeatably crispy and flavorful chicken your family will love.
Need more chicken recipes? Try these crispy baked chicken cutlets.
Source: twocloveskitchen.com
Enjoy all the flavors of a delicious roast chicken combined with the creamy texture of a warming, comforting risotto.
Risotto is a lovely Thanksgiving dish that celebrates those traditional fall elements in the best way.
Shave a generous amount of parmesan over each serving and allow this risotto to take first place in your guests' minds and hearts.
Source: sparklestosprinkles.com
If you're looking to go a more traditional route, this crockpot chicken and stuffing effortlessly embody all the best things about a Thanksgiving meal.
The stuffing and chicken slowly cook together to create a moist, juicy, tender protein that falls apart beneath a fork. Best of all, this recipe cooks two significant components of your holiday meal at once.
Talk about saving time!
Get more meal ideas with these Thanksgiving potluck recipes.
Pork Thanksgiving Recipes
Pork is another tasty white meat perfect for hosting all those delightfully aromatic Thanksgiving flavors.
It's a little more robust than turkey or chicken. So, it's great for standing up against some bold seasoning.
Source: myorganizedchaos.net
The key to bringing a piece of pork into the Thanksgiving fold is to rely on those delicious autumnal flavors. Think herbs, garlic, and plenty of mustard.
This incredible combination of ingredients lends warmth and finesse to the pork as it slowly roasts. The result is a tender and warming bite that melds beautifully with the rest of your Thanksgiving meal.
Source: whereismyspoon.co
Cooking in cast iron is a surefire way to pack even more flavor into your pork tenderloin. Get a delightful char on the outside while enjoying a sweet, tender, juicy inner.
Since tenderloin is pretty lean, you want to ensure that you take it slow. By browning the pork in a pan and then oven-roasting it, you'll pack it with a smoky flavor while keeping it light and delicious.
Love pork? Check out these thin pork chop recipes.
Source: simplystacie.net
Orange and mustard are truly a combination conceived in heaven. The earthiness of the mustard and the bright orange dance across the palate. Pulling you in for bite after delicious bite.
Brushed onto pork tenderloin and roasted. This autumnal flavor combination will have no trouble anchoring your Thanksgiving meal.
Check out more Healthy Thanksgiving Recipes.
Vegetarian Thanksgiving Meals
Don't let the idea of a vegetarian Thanksgiving scare you! There are many ways to deliver a delicious holiday meal while leaving meat off the table.
Check out just a few ideas below!
Source: thegoodheartedwoman.com
What makes a better fall centerpiece than an entire roasted pumpkin? This is a fantastic way to enjoy a vegetarian dish that can still happily serve as the anchoring element of your table.
This roasted pumpkin is deliciously rich and satisfying. Whether you're only serving vegetarians or have some ravenous meat-eaters in attendance, this is sure to satisfy.
Check out more cheap dinner recipes here.
Source: christinascucina.com
If you're after that delicious pumpkin flavor but are not quite up to roasting an entire pumpkin, try this soup recipe! This is a soup recipe for the ages and imbued with all the best fall flavors.
Apart from how good it tastes, the best part of this recipe is how simple it is to create. You can efficiently serve your entire family in no time with this quick and easy dish.
Source: twokooksinthekitchen.com
Whether you're searching for an alternative main dish or side dish. This vegetable strudel has all the ingredients to succeed.
The delicious, crispy puff pastry encases a rich and hearty vegetable filling. It's the perfect way to deliver a vegetarian Thanksgiving meal with just as much impact as a roasted turkey.
Source: babaganosh.org
Take it easy this Thanksgiving with a delicious casserole that's simple to make but delightfully complex on the palate. Butternut squash, herbs, and chickpea combine in a robust fall-themed feast.
This casserole takes forty-five minutes from start to finish, most of which is the baking time. Get on with your side dishes, and be assured that a delicious main dish will soon be out of your oven.
Source: flavorthemoments.com
A wild rice salad feels like it's popped straight off the forest floor. Bringing all those natural and earthy elements to your Thanksgiving table.
Little sprites of orange and pomegranate lift this salad to a new dimension. Enjoy this dish's textural sensation however you like; starter, main, or side dish.
Source: happykitchen.rocks
That's right; you can even create a pot pie without using meat! Indulge in a luxurious, creamy, hearty pie swimming in a nutty bechamel.
The light and flaky filo pastry encasing the vegetable medley adds so much texture to the dish. It's delicious the next day as well, but with how good it is, it's unlikely you'll have any leftovers to save.
Vegan Thanksgiving Meals
Even without dairy or eggs in the running, there are still so many ways to create an enchanting Thanksgiving. Use the recipes below to craft a holiday spread everyone can fall in love with.
Source: beplantwell.com
Lasagna might seem like a strange choice for a Thanksgiving meal. But with how comforting and delicious this recipe is, you'll soon want to make it a regular thing!
Not only is this lasagna surprisingly easy, but it's also ready in just an hour and a half. Compare that to the hours and hours spent basting a turkey, and you'll breathe a sigh of relief.
Source: whatagirleats.com
Speaking of lasagna, here's an autumnal twist on the Italian favorite that will have your guests in awe. Tender butternut, a creamy white sauce, and plenty of cheese are the keys to success here.
This makes a beautiful centerpiece for your next Thanksgiving or Christmas meal. It's also fantastic for sending home with guests, as lasagne is always better the next day.
Source: watchlearneat.com
Is there anything more fall-friendly than an acorn squash? Give each guest their own portion with this fantastic vegan Thanksgiving meal sure to delight and impress.
You can take this approach with any stuffing recipe that strikes your fancy, but one is included with the dish.
Source: beplantwell.com
A beef Wellington is a culinary triumph most home cooks would be proud to have under their belt. Now, transform it into a vegan version, and you've got a real winner on your hands.
Enjoy all the same hearty flavor and delicious, flaky texture of the traditional Wellington without the stress! Drizzled generously with your favorite gravy, this is a show-stopper of a Thanksgiving dish.
Source: beplantwell.com
Rather than letting a meatloaf steal the spotlight, delight your guests with this nutty, hearty, rich vegan lentil loaf. This recipe is loaded with protein, so you know your guests will be satisfied.
Each bite sings with an earthy, well-spiced flavor. Herbaceous and aromatic, this loaf is the perfect hero to pave the way for your delicious stuffing.
Source: recipesfromapantry.com
Jollof rice is an aromatic, vibrant, and bold recipe served around West Africa. Whether you need a dynamic side dish or a base for your main, this vegan recipe will have your tastebuds singing.
This is traditionally a celebratory dish, so it's a perfect fit for a unique Thanksgiving spread.
Source: nosweatvegan.com
Take a refined stance on your next Thanksgiving dinner with these stunning vegan stuffed shells. Each delicious shell is loaded with a vibrant green spinach and ricotta mixture.
Laid on a bed of delicious fresh tomato sauce, this is a dish you don't want to miss. Best of all, despite the restaurant-quality appearance, these stuffed shells are ultra-easy to pull together.
Source: nosweatvegan.com
Add an earthy element to everyone's favorite comfort food classic thanks to this stunning recipe. Achieve the same creaminess you'd find in a dairy mac and cheese with a pumpkin bechamel.
Not only does this add to the warming flavor of the casserole, but it also lends the dish a dynamic yellow hue. If that doesn't make your guests want to dig in, I don't know what will!
Other Thanksgiving Meals
If you're searching for a way to make your Thanksgiving dinner unique, these recipes are for you.
From Indian spices to pan-seared salmon, discover ways to surprise and satisfy your guests this holiday.
Source: myorganizedchaos.net
Salmon is a beautiful choice if you're looking for something rich yet summery to cut the fall atmosphere. Serve this deliciously easy pan-seared salmon with a generous squeeze of lemon.
Depending on your taste, this salmon would be utterly at home alongside a bowl of stuffing or a troop of more modern Thanksgiving sides.
Here is another lovely salmon recipe – a salmon stir fry full of flavors.
Source: recipesfromapantry.com
Break out the Instant Pot for a quick and easy scampi that's packed with Thanksgiving-worthy flavor. There are few things on earth better than a good scampi, and this is one of the best.
Feel free to customize those flavors to make the dish more aligned with a Fall vibe.
Source: mommyevolution.com
A stunningly sticky orange-glazed ham would make a showstopping centerpiece for your next Thanksgiving. Don't leave ham for the Christmas table when you can enjoy it here!
This ham is roasted low and slow, repeatedly basted with a sweet orange juice mixture to imbue it with that sticky flavor. While the work of a few hours, once you bite into this, it will all be worth it.
Source: whereismyspoon.co
Achieve refined, hearty deliciousness in a mere half hour with this insanely delicious veal marsala. The mushroom flavor embeds itself into the meat, keeping it sumptuous and tender.
If you don't have access to veal, this marsala is beautiful with lamb or beef.
Source: littleferrarokitchen.com
Pistachio and lamb is a classic combination. With the tried-and-true taste of this main dish, your Thanksgiving dinner will go off without a hitch.
Not only that, your guests will be deeply impressed by the stunning rack of crusted lamb taking up the center stage on your table.
Source: windycitydinnerfairy.com
Finally, our last dish celebrates earthy, autumnal ingredients in the purest form. Surprise and delight your guests with a perfectly-cooked duck breast adorned with a sweet, slightly tart blackberry sauce.
Served alongside your favorite Thanksgiving side dishes, this duck breast will create a Thanksgiving meal you won't forget you won't forget anytime soon.
What are your Thanksgiving plans for this year? Let me know which beautiful dishes will be gracing your table in the comments below!
29 Alternative Thanksgiving Meals to Turkey
These alternative Thanksgiving recipes are great main course alternatives to turkey for your next holiday meal. Perfect to serve as a side dish on Thanksgiving too.
Ingredients
1. Smothered Chicken
2. Crockpot Roast Chicken
3. Baked Chicken Leg Quarters
4. Roasted Spatchcock Chicken
5. Chicken and Leek Risotto
6. Crockpot Chicken and Stuffing
7. Rosemary Garlic Pork Roast
8. Cast Iron Pork Tenderloin
9. Orange Mustard Pork Tenderloin
10. Roasted Stuffed Pumpkin
11. Pumpkin Soup
12. Vegetable Strudel
13. Chickpeas Butternut Squash Sauce
14. Harvest Wild Rice Salad
15. Vegetarian Pot Pie
16. Vegan Lasagna
17. Butternut Squash Lasagna
18. Vegan Stuffed Acorn Squash
19. Vegan Mushroom Wellington
20. Vegan Lentil Loaf
21. Jollof Rice
22. Vegan Stuffed Shells
23. Vegan Pumpkin Mac and Cheese
24. Pan-Seared Lemon Salmon
25. Instant Pot Shrimp Scampi
26. Orange Glazed Ham
27. Veal Marsala
28. Pistachio Crusted Lamb Chops
29. Duck Breast with Blackberry Sauce
Instructions
Scroll up to get a bunch of easy, yummy, and delicious recipes. Don't be afraid to get creative with the ingredients, you might discover a flavor you didn't know you liked.
Get your shopping list going and make sure you've got all the ingredients.
Get cooking and make your next Alternative Thanksgiving Meal!
Notes
Which one of these recipes was your favorite? Let me know in the comment section or on Pinterest!