These easy Weight Watcher recipes will keep you full, satisfied, and happy. Most importantly, anyone with a variety of cooking skills can make these meals and thrive.
Are you on Weight Watchers program? And in need of new, more creative recipes that are both delicious and exciting to try?
All of that while still staying within your diet limits? Well, you are in the right place.
Continue pursuing your weight loss or weight gain goals with these delicious and healthy recipes. Eating well and achieving your fitness goals doesn't mean you have to eat boring meals.
Not at all!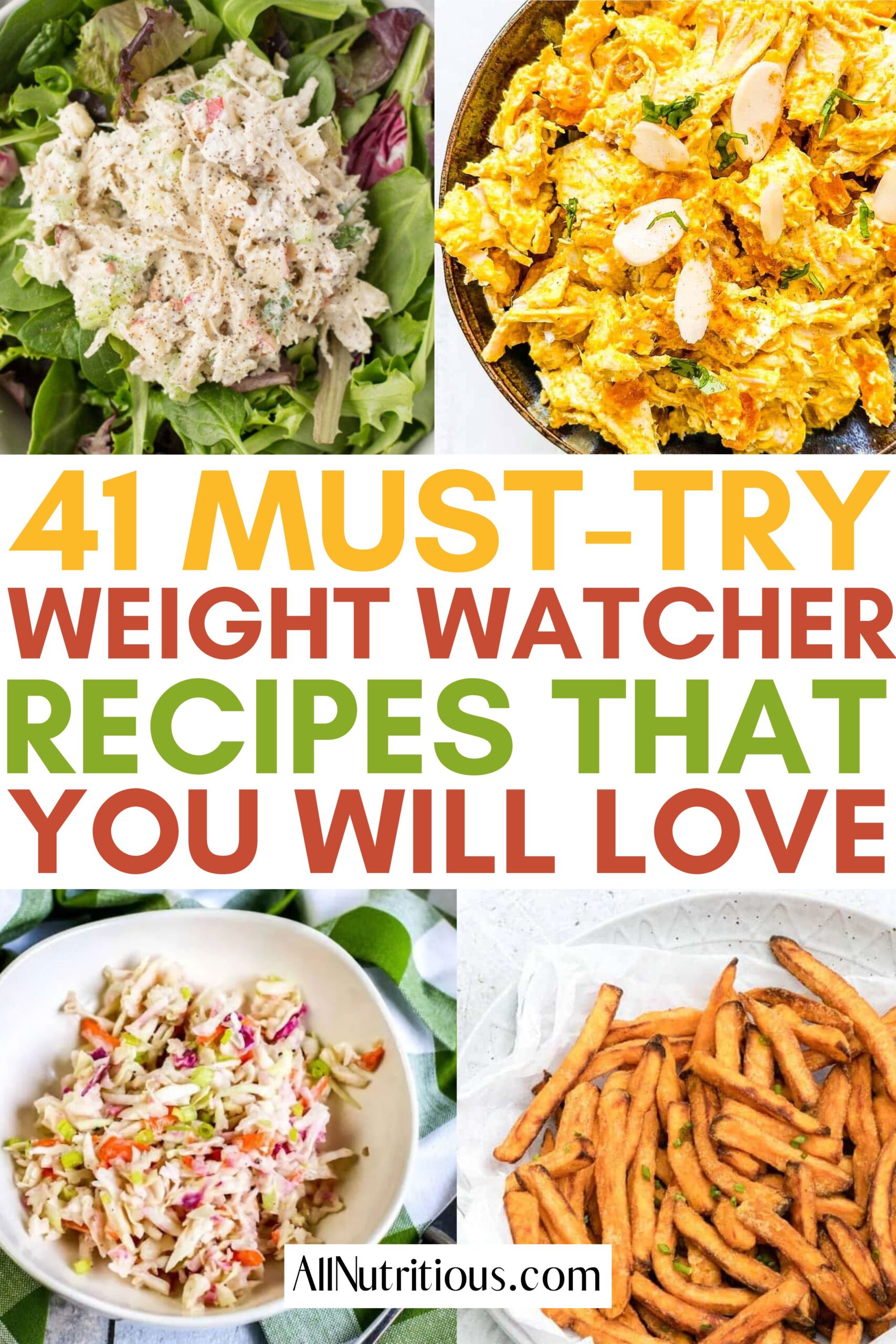 What is Weight Watchers?
Weight Watchers is a long-standing diet program that helps people make good decisions about their eating using a points system.
It's a program that's worked for many people worldwide, offering a simple way to track food intake. They also offer many delicious substitutes for meals that would usually crank up the WW points.
What Should I Eat on Weight Watchers?
The answer here depends on whether you're looking to lose or gain weight. Your goals are unique to you, so you must consider which recommendations make sense for your journey and healthy lifestyle.
For the most part, the points system relies on championing lean proteins, healthy fats, and plenty of high-fiber fruits and veggies.
With these aspects in your diet, you can easily be the healthiest version of yourself and enjoy delicious weight watchers recipes.
Weight Watcher Dinner Recipes
Making great recipes for dinner can be the most challenging part of my day, especially if I try to make it healthy. But with this collection of recipes at the ready, it suddenly becomes deliciously easy.
Especially with the WW app at your fingertips!
Source: bingeworthybites.com
Cravings for fried rice are almost impossible to get rid of without indulging, so what do you do? You make a lower-carb version of fried rice that tastes just as good!
This WW recipe for cauliflower fried rice an effortless substitute that easily ties into so many recipes, and the result is so good and it has almost zero points.
Fluffy, light, and absorbent, you can't ask for anything more from this tasty fried rice with simple ingredients.
Source: ourwabisabilife.com
Next is a "Million Dollar Spaghetti" recipe that only tastes like it costs that much. All because this delicious meal certainly doesn't run that high on the grocery bill.
This is a high-flying dinner recipe the entire family can enjoy. It doesn't take that long to make, and most of the ingredients are likely in your pantry right now.
This is one of the most convenient weight watchers meals!
Love spaghetti? Try this healthier version of chicken zucchini pasta here.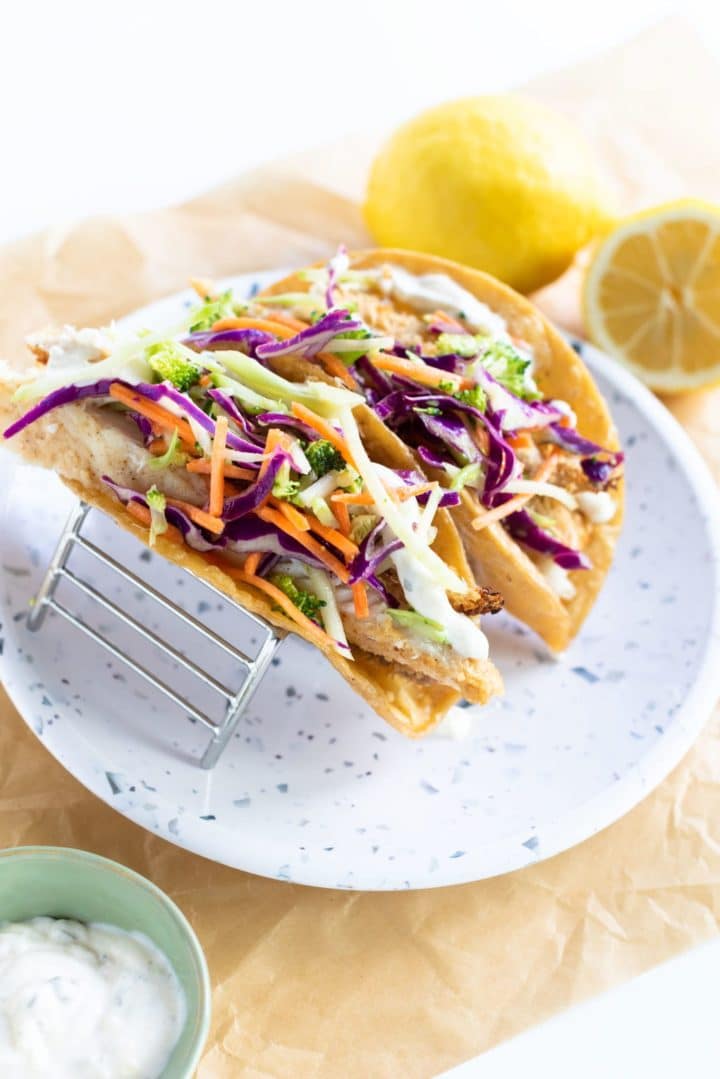 Source: bingeworthybites.com
These fish tacos are summer in a shell. The vibrant, crunchy slaw is the perfect counterpoint to the delicate fish, capped off with a delectably crunchy taco shell.
This dinner's interplay of tastes and textures makes it a real winner. Impress your family, dinner guests, or even the neighborhood with these super simple, ultra-delicious tacos.
Source: foodmeanderings.com
Are you craving some Chinese food? Don't reach for the takeout menu! Instead, reach for your fridge to create this stunning, healthy, filling, and tasty bowl.
Thanks to the cost-effective ingredients list, this dish will cost less than that takeout. Plus, it's much healthier, so you can enjoy the flavor of egg rolls guilt-free!
Source: confessionsofafitfoodie.com
These Instant Pot chicken tacos are a personal favorite. They look and taste like you spent hours slaving over them, but they take barely any prep time, thanks to the magical Instant Pot!
Adorned with all sorts of fresh vegetables and a light dose of yogurt or sour cream, these tacos will be gone as soon as you set them on the table. Create a spread so people can customize theirs!
Source: ourwabisabilife.com
Thai basil is one of those hallowed ingredients we should all know how to use. It's a profoundly aromatic herb that lends flavor to a dish, transforming simple recipes into rich dishes.
This Thai Basil Beef is a perfect example of what this herb can do for you. With minimal ingredients and a quick half hour in the kitchen, you can produce a restaurant-worthy dish that's guilt-free.
Source: theurbenlife.com
Sidestep the greasy takeout food and opt for these delicious loaded burger bowls instead. Featuring an array of vibrant vegetables, this bowl has everything you need to tick off your daily nutrients.
The secret to success in this dish is the delicious burger sauce. It ties all the elements together, delivering the flavor of a burger without the nasty stuff.
Source: bingeworthybites.com
Also known as 'Texas Caviar,' this might not be the most glamorous of wrap fillings, but it's undoubtedly one of the tastiest. Bursting with fresh and juicy flavor, this is an ideal quick weeknight meal.
It's also perfect for meal-prepping your on-the-go lunches. Enjoy the caviar as a chip dip on game day too, or even served on rice with a little sprinkle of sauce.
Source: thecleaneatingcouple.com
Love the taste of buffalo sauce, but don't want all the sodium that comes with it? This delicious spaghetti squash casserole will give you your daily nutrient dose while tasting incredible.
Indulge in the familiar, comforting flavor of buffalo chicken speckled throughout this warm casserole. It's super simple to make, and the leftovers are great for lunch the next day!
Source: confessionsofafitfoodie.com
Be feasting in just twenty minutes with this stunning one-pan wonder that doesn't rack up any points in your WW tracker. That's right; it costs zero weight watchers points!
This is a crockpot meal that never entirely made it to the crockpot. You can churn this out in no time, and the bold, punchy flavors will stay in your memory long after you're eating.
Top it with some tasty shredded cheddar cheese to make this delicious recipe even better. Find more cheap crockpot recipes here.
Source: budgetdelicious.com
With only five ingredients on the list, these super simple chicken fajita foil packets are perfect for a quick Sunday dinner and are one of the best healthy weight watchers recipes. The foil holds all the delicious steam in, keeping the chicken wonderfully moist.
This recipe is also great for anyone living the low-carb, gluten-free, paleo, or keto lifestyle. That makes it such an excellent meal for the Weight Watchers program!
Weight Watcher Soup Recipes
Soup is one of the simplest ways to enjoy a meal; there are wide varieties of hearty soups to choose from for main dishes! Enjoy oodles of nutrients packed into a single bowl with these delicious recipes.
Source: easyanddelish.com
First on the docket is a chicken tortilla soup you can craft entirely in your Instant Pot. Get from start to finish in just twenty minutes. At only a dollar per serving, this is a fantastic cheap family meal for weight watchers members.
Not only is it affordable and convenient, but it's also a super punchy soup that's great for warming you up from the inside on a cold winter's night.
Source: confessionsofafitfoodie.com
Whip up a low-carb stuffed pepper soup with everyone's favorite rice substitute: cauliflower. The textures and flavors in this soup are so playful, bringing to mind cold winter nights and warm meals.
This is one of the best weight watchers dinner recipes and it is super easy to make, requiring only a single pot to come to life. This is a bulk-friendly soup with minimal dishes and full flavor.
Ideal for Sunday meal-prepping for your weight loss journey.
Source: savorthebest.com
Rely on one of humanity's most delicious flavor combinations with the following soup recipe: tomato and basil. The best thing about this soup is its simplicity and fresh herbs.
Not only is it simple to make, but it's also deliciously simple in taste. Sometimes, that's all you want in a warm, comforting bowl of soup.
Top with a spoon of sour cream to wake up your tastebuds.
Source: thefoodhussy.com
Love the taste of tacos, but don't want to go to all that effort? Enjoy all those delicious flavors in a single bowl with this revolutionary weight watchers taco soup.
You can serve this comfort food up like tacos, offering your guests a full range of toppings to customize their bowls. Watch your whole family devour their bowls in seconds, thanks to this great depth of flavor.
Source: savorthebest.com
If you've never had zucchini soup, your life will change when you make these healthy recipes. The best part is this underappreciated vegetable goes delightfully creamy when blitzed, making it the ideal candidate for a soup base.
Add a generous serving of the key ingredient – roasted garlic, and you've got a winner on your hands. The mellow zucchini and earthy garlic create the perfect blend.
All of it ushering in an era of summer to your cheap dinner that's sure to become one of your favorite weight watchers recipes.
Source: tipsnrecipesblog.com
If you're a fan of sauerkraut, you'll fall in love with this incredible cabbage carrot corn soup. Each bite bursts with tart cabbage, sweet corn, and the earth carrots humming beneath it.
This is something between a vegetable soup and a stew, so it's delightfully hearty without becoming overbearing. This would also be an excellent entrée or side dish for dinner parties.
Weight Watcher Salads Recipes
Salads have a bad reputation, especially in the dieting world. But these four delicious salad recipes turn that reputation upside down.
You'll be craving these come lunchtime!
Source: confessionsofanover-workedmom.com
A good coleslaw can be hard to find, especially if you're trying to sidestep all that extra mayonnaise. Enter this fantastic coleslaw recipe.
This is a deliciously light and refreshing version of a typical store-bought coleslaw. It's everything the side dish should be. Celebrate the crunch and taste of cabbage and carrot in their entirety.
Source: thecleaneatingcouple.com
This Greek-inspired salad with chicken breast promises to occupy a new spot in the Pantheon of adored salad recipes to enjoy with your daily points. There's something about the flaky chicken and mesclun leaves that feel like heaven in a bite.
The Grecian flavors in this salad make it utterly addictive. Packed with nutrients and flavor, this is a delicious, healthy, and convenient dinner you can whip out at a moment's notice.
Source: pointedkitchen.com
This turkey salad celebrates an ingredient most people leave for the holidays, but this might get you to pick up turkey more often! The punchy sauce only enhances the light and delicate flavor.
If you're not a fan of turkey, the shredded chicken will also work here. It's a great way to bring leftover poultry back to life the next day, giving it new flavors and textures in one fell swoop.
Find more ground turkey recipes here.
Source: foodmeanderings.com
Enjoy a unique and delicious salad that sings with the flavors of a Big Mac! The secret to this salad's burger-like taste lies in the dressing, which tastes almost exactly like the Big Mac sauce.
Adorn with little round croutons and a hefty handful of cheese to pay homage to the original burger. Even your kids will get on board with this inventive salad dish.
Weight Watcher Vegan Recipes
Finding vegan recipes that suit your diet can be challenging, but these are a great start! Enjoy your favorite comfort foods in a vegan-friendly, points-friendly way.
Source: cookingwithfudge.com
These light and bright brussel sprouts are a perfect way to enjoy these earthy vegetables. They're just a little sticky, but the delicious char effortlessly balances the orange's sweetness.
The result is a well-rounded snack or side dish you could proudly serve your guests.
Source: richanddelish.com
Put down those Reese's peanut butter cups and pick up these beauties to satisfy your sweet tooth. These taste so much better, more natural, without oodles of sugar hiding beneath Reese's chocolate shell.
While these look professional, they're pretty simple to make. You only need five ingredients, and you don't need to get an oven involved.
Just let them enjoy some quality time in the fridge.
Source: ihearteating.com
For an excellent reason, Lentil Bolognese is a celebrated classic in the vegan world. This is a deliciously hearty Friday night dinner that takes virtually no time at all to make.
Honestly, you won't miss the meat in this dish for even a second. Served on spaghetti, in a bake, or solo, this recipe promises a filling meal that's even better the next day.
Source: theinspirationedit.com
In my humble opinion, no one should be without pancakes and maple syrup. So, if you're vegan and on the Weight Watchers plan, here's one of the best recipes that will keep you flushed with delicious pancakes every Sunday.
As with most pancake recipes, this is dead simple. Mix your dry and wet ingredients, fry, and drizzle with your favorite syrup to grease the way. Delicious!
Source: glutenfreeonashoestring.com
I know black beans in a brownie sounds a little strange, but hear me out. The deep, rich chocolate effortlessly masks the flavor of black beans in the mixture.
Using the black beans allows you to skip the egg and dairy, resulting in a deliciously dense browny with perfect moisture. Every bite of these is heaven.
Weight Watcher Potato Recipes
Potatoes are a reasonably starchy vegetable but also an excellent vehicle for healthy fats. Not to mention, they taste fantastic.
Check out some simple potato recipes for when your cravings strike.
Source: forktospoon.com
Potatoes can be Weight Watchers friendly as well! These air fryer wedges don't use oil in cooking, so there's no added fat in these crispy delights.
Enjoy the same high-quality home wedges you're used to without the added grease. Season these however you like to use as a game day snack, side dish, or even a quick and casual lunch.
Source: housewivesoffrederickcounty.com
If you're craving potatoes but don't want to go the traditional route, these butter pecan mashed sweet potatoes are incredible. Every buttery bite is dripping with a warm, comforting flavor.
While these sound complex, the sweet potato mash is super easy to create. Plus, it's an excellent source of magnesium, potassium, and fiber, so you know it's extra good for you.
Source: recipesfromapantry.com
Dive head first into a pile of these delicious sweet potato fries; you won't regret it! These are an excellent substitute for traditional potato wedges, with a slight sweetness to every bite that elevates the dish.
Serve these up with your favorite dipping sauces for a great party starter. These take virtually no effort to make, so they're also great for on-the-go snacks when you have a million things to do!
Weight Watcher Shrimp Recipes
Shrimp – a.k.a. the jewel of the sea – is a nutrient-rich protein option that hides a delicate sweetness. There are many ways to enjoy this tasty treat; check out a few here!
Source: bingeworthybites.com
Shrimp tacos blend the two ends of the taste spectrum: spicy and sweet. They're perfectly balanced, incorporating plenty of crunch from the shell and a healthy dose of spice from the sauce.
All that's left is to dress your tacos with your favorite toppings. Serve these up pre-made, or delight your family with a spread of potential taco toppings from which they can make their choice.
Source: thisolemom.com
If we're talking fusion food, there's nothing better to try than a Cajun shrimp pizza. Combining influences from all over the world, this is a spicy, sweet, savory treat you'll never forget.
On top of all that, it's good for you! I know; it blew my mind too.
These pizzas come together in no time and are great for keeping the kids happy. In fact, you can use this base to create any pizza you like. Just pick your favorite toppings and go!
Source: theholymess.com
Don't spend ages cleaning up the kitchen. Instead, whip up this one-pan shrimp boil for a simple, tasty dinner for tonight that will blow your mind.
This recipe is full of tasty ingredients that are also good for you.
Weight Watcher Dessert Recipes
Finally, we come to everybody's favorite recipe category: desserts. Dieting doesn't mean eliminating desserts. Instead, it means enjoying all your favorite desserts in moderation.
So, check out a few recipes that are great for enjoying moderate portions (and, of course, taste incredible).
Source: berrymaple.com
Who doesn't love having some breakfast for dessert? Sweeten your evening with these delicious apple banana pancakes. Thanks to the fruit, these pancakes are naturally sweet and moist.
You can finish them off with some whipped cream in a stack… if you can wait long enough to cook them all. I wouldn't blame you if you just started eating them out of the pan!
Source: ourwabisabilife.com
Celebrate a special event in your life with this easy, indulgent chocolate cheesecake. This is a no-bake dessert with a ton of potential for customization.
Adorn the top with your favorite seasonal fruit or top it with generous lashings of caramel; it's all up to you!
Source: mamalovestoeat.com
It sounds like an oxymoron, but this frozen hot chocolate is about to change your life. It's a quick and easy dessert you can whip out to satisfy any unexpected cravings, and it's excellent for your points total!
The best way to enjoy this dessert is on a beautiful summer day when hot chocolate would be just a little too warm.
Source: ourwabisabilife.com
It's the simplest things in life that we often miss the most. Try this delicious treat for size if you're craving a hit of your favorite chocolate ice cream.
All you need to make this recipe is a blender, mixer, or food processor. No fancy ice cream machines are required!
Source: richanddelish.com
Protein pancakes are a fantastic dessert option because protein powder comes pre-loaded with flavor. You can use this method to make protein pancakes with any flavor you like!
Finish it with low-sugar syrup or a generous handful of seasonal berries for an indulgent dessert.
Source: ihearteating.com
Our next recipe is a totally unique take on strawberries and cream that incorporates everyone's favorite campfire treat: marshmallows.
This is a great dessert to impress your guests and stay on track! Plus, once you've made this, you'll always know how to make your homemade marshmallow fluff, and that's a skill worth having.
Source: ourwabisabilife.com
These pumpkin cheesecake bites are perfect if you're looking for a dessert recipe you can make and store in advance. Keep them cozy in your fridge or pantry, and whip them out when cravings strike.
These are also great for taking along to parties or functions to ensure you have something tasty to eat come dessert time.
Source: stefseatsandsweets.com
Bring on the sunshine with these incredible Weight Watchers-friendly lemon bars! These easily meet the standard of neighborhood bakers everywhere, with every bite melting in your mouth.
All you need are a few staples from your fridge, and you'll be able to craft these in a heartbeat. The secret to success here is the melt-in-your-mouth pastry, so take your time with it!
Source: recipethis.com
Our final recipe has stifled professional chefs time and time again. However, thanks to this beautiful recipe, you'll be able to produce a perfect one every time.
With just two ingredients, you can easily create a banana souffle in your air fryer. Give it a try! You can even alter the flavors to suit your ideal taste.
So, are you on the Weight Watchers plan? Which of these recipes has captured your attention? Drop your answer in the comments below!
41 Easy Weight Watcher Recipes
These easy Weight Watcher recipes will keep you on track with your healthy eating and fitness goals! Made with simple, healthy ingredients.
Ingredients
1. Chipotle Chilli and Garlic Cauliflower Fried Rice
2. Spaghetti
3. Fish Tacos Slaw
4. Egg Roll in a Bowl
5. Chicken Tacos
6. Thai Basil Beef
7. Loaded Burger Bowls
8. Cowboy Caviar Turkey Roll Ups
9. Buffalo Chicken Spaghetti Squash Casserole
10. Turkey Taco Skillet
11. Chicken Fajita
12. Chicken Tortilla Soup
13. Stuffed Pepper Soup
14. Tomato Basil Soup
15. Taco Soup
16. Zucchini Garlic Soup
17. Cabbage Carrot Corn Soup
18. Coleslaw
19. Greek Yogurt Chicken Salad
20. Turkey Salad
21. Big Mac Salad
22. Citrus Glazed Brussel Sprouts
23. Peanut Butter Cups
24. Lentil Bolognese
25. Vegan Pancakes
26. Black Bean Brownies
27. Air Fryer Potato Wedges
28. Butter Pecan Mashed Sweet Potatoes
29. Sweet Potato Fries
30. Shrimp Tacos
31. Cajun Shrimp Pizza
32. Sheet Pan Shrimp Boil
33. Apple Banana Pancakes
34. Chocolate Cheesecake
35. Frozen Hot Chocolate
36. Chocolate Ice Cream
37. Protein Pancakes
38. Strawberry Pretzel Fluff
39. Pumpkin Cheesecake Bites
40. Lemon Bars
41. Banana Souffle
Instructions
Scroll up to get a bunch of easy, yummy, and delicious recipes. Don't be afraid to get creative with the ingredients, you might discover a flavor you didn't know you liked.
Get your shopping list going and make sure you've got all the ingredients.
Get cooking and make your next Weight Watcher Recipe!
Notes
Which one of these recipes was your favorite? Let me know in the comment section or on Pinterest!