Vietnam is known for a lot of things. Fast-paced cities that never sleep, idyllic towns nestled in lush nature, and of course, incredible Vietnamese desserts with fragrant ingredients.
It's that last category we'll be digging into today. Vietnam does desserts really well, using color, flavor, texture, and even temperature to create some beautiful combinations.
Whether you're experienced in Vietnamese cuisine and looking for something new or just getting started exploring what this region has to offer, this is the list for you and your sweet tooth!
Explore twenty-one delicious ways that Vietnam proves it has an excellent dessert game with these traditional Vietnamese desserts.
What is the Most Popular Dessert in Vietnam?
One of the most popular desserts in Vietnam is "Chè," which refers to a wide variety of sweet beverages and desserts made with red beans, tropical fruits, jellies, and other ingredients.
Chè is enjoyed throughout the country and is often served as a refreshing treat to beat the heat. There are numerous types of Chè, each with its own unique combination of flavors.
Common variations rely on popular ingredients in Vietnamese cuisine. So, you might enjoy a corn version, a mixed sweet beans version, a mung bean version, or a coconut milk version.
But this isn't the only kind of dessert Vietnam has to offer. This is a rich culture with a delicious and varied cuisine to its name. In this list, we're going to explore just twenty-one of their desserts.
So, let's get started with these sweet Vietnamese food ideas!
Best Vietnamese Desserts
Source: siftandsimmer.com
Let's begin with one of the most iconic and well-recognized Vietnamese staples: the egg yolk coffee. While this can be interpreted as a dessert, you can also enjoy this as your morning cup of joe.
The origin of this dish is quite interesting. Vietnam experienced milk shortages quite some time ago as a result of the French War, so a man named Nguyen Van Giang decided to use eggs instead.
The eggs add a creamy richness to the coffee, which is why it's turned into such a staple. A must-try for coffee lovers everywhere!
If you are a coffee lover, these other decadent coffee desserts are a must!
Source: veggiedesserts.com
Corn is a common ingredient in Vietnamese cooking. It's also a great ingredient to bridge the gap between savory and sweet since corn on the cob is naturally sweet anyway.
This Vietnamese sweet corn pudding is also called 'Chè Bắp', but it's been done with a twist. Instead of the usual tapioca, this cook has used chia seeds to alter the texture.
Enjoy it for breakfast or dessert.
Source: thehonestspoonful.com
Cassava is a root vegetable. It's nutty and a bit starchy, making it ideal for cakes and other baked desserts (or even to enjoy as a chip). That's why it fits so well into this cake recipe!
The grated cassava introduces a beautiful nuttiness into the cake, while the starchy vegetable keeps the cake moist and springy. Pro tip: buy grated cassava from your local Asian supermarket for this!
Grating your own cassava can be tough work.
Source: thegoodheartedwoman.com
Chè Chuoi – or banana tapioca pudding – is a wonderful example of a classic Vietnamese dessert. Sweet, chewy, and enriched with coconut cream, this is light and luscious all at once.
If you're trying to find the perfect summer dessert, this is it! The different textures and flavors all play against each other beautifully, making this addictive from the very first bite.
If you bought a few too many bananas, these best banana dessert recipes are for you!
Source: waitingforblancmange.com
Pandan is a leafed plant with an almost malt-like taste, offering a mellow flavor and light green tinge to desserts. This rice pudding is the perfect vehicle for the gentle, earthy taste of pandan.
This recipe blends British and Vietnamese classics into a single tasty dessert, perfect for serving on a hot summer's day. It's quick, it's easy, and it's a great stepping stone into classic Vietnamese flavors.
Source: veggiedesserts.com
Sinh Tố Bơ – or avocado milkshake, in English – is a four-ingredient dessert with different flavors that's much sweeter than you might expect.
This is a really creative use of ripe avocadoes, and I, for one, am not complaining.
This is exactly what it says on the tin. A thick, creamy, sweet milkshake with earthy avocado flavor humming in every mouthful. It's super thick and luscious, but it takes only five minutes to make!
Source: globalkitchentravels.com
Vietnamese mung bean pudding or 'Che Dau Xanh' is a classic example of how Vietnamese desserts are so good at making a savory main ingredient sweet.
All you need is five ingredients like yellow mung beans and some patience to bring this sweet soup to life.
The creamy beige consistency and coconut undertone make this taste almost crème caramel-like. Delicious!
Source: globalkitchentravels.com
Here's another great way to use pandan! This is a Vietnamese honeycomb cake or a Banh Bo Nuang. Light, airy, and gluten-free, this is Vietnam's answer to the English sponge cake.
Instead of flour, milk, or butter, this cake uses tapioca starch, coconut cream, and pandan paste to achieve that airy texture. It's amazing with a swipe of whipped coconut cream on top.
Source: siftandsimmer.com
Who doesn't love a bit of fusion?
Bring Japanese and Vietnamese flavors and techniques together with this unforgettable pandan mochi waffle commonly found at street vendors in Southeast Asia.
Mochi is a Japanese dessert made by beating glutinous rice to within an inch of its life, forming a lovely chewy paste. Combined with the mellow flavor of pandan, it's not to be missed.
Especially in waffle form!
Source: thehonestspoonful.com
Chè Chioi Chung – a simple banana and tapioca pudding – is almost like a banana-flavored soup. It tastes a lot better than I'm making it sound, I promise.
If you're a fan of light and breezy tropical flavors and creamy coconut, this is the dessert for you. The chewy tapioca really makes this dish sing, with the texture pulling you in for a bite after bite.
You might also enjoy this yummy banana chia pudding!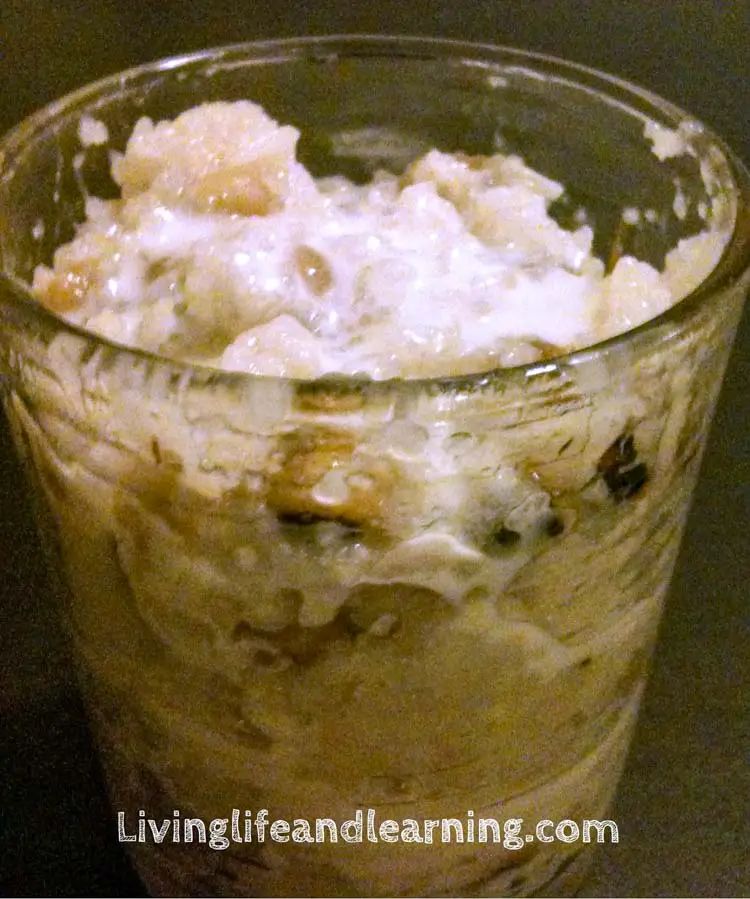 Source: livinglifeasmoms.com
Here's another amazing example of how Vietnamese desserts effortlessly blend typically savory ingredients into sweet dishes. In Vietnam, this is an example of a classic comfort food dessert.
It's wildly easy to throw together, creamy, and actually quite filling. That makes it a triple threat in my book and a definite must-try for anyone who loves Vietnamese flavors.
Enjoy these other tropical coconut dessert recipes!
Source: keep-calm-and-eat-ice-cream.com
The light, mellow, slightly earthy flavor of pandan extract is the perfect thing to turn into ice cream! The natural green color and unique flavor make it feel ideal for hot days in summer.
With six ingredients and an ice cream churner, you, too, can have this tasty dessert! Since it's so simple and satisfying to make, I highly recommend getting your family in on the fun with you.
Source: wenthere8this.com
Bahn bong lan – or Vietnamese sponge cakes – are out of this world. Light, fluffy, and with the perfect balance of sweetness, these are the perfect cakes to bring to a summer potluck!
Since the cakes aren't incredibly sweet, they're the perfect way to cap off a dinner party without overwhelming anyone's tastebuds. That strawberry sauce? Heaven.
Source: delightfulplate.com
Steamed banana cake is a dessert staple in Vietnam, and who can blame them? This is like a banana loaf on steroids, relying heavily on the natural sweetness and moist texture of ripe bananas.
It's soft, chewy, and absolutely packed to the rafters with banana flavor. If you're a fan of banana cake, then you have to try banh chuoi hap. Don't worry. It's super simple and affordable to make!
Source: jenhdao.com
Chè Thái, also known as fresh fruit pudding, is one of the favorite Vietnamese desserts that bring all of Vietnam's beautiful seasonal fruit and fresh milk into the spotlight.
This is a super forgiving dish that will adapt to whichever fruits you have on hand.
The cubed grass jelly or green pandan jelly adds to the bright colors, making this the perfect dessert your kids will absolutely devour.
Source: vickypham.com
Remember what I said about Vietnamese desserts using texture a lot? Well, this one might be the winner.
This is a Vietnamese iced dessert called chè sam bo luong. It's essentially a glass of sweet tea that's been packed to the gills with dried Chinese and Vietnamese herbal ingredients.
It's a powerful taste with a lot of powerful textures, but it's also said to be very healing, thanks to all those good nutrients.
Source: npfamilyrecipes.com
Steamed cake will never disappoint, and this dessert is here to prove it. Also known as banh da lon, this is a steamed layer cake that features pandan leaves and mung beans as prominent flavors.
The tapioca starch in the cake mix means that, once steamed, this cake takes on a soft and chewy texture.
It tastes just as good as it looks, with the soft cake and smooth mung bean paste alternating to create luxurious layers.
Source: cooking-therapy.com
I might not have expected Italian and Vietnamese fusion to go well, but here I've been proven wrong! This is a classic Italian tiramisu… with a twist.
Instead of basic black coffee soaking those delicious cake layers, this dessert uses drip Vietnamese coffee to create a more delicate flavor.
The rich condensed milk in other parts of the recipe rounds out the classic Vietnamese coffee combo.
Source: jenhdao.com
Chè ba mau, or three-layer dessert, incorporates three of Vietnam's dessert pillars into one delicious pudding. Chewy pandan jelly, beans, and a perfect custard are the trifecta here!
This is the kind of dessert that might not look very pretty, but it tastes incredible. The earthy beans balance the sweet custard and jelly while all the textures play beautifully against one another.
Source: scruffandsteph.com
Vietnamese and France have quite a history, which is how the crème caramel came to be introduced to Vietnam during the French War all those years ago.
These days, the banh flan is a staple throughout Vietnam. It's quite simple to prepare, with a smooth, cool texture you can't beat in the summer.
This is a recipe guaranteed to impress at any dinner party.
Source: delightfulplate.com
Finally, we have Kem Bo! This roughly translates to avocado ice cream, and it's a must-try if you're an avocado fan. The earthy sweetness present in this light dessert is out of this world.
As a popular street food snack in Danang, this is a great way to get a taste of Vietnamese culture while sitting at home.
If you loved the flavors of these sweets, check out these best Filipino desserts next!
There you have it! Twenty-one amazing recipes to try the next time you're in the mood for a comforting, mellow, texture-filled dessert.
Are you a fan of Vietnamese cuisine, or is this your first foray into the region? Let me know in the comments below, and browse the rest of All Nutritious to find more delicious dessert recipes!
21 Popular Vietnamese Desserts You Need To Try
Embark on an unforgettable culinary journey as we unveil the secrets of creating the most delectable and authentic Vietnamese desserts.
Ingredients
1. Egg Coffee
2. Corn Pudding
3. AIP Baked Cassava Cake
4. Banana Tapioca Pudding
5. Pandan Rice Pudding
6. Avocado Shake
7. Dessert Soup
8. Honeycomb Cake
9. Pandan Mochi Waffle
10. Tapioca Pudding
11. Coconut Sticky Rice with Black-Eyed Beans
12. Pandan Ice Cream
13. Mini Sponge Cakes
14. Steamed Banana Cake
15. Che Thai
16. Refreshing Iced Dessert Drink
17. Steamed Layer Cake
18. Coffee Tiramisu
19. Chè Ba Màu
20. Banh Flan
21. Avocado Mousse Ice Cream
Instructions
Scroll up to get a bunch of easy, yummy, and delicious recipes. Don't be afraid to get creative with the ingredients, you might discover a flavor you didn't know you liked.
Get your shopping list going and make sure you've got all the ingredients.
Get cooking and make your next Vietnamese Dessert!
Notes
Which one of these recipes was your favorite? Let me know in the comment section or on Pinterest!