Thanksgiving isn't complete without festive side dishes. If you want tasty vegan side dishes for Thanksgiving this roundup of plant-based recipes will give you some ideas!
Thanksgiving is a time for everyone to enjoy a tasty meal. Don't let being vegan restrict your meal choices this holiday season. There are many ways to create tasty vegan Thanksgiving sides that are vegan to complement your main course!
If you're stumped on what to do for a happy Thanksgiving, never fear, you've come to the right place. I have forty-one vegan recipes on this list. Use them to build a vegan thanksgiving menu the entire family will love, vegan or not!
What Do Vegans Serve on Thanksgiving?
While many people think of the turkey as the biggest thing at Thanksgiving, there are so many vegetable side dishes that make it great. Vegans focus on those dishes and make them even better.
Mashed potatoes can be upgraded with new flavors. Stuffing can be made without meat. Casseroles can be baked without dairy, you can make mushroom gravy. You can even find meat substitutes to help fill the void left by turkey.
Best Vegan Side Dishes for Thanksgiving
Let's start with everyone's favorite category: the best dishes. These are the Thanksgiving classics you cook to impress everyone coming around for Thanksgiving dinner!
Source: beplantwell.com
Garlic knots are always a great go-to side dish to go with your main dishes. Dip them in a tasty cranberry sauce or drizzle them in olive oil for a simple side that everyone at the table can enjoy.
With this recipe in your back pocket, you'll be a favorite among family members.
These vegan garlic knots would be great Thanksgiving potluck ideas.
Source: beplantwell.com
With Thanksgiving happening in the fall, it makes sense to use pumpkin in your meals! This pumpkin pasta side dish is super easy and tasty and full of herbs like fresh sage.
Whip up the sauce ahead of time and store it in the fridge. Once you're ready to serve dinner, just cook the pasta and toss it through the sauce. How easy is that? That's what makes it the best vegan Thanksgiving side!
Source: beplantwell.com
A good green bean casserole is its own reward. This bake will be a perfect addition to dinner, packed with creamy sauce and tasty crunchy green beans.
The best part is that you don't need to spend ages in the kitchen cooking. This simple recipe comes together in no time
Source: thekitchengirl.com
Are you looking for a healthy option? Shaved brussels sprouts and crispy, sweet apple pair in a tasty side salad your family will love. The good news is it's so easy to take with you to someone else's Thanksgiving dinner.
Brussels sprouts are hardy so you can make this easy recipe ahead of time. The leaves will stay crisp and fresh for a while.
You'll want to save this recipe to enjoy as healthy Christmas appetizers as well.
Source: beplantwell.com
Macaroni and cheese is the ultimate comfort food, right? But how can you enjoy it as a vegan? There's all that cheese!
There is a way! This clever recipe uses a vegan cheese sauce and vegan butter to create a creamy casserole. It's so good it might upstage your other vegan Thanksgiving side dishes.
Vegan Potato Side Dishes
Potato is the most versatile vegetable there is! You can do anything with it, and it will still taste divine in the best vegan Thanksgiving recipes. For vegans, this is a holy grail vegetable that's perfect for introducing flavor into a meal.
Source: biteontheside.com
Get buttery mashed potatoes the vegan way with this great recipe. You don't need to use dairy to create these favorite vegan Thanksgiving recipes! Instead, you can use almond milk and olive oil to get that creamy mashed texture.
This is a super flavorful vegan mashed potato recipe paired with many chives. Plus, it's so quick and easy!
Source: joyfoodsunshine.com
Enjoy a tasty twist on mashed potatoes with this yummy sweet potato casserole. It's so vibrant underneath the coating of crushed walnuts. Every scoop is like carving out a piece of treasure!
The casserole with sweet potatoes tastes earthy. It's great for any autumn holiday meal.
Source: budgettasty.com
Headed outdoors this Thanksgiving? Don't skimp on the side dishes! These foil-pack red potatoes are perfect for cooking on a grill or campfire.
These only need four ingredients. So, they're great if you're after a dish with minimal prep. Just toss the potatoes through the herbs, wrap them in foil, and cook. Simple!
Source: cheneetoday.com
This is a great way to use an air fryer if you have one. These chunky sweet potato pieces have a beautiful dark brown caramelization you can't resist.
This is a great dish if you already have a full line-up on Thanksgiving day. Just set and forget the sweet potato and come back to perfection.
Source: cleangreensimple.com
Who doesn't love a scalloped potato casserole? They're soft, creamy, and full of herbs and spices to highlight the tasty potato. This vegan version doesn't compromise on creaminess at all!
Instead of cream or cow's milk, you'll create a vegan cheese sauce. Cover the potatoes in it and bake for an incredible casserole the whole family will love.
Source: yourguardianchef.com
Looking for a stuffing recipe? These chanterelle mushrooms are the ideal vegan substitute for sausage stuffing. The mushrooms make it feel meaty while adding some nutty flavor.
The result is a beautiful side dish in mere minutes.
Source: katykicker.com
That's right, Marmite! Marmite is a by-product of yeast. That means it is packed with flavor. You triple their taste with barely any effort using this spread on potatoes.
The best way to cook these is with an air fryer. However, an oven will do fine if you don't have one.
Source: katykicker.com
Speaking of an air fryer… this recipe teaches you how to make a perfect Hasselback potato with one! The Hasselback potato is crispy, buttery, and ideal for covering in Thanksgiving gravy.
This is the one for you if you're after a side dish that looks impressive but doesn't take effort.
Source: plantbasedfolk.com
Our final potato recipe is a lovely Lebanese potato salad. It's nice and simple! It hums with plenty of herbs and spices to elevate the potato's flavor.
I recommend making this in advance so you can leave it in the fridge to sit. That way, the flavors can mingle even more!
Vegan Salad Side Dishes
Side salads don't have to be boring! A good salad has plenty of texture and flavor. And it celebrates fresh vegetables in their best form. Just like every salad on this list!
Source: allnutritious.com
The first salad recipe in the line-up is one of mine! I chose this recipe because I reach for it often. It's tasty and nutritious, packed with tons of vegetables and flavor.
Take this tasty salad along to potlucks or picnics. It's easy to make the night before to save time on the big day.
Source: cinnamonandcoriander.com
Cream and cucumber might not go together at first glance, but trust me! This combination is impossible to resist.
Learn how to make homemade vegan sour cream as you create this recipe. How useful will that be down the road?
Source: dessertfortwo.com
A classic chopped salad is never out of place on the Thanksgiving table. Cut some of the richness of the Thanksgiving meal with the refreshing pear vinaigrette.
The combination of pomegranate seeds and green rocket makes it pop.
Source: thesaltandsweet.com
Here comes another refreshing pop of color! This green bean and beet salad are so crunchy and sweet. It's a great choice to pull back some of the richness of the stuffing and potatoes.
What a great way to celebrate seasonal ingredients!
Source: flavorthemoments.com
Quinoa is a great salad ingredient. It's super high in fiber and protein. So, it keeps you fuller for longer. Plus, it's a great host for other salad ingredients.
Not to mention, it takes almost no time to cook! This salad leaves you plenty of time to focus on your other side dishes.
This festive salad would pair perfectly with any of these healthy Thanksgiving desserts.
Source: allnutritious.com
Carrot and beetroot are a match made in heaven. Both vegetables are naturally sweet, so sugar is not needed in the dressing. Anyone and everyone can enjoy this Thanksgiving salad.
Whether your guests are vegan, gluten-free, Paleo, or anything else, they'll love this!
Source: budgettasty.com
Strawberry and avocado may sound like a strange combination, but hear me out! The sweet, tart strawberries are a perfect pair for the creamy avocadoes.
Add pasta and plenty of herby basil to the mix. What have you got? A tasty balanced salad!
Source: allnutritious.com
This chickpea salad pulls from all corners of the produce aisle. Thanks to the chickpeas, it's packed with protein. The rest of the ingredients make it tasty acidic and sweet.
Serve this up at Thanksgiving for a refreshing pause on the table. Play with spices to find the flavors you love.
Source: ifoodreal.com
Kale is a great vegetable, but it's not the most flavorful. That's why this winter fruit kale salad is such a good recipe. The bowl contains sweet fruits to enhance the salad's flavor.
Slivered nuts add an earthy element and some great crunch. Serve this showstopper at a Thanksgiving potluck!
Source: katykicker.com
Coleslaw is tasty. If you're vegan, you shouldn't have to miss out on it! That's why this vegan coleslaw is such a great recipe to keep in your back pocket.
Coleslaw is perfect for making ahead of dinner. That way, you can let it sit in the fridge for the whole day until the flavors mingle.
Crockpot Side Dishes
A crockpot is a home cook's best friend. You can leave the ingredients in the pot for the day and lift the lid on a perfect side dish at dinner time.
For Thanksgiving, that's the ideal approach! No sweating over a stove or worrying about timing your dishes. Just chuck your ingredients in a crockpot, and you're ready.
Source: jessicainthekitchen.com
Do you want something super easy and tasty? Pumpkin soup is the recipe to reach for! Warm, cozy, and full of spice, there's nothing better. Plus, everyone sitting down to dinner will love this soup.
If you like cream with your soup, try using coconut cream! It's a great substitute for sour cream.
Source: veganinthefreezer.com
Mashed potatoes are a staple for Thanksgiving. This recipe uses red potatoes that take a little longer to boil. It's what makes them perfect for crockpot cooking.
Sprinkle with plenty of salt, pepper, and chives for an extra kick of flavor. Vegan butter makes these super creamy!
Source: noshingwiththenolands.com
Are you looking for a Thanksgiving showstopper? This vibrant side dish is fragrant and tasty. Plus, it's so simple to make with a slow cooker.
Every guest will enjoy having a few whole carrots sprinkled with these beautiful red jewels. It's Thanksgiving on a plate.
Source: chefsavvy.com
Give a little love to the vegetable with the worst reputation: the brussel sprout! These balsamic Brussels sprouts are sweet, earthy, and soft.
These are great for enjoying on a cold night. Each little green ball is like a sponge ready to soak up the flavor.
Easy Side Dishes for Thanksgiving
Do you have a big family to feed? Then you're probably looking for easy dishes. Well, our last category looks into the simplest vegan Thanksgiving dinner recipes you can use.
Don't worry! Just because they're easy doesn't mean they don't taste as good. Each one is as tasty to eat as it is simple to prepare.
Save yourself some time and energy this Thanksgiving with one of these recipes. Let's dive in!
Source: temeculablogs.com
The Instant Pot is the best way to quickly get Thanksgiving dinner on the table! This recipe only takes three minutes, plus it's healthy. I call that a win-win.
Potatoes and carrots are the perfect side dish for any Thanksgiving. This dish will slot right in no matter what else you're serving.
Source: hungryhobby.net
Use your air fryer to whip up a quick, easy, and unique side dish. The cauliflower's turmeric turns a bright yellow that stands out on the table. Add a little spice to the Thanksgiving lineup!
You can serve this solo or cover it with some green chutney for a little extra kick.
Source: runningonrealfood.com
What comes to mind when you think of Thanksgiving? Stuffing, of course! This stuffing recipe will satisfy everyone at the table no matter the holiday you need it for.
Play around with your favorite herbs and spices to find a signature blend! Pro tip: try using garlic bread for the stuffing. The added flavor is insane.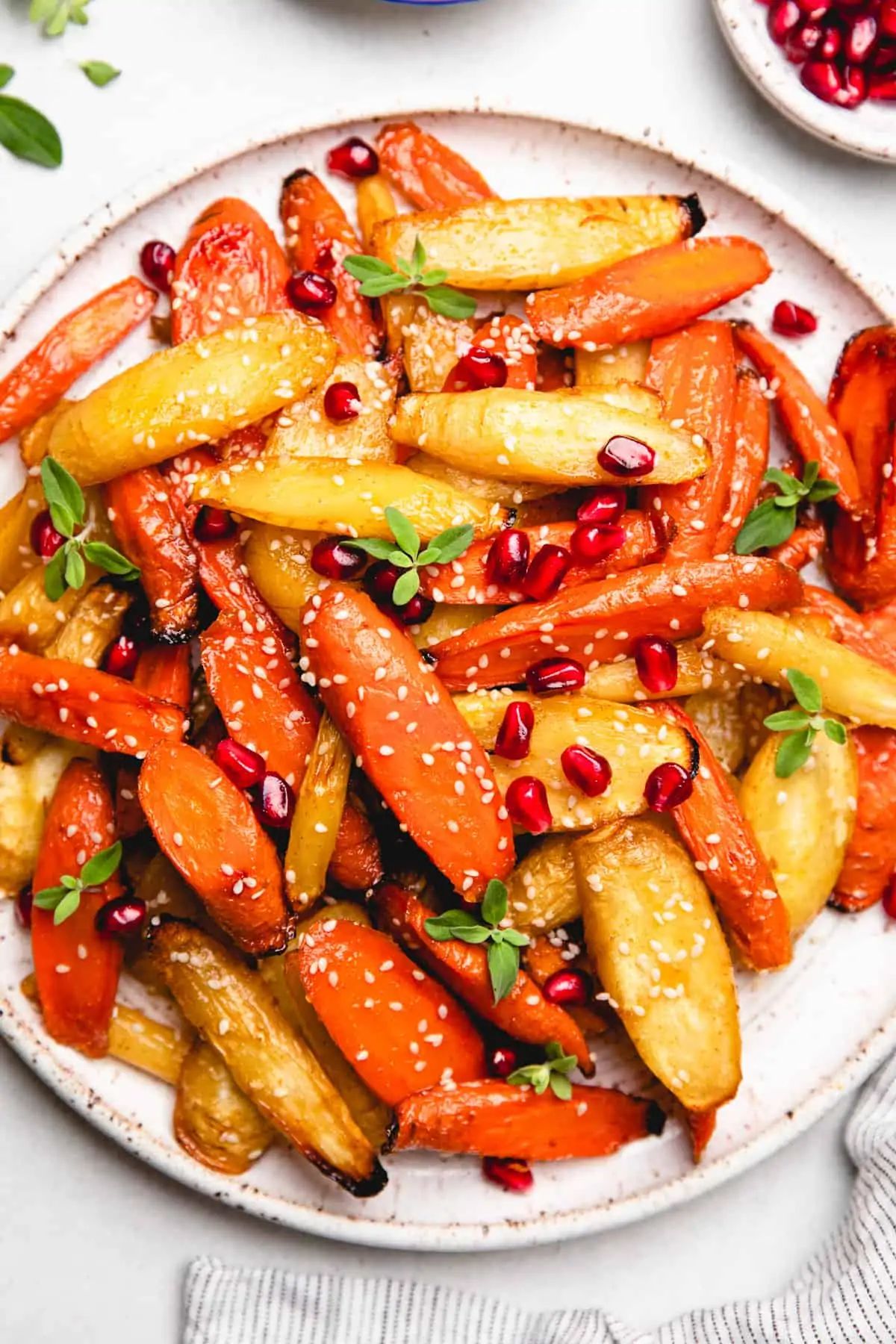 Source: veronikaskitchen.com
Have you ever had honey-roasted carrots? If not, you're about to have your mind blown! These tasty roasted vegetables are packed with natural sweetness. The honey just adds some extra aroma.
And the best part is how easy these are to make! All you need is thirty minutes and some roughly chopped vegetables with a coat of honey.
Source: goodfoodbaddie.com
Okra is a staple of Southern cuisine. In other words, it's the ideal comfort food vegetable! Add a tasty crunch to the green spears with a seasoned coating. One quick fry, and you're ready!
The dipping sauce makes this dish sing. Try the creamy chipotle sauce. Or you could give a simple aioli a try.
Source: the-bella-vita.com
I swear that air fryers make the crispest little bites! Bread and fry your cauliflower for a unique, tasty Thanksgiving side dish.
Want to push a little extra flavor into this dish? Try brining the cauliflower in some vegetable broth. The cauliflower will soak up the broth. And every bite will sing with tasty flavor.
This recipe would also make a good appetizer. Check out these healthy Thanksgiving appetizer recipes.
Source: yayforfood.com
Mushrooms are perfect for adding a bit of meatiness to a vegan meal. And they're so good at soaking up lemon and garlic! Roasting mushrooms is even easier than frying them.
You don't need to spend time on the stove. Just slice them up, dress them in garlic, lemon, and roast. All in all, they take less than twenty-five minutes to come to life.
Source: thereidhomestead.com
This is perfect for you if you're tired of traditional mashed potatoes! Featuring carrots, pumpkin, and butternut squash, this mash bursts with fall flavor.
Add a healthy dose of herbs and butter. Then you've got a winner! Don't give in to throwing away Thanksgiving leftovers. This keeps beautifully in the freezer for later use.
Source: biteontheside.com
Beetroot is one of my favorite vegetables to roast. All those natural sugars bubble up as they roast. The result is a caramelized chunk of goodness everyone at the table can enjoy.
Try using red and gold beetroot for a seasonal collection of color on your table.
Source: splashoftaste.com
Get perfectly-grilled tomatoes with almost no effort! I love how fragrant and juicy these tomatoes are. They're like having a little capsule of sauce waiting on the plate.
Fry the tomatoes with whole sprigs of rosemary to infuse the tomatoes with the herb's flavor.
Source: chocolatemoosey.com
Just because you want healthy green beans doesn't mean they need to taste bland! With the salty olives and the crunchy almonds, there are plenty of flavors to enjoy here.
This technique also works with asparagus! Add a handful of crispy kale or a sprinkle of herbs to juice the flavor even more.
Source: zardyplants.com
This cream of mushroom soup is one of the simplest recipes on this list. Every bite of this soup hums with earthy mushroom flavor and a generous hint of thyme.
The stewed mushrooms have a lovely texture that helps the soup feel filling without taking hours to create.
Source: ifoodreal.com
That's right; you can bake potatoes in your Instant Pot! These usually take hours in the oven, but not today. With this recipe, all you need is twenty-two minutes. Can you believe it?
Make sure you use russet potatoes. They have the best skin for roasting! This is the perfect way to put tasty Thanksgiving potatoes on the table without extra effort.
So, what's in the Thanksgiving lineup for your holiday dinner? Will everyone at the table be vegan? Let me know how you're navigating the holiday in the comments below!
Ready to start thinking about the next big holiday dinner? Check out these mouth-watering Christmas recipes.
41 Vegan Side Dishes for Thanksgiving
Here are the best vegan side dishes for Thanksgiving. From soup to salads, you'll find the best vegan recipes to serve with your holiday meal.
Ingredients
1. Vegan Garlic Knots
2. Pumpkin Pasta
3. Green Bean Casserole
4. Brussel Sprouts Slaw
5. Mac and Cheese
6. Mashed Potato
7. Sweet Potato Casserole
8. Foil Pack Red Potatoes
9. Air Fryer Sweet Potato Chunks
10. Scalloped Potatoes
11. Chanterelle with Potato
12. Marmite Roast Potato
13. Air Fryer Hasselback Potatoes
14. Lebanese Potato Salad
15. Quinoa and Chickpea Salad
16. Creamy Cucumber Salad
17. Chopped Salad with Pear Vinaigrette
18. Green Bean and Beet Salad
19. Butternut Squash Quinoa Salad
20. Carrot and Beetroot Salad
21. Strawberry Avocado Pasta
22. Chickpea Salad
23. Winter Fruit Kale Salad
24. Coleslaw
25. Pumpkin Soup
26. Mashed Potatoes
27. Carrots
28. Balsamic Brussel Sprouts
29. Instant Pot Potatoes and Carrots
30. Air Fryer Cauliflower
31. Vegan Stuffing
32. Honey Roasted Carrots and Parsnips
33. Air Fryer Okra
34. Breaded Cauliflower
35. Roasted Lemon Garlic Mushrooms
36. Root Veggie Mash
37. Air Fryer Roasted Beetroot
38. Air Fryer Tomatoes
39. Green Beans with Almonds and Olives
40. Cream of Mushroom Soup
41. Instant Pot Baked Potatoes
Instructions
Scroll up to get a bunch of easy, yummy, and delicious recipes. Don't be afraid to get creative with the ingredients, you might discover a flavor you didn't know you liked.
Get your shopping list going and make sure you've got all the ingredients.
Get cooking and make your next Vegan Side Dish for Thanksgiving!
Notes
Which one of these recipes was your favorite? Let me know in the comment section or on Pinterest!