So, summer is finally here. But you don't want to be stuck in the kitchen over a hot stove on hot summer nights! You can enjoy more delicious recipes with these summer meal prep ideas.
You can prep a wide variety of easy meals in advance for busy weeknights. Plenty that is light and refreshing for hot summer days.
Salads are a perfect option for summer meal prep. They don't take long to prepare. They're also packed with goodness.
Likewise, they are so versatile. You can make them vegan, paleo, sweet, or savory!
Salmon is a popular protein for the summer months. It pairs beautifully with many flavors and summer produce.
Summer is also an excellent opportunity for seasonal fruits and fresh vegetables. Countless desserts – and salads – can be prepared.
Best Summer Meal Prep
Below you will find the best summer dinner ideas, appetizers, side dishes, and desserts. All arehealthy recipes perfect for a hot day!
Source: allnutritious.com
You can begin summer meal prep with a refreshing chicken farro salad for an easy dinner or lunch!
Your salad comprises both sweet and savory in a delicious way. You'll find oranges and beets alongside broccoli, chicken, and fresh herbs!
The nuttiness of the farro complements your chicken perfectly. A dressing of olive oil, parsley, garlic, vinegar, and salt finishes it nicely!
Source: ameessavorydish.com
A protein bistro box is ideal for meal prep for kids' packed lunches. Each package is bursting with protein and full of nutrition!
The boxes are perfectly balanced with the snacks inside. You will fill these with hard-boiled eggs and various savory snack packs.
Fruit-wise, they contain clementine and apple slices. These can be prepared at the beginning of the week to grab and go for school!
Source: allnutritious.com
A burger is a summer staple cooked on your outdoor grill. These burger bowls are a healthier and more fun alternative to enjoy during the warmer weather!
Red kidney beans make for delicious burgers. Cumin and chili powder add spice. You can add some hot sauce to up your spice factor!
Prep your burgers into containers with a rainbow of healthy veggies and seasonal produce. Your favorites may include carrots, beets, and English cucumbers!
You might also love these other meal prep bowls for your summer meal planning!
Source: makingfrugalfun.com
Kabobs are a staple food of summer dinners, aren't they? These grilled cheese kabobs are a unique, fun twist. Ideal for packed lunches during the summer time!
Your kabobs are easily achieved. Even your kids can help!
Make these by threading grilled cheese, deli turkey, and turkey bacon onto your skewers. Remember your lettuce leaves and baby tomatoes for nutrition!
Source: allnutritious.com
You are aware that chickpeas are high in protein. Therefore they will keep you feeling fuller for longer and make the perfect meal ideas.
Eaten on their own, they are plain. But that gives you so many flavors to experiment with!
Your salad includes popular summer veggies. Tomatoes, cucumber, and red onion. Combine these with olive oil, white wine vinegar, and garlic dressing.
Experiment with your favorite veggies. However, the juicier, the better for a more flavorful salad!
Source: how2doketo.com
Keto-friendly Greek salad keeps you feeling full! It lasts a few days refrigerated for easy lunches.
The olives and feta cheese give you a unique Greek taste. These are mixed with cherry tomatoes, cucumber, and red onion.
Your salad is finished with a Greek-style dressing. This perfectly complements the flavors!
Source: allnutritious.com
Salmon is one fish with which you can have a love-hate relationship! The veggies in this meal prep pair well with spices too.
Find sweetness in parsnip, carrots, beets, and sweet potatoes. These all bring out the acidity of the pan-fried salmon. Ground ginger, paprika, cumin, and garlic provide a flavor sensation!
You may prefer a veggie side that is less sweet. Try serving this salmon with cauliflower rice or zoodles!
Source: ihatemealprep.com
Smoothies are ideal for lazing on your deck during the summer heat. Prepare batches in advance. This means spending more time in the sun!
Your melon smoothies include three types of melon. You'll find juicy honeydew, cantaloupe, and watermelon. Add some cucumber and celery, distribute between jars, then freeze.
When you are ready to drink, blend the ingredients with some water. Then you're good to go!
Source: allnutritious.com
Why order takeout when you can have a healthier version? Tastier and cheaper too! These chicken burrito bowls tick all the boxes.
Your burrito bowls take you less than 30 minutes to make. And once they're prepped, you have meals covered for two or three days!
Tender, juicy shredded chicken paired with spiced rice. Serve these with arugula, grape tomatoes, black beans, and sweet corn.
Drizzle your meal prep with a Caesar dressing. Any sauce of your choice works!
Discover more ways to enjoy chicken and rice with these yummy chicken and rice meal preps!
Source: theforkedspoon.com
Tacos are another takeout that you can create your own version of. These taco bowls are much more nutritious and are one of the best healthy meal prep recipes!
Taco bowls are super easy to prepare. Fry up your lean ground turkey or ground beef. Do this with a taco seasoning of your choice. Then mix with your other ingredients.
You can make this to your preference. Try black beans, sweet corn, tomatoes, and jalapenos. Then add some rice, shredded cheese, and sour cream.
Put all the ingredients into your container. Then give it a mix when ready to eat!
Source: epicveganeats.com
The look of this kiwi chia pudding shouts summer to you! The vibrant colors encourage you to dig your spoon in, right?
Your chia pudding makes use of the seasonal fruits of kiwi and blueberries. You can use any dairy-free milk for this. However, coconut milk makes it super creamy!
This will last for up to five days in your refrigerator. So, it's an easy grab-and-go prep.
Source: mytherapistcooks.com
Meal prep bowls are a popular option for summer meal prep. In this one, you'll combine chicken with farro, slow-roasted tomatoes, and salad greens.
The lemony garlic vinaigrette adds to your meal in two different ways. It is a chicken marinade for cooking. And a "raw" dressing on your salad.
Top your chicken grain bowl with any other ingredients you fancy. Chopped cucumber, crumbled feta, or toasted pine nuts work well!
Source: ihatemealprep.com
Spicy, zesty chicken salad is another option great for summer! You will use a hot chili and lime dressing. This will enhance the flavor of your tender chicken breast.
Grilled pineapple adds sweetness to your salad. It also gives you those summer vibes! Salad greens, tomatoes, and sliced red onion complete your meal.
You could also pour over your favorite dressing!
Source: happykitchen.rocks
This chopped salad looks like a rainbow in your bowl! It's another salad option that is perfect for your barbecue.
Your salad features ingredients you're likely to find in Mexican cuisine. Think black beans, sweet corn, and tomatoes. Plus, avocadoes and lime juice.
These are all topped with your creamy avocado dressing! Try serving alongside tacos for your feast.
Source: modestmunchies.com
Breakfast meal prep with overnight oats is a great choice. And this taste is great!
Your take on the classic Italian dessert, tiramisu, is the flavor of these overnight oats. Most likely, you already have the things you need.
Coffee flavor oats are layered up. This is with your creamy vanilla yogurt. Plus, full-bodied cocoa powder.
They will last three to four days in the fridge. Perfect for a grab-and-go breakfast!
Source: drivemehungry.com
Summer rolls have a lot of exciting summer vegetables inside. There are also other names for them, like rice paper rolls or rainbow rolls.
Your vegetables are wrapped up in rice paper. This is served with avocado and tofu, both high in protein.
Serve these together with three dips. How about creamy peanut dip? A sweet hoisin? Or perhaps tangy Vietnamese nuoc cham!
Source: lovefromthetable.com
You only need 20 minutes to make pesto butter salmon. It is also baked on a single sheet pan. Win-win!
This dish has asparagus and ripe cherry tomatoes. You will bake these with pesto butter on a sheet pan. They accompany your oven-baked salmon.
This is a complete meal for you. But you could add some carbs. Try crusty bread or whole-grain pasta. Ideal for soaking up your delicious sauce!
Love easy meals? These other tasty sheet pan meals will wow you!
Source: worldlytreat.com
This tri-color quinoa bowl is a riot of summery colors. It can be in your bowl in around five minutes. Just prep everything beforehand!
Some of the best seasonal ingredients work with this dish. Think charred corn, grilled mango, and diced English cucumber.
Have your delicious vinaigrette dressing ready. Then you can add this when ready to serve!
Source: thefoodblog.net
Can't you make it to the Caribbean over the summer? Then bring the Caribbean to you!
Jerk chicken salad packs a spicy punch. It's also super easy for you to create.
A homemade Jerk marinade is used for your salad. Sweet grilled pineapple perfectly complements spicy chicken.
Seasonal vegetables add color and crunch. Avocado adds a creamy texture and cooling element to your salad!
Source: lettucevegout.com
Vegan kale-based slaw is an excellent mayo-based slaw alternative. Instead, you will mix it with a flavorsome sesame soy dressing.
The red cabbage and the carrot make this the most vibrant summer dish. The garlic and ginger in your dressing produce a strong flavor.
Serve this as a side or an appetizer. You could add plant-based protein such as tofu. This will give you a more substantial main dish!
Source: strengthandsunshine.com
Pasta doesn't have to be a dish you only eat in the fall. Cold pasta salad is a great dish for the summer.
Here, you'll use orzo pasta. (This is often confused with rice!)
Most of the time, orzo is used in soups or grain bowls. But its short, oval shape makes it perfect for serving with cold foods.
You can make your dish more interesting. Add chickpeas, artichoke hearts, and kalamata olives.
A zingy lemon vinaigrette finishes your orzo pasta salad!
If you love a filling pasta meal, these yummy pasta meal prep ideas are for you!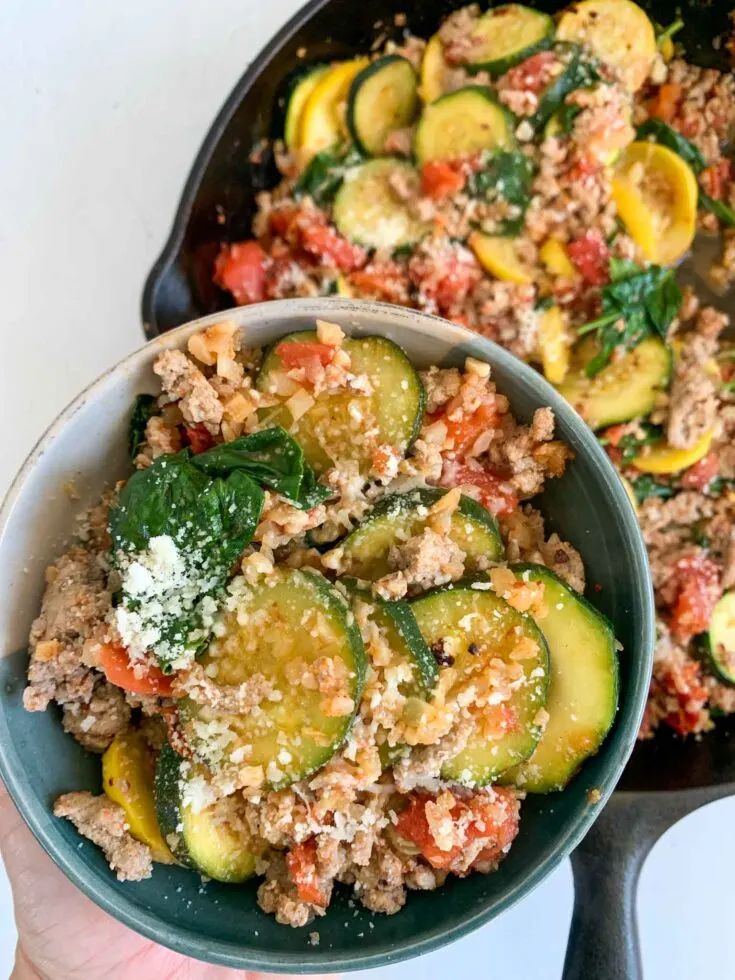 Source: jordosworld.com
This skillet recipe uses ground turkey. Plus, a selection of your favorite veggies. The flavor profile of your meal is lifted with a variety of spices.
Try some seasonal vegetables with this. This will be alongside your zucchini and tomatoes.
Asparagus would work well in this easy ground turkey meal prep!
Source: mapleandmango.com
Here you have another version of overnight oats. This time you have a summery, sweeter type!
Juicy strawberries are stirred into the creamy mixture. Greek yogurt, oat milk, and rolled oats make this up. Your mix will produce a strawberry milkshake-type color!
You can make a chocolate strawberry version. Stir in some chocolate chips. Top with further chopped strawberries. This will be a real taste of summer!
Source: easyanddelish.com
Salads need not be limited to savory. Sweeter versions are perfect for your summer parties.
Mixed berry salad will take you at most 15 minutes to make. The colors are ideal for your 4th of July celebration!
Your salad comprises a selection of berries. Strawberries, blueberries, blackberries, and raspberries. Plus, a little watermelon.
Toss these with your zingy lemon poppy seed dressing. If you wish to add a bit of savory? Try crumbled feta or candied walnuts!
Source: unicornsinthekitchen.com
For another different cuisine, try this Turkish bulgur salad. You can also know bulgur salad as kisir. Turkish families have their particular version.
Bulgur, tomato paste, and herbs make up the base. Pomegranate molasses adds a lovely tanginess to your salad!
Serve this as a part of your summer mezze platter. Hummus, baba ganoush, and lentil meatballs are ideal choices!
Source: avocadoskillet.com
Beans are an excellent source of protein and fiber. Greek bean salad is perfect for summer weather!
Your bean salad will use white beans. Mix with tomatoes, bell pepper, and onion. Then coat everything in your extravagant champagne vinaigrette!
No lettuce is used in your salad. Meaning it won't go soggy. So, it will last a few days as a grab-and-go work lunch!
Source: mapleandmango.com
This salmon dish is a real taste of summer! You can use fresh or canned salmon. Neither will affect your final flavor.
Your pasta salad is so easy to make. Seasonal fresh asparagus elevates your dish. Hard-boiled eggs and green onions add distinctive flavors.
Finish by combining everything with your creamy lemon dill dressing!
Source: fluxingwell.com
Avocado is a summer staple. It will pair well with chicken. In this salad, you use only a few essential ingredients!
Your easy salad features complimenting flavors. These are chicken and sweet corn. Avocado and bacon. Plus, some chives.
You will combine it all with another summer lemony dressing!
Source: plantbasedonabudget.com
Stuffed shells are the final delicious pasta dish. Your whole family will love them! Each shell looks like a bite-sized piece of heaven.
Your dish combines tofu with aromatic ingredients. You'll pulse these together in a food processor. And you will produce vegan ricotta!
You'll bake the shells to perfection. They lay on top of a flavorful marinara.
Before you serve, garnish with basil. And enjoy it with a vegan salad!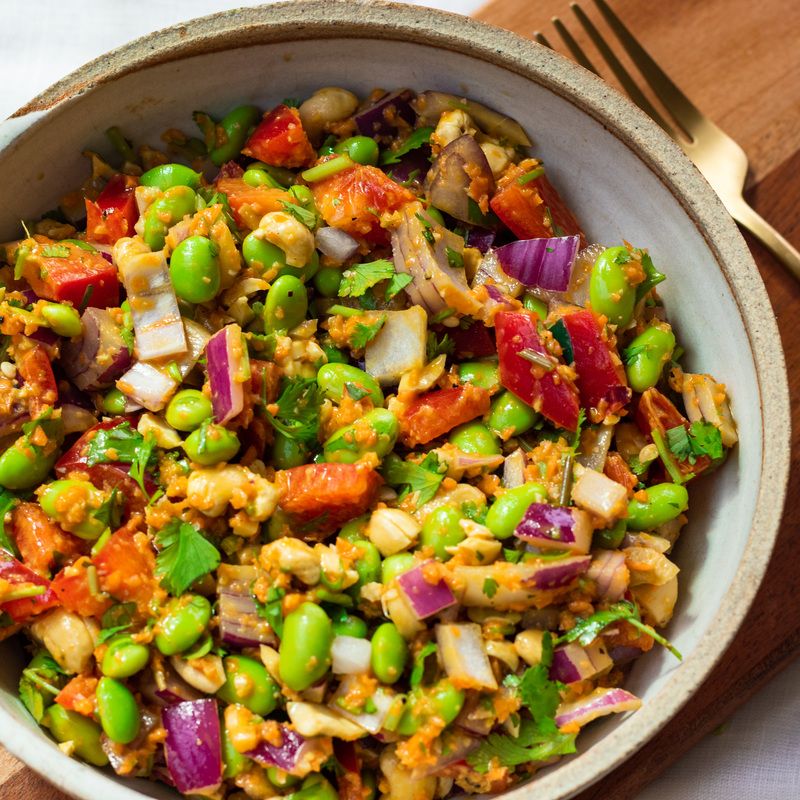 Source: avocadoskillet.com
The final salad of your summer meal prep ideas! It is another bean salad. Only you're using edamame this time.
Again, your salad contains no lettuce. This means that it does not suffer from going soggy!
Also, you can be prepared for the whole week. It lasts refrigerated for up to five days.
Your crunch salad combines edamame and red onion along with bell pepper and cilantro. The cashews add your crunch. Finish with your delicious ginger miso dressing!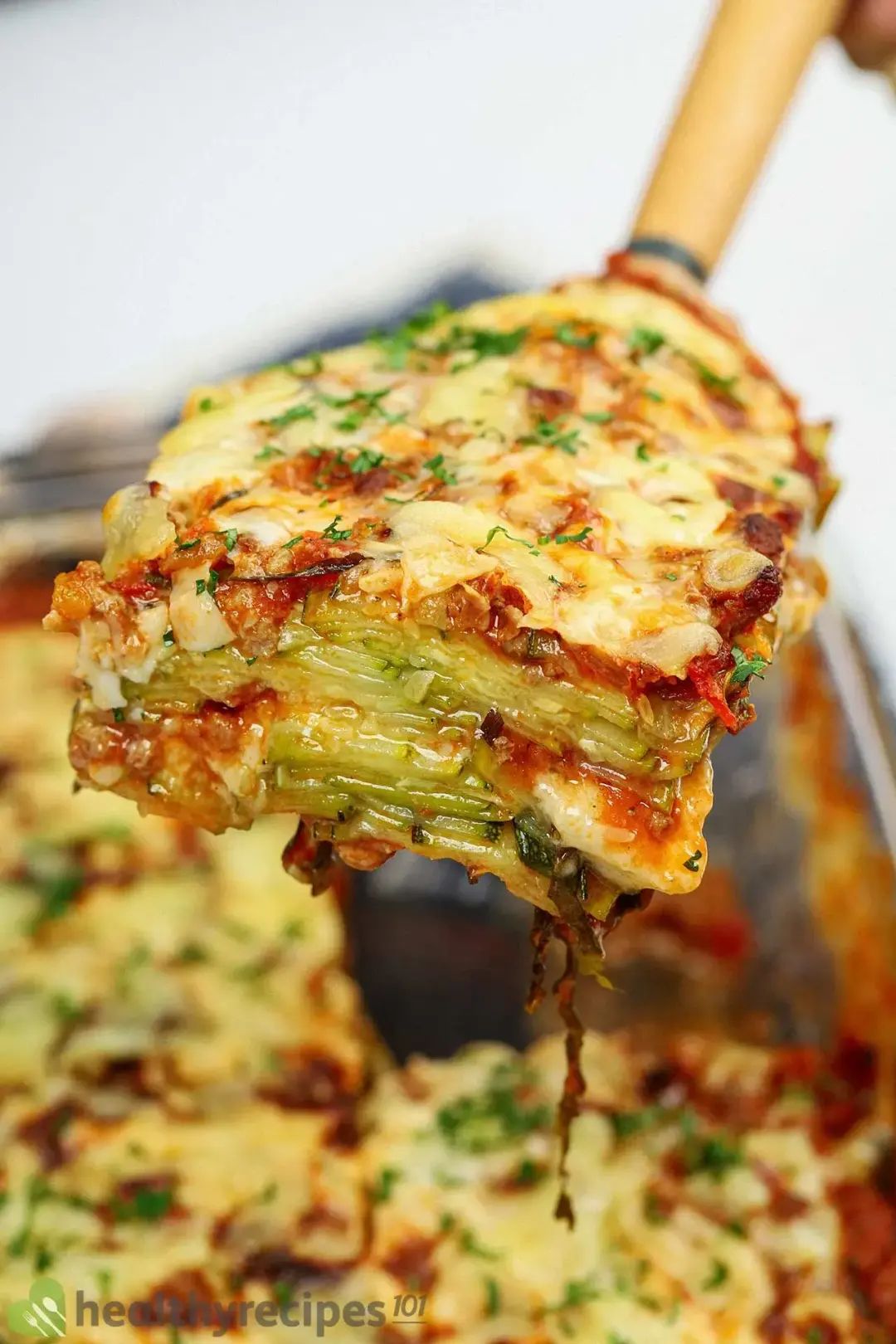 Source: healthyrecipes101.com
Zucchini lasagna is a twist on a classic Italian favorite. Zucchini replaces the traditional noodle layers.
It's a bit heartbreaking cutting into your lasagna… And it's watery. Avoid this here by grilling or baking your sliced zucchini beforehand.
This is a great recipe for getting more veggies into your diet too. Add more by serving it with a green leaf salad!
Ready for more meal prep planning? Check out these easy dinner meal prep ideas for the week ahead!
31 Healthy Summer Meal Prep Ideas
Yield:
2-4 meal prep containers
Here are our favorite Summer Meal Prep recipes that you can make-ahead and freeze-ahead to save time in the kitchen!
Ingredients
1. Chicken Farro Salad Meal Prep
2. Protein Bistro Box
3. Red Kidney Bean Burger Bowls
4. Grilled Cheese Kabob
5. Chickpea Salad
6. Keto Greek Salad
7. Salmon Meal Prep with Veggies
8. Hydrating Melon Smoothie Freezer Packs
9. Chicken Burrito Bowls
10. Taco Bowls
11. Kiwi Chia Pudding
12. Chicken Grain Bowls
13. Sriracha Lime Chicken Salad
14. Vegan Mexican Chopped Salad
15. Tiramisu Overnight Oats
16. Vegetarian Summer Rolls
17. Pesto Butter Salmon
18. Tri Quinoa Bowl
19. Jerk Chicken Salad
20. Vegan Kale Slaw
21. Orzo Pasta Salad
22. Ground Turkey Skillet with Veggies
23. Strawberry Overnight Oats
24. Berry Salad
25. Turkish Bulgur Salad
26. Greek White Bean Salad
27. Salmon Asparagus Pasta Salad
28. Chicken Avocado Salad
29. Stuffed Shells
30. Edamame Crunch Salad
31. Zucchini Lasagna
Instructions
Scroll up to get a bunch of easy, yummy, and delicious meal prep recipes. Don't be afraid to get creative with the ingredients. You might discover a flavor you didn't know you liked.
Get your shopping list going, and make sure you've got all the ingredients.
Get cooking and make your next Summer Meal Prep!
Notes
Which one of these recipes was your favorite? Let me know in the comment section or on Pinterest!