Looking for a perfect side dish for pulled pork? Whether it's a pulled pork sandwich or pork shoulder, these pork sides are great for all tastes.
Whether you're a soul-food fanatic or a pulled pork newbie, I think we can all agree that it's a sensational main dish.
With its dual origins in Mexican and North American cuisine, pulled pork has a lot of flavors to draw on. Pulled pork tends to make people walk into door frames with the sheer power of its aroma.
That's a lot to live up to for a little old side dish! But it's not impossible to find sides that put a spotlight on this incredible main.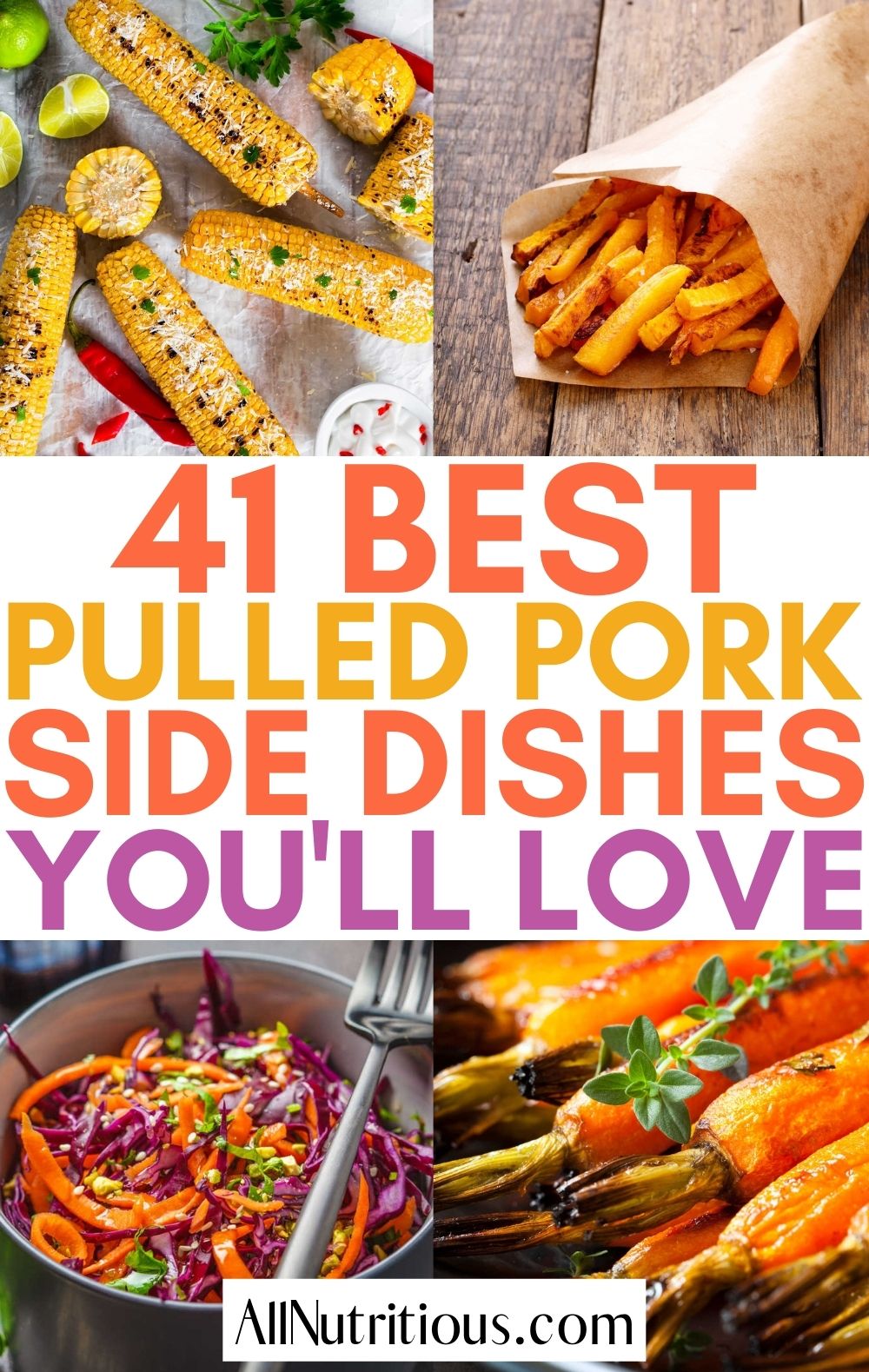 What to Serve with Pulled Pork
Pulled pork has roots in both North and South America. However, thanks to food lovers worldwide, there have been many spins and twists placed on this classic soul food.
Ultimately, pulled pork is all about bold flavor and comforting warm spices. So, the side dishes you choose to accompany your pork dish should highlight those aspects of the pork.
Luckily, I've got forty-one contenders waiting for their turn in the ring. Each one brings something unique to the plate, so let's dive right in!
Potato Sides for Pork
If we're on the road to comfort food, our very first pit stop has to be the potato. This tasty root vegetable can be used in so many different ways. Plus, it's cheap and easy to access in bulk.
As a rule, potatoes and pulled pork just work together. No matter how you prepare your potatoes, you'll find an ideal match in the flaky meat.
So the only question is: which choice is your favorite?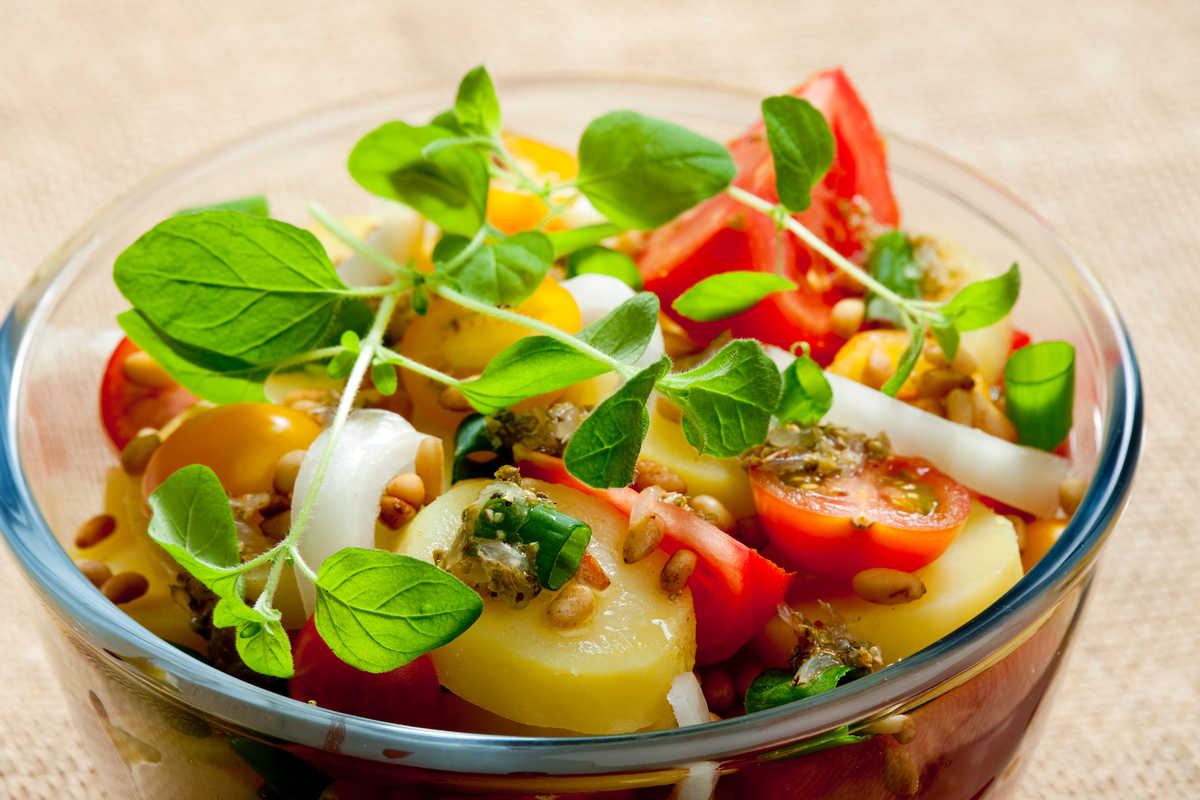 Let's start the list off with a classic everyone knows and loves: a potato salad. An easy recipe that'll go well with any main course.
An excellent potato salad adds a perfectly refreshing balance to a rich pulled pork dish, especially when speckled with tomato.
Each little gem of tomato adds a burst of juiciness to the plate, instantly resetting your palate for another bite of the pork.
This simple recipe can be made in advance, so it's great for weeknights or parties. Feel free to also serve these with pork chops.
Need an easy side? Simplicity is often best when choosing a pulled pork side dish. Because the main dish is packed with so many bold flavors, a simple side like boiled garlic butter potatoes is an ideal choice.
Not only are these boiled beauties quick and easy to prepare, but they're also luxuriously buttery. The garlic butter makes them rich enough to match the pork without overpowering it.
I'd recommend making a large batch and storing the leftovers for an extra special potato salad the next day.
As with flavors, choosing a side dish for a pulled pork main often depends on how easy it is to make. After all, making pulled pork can be quite a mission! Your sides should be straightforward.
That's where this Instant Pot potato salad comes in. Cooking the potatoes in an Instant Pot makes them light and fluffy, and the rest of the ingredients blend into a beautiful mess.
The best part about this recipe is that you can simply put all the ingredients into the pot, set it, and forget it. No timers or multiple burners are necessary; just plug and play!
This is a lovely classic side dish for steak as well.
If you're looking for a unique twist on the classic barbecue side dish, this green bean and sundried tomato pesto potato salad is to die for.
The beans add some freshness while the pesto elevates the whole affair.
A bonus of this recipe is that it doesn't include mayonnaise, so it's fantastic for the vegans in your life. You can also take it on a picnic without worrying about the head curdling the salad.
Trust me; this flavor combination is to die for. The rich tomato and fresh green bean notes are paired with pulled pork to elevate the smoky meat to new heights.
Let's not leave sweet potatoes out of the conversation! Sweet potatoes bring a whole new element to a pulled pork dish. They introduce an earthy sweetness that makes the entire plate irresistible.
These Instant Pot mashed sweet potatoes are ridiculously easy to prepare. They're perfect for a weeknight meal, a quick lunch, or even to revive your pulled pork leftovers!
If you want to take the whole thing up a notch, drizzle your chosen pulled pork sauce all over the mash. All the flavors will fuse to create an entirely new sensation that will blow your mind.
This is also a lovely side dish for brisket.
Now, you might be wondering what makes a German potato salad different from a classic potato salad. The answer is bacon. Crispy pieces of smoky bacon will pop up in each bite of this salad.
Having that slight nod to pork in your side dish is a great way to tie the two pieces together without overriding the main element.
The other ingredients hiding beneath the surface make the salad even better.
Red onion and vinegar bring a sharpness that helps cut through the creamy potato, so you won't be able to stop taking bites! A great choice when you need easy pork side dishes.
Sweet potato fries are the perfect solution if you need to satisfy many hungry people all at once. You've; already put all that effort into your pork; you don't need to slave away on a side.
The key to excellent sweet potato fries is to cook them low and slow. They have more sugar than regular potatoes, so cranking up the heat threatens to caramelize the sugars too quickly.
So, prepare these at the start of your cook and let them bake while you get on with other things. By the time your oven timer goes off, you'll have a scrumptious side dish for everyone to dig into.
There's only one thing that's better than a baked potato: one that's been baked twice. These twice-baked potatoes are absolutely packed with flavor. How can you say no to bacon and cheese?
The exterior of the potato is crispy and well-baked, but the inside is unbelievably fluffy and flavorsome. Then, the whole thing is topped with a layer of cheese and bacon that's grilled to perfection.
As a side dish for classic comfort food like pulled pork, you can't go wrong with this choice.
You can even try topping your potatoes with the pork once baked to create a new recipe!
If you've never heard of a loaded potato salad before, then welcome to your new favorite recipe.
This is a cross between the classic chilled potato salad and roasted potato, so it's the best of both worlds! Each perfectly-roasted potato is covered in a thin layer of delicious mayonnaise.
Then, they're all tossed together with spices, two kinds of cheese, bacon bits, and chives to make the ultimate concoction.
I defy you to serve this at your next neighborhood gathering and not take the dish home empty!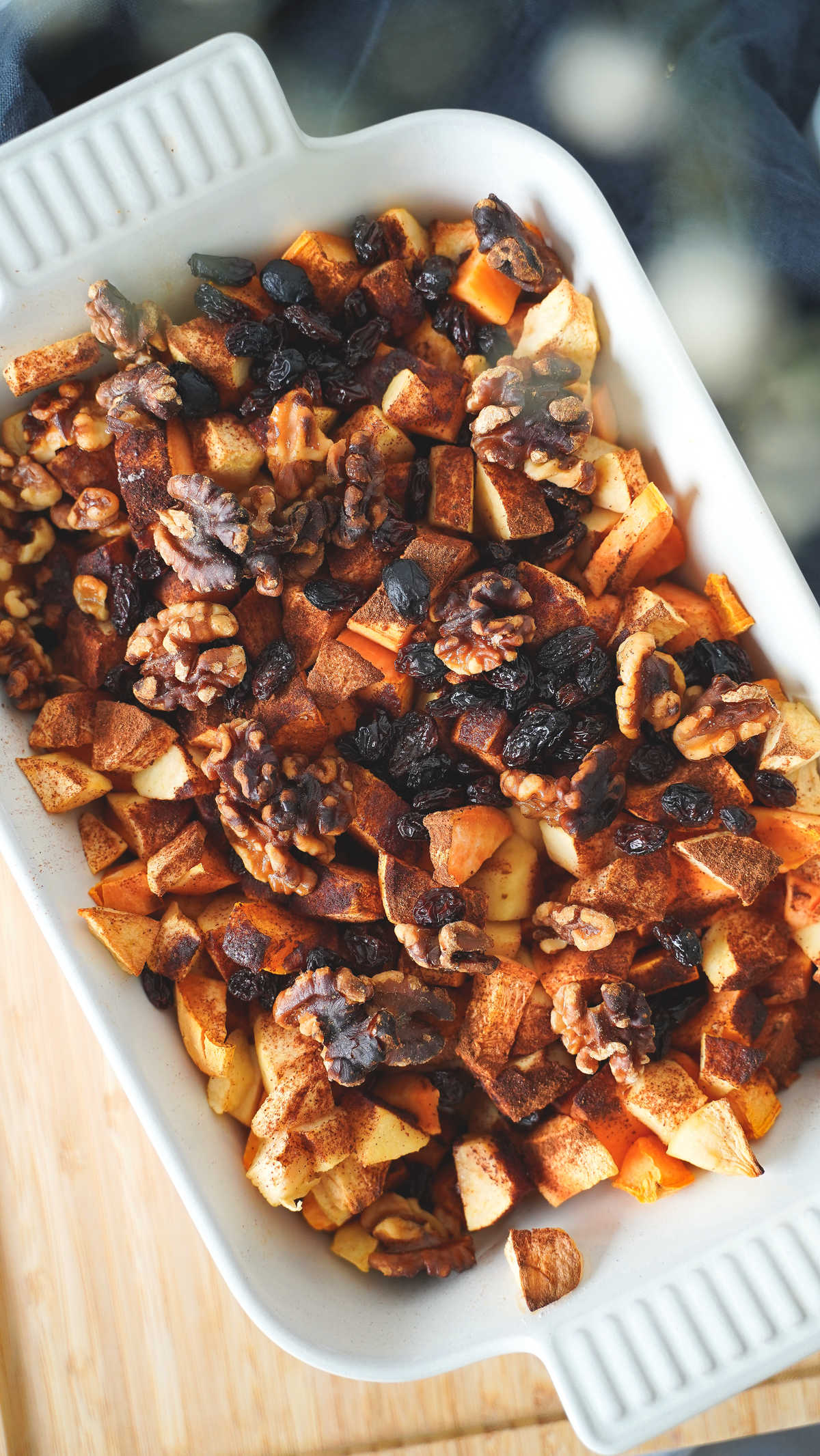 We all know the classic flavors that remind us of fall, but that doesn't mean those flavors have to stay confined to one season. Bring fall to you with this apple sweet potato bake.
The two sweet elements are roasted together to create a dark, decadent sweetness that perfectly suits a pulled pork main dish.
The walnuts on top add crunch, but they also ground the dish with some earthiness.
In other words, this unique take on a sweet potato bake might just be your new favorite pork side dish.
Rice Sides for Pork
Pairing rice with pork has become common in cuisines outside of North American roots, and for an excellent reason! The two ingredients suit each other beautifully.
The fluffiness of the rice is a perfect contrast to the decadent flakiness of the pork, so you never get tired of either element.
If this sounds like something you want to try, I've got two recipes that will blow your socks off.
The first of the two recipes hails from Jamaica, where jerk seasoning is most common on pulled pork. It's a sweet, rich seasoning that doesn't shy away from spice.
So, the rice dish that accompanies it should be mellow enough to balance out the plate. This Jamaican rice and pigeon peas dish fits the bill perfectly.
Each bite is the perfect vehicle for a portion of pork. The rice is fragrant and delicious but won't overpower the pork, thus letting it shine. Plus, it's perfect for vegan chefs or guests!
Feel free to also serve these with ribs.
Our other rice dish has roots in Mexican cuisine, using corn and black beans to build a protein-filled rice dish.
This is a light, mellow, slightly-sweet side dish that offers a great contrast to rich pulled pork.
Most importantly, it's super easy to make and only requires a few ingredients. This would be a great recipe for meal prep as it's straightforward and bulk-cooking friendly.
Healthy Sides for Pulled Pork
When you hear 'pulled pork,' I imagine the first word that comes to mind isn't 'healthy.' It's a rich and decadent dish that would benefit from a healthy side. So, that's what we're diving into next!
First off the ranks is a light and refreshing couscous salad. Speckled with cucumber, tomato, parsley, and leeks, this salad is crunchy and full of fragrant ingredients that will reinvigorate your palate.
This particular couscous dish uses a larger variety of couscous: pearls. These have a slightly nuttier flavor than their smaller counterparts, helping to make the plate feel more robust.
While this is a dish you can make in advance and serve a few hours later, I'd recommend making it fresh. That way, the textures of the various elements remain intact, and you get the whole experience.
This is also a lovely side dish for lasagna.
Next up is a kale and apple slaw that will change how you look at this super green. On its own, kale can be slightly bitter, so it's an acquired taste.
However, this recipe seems to work some kind of magic on this leafy green, turning it into an ultra-appetizing salad base. Everyone at the table will be going in for seconds of this sumptuous slaw.
The key to its refreshing bite is the lack of mayonnaise. I know, I know, a slaw without mayonnaise is like a waffle without ice cream… but this recipe really proves it's worth trying!
Speaking of slaw recipes worth a try, this Asian sesame ginger slaw also fits into that category. Rather than trending in a sweet direction, this slaw embraces savory.
Black sesame and warm, spicy ginger play against each other with every bite.
There are plenty of vibrant, tasty ingredients balanced against one another here. So, you'll never get tired of how this tastes because your tastebuds are constantly being teased with a new flavor.
If there's one surefire way to get everyone at the table to like broccoli, it's to cover it in cheese and garlic. This is a one-pan wonder of my own making, and it gets everyone on board every time.
This side is utterly delicious, but it's also packed with protein and healthy nutrients to balance out your meal. I love using it on weeknights to reduce my load in the kitchen, and everyone loves it.
Most importantly, that crispy cheese on top is ideal for tying humble broccoli into a rich pulled pork dish.
Here's another coleslaw recipe, but this one walks the line between sweet and savory. It's the best of both worlds, featuring apple and lemon juice with mustard and a creamy dressing.
You might think this combination wouldn't work, but each ingredient is carefully chosen to enhance the others.
This dish's light and refreshing creaminess is a perfect companion to sweet pulled pork.
Once you read this recipe, I hope you'll join me in thinking that an air fryer is your new best friend. After all, what else can make the humble zucchini so effortlessly tasty?!
This recipe will quickly become a staple favorite at your dinner table because it's so versatile. Whether you're serving up pulled pork or a vegetarian casserole, these will impress.
The best part is that they require almost no effort to make. Just chop the zucchini, season, toss in the air fryer, and come back when they're done. Brilliant!
Fennel and apple are a match made in heaven on their own, and both happen to be excellent companions for pork dishes.
So, is it any wonder this fennel and apple salad has made its way onto the list?
This is a delightfully refreshing side that plays on the freshness of both ingredients. The mild bitterness of the fennel contrasts with the sweet apple to render the whole thing heavenly.
A great benefit to this recipe is its longevity. You can make it a day in advance, store it in the fridge, and whip it out when it's time to eat. It's also great for picnic lunches or meal prepping!
A creamy element always elevate pulled pork dishes. So, how do you pick one that's healthy? Creamed spinach is the answer to your problems.
This dairy-free creamed spinach is light and delicious, with none of the heaviness you might be used to form a dairy-filled version. This makes it the ideal choice to balance the bolder pulled pork flavors.
Thanks to the lack of dairy and gluten, this creamed spinach recipe is healthier than any you can purchase from the store. Plus, it's super easy to make fresh for the table.
I firmly believe that roasted carrots are one of the best vegetable side dishes out there. They require minimal preparation and care, but if you roast them with love, they will love you back.
The key to perfect roasted carrots is the low-and-slow approach.
You can crank the heat up at the end to get a nice char on the outside, but you want your carrots to be warm and buttery all the way through.
Sprinkle them with whatever your heart desires or serve them up plain. The natural sugars in a carrot mean this dish will be delicious no matter what you serve with it.
This Asian chopped salad is bursting with protein and fiber. All the elements come together to form one big crunch, which is a beautiful contrast to the pulled pork's delicate texture.
With earthy flavors like edamame and cabbage, this salad needed something to balance it out. That's where the sweet and slightly tart mandarin oranges enter the equation.
Juicy, tender, and lightly sweet, these orange sections will have you going in for a second bite before finishing your first.
Pork has always been complemented by the sweetness of a light fruit salad. So, this unique watermelon feta mint salad has all the makings of a perfect pulled pork side dish.
Each bite delivers the irresistible juiciness of the watermelon, a bite of fresh mint, and an underlying creaminess from the feta. If you've never experienced this combination before, you're in for a treat.
Feel free to assemble the watermelon and mint beforehand, but only crumble the feta on top right before you serve.
This is a sophisticated dish perfect for impressing guests at your next dinner party.
The final dish in our healthy category is a new twist on a worldwide favorite: fries, but made from butternut squash.
Butternut is an earthy, mellow vegetable ideally suited to pulled pork companionship.
As a fry, it's even better! These gorgeous orange fries look stunning on the plate; they're also slightly sweet. Butternut is another vegetable with hidden sugars that caramelize as it bakes.
This is also a great recipe to get those vegetable-shy family members on board the health train.
Low Carb Sides for Pulled Pork
I think many people assume that reducing their carbohydrate intake means they have to trade in flavor as well. However, that's simply not the case!
All the recipes in this low-carb section of our list will prove that. From keto salads to baked cruciferous vegetables, each recipe is a hidden gem just waiting to be discovered.
First up is a low-fat, high-protein coleslaw that's so vibrant and beautiful it almost flies off the plate. As with most coleslaw recipes, this is super easy to whip up, so it's an excellent option for your next BBQ.
Thanks to a lack of mayonnaise, this slaw is light and refreshing enough to counteract the richness of the pulled pork. Plus, the crunch provides a great contrast in texture too.
Coming up right on the last slaw's heels is another coleslaw recipe, but this one is a little bit unique. It features poppy seeds and sunflower seeds to make them extra crunchy and healthy.
While the slaw is low in sugar, the recipe calls for a keto-friendly sweetener that helps each of the ingredients pop. So, it's another fantastic addition to your plate.
I'd recommend making this in advance and letting it sit in the fridge overnight before you serve it. Thanks to the dressing on the slaw, this will help all the flavors soak together and make it even better.
Green beans with bacon is a staple dish of Southern soul food. The saltiness of the bacon elevates the mellow freshness of the beans, making each bite an adventure in contrasting flavors.
Since pulled pork finds its origins in soul food, you can be sure that these two dishes will work in harmony. They're both built on foundations of comfort and warmth.
The garlic on the beans just adds another layer of deep flavor, thus pulling the pork's sweetness into the spotlight.
Cauliflower is one of those vegetables put on this earth to soak up flavor. It's like a sponge! No matter what you put it in – whether a sauce or a spice – the cauliflower makes itself at home.
That's why this smoked cauliflower is so fantastic. Each floret absorbs the notes of smoke and char from the smoker, deepening its flavor. The spice rub also elevates this even further.
Since pulled pork is born from the BBQ scene, it loves side dishes with an element of smokiness. So, you know off the bat that these two will go together.
Let's shift away from the smoker and back to our oven, where an ideal treatment for cauliflower can also be found. This keto cauliflower bake is the perfect way to celebrate this simple vegetable.
Requiring only eight ingredients, you can double or triple this batch to make as much of the casserole as you like.
Are you serving a huge party? No problem. Need leftovers for the next day? I got you covered.
The comforting cheesiness and soft cauliflower are the ideal contrast to the boldly pulled pork, so the two will effortlessly share a plate.
There's only one rule for making a good fritter: make it crispy. This zucchini fritter recipe delivers on that promise, even though it heroes a vegetable known for its moisture.
The key lies in squeezing that extra water out of the shredded zucchini. You're left with a good fritter base that won't clump or go soggy in the pan.
Serve these up with any sauce of your choice, or experiment with the spice blend to suit the spices on your pork. The possibilities are endless once you have this recipe under your belt!
For most of us who are vegetable-shy, hearing the words 'broccoli' and 'salad' in the same sentence is a nightmare scenario. But this recipe will prove to them that it's actually a dream come true.
This salad plays with the broccoli's crunchiness, dressing the vegetable in creamy ranch and crispy bacon. Because broccoli is already so fresh, the creaminess doesn't become overwhelming.
It's just enough to act as the perfect companion to the main dish of pulled pork. Use fresh ingredients and fresh herbs to make this side dish even better.
Feel free to serve this side dish with your favorite ground lamb recipe.
Best Sides for Pulled Pork
Finally, we answer our ultimate question: "what is the best side for pulled pork dishes?".
Any dish that shares its roots with this comforting, bold dish will be a winner—soul food, South American street food, or even Hawaiian tropical flavors all spring to mind.
It's a matter of experimenting with what you love the most. And if the experiment is this delicious, I think we can all get on board with the scientific method.
If you're looking for a good reason to make a great side dish for your pulled pork recipe, these meals are just for that. Enjoy some of these best side dishes with your favorite traditional recipe.
'Corn' and 'casserole' are two words that inspire thoughts of comfort for me. They're rooted in memories of hot summer days, the smell of meat on the grill, and the taste of buttery goodness.
This corn casserole is a slightly more savory take on cornbread. With a deeper, more buttery flavor than the traditional style of bread, this is a luxurious option for your next pork dish.
On the other hand, this next cornbread recipe embraces a little bit of sweetness. The honey notes in this buttery, crumbly cornbread are absolutely to die for.
The slight sweetness also brings the cornbread in harmony with pulled pork's smoky sweetness, helping your dish feel unified.
I love how quick and easy this recipe is, but I love the excitement it inspires even more than that. The second you lay the dish out on the table, eyes brighten in anticipation of that very first bite.
Canned baked beans can only get you so far, especially when making a better version at home is so easy. These pinto beans come to life in your Instant Pot, so they require almost no effort!
With warm spice notes and fragrant aromatics, these pinto beans let you alter the pork's flavor with each mouthful.
If you're a big fan of baked beans, set up a big batch of these beans and stored them in an airtight container in your fridge.
When I think of 'soul food, the first image that pops into my head is the stretch of cheese as you ladle macaroni and cheese into a bowl. There's just nothing better than a good mac and cheese.
In this case, the baked macaroni and cheese richness enhances the pulled pork. You'll be more sensitive to the smoky and sweet notes in the pork after a bite of the mellow casserole.
Mac and cheese is always a great option for taking your dinner to the next level.
That's right, a Mexican street food dish with Japanese elements! This is a truly international dish that emphasizes how good food can be when we pull inspiration from all over the world.
So, "what is furikake?" you might ask. It's a rice seasoning made of seeds and spices designed to make a simple batch of rice more flavorsome. Paired with elote, it's out of this world.
There are many different furikake blends to choose from. So, head to your local Asian market and pick up a few options!
Cowboy beans stay true to their Southern routes, blending notes of bacon, BBQ sauce, brown sugar, and ketchup. The result is a mouth-watering pile of beans that would be welcome on any plate.
These are super simple to make and cook well in a large batch. So, if you double or triple your recipe, you can store the extra in your freezer for up to three months.
That's cowboy beans on demand!
Bread pudding is traditionally a dessert dish, but this ingenious invention turns that idea on its head.
Instead of traditional white bread, this recipe uses cornbread, buttermilk, and cream to achieve the pudding texture.
Speckled with slices of jalapeno and sprinkled with cheddar, this dish is pretty much irresistible. Rich in flavor and crumbly in texture, it's perfectly accented by the bold flavors of the pulled pork.
Here's another take on a broccoli salad that's a little less healthy but a lot more luxurious. This pasta salad will be welcome at your next barbecue, featuring pasta and cheddar as core ingredients.
I love how quickly you can pull this dish together, but it looks like you spent hours getting it right. Make sure to serve it up right as you're done assembling to keep the ingredients fresh and crunchy.
This is a great side dish to serve with your favorite polish sausage recipes.
Elote is one of the best things to come out of Mexican cuisine. So, this ultra-portable salad version of the delightful treat is excellent for pleasing the crowd at your next gathering.
The rich sweetness of the corn is offset by the creamy dressing, so each mouthful feels rounded and filling. Enjoy year-round with frozen corn, or wait for fresh cobs as a summer treat.
This is a lovely healthy salad that will take your pork nachos to a whole new level.
The final dish on our list embraces the tropical potential hiding within pulled pork. It's a vital feature in Hawaii's multi-regional cuisine.
So, this sweet and smoky baked bean recipe will perfectly fit the bill. Traditional baked bean ingredients combine with pineapple for a unique take on an old classic.
This is a great way to try something new on your dinner table, and the sweet pineapple will highlight the pork beautifully.
Check out more Hawaiian recipes here.
41 Finger-Licking Pulled Pork Sides
Trying to find what to serve with pulled pork? These delicious side dishes for pulled pork will transform your dinner and take it to a whole new level.
Ingredients
1. Mustard Potato Salad with Fresh Tomatoes
2. Boiled Potatoes
3. Instant Pot Potato Salad
4. Green Bean Potato Salad with Sun-Dried Tomato Pesto
5. Instant Pot Mashed Sweet Potatoes
6. German Potato Salad
7. Sweet Potato Fries
8. Cheesy Twice Baked Potatoes
9. Loaded Potato Salad
10. Apple Sweet Potato Bake
11. Jamaican Rice and Pigeon Peas
12. Black Bean Corn Avocado Salad with Rice
13. Israeli Couscous Cucumber Salad
14. No-Mayo Kale Apple Slaw
15. Asian Sesame Ginger Slaw
16. Cheesy Garlic Broccoli
17. Kale and Apple Slaw
18. Crispy Air Fryer Zucchini
19. Fennel & Apple Salad
20. Whole30 Creamed Spinach
21. Easy Roasted Carrots with Honey and Feta
22. Asian Chopped Salad
23. Watermelon Feta Mint Salad
24. Butternut Squash Fries
25. No Mayo Coleslaw
26. Sweet Poppyseed Coleslaw
27. Green Beans with Garlic and Bacon
28. Smoked Cauliflower
29. Keto Cauliflower Au Gratin
30. Keto Zucchini Fritters
31. Keto Broccoli Salad
32. Corn Casserole
33. Honey Butter Cornbread
34. Instant Pot Pinto Beans
35. Baked Mac and Cheese
36. Elote Style Corn with Furikake
37. Cowboy Beans
38. Savory Cheddar Jalapeno Cornbread Pudding
39. Broccoli Cheddar Pasta Salad
40. Mexican Street Corn Salad
41. Easy Hawaiian Baked Beans
Instructions
Scroll up to get a bunch of easy, yummy, and delicious side dishes. Don't be afraid to get creative with the ingredients, you might discover a flavor you didn't know you liked.
Get your shopping list going and make sure you've got all the ingredients.
Get cooking and make your next side dish for pulled pork!
Notes
Which one of these recipes was your favorite? Let me know in the comment section or on Pinterest!