Make some of your favorite side dishes for meatloaf and enjoy these on special occasions. A great side dish is always easy to make so you can have these even on busy weeknights.
Meatloaf is one of those classic weeknight dishes that everyone loves. So, it only makes sense that the side dishes should be just as good. That's where this list comes in!
These forty-one side dish recipes span everything from the classics to new, modern takes on old favorites. From healthy and light salads to rich potato dishes, you'll find them here.
What Sides Go with Meatloaf?
The best side for a main meatloaf dish is something that accents its hearty taste. The thing is, the "right" side dish to serve is just like the "right" meatloaf recipe: every family has a different one!
Potatoes are definitely a classic choice and for a good reason. Their starchiness perfectly balances the rich meatloaf, especially with a delicious sauce.
But if you're looking for something healthier, a light dish of vegetables is the perfect answer. So, let's dive into all the potential dishes you can use to make your meatloaf dinner even better.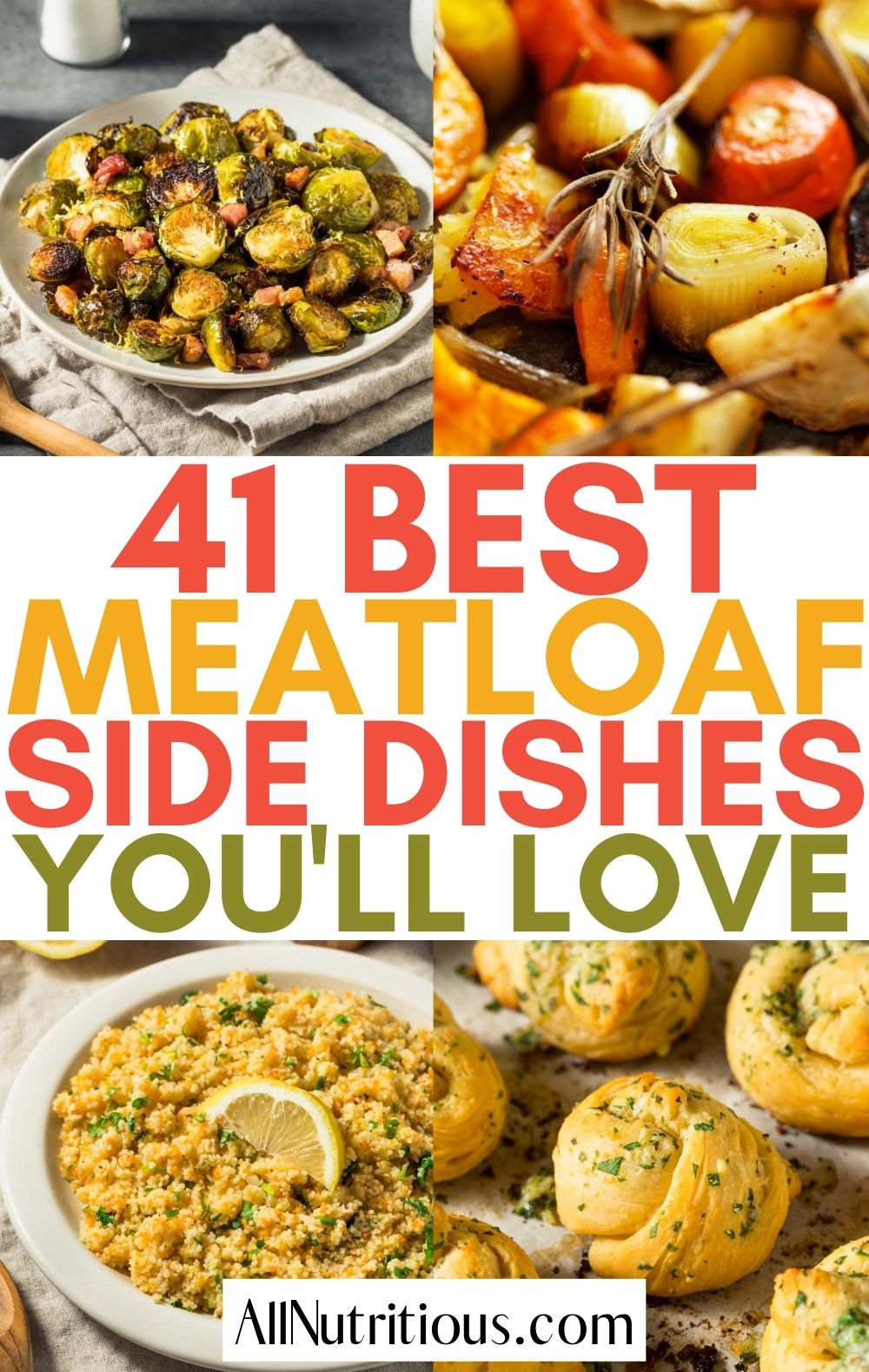 Potato Sides for Meatloaf
Let's start where all good things start; the classics. A potato side dish for a homemade meatloaf main is like hot chocolate and a winter day: they just go together.
From frying to boiling to whipping, potatoes are the most versatile vegetable out there. These eight different potato dishes all bring out the strengths of this humble vegetable in some delicious ways.
First on our list is the mashed potato recipe of your wildest dreams! These potatoes are a must-have, bursting with gouda cheese and garlic's rich, earthy flavor.
The absolute ringer in this recipe is the inclusion of caramelized onion. These sweet and smoky slivers are dotted throughout the mash, offering little hits of texture and taste.
As a side to a meatloaf, these potatoes are the ultimate choice. Rich and smooth, they're the perfect addition to every meaty bite. This is definitely a family favorite.
This is a lovely side dish for ribs as well.
Next up is a delicious and healthy twist on the baked potato. Standard baked potatoes are pretty good on their own, but imagine how good they get when you add cheese and broccoli.
I love this recipe because it's all the taste of a potato with the added nutrition of broccoli. Switch it up by adding some bacon, dress with ranch, or stick to the recipe. You'll be satisfied no matter what.
The crucial thing with twice-baked potatoes is to invest time into your filling. This recipe uses sour cream, chives, and salt to season the center of the potato for maximum flavor.
Sweet potatoes are already so full of flavor that you don't need to do much to them. These whipped sweet potatoes are light, fluffy, and deliciously creamy. In other words, they're incredible.
The secret to these beauties is heavy cream. Not only does it add richness to the sweet potatoes, whipping that cream forms the base of the incredible fluffiness.
Add just a sprinkle of nutmeg to bring out the earthy sweet potato flavor, and you're golden. This is a good idea the next time you're craving for a potato dish!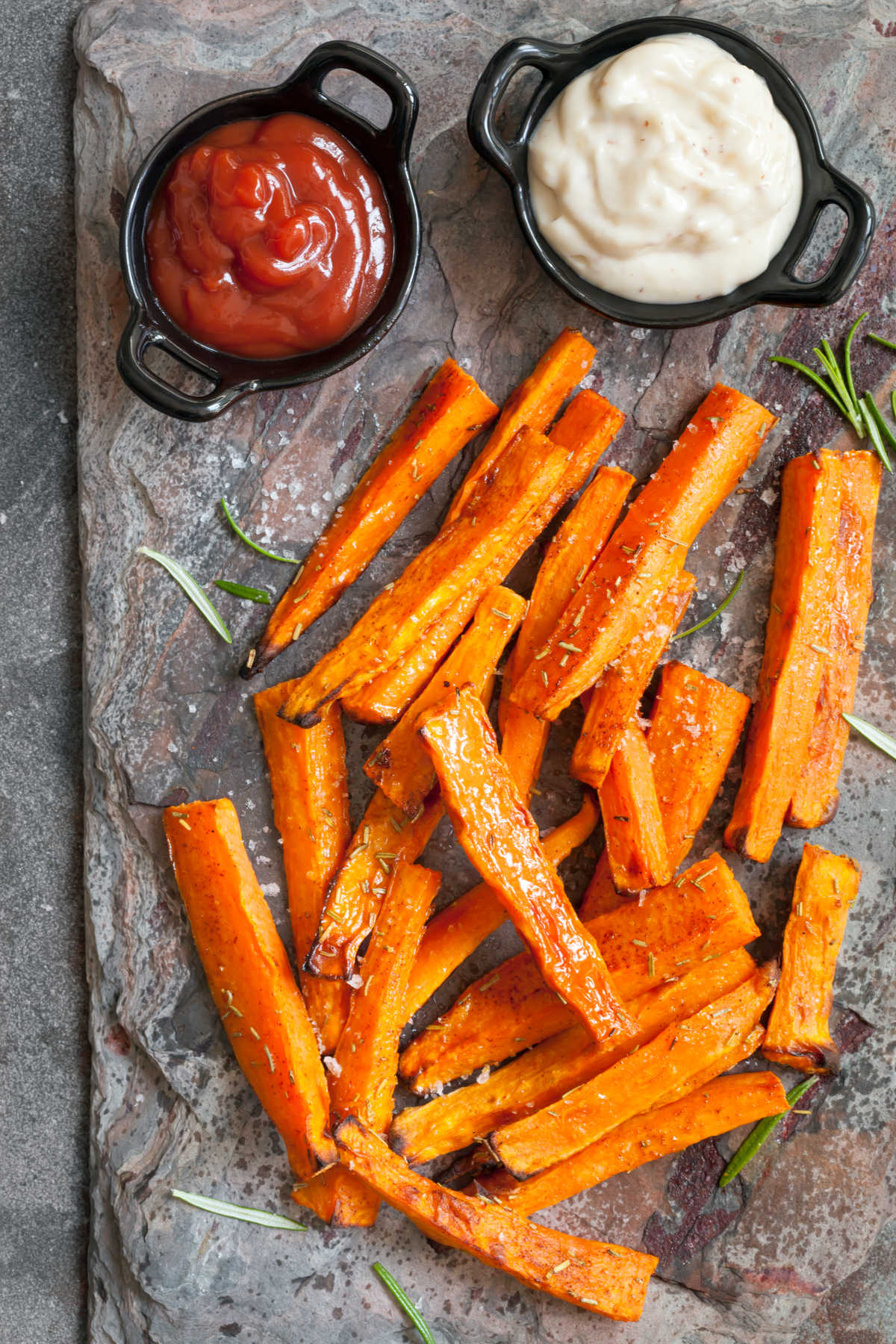 If mashed sweet potatoes aren't your speed, how about sweet potato fries instead? This particular variety bursts with flavor thanks to the special spice rub covering each fry.
Cinnamon and paprika might be an unexpected combination, but they go beautifully together.
Bouncing off the sweetness of the potatoes, these smoky spices make this a perfect side dish for meatloaf. I love this option when serving large groups. It's so easy to make in bulk!
We all know the flavors of the classic potato salad: mayonnaise, eggs, and mustard. That's a tasty combination, but that doesn't mean we can't explore new ways to make this potluck staple.
Tiny roasted potatoes are the crowning glory of this salad. Top that off with a smattering of juicy blistered tomatoes and a light, bright vinaigrette. You've got a winner for a whole family!
This is a classic side dish that goes amazingly with some of the best meatloaf recipes. So, feel free to make this classic comfort food.
That said, there's absolutely nothing wrong with a classic. These roasted sheet pan potatoes are a quick and easy side dish guaranteed to satisfy anyone sitting down to dinner.
Plus, you won't have to do many dishes! The key to good roasted potatoes lies in choosing the right potato variety.
Some are too packed with starch to roast well, while others have too much moisture and just turn into a mash. If you're ever in doubt, just check the bag at the supermarket!
Season with some salt and oil to bring out that simple flavor, roast, and serve.
Every family has a different potato salad recipe. Learning it is like a rite of passage. Sometimes, we're lucky enough to have someone offer their family recipe up for us to try; that's what we have here.
This potato salad recipe uses an interesting substitution. Instead of mayonnaise, the maker uses Miracle Whip to make it lighter and more flavorful.
Combine the vegetables and Miracle Whip with the sprinkling of pickle juice, and this recipe is a mouth-watering treat.
If you're making meatloaf, chances are you're feeding quite a few mouths. So, the easy side dish recipe delivers a lot of food without needing a lot of effort from you. Enter these loaded crack potatoes!
Combining the tried-and-true trio of potato, cheddar, and bacon, this casserole side dish is unforgettable.
The best part about it – apart from the taste – is how simple it is to make. Take it along to a potluck with you, or whip it out for a weeknight dinner with almost no effort.
You can also have these as a side for chicken wings.
Healthy Sides for Meatloaf
With all that starch in the previous section, it might be time to look at some healthy options. As I said before, meatloaf can be a rich and heavy main dish.
So, a healthy side dish is just the thing to balance it out. Don't get me wrong; healthy doesn't have to mean tasteless! Take a tour through the following few recipes to see what I mean.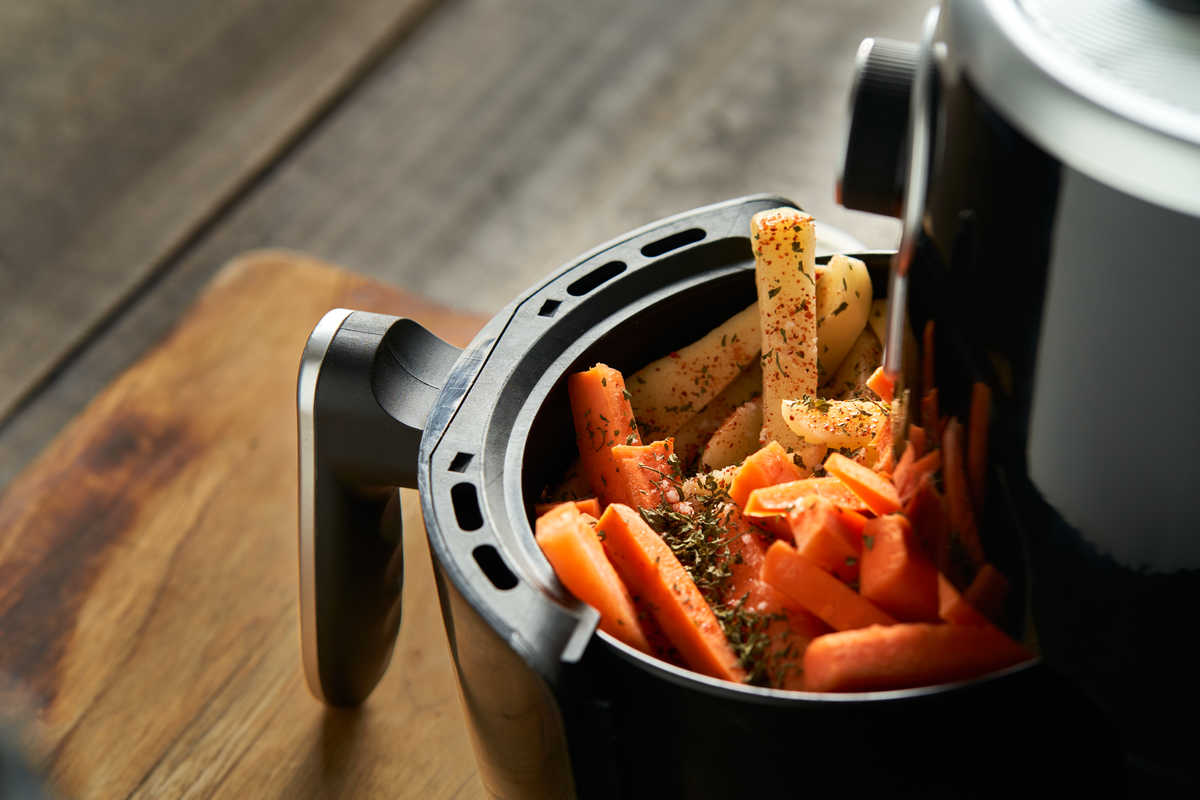 I haven't met a single person who doesn't love buttered baby carrots on their dinner plate. The problem is, these little caramelized beauties can become quite unhealthy. Think of all that butter!
Well, thanks to the air fryer, you can get all that caramelization without dousing the carrots in butter. Even better, you don't have to watch the pan. Just fill your air fryer, set it, and forget it!
This is also a lovely side dish for pasta.
This next dish is an excellent crowd-pleaser while also being very healthy. Elevate the humble stalk of broccoli by roasting it with some garlic and high-quality oil.
This one-pan wonder is excellent as an easy vegetable side dish. It doesn't take a lot of time or effort to make, it's cheap, and it looks beautiful next to a slice of meatloaf.
I like to use this recipe for delicious meal prepping as well. The broccoli keeps well in the fridge, with the garlic flavor only deepening as time goes on.
You could also have this as a side for lasagna.
You're in the right place if you're looking for a salad recipe that goes a little off the beaten path. This Spicy Moroccan carrot salad has a symphony of warm spices guaranteed to tease your taste buds.
Roasted carrots sit atop a bed of well-dressed greens, ready to accompany your meatloaf. While this may seem fancy, this salad actually takes minimal effort to make.
Impress your guests without needing to spend extra hours in the kitchen with this renewed take on the side salad.
Next is an arugula salad that will pull the hearty, wintry meatloaf dish right into the sunshine. With fresh, bright notes of lemon and earthy pine nuts, this simple recipe sings with summer notes.
Top the whole thing off with some sweet heirloom tomatoes and parmesan cheese to add a few exciting textures and flavors. This is a great light starter for dinner parties.
Because of how quickly it comes together, this salad is also perfect for bulking up your meal if you suddenly find yourself with more mouths to feed!
Looking for fast, easy, and satisfying? This roasted broccolini salad sets the bar in all three respects. Earthy and grounded, this salad is the perfect accompaniment to a hearty meatloaf main dish.
While the recipe says to use tahini dressing, you can customize the salad as much as possible. If you're serving a particularly picky table, why not offer a few different sauces?
This is one of my recipes, but it's so perfect for a meatloaf side dish that I just had to include it. It's smoky and tangy, with the slightest hint of sweetness that makes you want to keep eating.
Not to mention, it's so quick and easy to make that your kids can take care of the cooking. Bursting with fiber and protein, you'll feel like a million bucks after one bite.
Quinoa is one of those ingredients that I think everyone should have on hand. It's full of protein and adds a wonderful, delicate crunch to any dish.
So, is it any wonder I'm a fan of this lemon garlic quinoa dish? Feel the ocean spray on your face as these Mediterranean flavors dance across your tongue. It's so tasty; you'll forget it's good for you.
If you're not a fan of olives, you can always switch them out with a similarly salty element like feta cheese or anchovies. Enjoy this protein-packed accompaniment to your main dish.
Our final healthy side dish for meatloaf is roasted vegetables, the Ginger Rogers to meatloaf's Fred Astaire. Sweet and earthy, there's a reason people have been pairing these dishes for centuries!
This roasted vegetable medley is a feast for the eyes and the taste buds. Plus, you'll require only one pan and some quality time with your chopping board to bring it together.
You can also serve these with brisket.
Summer Sides for Meatloaf
In my experience, meatloaf is traditionally thought of as a winter dish. It's warm, hearty, and heavy, so the association makes sense. We don't have to cage meatloaf dishes in the cold season.
These summery side dishes are the key to giving meatloaf its time in the sun. These dishes are all light, full of texture, and bursting with bright flavors, from salads to fried radishes.
I know what you're thinking, "A fruit salad as a side to meatloaf? Really?". But trust me, this is a unique combination that will blow your mind.
The fresh sweetness of the fruit is the perfect counterbalance to a meatloaf's richness. Whether you serve it as a starter or a side, it will refresh your palette and keep you coming back for more.
Not to mention, it's perfect for brightening a heavy meatloaf to make it suitable for summer.
This next dish is just perfect for a summer barbecue. Featuring charred corn, red onions, and creamy avocado, it's a symphony of textures and flavors.
Each of the vegetables included is deliciously savory. But they're also just sweet enough to make the salad feel light and bright rather than heavy and wintry.
Paired with a delicious slice of meatloaf, the flavors shine even brighter. You could also serve this side with steak.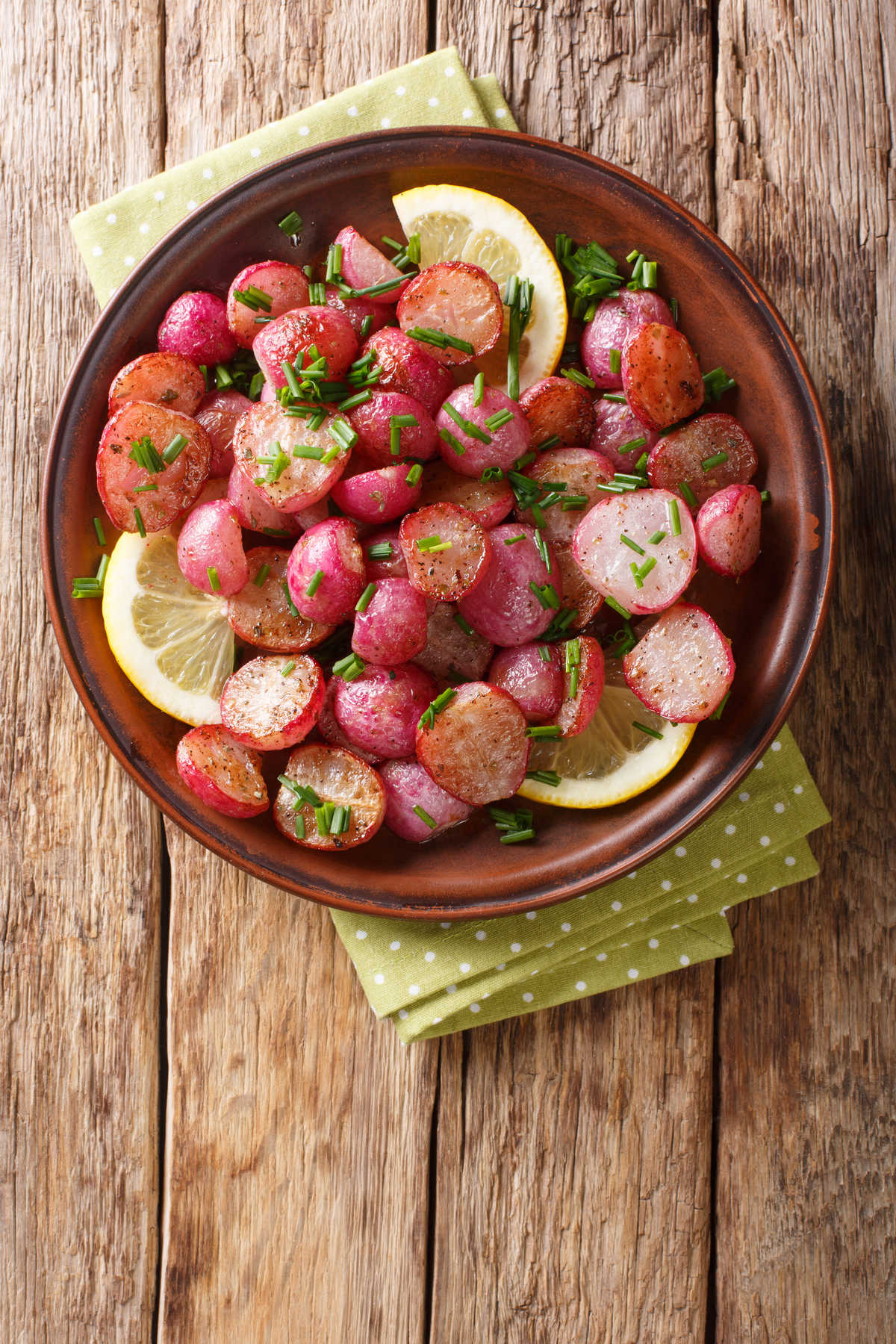 Fried or roasted potatoes are a fantastic side dish for meatloaf, but they can also be quite heavy. That's where these air fryer radishes come in!
These are easy to pull together, requiring only a little seasoning and time in your air fryer. Radishes are a great summer alternative to potatoes since they're light and still a little starchy.
You can customize these as you like to suit your taste. Dress them with warm spices or serve them plain (with salt, of course); they're delicious either way!
Whether it's summer, winter, fall, or spring, it's always a good time for macaroni salad. This recipe is an old-fashioned take on the classic dish, perfect for potlucks and barbecues.
This old-fashioned macaroni salad is lovely and creamy, the perfect counterpoint to the meatloaf texture. Not to mention, it's so cheap, quick, and easy to make!
Whip this up the night before and leave it sitting in the fridge. This allows the flavors to deepen and soak together, making it even tastier the next day.
East meets West in this following recipe, where freshness is the name of the game. An Asian cucumber salad is all about crunch and sharpness, so it brings a lovely bite to balance out your meatloaf.
You can almost think of this as a pickle because the only vegetable ingredient is the cucumber itself.
The rest of the ingredients focus on bringing the cucumber's crunch and delicate flavor to the fore.
This is super easy to make in a big batch and keep in the fridge to use on more than your meatloaf dinner. This is particularly good on a leftovers sandwich.
Thanks to its deep, rich flavor profile, roasted beetroot is a fantastic pair for meatloaf. This salad is all about highlighting this beautiful ingredient with many different elements.
This sophisticated choice for your dinner table will refine your meatloaf main. This texture-filled salad will be your new best friend if you're whipping up a date night meal.
Experiment with adding different elements to see how the flavors interact. What might olives or a pickled onion taste like amongst the mellow cheese and nutty walnuts?
Corn is an excellent ingredient because it's sweet, crunchy, and bright. Pair that with the other ingredients in this salad, and you've got a colorful, tasty treat that's hard to beat.
The stunning colors and vibrant flavors will drag your meatloaf from the depths of winter into bright sunshine.
The final sprinkle of goat's cheese serves to make it feel just a little bit more grounded.
This is a crowd-pleasing choice that's super easy to prepare in advance. Pro tip: leave the goat's cheese off the top until right before you serve your salad, so it's nice and fresh!
Tomatoes and meatloaf get on like a house on fire, so is it any wonder that a fresh tomato salad would be on this list? This fresh and juicy salad will have you going back for more after every bite.
Use heirloom tomatoes in various colors and sizes for a wonderfully cluttered, beautifully messy burst of color on the plate. Just the look of this salad makes you want to dig in.
This is a recipe that absolutely shines in the summer months. It's refreshing enough to relieve your taste buds after each bite of the meatloaf but flavorful enough to hold its own.
Finally, we've got one of my recipes to close out the summery portion of this list. I'm so proud of this spinach tomato salad with feta because it's bursting with flavor in every mouthful.
The earthy spinach provides a base for the rest of the ingredients to bounce off, making them shine brighter.
Gems of juicy tomato, the bite of red onion, and the creamy feta all have their moment in the sun.
My favorite part of this recipe? It's super healthy and tasty, so it's the perfect way to cram some extra nutrients into your meal without compromising the flavor.
This isn't the kind of salad people leave behind on the plate, trust me! Feel free to have this side dish for pork chops.
Low Carb Sides for Meatloaf
Reducing your carbohydrate intake doesn't have to mean compromising on taste. Some of the best side dishes on this list are hiding in this low-carb section, so don't knock them till you try them!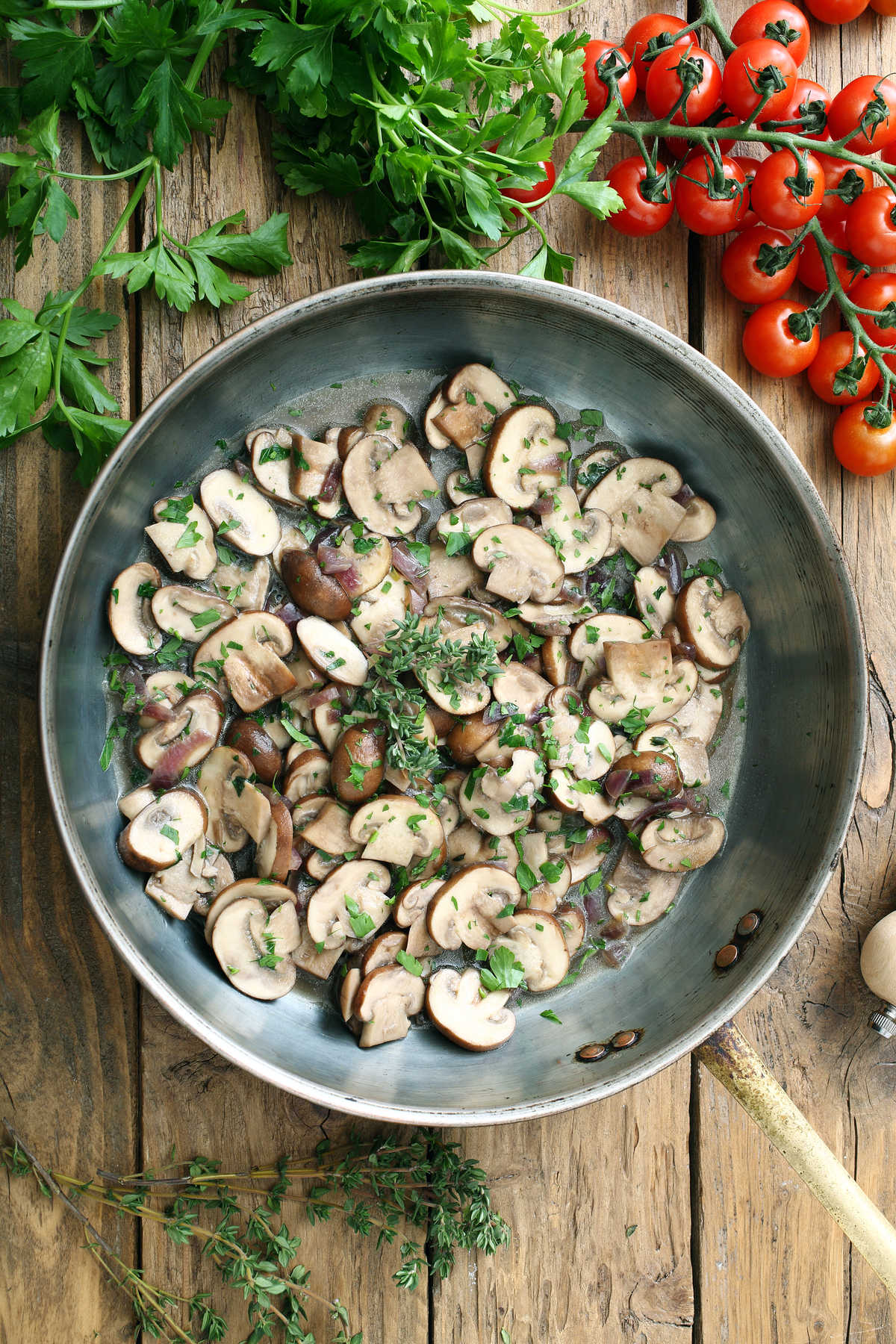 Doesn't the idea of roasted garlic mushrooms just make your mouth water? This luxurious side dish is dripping with the earthy flavors of garlic and mushroom to balance your rich meatloaf.
They taste like they take hours and hours to prepare, but the truth is you only need thirty minutes! One pan, your mushrooms, some garlic, and some oil later, and you've got a dish to die for.
If someone in your life isn't entirely on board the mushroom train, this dish will punch their ticket.
Every good macaroni and cheese recipe has three things in common: comfort, warmth, and cheeeeese. This keto macaroni and cheese delivers on all three elements in spades.
At the end of the day, meatloaf is comfort food. It's a warm and approachable dish that immediately makes you feel at home from the very first bite. So, mac and cheese is an ideal pairing.
You'd think you'd miss the pasta, but the cauliflower substitution only serves to make this version of the mac and cheese more filling. The second you dig into this, you won't be able to stop!
Going low-carb does remove the humble, delicious potato from your diet, which is unfortunate. Removing that delicious vegetable makes room for a new hero: the radish.
Roasted radishes are almost like roast potatoes in flavor and texture, with an extra bite right at the end. Dip these in your meatloaf's gravy to make them sing even more.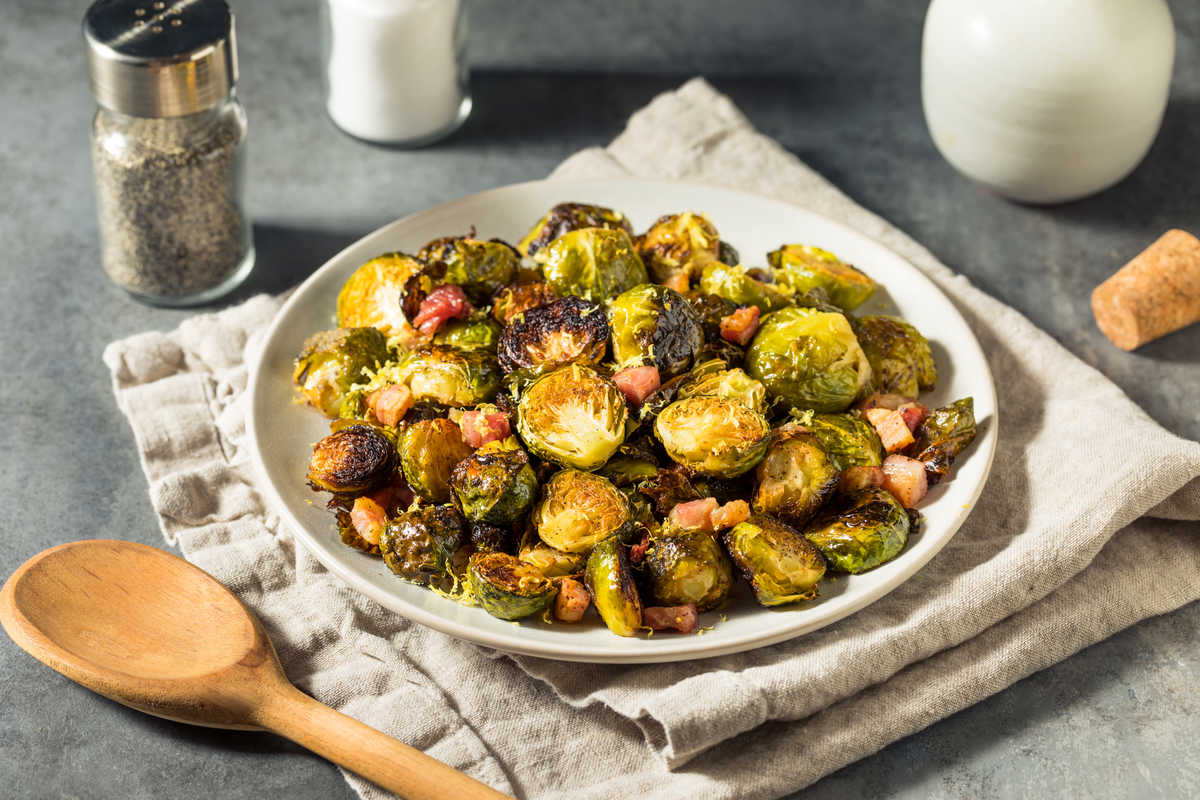 The following recipe makes brussels sprouts so good; even the kids in your life will be clamoring for them.
So, are they covered in cheese? Do they take hours to braise? Are there fifty ingredients to keep track of?
Nope. You just need some oil, some salt, and a bit of time in the oven. This dish celebrates everything good about these little green gems, highlighting their earthy flavor and crunchy texture.
If you are in the mood to elevate these further, you can top the sprouts with whatever strikes your fancy.
Another fantastic substitute for potatoes is an often-overlooked vegetable: the turnip.
These are starchy and light enough to make a great mash, and we all know vegetable mash pairs wonderfully with meatloaf!
Imagine what a rich gravy tastes like drizzled over the top of this turnip dish. Don't worry if you've never worked with turnips before; this recipe is super simple.
Pro tip: To get a super smooth mash, whip out a drum sieve and push the mash through to remove all the lumps.
Green beans are a fantastic ingredient because they are packed with protein and super simple to prepare. This recipe is a one-pan wonder, so there's minimal preparation and minimal clean-up.
The roasting process brings out their earthy taste, helping round out your meatloaf dinner.
These green beans only call for some salt and high-quality oil, but there's a lot of room for experimentation here.
Finally, we have an utterly luxurious take on asparagus that will have everyone in a ten-mile radius come running.
The asparagus stalks are tender and fresh, providing a nice texture contrast to the meatloaf. With creamy, crunchy cheese adorning the tops of the vegetables, this is by turn rich and fresh.
The key to success is not thoroughly cooking the asparagus with that first roast! You'll be whacking it in the oven a second time, and you don't want your asparagus to become soft and overdone.
Some of the Best Sides for Meatloaf
The question is, what makes a side the 'best' for meatloaf? The answer lies in how you feel when you eat it: comforted.
Meatloaf is a comforting dish, and the side that goes with it should feel the same way.
That's why each of the following ten dishes is the type of side that wraps you in a warm, tasty hug and doesn't let go. Let's find out the best sides to a meatloaf dish together.
First off the plate is a comfort food classic, the humble macaroni, and cheese. This skillet version only uses one dish, perfect for a quick and easy weeknight dinner.
This particular recipe is topped with crunchy breadcrumbs to contrast the soft, creamy texture of the saucy macaroni.
Humming with cheesy flavor, this dish will effortlessly hold its own against a meatloaf.
To elevate this dish further, use crushed garlic in your cheese sauce to deepen that cheesy flavor.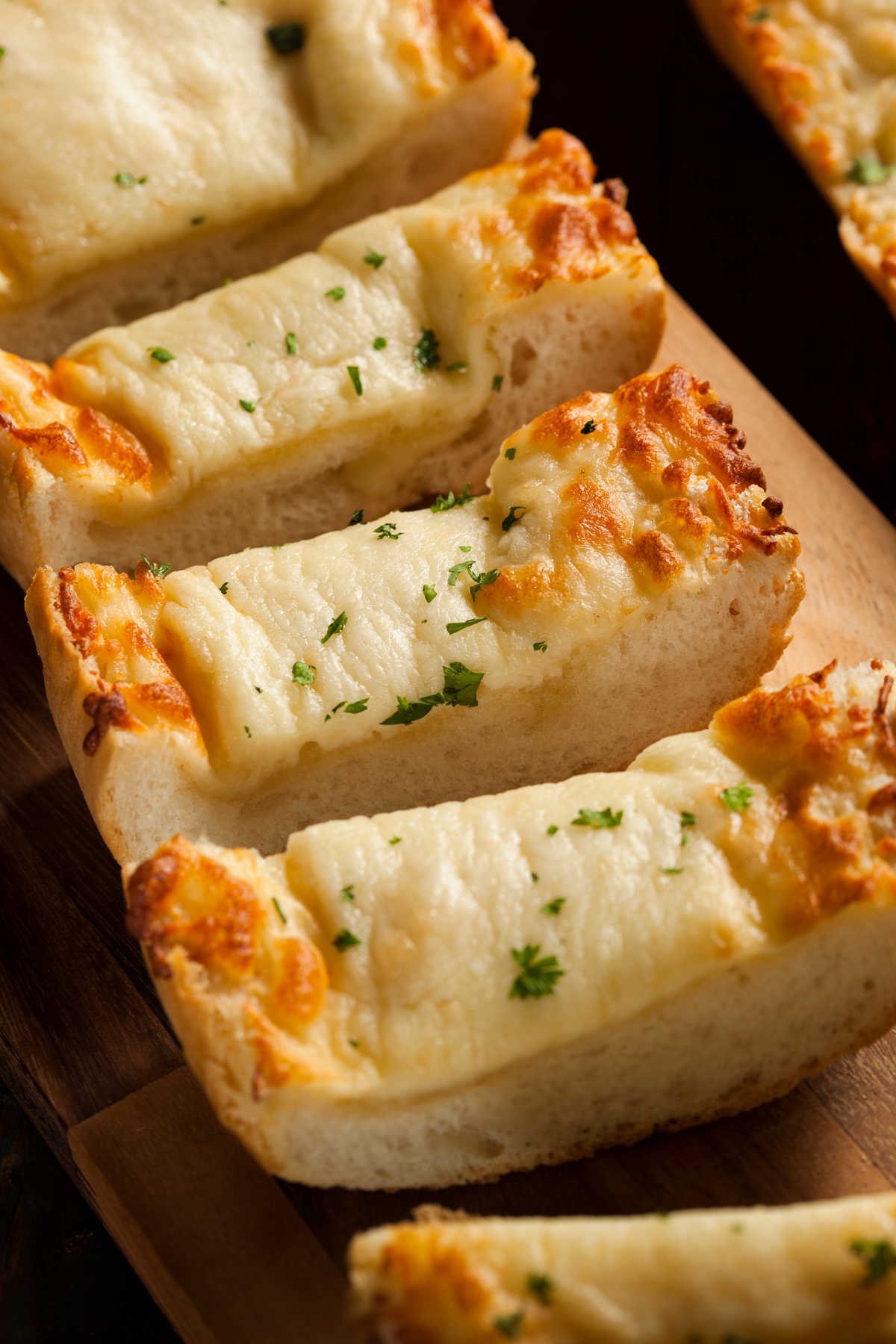 Garlic bread is an undeniable crowd-pleaser. It's crunchy, it's fragrant, and it's perfect for mopping up any leftover gravy. You've won your guests ' hearts if you know how to make good garlic bread.
This garlic bread relies on simplicity, letting the aromatic garlic carry through the entire dish. That hint of garlic will effortlessly enhance your meatloaf.
Like all bread-based side dishes, garlic bread is the ideal choice when you have a lot of mouths to feed.
A large loaf of crusty bread will be all you need to satisfy everyone at the table with minimal effort.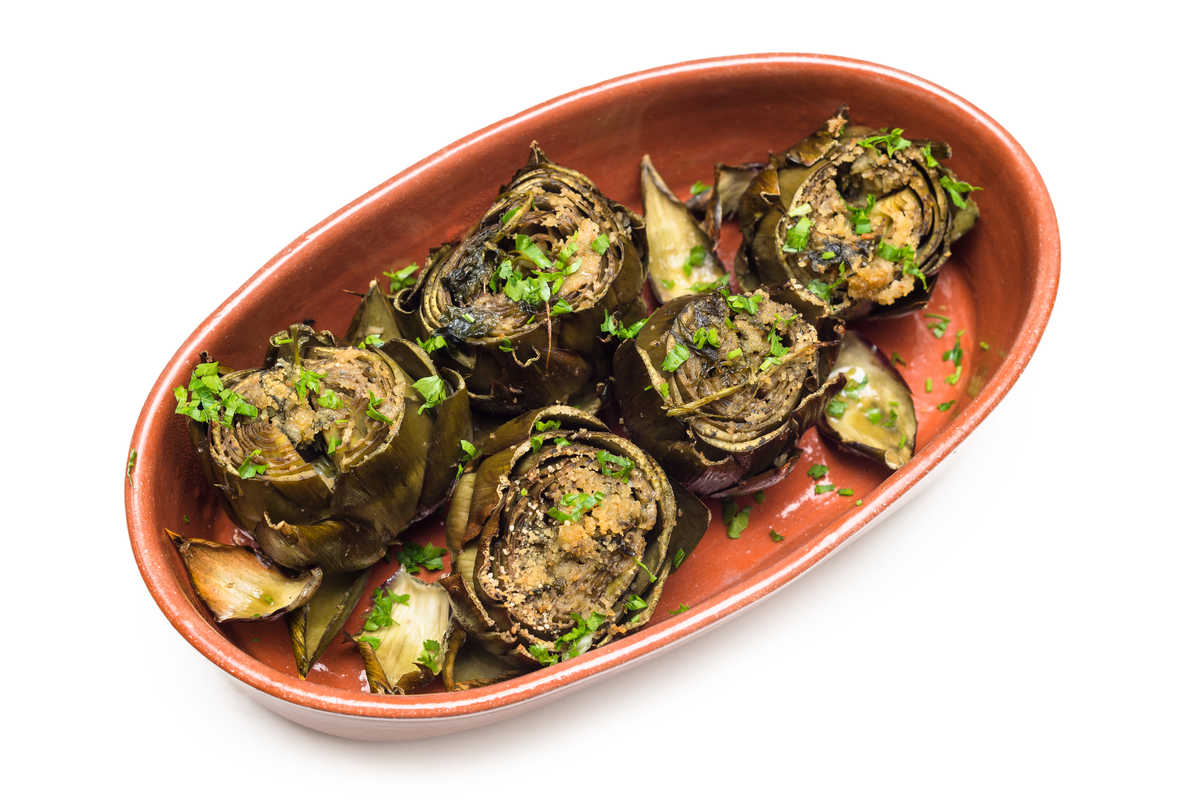 The artichoke is often overlooked, but a sensational ingredient guaranteed to inject your dinner with flavor lies at its heart.
Artichoke hearts are so satisfying to eat, falling squarely in the comfort food category.
The best part of this recipe is that it uses canned artichoke hearts, so it's incredibly convenient. No dissecting dozens of artichokes for you!
Whip out this sophisticated (yet comforting) dish whenever you have someone to impress. That parmesan breadcrumb topping alone makes this side a triumph.
Brussels sprouts are excellent vehicles for flavor, primarily when you treat them right.
These caramelized sprouts make the mouth water on sight, which doesn't even account for the other ingredients.
These sprouts are surrounded by bacon, blue cheese, and fresh onion to create a sophisticated palette of flavors. Each bite sings with different notes, creating a symphony of flavor on the plate.
The caramelization of the sprouts brings some smokiness to the dish. Thanks to that, these sprouts tie in perfectly with a meaty main dish.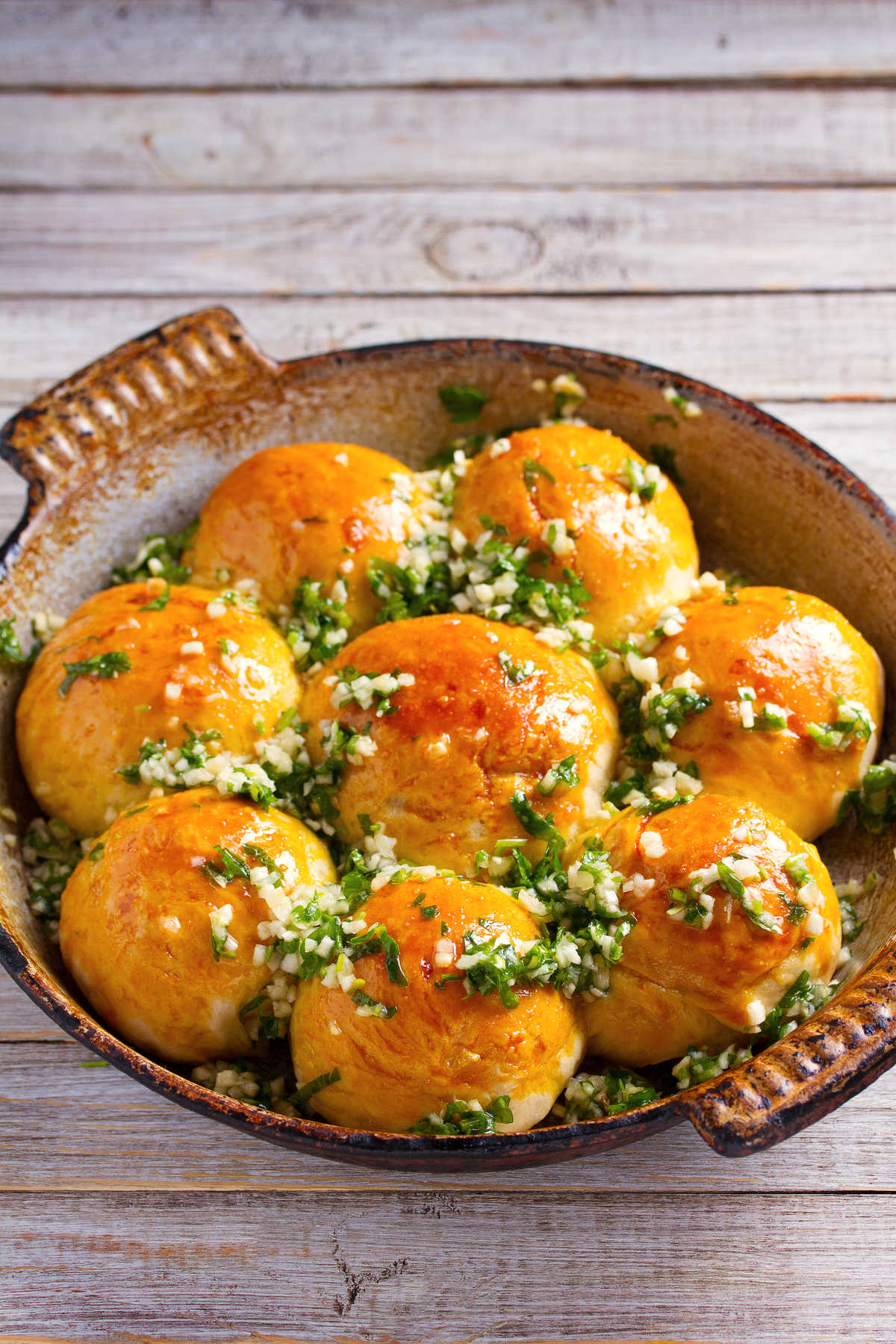 A few things in this world come close to tasting heaven, and these honey butter rolls might just top the list.
Warm, slightly sweet, and singing with a buttery smoothness are out of this world.
You might think something this insanely delicious would be difficult to make, but the opposite is true! These honey butter rolls redefine simplicity.
Once you've got this recipe in your back pocket, everyone you know will be begging you to make them for every special event.
Green beans are already lovely and fresh. Now, dress them in balsamic, and you've taken them to an entirely new level. This stunning side dish suits a meatloaf main to a tee.
Topped with crispy little bacon pieces, the slightest taste of smoke makes the two dishes feel cohesive. You only need one pan to bring the recipe to life, so it's great for weeknights!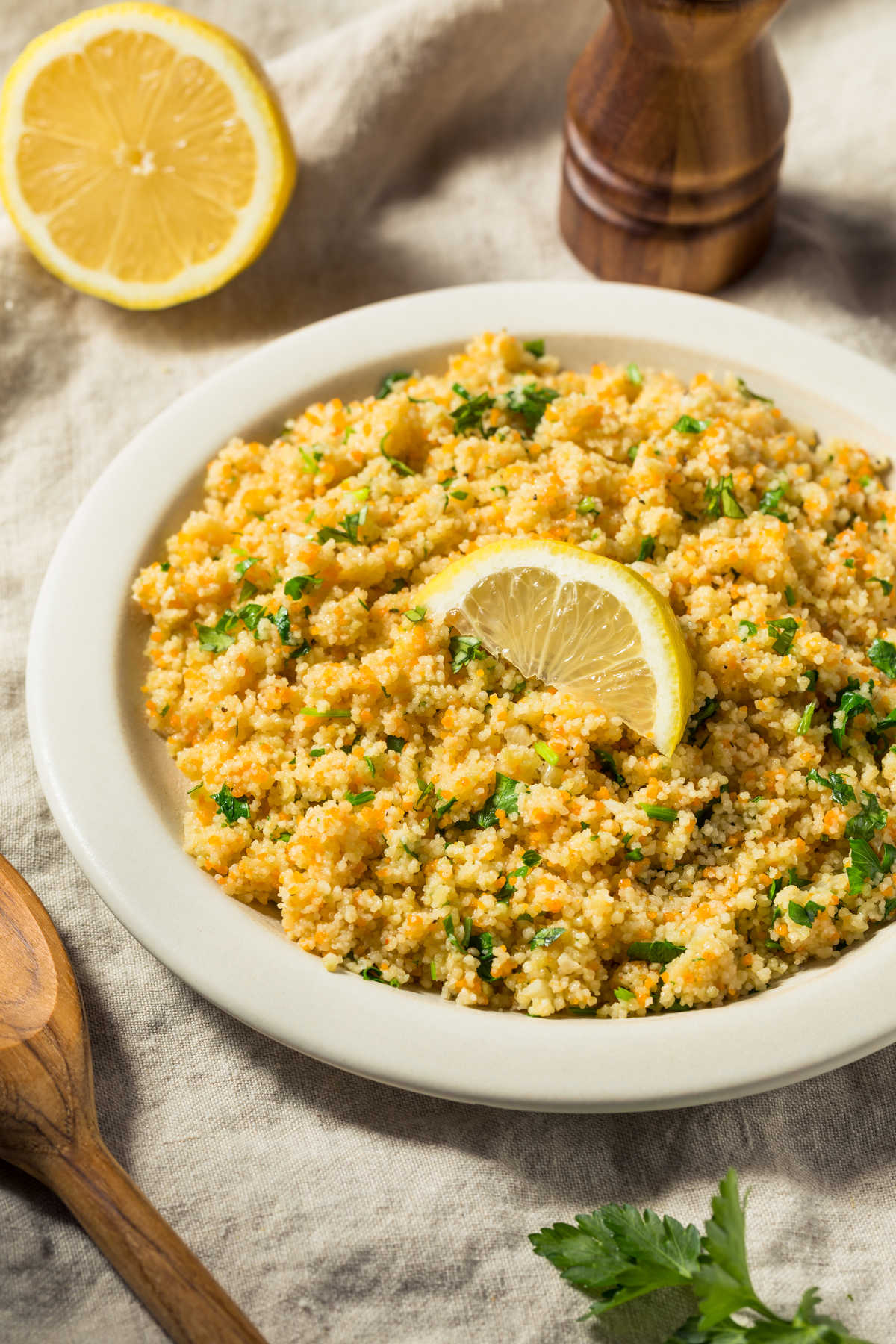 We've already talked about how freshness and summery flavors can benefit the main meatloaf dish. This lemon herb couscous sets the example for the entire concept.
Slightly chewy, shining with vibrant lemon notes, and full of fragrant herbs, this is a cracking dish.
Couscous is such a great side because it doesn't overpower the palate; it enhances what's already there.
This recipe uses pearl couscous, which lends this side even more texture. Fold some crispy shallots through the mix to add a crunchy element that blends into the flavor profile.
Cabbage is another vegetable that often gets a bad reputation, but this braised cabbage creation blows that reputation out of the water. Everyone you know will be clamoring for this dish in no time.
This is a fantastic dish to bring to a potluck since it's easy to double, triple, or even quadruple the batch.
On top of that, you can experiment with adding different elements to make this dish your own.
Make sure you nail that crispy bacon, as it's the crunchy element that will bring this braised cabbage to life.
The final dish on our list today is such a favorite that you'll find it in almost every restaurant that claims to serve soul food. That's right; it's garlic knots.
These little parcels of doughy deliciousness sing with the cheesy garlic flavor we all know and love. This comfort food staple is much easier to make than you might think!
Serve these up in the center of your table with various sauces to offer your guests an incredible range of potential flavors.
With the promise of meatloaf on their plate and these knots on the side, the whole neighborhood will be banging at the door before you know what's happening!
What to Serve with Meatloaf: 41 Meatloaf Sides
Make your very own side dishes for meatloaf. These will take your family dinner to a whole new level.
Ingredients
1. Gouda Mashed Potatoes with Caramelized Onion and Garlic
2. Broccoli Cheddar Twice Baked Potatoes
3. Whipped Sweet Potatoes
4. Baked Sweet Potato Fries with Cinnamon and Paprika
5. Roasted Potato Salad
6. Crispy Sheet Pan Roasted Potatoes
7. Potato Salad
8. Loaded Crack Potatoes
9. Air Fryer Carrots
10. Garlic Roasted Broccoli
11. Spicy Moroccan Carrot Salad
12. Lemon Arugula Salad with Pine Nuts
13. Roasted Broccolini Salad with Crispy White Beans
14. Mexican Bean Salad
15. Lemon Garlic Quinoa with White Beans and Olives
16. Roasted Vegetables with Smashed Garlic
17. Summer Fruit Salad
18. Avocado and Tomato Salad
19. Air Fryer Radishes
20. Old Fashioned Macaroni Salad
21. Asian Cucumber Salad
22. Roasted Beet and Goat Cheese Salad
23. Corn Salad
24. Fresh Tomato Salad
25. Spinach Tomato Salad with Feta Cheese
26. Garlic Roasted Mushrooms
27. Keto Mac and Cheese
28. Roasted Radishes
29. Keto Brussels Sprouts
30. Mashed Turnips
31. Keto Green Beans
32. Keto Cheesy Asparagus
33. Skillet Mac n Cheese
34. Garlic Bread
35. Artichoke Hearts with Parmesan Bread Crumb Topping
36. Caramelized Brussels Sprouts with Brown Sugar, Bacon, and Blue Cheese
37. Honey Butter Rolls
38. Balsamic Green Beans with Bacon
39. Lemon Herb Couscous
40. Creamed Cabbage with Bacon
41. Garlic Knots
Instructions
Scroll up to get a bunch of easy, yummy, and delicious side dishes. Don't be afraid to get creative with the ingredients, you might discover a flavor you didn't know you liked.
Get your shopping list going and make sure you've got all the ingredients.
Get cooking and make your next side dish for meatloaf!
Notes
Which one of these recipes was your favorite? Let me know in the comment section or on Pinterest!