The OPTAVIA program is designed to help people holistically live their best lives. Part of that approach is the OPTAVIA Lean and Green recipes.
These green meals are certified 'healthy' as part of the OPTAVIA diet program. Not only that, they're meant to be delicious, easy to prepare, and easy to integrate into your week.
If you're considering trying the OPTAVIA Lean and Green program, I have twenty-seven OPTAVIA recipe ideas that might help build a healthy habit or two.
Each perfect meal echoes the principles of the Lean and Green program with healthy ingredients, so you know you're hitting your targets. Let's get started with your lifelong transformation!
Source: staceyhawkins.com
First on the list is a low-carb alternative to truffle pasta. These zucchini noodles with truffle cream are a guilt-free luxury on a plate.
The zucchini noodles are the perfect hosts for indulgent truffle sauce.
The best part of this easy recipe is that the lean & green recipe uses just five ingredients! It's an excellent mid-week treat that the whole family can enjoy while keeping you on track with OPTAVIA.
Source: sandyskitchenadventures.com
Takeout cravings wait for no one; when they inevitably hit you, you'll be ready with OPTAVIA meals!
This best OPTAVIA lean recipe lets you enjoy your favorite food flavors without leaving your home's kitchen.
This Bang Bang shrimp comes together with an air fryer in the mix.
Each serving of this delicious meal provides lean protein, greens, and healthy fats to keep you going until your next meal. It's dead easy!
Enjoy these other delicious Asian shrimp recipes!
Source: staceyhawkins.com
Foil-baked lean & green chicken recipes are the epitome of quick and easy cooking.
If you're after something with a ton of lean protein and vegetables but don't want to spend hours cooking, this is for you.
Wrapping the chicken in foil helps this delicious dish to stay super moist and juicy as it cooks in its own steam. The vegetables cook simultaneously, saving you energy (and time spent on dishes).
All in all, it's the perfect dish to wow your taste buds and reach your weight loss goals in a great way!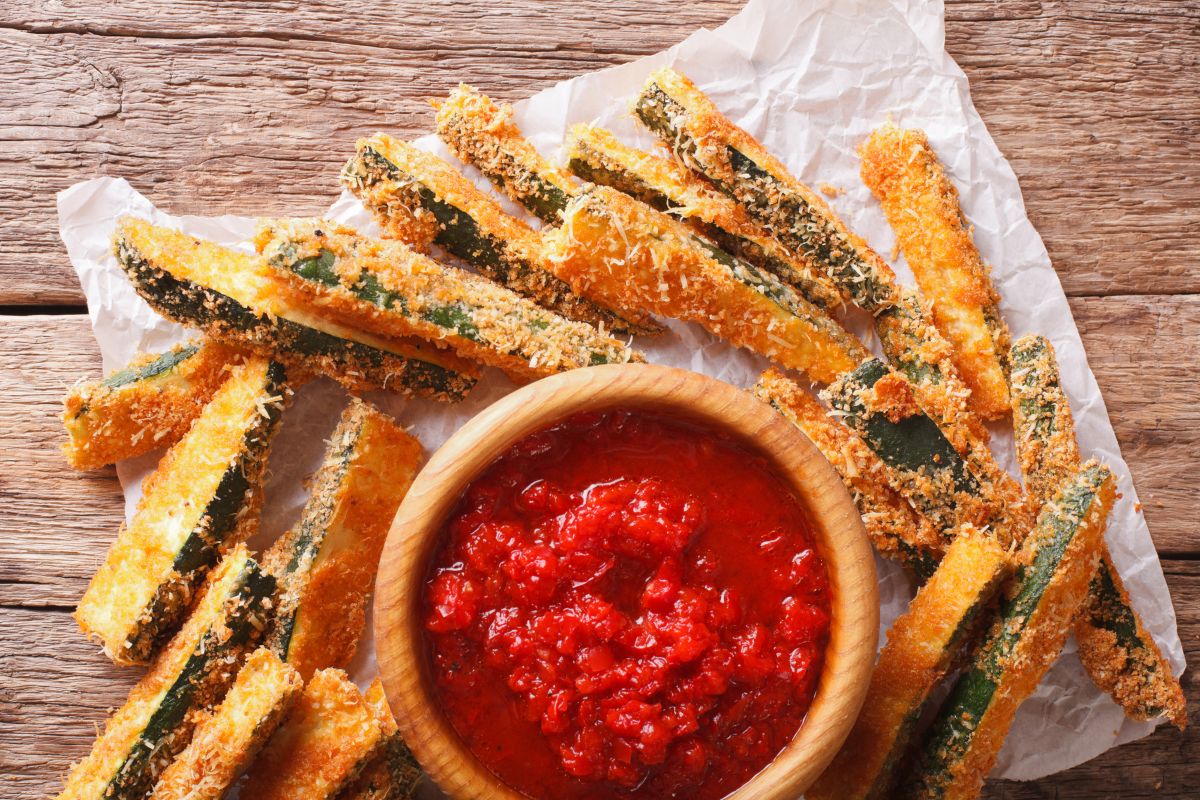 Source: madmimi.com
Nail your snack game with these delicious roasted zucchini sticks with parmesan cheese made in an easy way.
Snack cravings strike hard and fast, but you can be ready with this super simple low carb recipe in your back pocket.
You only need fifteen minutes total time to bring this perfect choice to life.
In other words, it's so much faster than dashing out to buy an unhealthy snack or food products, and it tastes twice as good, knowing it's healthy!
This is one of the best low calorie meals for picky eaters!
Source: wealthynwise.net
This delicious and healthy recipe will take your weekly casserole to a new level. This OPTAVIA-friendly meal contains a ton of lean protein and greens to keep you up and running for a long time.
Since it's a casserole, this dish comes together in no time. With minimal clean-up and maximum output, you can easily feed the entire family without spending hours cooking.
Enjoy more of these healthy low calorie chicken recipes!
Source: leanandgreenrecipes.net
Put an OPTAVIA-friendly spin on your favorite Italian spaghetti and meatballs with this delicious recipe. These turkey meatballs taste divine, while the zucchini noodles are light and crunchy.
The real hero of this meal is the sauce which brings everything together. Tangy, acidic, and super comforting, it's everything a meatball sauce should be. Plus, you can enjoy it in just half an hour!
You'll also enjoy these other low calorie turkey recipes!
Source: sandyskitchenadventures.com
Meatballs are the perfect vehicle to sneak a few extra vegetable servings into your kids' diets. For example, this delightful zucchini meatball recipe packs them full of summer veggies.
Not that you'd know it by tasting them! These meatballs are just as light and juicy as the regular kind, with a delicious Italian sauce to top them off. Use in sandwiches, on pasta, or as appetizers.
Source: yummyindiankitchen.com
There's a grilled chicken salad, and then there's this amazing dish. The two exist on different planes, and this one is much better than a standard salad!
The succulent, juicy chicken draws you in from the first bite. Roasted root vegetables and an assortment of dressed greens ensure you get your five-a-day in a way that tastes amazing.
Source: foodiqueen.blogspot.com
Rolling with some leftover chicken in your fridge? Give it a new lease on life with this delicious verde casserole. This casserole packs your chicken with flavor and tenderness in just forty minutes.
This is the ideal weeknight meal. It uses leftover and frozen ingredients, it creates barely any dishes, and the result is super nourishing! Talk about the ultimate convenience.
Source: leanandgreentips.com
If you're a huge fan of egg rolls, this recipe is for you. Enjoy your favorite Chinese food in the healthiest possible way with this OPTAVIA-friendly recipe. It uses just five ingredients!
Have a takeout-worthy dinner ready in just twenty minutes. This take on a deconstructed egg roll packs a ton of fiber and protein into every single bowl, so it's twice as healthy as ordering out.
Source: sandyskitchenadventures.com
In the health community, spaghetti squash is like a secret weapon. You can use it for anything you can think of! From acting as a binding agent to substituting for pasta, there's nothing it can't do.
That's why I'm such a fan of this recipe. Buffalo chicken and spaghetti squash make an unstoppable duo of flavors (that just so happens to be good for you). Simply mix, bake, and serve!
This is a fantastic recipe if you want to join the game day festivities without changing your diet.
Source: staceyhawkins.com
Imagine coming home from a long day, craving something delicious, and having a sticky chicken dish on the table in less than half an hour. That's what this recipe promises.
Not only is this recipe fast, but it's also healthy. The sauce on the chicken is super tasty, spreading to coat the assortment of vegetables on the bottom of the plate.
Combined, there's nothing better than these flavors after a long day.
Source: leanandgreentips.com
Lunchtime can be difficult if you're trying to stick to a particular meal plan. After all, it comes in the middle of our days, when we're busiest and most likely to just take something convenient.
That's why this healthy chicken wrap is essential knowledge. Sick of salads? This wrap is an utterly delicious way to enjoy your lunch without the stress of finding something on-plan to nosh.
Source: yummyindiankitchen.com
You might encounter the same issue as lunchtime on busy mornings: no time to make something healthy! Well, what if you didn't have to make your breakfast every morning?
Introducing the easiest breakfast recipe you'll see all week. These delightful egg muffins are like little protein packages, packed with many vegetables and fiber to kickstart your digestion.
Best of all, you can meal-prep these muffins to make your mornings much easier. Goodbye stress, hello healthy mornings.
Source: wealthynwise.net
If you've been on OPTAVIA for a while, you might miss Mexican night. But you don't have to anymore! This delicious crockpot taco soup makes enjoying all the flavors you love in tacos simple.
Not only is it quick and easy to prepare, but it's also a super healthy way to indulge. Warm and comforting, this is the ideal soup to prepare on a cold winter evening when you need a little kick.
Source: bigoven.com
Speaking of things you might miss, how about a cheeseburger? This cheeseburger pie gives you all the flavors you know and love without straying from the OPTAVIA program's requirements.
Tweak the ingredients to make this pie your own. Add your favorite cheeseburger sauces or toppings to make it taste exactly like your favorite burger.
This is a crowd-pleasing recipe the whole family will enjoy.
Source: mymommystyle.com
Lean chicken doesn't have to be boring! This delicious garlic chicken proves that you can pack a ton of flavor into a lean chicken breast while keeping things healthy. That's the power of good seasoning.
Lay your precious chicken breast on a bed of refreshing zoodles and cherry tomatoes for a springtime meal the whole family will love. This is colorful, tasty, and totally guilt-free!
Source: hackqueen.com
I can't overstate how delicious zucchini are if you treat them with love. Luckily, I don't have to because this recipe proves my point! This is a creamy and indulgent zucchini bake you'll love.
Gear up for the weekend or take care of weeknight dinner in a jiff. This recipe can do both. You don't need many ingredients, either. Many of them are probably in your pantry right now.
Source: leanandgreenrecipes.net
There's a reason that Surf and Turf is such a popular dish in restaurants worldwide. The combination of smoky steak with sweet, tender seafood is out of this world!
Luckily for us, it can be healthy, too. This delightful Surf and Turf salad is humming with flavor thanks to the delicious sauce on the steak.
The real kicker is the assortment of vegetables that keep everything healthy and full of fiber.
Source: leanandgreentips.com
Stuffed peppers might be the secret weapon of the OPTAVIA community. This is such a simple way to cook, yielding amazing results. It's a wonder we don't cook everything peppers, honestly.
These chicken-stuffed poblanos are ultra-healthy and packed with flavor. Not to mention, cooking the chicken in the peppers keeps it so tender it will just melt in your mouth.
This is a dead-easy treat for any night of the week!
Source: hackqueen.com
If you're missing the taste of good old-fashioned lasagne, I have the recipe for you. These zucchini rollatini are basically miniature rolled-up packages of lasagne goodness.
By substituting zucchini for pasta, you remove the excess carbs from the meal without compromising on flavor. This is OPTAVIA's answer to perfect Italian food, and I'm definitely on board.
Source: staceyhawkins.com
Eggplant parmesan is one of those essential meals that everyone needs to try at least once. The tender, fall-apart eggplant paired with the rich marinara is a heavenly combination.
Luckily for us all, there's an OPTAVIA-friendly version of this classic Italian recipe. With less breading and just half an hour on the clock, you can have this delightful dish ready to go!
Source: sandyskitchenadventures.com
The peanut dressing is one of my favorite sauces because it packs such a punch without adding a ton of sugar. That's why this shrimp salad with peanut dressing is next on our list!
With a creamy texture and tender, beautiful shrimp among the crunchy cabbage, this meal is to die for. Enjoy for lunch, dinner, or as a quick snack between meals if you're feeling peckish.
It's that easy to make, and so are these other healthy low calorie shrimp recipes!
Source: leanandgreenrecipes.net
This next dish might be a one-pan wonder, but you wouldn't know if from its appearance. This looks like a restaurant salmon dish, with beautifully seared skin and spears of tender asparagus.
In other words, this dish is proof that healthy meals can be fancy, too! Whip this one out for date night or when you're having guests over for dinner. They'll love it, and you'll love the healthy meal.
Source: hackqueen.com
When the craving for chipotle chicken strikes, don't reach for the delivery app! Instead, take a few minutes out of your day to prepare this Instant Pot chipotle chicken.
The chicken cooks for just twenty minutes, allowing you to prepare the rest of your bowl just in time to shred the tender breast. This tastes just as good as Chipotle, if not better.
Source: yummyindiankitchen.com
Here's another way to enjoy taco night without compromising your meal plan! This taco salad is one for the recipe book, incorporating many fresh vegetables and some addictive crunchy bits.
Best of all, this salad takes almost no time to prepare. Whip it up alongside a platter of tacos, or serve this as your main event!
Source: leanandgreenrecipes.net
Our final recipe celebrates the power of fresh vegetables. A handful of seasonal vegetables can truly transform any meal, this one included!
This is a spaghetti squash meal that will please even the pickiest eaters.
That's a wrap! Twenty-seven OPTAVIA-friendly recipes that can soon call your kitchen home. Do you have any go-to recipes that I missed? Let me know in the comments!
Check out some other delicious dinner recipes made for health and convenience. I'll see you next time!
27 Best Optavia Lean and Green Recipes for Easy Meals
These delicious and nutritious Optavia Lean and Green recipes are a guilt-free way to satisfy your cravings! Make these for breakfast, lunch or dinner.
Ingredients
1. Zucchini Noodles in Truffle Cream
2. Bang Bang Shrimp
3. Foil Baked Chicken and Vegetables
4. Baked Parmesan Zucchini
5. Chicken Broccoli Alfredo Casserole with Cauliflower Rice
6. Turkey Meatballs with Zucchini Noodles
7. Italian Zucchini Meatballs
8. Optavia Chicken with Vegetables
9. Chicken Verde Casserole
10. Egg Roll in a Bowl
11. Buffalo Chicken Spaghetti Squash
12. Saucy Chicken and Scallions
13. Healthy Chicken Wrap
14. Egg Muffins
15. Crockpot Taco Soup
16. Cheeseburger Pie
17. Garlic Chicken with Zoodles
18. Zucchini Bake
19. Surf and Turf Salad
20. Chicken Stuffed Poblano Peppers
21. Zucchini Rollatini
22. Crispy Eggplant Parmesan
23. Shrimp Salad with Peanut Dressing
24. One-Pan Lemon Pepper Salmon with Garlic Parmesan Asparagus
25. Instant Pot, Chipotle Chicken with Ranch Feta Slaw
26. Taco Salad
27. Lemon Chicken Spaghetti Squash with Spinach and Tomatoes
Instructions
Scroll up to get a bunch of easy, yummy, and delicious Optavia Lean and Green recipes. Don't be afraid to get creative with the ingredients, you might discover a flavor you didn't know you liked.
Get your shopping list going and make sure you've got all the ingredients.
Get cooking and make your next Optavia Lean and Green Recipe!
Notes
Which one of these recipes was your favorite? Let me know in the comment section or on Pinterest!