If you are a picky eater, it cannot be easy to enjoy a variety of healthy meals, especially when trying to stay in a calorie deficit. These low calorie meals for picky eaters will please even the most fussy eaters.
It would be best to ensure that meals contain good nutrients. Plus, a healthy amount of protein, carbs, and healthy fats.
One of the best ways to do this is to make healthy foods fun. This could be in the preparation or the presentation of the easy meals.
You also want flavorful food in your healthy recipes. Something that smells delightful will be more attractive too for the pickiest eater!
Best Meals for Picky Eaters
If you have a child who is a picky eater, choose a meal that gets them involved with the preparation!
Choose an ingredient you know your picky kids eat and produce a simple recipe around this.
Some food options to consider are –
chicken (breast meat)
turkey (breast meat)
zucchini noodles (zoodles)
few-ingredient salads
soup
See below which meals we can make that satisfy picky eaters taste buds!
Source: allnutritious.com
Per Serving:
Calories: 327
Fats: 16g
Protein: 19g
Carbs: 25.4g
Fiber: 3.6g
Sugar: 20g
Let's kick off with this chicken zucchini pasta. Except the pasta isn't regular pasta. This is made from zucchini and onions!
A spiralizer is used to make the noodles. This will encourage picky eaters by making the preparation fun!
The sauce has a slight kick from the ginger, but honey adds a sticky sweetness in the best way without added sugar! This picky eating recipe would be great for the whole family.
If chicken is a staple in your home, you must know these other tasty low calorie chicken recipes.
Source: jessicainthekitchen.com
Per Serving:
Calories: 269
Fats: 17g
Protein: 8g
Carbs: 22g
Fiber: 6g
Sugar: 6g
This Mediterranean chickpea salad bears many eye-catching colors. It's appealing to the eye, so looks more tempting to eat on your healthy diet!
This salad includes popular veggies – tomatoes, cucumber, and red onion. Combine these with feta, chickpeas, and parsley. This tasty salad is also a great way to try new foods.
A few super essential ingredients you're likely to have already. All tossed together with a homemade balsamic vinaigrette!
This is one of the most nutritious meals for weight loss thanks to all the fresh vegetables.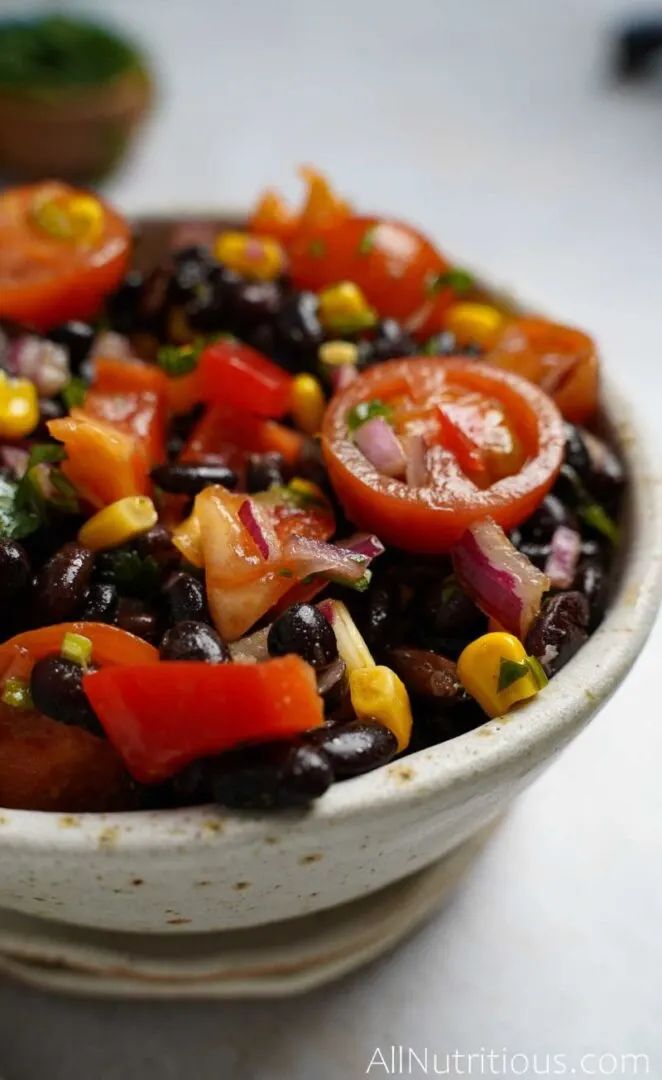 Source: allnutritious.com
Per Serving:
Calories: 287
Fats: 10g
Protein: 12g
Carbs: 26g
Fiber: 13g
Sugar: 4.7g
A bean salad is an excellent alternative to a regular salad full of greens. It's especially great for vegetarians for adding protein.
Corn, bell pepper, and cherry tomatoes add sweetness to the dish, and the black beans will quickly become one of your favorite foods.
In turn, they are making it more tempting for those picky eaters!
This is best served after a few hours in the refrigerator to let the flavors develop. Eat it on its own or in a smaller portion served as a side dish!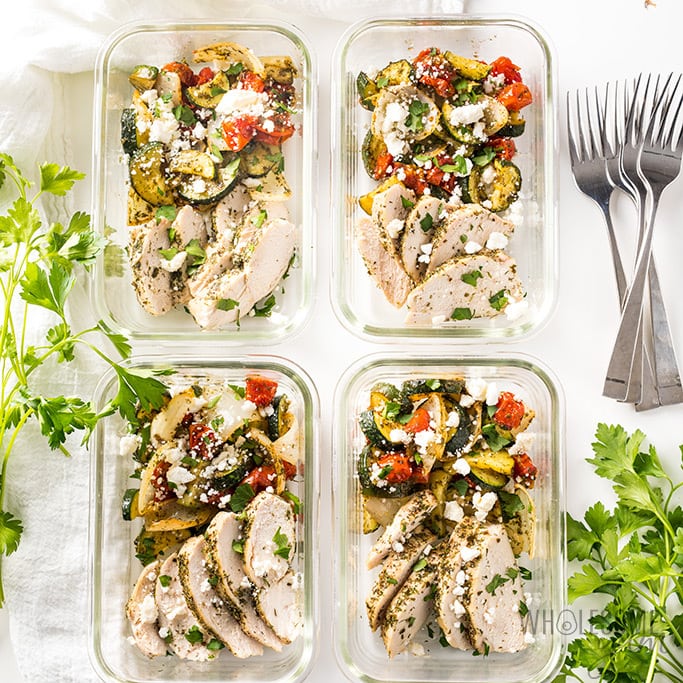 Source: wholesomeyum.com
Per Serving:
Calories: 287
Fats: 15g
Protein: 28g
Carbs: 6g
Fiber: 1g
Sugar: 4g
Meal prep bowls are a good option for those with a limited diet. This Greek chicken bowl is a nutritious choice for a picky palate.
It combines chicken with a few vegetables common in Greek cuisine. You'll find zucchini, tomatoes, and onions in this dish.
All coated in a delicious dressing and finished off with crumbled feta!
This recipe is a good idea to get lots of lean protein and nutritious food into your diet and to start building healthy eating habits.
Source: allnutritious.com
Per Serving:
Calories: 312
Fats: 20g
Protein: 5.2g
Carbs: 35g
Fiber: 13g
Sugar: 18g
Are you a picky eater who doesn't eat much salad? Then try changing it up with this mango avocado salad!
Salads don't need to be boring. The mango in this one adds delicious sweetness. And the avocado brings a lovely creamy texture!
Finish it off with a healthy lemon, garlic, and parsley dressing. The bright colors of this salad are so eye-catching!
You can incorporate whatever fresh fruit and extra veggies you want to suit your taste and increase the nutritional value even more!
Source: wholesomeyum.com
Per Serving:
Calories: 235
Fats: 20.8g
Protein: 7.7g
Carbs: 3.4g
Fiber: 2.1g
Sugar: 1.3g
Shirataki noodles also go by other names – konjac or miracle noodles. They're an excellent keto replacement for regular noodles.
Okay, they don't have the most incredible texture. But this shirataki noodle recipe will change anybody's mind!
These are served with a creamy garlic parmesan sauce. This elevates the flavor and texture of this dish!
Source: allnutritious.com
Per Serving:
Calories: 244
Fats: 13g
Protein: 6.1g
Carbs: 27g
Fiber: 4.4g
Sugar: 1.4g
Adding creamy avocado to crunchier textures is a feast for the palate and great for picky adults. This avocado and cucumber wrap is the perfect quick midweek lunch.
Take a few essential healthy ingredients – avocado, cucumber, and mixed leaves. Add some yogurt and pesto, and fill them in a wrap.
You can have a meal in minutes, that is both easy and delicious! These healthy wraps are also perfect for picnics or packed lunches.
Source: christinascucina.com
Per Serving:
Calories: 294
Fats: 20g
Protein: 28g
Carbs: 7g
Marinated chicken skewers are so easy to prepare. So much so that the picky eaters can help and feel rewarded for their efforts!
These Singapore-style chicken skewers can be made not too spicy. Just use a mild curry powder.
They are best served with a creamy peanut dipping sauce. But you could even try them in a wrap with salad or alongside some rice.
Source: allnutritious.com
Per Serving:
Calories: 312
Fats: 9.6g
Protein: 9.3g
Carbs: 50g
Fiber: 8.4g
Sugar: 19g
This sweet potato dish is a healthier way of eating potatoes for breakfast! And perfect for those with a sweet tooth.
Try cooking the sweet potatoes ahead of time. Then this delicious meal can be prepared in minutes!
The creamy sweet potato is paired with juicy blueberries and nutty pumpkin seeds. It delivers a sensation of texture that the pickiest of eaters will love!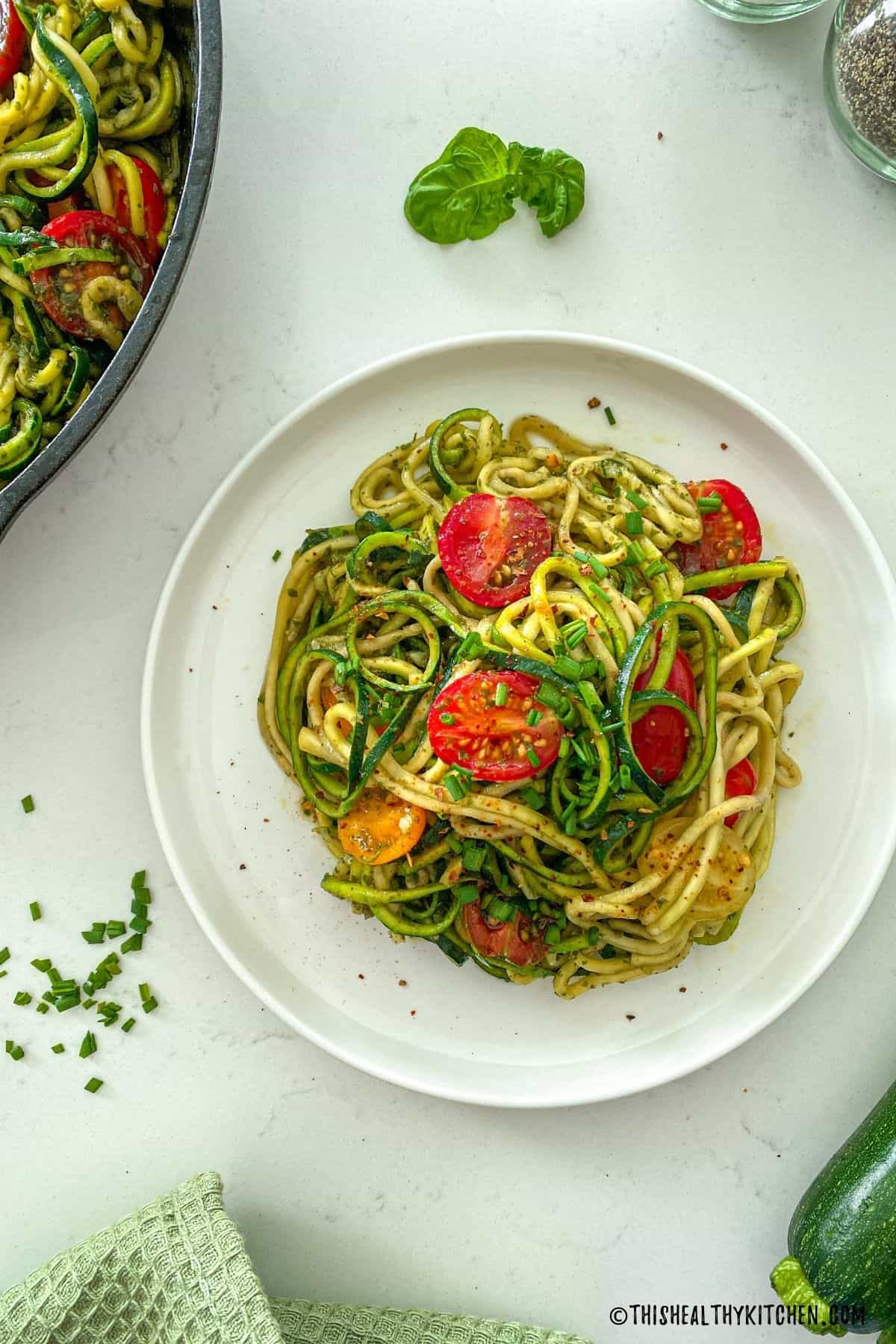 Source: thishealthykitchen.com
Per Serving:
Calories: 56
Fats: 1g
Protein: 4g
Carbs: 11g
Fiber: 3g
Sugar: 6g
Spiralized zucchini is often known as zoodles. This name alone is more fun and enticing!
For this recipe, zucchini is spiralized to create zoodles. Get the kids involved with this step!
The zoodles are then mixed with heirloom tomatoes and creamy pesto. A dish that is bursting with flavor but ready in no time!
Source: healthbeet.org
Per Serving:
Calories: 263
Fats: 12g
Protein: 24g
Carbs: 19g
This spaghetti squash combines just four ingredients. Picky eaters won't feel overwhelmed by this.
The whole dish is relatively easy to put together. Using a low-calorie pre-packaged spaghetti sauce saves time.
The spaghetti squash adds a soft texture. The turkey adds lovely meatiness. And the pasta sauce brings it all together!
Source: recipesfromapantry.com
Per Serving:
Calories: 220
Fats: 4g
Protein: 42g
Carbs: 2g
Fiber: 1g
Sugar: 1g
Air fryer turkey meatballs are so versatile. They can be served individually as an appetizer, in a sandwich, or with pasta sauce.
As they are so versatile, you can quickly cook up a big batch. Use them for different meals throughout the week.
Ground turkey, bell peppers, and fresh herbs create these meatballs. Try swapping the peppers for grated carrots as an alternative!
Source: pinchandswirl.com
Per Serving:
Calories: 180
Fats: 7g
Protein: 4g
Carbs: 27g
Fiber: 3g
Sugar: 5g
Soup is easy for picky eaters to get nutrients in their meals. You'll find a delightfully creamy texture in this potato leek soup.
The flavorful broth adds an extra dimension to this delicious soup. It's also a one-pot wonder that we love so much!
Serve this up with some whole-meal bread.
Source: nutriciously.com
Per Serving:
Calories: 224
Fats: 5g
Protein: 4g
Carbs: 43g
Fiber: 6g
Sugar: 20g
These vegan sweet potato toasts are another option for potatoes at breakfast! There are so many ways to mix these up.
They need to be kept watch over to ensure they don't burn. But the result will be worth it!
They can be topped with a variety of sweet or savory options. Try hummus and avocado – or berry chia jam and apple.
Lay out a selection of toppings and let your family create their own!
Source: recipesfromapantry.com
Per Serving:
Calories: 120
Fats: 4g
Protein: 4g
Carbs: 18g
Fiber: 5g
Sugar: 8g
Time for another one-pot wonder soup! This one is cooked in an Instant Pot, but you can use the stovetop instead. Cauliflower tends to take on the taste of whatever you mix it with.
Adding spices to cauliflower makes an otherwise bland vegetable tastier! It doesn't need hot ones; adapt them to your taste.
The aroma of this soup, once cooked, is divine. It's sure to make everyone want to grab a spoon!
Source: joyfoodsunshine.com
Per Serving:
Calories: 99
Fats: 2g
Protein: 17g
Carbs: 3g
Fiber: 1g
Sugar: 2g
Tacos are such a fun food that it's no problem getting kids to eat them. Especially when made from scratch. You can create your spice level with this.
This chicken takes just five minutes to prepare. As it's made in the slow cooker, there are fewer dishes to wash. What a win!
Provide a variety of toppings. And let the family fill their tacos at the dinner table. This adds to the enjoyment!
Source: simplylowcal.com
Per Serving:
Calories: 206
Fats: 7g
Protein: 27g
Carbs: 8g
Fiber: 2g
Sugar: 6g
Fajitas are another Mexican dish that the household is sure to enjoy. Colorful bell peppers are pleasing to the eye. The aroma of the marinade is pleasant to the sense of smell!
The whole recipe is cooked in one skillet. It's a simple one to introduce the kids to cooking. And another easy clean-up!
Try these with tortilla wraps or lettuce wraps. And serve with various fajita toppings for a "create your own" meal!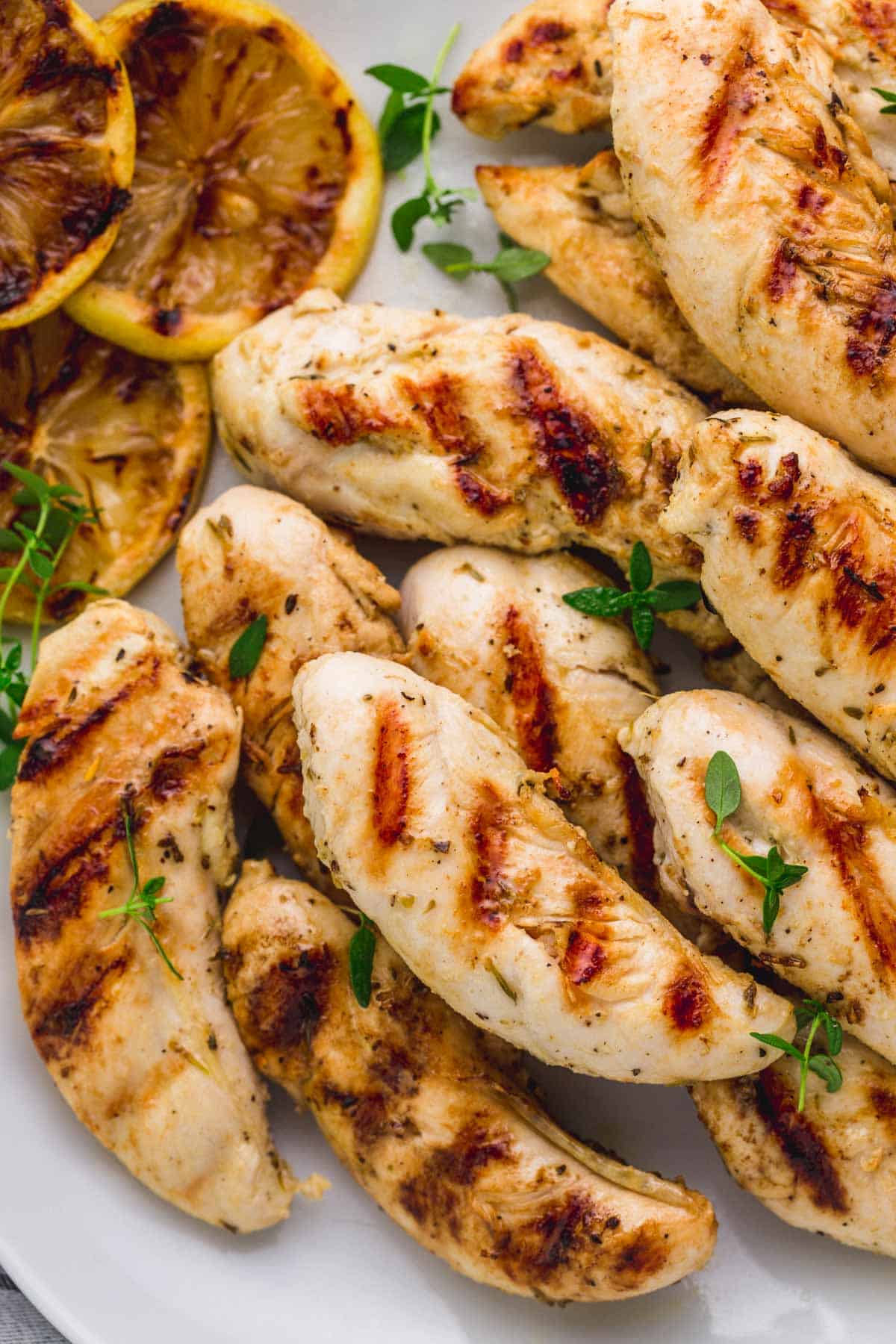 Source: nourishplate.com
Per Serving:
Calories: 194
Fats: 10g
Protein: 24g
Carbs: 1g
Fiber: 1g
Sugar: 1g
These chicken tenders are coated in a simple but flavorful marinade. Tenders are quicker to cook than chicken breast. So you can enjoy more time with family and friends!
The best thing about chicken tenders is their versatility. You can use the marinade from this recipe or create your own to your taste.
Cook them on the outside grill during the summer! If you don't have an outdoor grill, it's just as easy to grill indoors.
Try serving these inside pita bread or with a dip of choice!
Source: masonfit.com
Per Serving:
Calories: 245
Fats: 13g
Protein: 24g
Carbs: 11g
A cheeseburger quesadilla is a fantastic alternative to a regular cheeseburger!
You'll find all the ingredients of a regular cheeseburger. That is ground beef, shredded cheese, ketchup, mustard, and pickles.
But it's all served up in a pita! Grill the filled pitas for a charred texture, and you have a delicious meal.
Source: joyfoodsunshine.com
Per Serving:
Calories: 197
Fats: 11
Protein: 21g
Carbs: 4g
Fiber: 2g
Sugar: 1g
This pistachio crust is a unique and exciting way to eat chicken! It's so easy to make that even the kids can help.
Pistachios add a satisfying crunch and elevated flavor. The versatility means it can be prepared with several side dishes to accompany it.
Serve it on top of a simple lettuce salad, inside pita bread, or with a selection of roasted vegetables!
Source: mymorningmocha.com
Per Serving:
Calories: 214
Fats: 9g
Protein: 13g
Carbs: 20g
Fiber: 1g
Sugar: 6g
Chinese-style chicken and sweetcorn soup is ideal for a cold winter day. It's created with ingredients you're likely to have in your pantry and refrigerator.
There is no reason to order takeout when you can create this easily yourself!
Ribbons of egg add creaminess to the soup. A sweetcorn and scallion garnish looks like an inviting ray of sunshine!
Source: simplylowcal.com
Per Serving:
Calories: 115
Fats: 4g
Protein: 7g
Carbs: 9g
Fiber: 0g
Sugar: 5g
How can you make a simple taco salad more exciting? Add a sprinkle of nacho cheese Doritos!
It contains nutrients and protein from lettuce, tomato, and ground beef. The taco seasoning and Catalina dressing add vibrant flavor.
So, you don't need to feel guilty about the Doritos that level this salad up!
Source: keepingthepeas.com
Per Serving:
Calories: 104
Fats: 1g
Protein: 6g
Carbs: 19g
Fiber: 8g
Sugar: 3g
Lentil soup is an easy way to add protein to your meal. This vegan soup is packed with healthy veggies.
Vegetable avoiders won't even know they're in the soup! The red lentils and rich stock make this soup warming and hearty.
Serve this soup with a whole-meal baguette for a winter-warming meal.
Source: healthbeet.org
Per Serving:
Calories: 105
Fats: 0g
Protein: 15g
Carbs: 11g
This chicken and rice bowl requires little preparation or time. It's the perfect meal for a busy midweek.
All you need is frozen, lean chicken breasts and some healthy frozen veggies! Frozen vegetables are a lifesaver for time limitations and picky eaters.
Add variety to this meal by trying different seasonings! Light mayo, ranch dressing, and fat-free sour cream are good options.
Source: healthyseasonalrecipes.com
Per Serving:
Calories: 264
Fats: 9g
Protein: 28g
Carbs: 14g
Fiber: 1g
Sugar: 2g
Suppose you want hearty Italian comfort food. Then chicken piccata is the recipe you need to go for!
This is a delicious and healthier version of classic Italian lemon chicken. It reveals capers, lemon, white wine, and parsley sauce.
Try serving this with a classic garden salad or whole-wheat spaghetti. This one is wonderful for dinner parties!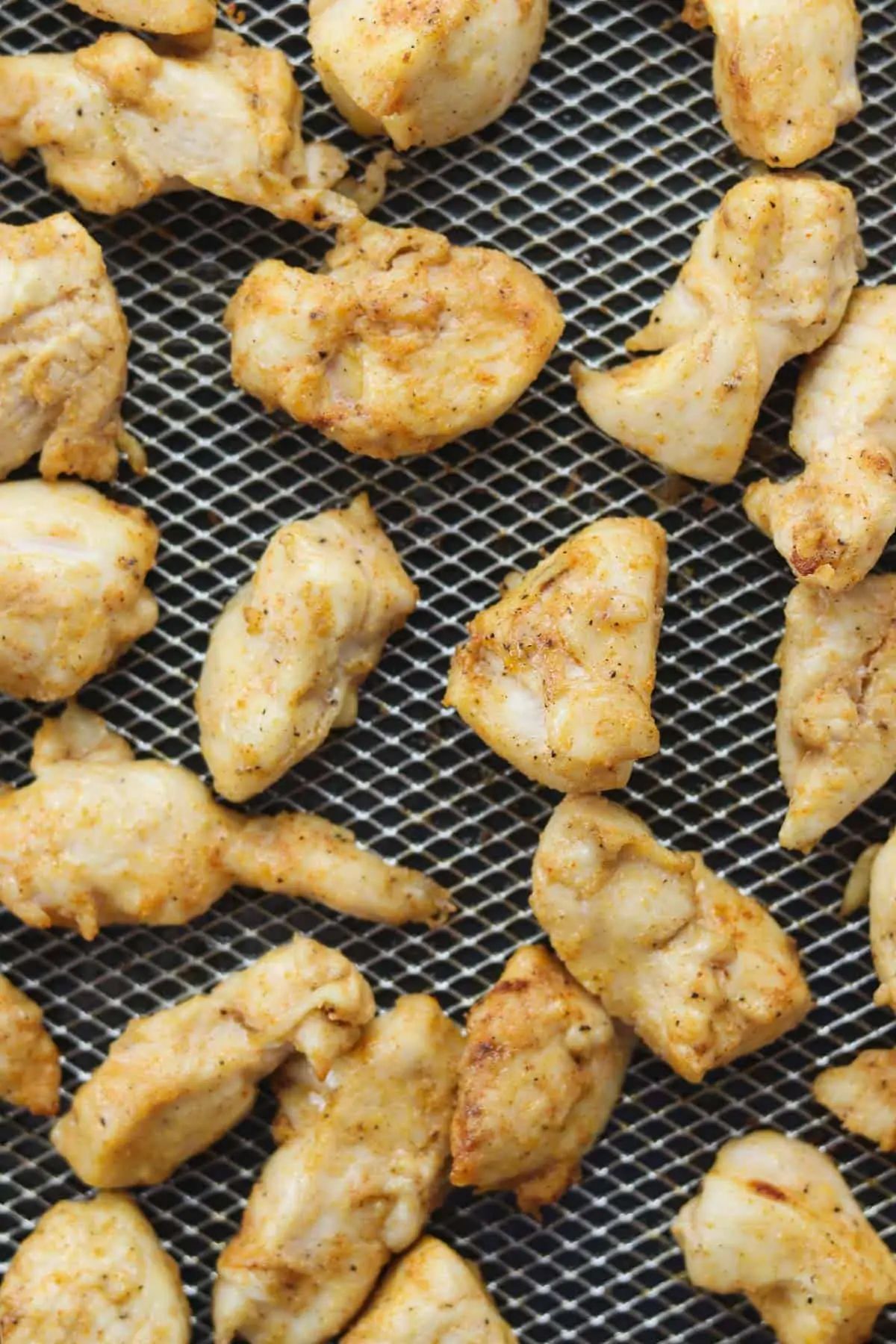 Source: skinnycomfort.com
Per Serving:
Calories: 220
Fats: 7g
Protein: 35g
Carbs: 1g
Fiber: 0g
Sugar: 0g
Are you looking for a healthier alternative to breaded chicken nuggets? Then these air fryer rotisserie chicken bites are for you!
The seasoning tastes like the rotisserie chicken you'd find in the store. And it's easy to make!
Serve these with green beans or roasted potatoes. A much healthier alternative meal to oil-fried chicken nuggets and fries!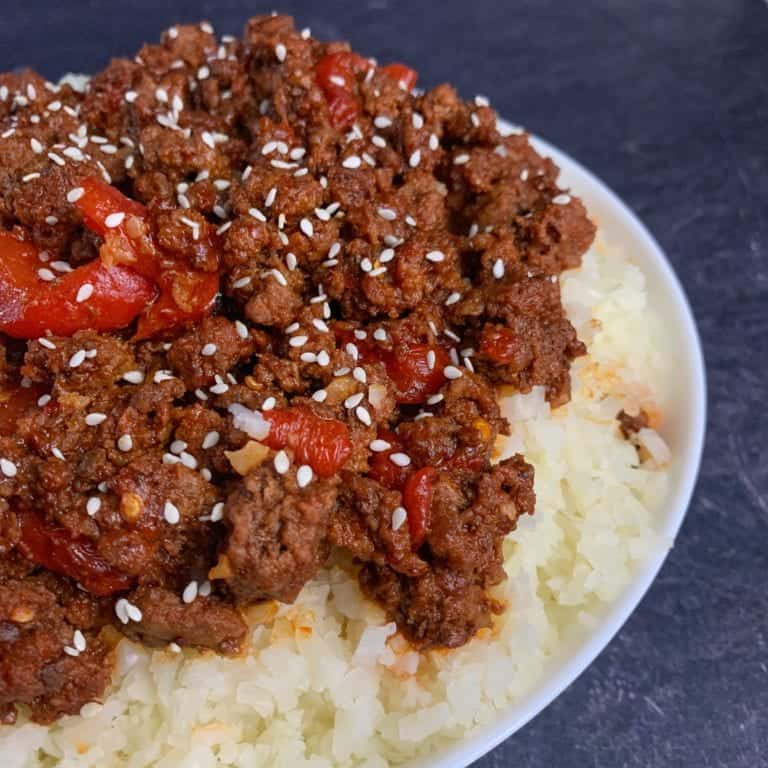 Source: masonfit.com
Per Serving:
Calories: 201
Fats: 9g
Protein: 25g
Carbs: 11g
Here we have another healthier version of a higher-calorie dish. This Korean-inspired ground beef comprises only a few ingredients.
It certainly doesn't compromise on flavor with essential Asian ingredients. Sesame oil adds a nutty taste, while Gochujang adds sweetness.
Serve this over riced cauliflower or your favorite mixed veggies!
Source: runningonrealfood.com
Per Serving:
Calories: 188
Fats: 1.4g
Protein: 19g
Carbs: 28g
Fiber: 10g
We're going back to zoodles with this vegan recipe. This uses nutritional yeast to add a salty, cheesy taste.
They're a quick midweek meal option, being on your plate in only 10 minutes. They can be ready in no time after a busy day at work!
There is no need to compromise on flavor either. Garlic, onion, and red pepper add a taste of revelation to these zoodles!
Source: dinneratthezoo.com
Per Serving:
Calories: 263
Fats: 8g
Protein: 29g
Carbs: 23g
Fiber: 3g
Sugar: 17g
Chicken, broccoli, and carrots are great for a stir fry. Honey adds a sweetness to this, which picky eaters may appreciate.
This does use plenty of garlic, but it can be reduced to preference. You can also swap the carrots and broccoli for your favorite veggies.
You need to keep the honey, as this makes the dish shine!
Source: twocloveskitchen.com
Per Serving:
Calories: 213
Fats: 7g
Protein: 19g
Carbs: 21g
Fiber: 2g
Sugar: 3g
The star-shaped pasta in this pastina soup will surely appeal to kids! But it doesn't skimp on flavor for the grown-ups, either.
The rich broth of this soup provides a contrast to the light lemon and dill. Shredded chicken gives a delicious meaty flavor.
Serve with a whole-meal baguette or a green salad!
Enjoy staying in your calorie deficit with these other skinny pasta recipes.
Source: masonfit.com
Per Serving:
Calories: 48
Fats: 1.3g
Protein: 6.8g
Carbs: 2.3g
Our final recipe for picky eaters is this healthy cheeseburger bites! These mini bites are such fun to snack on.
This is a unique twist for cheeseburger lovers! All the flavors of a regular cheeseburger in one bite.
You could use ground chicken or turkey for variation. Serve these with ketchup for dipping! They would also be great sliced in half and served on pita bread.
Keep on your low cal diet with these other tasty low calorie recipes!
31 Healthy Low Calorie Meals for Picky Eaters
Do you have a fussy eater in your home? Here are delicious, low calorie meals for picky eaters that they can enjoy to lose weight and stay healthy!
Ingredients
1. Chicken Zucchini Pasta
2. Mediterranean Chickpea Salad
3. Mexican Bean Salad
4. Greek Chicken Bowl
5. Mango Avocado Salad
6. Shirataki Noodles
7. Avocado Wrap
8. Singapore Chicken Satay with Peanut Sauce
9. Sweet Potato Breakfast Bowl
10. Pesto Zucchini Noodles
11. Spaghetti Squash with Ground Turkey
12. Air Fryer Turkey Meatballs
13. Potato Leek Soup
14. Sweet Potato Toasts
15. Instant Pot Cauliflower Soup
16. Crockpot Chicken Tacos
17. Chicken Fajitas
18. Grilled Chicken Tenders
19. Cheeseburger Quesadilla
20. Pistachio Chicken
21. Chicken and Sweetcorn Soup
22. Doritos Taco Salad
23. Vegan Lentil Soup
24. Chicken and Rice Bowl
25. Chicken Piccata
26. Air Fryer Rotisserie Chicken Bites
27. Korean Ground Beef
28. Cheesy Vegan Zoodles
29. Honey Garlic Chicken Stir Fry
30. Chicken Pastina Soup
31. Healthy Cheeseburger Bites
Instructions
Scroll up to get a bunch of easy, yummy, and delicious low-calorie recipes. Don't be afraid to get creative with the ingredients. You might discover a flavor you didn't know you liked.
Get your shopping list going, and make sure you've got all the ingredients.
Get cooking and make your next Low-Calorie Meal for Picky Eaters!
Notes
Which one of these recipes was your favorite? Let me know in the comment section or on Pinterest!