Who says you cannot have pasta on a low-calorie diet? With these no-more-than-300-calories healthy pasta recipes, anyone can enjoy a decent Italian meal.
Does your restrictive diet prevent you from freely consuming your calories? Do you often track all the morsels that go into your mouth? Do you think that enjoying pasta is a thing of the past?
If the answer is yes, then you need this post more than anyone!
With these 21 healthy recipes that are low in calories, you will learn that eating pasta on a low-calorie diet doesn't have to be a firm no-no.
Delicious, versatile, and with no more than 300 calories! With the 21 low-calorie pasta dishes enjoy your favorite comfort food and still experience the results of weight loss.
Source: beyondthechickencoop.com
Although it looks like a grain, couscous is actually pasta. And in this colorful salad with red onions, cherry tomatoes, and baby spinach, it satisfies both the eyes and the tummy.
Less than 200 calories but supper filling, this bright salad is just the thing you need for lunch to give you strength for the rest of your workday.
The thing I love most about it has to be the zesty, sweet, and orange dressing. Combined with a bit of garlic, it offers tons of flavor in the most pleasing way possible.
Per Serving:
• Calories: 198
• Fats: 3g
• Protein: 5g
• Carbs: 34g
• Fiber: 2g
• Sugar: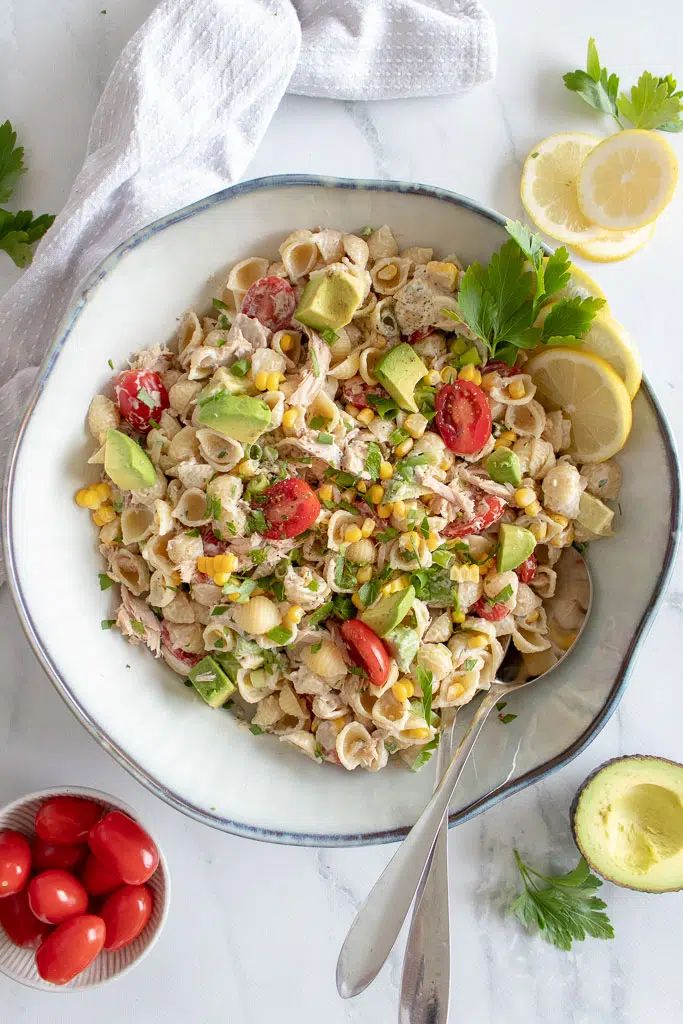 Source: goodiegoodielunchbox.com.au
Avocados, cherry tomatoes, corn, and spring onions accompany the filling pasta shells and tuna in this recipe for the healthiest and most delicious lunch choice.
The pasta, tuna, and veggies are gently tossed in a lemony mayo dressing that gives the pasta a light creaminess that combines perfectly with the tuna protein and tomato acidity.
Both the salad and the dressing use some fresh parsley for a fresh kick that any pasta salad needs.
And besides, with only 131 calories, isn't this the perfect lunch-box meal, or what?
Per Serving:
• Calories: 131
• Fats: 4.6g
• Protein: 6.2g
• Carbs: 16.5g
• Fiber: 1.8g
• Sugar: 1.3g
Source: theforkedspoon.com
Pasta primavera is just the thing you need when the warm spring days finally roll over.
With broccoli, tomatoes, peas, peppers, asparagus, squash, zucchini, and green onions, this pasta is as packed as veggies as it can possibly be.
Loaded with super healthy nutrients and an amazingly silky butter and cream sauce, no one can resist this amazing taste.
A perfect way to boost nutrition with some fresh garden vegetables, this pasta salad is perfect for those who try to eat cleaner.
Per Serving:
• Calories: 274
• Fats: 9g
• Protein: 11g
• Carbs: 39g
• Fiber: 5g
• Sugar: 7g
Source: flippedoutfood.com
A similar recipe to the primavera pasta, with a similar number of calories but slightly fewer veggies, this pasta dish is also ideal for the warm spring days.
Garlicky and loaded with roasted asparagus, I really cannot decide whether I like this salad warm, or if I prefer the leftovers straight from the fridge.
If you have some wiggle room in your calorie limit, I really suggest you crumble some feta cheese on top for the freshest and most satisfying springtime pasta ever.
Make this recipe with whole wheat pasta and make this meal the healthy option that you need!
Per Serving:
• Calories: 266
• Fats: 8g
• Protein: 8g
• Carbs: 39g
• Fiber: 3g
• Sugar: 7g
Source: thedevilwearssalad.com
For a late fall salad, try this risoni pasta and butternut pumpkin bowl. It is hearty, sweet, filling, crunchy, and filled with enough spices to be super fragrant but not overpowering.
The butternut pumpkin is cubed, well-seasoned, roasted, and then tossed (along with the pasta), with cranberries, currants, and peanuts.
Of course, you can customize the fruit and nuts, as well as the spices, but make sure to provide the texture and sweetness, as it gives that something to this salad.
Per Serving:
• Calories: 286
• Fats: 8g
• Protein: 11g
• Carbs: 54g
• Fiber: 9g
• Sugar: 18g
Source: thedevilwearssalad.com
I don't know why, but I've always found tarragon to be super fancy. There is something about its taste and flavor that can completely transform the dish. From ordinary to restaurant-grade delicious.
And things are no different in this recipe, either. It wraps the chicken, spaghetti, spinach, and roasted peppers nicely.
Plus, the chicken is also marinated with Dijon and Worcestershire sauce, which gives an even more powerful flavor punch.
Garnish with chopped herbs for an extra dash of freshness. Check out more low calorie chicken recipes.
Per Serving:
• Calories: 145.85
• Fats: 2.29g
• Protein: 11.74g
• Carbs: 20.74g
• Fiber: 1.74g
• Sugar: 1.61g
Source: apaigeofpositivity.com
Are you a fan of the viral tomato and feta TikTok pasta? Then this slightly different and enriched take on that recipe will be a definite hit. Plus, with under 300 calories, how can it not?
The casserole has cherry tomato and feta at the bottom and then is topped with baked spaghetti squash, cooked ground turkey, herbs, and spinach.
It is also topped with mozzarella cheese, which takes the cheesiness to a whole new level.
The warmth from the thyme and basil makes this pasta-like dish even more satisfying.
Per Serving:
• Calories: 293
• Fats: 5g
• Protein: 38g
• Carbs: 23g
• Fiber: 5g
• Sugar: 9g
Source: asweetalternative.com
Although the classic puttanesca sauce is made with anchovies, this vegan version doesn't fall behind because it makes up for the fish loss by adding some more olives and capers.
Super creamy, rich in tomatoes, and deep garlic taste, this brown rice pasta dish is a real keeper.
With just 300 calories, this bold dish both satisfies and fills up.
Of course, you can use regular pasta with this recipe, but keep in mind that there will be a change in the number of calories if you do so.
Per Serving:
• Calories: 303
• Fats: 6g
• Protein: 7g
• Carbs: 58g
• Fiber: 8g
• Sugar: 8g
Source: asweetalternative.com
Another vegan dish that is so rich and creamy, that even meat lovers will go crazy about its taste.
Made with gluten-free pasta and only a handful of simple ingredients, this has to be one of the easiest low-calorie recipes you can whip up for dinner.
Did I mention that it only takes 17 minutes to whip up? You just whisk the tahini, lemon, and garlic sauce and pour it over. And voila! The creamiest delight is served!
Per Serving:
• Calories: 315
• Fats: 12g
• Protein: 9g
• Carbs: 46g
• Fiber: 2g
• Sugar: 1g
Source: freshapron.com
Orzo is probably the most convenient starch you can put in your salads, especially if you are not a fan of rice. Grain-like pasta that you can enjoy by spoonfuls has to be super comforting, right?
And if you like a pop of color in your delicious meals, then this is definitely the recipe for you. Tomatoes, cucumbers, bell peppers, onions, basil, and feta cheese all do their part for the delicious taste.
Crunchy, light, and super fresh, this orzo salad is the perfect lunch or side.
Per Serving:
• Calories: 205
• Fats: 11.2g
• Protein: 4.6g
• Carbs: 22.6g
• Fiber: 1.7g
• Sugar: 3.7g
Source: twohealthykitchens.com
Wait before skipping this recipe, because this is not a classic zoodle recipe, because it is not low-carb.
Besides the zoodles – spiralized zucchini – this recipe also uses spaghetti, which makes this dish even more fun to make and eat.
Smothered in your favorite pasta sauce, grain, and zucchini noodles make quite the combo, don't you think?
It also tastes great with some feta cheese crumbled on top. Just saying!
Per Serving:
• Calories: 94
• Fats: 1g
• Protein: 4g
• Carbs: 19g
• Fiber: 3g
• Sugar: 2g
Source: thehealthfulideas.com
Light as it can get, this 167-calorie pasta with asparagus and basil is green goodness you will surely make your regular.
And it is so easy to make, too. You simply saute the onions and garlic, then cook the asparagus, stir in the cooked pasta, and finally add your basil and cheese. And that's it!
With lemon flavors and crunchy pine nuts for topping, there's absolutely nothing I would change in this recipe. Except maybe, make the portion larger.
Per Serving:
• Calories: 167
• Fats: 9g
• Protein: 6.4g
• Carbs: 18.7g
• Fiber: 2.7g
• Sugar: 1.8g
Source: myplantifulcooking.com
If you are tired of your usual tomato pasta, then this recipe will surely be a nice grade-up.
With a generous amount of ginger and Indian spices, you can only imagine how flavorful and fragrant this tomato low calorie pasta recipe is.
The vegan yogurt gives a nice creaminess that also balances out the spicy kick, but it is really the maple syrup that neutralizes the acidity and gives a slight sweetness.
Per Serving:
• Calories: 260
• Fats: 1g
• Protein: 9g
• Carbs: 53g
• Fiber: 4g
• Sugar: 7g
Source: thehealthfulideas.com
Garlicky green and creamy sauce made with cashew milk, spinach, and basil, squeezed with a bit of lemon juice for a zesty kick and finished off by adding a generous sprinkle of Pecorino Romano.
Although technically, this easy recipe has 313 calories, you can easily go lower than 300 by simply cutting back on cheese a bit.
You can also make it vegan by leaving out the cheese completely and using some nutritional yeast instead.
Per Serving:
• Calories: 313
• Fats: 7.9g
• Protein: 12.2g
• Carbs: 47.9g
• Fiber: 3g
• Sugar: 3.1g
Source: cookingjourneyblog.com
Pasta with tomatoes and a creamy mushroom sauce? All that's missing is some grated Parmesan cheese on top, and dinner is served.
The tarragon in the mushroom cream sauce really wraps the flavors beautifully, but the taste wouldn't be so rich without the shallots.
For a vegan version, omit the cheese and use nut or other dairy-free milk for the cream.
Per Serving:
• Calories: 224
• Fats: 13g
• Protein: 10g
• Carbs: 20g
• Fiber: 3g
• Sugar: 11g
Source: mrishtanna.com
At the end of a long and busy day, all I need is a bowl of healthy creamy pasta on my table, so I can dig in guilt-free. If you share this with me, then this pasta will definitely please.
With only 300 calories and loaded with the healthiest fats, there is absolutely nothing you won't love about this pasta.
A healthier alternative than the classic cheese-rich pasta, this avocado version with chopped tomatoes, basil, and a touch of lemon will make your taste buds dance.
Per Serving:
• Calories: 304
• Fats: 19g
• Protein: 3g
• Carbs: 13g
• Fiber: 7g
• Sugar: 3g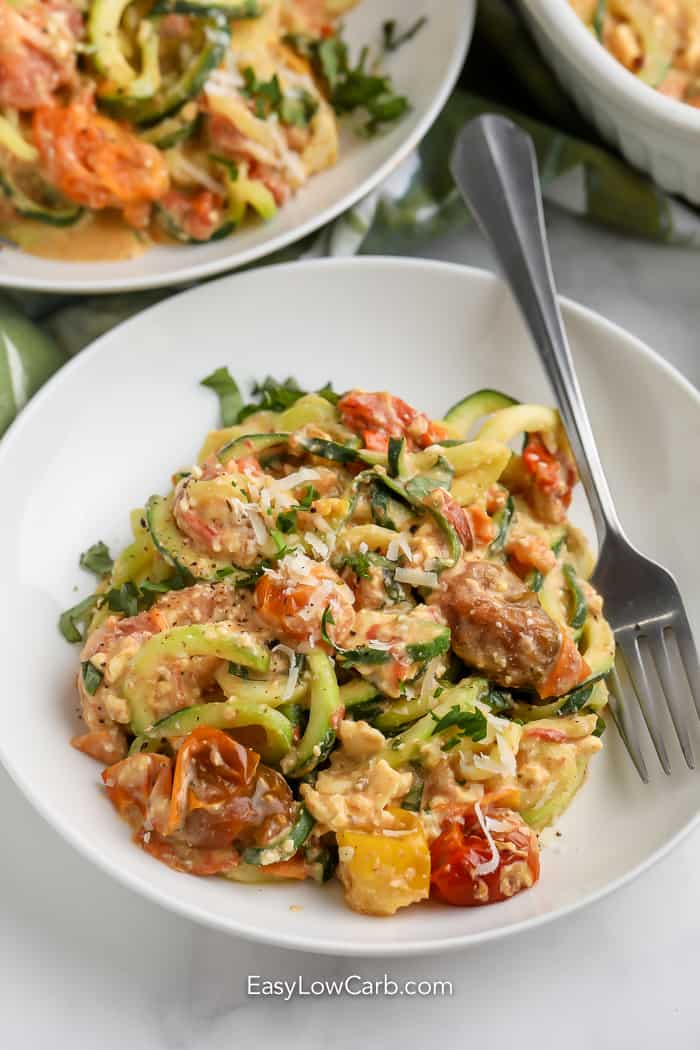 Source: easylowcarb.com
There seems to be a tomato-and-feta-baked-pasta craze going on all over the globe, but the thing about this one is that it is actually super low in carbs.
Without actual pasta but with zucchini noodles, this is probably the definition of a guilty pleasure that is totally free of the guilt part.
Divine taste and finger-licking creaminess, you will want to rave about this pasta on social media for sure.
Check out more low calorie meals here.
Per Serving:
• Calories: 197
• Fats: 16g
• Protein: 8g
• Carbs: 9g
• Fiber: 2g
• Sugar: 6g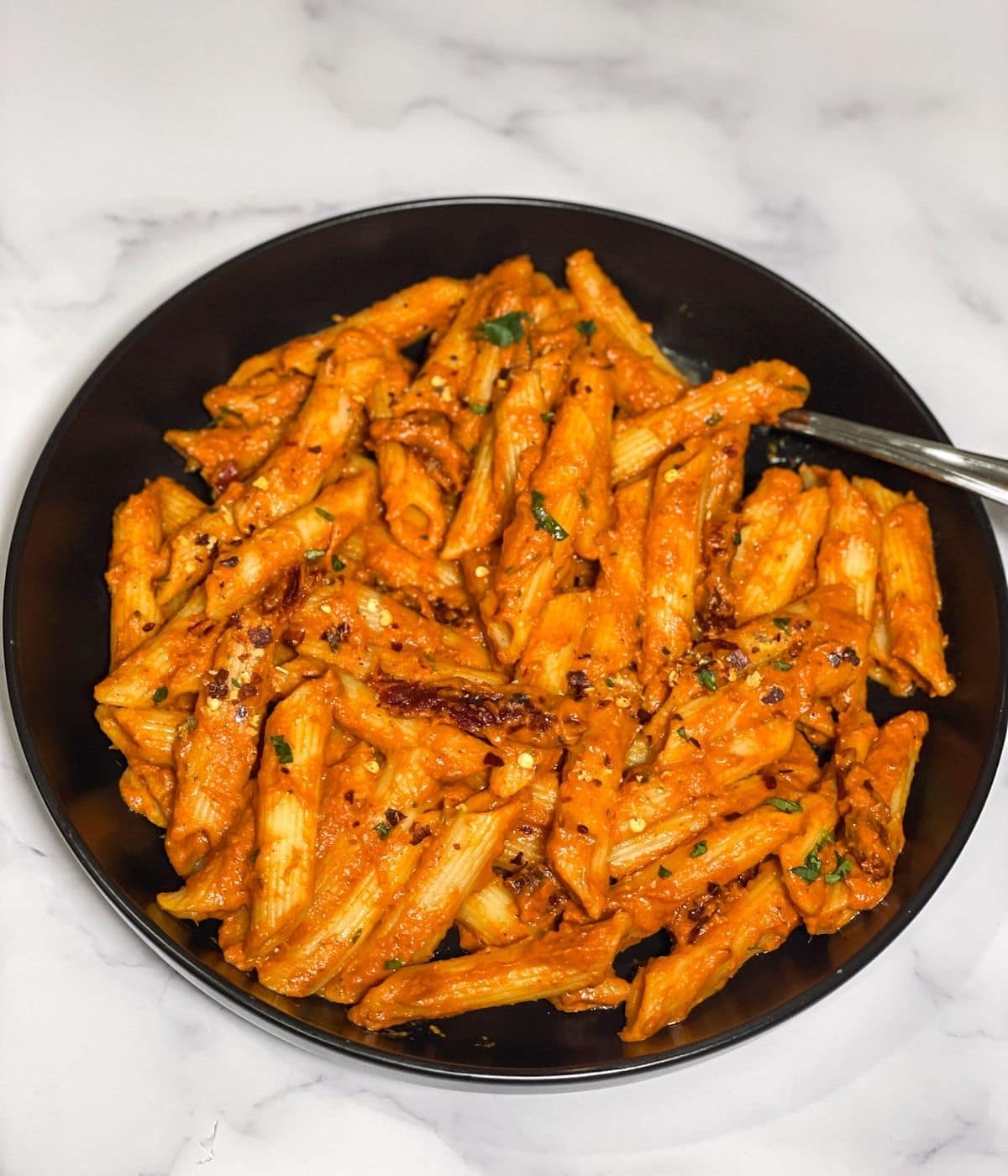 Source: mrishtanna.com
We all have a favorite tomato-based pasta dish that we regularly put on our dinner table. But the thing that makes this dish stand out has to be the sun-dried tomatoes.
They give a much more intense flavor than regular tomatoes or tomato sauce. And blended with almond milk and seasoned the Italian way, they make one heck of a pasta sauce.
Vegan and also soy-free, this super healthy pasta is a total family favorite.
Per Serving:
• Calories: 244
• Fats: 2g
• Protein: 14g
• Carbs: 58g
• Fiber: 7g
• Sugar: 21g
Source: fitasafiddlelife.com
Okay, you can already guess that this low-calorie pasta salad is already loaded with veggies. But what you don't know is that it is also creamy, colorful, and rich in texture.
Carrots, celery, pepper, green onions, zucchini, and radishes with elbow pasta in a lemony dill avocado mayo sauce.
Perfect for potlucks and get-togethers
Per Serving:
• Calories: 210
• Fats: 11g
• Protein: 4g
• Carbs: 23g
• Fiber: 1g
• Sugar: 2g
Source: myplantifulcooking.com
Loaded with protein and veggies, this has to be one of the perfect things to make on your regular meatless Mondays.
Super nutritious and vegan, the edamame, lettuce, peppers, beans, and tomatoes, all give a vitamin boost that makes this pasta salad even more enjoyable.
And besides, with so many different colors, how can you not be tempted to grab a fork and dig straight into this vibrant bowl?
Per Serving:
• Calories: 293
• Fats: 5g
• Protein: 19g
• Carbs: 41g
• Fiber: 10g
• Sugar: 5g
Source: healthyrecipes101.com
Technically, this soup is not so much of a soup but a pasta dish with veggies and some broth, if I'm being totally honest. However, that's even why I like it even more.
So healthy and filling and yet with just under 220 calories, this is what an ideal lunch should look like. There's broth, there are veggies, and there is pasta. What more can you possibly need?
This is one of the delicious recipes you're going to want to make for easy dinners. The entire family will love this soup for midweek meals or as delicious dinners.
Check out more low-calorie soup recipes here.
Per Serving:
• Calories: 219
• Fats: 5g
• Protein: 9g
• Carbs: 34g
• Fiber: 5g
• Sugar: 4g
21 Skinny Low Calorie Pasta Recipes
Counting your calories? These low-calorie pasta recipes are comforting, yummy, and easy to make. Perfect for a light dinner!
Ingredients
1. Israeli Couscous Salad
2. Tuna Pasta Salad
3. Pasta Primavera
4. Springtime Asparagus Tomato Pasta
5. Risoni with Spiced Roasted Butternut Pumpkin
6. Gluten-Free Pasta Salad
7. Spaghetti Squash Feta Cheese Casserole
8. Vegan Puttanesca
9. Tahini Pasta
10. Rainbow Orzo Salad
11. Easy Zoodles
12. Light Asparagus Pasta with Fresh Basil
13. Tandoori Pasta
14. Spinach Green Pasta Sauce
15. Creamy Mushroom Pasta with Tomatoes
16. Creamy Vegan Avocado Pasta
17. Low Carb Baked Feta Pasta
18. Vegan Sun-Dried Tomato Pasta
19. Vegetable Pasta Salad
20. Protein Pasta Salad with Kidney Beans
21. Instant Pot Minestrone Soup
Instructions
Scroll up to get a bunch of easy, yummy, and delicious pasta recipes. Don't be afraid to get creative with the ingredients, you might discover a flavor you didn't know you liked.
Get your shopping list going and make sure you've got all the ingredients.
Get cooking and make your next Low-Calorie Pasta Recipe!
Notes
Which one of these recipes was your favorite? Let me know in the comment section or on Pinterest!