Tasty Irish appetizer recipes for your St.Patrick's party line-up or a bite before a Gaelic-inspired dinner. What better way to impress your Irish guests than with these easy Irish appetizers?
Are you hosting a St. Patrick's Day party? Looking to impress your Irish friend? Or do you simply enjoy Gaelic food?
Whatever the reason, this roundup of delicious Irish starters and finger foods will whet everyone's appetite in a delicious way!
Spoiler alert, these appetizing Irish bites are so tempting that you will barely have any room for the main course on st patrick's day!
Plus, they all make tasty snacks in between meals, too!
What are Some of the Most Popular Irish Appetizers?
Irish cuisine is famous for its beer-infused stews. But besides the main dishes, did you know that the Irish also have some incredible appetizers?
Soda bread is the main accompaniment to many dishes, and it is also served as an appetizer prior to the main course.
Irish potatoes and cheddar cheese are probably the most common ingredients in appetizer recipes. But Guinness is often a common guest, too.
Boxty potatoes, cheesy bite-sized cakes, and creamy dips can often be found at a party's table, too.
Best Irish Appetizers
Foolproof Irish party recipes that you simply cannot go wrong with.
These traditional Irish foods all work well on any occasion and are a perfect choice for party bites or starters to fancy dinners. Take your pick!
Source: withasplashofcolor.com
A delicious appetizer, side dish, or snack you take from your fridge in the middle of the night. Yup, these traditional Irish appetizers are that versatile.
Sauteed corn with peppers coated with silky butter. Then, smothered in cream and thickened up with some cornstarch.
I know it sounds super simple, but guys, this appetizer tastes amazing and is the best thing. And if you serve it in fancy little bowls garnished with fresh herbs, even better.
Source: strengthandsunshine.com
The Irish are famous for their potatoes. And they also make tasty bread, too. But once you combine the two, you get this lovely appetizer.
An Irish potato bread that will tempt you to devour it all, even before dinner.
With only four ingredients and 20 minutes needed to make it, this is definitely a must-try.
Mashed potatoes, flour, with some salt and vegan butter. This recipe is plant-based, but you can customize it as you see fit.
The bread is prepared in a pan or griddle, and it is both a crispy and soft delight.
Source: twohealthykitchens.com
If you like Reuben sandwiches, you will absolutely adore this lovely dip.
It is made with yogurt, cream cheese, sauerkraut, corned beef, and cheese. But it is the ketchup and pickle relish that add deep flavors to it.
I personally would serve this on top of toasted bread. But you can use veggie slices or tortilla chips if serving at a party.
Beware, though, as you will be tempted to devour it with just a spoon.
Source: agratefulmeal.com
You only need three ingredients to make this bread. And no, it is not flour, water, and yeast. For this authentic Irish delight, you need beer, self-rising flour, and honey.
Deep in flavor and lovely brown color, this bread is perfect for any occasion.
And the best part? You can even customize it to make it more exciting. Just dump some chopped ham, cheese, peppers, or your favorite add-ins into the dough.
Source: twohealthykitchens.com
Another recipe with Reuben flavors, only this time in the form of nachos. Well, sort of. They are Irish nachos, after all.
So, what's different from regular nachos? Instead of tortilla chips, this recipe uses baked potato slices. And let me tell you, it will be your new favorite thing.
Topped with corned beef, cheese, sauerkraut, and the most amazing dressing ever. They are flavors of ketchup, yogurt, pickle relish, and fragrant spices. What's not to love?
Source: threeolivesbranch.com
Whether you own a Slow Cooker or an Instant Pot, this recipe offers methods of preparation for both.
So yes, this is a no-fuss recipe for corned beef that has that authentic taste and look your guests will love.
Flavored with Guinness and combined with cabbage and potatoes, this pink-colored meat makes one heck of an Irish dish.
I admit that this is more of a main course recipe. But if you serve it in tiny portions, won't it make the best appetizer ever?
Source: foxeslovelemons.com
Shepherd's pie has been an Irish staple since the 1700s. So it is only natural to minimize this delight for a tasty appetizer. Don't you think?
These individual pies will be perfect for St. Patrick's Day.
Made with flaky pie crust, ground lamb, and a creamy mashed potato topping. They will be an absolute hit on your table.
Source: christinascucina.com
This recipe with crispy potatoes says that Irish boxty is the holy grail of potato pancakes. And I couldn't agree more!
These potato pancakes make one great breakfast. But they can also be served as favorite appetizers to a traditional Irish dish or little bites at an Irish holiday party.
You can pair them with meat, sausages, eggs, and even salad to impress party guests. My ultimate favorite? Make tiny pancakes and serve them with a dollop of creamy topping.
Source: foxeslovelemons.com
Do you love egg rolls and corned beef? Then this tasty mix of both delicacies is just for you.
Corned beef, cheese, and coleslaw are placed on top of an egg roll wrapper. Then they are wrapped tightly and fried until golden and crispy.
Served with mayo and mustard dipping sauce, these are absolutely irresistible.
Source: heartbeetkitchen.com
A festive treat suited for any kind of Irish party. These "Luck of the Irish Skewers" feature Irish cheddar, corned beef, bread, and pickled Brussels sprouts.
For best results, the bread should be toasted. That will give the bites some crispy texture that will pair perfectly with the soft cheese and meat.
Serve with some mustard on the side, and there's no way you can go wrong with this appetizer.
Source: irishamericanmom.com
If you're hosting a party and want to serve some light and healthy appetizers, then this recipe is what you have been looking for.
Cucumbers with smoked salmon and cream cheese for a diet-friendly snack bite.
These lovely finger bites are topped with radish slices and some herbal garnish. And since they're secured with cocktail sticks, they are also perfect for cocktail parties.
Have extra cucumbers? Check out these super tasty cucumber appetizer recipes!
Source: dinneratthezoo.com
Another Irish Nacho recipe, but slightly less healthy and a bit more comforting, I would say. Why? Because it is served with packaged potato chips. What party doesn't want that on the table?
Simple potato chips topped with melted cheddar, crispy bacon, diced tomatoes, and a generous dollop of sour cream on top.
If you want this snack to be spicier, just drizzle some hot sauce over. This really is one of the best party appetizers!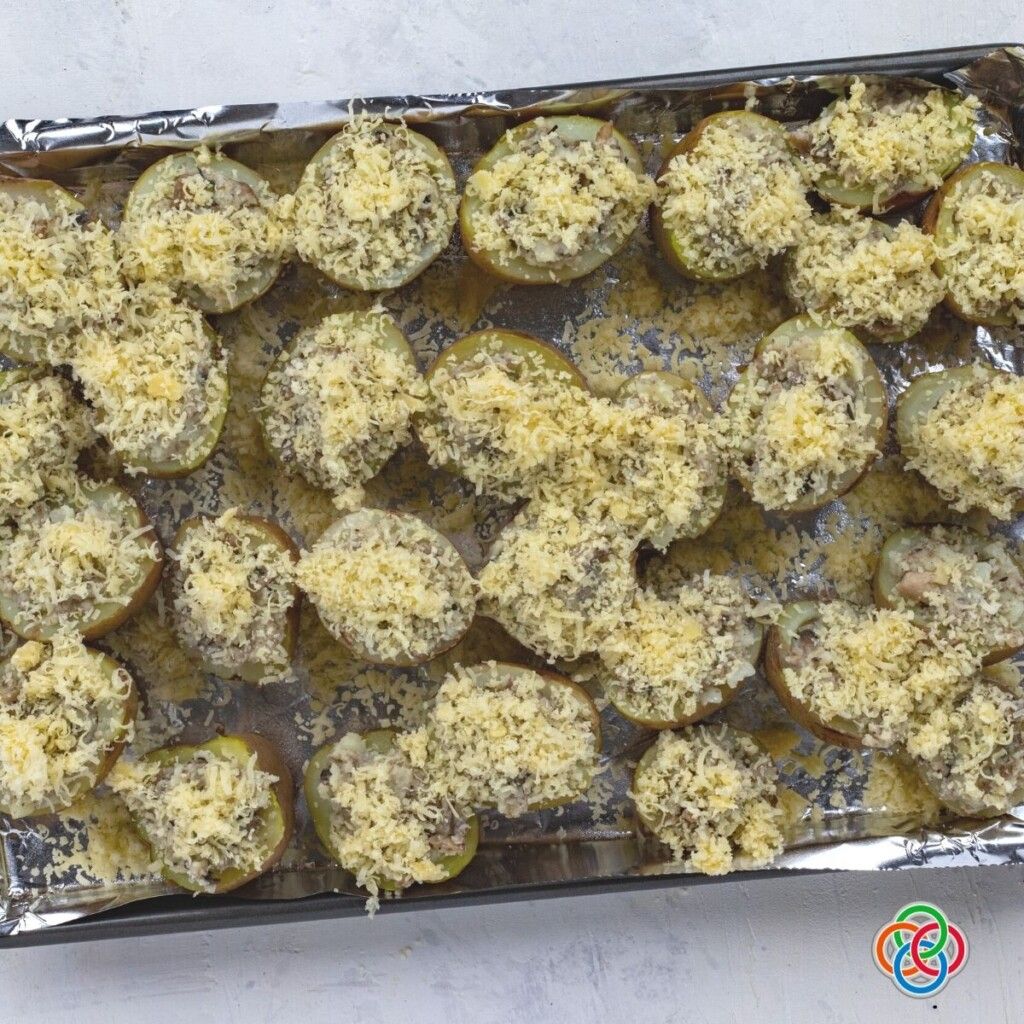 Source: irishamericanmom.com
Halved smaller potatoes, loaded with a mashed potato, mushroom, and cheese filling. And topped with some extra grated cheese. Because what is more satisfying than melted cheese?
These potato bites are then baked and are absolutely irresistible.
They are really perfect as starters. But if you're hosting a party, they will make any platter look fancy. Plus, your guests will not be able to have enough of them.
Source: glutenfreeonashoestring.com
Don't tolerate gluten well? Then this recipe will satisfy your bread cravings without making your tummy upset.
This is a recipe for sweet Irish soda bread. And it is also packed with raisins. However, you can customize it with fillings of your choice.
Baking soda and buttermilk are the main ingredients. But a generous amount of butter is what actually makes this bread so tasty.
Your guest will also enjoy these other great gluten free appetizers!
Source: irishamericanmom.com
Sausage rolls are practically the staple of every casual party. Especially if they're kids involved, and this lovely recipe adds an Irish touch to this appetizer.
And they're super easy to make, too!
You just need puff pastry, ground pork, and loads of popular Irish herbs. You then bake them until golden and crispy on the outside, and that's it.
They are best served warm with some Guinness mustard on the side and a pint of green beer. But trust me, they're equally delicious cold.
Source: keepingthepeas.com
Another sweet soda bread, but with whole wheat flour and zero animal-origin ingredients. That's right, this fluffy bread is crusty, soft, and perfect for vegans.
It is made with soy milk and apple cider, which makes a great vegan buttermilk substitute. And it also features raisins.
But you can use whatever ingredients you like here. This bread handles all dried fruit well. A perfect addition to your St. Patrick's Day party. Or Easter. Or every other occasion, guys.
Source: celebrationgeneration.com
Rounded appetizer bites that contain all of the comforting Irish stew flavors. Sounds like a good addition to your St. Patrick's Day table? Then check this recipe out!
Ground beef and pork combined with nutritious veggies and crushed crackers for texture. But that's not all!
This recipe also makes a finger-licking gravy that these Irish meatballs are smothered in. If that doesn't bring everyone to the table, nothing will.
Source: simplyscratch.com
If you're planning on serving beer at your party (and what is an Irish get-together without Guinness!?), then this is the appetizer you need.
Crispy potato skins loaded with crispy bacon, cheddar, and diced jalapeno peppers. Isn't that the perfect pairing for your beer gulps, or what?
It is best to serve it with some light sour cream or yogurt sauce. But even without any dip, these skins will satisfy everyone.
Source: courtneyssweets.com
We already covered a boxty recipe, and these potato pancakes are not that different, really. But, what this recipe has is grilled chicken to accompany those potato bites.
Deliciously soft and creamy pancakes. Truly an absolute Irish party must. It is recommended that you pair them with fire-grilled chicken tenders.
That will give a more satisfying bite. And will make sure your guests are full. Perfect if serving tons of beer, right?
Source: homemadeinterest.com
Your Irish party is not a party without the great addition of a couple of potato appetizers. There, I said it.
Potato bites that are both crispy and soft, plus topped with melted sharp cheddar cheese and meaty goodness the whole family will love.
But besides being super tasty, these lovely stuffed potato halves will also look cute on your table.
The perfect appetizer recipe uses corned beef, but bacon can be used as a decent substitute, too. Whatever your guests prefer, just make sure to serve them will a crisp pint of Guinness beer.
This is the perfect finger food recipe to elevate any party!
Source: baking-sense.com
Cheesy, fragrant, onion-flavored, and super fresh. Plus, crispy on the outside and incredibly soft on the inside. These Irish savory scones will be your party regular. Because they are seriously tasty.
The add-ins of choice are cheddar and scallions. And try not to customize this. This combination is downright perfect. And super satisfying, too!
You can use them as a filling appetizer at your parties. Or a bread substitute for dinner. Either way, these delicious scones will disappear in no time.
Source: aspicyperspective.com
If you're a regular at a local Irish pub, chances are, you might be hooked on their cheese dip. But have you ever tried making it at home?
Pub cheese is a dip loaded with, well, cheese and loads of beer. For best results, you should use sharp cheddar and Irish lager.
This recipe also uses cream cheese to add creaminess. And some garlic, mustard, and paprika for a satisfying flavor.
I promise you, this pub cheese will taste as fabulous as it looks! If you are looking for the best dip recipes, this is one of them!
Source: nutmegnanny.com
Fried egg rolls, filled with your beloved Reuben fillings. Corned beef, sauerkraut, cabbage, cheese, and a generous amount of Russian dressing here.
Plus, a mustard and mayo dip spiced up with some dark Irish beer. Because, you cannot have egg rolls at an Irish party without any sauce, right?
These are fried, cheesy, meaty, and incredibly delicious. Just what any party or large get-together needs.
Source: sipandsanity.com
These egg rolls are the perfect appetizing way to add some Irish flavors to your table.
You can serve them as a snack at your party. Or a starter that will stop the hungry guts from rumbling until the main Irish course.
They are filled with bacon, pork sausage, leeks, and potatoes. And they are soft and crispy at the same time. So seriously addicting!
Source: palatablepastime.com
If you're anything like me, then you must love toasties. They are so satisfying and simple to make, that they shouldn't be left out at any party.
They can be served as a side dish, appetizer, or late snack when you find yourself super hungry in the middle of the night.
Just slice up some baguette, add some mustard on top, sprinkle with grated cheese, and bake until the cheese is melted.
Source: foodtasticmom.com
An absolutely satisfying appetizer! This creamy cheddar dip, rich in Guinness, will be just the thing your pretzels need. That's right; this dip is perfect if served with small pretzels and beer.
Cheddar cheese, Worcestershire sauce, green onions, cream cheese, and Guinness. Those are the ingredients here, and let me tell you, they taste incredibly tasty when combined.
For best results, use good-quality cheddar that you will shred yourself. Do not buy pre-shredded cheese for this dip.
Source: portandfin.com
This Irish rarebit may not contain rabbit. But it will fill you up and satisfy, that you won't even miss meat.
Sourdough bread slices are toasted first, then smeared with a tasty cheesy sauce. The sauce is made by whisking roux, Worcestershire sauce, cheddar, and beer.
This appetizer is rich in flavors and has an irresistibly crispy texture. How can you possibly say nay to that?
Source: katiescucina.com
When March rolls over, we dust off our Irish cookbooks and look for authentic recipes to serve for the big day. St. Patrick's Day.
But this amazing Irish-inspired dip is perfect for any day. And any occasion!
Cream cheese, cheddar, leeks, and mayo, for a smooth mixture that is begging you to pair it with crusty baguettes.
The caramelized leek is what gives this dip an authentic taste, so don't skip that part.
Source: confettiandbliss.com
Looking for a filling Irish appetizer for the big game tonight? What better thing to serve than these corned beef sliders?
Corned beef is cooked with onions and a generous amount of Guinness for the best taste ever. The meat is so flavorful that your sandwiches will disappear in a jiffy.
The recipe suggests Hawaiian rolls and coleslaw for these sandwiches.
Source: culinaryhill.com
We love Reuben flavors for Irish parties, because they are loaded with the tasty Irish staple – corned beef.
And this dip with corned beef, sauerkraut, cream cheese, and the famous thousand island dressing will transform any party.
Serve with rye chips, and enjoy this hot appetizer recipe!
Source: plantpowercouple.com
Vegan Irish dishes may not be so popular. But this will definitely satisfy the vegans for St. Patrick's Day.
Irish potatoes, as misleading as they sound, are actually sweet cream cheese balls. And they're fried to crispy perfection.
But this recipe uses only plant-based ingredients. So you'll feel less guilty afterward.
31 Easy Irish Appetizers for a St Patrick's Day Party
Discover the rich culinary heritage of Ireland with this delectable array of Irish appetizers. Finger foods you didn't know you needed?
Ingredients
1. Cream Corn
2. Irish Potato Bread
3. Healthier Reuben Dip
4. 3 Ingredient Beer Bread
5. Reuben-Topped Irish Nachos
6. Guinness Corned Beef
7. Mini Shepherd's Pie
8. Irish Potato Pancakes
9. Corned Beef Egg Rolls
10. Luck of the Irish Skewers
11. Salmon and Cucumber Bites
12. Irish Nachos
13. Cheesy Mushroom Potato Bites
14. Gluten Free Irish Soda Bread
15. Sausage Rolls
16. Vegan Soda Bread
17. Irish Stew Meatballs
18. Irish Cheddar Bacon Jalapeno Potato Skins
19. Boxty Recipe with Fire Grilled Chicken
20. Irish Potato Bites
21. Irish Cheddar Cheese Scones with Scallions
22. Irish Pub Cheese
23. Reuben Egg Rolls
24. Dublin Coddle Egg Rolls
25. Irish Cheese Toasties
26. Guinness Cheddar Dip
27. Irish Rarebit
28. Leek and Cheddar Dip
29. Guinness Corned Beef Sliders
30. Hot Reuben Dip
31. Vegan Irish Potatoes
Instructions
Scroll up to get a bunch of easy, yummy, and delicious recipes. Don't be afraid to get creative with the ingredients, you might discover a flavor you didn't know you liked.
Get your shopping list going and make sure you've got all the ingredients.
Get cooking and make your next Irish Appetizer for a St Patrick's Day!
Notes
Which one of these recipes was your favorite? Let me know in the comment section or on Pinterest!