Ah, the kiwifruit. This summery fruit may not look very appetizing from the outside, but the inside tells a different story. These delicious kiwi recipes will help you try new foods this kiwi season.
When ripe, a kiwifruit is tender, juicy, and deliciously sweet. That's why it's perfect for so many tasty recipes. From smoothies to kiwi sorbet to kiwi salsa, you can enjoy a kiwifruit in various ways.
What Can I Do with Lots of Kiwis?
First, you must know how to tell if a kiwi is ripe. Hold the fruit in your hand and give it a gentle squeeze. If it shows like a ripe peach, it's ready for you to enjoy.
Now, if you have many ripe kiwis you need to use quickly, you're in luck. Since they're so versatile, you can use them in almost every fruit-based recipe.
The best way to use kiwifruit quickly is to make something long-lasting. Sorbets, preserves, and popsicles are perfect for enjoying the warmer seasons.
Best Kiwi Recipes
I am looking for ways to get through your kiwifruit stock. I have thirty-one delicious recipes that all show the kiwifruit in its best light. Discover all the ways this versatile fruit can be prepared!
Source: gardeninthekitchen.com
Are you the type of person who forgets to drink enough water? Don't worry. You're not alone. That's why this kiwi collagen aqua fresca recipe is so helpful.
This kiwi lemonade alternative is super tasty, encouraging you to hydrate more than just plain water.
All you need is kiwi slices, lemon juice, and coconut water! Plus, a sachet of collagen thrown into the mix means your skin will thank you for drinking this.
Source: nibbleanddine.com
Next up is a classic staple of the fruit recipe family. A kiwi and banana smoothie is a super sweet treat, packed with essential vitamins to keep you going.
Honestly, you wouldn't know that this is good for you. It almost tastes like a milkshake, with a ton of sweetness and creaminess to kickstart your day.
If you don't like the taste of honey, you could swap it for maple syrup!
Source: flavorthemoments.com
Fruit salads are a potluck staple for a reason and one of the most healthy kiwi recipes. This is a delicious summer recipe guaranteed to delight your guests.
Plus, it's super easy to prepare and full of sweet flavors.
This refreshing fruit salad has the perfect amount of sweetness, thanks to the coconut shavings and lime juice. It's just right, with the sliced kiwi offering a refreshing respite from the heat of summer.
Source: goodlifeeats.com
This recipe gives the phrase 'lean, mean, and green' a new meaning. Packed with spinach, apple, citrus juice, and ripe kiwi, this juice is like a steroid shot for your immune system.
Juicing your kiwifruits is a great way to quickly get through many of them, especially if this is the result! These kiwi drinks taste delicious and last up to a day, so that you can get through it all.
Source: hotrodsrecipes.com
You can make bread with overripe bananas. Well, you can do it with kiwi fruit too! If some of your kiwis are starting to look a little past their prime, give them a new life with this kiwi bread recipe.
The crumbly, buttery walnut bread with cream cheese is a perfect host for sweet chunks of kiwifruit. This bread keeps well for a few days, offering a quick and easy breakfast option.
This is one of the best things to bake when you're bored on a rainy day!
Source: runningtothekitchen.com
That's right, kiwi and quinoa! The light and refreshing fruit is a perfect contrast for earthy quinoa. This is a great place to start if you've never had quinoa for breakfast.
You only need twenty-five minutes to prepare this ultra-healthy breakfast with kiwi pieces. It's easy to prepare in large batches, so if you have a big family, this will start everyone's day off right.
Source: atastefortravel.ca
Have I mentioned that I'm a big fan of chia pudding? Sure, it tastes fantastic. It's basically like enjoying a healthy dessert for breakfast. Chia seeds have so many health benefits.
But beyond that, chia puddings can be prepared in advance. That means you have breakfast waiting for you in the fridge every morning! Just chop some fresh kiwifruit and drop it on top.
Source: worldofvegan.com
Make a delicious dessert you'd be proud to gift to your neighbors thanks to this fantastic Danish recipe. No matter what kind of fruit you have on hand, this recipe is a great way to use it.
Enjoy some for breakfast, then wrap the rest up to give to your neighbors. All you need is plenty of store-bought puff pastry (although you can make it from scratch if you're feeling adventurous).
Have extra puff pastry sheets? Enjoy these easy phyllo dough recipes!
Source: theunlikelybaker.com
We've all heard of an apple crumble. Now, brace yourself for… a tropical kiwi crumble! Featuring coconut and cardamom, this crumble is out of this world with a bit of ice cream.
With every spoonful of this tropical delight, you'll feel your worries melt away. When baked, the kiwi becomes almost creamy. In other words, this is a luxurious dessert you'll remember forever.
Source: pastryandbeyond.com
Give yourself a refreshing reprieve from summer with these simple kiwi and orange popsicles.
Sweetened with a bit of honey, these ice-cold delights are healthier and tastier than natural popsicles.
Plus, you enjoy chunks of natural kiwifruit dotted throughout the popsicle. Keep these in the freezer for a healthy popsicle that your kids will love.
Source: thedevilwearssalad.com
This is one of the new recipes that shows how you can use kiwifruit in a savory way. Kiwi offers a delicious zing to an otherwise simple salad.
Paired with prawns and red onions, they're practically luxurious.
If you need a quick and easy summer salad to serve to your guests, this superfruit salad is the nutritious food recipe to reach for.
Prepare the vinaigrette in advance to make preparation even easier.
Source: thetoastykitchen.com
Pineapple and kiwifruit are ideal companions. The two tropical fruits play off each other, offering new and exciting flavors at every turn. This is like the simplest version of a fruit salad.
But don't let the word 'simple' fool you. That means that the two fruits' flavors can sing through without interference.
Source: thedevilwearssalad.com
There's nothing more refreshing on a hot summer day than a granita! Golden kiwis taste like a mango, and a strawberry had a lovechild. That's why tangelos are an ideal pairing here.
This recipe is tasty, offering a reprieve from the heat and summer. With fruit salad and granita in the mix, it's cooling, sweet, and utterly delicious.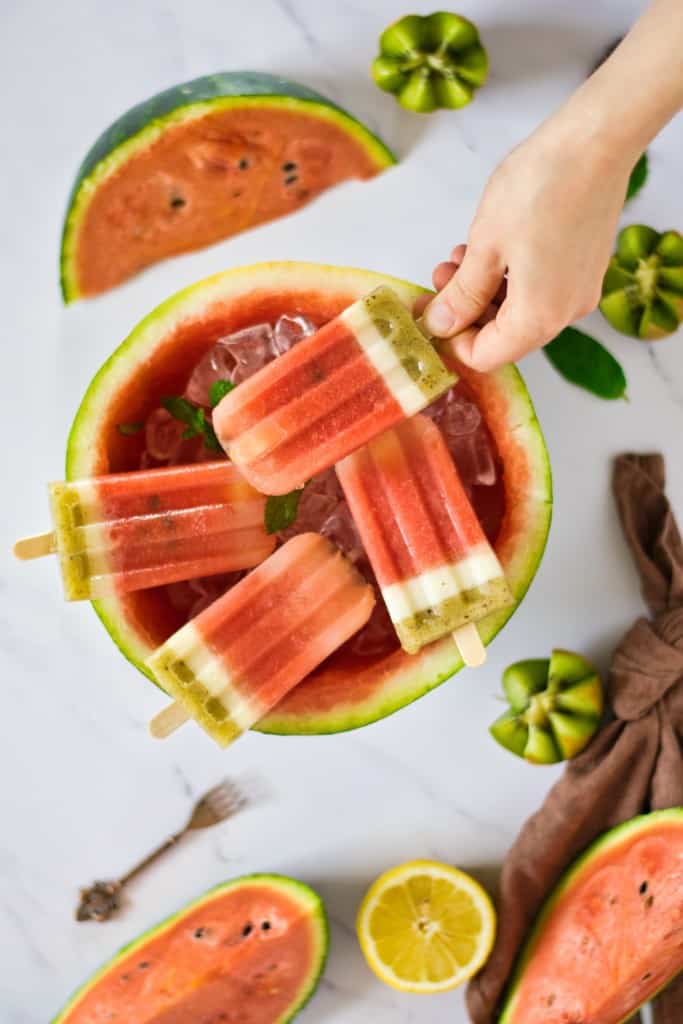 Source: veggiefunkitchen.com
These watermelon popsicles are so cute! While the main ingredient is watermelon, the 'rind' on the popsicles is pure green kiwifruit.
The slightly tart kiwi is an ideal companion for sweet watermelon, especially when you throw creamy coconut into the mix! Your kids will love the look and taste of these popsicles.
Source: waitingforblancmange.com
One of the best ways to preserve many kiwis in a short amount of time is to make jam! Kiwi jam is out of this world. It's sweet, a little tart, and full of that refreshing, refreshing flavor.
This small-batch jam recipe is easy to follow even if you've never made jam before. You only need four ingredients and a few sterilized jars to bring it to life. You can even gift the extra jam!
Source: amummytoo.co.uk
Here's another example of how you can use kiwifruit in a savory way. Picture a Caprese salad, but instead of the mozzarella, you use kiwifruit! That's essentially what this recipe entails.
The refreshing kiwi paired with tomato and avocado makes this salad addictive. If you can, try to use golden kiwifruit with this recipe. It's the ideal pair for light and bright basil oil.
Source: iheartvegetables.com
Kickstart your immune system with this super healthy smoothie bowl. Kiwifruit is technically a super fruit because it contains essential vitamins and minerals.
So, this smoothie bowl is what your body needs to give you its best daily. Plus, this is super easy to prepare on a busy morning.
Source: amandascookin.com
Who says popsicles have to be unhealthy? These green smoothie popsicles contain good fruits and vegetables – including kiwifruit. There's a whole serving crammed in there!
The thing is, you wouldn't know these popsicles are good for you by how they taste. They're sweet, creamy, and refreshing, just like a good popsicle should be.
Source: strengthandsunshine.com
This simple golden kiwi homemade muffins recipe gives those overripe golden kiwifruit new life. These are moist, crumbly, and naturally sweet.
Not to mention, they're gluten-free and vegan, making them one of the best kiwi desserts.
Once again, you can make a big batch of these for your loved ones. It's a great way to use up a big stock of kiwifruit.
These tasty muffins are one of the best healthy school lunch ideas for any age!
Source: healthyrecipes101.com
Another excellent way to use many kiwis at once is to juice them. This super refreshing beverage is fantastic in summer.
The bright green juice tastes as vibrant as it looks! It's also super healthy since it packs a ton of this superfruit into a single glass for your immune system to enjoy.
Source: ohmy-creative.com
Kiwifruit and raspberry are a match made in heaven. The sweet raspberries and smooth, refreshing kiwifruit are a perfect contrast.
As a topping for a delicious chia seed pudding, there's nothing better! Enjoy this quick and easy recipe as a dessert, breakfast, or healthy snack on a hot day.
Source: viralrecipes.com
Viral Tik Tok recipes are so creative, and this fruit watermelon proves that beyond the shadow of a doubt. Instead of a standard watermelon, enjoy sinking your teeth into all the fruits under the sun!
This recipe uses unflavored gelatine as a base, drawing focus to all the fresh and delicious fruit suspended in the mixture. Kiwifruit is part of that cohort, and with several other summery fruits.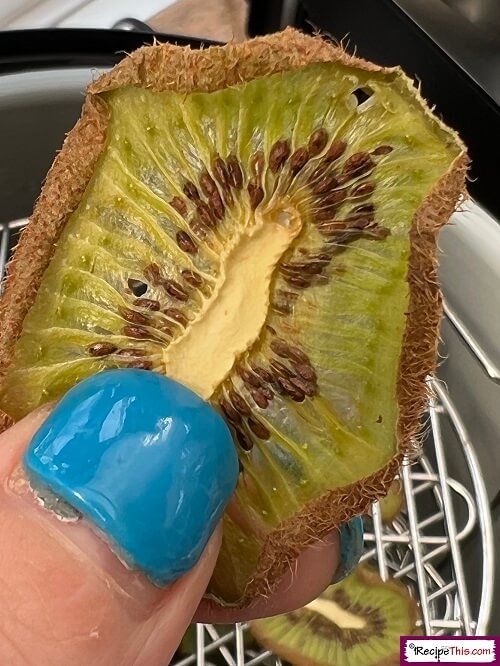 Source: recipethis.com
Use your air fryer to create a tasty snack that will last you for ages! If you're swimming in ripe kiwifruit, this is a great way to use it all up before it goes rotten.
Kiwifruit chips are chewy, lovely, and super good for you. Their natural sweetness becomes even more prominent when dried.
Source: epicveganeats.com
Let the hero fruit take center stage with this super simple kiwi chia pudding recipe. This is the kind of breakfast or dessert you can easily prepare in advance. Then, layer whatever you'd like on top.
This recipe calls for a handful of blueberries. Their tartness is an ideal contrast to sweet kiwifruit, helping balance the flavors in this creamy pudding.
Source: recipesfromapantry.com
Dive head first into tropical flavors with this fantastic smoothie recipe. This is a great way to start your day! Thanks to all the natural sugars, it's also a healthy dessert substitute.
Instead of unhealthy sorbet, you can enjoy the same flavors as a healthy summertime drink.
Source: worldofvegan.com
Nothing says 'summer potluck' quite like a tasty fruit salad. This one focuses on fruits that are sweet and tart by turns. Mandarins, cherries, strawberries, and kiwifruit all make an appearance!
All the beautiful colors make this salad look delicious. Imagine impressing your guests with this gorgeous spread, all while knowing it took you barely ten minutes to complete.
Source: runningtothekitchen.com
That's right, mint in a smoothie! Don't knock it until you try it. This delicious smoothie recipe is tropical and refreshing, with a kick of mint to help chase away that morning breath.
This almost tastes like something you'd order at a bar (except for alcohol, of course). Add a rum splash and serve this as a healthy version of a tropical cocktail.
If you love pineapple, you might also enjoy these tasty Hawaiian recipes with tropical flavors!
Source: joyfoodsunshine.com
If kiwifruit is in season in your winter, this fruit salad dish is the perfect seasonal recipe to celebrate it. Paired with pomegranate, apple, pineapple, and clementines, it's an ideal holiday side dish.
Make sure you make this one in advance, as it needs to chill for a minimum of one hour. It would taste better if you prepared it the night before and let it sit overnight. Super sweet and tasty!
Source: theoregondietitian.com
Strawberry and kiwi are an unbeatable flavor combination. They have a similar floral taste, meaning they pair well with everything from desserts to smoothies. That's why this recipe is so good!
Take five minutes out of your morning to prepare a healthy, delicious smoothie for your breakfast. A scoop of protein powder helps keep you full until you're ready for lunch.
Source: belleofthekitchen.com
Who doesn't love a Pinterest-worthy popsicle? These gorgeous frozen desserts give you the best of both worlds, creating a kiwi and strawberry ombre effect.
Even though they look amazing, these are super easy to whip up for summer. Get the kids involved and make it a fun family activity!
Source: ifoodreal.com
Finally, we have a last take on delicious kiwifruit salad! This recipe features an addictive honey lemon dressing. The dressing creates an appealing glaze on the fruits, drawing you in for bite after bite.
This is the best way to celebrate warm weather coming to town. Serve a massive bowl of fruit salad with yogurt or ice cream to entertain your guests.
Which kiwifruit recipe has caught your eye? Are there any go-to favorites I've missed on this list? Let us know in the comments below what you're going to do with your kiwifruit supply!
Ready to try more new fruit recipes? Check out these best mulberry recipes!
31 Best Kiwi Recipes to Make
Put your kiwi fruit to good use with these delicious kiwi recipes that are perfect for the summer! Easy, citrusy and delicious!
Ingredients
1. Kiwi Collagen Agua Fresca
2. Kiwi Banana Smoothie
3. Tropical Fruit Salad with Coconut and Lime
4. Green Apple, Kiwi, Spinach Juice
5. Kiwi Walnut Bread
6. Mango Kiwi Breakfast Quinoa
7. Kiwi Coconut Milk Chia Pudding
8. Mini Vegan Fruit Tarts with Puff Pastry
9. Tropical Kiwi Crumble
10. Kiwi and Orange Popsicles
11. Prawn and Avocado Salad with Golden Kiwi
12. Pineapple Kiwi Salad
13. Gold Kiwi Salad with Tangelo Granita
14. Fresh Fruit Popsicles with Watermelon, Coconut Milk, and Kiwi
15. Kiwi Jam
16. Kiwi Feta Salad with Basil Oil
17. Immunity Boosting Smoothie Bowl
18. Green Smoothie Popsicles
19. Golden Kiwi Muffins
20. Kiwi Juice
21. Kiwi Raspberry Chia Pudding
22. Fruit Watermelon
23. Dehydrated Kiwi
24. Kiwi Chia Pudding
25. Kiwi, Mango, and Pineapple Smoothie
26. Sweet Tart Fruit Salad
27. Pineapple Kiwi Mint Smoothie
28. Winter Fruit Salad
29. Strawberry Banana Kiwi Smoothie
30. Strawberry Kiwi Popsicles
31. Healthy Fruit Salad with Honey Lemon Dressing
Instructions
Scroll up to get a bunch of easy, yummy, and delicious recipes. Don't be afraid to get creative with the ingredients, you might discover a flavor you didn't know you liked.
Get your shopping list going and make sure you've got all the ingredients.
Get cooking and make your next Kiwi Recipe!
Notes
Which one of these recipes was your favorite? Let me know in the comment section or on Pinterest!