With only 4.2g net carbs per muffin, these keto pepperoni zucchini muffins are a great keto snack or breakfast idea. They're filling, keto-friendly, and gluten-free!
Keto Pepperoni Zucchini Muffins
Sometimes on a keto diet, or frankly, any diet at all, cravings can hit quite hard. All of a sudden, you want a pizza.
Or a muffin. Or even both. With these Keto Pepperoni Zucchini Muffins, you don't have to choose.
They're a delicious combination of pizza and muffins. And as a bonus, they're moist and super filling.
How to Make These Pepperoni Zucchini Muffins
These Pepperoni Zucchini Muffins are so easy to make. First of all, you grate your zucchini, then squeeze out the liquid. Make sure you don't skip this step, or your muffins will be pretty soggy.
And no one likes soggy muffins. Next, grate your cheese. I use mature cheddar cheese, but if you prefer your muffins spicy, you can use Pepper Jack cheese instead.
Then dump your shredded zucchini, some of your cheese, pepperoni, and spices in a bowl, mixing well. You'll be using a couple of spices, so make sure you have a good set of measuring spoons.
I like these ones here because they don't rust or get stained. Next, spoon your batter in a grease-lined muffin tin and bake.
If you prefer to skip the oil, you can use a silicone muffin pan instead. Finally, sprinkle some cheese on each batter-filled tin and bake in the oven. This recipe is also very easy to customize. For this recipe, I made the muffins pizza style, but you could easily make it Mexican or hamburger style too.
To make it Mexican, use a Mexican cheese blend, browned ground beef, jalapeno peppers, and green onions.
To make it hamburger style, use browned ground beef, cheddar cheese, cooked bacon, and pickles.
What are These Muffins Great for?
These muffins make the perfect snack for your busy lifestyle. Just grab one and go. You can even have one for a light breakfast, along with a cup of butter coffee.
What a great start to your morning! You can even have them for lunch.
Just serve with a side Garden salad, and you're good to go. They also make for great appetizers to serve to your dinner guests.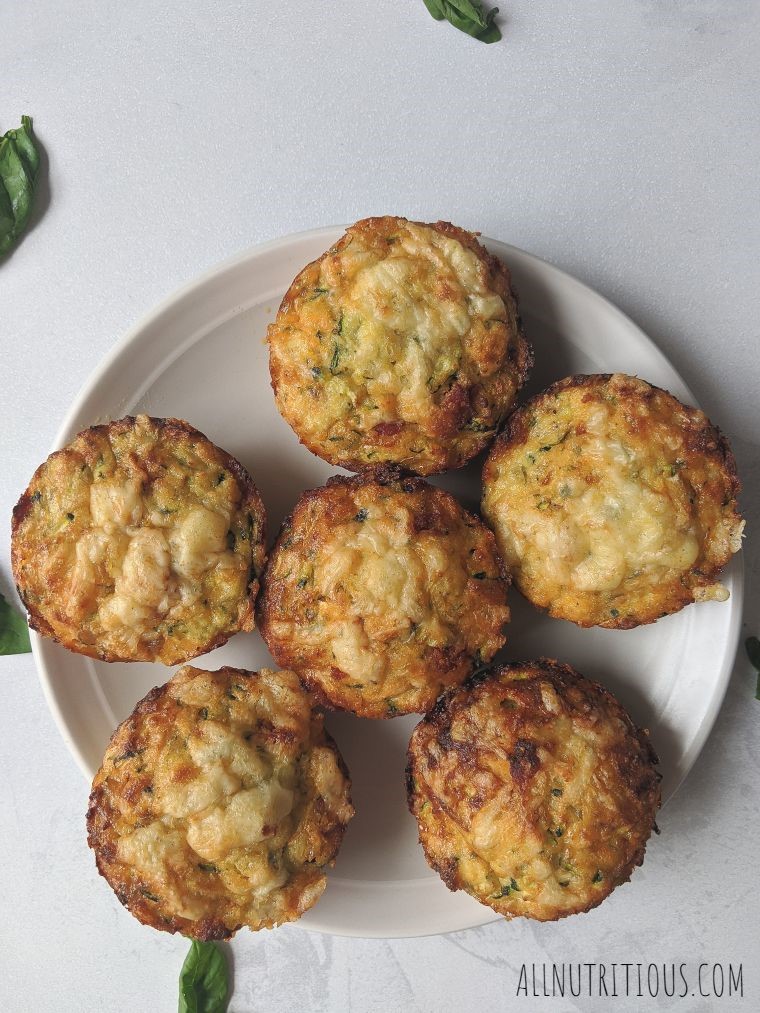 They won't believe they're keto. Knowing a few keto hacks can help your transform any dish into keto-friendly.
Are Zucchini Low Carb?
Zucchini are definitely low carb vegetables. One medium zucchini contains only 4.4 grams of net carbs. It is also an excellent source of vitamin C.
So, it's good for your immune system. It contains a number of B vitamins, as well as potassium and manganese. Zucchini also offer a lot of health benefits.
They're rich in fiber and water, so they're good for your digestion. They're also pretty low in calories.
In fact, one medium zucchini contains only 31 calories. So, they may help you lose weight.
Besides using zucchini in your baking, you can also use them to make things like zucchini noodles, or even zucchini fries. Yum!
Why are These Pepperoni Zucchini Muffins Keto-friendly?
One Pepperoni Zucchini Muffin contains only 4.2 grams of net carbs. So, you can easily have one and stay in ketosis.
It is also high in protein and fat, so it keeps you full. It is also a good source of vitamin C. And at only 101 calories per muffin, it is a nice treat if you're also watching your calories.
To keep them keto-friendly, you use coconut flour instead of regular flour. Coconut flour has about 65% less net carbs than regular flour.
It also has more fiber and is rich in iron. If you need to stock up on some, you can get some here.
You're also using keto-friendly ingredients in your batter. Ingredients like eggs, zucchini, and cheese.
To keep it keto-friendly, make sure you don't use pre-shredded cheese. As convenient as it is, it's not keto-friendly.
That's because pre-shredded cheese has starch added to it to keep it from clumping together. As a result, it contains more carbs.
How Long Do They Last for?
These muffins last 4 to 5 days in an airtight container. And since one batch makes 6 muffins, they're perfect for meal prep…
You'll have all your snacks ready for an entire week. To keep them fresh longer, you can use glass storage containers like these.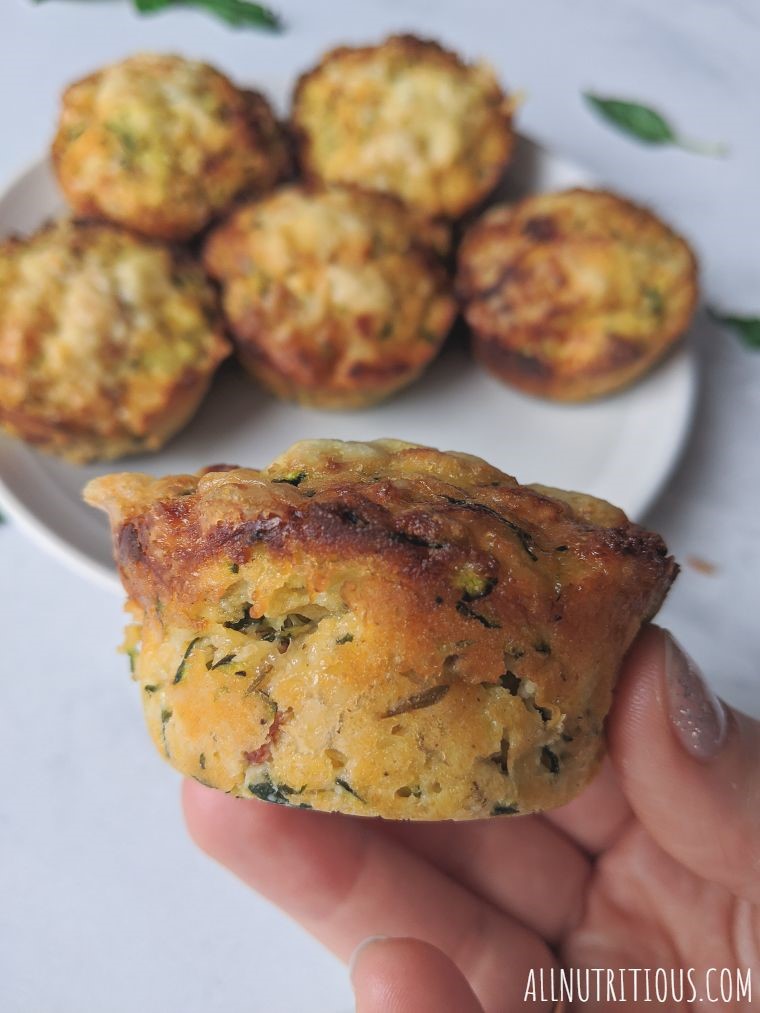 They not only keep your muffins fresh but don't leak toxic chemicals into them.
Sauces You Can Use with These Keto Pepperoni Muffins
To keep with the pizza theme, you can serve these Keto Pepperoni Muffins with some marinara or pizza sauce. Just make sure you use a keto-friendly sauce like this one.
I recommend it because it has no added sugar or preservatives, and is non-GMO. And if you like it hot, you can even serve it with some spicy mayo.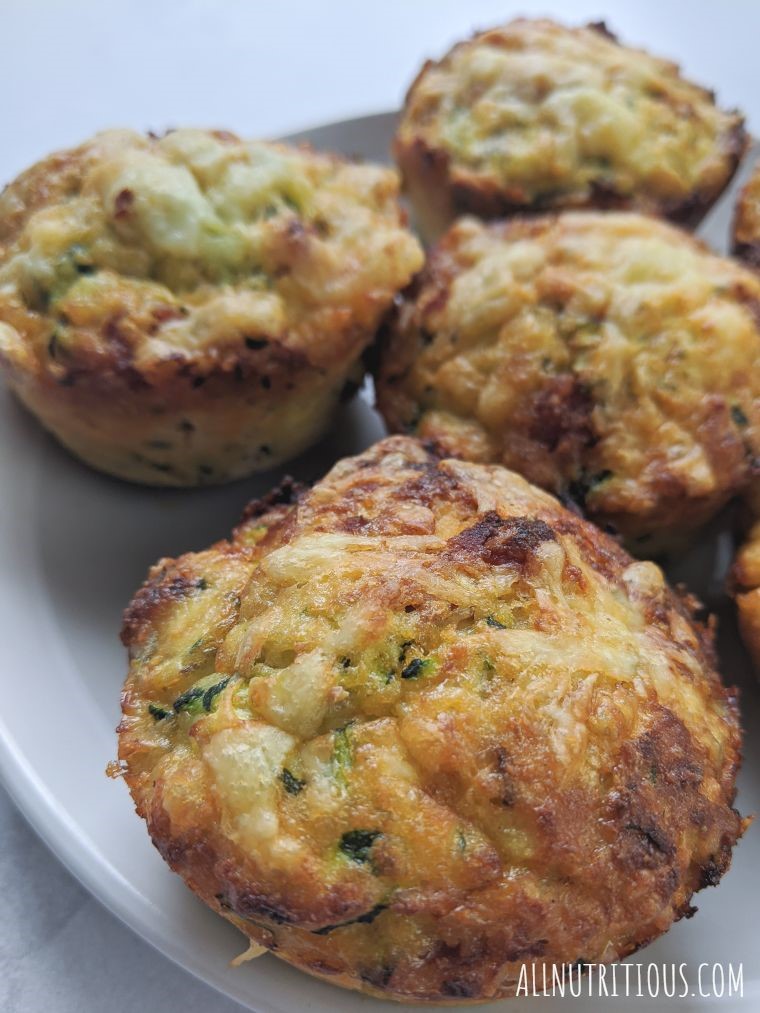 To make it, just add some hot sauce to your mayo and voila-spicy mayo.
Watch Full Recipe
Other Keto Recipes
Keto Pepperoni Zucchini Muffins
These keto pepperoni zucchini muffins are easy to make. You can have them in the morning as a low carb breakfast or a ketogenic snack when hunger kicks in. They're savory, filling, and flavorful!
Ingredients
1 medium zucchini
2 large eggs
1/2 cup mature cheddar cheese (shredded)
8 slices pepperoni
3 tbsp coconut flour
1/4 tsp baking powder
1/2 tsp thyme
1 tsp garlic powder
1/4 tsp salt
1/8 tsp black pepper
Instructions
Grate the zucchini on a plate. Squeeze the liquid out of it using your hands.
Grate cheddar cheese, cut the pepperoni into smaller pieces. Set aside a small amount of cheese.
Now combine the zucchini, eggs, cheddar, pepperoni, thyme, garlic, salt, and black pepper. Do it as well as you can.
Finally, add in coconut flour and baking powder. Combine well.
Spray the muffin tin with olive oil, grease it and add the mixture in. Sprinkle a little bit of leftover cheese on top. Bake at 400F (200C) for 20 minutes in the oven.
Cool down before serving.
Nutrition Information:
Yield:

6 muffins
Serving Size:

1 muffin
Amount Per Serving:
Calories:

101
Total Fat:

6.3g
Saturated Fat:

3g
Trans Fat:

0.1g
Unsaturated Fat:

0.7g
Cholesterol:

73mg
Sodium:

251mg
Carbohydrates:

5.2g
Net Carbohydrates:

4.2g
Fiber:

1g
Sugar:

2.2g
Protein:

6.2g
Nutritional values were obtained with automatic software using the amounts of products used. To get the most accurate representation of the nutritional values, you should calculate them with the actual ingredients used in your recipe. You are solely responsible for the nutritional information obtained to be accurate.