These keto cheese chips with jalapeno are ketogenic and high in protein. They're delicious with low carb ketchup or any other sauce but are just as good on their own. A perfect low carb treat when cravings kick in!
When you're on a keto diet, sometimes you want something crispy and crunchy to munch on.
Something like potato chips. But on a keto diet, they're a big no-no.
Just one small single-serving bag packs a whopping 14 grams of net carbs. And as yummy, as they are, they're not worth all the carbs.
So, what can you do when you're craving potato chips? Have these keto cheese chips instead!
They're cheesy, spicy, crunchy, and just plain addictive- I bet you can't have just one😊. So, they make the perfect snack for when you're craving the munchies.
They're also perfect for dipping. You can dip them in low carb ketchup, salsa, guacamole; the choices are limitless.
You can even use them in place of croutons to top your soups or salads.
They're really quick and easy to make too. In fact, it takes less than 20 minutes to make them.
All it takes are 3 simple ingredients: cheddar cheese, jalapeno, and paprika powder.
The cheddar cheese adds cheesiness, while the jalapeno adds some heat. Meanwhile, the paprika powder adds some sweetness.
And you can change things up too. If you want it Mexican style, you can replace the paprika powder with Taco seasoning.
If you love garlic, you can use garlic powder and onion powder as your seasonings.
Not a fan of cheddar cheese? You can use parmesan cheese or any other cheese that melts well and is crispy once cooled. Here is another cheddar cheese recipe!
Keto Cheese Chips with Jalapeno – a Perfect Healthy Snack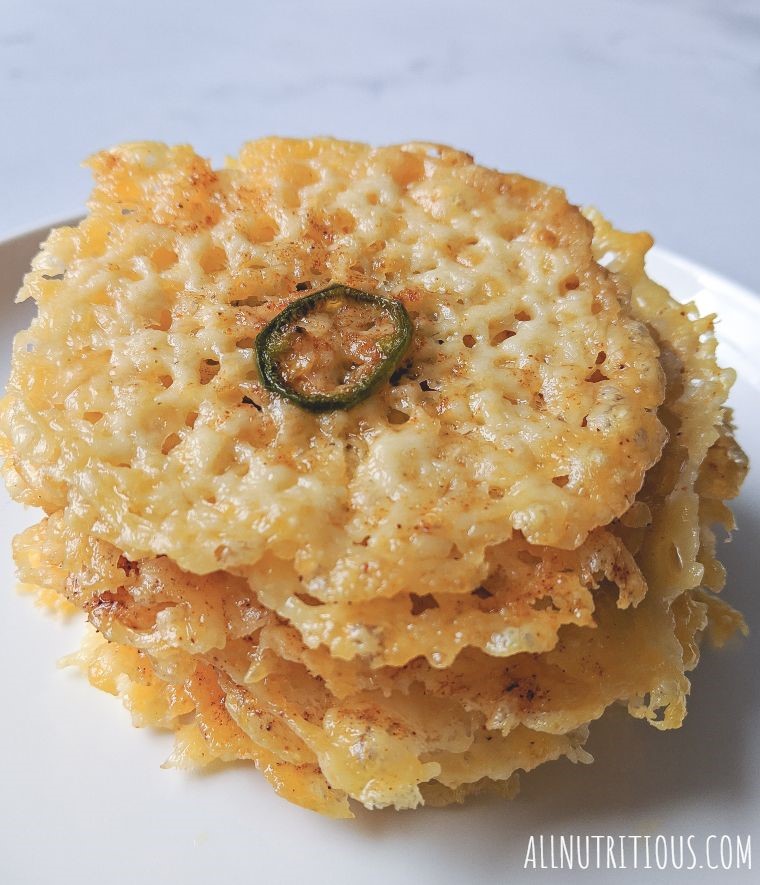 These Keto Cheese Chips with Jalapeno are quite healthy. One serving contains only 0.6 grams of net carbs.
So, they're pretty low in carbs. They're also high in protein, so they're filling.
They also provide 11% of your daily calcium needs. So, they're good for your bones.
They even have a bit of vitamin C too, which is good for your immune system.
One serving contains only 85 calories. So, you can eat more than one serving, and not feel guilty.
How to Make Cheese Chips?
Once you've preheated your oven to 400 degrees Fahrenheit, you want to grate your cheese.
Then place spoons of it on a parchment paper-lined baking tray. When spooning your cheese, make sure you don't pile your cheese too high, or else it won't become crispy.
You also want to leave enough space between your piles, or else you'll have one big sheet of crispy cheese! It will still be crispy, but you may need a pizza cutter to cut through it.
Once you've made your cheese piles, top with paprika powder and jalapeno slices. Then bake for 8 to 10 minutes until slightly browned.
Make sure you watch your oven closely. The amount of time it will take your cheese chips to be done depends on how high and wide you make your cheese piles.
Your cheese piles can go from "almost done" to "burnt" pretty fast, so make sure you keep a good eye on them!
Do Keto Cheese Chips Need to Be Refrigerated?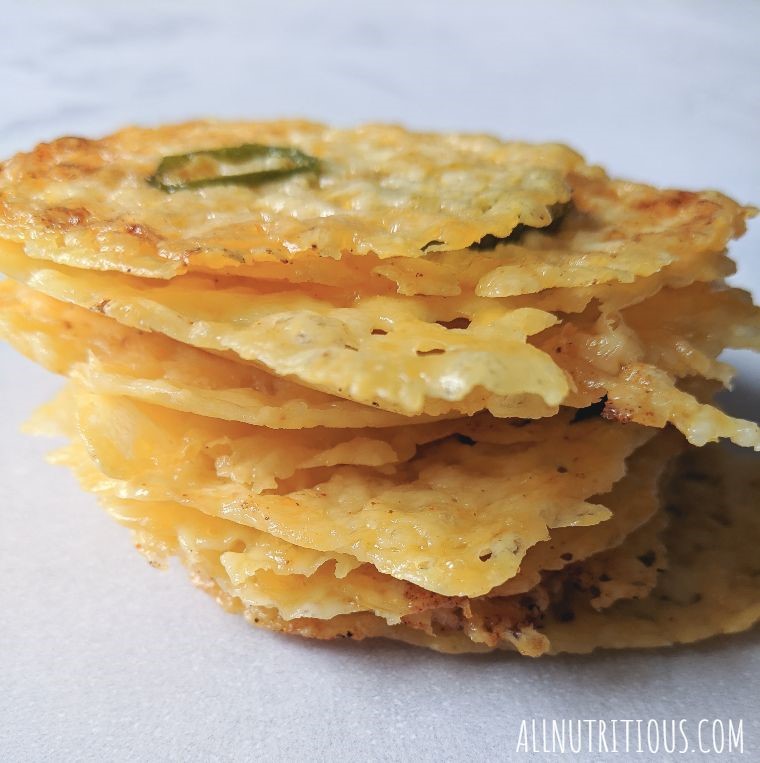 Since these keto cheese chips are made of cheese, it's best to put them in an airtight container, so they don't get soft and put them in the fridge. You can store them for up to a week in the fridge.
I recommend these storage containers here because they don't contain toxic chemicals that will leak into your food.
Are Cheese Chips Healthy?
Yes, keto chips are healthy. That's because they're made with cheese.
Cheese is a good source of protein. It's also high in fat, so it's good if you're on a high-fat diet.
It's also rich in calcium and phosphorus, which you need for healthy bones. And it's an excellent source of vitamins A, B12, B2, and zinc.
High-fat cheeses such as cheddar cheese also have a bit of conjugated linoleic acid (CLA). CLA is a substance that may lower inflammation.
When choosing cheese, try and choose cheese made from grass-fed cows. That's because this cheese contains more omega-3s than conventionally raised cows.
Also, if you're on a low-carb diet, it's best not to buy cheese that has already been shredded. That's because pre-shredded cheese has added starch to prevent the cheese from clumping together.
As a result, it's higher in carbs than block cheese.
Cheddar Cheese Chips vs Parmesan Chips
Both types of cheese chips are yummy, but they have key differences.
Parmesan Cheese Chips are lighter and crunchier than Cheddar Cheese Chips. They also taste saltier because they contain more sodium than Cheddar Cheese.
For instance, one ounce of cheddar cheese contains 180 mg of sodium. One ounce of Parmesan cheese, on the other hand, contains 350 mg of sodium, which is double the amount of sodium in cheddar cheese.
It can also be trickier making Cheddar Cheese Chips; you have to get them out of the oven just at the right time.
If you don't leave them in the oven long enough, they'll be soft. However, if you leave them in the oven too long, they burn fast.
With Parmesan Cheese Chips, they still tend to come out crispy even if you don't leave them in the oven long enough. So, they're easier to work with.
Watch Full Recipe
Other Keto Recipes: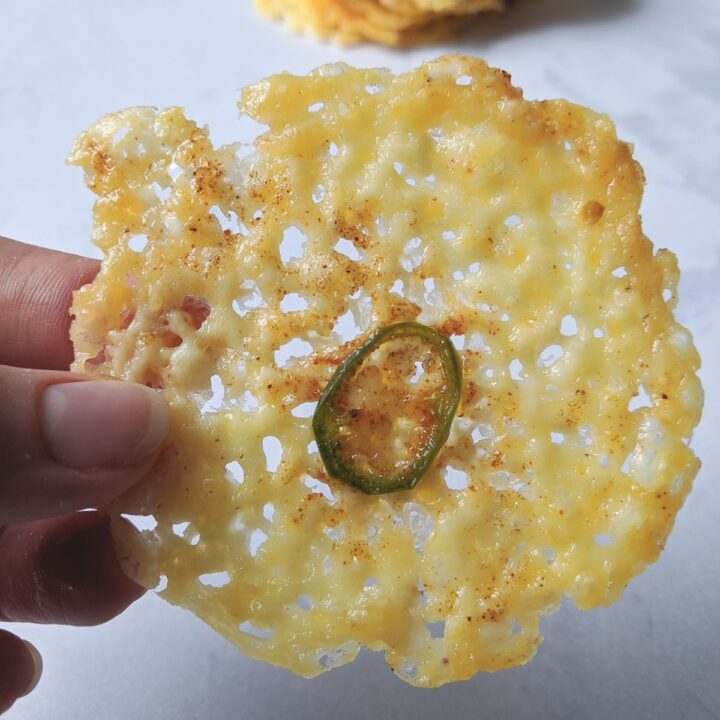 Keto Cheese Chips with Jalapeno (High Protein)
Just in 15 minutes, you can get these keto cheese chips on the table. They're high in protein, gluten-free, vegetarian, and full of flavors! It's a perfect snack when you're on a low carb diet.
Ingredients
8 oz. mature cheddar (250g)
Half a jalapeno
½ tsp paprika powder
Instructions
Preheat the oven to 400F (200C).
Grate the cheese and place spoons of it on the baking tray lined with parchment paper. Make sure there is enough space in between so the cheese can melt.
Sprinkle over some paprika powder. Then, place slices on jalapeno on top of it. Bake in the oven for 8-10 minutes until slightly browned. Make sure the chips don't get burnt.
Finally, let the chips cool down before eating.
Nutrition Information:
Yield:

12 chips
Serving Size:

1 chip
Amount Per Serving:
Calories:

85
Total Fat:

7g
Saturated Fat:

3.9g
Trans Fat:

0.2g
Unsaturated Fat:

0.3g
Cholesterol:

21mg
Sodium:

136mg
Carbohydrates:

0.7g
Net Carbohydrates:

0.6g
Fiber:

0.1g
Sugar:

0.1g
Protein:

4.8g
Nutritional values were obtained with automatic software using the amounts of products used. To get the most accurate representation of the nutritional values, you should calculate them with the actual ingredients used in your recipe. You are solely responsible for the nutritional information obtained to be accurate.
Conclusion
What do you think of these keto cheddar cheese chips? Let me know in the comment section and feel free to share it with your friends!