These no-bake keto peanut butter balls are made out of 3 ingredients. They're soft and chewy as well as vegan, keto, low carb, gluten-free and dairy-free.
It's a perfect sweet treat for anyone in the household, and just an awesome fat bomb to keep yourself in ketosis.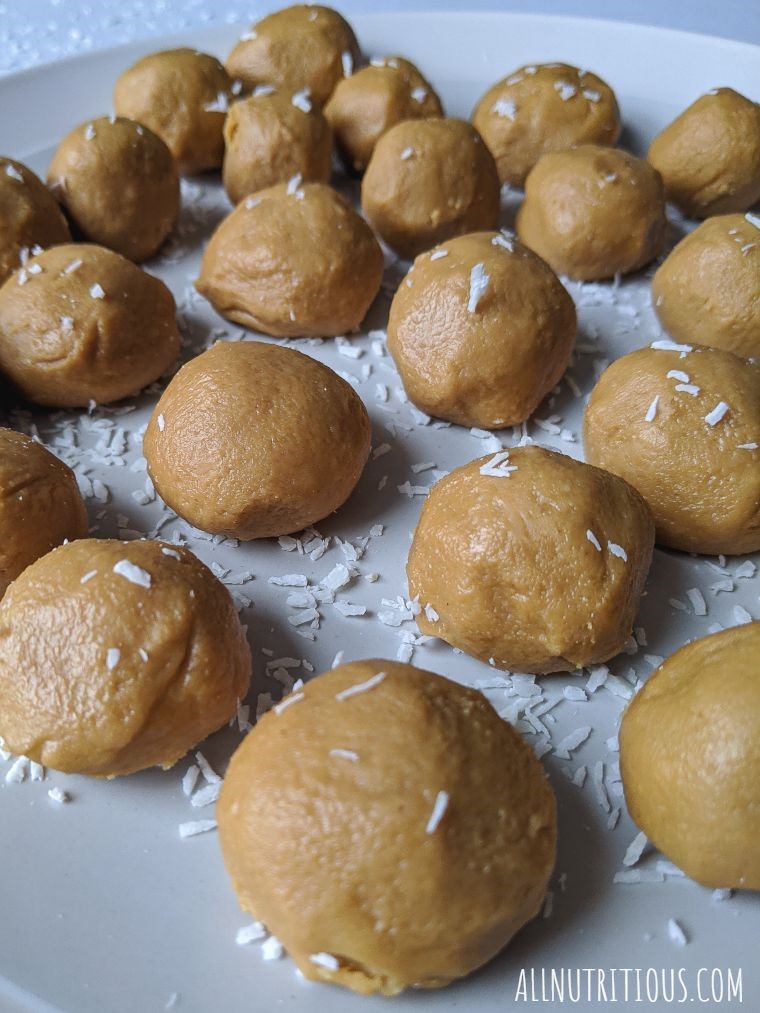 No-Bake Keto Peanut Butter Balls
To stick to your diet, it's important to treat yourself once in a while. But, on a keto diet, it can be hard satisfying your sweet tooth.
That's because a lot of treats have sugar. And sugar equals carbs.
With these No-Bake Keto Peanut Butter Balls, you can eat your cake. And have it too!
They're delicious, soft, chewy morsels of peanut butter goodness. Perfect if you love peanut butter as I do.
It takes less than 10 minutes to make them, and they're super easy to make…even your kids can make them.
All you need to do is mix your ingredients together to make your dough. Then make balls out of your dough and place them on a parchment paper-lined tray.
Finally, place in the fridge to chill.
Your dough will form 18 peanut butter balls. So, they're great for meal prep.
Just set aside 10 minutes of your weekend to make them. Then you've got your snacks set for the rest of the week.
Besides being fridge friendly, they're also freezer friendly. Just make sure you store them in a freezer-safe container, so they don't get freezer burn. I like these ones here because they're glass and don't leak chemicals into your food.
3 Ingredients You'll Need for These Keto Fat Bombs
To make these Fat Bombs, all you need are:
Smooth Peanut Butter: This gives these Fat Bombs their creaminess and peanut taste. If you're not a fan of peanut butter, you can replace it with cashew butter or almond butter instead.
Sugar-Free Maple Syrup: This adds sweetness and compliments the peanut taste. If you don't have sugar-free maple syrup, you can just use a sticky sweetener of your choice.
Coconut Flour: This makes the Fat Bombs chewy. Coconut flour is extremely absorbent, so a little goes a long way. That's why you need only a bit of it.
You only want to use coconut flour for these fat bombs. That's because if you use another flour, the texture will not turn out right (even if you increase the amount of flour).
You will also find the fat bombs less "peanuty" if you use a different flour. If you need to stock up on coconut flour, you can get some budget-friendly coconut flour here.
How Many Fat Bombs Can You Eat on Keto?
One fat bomb contains only 4.9 grams of net carbs. So, you can definitely afford to treat yourself to one fat bomb, maybe even two, if you've been extra good on your diet.
Besides being low in net carbs, they're also packed with protein and fat. So, you feel full after eating just one.
Each fat bomb contains only 104 calories. So, they're a great fat bomb to have if you're watching your calories.
Is Peanut Butter OK for Keto?
Yes, peanut butter is definitely OK for keto. Two tablespoons of peanut butter (no added sugar) contain about 5 grams of net carbs.
So, you can definitely fit peanut butter into your daily macros. Just don't go overboard.
Besides being lower in net carbs, it is also packed with lots of heart-healthy fats. And you get some fiber to boot!
As a bonus, peanut butter is a good source of protein too. So, it keeps you full and away from those tempting donuts that are calling your name.
How to Make These Balls Keto?
To make your Peanut Butter Balls keto, you want to use a sugar-free maple syrup-like ChocZero's Maple Syrup.
It has only 1 gram of net carbs per tablespoon. Compare this with regular maple syrup, which has a whopping 13.5 grams of net carbs per tablespoon!
It is also lower in calories too. Besides being low in net carbs, it contains no preservatives and is GMO-free. If you'd like to give it a try, you can get some here.
Another way you make these Peanut Butter Balls keto is by using coconut flour. Coconut flour is low in net carbs compared to regular flour.
For instance, 30 grams of coconut flour (or 4 tablespoons) of coconut flour contains only 8 grams of net carbs. The same amount of regular flour contains almost 22 grams of net carbs.
Coconut flour is also an excellent source of iron, which you need to keep your energy levels up. And coconut flour is naturally gluten-free.
It is also rich in fiber. So, it not only helps your digestion but keeps you full longer.
Besides using coconut flour for baking, you can also use it to make pancakes, to thicken your sauces and stews, and to bread your meats and fish.
When subbing coconut flour for regular flour in your favorite baking recipes, do remember that it's is super absorbent, as I mentioned earlier.
So, aim to use about ¼ cup of coconut flour for each cup of regular flour. If you're running out of this flour, you can get some here. Or just go keto shopping!
And if you're a fan of coconut like I am, you can roll your Peanut Butter Balls in some shredded coconut. Just make sure it's unsweetened like this!
Also, check out more keto coconut flour recipes here.
What Type of Peanut Butter Should You Use?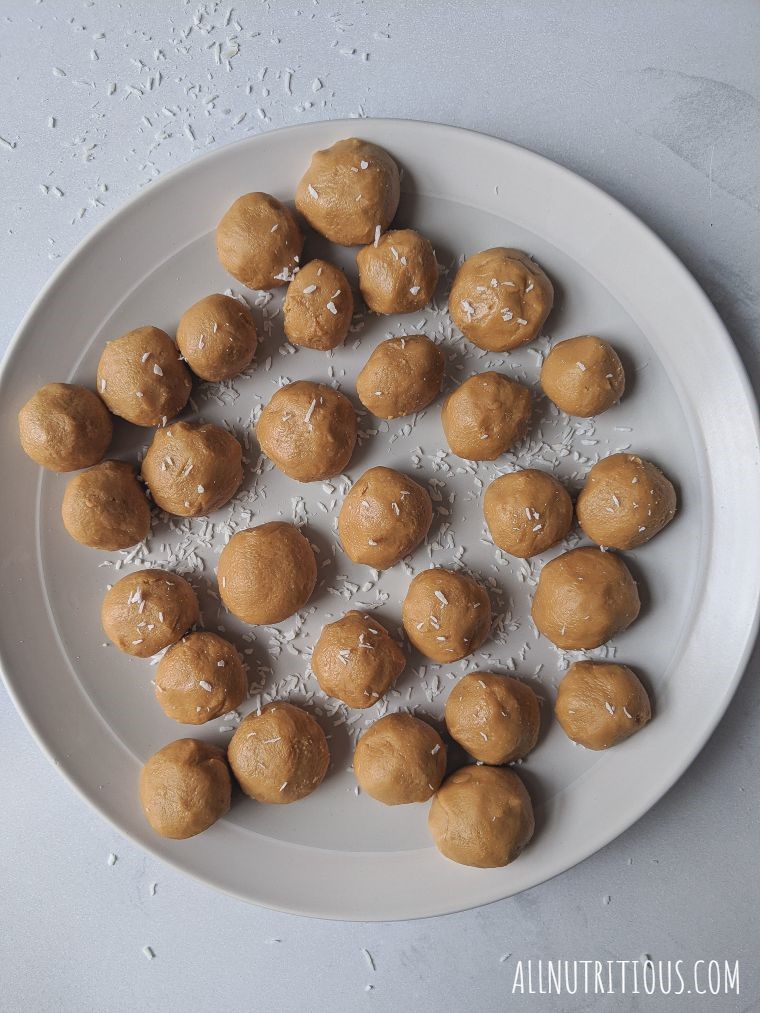 You want to use peanut butter that contains only peanuts. So, no sugar or salt added, just natural peanut butter.
This keeps the peanut butter balls keto. It also cuts down on the amount of sodium too.
You also want to use creamy peanut butter, not chunky. Creamy peanut butter makes the texture of the peanut butter balls nice and smooth.
Watch Full Recipe
Other Keto Recipes: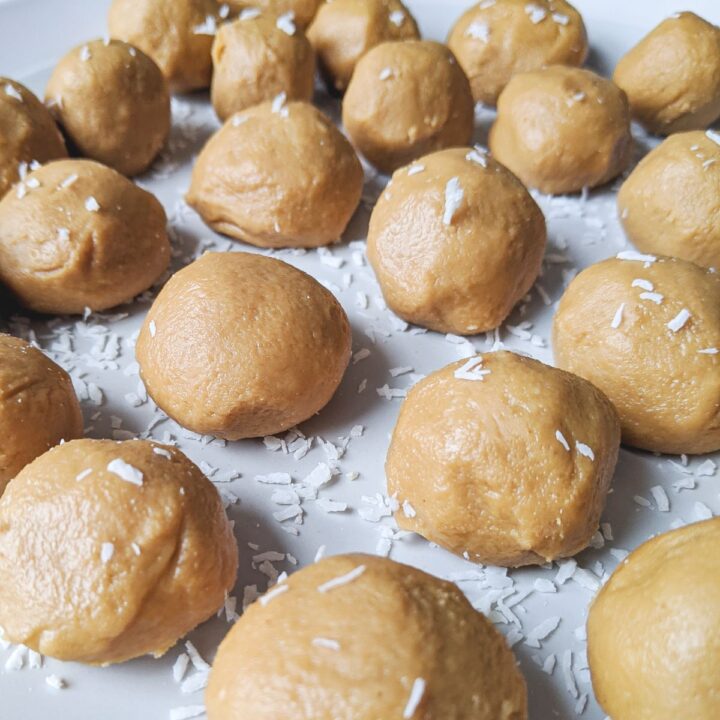 Keto Peanut Butter Balls (3 Ingredients)
Additional Time:
30 minutes
These 3-ingredient no-bake keto peanut butter balls are just the fat bomb you need on a low carb diet. They're vegan, low carb, easy to make, and sweet!
Ingredients
1 cup natural, unsalted, unsweetened creamy peanut butter
1/3 cup sugar-free maple syrup
½ cup coconut flour
Instructions
Mix all the ingredients as well as you can.
Line a large plate or tray with parchment paper.
Form small balls out of the dough. Place them on the plate or tray and keep in the fridge for 30 minutes or so.
Nutrition Information:
Yield:

18 balls
Serving Size:

1 ball
Amount Per Serving:
Calories:

104
Total Fat:

7.7g
Saturated Fat:

1.8g
Trans Fat:

0g
Unsaturated Fat:

1.7g
Cholesterol:

0mg
Sodium:

82mg
Carbohydrates:

6.1g
Net Carbohydrates:

4.9g
Fiber:

1.2g
Sugar:

1.5g
Protein:

3.9g
Nutritional values were obtained with automatic software using the amounts of products used. To get the most accurate representation of the nutritional values, you should calculate them with the actual ingredients used in your recipe. You are solely responsible for the nutritional information obtained to be accurate.