Going keto shopping? Check out these essential keto groceries you can get and start cooking.
With the keto diet, you can lose weight fast. Not only that, but you can also improve your health as well.
Today, I'll show you how to get started on a keto diet, and more importantly, what you need to have on your grocery list in order to succeed on the keto diet. So, let's get started!
How Do I Get Started on a Keto Diet?
Before you get started on a keto diet, it is important to know what the keto diet is. Quite simply, it is a diet that is very high in fat, very low in carbs and has a moderate amount of protein.
On a keto diet, you want to have 75% of your calories come from fat, and 20% of your calories come from protein.
The remaining 5% should come from carbs. This works out to roughly 20-25 grams of what we call net carbs.
What are net carbs? Net carbs are the total amount of carbs in a food minus the fiber.
What Can You Not Eat on Keto Diet?
On a keto diet, you cannot eat:
Sugar-filled food and drinks such as soda and juice.
All fruits except small amounts of berries.
Grains such as oatmeal, rice, and wheat.
Beans and legumes such as lentils and peas.
Root vegetables and tubers such as potatoes, sweet potatoes, and yams.
Most alcohols.
Different condiments such as ketchup and barbecue sauce.
Must-Have Items When You're on Ketogenic Diet
So, now that you know what you can't eat on a keto diet, you're probably wondering what foods you can eat.
I've made it easy with these 25 must-have items for your grocery basket. By sticking to these food items, you can stay on track with your keto diet.
1. Avocado
It seems like everyone is eating avocados now. But besides being yummy, avocados are ideal for the keto diet. That's because they're packed with fat.
Just one avocado has a whopping 29.5 grams of fat. And most of that fat is heart-healthy monounsaturated fats.
It also has tons of vitamins, including magnesium and potassium, which can help you fight the keto flu. And in case you're wondering, the keto flu is simply a bunch of symptoms that you get when you first start on the keto diet.
Avocados are also packed with fiber. One avocado provides 54% of your daily fiber needs. Fiber not only keeps you regular but also helps you stay full.
Avocados make an easy snack. You can also use them on your salads, in smoothies, and of course, to make guacamole.
Now, avocados can be a pain to slice. So, to make it easier and avoid a trip to the emergency department, I recommend this budget-friendly avocado slicer here.
2. Spinach
Now that most fruits are off-limits, you may be wondering how you'll get most of your vitamins and minerals. The answer? Leafy greens like spinach!
Spinach is not only low in net carbs but also low in calories. One cup of spinach has only 7 calories! So, it is the perfect food to help you lose weight.
It also contains a number of vitamins and minerals, including vitamins A, C, K, folate and manganese.
Besides being nutritious, spinach also contains tons of antioxidants that can help fight cancer.
You can use spinach in so many different ways. You can use it to make salads, soups, stews, smoothies, or just on its own.
If you're cooking spinach on its own, be sure to steam it instead of boiling it. When you boil spinach, you lose some of the vitamins in the water. Here is a good steamer that you can use to prevent this from happening.
3. Canned Sardines
I lead a pretty busy life, as I'm sure you do too. So, it is nice not to have to cook once in a while.
That's where canned sardines come in handy. They are super convenient and are packed with omega-3s, which are good for your heart and brain.
Besides being a good source of fat, they're also packed with protein. And they contain tons of vitamin D to boot.
Canned sardines make a great snack or a nice quick lunch. Just add some to some leafy greens and top with olive oil and balsamic vinegar… there you go, a quick and tasty lunch!
4. Salmon
Salmon is not only tasty, but it's packed with tons of omega3s, as well as protein.
It also contains minerals like magnesium, phosphorus, and manganese, which you need for healthy bones. And since it takes very little time to cook, it is perfect for those busy weekday nights.
5. Olive Oil
This is definitely the oil you will want to load up on. And for a good reason, it's high in heart-healthy monounsaturated fats and high in fat, period.
Just one tablespoon of olive oil contains almost 14 grams of fat. So, if you find that you're not getting enough fat when you first start on keto, just add some olive oil.
Besides being nutritious, olive oil is good for you too. It can lower your blood pressure and may even reduce your risk of chronic diseases like heart disease, type 2 diabetes, and Alzheimer's disease.
Olive oil is great for making salad dressings. And on a keto diet, you may find yourself making your own salad dressing more often.
That's because a lot of commercial salad dressings contain vegetable oils that are not recommended on the keto diet or added sugars. To make your own salad dressing, just add 3 parts olive oil to 1 part balsamic vinegar.
6. Heavy Cream
If you're a heavy coffee drinker, heavy cream makes a great replacement for milk and sugar-flavored creamers. You can also use heavy cream to thicken soups and sauces and make them extra creamy.
7. Berries
Are you a big fan of fruit? Then, berries will be your best friend!
One downside of the keto diet is that most fruits are off-limits. Thankfully, on a keto diet, you can have berries-in moderation.
That's because they're lower in net carbs than most fruits. For instance, a 1.0 ounce serving of raspberries contains only 1.5 grams of net carbs.
Besides being nutritious, berries also contain tons of antioxidants which help prevent cancer.
Berries are great for snacking on. You can also add them to Greek yogurt or even use them in baked goods like my Ketogenic Raspberry Coconut Cupcakes.
To save money on your grocery bill, try and buy fresh berries when they are in season. In the offseason, buy frozen berries instead; they are just as nutritious as fresh berries.
8. Butter
Butter? …Yes, you can have butter on a keto diet. Besides being high in fat, butter contains butyrate.
Butyrate is a substance that is good for your gut, and may even help you lose weight.
So, spread it on your keto bread, use it in your baking, and even use it for cooking. When cooking with it, though, make sure you cook at low temperatures.
This is because butter has a low smoke point, so it smokes pretty easily. And when oils start to smoke, they release toxic free radicals that are bad for your health.
Also, feel free to use any nut butter in your diet. These are nutritious and have wonderful health benefits.
9. Coconut Oil
Besides being high in fat, coconut oil contains MCT oils that may help you burn fat.
You can use coconut oil for frying. You can also use it to make fat bombs, which are tasty treats you want to have on hand if you're running low on fat.
If you're looking to speed up your weight loss, you may want to try pure MCT oil, which has a much higher concentration of MCTs than coconut oil. You can find some here.
10. Nuts
And talking about tasty treats, nuts make a tasty, convenient snack on a keto diet.
They contain a lot of fat, as well as a number of vitamins and minerals such as magnesium and vitamin E, which you need for healthy bones and skin.
Now, you don't want to eat too much of them because they do contain a moderate amount of net carbs. If you're looking for the most keto-friendly nuts, pecans, Brazil nuts, and macadamia nuts are the best options.
11. Cheese
Yes, you can have cheese on a keto diet. Unlike milk, cheese contains tons of fat, making it good for the keto diet.
Besides being high in fat, cheese is an excellent source of calcium and protein. So, it's good for your muscles and bones.
A quick word of advice: If you want to use shredded cheese for a recipe, be sure to shred your own cheese, instead of buying the pre-shredded ones. That's because pre-shredded cheese contains added carbs from potato starch, which is used to prevent the cheese from sticking together.
12. Chicken
Who doesn't love chicken? You can use it in casseroles, soups, and stews, pair them with low-carb veggies, and make chicken tenders…
And thankfully, chicken loves you back. It is a great source of protein for the keto diet. And depending on the cut, a great source of fat as well.
When choosing a cut of chicken, choose dark meat instead of white meat. Dark meat like drumsticks and thighs are much higher in fat than chicken breasts.
Now beef does have more fat than chicken. However, it has a higher carbon footprint. So, to lower your carbon footprint, you can choose chicken more often.
13. Eggs
Eggs have got a bad rap in the past because they contain a lot of cholesterol. However, according to research, the cholesterol in eggs does not increase your blood cholesterol.
So, eat up those eggs! Eggs are more than 50% fat and are also good sources of protein for your keto diet.
They are also excellent sources of selenium, a powerful antioxidant. And unlike other proteins on the keto diet, they are pretty cheap. So, they're perfect if you're watching your wallet.
If you can, get free-range eggs. They contain more omega-3s than eggs from conventionally-raised chickens.
14. Broccoli
Broccoli is the perfect diet food. It is not only low in calories but low in net carbs as well.
Besides that, it is also an excellent source of vitamins A, C, and K. It also contains antioxidants that reduce your risk of a heart attack.
If you find broccoli bitter, you may be overcooking your broccoli. So, be careful how long you cook it.
Besides steaming or boiling your broccoli, you can roast it, or even use it to make broccoli rice.
15. Asparagus
Asparagus is another great way to add more fiber, vitamins, and minerals to your diet.
Like broccoli, asparagus is an excellent source of vitamin K. It also happens to be a great source of folate, which you need for a healthy pregnancy.
And there are so many ways to enjoy asparagus. You can use it in omelets, stir-fries, and salads. It also pairs well with a nice piece of steak.
16. Brussels Sprouts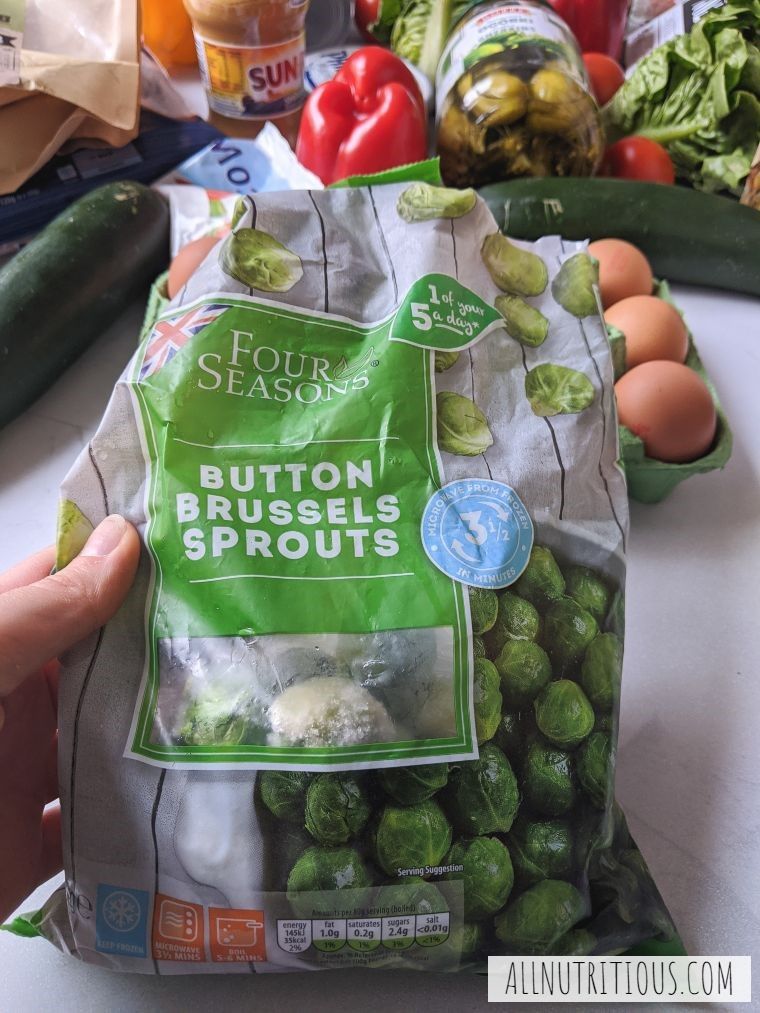 When you were growing up, your mother may have told you to eat your
Brussels sprouts. Well, it's still a great idea to eat them! Not only are they low in net carbs, they also provide valuable nutrients like vitamins A, C, K, and folate.
Brussels sprouts have a reputation for being bitter. But, let me tell you, they can taste sweet, depending on how you cook them.
Roasting them brings out a nice, sweet, caramelized taste. Topped with some bacon, they make the perfect keto dinner.
17. Cauliflower
Here's another low carb veggie to set you off on the right track. Who says the keto diet is only about bacon?
Besides being low carb, cauliflower contains tons of vitamin C. It is also packed with antioxidants that help reduce inflammation in your body.
On the keto diet, you'll find that you can use cauliflower to re-create many high carb dishes. For instance, you can use cauliflower to make cauliflower rice or even cauliflower pizza crust.
If you've never made cauliflower rice before, it's pretty easy. Just break your cauliflower into pieces.
Then, pulse in a food processor until it becomes rice-like. A food processor like this should do the trick. Then, use the "rice" the same way you would use regular rice. One of my favorite ways to use cauliflower rice is to make cauliflower fried rice.
Other Low Carb Vegetables:
Bell Peppers
Tomatoes
Lettuce
Pickles
Cucumber
Zucchini
18. Dark chocolate
Yes, you can still indulge in chocolate on a keto diet. But, you want to make sure you eat dark chocolate, not milk chocolate. That's because milk chocolate contains tons of carbs, some of which is from the milk.
Dark chocolate is much healthier for you because it contains more cocoa. And more cocoa means more flavanol antioxidants. Dark chocolate has more flavanols than even blueberries or red wine.
Now, dark chocolate is bitter, so it takes getting used to. However, if you want it sweet, you can buy Stevia sweetened dark chocolate bars like these.
19. Mayonnaise
As I talked about earlier, many condiments and sauces are off-limits on the keto diet. But one that is A-okay is mayonnaise.
There are so many types of mayonnaise on the market now; low-calorie mayonnaise, fat-free mayonnaise, and even mayonnaise made from tofu. You want to skip all these ones and get full-fat mayonnaise.
20. Hot Sauce
Hot sauce is definitely another condiment you want on your list to pack flavor, particularly if you like things spicy.
Besides containing practically no calories, hot sauce is good for you. That's because it contains capsaicin, a substance that can boost your metabolism and help you eat less.
Specialty Ketogenic Diet Grocery Items
So, I've covered keto-friendly sources of fats, vitamins, minerals, and antioxidants. However, you will notice that keto recipes may call for a number of specialty ingredients like sweeteners and low carb alternatives to regular flour.
These specialty items can be diet savers if you like to bake, or even sweeten and thicken your stews and sauce, or bread your meats. So, let's go over them.
Sweeteners for Low Carb Desserts
21. Stevia
Stevia is a great low carb alternative to sugar. Besides having zero net carbs, it may even help you reduce your blood sugar. You can use it to sweeten your coffee or tea and also use it for baking. If you would like to give it a try, you can find some here.
22. Xylitol
Xylitol is a low-calorie sweetener that also contains zero net carbs. It tastes just like sugar and is only about 5% less sweet.
It has tons of health benefits. For instance, it can help prevent cavities and reduce your chance of ear infections.
It also helps boost your immune system and is good for your gut and bones. If you would like to give it a try, you can find some here.
23. Erythritol
Erythritol is one of the best sweeteners on the market right now, and I use it in a lot of my baking.
It tastes like sugar, and unlike some other sweeteners, it doesn't have a bitter after taste. Also, unlike some other sugar alcohols, it doesn't cause tummy problems as long as you eat it moderation. If you need to stock up on erythritol, you can find some here.
Keto-Friendly Flours
24. Almond Flour
Almond flour is much lower in net carbs and higher in fat than regular flour. And it's packed with bone-building minerals like manganese and magnesium.
To use almond flour in your baking, just sub the same amount of almond flour as you would regular flour in your recipes. It's that easy. So if you do a lot of baking, it can come in quite handy. You can stock up on some here.
Check out more almond flour recipes here. Also, here are some of my own recipes that use almond flour in particular:
25. Coconut Flour
Coconut flour is also much lower in net carbs than regular flour. And it is much healthier as well.
For instance, it is rich in iron, which keeps you energized. And it is packed with fiber, which helps keep your blood sugar level.
Now, coconut flour is pretty absorbent, so a little goes a long way. When you use it in baking, you want to use ¼ cup of coconut flour per 1 cup of regular flour. I recommend this non-GMO coconut flour here.
Start using this flour and check out these ketogenic coconut flour recipes.
More of my recipes using coconut flour:
Keto Shopping List: 25 Must-Have Items for Your Grocery Basket
Ready to go keto grocery shopping? This keto shopping list will make it easy to slowly transition onto a ketogenic diet.
Ingredients
Check the groceries you can buy above
Instructions
Find your favorite keto recipe.
Choose the perfect grocery items
Enjoy keto shopping!
Notes
Which one of these recipes was your favorite? Let me know in the comment section or on Pinterest!