Your air fryer can help you lose weight on the ketogenic diet while still enjoying delicious foods. These keto air fryer recipes are packed with flavor, nutritious, and low in carbs.
Keto life means you need dishes with few carbs and high-fat content. In other words, there's much flavor waiting to be found in these dishes!
Anyone living the keto way must avoid potatoes, bread, and flour. That can make enjoying your favorite fried or crispy foods tough!
Thanks to the air fryer, that's not a problem anymore. This fantastic appliance fries many different ingredients to perfection.
So, you can enjoy many tasty meals without deviating from your low-carb diet.
Is an Air Fryer Good for Keto?
Air fryers are a great choice for a ketogenic diet. First of all, they're so convenient! This one small appliance can cook almost anything you put into it.
Air frying requires almost no oil. That's why you can enjoy all the delicious crunch of a good deep fry without all the additional fat from a bath of oil.
That means you can focus on packing your food with all the good fats that make a keto diet great.
What Keto Things Can You Make in an Air Fryer?
Excellent question! Keto or not, you can make almost any crispy food in an air fryer. The Internet is such a creative place. Air fryer keto recipes exist for everything from air fryer chicken recipes to cake!
Meat is a great ingredient to reach for when cooking keto in an air fryer. It has tons of protein and healthy fats (depending on the cut you choose). The air fryer lets you cook it perfectly every time!
You haven't lived if you haven't tried air fryer steak bites or air fryer bacon.
Don't worry. There are plenty of vegetarian options too.
But what are we waiting for? Take a walk with me through these fifty-one fabulous low carb air fryer recipes to christen your air fryer.
Keto Chicken Air Fryer Recipes
Chicken is at its best when it's cooked to a crisp and moist on the inside. Cook your chicken the way it was meant to be enjoyed with these easy keto air fryer recipes with delicious flavors.
Source: windingcreekranch.org
Our first recipe uses bacon instead of breadcrumbs. You can imagine how delicious that is! The bacon traps all the chicken juices inside the breast. This keeps it super tender and moist.
The real hero of this dish is the spice rub. You can mix it up in advance and make a large amount so you'll never run out because you'll always want this tasty mix on hand for your low carb diet!
Source: fromvalerieskitchen.com
Speaking of spices… this chicken breast is a super fragrant and easy protein for any weeknight meal. The outside of the chicken is crispy, while the inside is super tender and moist.
Use this method to create a signature spiced chicken breast. It's great for busy cooks who need a healthy meal the whole family will love. Don't spend hours over the stove. Just use an air fryer!
Use this tasty chicken in this yummy keto chicken stir fry with broccoli.
Source: stylishcravings.com
This main dish is for you if you're a fan of Italian food. Enjoy an incredible chicken parmesan in thirty minutes thanks to your trusty air fryer. And don't worry, you won't need any breadcrumbs!
This keto-friendly recipe uses ground pork rinds and parmesan cheese instead of breadcrumbs. That's an extra layer of flavor trapping all the delicious chicken juices inside the breast.
Source: aubreyskitchen.com
Need a quick and easy lunch or dinner? Whip out a bag of frozen chicken wings and get to work. These delicious air fryer chicken wings will shame your local wing spot.
They're so amazing that they'd be at home on your game day table! Serve with a generous dollop of ranch dressing and plenty of crunchy side treats.
Source: wholesomeyum.com
Just because you're living the keto life doesn't mean you have to give up fried chicken. Fried chicken is a super easy choice when searching for a delicious dinner. So, don't give it up!
This recipe lets you enjoy this fantastic treat, breadcrumb-free. This recipe uses ground pork rinds like the parmesan to create that crunch. Leave in the air fryer and serve in just half an hour.
Source: littlesunnykitchen.com
A chicken fajita is a little look at what heaven must feel like. Every bite is packed with punchy spice and sweet vegetables. The combination is so addictive! And you don't need to spend hours cooking.
Use your air fryer to craft the perfect chicken fajitas in no time. If you have a big spice cabinet, try whipping up your fajita mix! Otherwise, a store-bought blend will do just fine.
Source: troprockin.com
Enjoy perfectly-seasoned chicken with a crispy skin thanks to this great air fryer recipe. These chicken leg quarters are bigger than your average chicken leg. So, one per person will be enough!
These chicken leg quarters are perfect for a weeknight meal or dinner party. Feed your guests delicious food without hurting your wallet.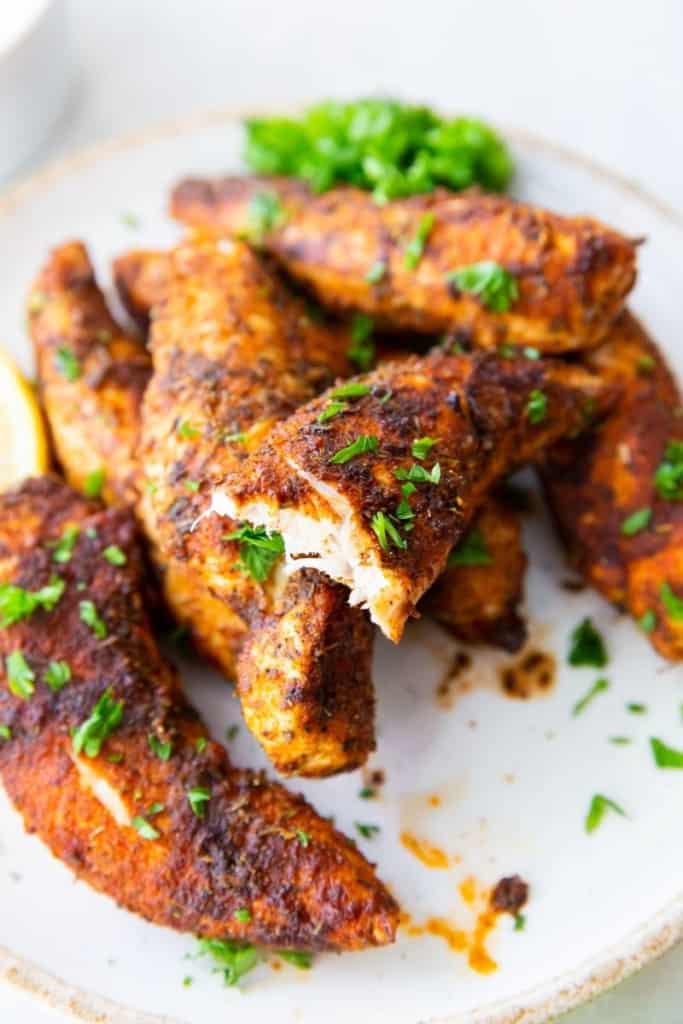 Source: everydayfamilycooking.com
Your kids will love these fantastic chicken tenders. The spice rub on these tenders holds all the juices inside the chicken. This keeps it moist and – as the name suggests – tender.
The spice rub also packs every bite full of punchy flavor. Make these as a meal prep recipe and enjoy them every day for lunch without getting bored. You can switch up the spices to keep it interesting!
Keto Chicken Thigh Recipe
Chicken thighs are tender, full of flavor, and super cost-effective. Need a quick and easy weeknight dinner the whole family can enjoy? Reach for one of these recipes!
Source: airfryereasy.com
First up in our chicken thigh category is a boneless, skinless thigh packed with flavor. The spice rub on these thighs is delicious. It also helps to make them a little crispy.
You can prepare these chicken thighs well before your lunch or dinner. They're even better if you let them sit in the spices for a bit. Then cook in the air fryer when ready to eat!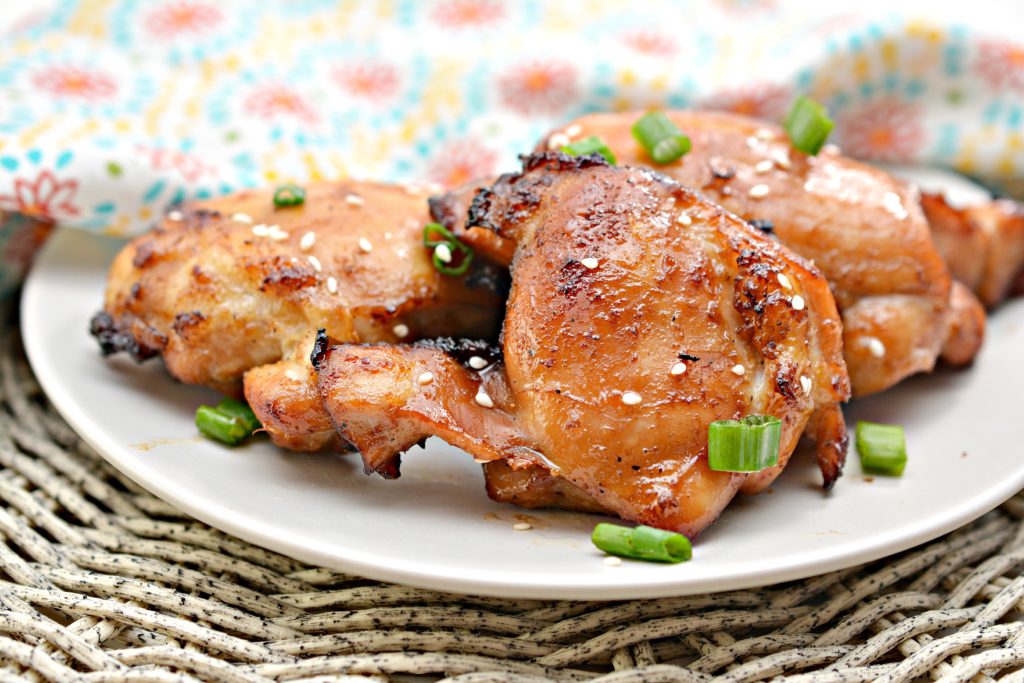 Source: homemadeforelle.com
Don't give up delicious Asian chicken just because you've gone keto! This recipe teaches you how to make tasty fried chicken with a sticky Asian glaze.
Enjoy this chicken with your favorite side dishes. Soups, noodles, and rice are all great options to round out your meal. You can also use this as a meal-prep recipe to prepare for the week.
Source: findingzest.com
These lemon pepper wings use a tasty dry rub that packs every bite full of citrus flavor. The spice rub chars as it cooks, adding a lovely smoky taste. If you want extra crispy wings, leave the skin on!
These are great for game day or keeping guests happy at a party. The flavor is super simple yet delicious. That's what makes these wings such crowd-pleasers.
Source: everydayairfryerrecipes.com
Put the Chipotle menu down and get to work on this amazing dupe. You can use chicken thighs to create an extra tender and juicy bowl of spiced deliciousness.
Honestly, this chicken is good enough that you enjoy it on its own. But some spiced rice or tortillas with salsa would go a long way toward making this meal even better. Talk about adding a little spice!
Source: blackberrybabe.com
Sometimes you want a tasty meal without putting much effort in. And "sometimes" means "most of the time." That's why these cajun chicken thighs are so good.
The cajun spices pack a punch! Based on their flavor, you'd think these chicken thighs would take ages to make. But you can make them in just half an hour. Yep, only half an hour!
Keto Pork Chop Recipes
Cooking the perfect pork chop is a feather in the cap of many home cooks. Thankfully, these keto pork chop recipes make it super simple with an air fryer! Low carb, high fat, and delicious.
Source: wholesomemadeeasy.com
Breaded air fryer pork chops are a staple of soul food. The crunchy outside and juicy inside offer a tasty meal's perfect contrast.
Pair that with your favorite fried greens for dinner that everyone can enjoy.
These pork chops also use ground pork rinds instead of breadcrumbs. Pork rinds on fried pork chops? I don't think there's anything better! These are so easy to make in just half an hour.
Source: lowcarbyum.com
Cooking your meat with the bone helps keep it moist and delicious. That's why this next recipe makes such good chops. They're also breaded in pork rinds to give them extra crunch and flavor.
Serve these amazing pork chops with your favorite keto side dishes. Try fried greens, mashed cauliflower, roast vegetables, or a heaping bowl of keto mac and cheese.
Source: cleaneatingkitchen.com
If you want to skip breading altogether, don't worry! This no-breading pork chops recipe uses bone-in pork chops. That means the meat will stay super moist even without the crumbed coating.
These are super easy to whip up in your air fryer. From start to finish, the process takes just thirty minutes. It's also great for whipping up a solo meal. You can make the perfect portion for yourself.
Source: wholelottayum.com
Not a fan of bone-in chops? Get super moist boneless chops with this simple recipe. The flavorful spice rub helps make these chops extra juicy and delicious.
This recipe highlights how good air fryers are. They allow you to prepare your chops, then set and forget until they're perfectly cooked. Enjoy these chops in no time with no stress or mess!
Source: recipesfromapantry.com
These impressive pork chops cook in just nine minutes. Nine minutes. That's insane! You can prepare them for frying quickly using simple, easy ingredients you probably already have.
These crispy chops don't use pork rinds like the other chops on this list. Instead, the recipe uses almond flour and a lot of creole seasoning. That's why it packs every bite full of so much taste!
Source: wholesomemadeeasy.com
Busy weeknight got you down? Lift yourself with these simple, delicious breaded pork chops with a bunch of seasoning. Like the recipe before it, these chops also use almond flour.
But that's where the similarities stop. This recipe uses a punchy combination of paprika and Cajun seasoning. If you love this method, try creating your spice mix to blow your family away!
Source: lowcarbspark.com
Prepare your main and side dishes at the same time! In just twenty minutes of cooking time, you can have dinner on the table for the whole family.
The crispy broccoli is so tasty that even the pickiest little ones will enjoy it. The pork chops hero the dish thanks to their moist and delicious presence. Use a dollop of herb butter to finish it off!
Looking for more keto pork chop recipes? Try these keto pork chops with asparagus.
Keto Air Fryer Ground Beef Recipes
You can do so many different things with ground beef. Your imagination is the limit! Thanks to the air fryer, every ground beef recipe here is perfectly cooked. Try one for your next dinner!
Source: ketocookingwins.com
It's not as easy to have delicious burgers when you can't rely on the weather not to rain on your grill! But I know I'm not the only one who misses the bite of a good burger when the cold seasons arrive.
That's where the air fryer comes in! Enjoy patties cooked to a perfect char thanks to this fantastic appliance. You don't have to watch the patties, either. Just set and forget. Simple!
Source: jenniferbanz.com
That's right. You can make lasagna in your air fryer! In this case, you can think of it like a mini oven. It bakes all the layers of the lasagna with a delicious crisp on top.
But the question is, how do you enjoy a keto version? There's no pasta! The answer is simple: leave it out. Instead, you make a rich and tasty ricotta mixture that sits on top of your mince.
Source: laraclevenger.com
Make perfectly-cooked meatballs in just thirty minutes with your trusty air fryer. This recipe is great if you need simple party appetizers! Just have an army of toothpicks ready to stab the balls with.
Serve with your favorite sauces and dressings to satisfy your guests. They'll love every moist, flavor-packed bite. This is also great for making meatballs for your favorite pasta or soup dish!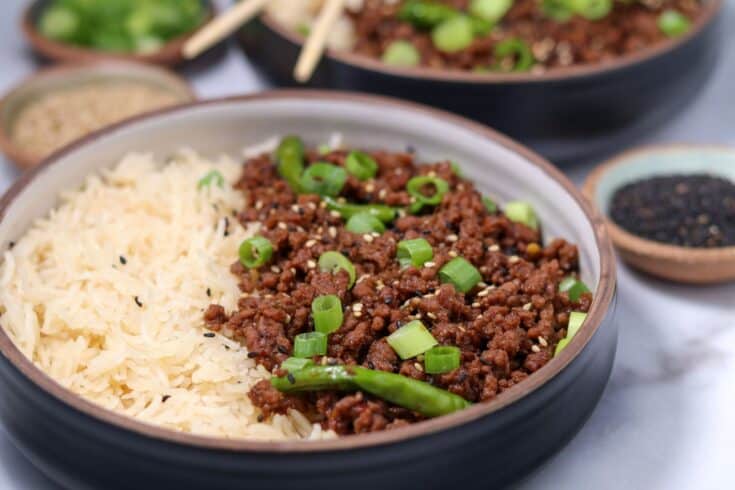 Source: masonfit.com
Step away from the takeout menu! This Mongolian recipe will give you twice the flavor in half the time. Plus, it will cost you barely any money or effort to make. And it's much healthier!
There's no downside. This Mongolian ground beef recipe is delicious with a bowl of keto zoodles or cauliflower rice. Whip it up in twenty minutes flat for a great dinner everyone will love.
Source: wholesomeyum.com
The key to these keto empanadas is the crispy keto empanada dough. No plain flour in sight here! Instead, almond flour will help you create these crispy yet fluffy parcels of tasty ground beef.
These are great for summer or spring. Prepare these and take them with you on a family picnic. They're self-contained and portable, so you don't need any cutlery to eat them!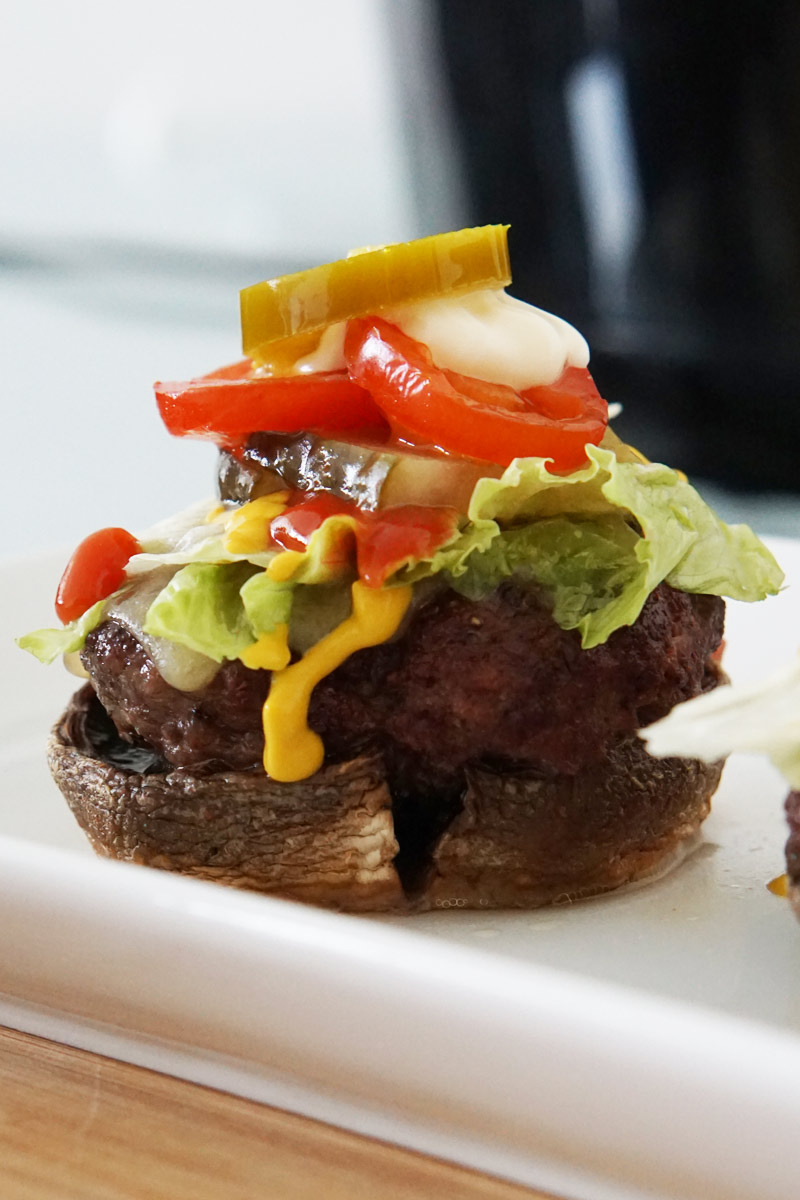 Source: delightfullylowcarb.com
Enjoy all the best flavors of your favorite cheeseburger bun-free. This hamburger stuffed mushroom is a super clever take on a carbless hamburger.
Make your patty mixture and pile it onto an earthy mushroom before cooking in the air fryer. As the patty cooks, make it even better by laying a slice of cheese on top to let it melt. Voila!
Keto Shrimp Recipes
Shrimp is known for being a little tough to cook correctly. It's a light and delicate shellfish that should be treated carefully. That's why keto air fryer shrimp is so great.
These best keto air fryer recipes are easy and taste great.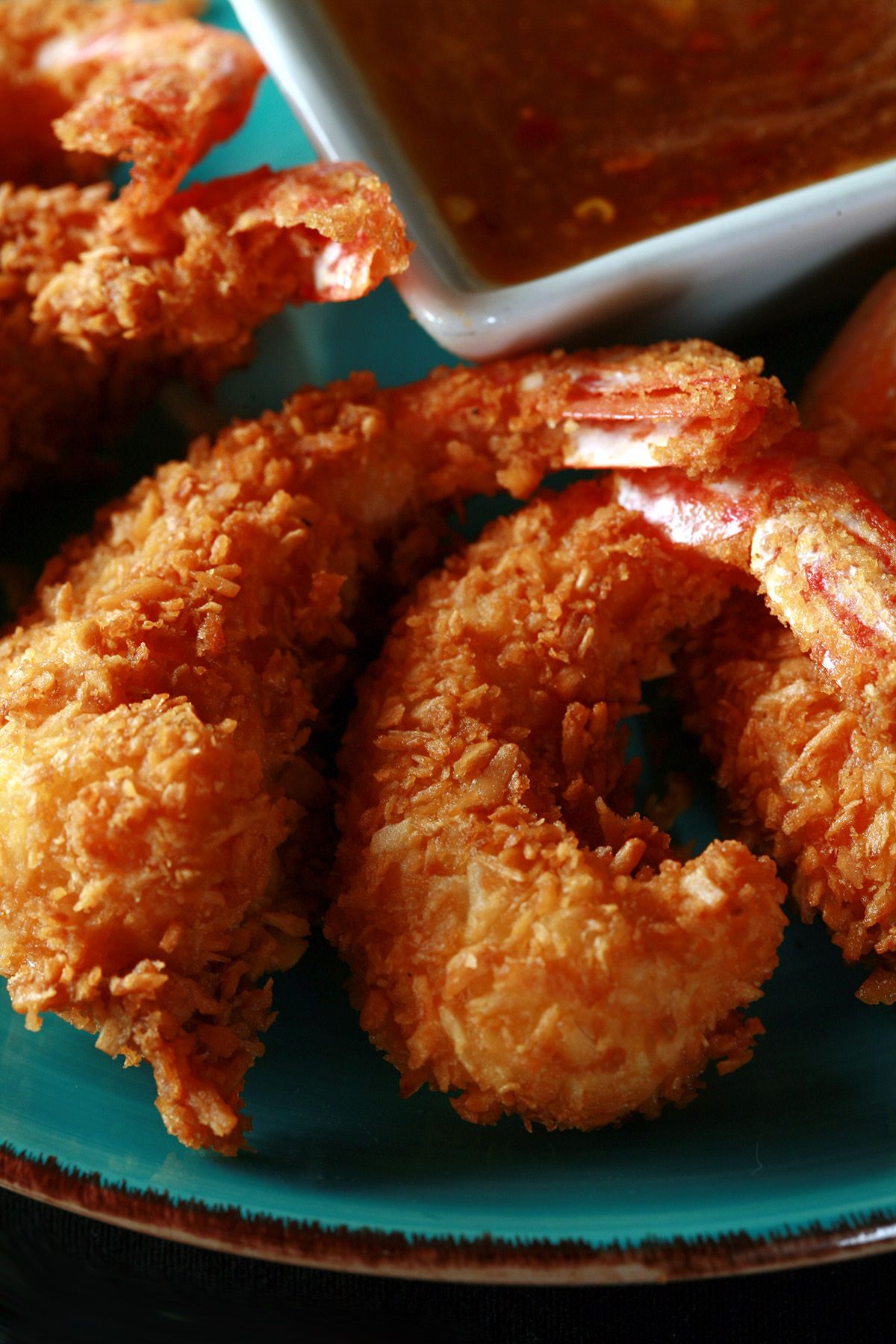 Source: lowcarbhoser.com
Coconut shrimp is a tropical treat anyone can enjoy. This keto recipe uses coconut flour for the breading and coconut for the flavor. In other words, it's packed with coconut flavor!
The air fryer makes these juicy little shrimp super crispy on the outside. But when you bite into them, they're plump and delicious.
Pair that with the sweet and sour chili dip; you've got a winner.
Source: findingzest.com
Bacon and shrimp get along like a house on fire. The salty bacon and sweet shrimp offer a tasty contrast that keeps you returning for more.
Thanks to your air fryer, you can enjoy this delicious snack in no time at all. Wrap, set, and forget your shrimp. This even has a sticky glaze that brings the whole affair together!
Source: melaniecooks.com
Are you a fan of seafood? Are you also a fan of Mexican food? Combine your two loves with this great Mexican shrimp fajita dish! This is a super simple weeknight meal your whole family will love.
The spices in the fajita mix are the perfect contrast for the sweet shrimp. The best part of this recipe is how simple it is.
With just a few ingredients and a trip to your spice cabinet, you can enjoy it in no time.
Source: jenniferbanz.com
Speaking of simple, this garlic shrimp knocks together in just ten minutes! It's great for a last-minute party or game-day snack. All you need is a bag of your favorite shrimp and a generous dose of garlic.
Whack those in the air fryer and let them cook to perfection. Since these shrimp have a simple flavor, you can serve them with any dipping sauce you like. Talk about a crowd-pleaser!
Source: ketocookingchristian.com
Have you ever tried blackened shrimp? If not, don't let the name put you off. These delicious shrimp aren't charred beyond belief. They have a lovely crust of flavor on the outside.
The dark spices and extra-crispy exterior bring these shrimp to a new level. Finish off a plate of these with a squeeze of lemon. Enjoy on a warm summer afternoon with all your friends!
Source: wholelottayum.com
You don't need breading to enjoy great Cajun flavors. Love Cajun shrimp the keto way with this fantastic recipe. It comes together in under fifteen minutes when you use frozen shrimp!
What are your favorite dips? Use them with these tasty and fragrant shrimp to keep the flavor combinations coming. This is another great game-day meal everyone can enjoy.
Source: bitzngiggles.com
What about something a little fancier? These parmesan shrimp tick the 'refined' box without eating up all your time in the kitchen. Create a tasty appetizer with almost no effort.
Thanks to the parmesan, you don't have to bread these shrimp to make them nice and crispy. The cheese forms a lovely crust as it melts. Super easy breading with a ton of cheesy flavor!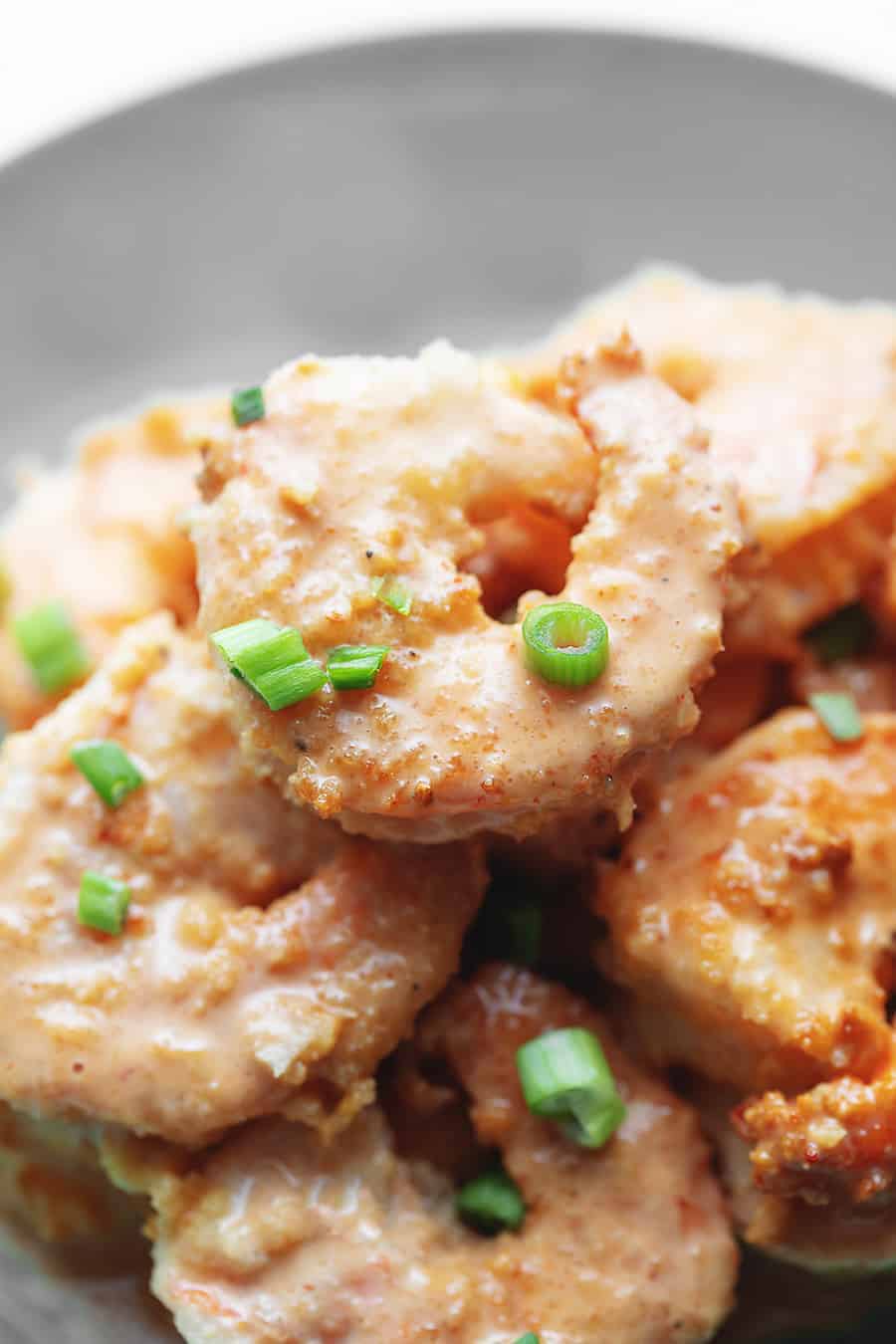 Source: jenniferbanz.com
This keto Bang Bang shrimp uses almond flour, parmesan, and a great sauce to pack it full of flavor. The crust is super crunchy, while the sauce adds a tasty glaze.
This recipe might seem complex, but it's effortless! Even the sauce is only made from a few ingredients mixed in a bowl.
The long and short of it is that this shrimp lives up to its name. Bang Bang: fast to make and exploding with flavor!
Source: ketocookingchristian.com
Gear up for your next party with these crispy jumbo shrimp. Sometimes a crowd-pleasing classic is all you need to create a great gathering. That's where this super simple recipe comes in!
The recipe features a sugar-free cocktail sauce to play off the crunchy shrimp. Set them on a table or send them around the room on trays.
No matter what, your guests will fall over themselves to keep eating these.
Other Keto Air Fryer Recipes
Each of these keto-friendly recipes shows how you can use an air fryer, from vegetables to delicious fish. Pick one of these up for a side dish, or use them to create your weekly meal roster!
Source: aubreyskitchen.com
First thing's first: we have an ode to a healthy dinner. Tilapia is a tasty, healthy white fish that takes on flavor like a sponge. That's what makes it such a good protein for a family dinner.
Cook your tilapia like a pro in your air fryer. Brush with some herbs and cook in mere minutes. You can focus on making all your favorite fish side dishes!
Source: the-bella-vita.com
Do you love grilled corn? Are you sadly without an actual grill? Air fryer to the rescue! This delicious corn-on-the-cob recipe lets you taste your favorite BBQ treat quickly and easily.
Sprinkle each sweet cob with a generous dose of parmesan cheese. Your favorite herbs and some flaky sea salt would make it even better. Serve with your BBQ essentials for a great summer lunch.
Source: ketocookingwins.com
Here comes a tasty and healthy side dish! Asparagus doesn't get enough love. This keto side dish has plenty of fresh flavors and a touch of garlic. Every bite should remind you of spring.
This is the ideal side dish to whip out for a busy weeknight. You don't need to pay attention to the air fryer asparagus as it cooks. Just set it and forget it as you take care of the rest of dinner stress-free!
Source: biteontheside.com
This one goes out to the vegetarians and vegans out there. These charred cauliflower steaks are your answer to a great vegetarian BBQ-style meal.
Brush these cauliflower steaks with any glaze your heart desires. Brine them in a salt or broth solution for a few hours before grilling to make them even tastier.
Source: how2doketo.com
Put the frozen fish sticks down and back away slowly. Sure, they're convenient, but they're packed with unhealthy fillers! Plus, it's tough to find keto-friendly versions.
That's why these crunchy and healthy homemade fish sticks speak to me. They're almost as easy as their frozen brethren. But they taste three times as good! Plus, they're much healthier.
Source: how2doketo.com
These cauliflower bites are the solution for all vegetarians missing classic buffalo chicken bites. Make sure everyone at your next game day has what they need to get into the spirit!
These are super easy to make and cost almost nothing. Cauliflower is super cheap and easy to cook in an air fryer. Thanks to their cost and ease, these make great after-school snacks.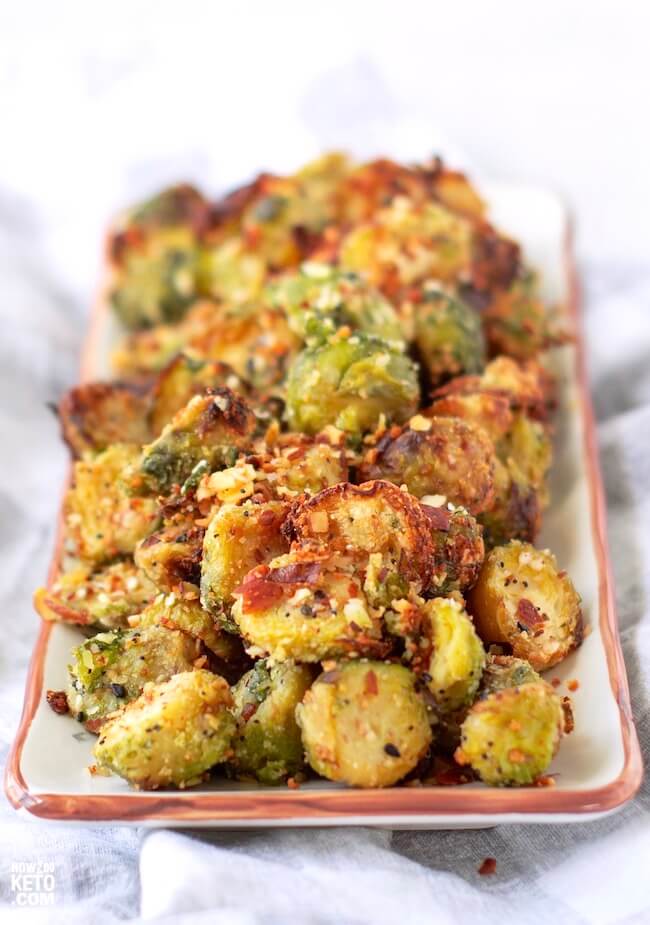 Source: how2doketo.com
It's time to give brussel sprouts the love and care they deserve. These ultra-crispy brussel sprouts have so much deliciousness packed into a single bite.
Once you put these down on the table, they'll be gone in minutes. Trust me. The parmesan on the outside creates an addictive cheesy crust. But the healthy brussel sprouts are hiding underneath!
Source: wholesomeyum.com
Crab cakes are a classic party snack! Have this recipe in your back pocket whenever you need to impress some guests. Regular crab cakes aren't keto-friendly, but these use almond flour.
That makes them both keto-friendly and gluten-free. Each little cake is packed with Old Bay seasoning and mayonnaise. Each crispy bite bursts with a ton of flavor. So good!
Source: ketocookingwins.com
Enjoy a meatless main or tasty side dish thanks to this spaghetti squash recipe. Now's the time to try this vegetable if you've never had it! It's slightly sweet and pairs well with parmesan.
You can also make this recipe your own. Try using the spices you love to reach for to give this spaghetti squash a unique taste. Add a little crunch with some crispy onions or a sprinkle of nuts.
Source: airfryereverything.com
Take your favorite fish to a new level with this delicious air fryer salmon recipe. These tasty salmon bites work either as a meal or as a snack!
They're glazed in a perfect sweet and sticky sauce to bring out the freshness.
Serve with a plate of coconut rice for a tasty nod to tropical flavors. This would also be great in a stir fry or even in a bowl of broth. Gear up for the week's meals in no time with this healthy treat!
You'll love this keto salmon sheet pan dinner as well!
Source: dinneratthezoo.com
I hear it all the time. People love steak but are too scared to cook it wrong, so they don't even try. Well, no longer! Thanks to your air fryer, you can cook a perfect steak every time.
All you have to do is brush your chosen cut with herbs and butter. Whack it in the air fryer and leave it to cook.
Return just minutes later to a tasty and well-cooked steak that will impress your guests on special occasions.
Source: dinner-mom.com
Love steak, but looking for something a little more party friendly? These juicy steak bites come together in just fifteen minutes. They're perfect for passing around at parties with a tasty ranch dip.
You can make a vegetarian version of these bites with mushrooms. They can absorb the same flavor as the steak and are twice as juicy.
Source: everydayfamilycooking.com
Turkey is a pretty lean meat. That means it can go dry while cooking if we're not careful. Your trusty air fryer can help you cook this touchy meat to tender perfection.
It doesn't matter if you're gearing up for the holidays or just looking for a great weeknight meal. This turkey will serve both purposes. Best of all, you can twist the spices to suit any occasion.
Complete your thanksgiving table with more keto thanksgiving recipes.
Source: quichemygrits.com
That's right! A quiche! At this point, is there anything the air fryer can't do?
Create the perfect quiche with barely any effort, time, or dishes required. This quiche is packed with healthy vegetables. I'm talking spinach, onion, or anything you like!
Best of all, it doesn't have a crust. That makes this a keto-friendly quiche with all the flavor you love and none of the carbs.
Source: organicallyaddison.com
Treat your lamb chops the best way with this delicious air fryer lamb chop recipe. Each chop is coated in a layer of tasty garlic and herbs. Then the air fryer cooks it to a perfect tender medium.
These lamb chops are the ideal way to treat your family to a Sunday dinner. It's super easy to make! Serve with your favorite low-carb veggies for a simple and tasty family meal.
Complete your meal with one of these best keto side dishes!
Source: strengthandsunshine.com
Our final dish celebrates a staple of Southern soul food: okra. This is a healthy way to enjoy okra. Split the vegetables down the middle and dress them with seasoning. Then roast away!
Once you're done, you'll have a snack or side dish ready to go.
That's fifty-one ways to bless your air fryer with the best of the best meals. Which of these air fryer meals will make it into your weekly rotation? Let me know in the comments!
51 Best Keto Air Fryer Recipes
Cooking on the keto diet doesn't have to be hard. Enjoy more healthy food with these keto air fryer recipes.
Ingredients
1. Bacon Wrapped Boneless Chicken Breast
2. Chicken Breast
3. Chicken Parmesan
4. Chicken Wings
5. Low Carb Fried Chicken
6. Chicken Fajitas
7. Chicken Leg Quarters
8. Chicken Tenders
9. Boneless Skinless Chicken Thighs
10. Fried Chicken Thighs
11. Lemon Pepper Wings
12. Chipotle Chicken
13. Cajun Chicken Thighs
14. Breaded Pork Chops
15. Bone-In Pork Chops
16. No Breading Pork Chops
17. Boneless Pork Chops with Rub
18. Crispy Pork Chops
19. Seasoned Breaded Pork Chops
20. Pork Chops with Garlic Broccoli
21. Burgers
22. Lasagna
23. Meatballs
24. Mongolian Ground Beef
25. Empanadas
26. Hamburger Stuffed Mushrooms
27. Coconut Shrimp
28. Bacon Wrapped Shrimp
29. Shrimp Fajitas
30. Garlic Shrimp
31. Blackened Shrimp
32. Cajun Shrimp
33. Parmesan Shrimp
34. Bang Bang
35. Fried Shrimp with Cocktail Sauce
36. Tilapia
37. Corn on the Cob
38. Asparagus with Garlic
39. Cauliflower Steaks
40. Fish Sticks
41. Buffalo Cauliflower
42. Brussel Sprouts
43. Crab Cakes
44. Spaghetti Squash with Parmesan
45. Salmon Bites
46. Steak with Garlic Butter
47. Steak Bites
48. Turkey Tenderloin
49. Quiche
50. Lamb Chops
51. Okra
Instructions
Scroll up to get a bunch of easy, yummy, and delicious keto recipes. Don't be afraid to get creative with the ingredients, you might discover a flavor you didn't know you liked.
Get your shopping list going and make sure you've got all the ingredients.
Get cooking and make your next Keto Air Fryer Recipe!