Need a high-calorie smoothie that's over 500 calories and more? Check out these smoothie recipes, all made with healthy fresh ingredients that are full of nutrition.
Smoothies are great for several reasons.
First, they are adaptable. Meaning, you can literally put whatever ingredients you want into a smoothie.
There are no hard and true rules to smoothies.
Second, they are easy to make and portable. Many of us are on the go and do not have time to sit down and eat full meals sometimes.
Preparing a smoothie and bringing it with us is an easy way to get the nutrition and calories we need.
Third, they are fun to make. It's great to be able to experiment with different recipes and flavors.
The options are literally endless.
The smoothie recipes here are high-calorie smoothies, meaning they are 500 calories or above.
So, these high-calorie smoothies are packed with healthy ingredients that will be substantial enough to be a meal replacement and help you gain weight the right way.
You will want a few things in the kitchen to make sure that your smoothies are successful and tasty.
Most importantly, you're going to want high-quality whole-food ingredients. A lot of smoothie ingredients are freezer-friendly and/or shelf-stable (like cartons of nut milk and jars of nut butter).
Aside from an assortment of various ingredients, you're going to want a good blender. Vitamix is a great choice.
However, it's costly. While the money is well spent, it's a fantastic kitchen appliance. Alternatively, there are some more affordable options out there.
Some other blenders to consider would be the Ninja blender or another blender with various size options.
Watch: 10 Healthy Calorie Smoothies
In case you're not much of a reader, I've got all the recipes on the video!
1. Healthy Carrot Cake Smoothie
First, we'll start off with a pretty untraditional smoothie recipe. I'm sure most of you think of fruit and berries when you think of smoothies.
But this isn't the case here. Instead, we will develop the delicious flavors of a rich, spicy carrot cake in smoothie-form.
Greek yogurt and almond milk create a smooth, creamy base for the smoothie. The fresh ginger, cinnamon, and nutmeg will give you the traditional flavor you would find in a carrot cake.
Plus, being packed with a whole banana and a handful of walnuts means that it will definitely leave you feeling full and satisfied.
Ingredients:
1 cup almond milk
1/2 cup Greek yogurt
1/3 cup walnuts
1 banana
1 cup carrots (chopped)
1/4 tsp fresh ginger (grated)
1 tsp cinnamon
a pinch of nutmeg
1 tsp vanilla extract
Per Serving:
Calories: 522
Fats: 26g
Protein: 20g
Carbs: 58g
Fiber: 11g
Sugar: 32g
2. Coconut Almond Spinach Smoothie
Green smoothies are always fun. People often look at you a little funny when you have one in your hands.
But once they give it a try, it's hard to believe they even doubted you! Green smoothies are often packed with fresh, bright flavors.
In this case, the green smoothie is going to be creamy and a bit nutty in flavor. The almond butter develops the nutty base for the smoothie.
But ultimately, it's the fiber-packed pumpkin seeds that will finish out the exceptional flavor and help you feel satisfied.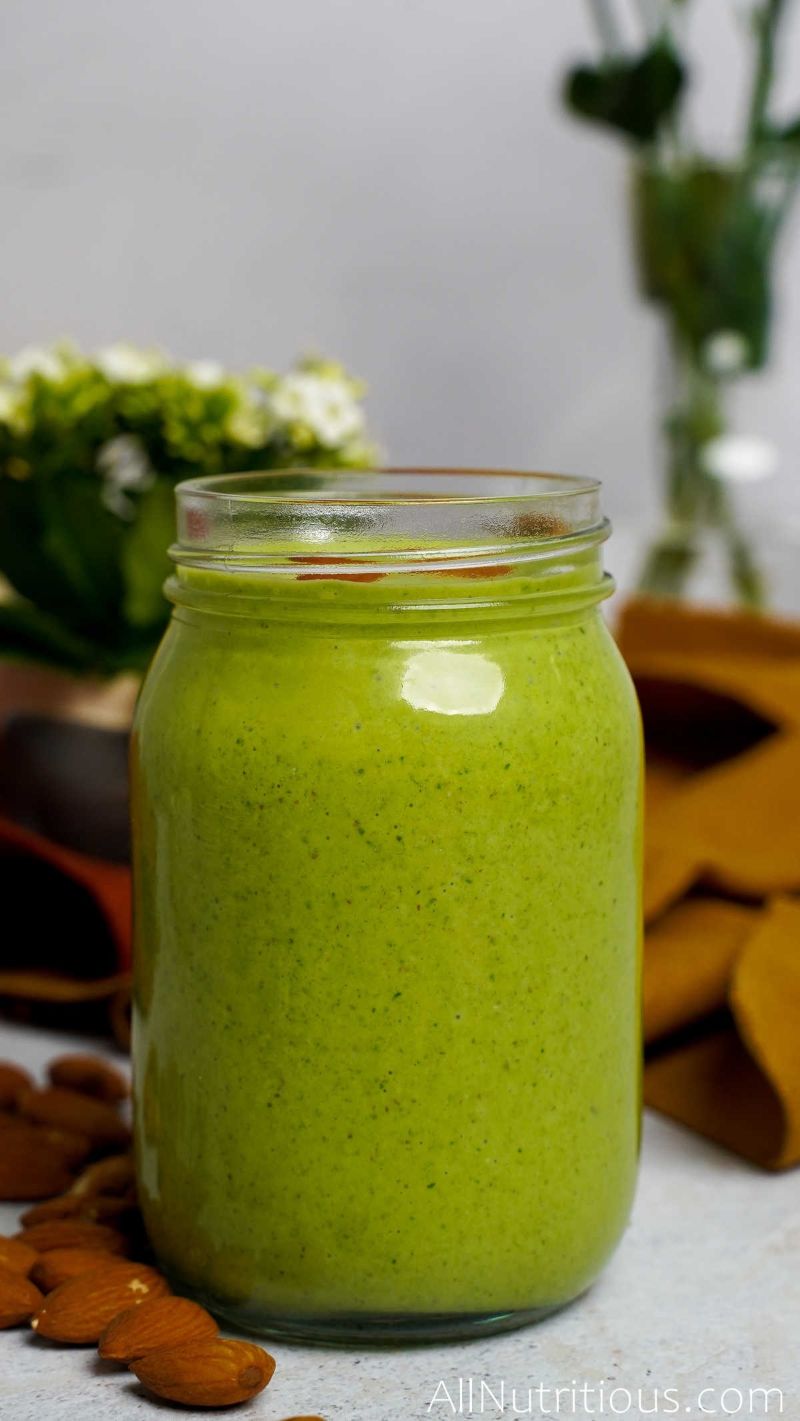 Ingredients:
1 cup of canned coconut milk
1 banana
2 tbsp almond butter
2 tbsp pumpkin seeds
2 cups spinach
½ tsp vanilla extract
½ cup ice cubes
Per Serving:
Calories: 802
Fats: 68g
Protein: 16g
Carbs: 46g
Fiber: 9.2g
Sugar: 16g
3. Blueberry Protein Smoothie
This blueberry protein smoothie is a delightful change from a traditional berry smoothie. It's packed with protein-filled items like protein powder, oats, and Greek yogurt.
There are a lot of different items out there when it comes to protein powders. So when you're buying protein powders, keep a few things in mind.
Try to find ones that are vegan and low in sugar.
This protein powder is a great option. Not only is it vegan-friendly, but it's gluten-free, dairy-free, and soy-free.
Ingredients:
2 cups of blueberries
1/2 cup oat milk
1/2 cup spinach
1/2 banana
1 tbsp vanilla protein powder
1/2 cup greek yogurt
1/2 cup rolled oats
Per Serving:
Calories: 567
Fats: 5.1g
Protein: 34g
Carbs: 104g
Fiber: 14g
Sugar: 50g
4. Coffee Protein Smoothie
We all need our everyday cup of coffee, right? Why not pair it with a cool, refreshing smoothie as a way to mix it up?
This coffee protein smoothie has the same caffeine we would get from our daily cup of coffee. Additionally, it's going to provide protein for that extra energy boost.
Be sure to cool your cup of coffee before putting it in the blender. Alternatively, you could keep a bottle of cold brew coffee like this in the fridge for recipes like this one.
Ingredients:
1/2 cup brewed coffee (cooled down)
1 large banana
2 tbsp unsweetened peanut butter
2 tbsp vanilla protein powder
1 tbsp cocoa powder
1 cup coconut milk
1/2 cup ice cubes
Per Serving:
Calories: 592
Fats: 29g
Protein: 25g
Carbs: 68g
Fiber: 11g
Sugar: 37g
5. Pineapple Banana Smoothie
A good portion of us all probably wishes we were on a warm beach somewhere with a tropical beverage in hand, right?
While this recipe might not bring you to the beach, it is a delicious alternative to a frozen tropical drink.
The pineapple and banana flavors are bright and delicious. They also do an excellent job at hiding the ingredient that's going to pack on the protein, fiber, and calories.
What might that ingredient be? You probably will never guess it.
We add white beans to this smoothie! It may seem strange, but the beans provide added nutrition and create the silky texture we all love in smoothies.
Ingredients:
1 banana
1 1/2 cups pineapple chunks (fresh or frozen)
1/2 cup rolled oats
1 tbsp chia seeds
1/4 cup white beans (canned)
1 cup soy milk
Per Serving:
Calories: 615
Fats: 11g
Protein: 22g
Carbs: 114g
Fiber: 19g
Sugar: 45g
6. Banana Cinnamon Oatmeal Smoothie
Do you like a warm bowl of oatmeal in the winter? Then you will love this banana cinnamon oatmeal smoothie.
It's creamy, sweet, and has the delicious flavor of earthy cinnamon.
This smoothie also has some great nutritional value. This includes having 34 grams of protein.
What is the best almond butter to buy when making smoothies? You'll want to find an unsweetened, natural version for the best taste and health benefits.
You can find some online or at your local grocery store.
Ingredients
1 cup unsweetened almond milk
1 tbsp almond butter
1 large banana
5-6 ice cubes
1/4 cup rolled oats
1 tsp vanilla extract
2 tbsp vanilla protein powder
1 tsp cinnamon
1 tbsp ground flaxseed
1 tbsp honey
Per Serving:
Calories: 532
Fats: 17g
Protein: 34g
Carbs: 67g
Fiber: 12g
Sugar: 36g
7. Chocolate Avocado Smoothie
Believe it or not, avocados make a great smoothie ingredient. They are a simple way to add healthy fats and fiber.
And actually have more potassium than bananas. It's clearly a good idea to throw them into your smoothie recipes.
And it's not a new thing to pair creamy avocados with cocoa to create delicious chocolate treats. This smoothie is one of those items.
It's creamy, sweet, and slightly bitter because of the cocoa – much like a brownie!
Who wouldn't love a smoothie that tastes like a brownie?
Ingredients:
1 1/2 cup soy milk
1 banana
1/2 avocado
1 cup spinach
2 tbsp cocoa powder
1 tbsp honey
1 tbsp hemp seeds
1 tsp cinnamon
a pinch of nutmeg
a pinch of salt
Per Serving:
Calories: 589
Fats: 27g
Protein: 20g
Carbs: 75g
Fiber: 16g
Sugar: 42g
8. Orange Coconut Protein Smoothie
This orange coconut smoothie is another great alternative to the traditional fruit smoothie. It's slightly sweet and tart with a nutty flavor as well.
Use fresh-squeezed orange juice, if you can. It will have the best flavor.
Plus, if you're squeezing fresh juice, your orange will be handy for the orange zest. That extra ingredient will really boost the flavor and tartness of the smoothie.
Keep in mind that this smoothie really packs in the calories. In fact, it has 770 calories per serving!
Therefore, it would be a great smoothie to have at the beginning of the day to boost your energy.
Ingredients:
1 cup orange juice
1/2 cup coconut milk
3 tbsp vanilla protein powder
1 banana
1/2 avocado
1/2 cup ice
1/2 tsp orange zest
Per Serving:
Calories: 770
Fats: 40g
Protein: 45g
Carbs: 68g
Fiber: 12g
Sugar: 36g
9. Blackberry Raspberry Smoothie
This next smoothie is a fresh take on a traditional berry smoothie. Using blackberries and raspberries creates a rich but still slightly tart flavor.
The tartness is balanced out by also adding natural sweetness by using honey. Plus, it has vanilla extract, which elevates any smoothie.
Again, avocado is added to increase the calorie content, making the smoothie extra smooth.
Ingredients:
1 cup blackberries (frozen)
1/2 cup raspberries (frozen)
1/2 avocado
1/2 cup Greek yogurt
1 cup oat milk
1 tbsp honey
1/2 tsp vanilla extract
Per Serving:
Calories: 554
Fats: 18g
Protein: 19g
Carbs: 88g
Fiber: 24g
Sugar: 53g
10. Strawberry Peanut Butter Smoothie
The final smoothie is going to bring you back to your childhood. It's fruity and nutty and tastes a lot like a peanut butter and jelly sandwich.
The ingredient list is pretty short, so make sure you're buying high-quality, nutritious ingredients.
For example, you'll want to get peanut butter without any added ingredients when buying peanut butter. All-natural, creamy peanut butter is going to be the best choice.
Also, you can use any milk that you'd like for this recipe. Try almond, coconut, or oat milk if you are trying to stay dairy-free.
Ingredients:
3/4 cup plain yogurt
1 cup strawberries (frozen)
1 banana
3 tbsp unsweetened peanut butter
2 tbsp milk
Per Serving:
Calories: 583
Fats: 30g
Protein: 25g
Carbs: 65g
Fiber: 11g
Sugar: 39g
What Can I Put in My Smoothie to Gain Weight?
There are several ingredients you can add to your smoothies if you want to add protein and calories.
Some of these ingredients are:
Avocados
Protein powder
Whole milk
Full fat yogurt
Oatmeal or raw oats
All natural nut butter (almond butter, peanut butter, or cashew butter are good examples)
Sunflower seed butter
Whole fruits (instead of fruit juices)
Seeds like flaxseeds, chia seeds, and pumpkin seeds
Notice that these ingredients are still whole, nutritious foods that are good for you!
It's possible to gain weight and healthily have high-calorie meals. These smoothie recipes should get you started pretty quickly.
Other Recipes You Might Like
10 High Calorie Smoothies
These high-calorie smoothies are refreshing, nutritious, and great for gaining weight. They are perfect for a filling meal.
Ingredients
milk of choice
yogurt
fruits
nuts
protein powder
spices
sweetener
Instructions
Pop all the ingredients into a blender.
Add some ice if needed and blend!