The electric skillet is a very convenient appliance that's been making the lives of home cooks easier for years and years. These crazy easy electric skillet recipes will wow you!
Much like a standard skillet, there are many things you can make with one.
Happily, using an electric skillet frees up your entire stove. On big holiday cooking days, having this free space is vital, especially if you're trying to get everything on the table simultaneously.
The great thing about an electric skillet is that you can precisely control the heat. That's ideal for simmering, reducing, and frying your meals perfectly.
Discover forty-one delicious recipes that make the most of the electric skillet.
Is an Electric Skillet the Same as an Electric Griddle?
Electric skillets and electric griddles are similar but different. Whereas the skillet has a flat bottom, like a saucepan, the griddle has characteristic ridges.
The ridges on the griddle give those coveted grill lines on anything you cook. Griddles also tend to run a little bit hotter, as their purpose is to flash grill instead of gently simmer.
What Can I Cook in an Electric Skillet?
Anything you can cook in a normal skillet is something you can cook in an electric skillet.
If you're using one of the very large electric skillets, they're excellent for cooking stews or heavily sauced meals.
Whip up an entire breakfast in a single pan or meal prep for the entire week with these best electric skillet recipes!
Electric Skillet Chicken Recipes
Source: fluxingwell.com
Let's start our list with a unique dinner dish your family members will undoubtedly love. These Coca-Cola chicken thighs are moist, sweet, and packed with savory flavors.
In just half an hour, thanks to the power of the electric skillet, you can have these basted chicken drumsticks gracing your table. Serve with rice, noodles, or as a standalone gameday snack.
This electric skillet chicken recipe is sure to become one of your go-to meals for a weeknight dinner!
Source: happyhappynester.com
Simplicity doesn't have to mean a lack of flavor! This easy recipe proves how good chicken can be when you know how to cook it well. This is a one-pan meal that includes some tasty potatoes.
Cook your chicken with some delicious butter, herbs, and garlic. The final step is to deglaze the pan and reduce the liquid, thus creating a perfect gravy to pair with the crispy chicken.
Complete your delicious dinner with these side dishes for chicken!
Source: inthekitch.net
Making delicious fried chicken at home can be intimidating, especially if you're a little wary of deep frying. The good news is electric skillets can control the temperature of the oil to a precise degree!
Make your fried chicken in an electric skillet to be sure the oil is neither too hot nor too cold. The buttermilk marinade on this chicken makes it extra tender, while the oil crisps the flour perfectly.
Combined, this fried chicken is juicy, crunchy, and wildly delicious.
Source: borrowedbites.com
This thirty-minute electric skillet lemon chicken recipe brings dinner together in a flash. The key to lemon chicken is the sauce. It's what sets this meal apart from all the other chicken dinners!
This is one of my go-to weeknight dinners because it is super tasty, easy, and tender. The lemon juice works its magic on the chicken, ensuring that every bite is more tender than the last.
Source: thespruceeats.com
If you're a fan of BBQ chicken but don't feel like getting the grill out, this is the recipe for you. This barbecue chicken isn't drenched in sauce. It's gently brushed in a perfectly-balanced glaze.
I love cooking chicken in an electric skillet because it leaves your hands free to baste the chicken every so often. In this case, the basting keeps the chicken juicy, moist, and sticky.
Source: eatlikenoone.com
I think we can all agree that you can never have too much garlic. Not only does it supposedly have health benefits, but garlic is also utterly delicious. It's a healthy way to make meals taste great.
This garlic chicken is meant to pair with tasty pearl barley, but you can serve this on top of anything! Try rice, noodles, or even some silky mashed potatoes.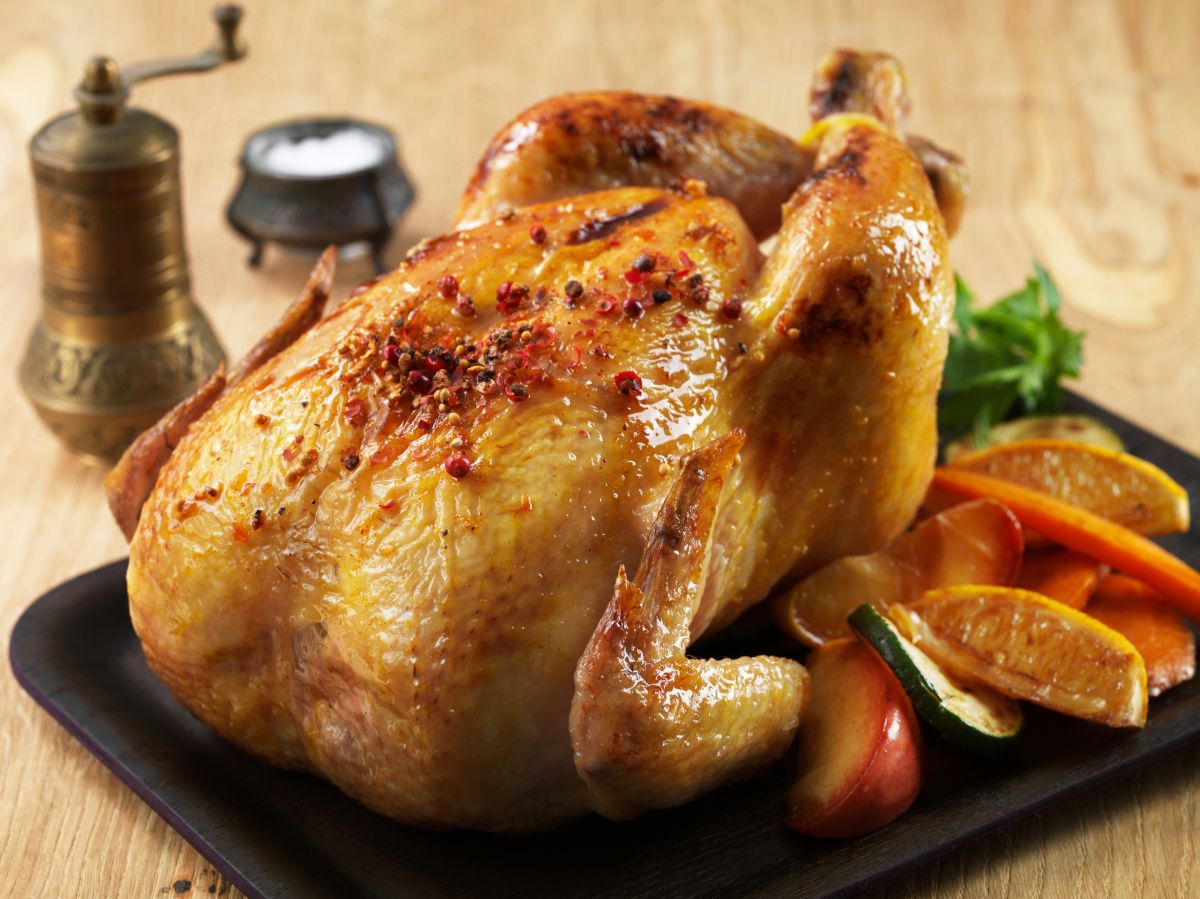 Source: gopresto.com
That's right. You can roast chicken in an electric frying pan! Not only that, you can cook the entire meal – including the vegetables – in the pan. This way, the flavors all mingle together.
With this method, you can continually baste your chicken to keep it moist, crispy, and packed with flavor.
This is one of the best Sunday dinner ideas for families!
Source: recipes.saladmaster.com
Unfried chicken is a little bit of a cheeky name because the truth is that this chicken is fried. The key is that it's fried in its juices without adding any oils or extra grease.
If you're looking for an ultra-healthy option, this is a great way to keep any extra fat out of the meal while keeping the flavor. This is a deliciously quick weeknight meal paired with a leafy green salad.
Source: allrecipes.com
Enjoy perfect caramelization on your chicken wings thanks to the perfectly-controlled temperature of the electric skillet.
This tool allows you to simmer the wings to reduce the sauce without overcooking the chicken.
Blow your guests away on game day with these sticky, savory, tasty chicken wings sprinkled with green onion.
Source: onceuponmycastle.com
Chicken and dumplings is a classic comfort meal, with a creamy sauce and chewy, soft dumplings to lead the way on a cold night. I love this recipe because you only need the electric skillet to make it!
That's right, no extra dishes. This is the kind of dish you can cram full of extra vegetables. But trust me. Your kids will be too busy paying attention to the delicious sauce to notice the extra greens.
Source: twothirtyfivedesigns.com
Stir fry is one of the most iconic weeknight dishes for busy home cooks. It's an easy way to pack a ton of vegetables and protein into a single meal, all while taking only half an hour to make.
Best of all, if you have any leftovers, this stir fry chicken keeps beautifully to eat for lunch the next day. Pair the chicken with noodles, rice, or a lettuce wrap to complete the meal.
Electric Skillet Recipes for Breakfast
Source: inthekitch.net
They say breakfast is the most important meal of the day, and I couldn't agree more.
The problem is, cooking for your entire family on a busy morning can sometimes feel impossible but not with this sausage skillet!
However, with an electric skillet in your arsenal, you can enjoy perfect temperature control and plenty of space to cook for everyone.
This super simple Italian sausage hash is a delicious way to kick off the day.
All you need to do to make these one-dish meals is toss the ingredients on the skillet over medium heat with a bit of olive oil or vegetable oil!
Source: fantabulosity.com
Having a delicious pancake recipe is a requirement for all home cooks. If you don't have yours already, then you just found it! This is a light and fluffy American pancake recipe.
Once again, the electric skillet means that you'll get a perfect cook on your pancakes every single time. A large skillet can get through five or six of these per batch.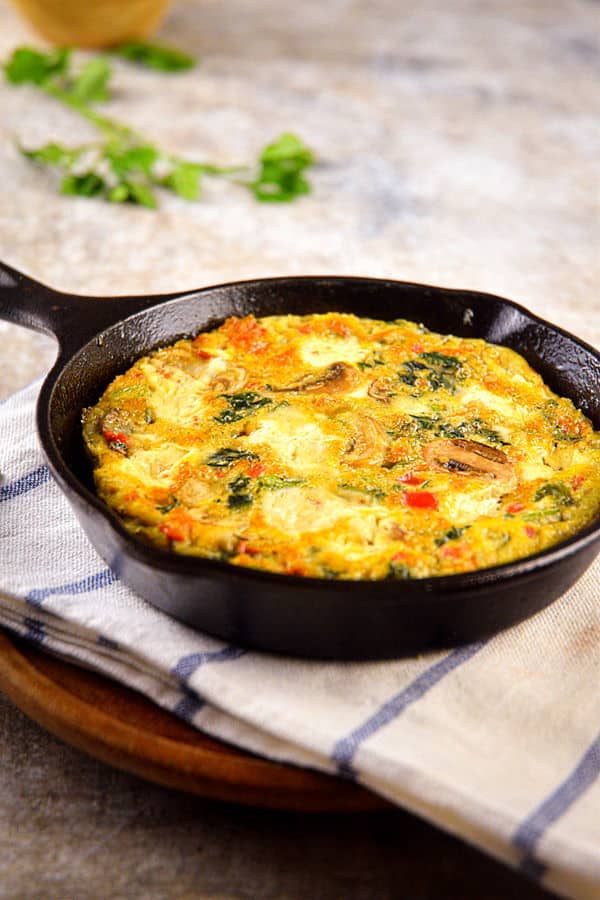 Source: inthekitch.net
The frittata is a fantastic recipe if you're searching for something healthy, filling, and packed with protein. This vegetable and goat cheese frittata is vegetarian-friendly but full of protein.
Happily, you can tweak this recipe to use whatever vegetables you have. Spinach, bell peppers, corn, and even your leftover cooked vegetables can find a tasty home in this recipe.
Source: fromvalerieskitchen.com
The only thing better than standard French toast is brioche French toast. It's incredibly light and fluffy, with a natural sweetness to the toast that helps balance the savory egg.
Served with a handful of fresh fruit, this is a wonderful way to start the day. Try using cinnamon and sugar in the egg dip to add a lovely kick of spice to your morning.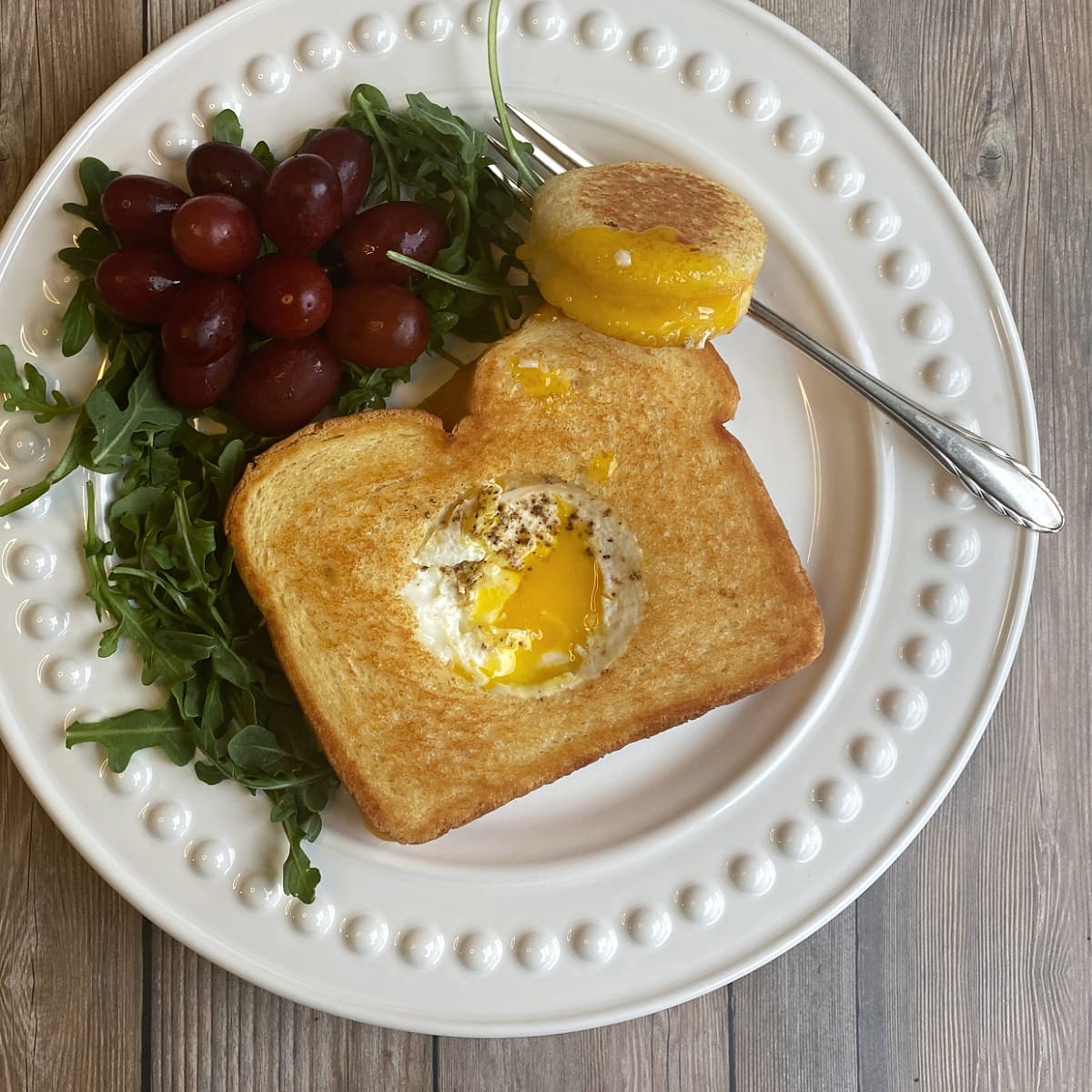 Source: thegoodheartedwoman.com
Listen, I don't think egg-in-a-hole breakfasts get enough love. Sure, they're great for kids, but adults can enjoy them too! Especially when the toast is a grilled cheese sandwich.
This super cute brunch dish combines two classic dishes from the start and middle of the day. You can use this method with any kind of savory sandwich you'd like!
Source: food.com
Hashbrowns are delicious, and so are these amazing potato pancakes. Soft in the middle and crunchy outside, these potato pancakes are the ideal way to enjoy potatoes at breakfast.
I love this recipe because you can prepare these pancakes in advance and freeze them in batches. Then, simply whip them out and fry them for a quick and easy breakfast on a busy morning.
Source: recipes.saladmaster.com
Put a delightfully sweet spin on the standard pancake recipe by adding some tasty applesauce! This is a great way to naturally sweeten pancakes while adding some fragrance.
Thanks to the electric skillet, these pancakes will cook with a perfectly even brown color. It also means you can crank out large batches in no time! This is ideal for serving breakfast guests.
Source: icecreaminspiration.com
Hailing from the American South, beignets are a soft, pillowy pastry. While not the most nutritious breakfast option, they are delicious and offer a great treat to start the day.
These beignets are super simple to make. If you're hosting a special occasion, making these together would be a great way to spend quality family time.
Healthy Electric Skillet Recipes
Source: thegoodheartedwoman.com
We all love a good fritter, but they can get unhealthy if we're not careful. That's why these quinoa fritters are so great! Enjoy all the flavors of a good fritter with less fat and added fiber.
Serve these quinoa fritters with some green onions, a green salad, and a creamy dressing to make the ultimate healthy recipe for lunch.
These fritters are easy to make in advance, so you can freeze and fry them as needed.
Source: melskitchencafe.com
This delicious one-pot wonder takes care of a healthy lunch or dinner in one swoop. I love skillet recipes because they reduce the number of dishes you must do and taste amazing.
This cheesy recipe includes many healthy ingredients and plenty of protein to keep you going. The layer of cheese on top means even the pickiest eaters will want to get in on the action.
Source: tasteofhome.com
If quinoa fritters aren't quite your speed, this Pakistani-inspired recipe makes ultra-crispy chickpea fritters. Since the fritters use besan (chickpea flour), they're packed with protein.
Serve these with various chutneys and sauces to bring them to life. These are great healthy snacks for picnics and road trips since they're tasty, even if they're not fresh out of the pan.
Easy Electric Skillet Recipes
Source: inthekitch.net
Bet you didn't know you could make mini pies in an electric skillet! The cool thing is, with the right tools, electric skillets can almost function like mini countertop ovens. Then, you get things like this.
These incredibly delicious key lime pies are crispy on the outside and filled with velvety, tart key lime curd. The meringue on top adds an addictive crunch.
Source: fluxingwell.com
Kick Mexican night up a notch with this super simple pan-fried taco recipe. This is the ultimate meal for picky eaters, as it allows everybody to assemble their plates to suit their tastes.
I highly recommend this recipe if you're having guests around for a casual night of fun, as you can feed a ton of people with very little effort with this recipe.
Plus, you can keep everything warm without burning it, thanks to the carefully-controlled electric skillet!
Looking for the best way to complete your meal? Check out these sides for tacos!
Source: inthekitch.net
Return to the classic hits with a stunning electric skillet pot roast. This one-pot meal contains protein, perfectly-cooked vegetables, and fragrant herbs.
Remember that this pot roast takes about three hours in the electric skillet. So, ensure you give yourself plenty of time to prepare the meal if you're waiting.
Source: thegoodheartedwoman.com
Thanks to this delicious Monte Cristo sandwich recipe, take care of lunch quickly. This multi-layered sandwich is indulgent, filling, and easy to crank out for the family.
The secret to a good Monte Cristo sandwich is to ensure you're serving it with something sweet. Powdered sugar or a ramequin of raspberry jam adds a touch of sweetness to the buttery sandwich.
Source: fantabulosity.com
Thanks to this delicious cheeseburger recipe, take care of burger night with no sweat! Thanks to the perfectly-heated electric skillet, you can crank out a ton of smash burgers in no time.
Impress and delight everyone sitting to eat by melting the cheese on top of the patties as they cook.
You can even try creating a 'make your own burger' setup so everyone can enjoy their ideal burger.
Check out these best sides for burgers to complete your meal!
Source: tasteofhome.com
A tuna noodle skillet is a great meal to enjoy before your next grocery run because it uses affordable ingredients that are usually relegated to the back of the pantry.
Top the tuna noodle skillet with a handful of cheese for an indulgent treat. This simple weeknight meal comes together in mere minutes, using simple ingredients and barely any effort.
Source: fantabulosity.com
Feeling like making easy meals that are a little bit wild? This waffle burger absolutely fits the bill!
Whether you want a hangover-friendly breakfast or an indulgent dinner idea for the whole family, this is the burger for you.
This is like the ultimate combination of breakfast and dinner, featuring bacon, egg, sliced American cheese, and a juicy beef patty.
If you really want to go nuts, drench your golden brown waffle buns in a generous helping of syrup to balance out all that savory flavor.
Source: tasteofhome.com
Gear up for your next party or game day with this super simple dessert idea! This is a sweet spin on a classic savory snack, using sweet tortilla chips and fruit salsa in place of vegetables.
The cinnamon and sugar on these chips make them so tasty! Try making this fruit salsa with whatever you like. Seasonal fruits are best, as they have the most flavor.
Source: julieseatsandtreats.com
Spaghetti is a classic weeknight meal for a reason. Not only is it easy to make, but it's also warm, comforting, and a definite crowd-pleaser.
This skillet spaghetti recipe is the ultimate meal to keep in your back pocket.
The best part of these simple meals – apart from the flavor – is that you only need a single pot to make it. Save yourself a ton of strife doing dishes by taking care of everything in your electric skillet.
Don't forget the parmesan cheese to make this good food even better!
Source: food.com
An electric skillet is a perfect environment to make paella for a good reason.
Even if you haven't made one of these before, this simple main course recipe will guide you step by step to create a perfectly fragrant dish.
Paella is a great dish to rely on when you need to feed a crowd. An hour is all you need to create this dish, and it serves up to ten people! Pack it full of vegetables and enjoy!
The first step is to gather your necessary ingredients and prepare your best electric skillets!
Source: icecreaminspiration.com
With just three ingredients, create an addictive appetizer or snack in no time using your electric skillet.
The creamy cheese filling paired with the crunchy wonton wrapper is an addictive combination. Serve with a sweet chili dressing or a quick balsamic dip to make everyone love these morsels!
Source: melskitchencafe.com
No need to head to IKEA because you can make their Swedish meatballs in the comfort of your own kitchen. These are super moist, thanks to the creamy sauce the meatballs cook in.
Imagine this like a beef stroganoff. The creamy sauce and meat combination is the ultimate comfort food, especially when served atop a bed of pasta or rice.
Dress liberally with herbs to help keep things light!
Source: asimplehomecook.com
That's right. You can even make fudge in your electric skillet! This incredible peanut butter fudge recipe incorporates marshmallow cream, peanut butter, and notes of floral vanilla.
In mere minutes, you can create a delicious batch of fudge that anyone and everyone will climb over each other to leap on! This would make a great last-minute gift idea.
Source: ourbestbites.com
This recipe calls itself the 'perfect grilled cheese,' and I can't help but agree. The buttery, grilled bread houses creamy melted cheese.
When you're making something this simple, the key is to take your time and make it perfect. This recipe only calls for three ingredients, so it's a great lunch or last-minute dinner.
When perfectly grilled, nothing beats this sandwich on the comfort scale.
Source: creationsbykara.com
Fried rice is designed to use leftovers and give them a new life. So, even though this fried rice uses sausage – which isn't very traditional – the spirit of the fried rice is very much intact.
This fried rice is smoky, delicious, and packed with healthy vegetables. As with any fried rice recipe, it's essential to use leftover cold rice.
Fresh rice will be too delicate, and fragment as the skillet is stirred.
Source: cuisinart.com
Who knew the secret to perfect roasted potatoes was a skillet? By frying the potatoes as you 'roast' them, the skin becomes incredibly crispy while the insides turn to a beautiful mush.
You can adapt this recipe to suit your idea of roast potato spices. Use herbs, spices, fresh garlic, and even cheese to make these potatoes your own.
Source: meatloafandmelodrama.com
Swiss steak is not like your traditional steak. This electric skillet steak recipe uses thin cuts of cheap steak simmered to tender perfection in a peppery tomato sauce.
It's rich, filling, and perfect for a winter night.
Serve this on top of pasta or egg noodles, and – for a well-rounded dish – make sure to include some steamed vegetables on the side.
Wondering what to serve with this swiss steak? Try these yummy sides for steak!
Source: cookingwithcarlee.com
Speaking of comfort, here's another deliciously comforting dish meant for families on cold winter nights.
This meal is incredibly tender and creamy, especially when you serve it with mashed potatoes.
Source: copykat.com
We'll finish our list with an iconic recipe, families all over the world flock to festivals and fairs to enjoy! Funnel cakes are the last word in sweet treats.
The light, puffy pastry plays home to all manner of sauces or just a simple coating of powdered sugar. If you're looking for a quick and easy treat to serve to your little ones, you've found it!
41 Easy Electric Skillet Recipes
Trying new dishes has never been so simple. Here are the best electric skillet recipes you can make from breakfast through to dinner.
Ingredients
1. Coca-Cola Chicken Thighs
2. Easy Chicken
3. Fried Chicken
4. Lemon Chicken
5. BBQ Chicken
6. Garlic Chicken
7. Roast Chicken with Spring Vegetables
8. Unfried Chicken
9. Caramelized Chicken Wings
10. Chicken and Dumplings
11. Stir Fry Chicken
12. Sausage and Egg Breakfast Hash
13. Pancakes
14. Vegetable and Goat Cheese Frittata
15. Brioche French Toast
16. Egg-In-A-Hole Grilled Cheese
17. Potato Pancakes
18. Fresh Apple Pancakes
19. Beignets
20. Quinoa Fritters
21. Cheesy Chicken, Kale, and Sweet Potato Skillet
22. Chickpea Fritters with Sweet-Spicy Sauce
23. Key Lime Pie
24. Pan Fried Fried Tacos
25. Pot Roast
26. Monte Cristo Sandwich
27. Hamburgers
28. Tuna Noodle Skillet
29. Waffle Burger
30. Fruit Salsa with Cinnamon Tortilla Chips
31. Skillet Spaghetti
32. Paella
33. Cream Cheese Wonton
34. Swedish Meatballs
35. Fudge
36. Grilled Cheese
37. Smoked Sausage Fried Rice
38. Skillet Roasted Potatoes
39. Swiss Steak
40. Pork Chops and Mushrooms Gravy
41. Funnel Cakes
Instructions
Scroll up to get a bunch of easy, yummy, and delicious electric skillet recipes. Don't be afraid to get creative with the ingredients. You might discover a flavor you didn't know you liked.
Get your shopping list going, and make sure you've got all the ingredients.
Get cooking and make your next Electric Skillet Recipe!
Notes
Which one of these recipes was your favorite? Let me know in the comment section or on Pinterest!