Coconut flour is incredibly versatile, offering a simple and delicious way for people to make recipes gluten-free. Beyond that, coconut flour recipes are a great way to add new flavor to an old favorite!
Made from dried and ground coconut meat, this is a specialty flour. However, it's become much more accessible these days due to the spike in healthy eating and gluten-free diets.
If you're a coconut lover or need some quick and easy gluten-free alternatives, this is the list for you. Check out forty-one great coconut flour recipes to expand your repertoire!
What Can You Make Out of Coconut Flour?
When cooking with coconut flour, it's important to remember that it can absorb more moisture than regular wheat flour or all-purpose flour.
So, you have to make sure to adjust your quantities if you're using a standard recipe.
Even though it's an incredibly versatile ingredient for gluten-free recipes, it might not fit into every recipe. Embrace trial and error!
Coconut flour is super absorbent, high in fiber, and safe to consume raw in large quantities (unlike regular wheat flour). Therefore, it's a common ingredient in many healthy recipes.
From baked goods and energy bars to breading meats and making pizza crusts, there are hundreds of ways to use this low-carb flour.
It's a great option to substitute for everything from wheat flour to corn starch.
It's also delicious in its own right, adding a nutty flavor to baked goods that are perfect for light, fluffy cakes or dense, energy-packed bliss balls.
Simple Coconut Flour Recipes
Let's begin with some of the basics. If you're a coconut flour lover, these are the great recipe ideas you'll want to put on the front pages of your recipe book.
These best coconut flour recipes are simple, delicious, and span every meal category.
From protein balls to perfectly crispy chicken tenders, there's something for every kind of person in these basic coconut flour recipes. So put away those traditional flours, and let's get cooking.
Source: veganinthefreezer.com
If you've seen the rest of All Nutritious, then you know that I'm a big fan of protein balls. They're just a great way to incorporate a healthy snack into your day while making it taste delicious.
All you need are a few simple ingredients like half a cup of coconut flour and half a cup of maple syrup.
Plus, they're so easy to whip up in big batches! Do yourself a favor and check this recipe out.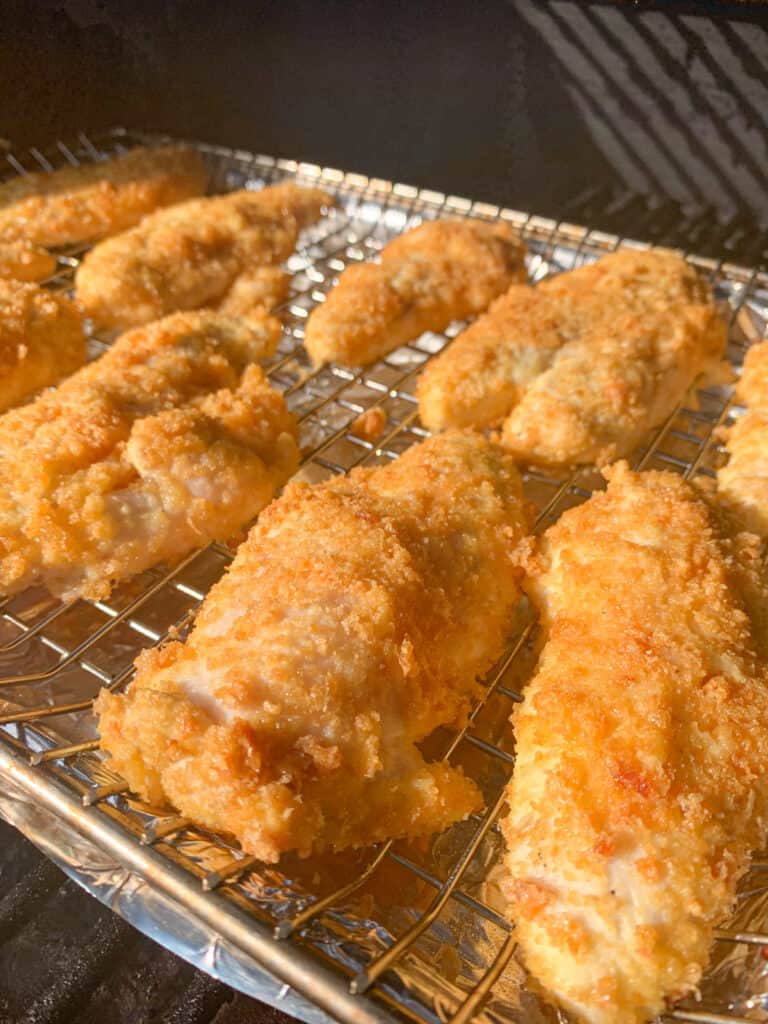 Source: smokedmeatsunday.com
The secret to getting crispy low-carb chicken tenders? A half cup of coconut flour! Using the same breading technique but leaving the regular flour out of the equation gets you great results.
In fact, the coconut flour gets even crispier. Ultra-crunchy golden brown chicken skin with a super tender interior? Sign me up.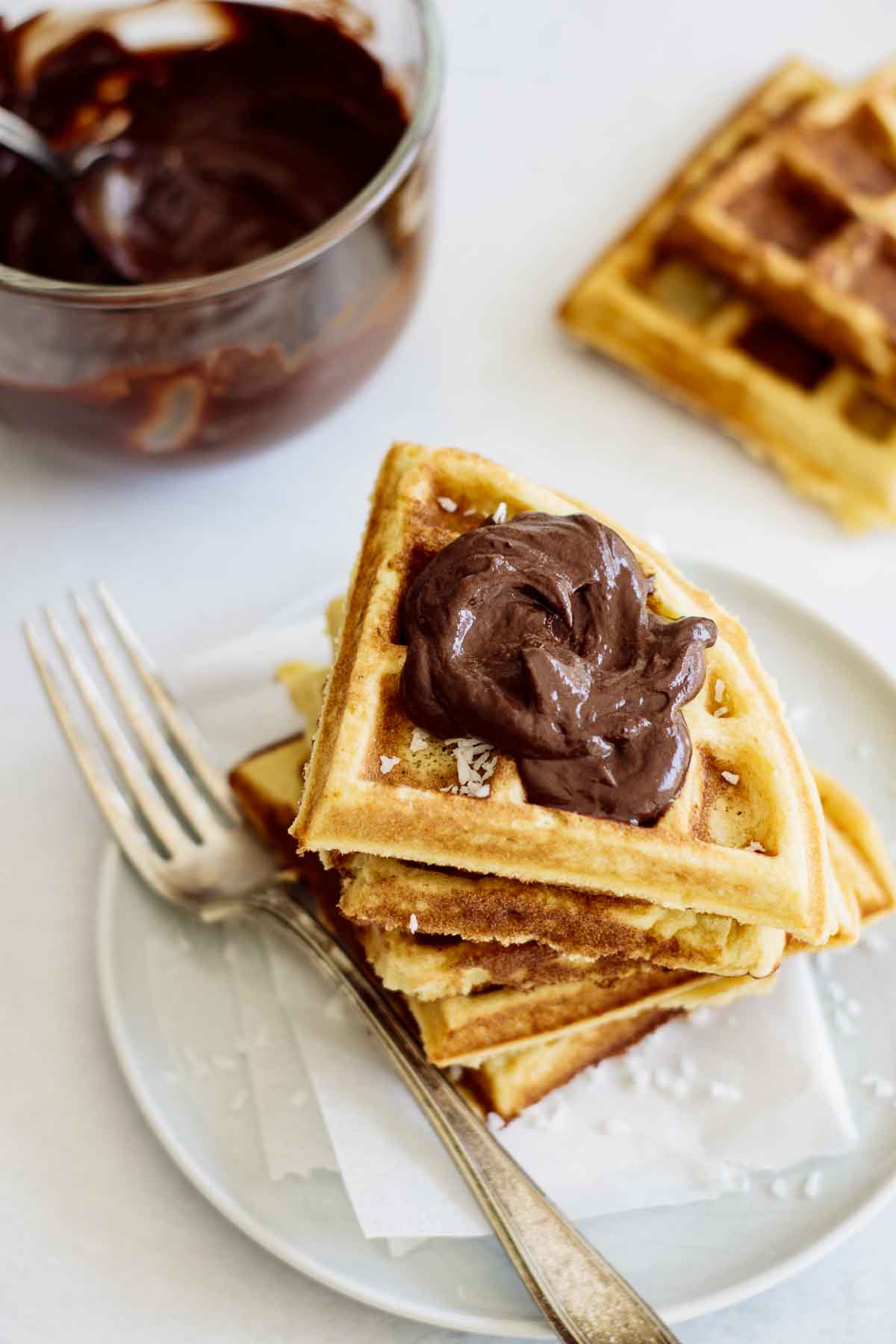 Source: milkandpop.com
These waffles just so happen to be keto-friendly, but anyone would enjoy these (without question).
The coconut flour in this keto diet recipe makes the waffles extra light and crispy while lending them a nutty flavor from the gluten-free flour.
The vanilla extract and low net carbs sweetener give them a hint of sweetness!
Plus, they're just as easy to make as standard waffles. That's a quick way to make your Saturday morning awesome!
Source: summeryule.com
If you've never made orange chicken before, there's a secret step in there where you have to bread the chicken in flour before you fry it. This gives all that tasty orange sauce something to cling to.
Well, here's the keto-friendly solution! Coconut flour is a great way to keep the chicken tender and the sauce thick without adding any wheat or extra carbs to the meal.
Source: cinnamonandkale.co.uk
If you're in a rush to get your day started, you can't go wrong with a blueberry muffin. The fluffy muffin is the perfect foundation for softened blueberries, especially with a smear of butter.
Try making this blueberry muffin recipe at the start of your week. They'll last you a few days stored in an airtight container, and make sure you don't have to worry about breakfast!
This is one of the best things to bake when you're bored on a rainy day!
Source: wholesomefamilyliving.com
These coconut flour pancakes are keto-friendly, paleo-friendly, gluten-free, and vegan. But you know what else they are?
Delicious! Who said healthy pancakes couldn't taste as good as their sugary counterparts?
This easy healthy pancakes recipe is a great pick-me-up when you have a busy day ahead.
Source: organicallyaddison.com
Banana muffins are possibly some of the best of their kind. The banana naturally makes the crumb super moist and springy, while the browned crust on the outside is so fragrant and appealing.
That's why it amazed me when coconut flour improved the recipe! Gluten-free or not, you'll definitely appreciate the extra light, extra crispy muffins this recipe produces.
Coconut Flour Cookie Recipes
Cookies are pretty magical. The right cookie can turn your whole day around, or even start it off right with a cup of tea. What I'm saying is everyone should be able to enjoy a delicious cookie.
So, if you're gluten-free and searching for the right coconut flour cookie recipe, you're in the right place. Here are a few to get the wheels turning.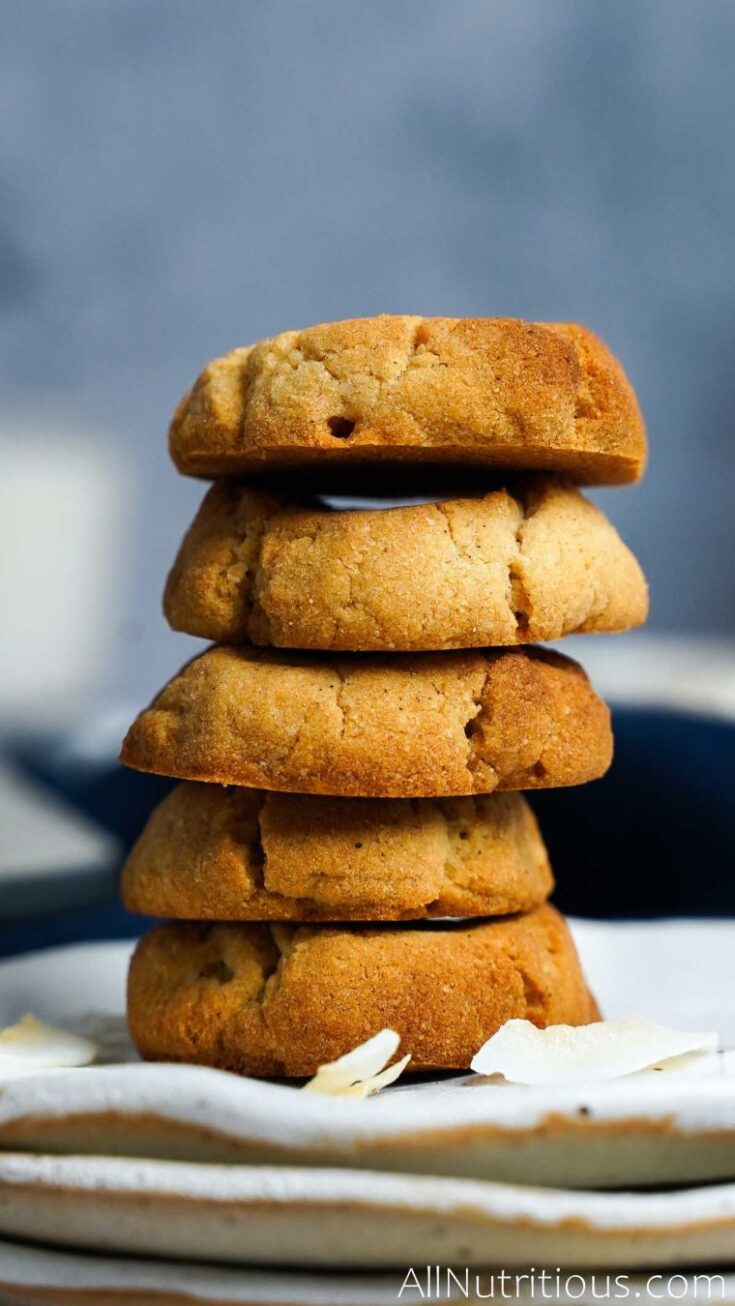 Source: allnutritious.com
We're kicking things off with one of my recipes! These protein cookies are some of my all-time favorites, and I reach for them all the time.
There's just something really cool about enjoying cookies that taste great, but they also happen to be good for you! Filling, gluten-free, and guilt-free. What's not to like?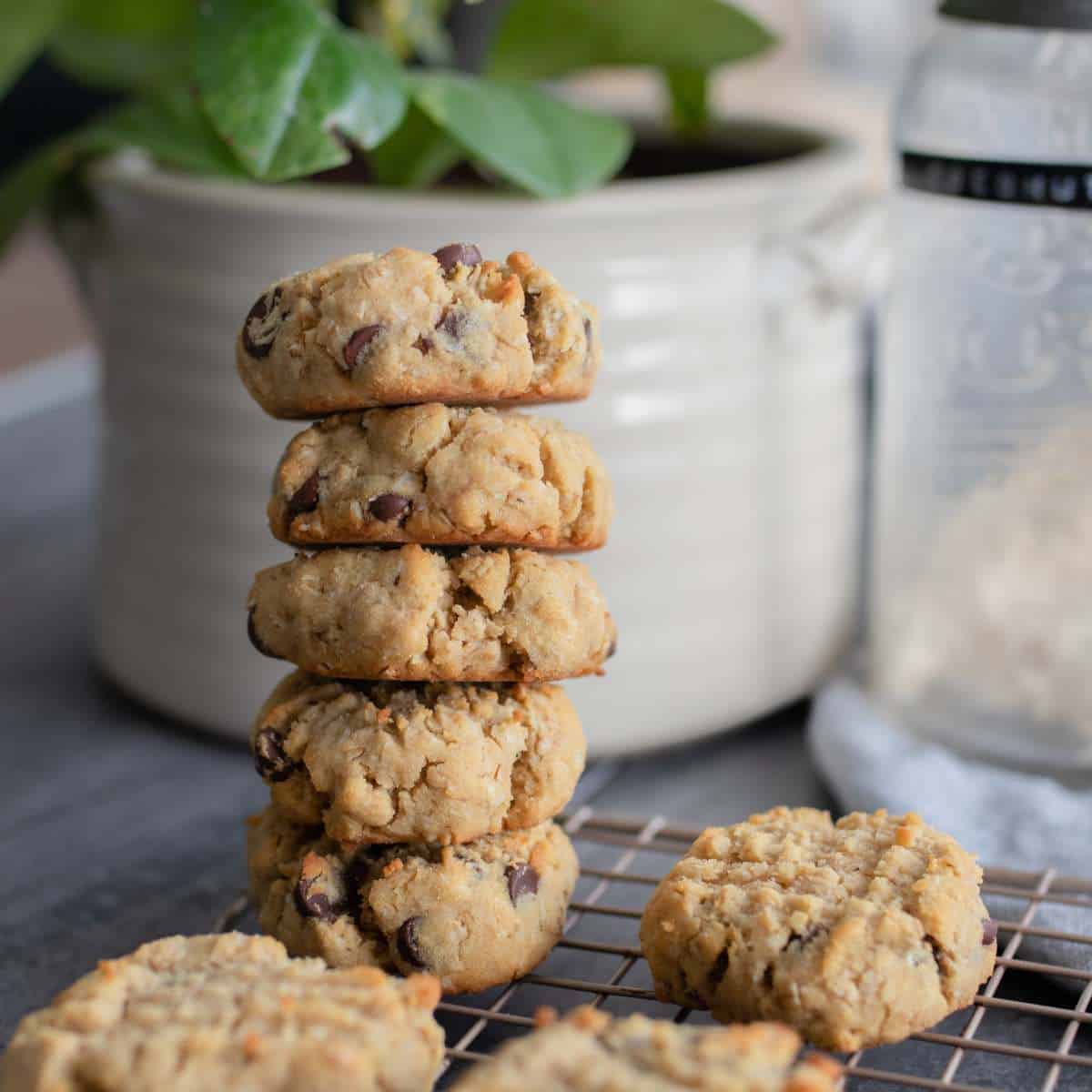 Source: lifearoundthetable.ca
The only way you could possibly make coconut flour cookies any healthier would be to add oatmeal to them! Now, I know there are a lot of people in the world who aren't a fan of oatmeal cookies.
But seriously, even if you're one of those people, give these cookies a try.
Source: proteincakery.com
Strawberries and coconut are the perfect pair in these delicious protein cookies. This is another great example of how you can introduce healthy snacks into your day that still taste like a treat.
Packed with veins of strawberry and plenty of protein, these cookies are so easy to make!
Source: organicallyaddison.com
Speaking of our favorite treats, how about a batch of coconut flour chocolate chip cookies? These put a healthy, light, extra-crunchy spin on an old favorite.
The best part is, they're really easy to make and really good. Whether you need a simple road trip snack or some birthday party gift bag stuffers, these cookies will get the job done.
These cute cookies are one of the best birthday party foods for all ages!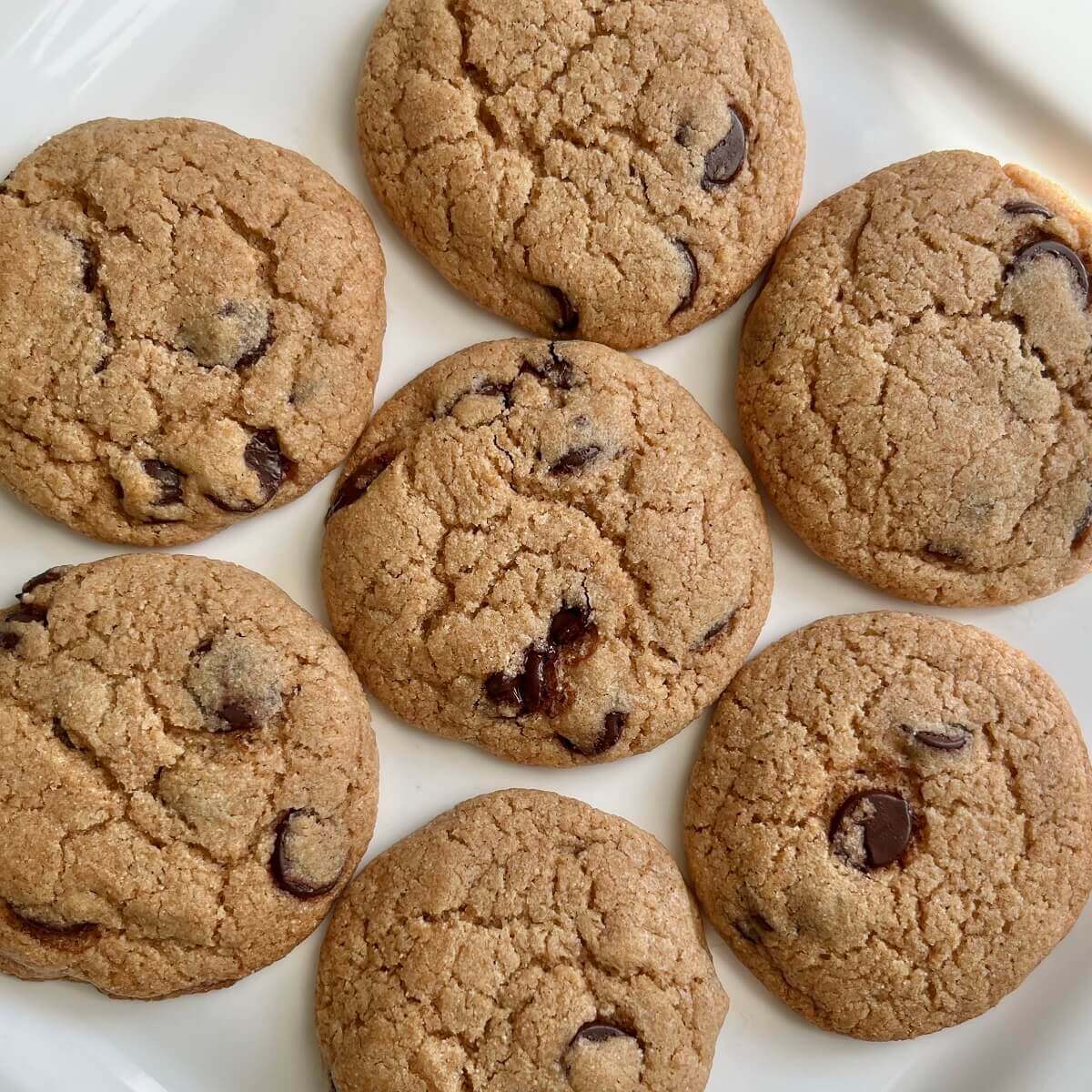 Source: asweetalternative.com
Now, technically these are coconut oil cookies, not coconut flour cookies. But I had to give them a special mention for their distinct coconut flavor.
We all know about the moisturizing properties of coconut oil, but it's still mind-blowing how it manages to introduce so much smoothness and flavor to anything it's a part of.
Source: asweetalternative.com
Coconut flour and peanut butter will never be a bad combination. This recipe goes out to all the peanut butter lovers out there: you have to try it!
In under an hour, you can enjoy crispy, chewy, nutty cookies that will keep for days at a time.
Source: daniscookings.com
That's right. These magical cookies are somehow both vegan and double chocolate flavored.
These incredibly fudgy cookies are far from good for you, but they're a wonderful example of how you can make gluten-free treats delicious. Plus, the vegan chocolate melts like a dream!
Keto Coconut Flour Recipes
Keto recipes are supposed to be low in simple carbohydrates and high in protein. Well, these keto coconut flour recipes deliver on that promise! Coconut flour is technically not a simple carb.
So, that's why it's such an ideal foundation for all your favorite keto-friendly baking recipes. If you're living this lifestyle, knowing these recipes is a must.
Source: allnutritious.com
Let's begin the keto section of our list with one of my go-to cupcake recipes. These are simple and delicious sweet treats that you can whip up any day of the week. The raspberry is a real winner here.
The tart sweetness from the berries is a perfect contrast to the nutty batter, making these cupcakes feel nice and balanced.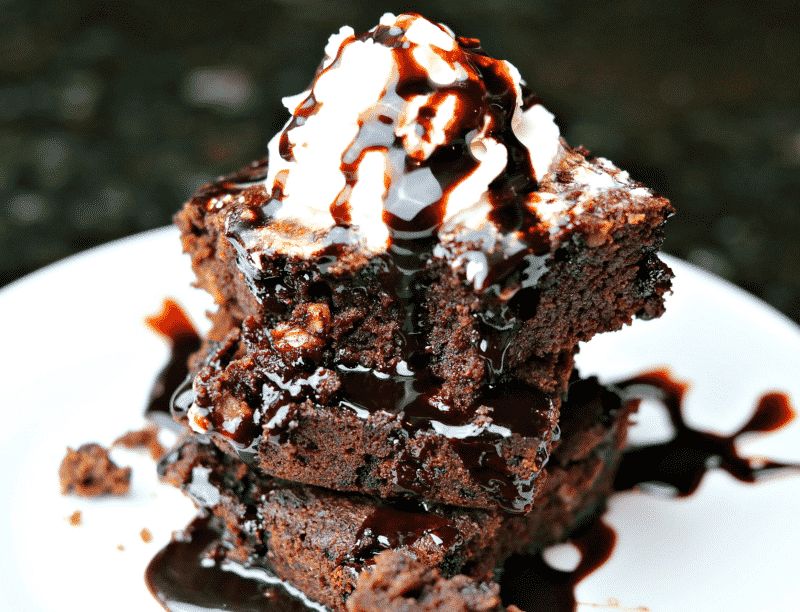 Source: drdavinahseats.com
No matter what your dietary restrictions are, having a good brownie recipe is a household essential.
These coconut flour versions are light, fluffy, and packed with the deep chocolate taste we all know and love. Best of all, they're just as easy to make as brownies usually are. Talk about a win-win!
Source: allnutritious.com
I don't know about you, but sometimes I get a craving for delicious baked goods that just can't be overcome with willpower alone. That's when I turn to mug cakes.
This blueberry mug cake, in particular. This is like having unlimited access to perfect blueberry muffins in your home.
Keto-friendly it may be, but this mug cake tastes like it came straight from a bakery.
Source: ketovegetarianrecipes.com
For anyone who hasn't tried star fruit before, it's a delicious star-shaped tropical fruit that everyone should give a go! This upside-down cake is wonderfully unique.
It looks so cool and tastes even better. Plus, you can pull it together in just half an hour! Ironically, there's no downside to this recipe (hah).
This tropical cake would make one of the best pool party foods for dessert!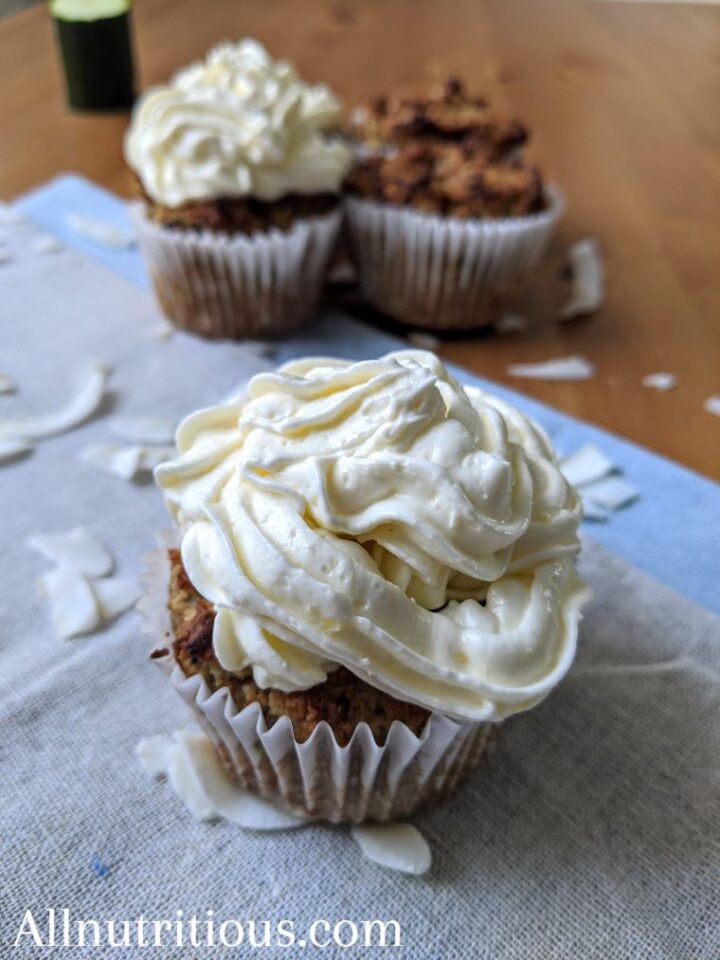 Source: allnutritious.com
Looking for a ginger-spiced, seasonal recipe that will warm the cockles of your heart this holiday season? These spiced zucchini cupcakes will do the trick.
The ginger, cloves, and cinnamon in the batter are a perfect contrast to the sweet vanilla frosting. You barely taste the zucchini at all, thanks to these bold flavors. It just adds a light earthiness.
Source: recipesfromapantry.com
Was there ever a better name for a dessert than 'Chocolate Fat Bomb'? This might sound like something Augustus Gloop would eat, but it's really a deceptively healthy treat.
The dessert gets its name from the coconut oil and almond butter holding everything together. This is a melt-in-your-mouth low-carb dessert where you certainly won't miss the carbs.
Source: allnutritious.com
Remember earlier when I said I really like peanut butter protein balls? Well, here's my proof! This is my take on the delicious protein-filled treats, complete with generous dollops of peanut butter.
I love making a big batch of these at the start of the week and then storing them for when sugar cravings strike.
Source: lowcarbspark.com
Soft, chewy, and simple, these coconut flour cookies come together with only seven ingredients to their name.
If you're a fan of classically delicious desserts with nothing fancy, this is the recipe for you.
I highly recommend making the cookie batter ahead of time and freezing it. You can easily defrost it in chunks to give yourself a batch of fresh-baked cookies any time!
Source: joyfilledeats.com
Enjoy a luscious dessert for one while sticking to your ketogenic diet thanks to this simple recipe. This mug cake chooses to highlight the coconut flour's flavor, pairing it with some mellow vanilla.
A scoop of ice cream on top wouldn't go amiss, but this cake is just as tasty on its own.
Source: lowcarbspark.com
Here's another keto coconut dessert unafraid to embrace its roots! This ultra-moist coconut cake is the perfect dessert for a summer gathering with friends.
Not only is it simple to make, but it also keeps quite well. Send slices home with your loved ones to keep the party going.
Coconut Flour Bread Recipes
Much like a great cookie, a delicious loaf of bread has the power to change your day for the better.
That might sound really cheesy, but I'm just a really big fan of bread. Especially when it's good for you!
Most of these recipes are technically paleo, keto-friendly, and gluten-free. They're moist, packed with unique flavors, and ideal as a substitute for basic store-bought bread. It's time to dig in.
Source: joyfoodsunshine.com
Banana bread is an absolutely delicious way to use coconut flour. The slight nuttiness is a perfect contrast to the bananas' natural sweetness.
Plus, the coconut flour makes the bread extra crispy on the outside while lightening up the crumb. Altogether, it really improves the flavor and texture of a classic loaf of banana bread.
Source: cookingontheweekends.com
I'd never heard of macadamia honey bread before I found this listing, but now that I know about it, I'm never going back.
This ultra-moist, nutty, floral, slightly sweet bread is everything you need out of a snack. Just smear it with a glob of butter to bring out all those elements, and you're on your way.
Best of all, this bread is so easy to make. Take it with you to potlucks, picnics, and on road trips. Anywhere you need to impress with something delicious but easily portable.
Source: moonandspoonandyum.com
If you've never tried zucchini bread before, this is the recipe that's going to convert you. It's just too good to do anything else.
It's easy to make, convenient to store, and tastes delicious. Plus, it's a great way to use up any extra zucchini.
This is one of the best healthy summer recipes!
Vegan Coconut Flour Recipes
When you're baking vegan treats with coconut flour, it's easy to assume that your results will taste 'good for you'. As in, the baked treats won't measure up to the ooey gooey deliciousness you're after.
Well, these recipes will prove you wrong! Rather than trying to replicate other flour recipes from scratch, these recipes take the flavor of coconut flour and use it to elevate other ingredients.
Now that's clever.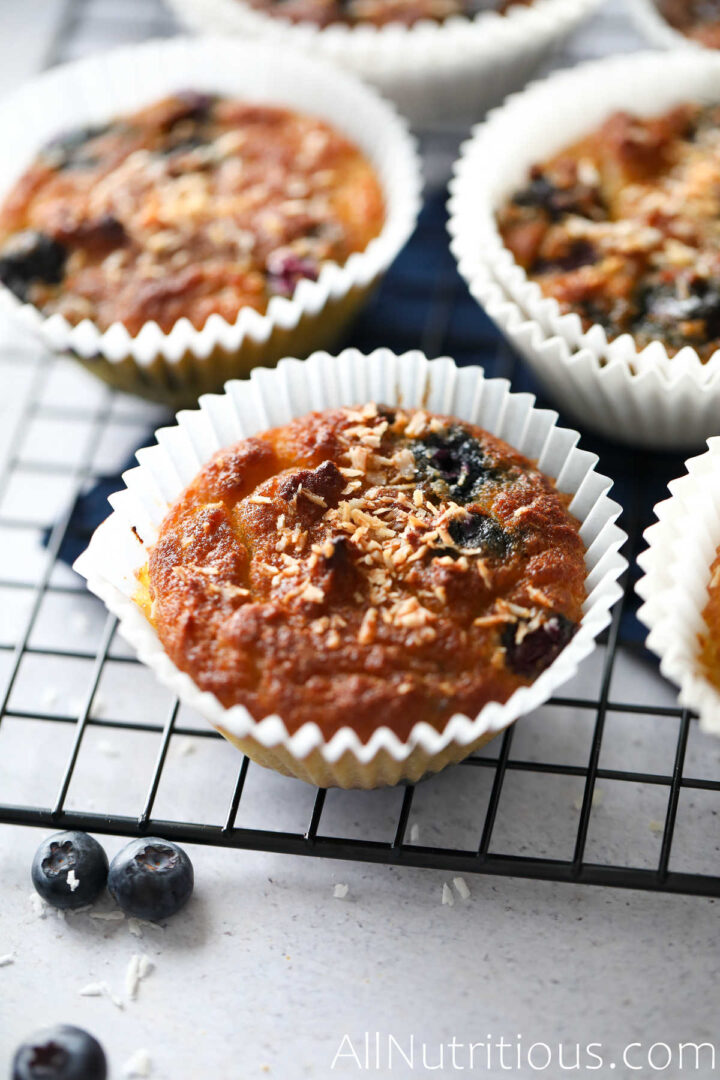 Source: allnutritious.com
Here's my very own take on coconut flour muffins for your consideration. This is a light and fluffy muffin recipe that you can get done in a matter of minutes (when you consider hands-on time).
You can serve these as-is or top them with a light glaze to bring out that natural sweetness from the coconut sugar.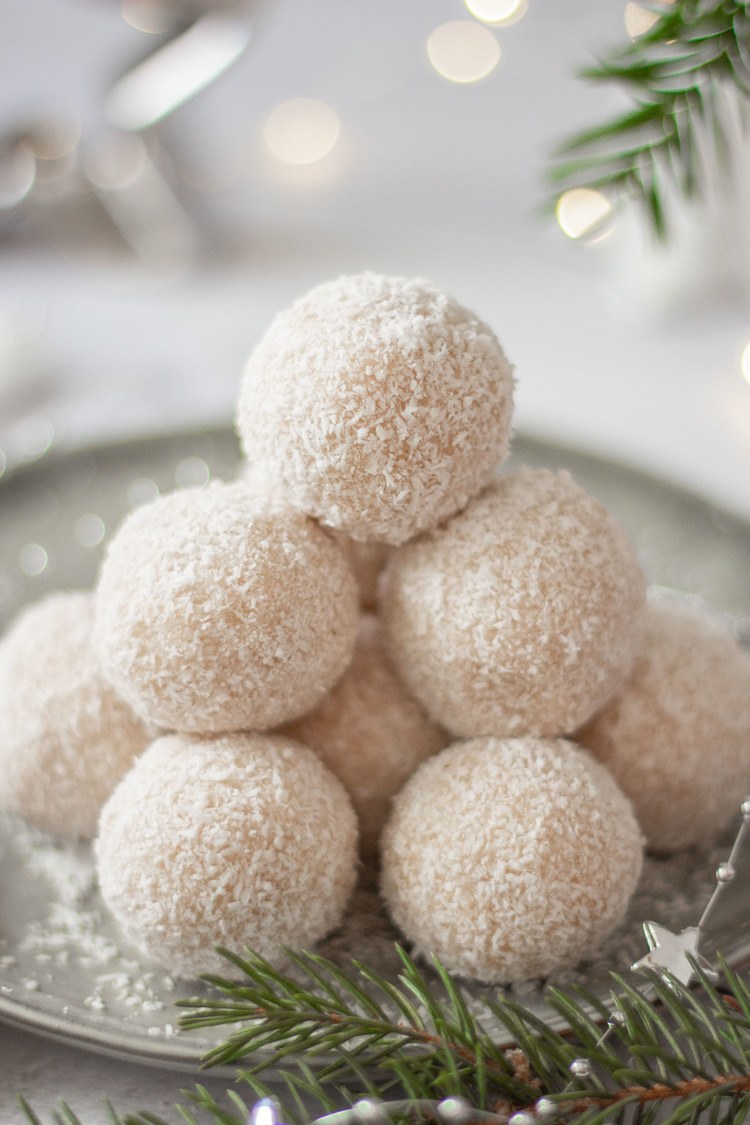 Source: thegreenloot.com
Do you need a semi-healthy vegan treat for the holidays that will still put you in a seasonal mood? Then I have the recipe for you! These snowballs are the perfect way to bring the snow indoors.
The light touch of rum against the mellow coconut is a beautiful flavor combination.
Source: addictedtodates.com
Who doesn't love a good no-bake cheesecake? In this case, the coconut flour is hiding in the crust of this recipe to make it extra crispy and robust. It's a great base for the super cream cheesecake.
Not to mention, the nuttiness from the coconut is the perfect way to complement the carrot cheesecake. Simple, cooling, and delicious, this cheesecake ticks all the boxes.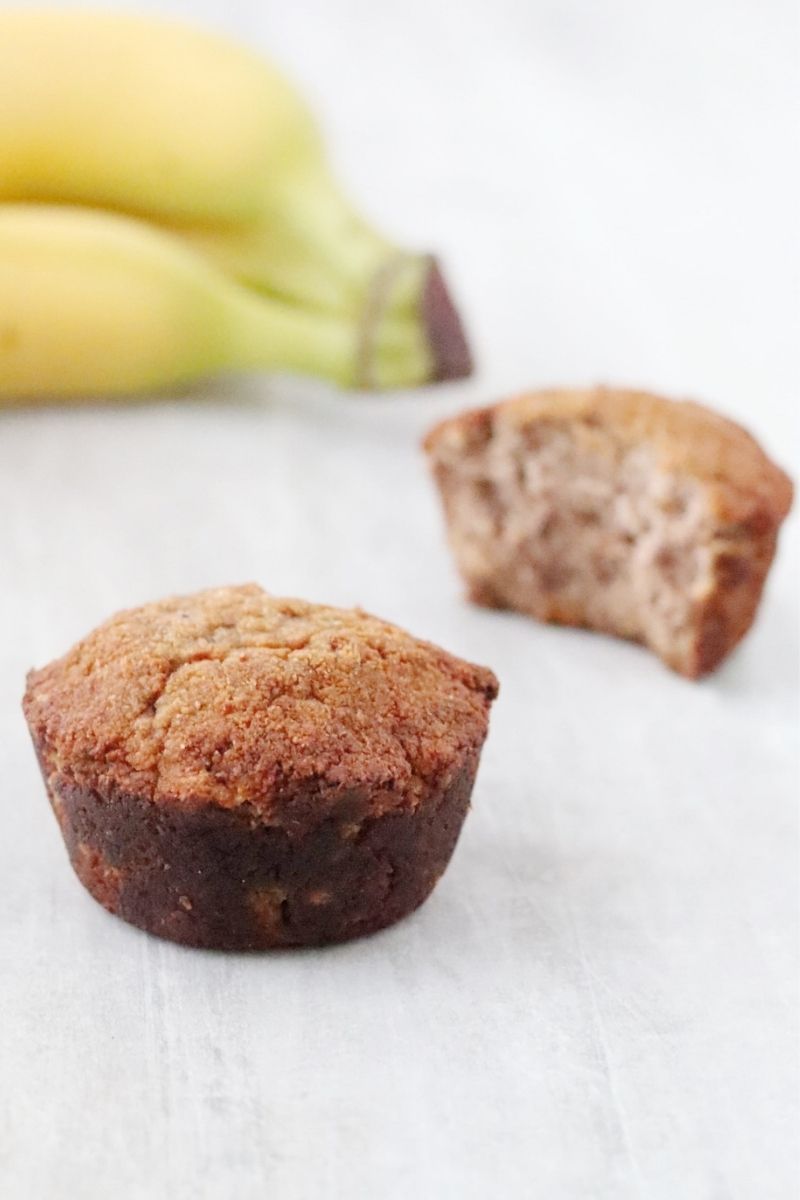 Source: gohealthywithbea.com
I think a lot of people would love to carry around a loaf of banana bread to enjoy at will. But that's a little impractical, so muffins!
These coconut flour banana bread muffins are a great example of how to tweak a classic the right way. They're warm, springy, moist, and perfect for taking along to outdoor events.
Source: avirtualvegan.com
Did someone say fudge? This vegan fudge recipe is far from good for you and is a great example of how to make vegan desserts without even hinting at the lack of butter.
That's what impresses me so much about this recipe. There's no real butter in it! Despite that, the fudge is super creamy and smooth and tastes deliciously rich.
Definitely, one to keep in the recipe book.
Source: saltedplains.com
Cooking up a batch of protein brownies is a great way to sneak some more protein into your diet. Whether you have kids who don't want to eat their protein or you just need some for yourself.
These are packed with rich chocolate flavor despite their vegan status, and the coconut flour just helps it along. Plus, they're really easy to make, as all brownies should be.
Coconut Flour Dessert Recipes
A delicious dessert during the holidays, after a long week, or just because you feel like it is always earned. Especially if you make it yourself!
These tasty coconut flour dessert recipes prove that this up-and-coming ingredient has a lot of potential in the world of sweet treats.
With its naturally moist nature and light crumb, coconut flour is ideally suited to dessert making. But hey, don't take my word for it. Let's see for ourselves!
Source: thedaringkitchen.com
Whoopie pies peaked in popularity quite a few years ago, but I think they should still be one of the most popular baked goods out there. These handheld cakes are perfectly balanced.
From the carefully considered portion of frosting in the middle to the two soft cake layers on either side, whoopie pie recipes are always a win.
Source: happykitchen.rocks
Do you need a quick and easy dessert to cap off your weekend dinner with the family? Look no further than this plum crisp! It's vegan, but you wouldn't know it from the taste.
This tastes just as rich as a normal plum crisp, which is usually packed with butter. Plus, the coconut flour helps put a little extra crisp in there, so the dessert lives up to its name.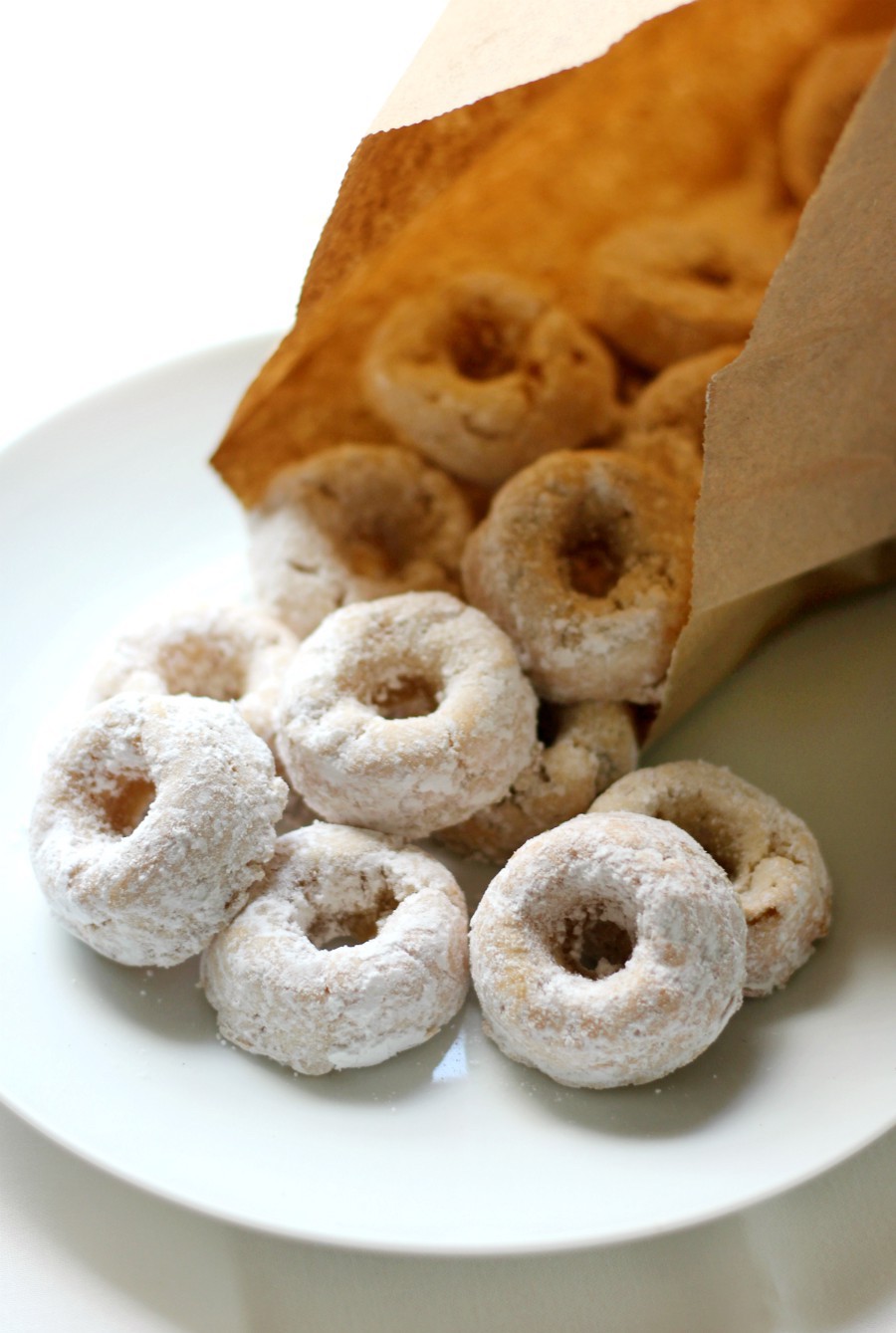 Source: strengthandsunshine.com
Who doesn't love mini doughnuts? Whether you're gluten-free or not, these delicious allergy-free treats are an amazing treat.
They're meant to mirror Hostess' doughnuts, and they do a pretty good job. Definitely a must-try for pastry lovers.
Source: daniscookings.com
I mean, look at the name of these things. 'Peanut butter cheesecake brownies'? Sign me up!
These brownies have little nuggets of peanut butter and cheesecake nestled throughout, making them one of the most indulgent things on this list. Possibly the planet.
Either way, if you need a recipe that's guaranteed to impress at your next potluck, try this one. You won't be disappointed.
Source: artofnaturalliving.com
Coconut flour has this magical power to make everything melt in your mouth. That's why these low-carb chocolate chip bars taste so good. The texture is out of this world!
If you're a chocolate chip cookie fiend and want to cut back on the carbs, this super simple recipe is for you.
Love baked goodies? Try these crescent roll recipes.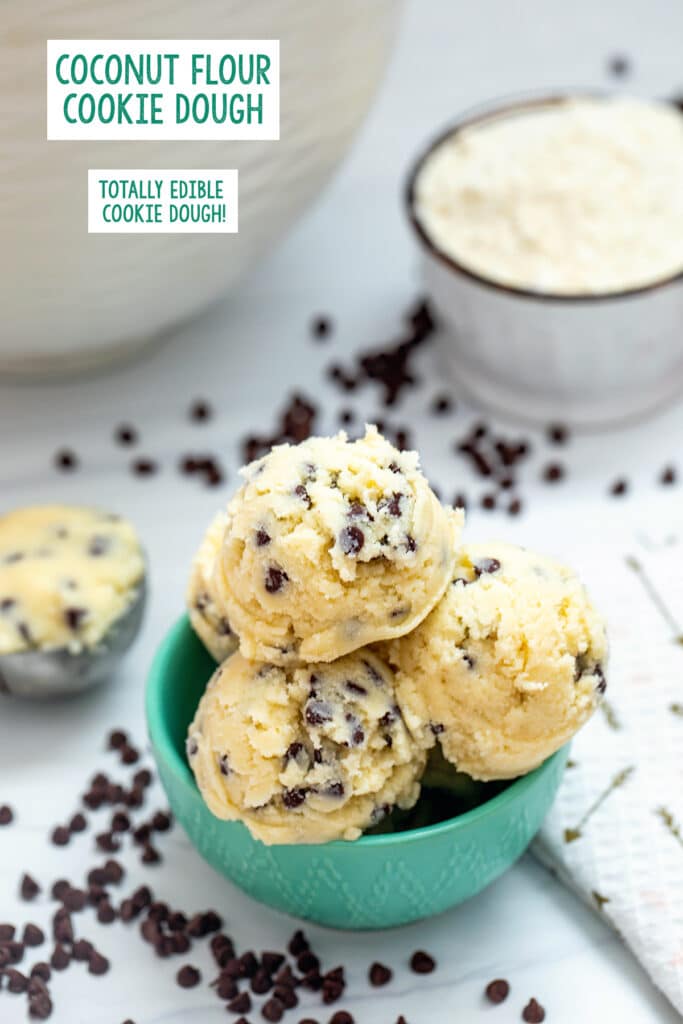 Source: wearenotmartha.com
Coconut flour is a great wheat flour substitute when making edible cookie dough. If you've never made this before, you typically need to bake the wheat flour first to ensure it's safe to eat.
But with coconut flour, there's no need! Whip up a super quick and easy cookie dough recipe in a matter of minutes, no pre-baking required.
Source: jcookingodyssey.com
A ladoo is an Indian sweet, almost like a little round cake. They're crumbly and melt in your mouth with a single bite, dissolving like the perfect shortbread.
And the secret ingredient that makes them do that? Coconut flour! Or, at least in this case. The intersection of mango and coconut flour is absolutely perfect in this Indian treat.
Source: thehomeintent.com
Our final recipe pays homage to the holidays, although you can enjoy this cake year-round. Warm, fragrant, and singing with the colors of Christmas, this cake is quite the showstopper.
It's also easy to make, meaning you won't have to stress about dessert on top of feeding everyone the perfect holiday dinner. Thank goodness for that!
If you liked these alternative recipes, these best rice flour recipes are for you!
41 Ultimate Coconut Flour Recipes (Easy and Delicious)
Unlock the endless possibilities in the world of coconut flour recipes. From fluffy pancakes to mouth-watering brownies, our recipes will leave you asking for more
Ingredients
1. No Bake Protein Balls with Peanut Butter
2. Tasty Low Carb Grilled Chicken Tenders
3. Coconut Flour Waffles
4. Low Carb Orange Chicken
5. Coconut Flour Blueberry Muffins
6. Easy Healthy Pancakes
7. Coconut Flour Banana Muffins
8. Coconut Flour Protein Cookies
9. Coconut Flour Oatmeal Cookies
10. Very Strawberry Protein Cookies
11. Coconut Flour Chocolate Chip Cookies
12. Coconut Oil Cookies
13. Coconut Flour Peanut Butter Cookies
14. Vegan Double Chocolate Cookies
15. Ketogenic Raspberry Coconut Cupcakes
16. Keto Coconut Flour Brownies
17. Keto Blueberry Mug Cake
18. Star Fruit Upside Down Cake
19. Keto Spiced Zucchini Cupcakes with Vanilla Frosting
20. Chocolate Fat Bomb
21. Keto Peanut Butter Balls
22. Coconut Flour Cookies
23. Keto Coconut Flour Mug Cake
24. Keto Coconut Cake
25. Paleo Banana Bread
26. Gluten-Free Macadamia Honey Bread
27. Gluten-Free Coconut Flour Zucchini Bread
28. Coconut Flour Muffins
29. Vegan Coconut and Rum Snowballs
30. No-Bake Carrot Cake Cheesecake
31. Coconut Flour Banana Bread Muffins
32. Salted Maple Pecan Vegan Fudge
33. Vegan Protein Brownies with Coconut
34. Pumpkin Whoopie Pie
35. Vegan Plum Crisp with Coconut
36. Gluten-Free Baked Mini Powdered Doughnuts
37. Peanut Butter Cheesecake Brownies
38. Low-Carb Chocolate Chip Bars
39. Coconut Flour Cookie Dough
40. Mango, Badam Coconut Ladoo
41. Cranberry Christmas Cake
Instructions
Scroll up to get a bunch of easy, yummy, and delicious recipes. Don't be afraid to get creative with the ingredients, you might discover a flavor you didn't know you liked.
Get your shopping list going and make sure you've got all the ingredients.
Get cooking and make your next Coconut Flour Recipe!