Jamaican cuisine is one of the most beautiful in the world, with influences that carry flavors from every corner of the globe. That's what makes these Jamaican recipes the best!
African, Irish, French, Portuguese, and even Native American cultures have all made their mark on this amazing cuisine.
But it's not just a sum of all those parts. Authentic Jamaican cuisine is something all its own.
A Jamaican meal is known for using a ton of seafood, tropical fresh fruits, and meats while incorporating local spices to create a kind of fusion and the perfect balance of heat.
Authentic Jamaican recipes are unforgettable and a must-try for anyone who hasn't had the pleasure of sampling some good Jamaican home cooking.
Looking to dip your toe into this bold, vibrant, delicious corner of the world? Here are thirty-one delicious Jamaican recipes to introduce you to the region!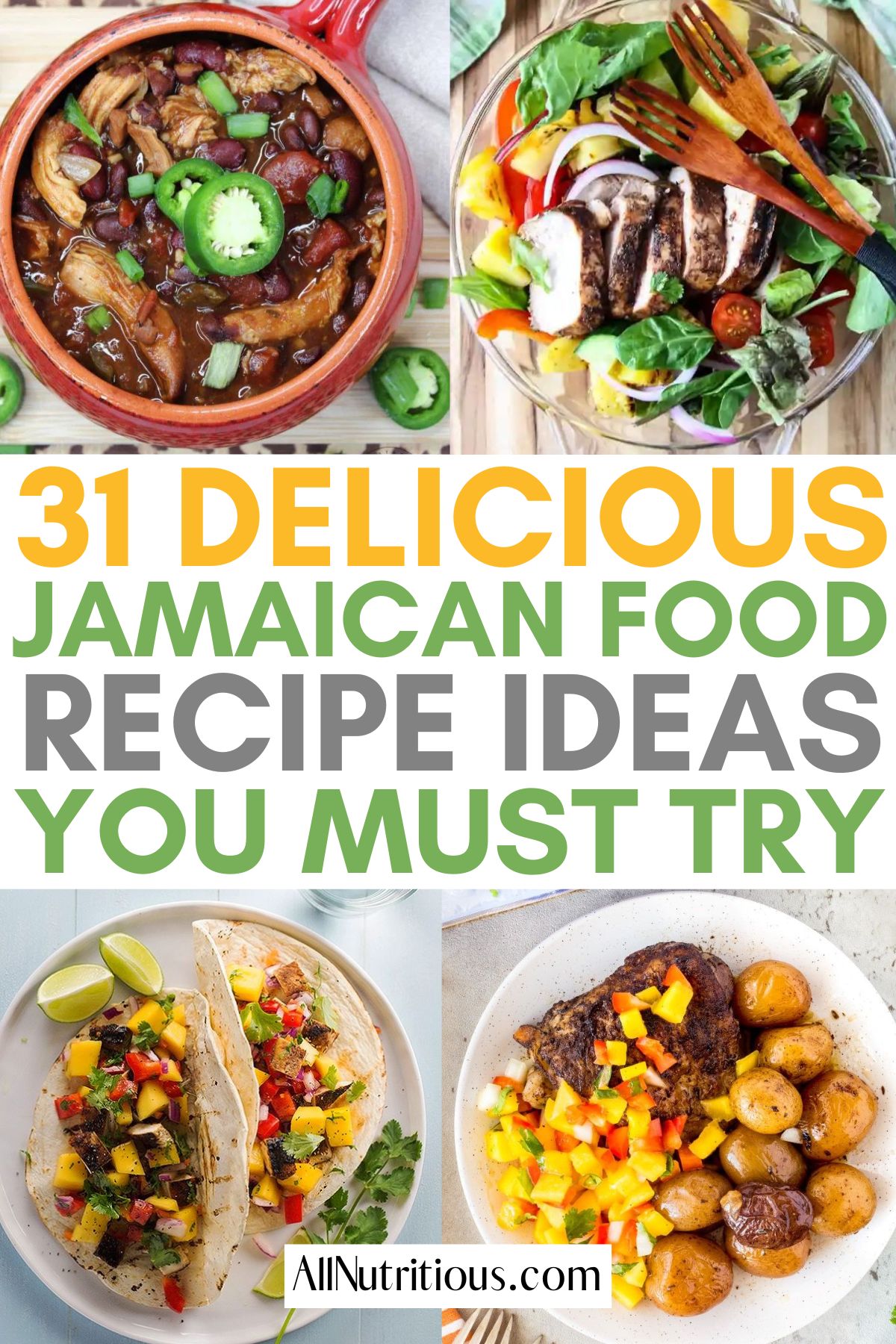 What is Jamaica's Most Famous Food?
Jamaica has produced a lot of delicious foods, but none are as well-known as the iconic jerk chicken.
In the simplest sense, jerk chicken is chicken marinated in a blend of herbs, spices, and dried peppers.
But it's so much more than that.
Jerk chicken is prized for its smokiness and fiery taste, finding a home beside other such Jamaican staples as rice, beans, plantains, and a variety of sauces.
Marinating the chicken in spice creates a massive flavor bomb in every mouthful, but it also makes the chicken super tender and moist. This is what makes jerk chicken so popular.
Enjoy it on a sandwich, as part of a stew, or served traditionally beside a pile of rice and beans. No matter what, you'll be walking away with a sweating brow and the memory of an unforgettable taste.
Festival Jamaican Food Recipes
Jamaica is the home of reggae music, which appeared in the country around the late 1960s. These days that means that modern-day Jamaica plays host to many different music festivals.
Combine a place with incredible music, great vibes, and some of the best food in the world, and you're bound to have some amazing dishes to wow your taste buds!
Check out these festival Jamaican food recipes to try at home.
Source: dinneratthezoo.com
As with any festival, the best Jamaican foods to eat are going to be handheld. These jerk shrimp kabobs are filling enough to keep you dancing but light enough not to wear you down.
Plus, the heavy jerk seasoning is absolutely delicious on the sweet shrimp. Speckled with roasted red peppers, these skewers are tender, moist, and super punchy.
These kabobs are one of the best carnival foods for themed parties!
Source: healthyrecipes101.com
Speaking of jerk shrimp, here's more proof that jerk spices and shrimp definitely go together! Since seafood is such a key ingredient in Jamaica, this is a combination you'll see a lot on its sunny shores.
If you're searching for a taste of a Jamaican festival, this is a great place to start.
This jerk shrimp would be a hit as pool party food!
Source: scratchmarket.co
A classic Caribbean snack, this recipe is like a handheld pie that's perfect for a festival setting. This delicious shortcrust pastry breaks open to reveal a cloud of Jamaican spices. It's insanely good.
The Jamaican patties have a distinctive yellow color resulting from the turmeric in the pastry, but that's not where the spices stop.
The Jamaican curry chicken inside is packed with an absolute armada of spices like Jamaican curry powder.
Source: mymorningmocha.com
Here's another version of the Jamaican patty, but this time we're using beef! The heavier protein means it can balance a heftier spice profile, all while sitting beautifully inside that pastry.
These Jamaican beef patties are actually really easy to make, coming together in under an hour. You can even save yourself some time with pre-made pastry.
Source: littlespicejar.com
Lighten up the bright and bold flavors of your Jamaican jerk chicken with this delicious fusion meal. The mango salsa is sweet, acidic, and perfect to pull the chicken back from the edge of 'too much'.
A squeeze of lime goes a long way with this dish, helping to brighten it even further. If you'd like, introduce a creamy element like some Chipotle mayonnaise to balance it more.
Source: thefoodblog.net
Here's another ideal handheld Jamaican festival food. This is a great recipe to reach for when you need a picnic or potluck recipe that will blow your guests away! The spice profile on this is so tasty.
These aren't too spicy, but they do come part and parcel with a little bit of heat. Without that heat, it wouldn't be jerk chicken! So, make sure you're tweaking it to suit your spice needs.
Source: scratchmarket.co
Some good old-fashioned fusion is brilliant festival fuel. These egg rolls substitute traditional Chinese chicken for jerk chicken, piling on the flavor along with the crunch of the egg rolls.
While the jerk chicken is absolutely delicious, the hidden hero of this dish might be the spicy mango pineapple dipping sauce. Pulling on those tropical notes, this sauce is wildly good.
These egg rolls are a must-have potluck idea!
Traditional Jamaican Food Recipes
One of the best ways to get to know a culture is to get to know its most traditional dishes. The kind that families enjoy together at meal times or parents send with their kids to school.
For Jamaica, these favorite Jamaican recipes are those meals. Sink into the heart and soul of Jamaican cuisine with these traditional Jamaican food recipes to try at home.
Source: noshingwiththenolands.com
Spicy chicken, a sweet salsa, and perfectly cooked little potatoes? Sign me up! This meal looks straight off a Jamaican dinner table, complete with a bright and bold mango salsa.
If you've never made jerk chicken before, this recipe is a brilliant place to start! Your Instant Pot will do most of the work, so you can enjoy all the applause without going to too much effort.
Source: thefoodblog.net
Put a healthy spin on a classic jerk chicken dish with this delicious salad recipe!
The key is to use chicken breast to make your jerk chicken, as that is the perfect balance between healthy and flavorful.
The best part about this salad is the charred pineapple! It brings a smoky tropical flavor to the salad, helping bridge the gap between the intense chicken and fresh vegetables.
Source: bellyfull.net
Improve your burger game with this delightful jerk turkey burger recipe! Topped with tropical mango on a fluffy sesame seed bun, these patties are to die for.
My favorite part of these burgers – apart from how they taste, of course – is how simple they are to prepare. Just whack these patties on a grill, cook 'em up, and serve your way.
Source: healthyrecipes101.com
If you're looking for authentic Caribbean-style food to put on your dinner table, you can't go past Jamaican brown stew chicken.
This is a chunky, warming, comforting stew perfect for a cold night.
The reason this stew is called 'brown stew' is thanks to that deep, delicious sauce. It's made from a simple mix of sugar and water, giving the dish a sweet burnt flavor that's irresistible.
Source: flavourstreat.com
Inject the best of your Jamaican flavors into a simple, comforting pasta recipe. This is a delicious vegetarian dish that incorporates crunchy bell peppers, herbs, and a great sauce.
This is a wonderful weeknight recipe when you need something quick and nutritious. The whole family will enjoy this crowd-pleasing pasta dish and even more so the next day!
Source: summeryule.com
Oxtail stew has African origins, which have carried it to popularity in Jamaica, and thank goodness for it! This unbelievable curried oxtail is bursting with flavor in every single mouthful.
Oxtail meat is super tender, and the bone marrow in the cuts melts down as the meat cooks to inject a ton of flavor into the stew.
Serve on a bed of white rice with some fluffy potatoes for a winter night!
Source: foodess.com
Embrace your love of seafood with this super delicious Jamaican curry shrimp! The coconut sauce helps mellow the spicy Caribbean-style spice profile and also adds a ton of creamy nuttiness.
The tender shrimp adds some sweetness to the meal, bringing everything into balance.
Best of all, you can whip up this amazing curried shrimp in just thirty minutes, making it a great weeknight meal!
Source: summeryule.com
Goat meat is a common and affordable meat in many parts of the world. If you've never tried it before, it tastes a lot like lamb or mutton, which means it's a great fit for curries.
In Jamaica, goat curries and heavily spiced goat meals are common because the spice is a great balance for the goat's strong flavor.
That's why this recipe is a great way to learn more about Jamaican cuisine.
Source: theinstantpottable.com
Jamaican chili is a little slice of heaven, but it's luckily very easy to make, so you can enjoy it anytime you want. Your trusty slow cooker will be your best friend while making this.
The secret to success is making sure that you source all the right ingredients. Caribbean beans, fire-roasted tomatoes, and high-quality jerk marinade are essential to the perfect chili flavor.
A classic Jamaican rum cake would be a good idea for dessert after this main course for special occasions
Source: blackpeoplesrecipes.com
We've got to give a spot or two to Jamaica's national dish, ackee, and saltfish! This is a variation on it that uses callaloo – also known as amaranth – instead of the usual ackee.
If you're stuck and can't access either leafy green, spinach is a fair substitute that will get you most of the way to success. This is a must-try dish for anyone learning their way around Jamaican cuisine.
Source: flawlessfood.co.uk
The best way to experience this dish, however, might be to go back to the source. This is ackee and saltfish, with a strong African influence that gives this dish its delicious flavor profile.
Saltfish is essentially salt cod, a flaked white fish that's beautifully tender when cooked well. On top of that, we have ackee, a Jamaican fruit that mellows out when cooked into this dish. It's amazing!
Source: modernhoney.com
Take your fusion game to the next level with these incredible jerk chicken tacos! There's nothing better than sinking your teeth into tender chicken, sweet salsa, and perfectly chewy tortillas.
The thing I love about this dish is that it's a crowd-pleaser. Anyone will enjoy this dish because they can make their own signature assembly. That's what's so powerful about tacos!
If you like spice and flavor, you might also enjoy these flavorful cajun and creole recipes!
Source: strengthandsunshine.com
Looking to nail your jerk chicken recipe? Here's one for your consideration! This Jamaican jerk chicken recipe puts a crust of spice and herbs all over this succulent chicken breast.
You can use this chicken on everything from salad to sandwiches. The bold spice is a great anchor for any meal, and it goes well with potatoes and other root vegetables.
Source: corriecooks.com
You know pork belly? You know, that incredibly succulent, soft, delicious protein that kicks every dish up a notch? Well, what if you gave it the Jamaican treatment?
This incredible Instant Pot recipe puts that within reach! Using just four ingredients and twenty minutes, you can create shredded pork to use in any way you fancy.
Source: serenabakessimplyfromscratch.com
Who doesn't love a single skillet meal? Bring traditional Jamaican flavors to your dinner table without piling on the dishes thanks to this one-pot Jamaican wonder!
Curried chicken, red kidney beans, and rice provide a filling base with a ton of flavor to boot. This delicious dish is so easy to make, ideal for any busy weeknight.
Vegan Jamaican Food Recipes
Veganism and Jamaican cuisine might not seem like a good pair on the surface, but they're actually great friends!
Jamaica is home to a lot of delicious produce, making it a great spot for vegan meal ideas.
Enjoy the same bold, punchy, vibrant flavors of a meat-filled Jamaican dinner without the actual meat, thanks to these popular dishes!
Source: theveganlarder.com
That's right. You can enjoy jerk even if you don't eat meat! Jerk jackfruit (or 'jerkfruit', if you will) is an amazing version of this traditional Jamaican dish.
The key is to incorporate beans, coconut milk, and other traditional ingredients to make this hearty meal feel as close to the original as possible.
It's so easy to make, requiring just 25 minutes of cook time.
Source: serenetrail.com
Jamaican pasta is easy to transform into a vegan dish since the region typically relies on a lot of coconut and other seasonal vegetables to flavor their meals.
That's why this pasta dish is so great! Whether you need a simple meal prep recipe or a quick weeknight recipe to get you through a long day, this pasta will never fail you.
Source: theveganlarder.com
Don't miss out on Jamaica's national dish just because you can't eat fish! This tofu version of ackee and saltfish is absolutely delicious. The fried dumplings really push it over the top (in the best way).
Whether you need a tasty dinner or an enriching breakfast, this is the recipe for you. Salty, comforting, and full of nutrients, this dish will serve you well no matter the time of day.
Source: theveganatlas.com
Jamaican rice and peas lie a little bit in their name because the rice doesn't use peas. It actually uses little red beans. This is a protein and carb-rich side dish perfect for getting your daily nutrients in.
The subtle flavoring with coconut and spices is what really transforms this dish. Serve alongside your favorite jerk jackfruit or Jamaican curried root vegetables for a rounded meal.
Source: anaffairfromtheheart.com
Need a quick and easy breakfast idea or searching for a mellow counterpoint to spicy Jamaican curry? This coconut sweet rice is the perfect thing for your sweet tooth!
This mellow, fluffy rice isn't an overly sweet treat, but it's enough to pull back a super spicy Jamaican jerk meal.
Source: theveganlarder.com
Rasta pasta is actually quite close to a vegan meal anyway, considering it heroes vegetables anyway. However, if you'd like to add some protein to the dish, this is the recipe for you.
This recipe incorporates some vegan chicken, but it would suit any vegan meat alternative.
Source: theforkedspoon.com
Here's another aromatic take on Jamaican peas and rice! Here's the thing. If you're exploring Jamaican cuisine, then it's essential to try a lot of variations of the same kind of dish.
That way, you can create your signature version! Honestly, I could eat a bowl of this without any main meal to complement it, it's just that good.
Source: flawlessfood.co.uk
We haven't gotten to fried plantains yet, but if we're talking Jamaican cuisine, we have to talk about fried plantains! If you've never tried them, plantains are smaller and sweeter than bananas.
Once fried, they lose a little bit of their sweetness and get super crunchy. This makes them a great snack, side dish, or even an appetizer for a Jamaican-themed dinner party.
Source: cravingsomethinghealthy.com
Finally, if you're not a fan of meat substitutes, you can make your very own jerk grilled vegetables! Zucchini, asparagus, mushrooms, and peppers are all great vehicles for this bold seasoning.
Serve with a side of rice and peas, or enjoy on their own. This is the ultimate grill meal to enjoy with your friends in the sunshine.
Continue exploring new cuisines with these best Portuguese recipes!
31 Best Jamaican Food Recipes and Authentic Dishes
Embark on a gastronomic journey as we reveal the authentic ingredients and techniques to make these Jamaican recipes, and teach you how to recreate them at home.
Ingredients
1. Jerk Shrimp Kabobs
2. Jerk Shrimp
3. Jamaican Chicken Patties
4. Authentic Jamaican Patty
5. Jamaican Jerk Chicken Tacos with Mango Salsa
6. Grilled Jerk Chicken Drumsticks
7. Jerk Chicken Egg Rolls
8. Instant Pot Jerk Chicken and Little Potatoes
9. Jerk Chicken Salad
10. Jerk Turkey Burgers
11. Brown Stew Chicken
12. Vegetarian Rasta Pasta
13. Curried Oxtail
14. Jamaican Curry Shrimp
15. Goat Meat
16. Jamaican Chili Caribbean Jerk Chicken
17. Jamaican Callaloo and Saltfish
18. Ackee and Saltfish
19. Jamaican Jerk Chicken Tacos
20. Jamaican Jerk Chicken
21. Instant Pot Jerk Pork Roast
22. One Skillet Caribbean Curry Chicken Red Beans and Rice
23. Jamaican Jerk Jackfruit with Rice and Peas
24. Vegan Rasta Pasta
25. Ackee and Tofuish with Fried Dumplings and Plantain
26. Jamaican Rice and Peas
27. Jamaican Coconut Sweet Rice
28. Vegan Rasta Pasta
29. Jamaican Rice and Peas
30. Fried Plantain
31. Jamaican Jerk Grilled Vegetables
Instructions
Scroll up to get a bunch of easy, yummy, and delicious recipes. Don't be afraid to get creative with the ingredients, you might discover a flavor you didn't know you liked.
Get your shopping list going and make sure you've got all the ingredients.
Get cooking and make your next Jamaican Food Recipe!
Notes
Which one of these recipes was your favorite? Let me know in the comment section or on Pinterest!