Clean eating may imply that other foods are "dirty." But that is not the case in reality! Focusing on meal prepping healthy food is easy with these clean eating meal prep ideas.
There is no clear definition of clean eating. However, the basis of clean eating is simple.
Embrace foods that are as close to their natural form as possible. There are various ways to do this –
Load up on fresh fruit and vegetables.
Eat whole grains instead of processed white grains.
Choose healthy lean proteins and fats.
Create sauces and vinaigrettes from scratch.
Keep an eye on sodium and added sugars.
One of the easiest ways to eat clean is when grocery shopping in the store. Avoid processed food lanes at the grocery store. Stick to the fresh food and whole foods aisle!
Food markets are also great places to shop your grocery list. Packed with fresh food, you will find endless inspiration for delicious meals and meal prep ingredients.
Best Clean Eating Meal Prep Ideas
Clean eating is easier than you may think. Check out the healthy meal prep ideas below for meal planning inspiration for your work week!
Source: allnutritious.com
You can kick this clean eating meal plan off with this salmon dish!
Salmon is a high-protein fish that will keep you full for longer. The spices used in this easy recipe pair well with salmon and veggies.
Sweetness is found in parsnip, beets, and sweet potatoes. However, you may prefer a veggie side that is less sweet for this easy meal prep idea.
Try serving this salmon with cauliflower rice or zoodles instead!
Want to add more fresh fish to your meal plan? Try these yummy pescatarian meal prep ideas!
Source: amandascookin.com
Chickpea gyro is a meat-free alternative to a Greek favorite. Your chickpeas are coated in delicious spices. They are then baked in the oven for crunch!
Lettuce, tomatoes, spinach, and onions add natural goodness. Make your tangy tzatziki to serve.
It would be best if you remembered the whole-grain pita too. That is what makes a gyro!
Source: allnutritious.com
Chicken is ideal for clean eating meal prep. You will achieve a tastier flavor if this chicken is marinaded overnight!
There is nothing artificial in this recipe. You'll be roasting the veggies to aid caramelization!
The flavorful lemon chicken tastes the best. It's served with broccoli, sweet potato, and cherry tomatoes.
Source: healthbeet.org

Homemade salads are packed full of good stuff. There is no need to buy a prepackaged one.
You can make one just as tasty yourself from scratch! Go for a Caesar salad. Or a Southwest salad. How about an Asian -style salad?
The world is your oyster with this option!
Source: allnutritious.com
A burger bowl is your clean eating alternative to a regular burger. All the flavor without the bread!
Your red kidney bean bowl is full of protein. The spices are an absolute flavor bomb. Add some hot sauce to increase the spice factor!
Prep these into containers with a rainbow of veggies. These could include carrots, beets, and English cucumbers!
You'll love having these meal prep bowls for lunch or dinner this week!
Source: theforkedspoon.com
It's a fact that protein will keep you feeling full for longer. These snack packs are perfect for post-workout.
Some ideas to fill them with are hard-boiled eggs and cheese cubes. Plus some hummus and crunchy veg.
Add some fruit with some grapes and apples. They're ideal for your kids' packed lunches too!
Source: allnutritious.com
This salad comprises both sweet and savory ingredients. Discover oranges and beets for sweetness. Alongside delicious broccoli and chicken tastes.
The nuttiness of the farro is a perfect complement to your chicken. The olive oil parsley dressing finishes it nicely!
Source: lbhealthandlifestyle.com
Overnight oats are a brilliant option for your first meal of the day. Prepare them the evening before they're required. Then grab and go for a quick breakfast!
Oats and chia seeds are soaked in milk in a jar. These are then topped with frozen fruit. Once prepared, you will store it in the fridge overnight.
They need a stir when you take them out of the fridge. The juice from the frozen fruit disperses throughout for a refreshing taste!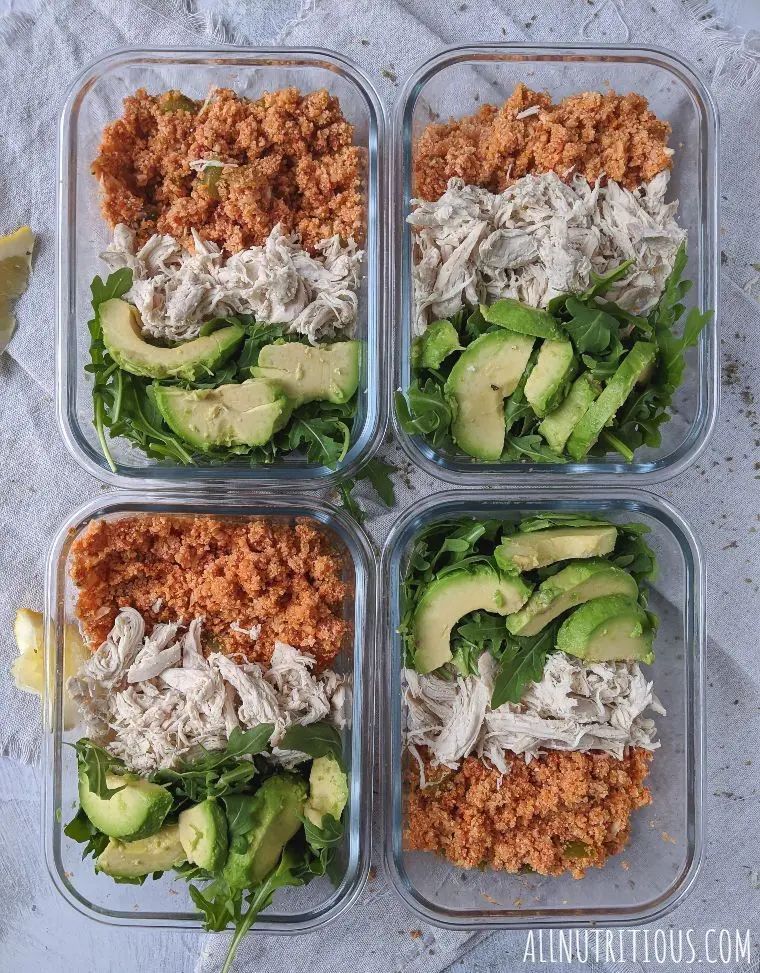 Source: allnutritious.com
Clean eating doesn't mean missing out on different cuisines. This meal prep is full of flavors of Mexico. But minus the carbs!
Spicy cauliflower rice replaces regular rice. Peppery arugula replaces sweet corn. Avocado helps with your absorption of Vitamin K from arugula.
Your shredded chicken is seasoned only with salt & pepper. Flavor bombs are everywhere else in this meal!
Source: plantbasedwithamy.com
Your vegetarian rice bowl will come together in minutes! It uses pantry and freezer staples you probably have to hand.
Flavors of the Mediterranean are included in your rice bowl. Brown rice, tomatoes, and chickpeas.
You'll also find frozen okra, black olives, and feta. Any combination of veggies will work in this!
Source: allnutritious.com
Why order takeout when you can have a cleaner version? Chicken burrito bowls take less than 30 minutes to create.
Tender, juicy shredded chicken is paired with spiced rice. Add grape tomatoes, black beans, and sweet corn.
Finish with peppery arugula. Drizzle your finished burrito bowl with a dressing of your choice!
Spice up your meals with these other creative chicken and rice meal prep ideas!
Source: myplantifulcooking.com
Chickpeas are an excellent protein replacement for meat in your curry. Minimal effort is required with this one-pot dish!
A creamy coconut milk is the base of your curry. Thai red curry paste adds immense flavor!
Spinach adds a burst of green to the vibrant orange color. Serve with rice or traditional Indian bread. Roti works well!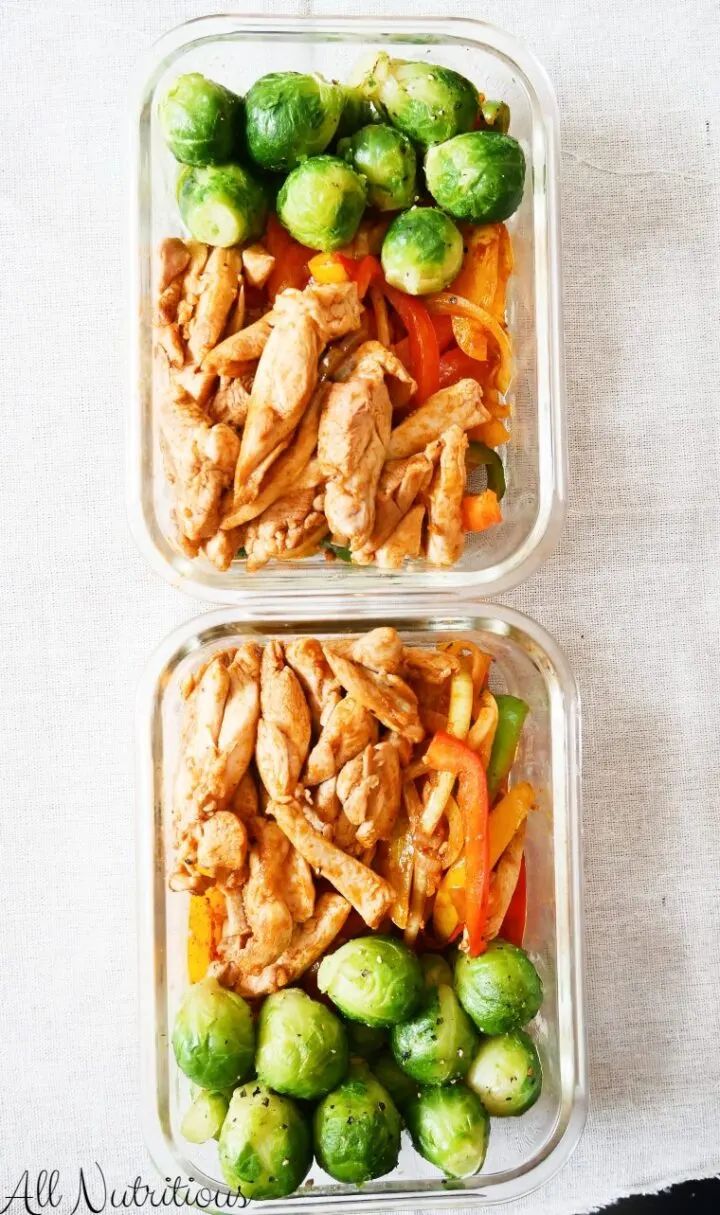 Source: allnutritious.com
For a Tex-Mex experience, try this chicken fajita bowl. You'll find a medley of stir-fried chicken and bell peppers.
Chili powder, paprika, and cumin powder create your flavorful spicy taste. Serve this with naturally sweet Brussels sprouts for a unique twist!
Source: saltandlavender.com
For another taste of the Mediterranean, whip up this vegan prep bowl! These can be ready in under half an hour.
Your bowl features soft textures of quinoa, creamy hummus, and juicy tomatoes. These are accompanied by crunchy cucumber and tangy red onions.
Complete your bowl with Kalamata olives and protein-filled chickpeas. This will make enough bowls for four meals!
Source: wholesomeyum.com
This colorful taco salad is a tasty Mexican-inspired meal. Your whole family is sure to want to tuck into this!
Unhealthy carbs are cut out by not using a taco shell. A plentiful serving in a bowl is all you need!
Combine spicy ground beef with salad leaves, tomatoes, and onions. Avocado, shredded cheese, and salsa are also a must!
Have some lean ground beef leftover? Prep these healthy ground beef meal prep recipes.
Source: thenessykitchen.com
This hearty sweet potato shepherd's pie is perfect for meal prep. It will last refrigerated for up to three days. Or you can freeze for up to three months!
A sweet potato topping replaces regular potato. You could use regular potatoes. However, the sweet potato elevates the flavor.
Underneath is a flavorful, lean ground beef and vegetable mixture. This is tasty enough on its own. However, feel free to add extra veggie nutrition!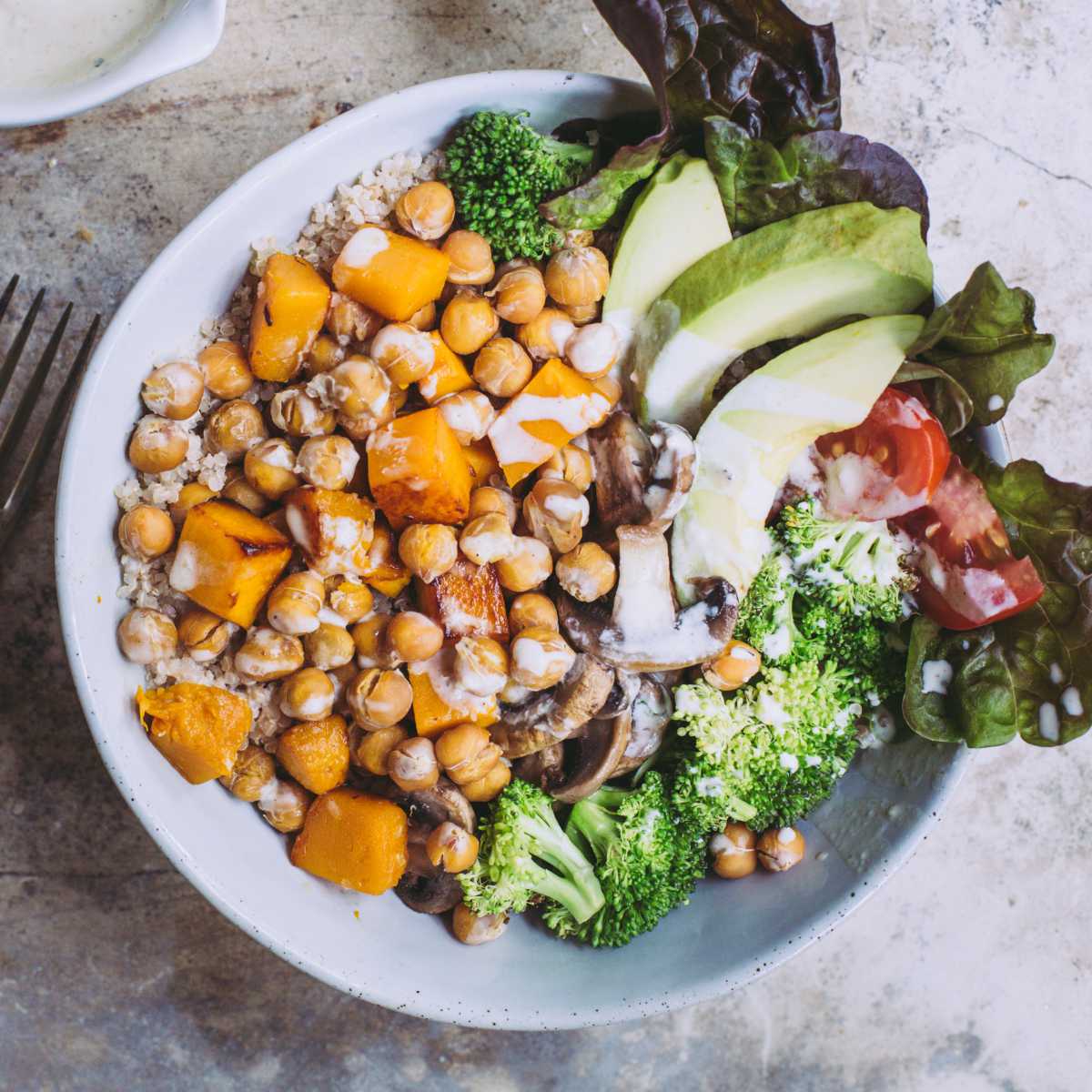 Source: epicveganeats.com
This vegan meal bowl packs a punch! You'll be using plant-based proteins to create this.
Chickpeas, quinoa, and tofu dressing will fill you for hours! Serve alongside oven-baked veggies. Sweet potato, broccoli, and button mushrooms are what you will be cooking.
Add some lettuce, tomato, and avocado. Then drizzle with sour cream tofu dressing!
Source: hungryhealthyhappy.com
Your colorful chicken and vegetable skewers bring delicious Greek flavors. All are marinated in a lemon, garlic, herb, and olive oil dressing.
Juicy chicken thighs, bell peppers, and zucchini are oven-baked. They are then finished off on the grill for a charred flavor!
These skewers would work well with red onion chunks too. For an elevated flavor, try them with halloumi too!
Source: itsnotcomplicatedrecipes.com
Vegan chickpea patties are an excellent way to cut down on meat. They're still full of flavor and protein too.
They are purely seasoned with ground pepper, cayenne, and parsley. You'll fry them in a skillet to achieve a crisp outside. They'll remain lovely & soft on the inside!
Try serving these with a salad of leafy greens, tomatoes, and English cucumber.
Source: corriecooks.com
Take a journey to France with this Instant Pot ratatouille! It's packed with tender veggies and ready in only 15 minutes.
Think about zucchini, eggplant, bell peppers, mushrooms, and potatoes. Mix these with a herby tomato base.
Serve your ratatouille warm as a main meal. Or share with your family as a side dish!
Source: happykitchen.rocks
Hearty minestrone is perfect for the colder winter months. This vegan soup is packed with tasty seasonal vegetables.
Beans, lentils, and whole grains add heaps of nutrition. They also make it super wholesome!
You can use whatever veggies you have to hand for this soup. Carrots, zucchini, and winter squash work well.
Use your favorite type of beans and lentils to bulk it out. There are so many options with this soup!
Source: theforkedspoon.com
This chicken soup recipe is the perfect clean-eating comfort food. Bone-in chicken thighs elevate the flavor of your soup. And the chicken will remain juicy!
You can use your favorite veggies to create this soup – however, onions, celery, and carrots and the most common.
For the best flavor, it's preferable to create your stock. Shredding the chicken ensures you get some with every mouthful!
Source: twocloveskitchen.com
Using your Instant Pot produces a great depth of flavor for this stew. This is achieved in less than an hour!
Shredded chicken thighs, carrots, celery, and potatoes feature here. These are all cooked in flavorful garlic, herby stock.
Garnish with fresh herbs and serve with homemade crunchy croutons!
Source: plantbasedwithamy.com
Here you have a tasty plant-based version of a takeout classic. This is perfect for a quick midweek dinner. Or a week of meal prep lunches.
You'll find crispy tofu alongside crispy carrots and cabbage in this bowl. Your tofu is marinated in a deliciously sweet soy glaze.
Top your bowl with scallions and crunchy rice crackers. Finish with a sprinkle of sesame seeds!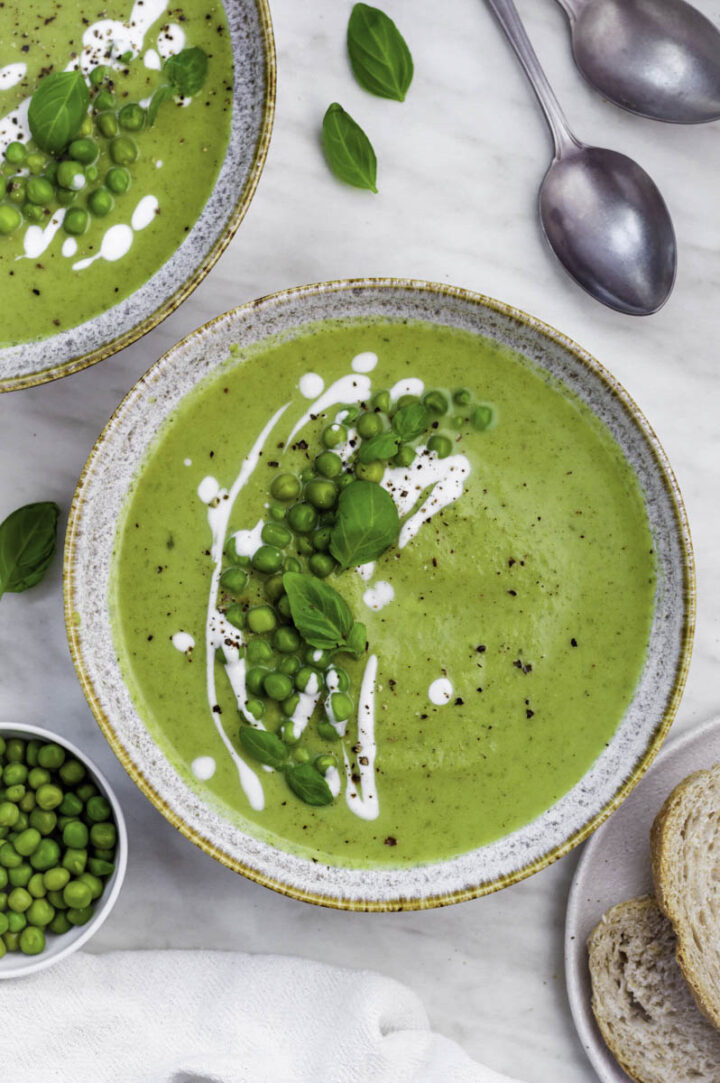 Source: sunglowkitchen.com
This broccoli pea soup comes together in 20 minutes. The vibrancy of the green is super eye-catching!
The creaminess of your soup comes from coconut milk. You can leave this out to save calories. However, it adds to the overall texture and flavor!
Try serving this with other greens. Roasted Brussels sprouts would work well!
Source: itsnotcomplicatedrecipes.com
This one-pot wonder is a comforting meal on the table in 30 minutes. This stew freezes well, so it is perfect for your meal prep.
Your butter beans are simmered in a flavorsome tomato sauce. In addition, you'll find baby spinach and roasted capsicum.
Smoked paprika adds rich color and flavor. At the same time, oregano provides a subtle herb flavor. This is delicious, garnished with fresh parsley.
Check out these other tasty freezer meal prep ideas to save time!
Source: lovefromthetable.com
Roasted Brussels sprouts and sweet potatoes make an excellent side dish. The combination of orange and green colors is ideal for your holiday table!
This is a simple dish needing only four ingredients. You'll use olive oil, salt, and pepper with the veggies.
Roasting the veggies leaves them with a golden caramelized flavor. Add some chicken sausage to the sheet pan to create an easy dinner!
Source: cookingschooldropout.com
Air fryers are brilliant for your healthy meal prep. They require none of the oil of deep frying. But still, provide crispness!
Your tofu and broccoli will have a basic seasoning. Olive oil, turmeric, and paprika provide the flavor bomb here.
This is a tasty lunch that is on your plate in 20 minutes!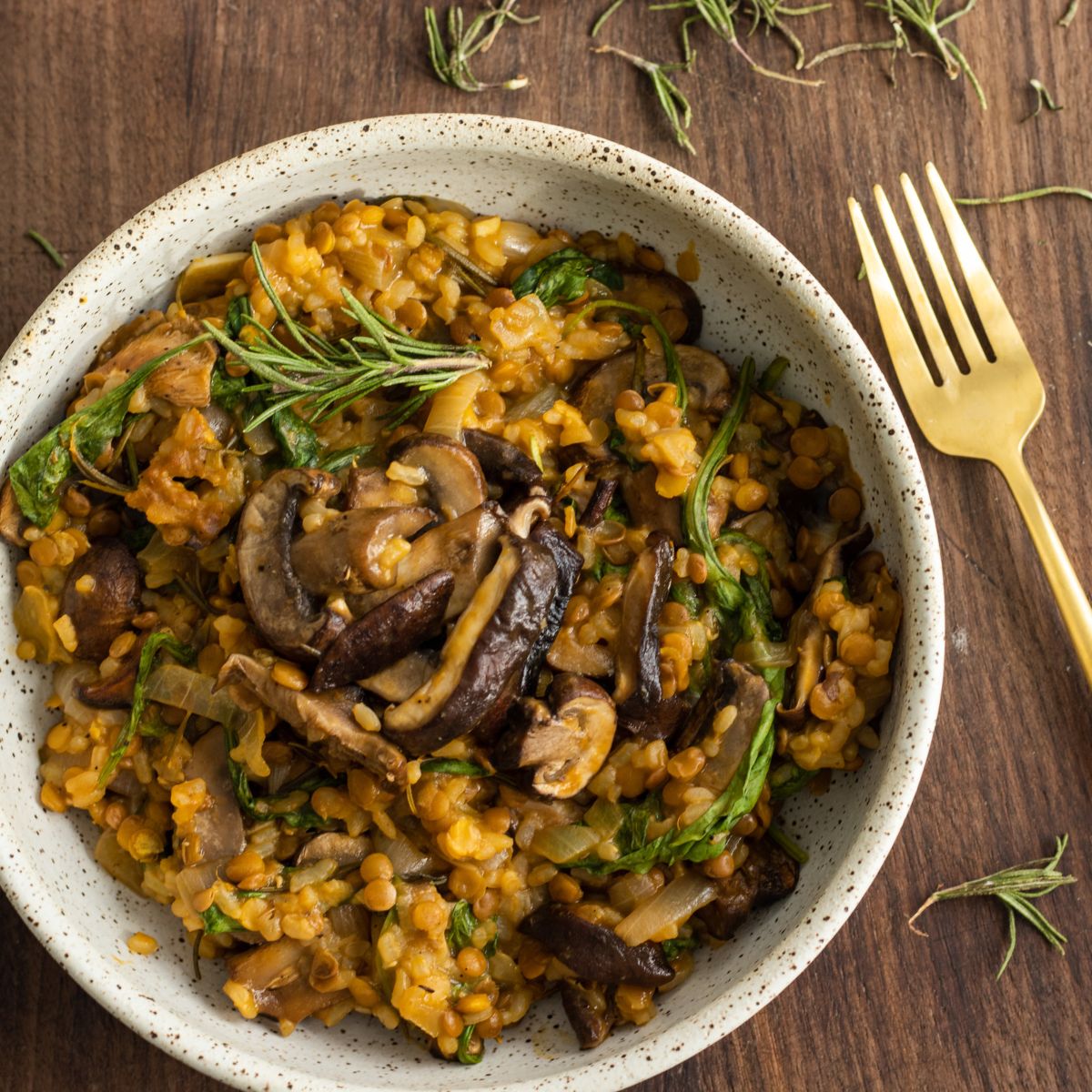 Source: avocadoskillet.com
Mushrooms lend a delicate, earthy flavor to this lentil risotto. Lentils are used alongside white rice to produce a more filling dish.
Rosemary adds an aromatic flavor to your recipe. At the same time, miso adds umami flavor and brings it together.
The one downside to this dish is the constant stirring. However, rest assured that the result will be worth it!
Source: unicornsinthekitchen.com
Flavors of Greece take raw green beans to a new level. "Fasolakia" is the official name of this dish.
Your green beans are braised in a flavorful olive oil and tomato mixture. Adding potatoes will make a heartier dish. Though, it is as delicious without it!
These work well as a side to baked Greek chicken!
Source: mapleandmango.com
You've possibly heard of a nourish bowl before. Perhaps a buddha bowl or a macro bowl?
Whatever you call it, overall, you end with a well-balanced, healthy meal. The nourish bowl contains a variety of nutrient-dense ingredients.
These ingredients include veggies, healthy fats, protein, and carbs. Nourish bowls are so versatile.
You can use whatever is in season. Or whatever you have available in your fridge or pantry!
Your leafy green base could include spinach, romaine, or microgreens. Include veggies such as carrots and mushrooms. Protein could consist of lentils, eggs, or fish.
Whole food carbs could include corn or wild rice. For healthy fats, try avocado or salmon.
Top your nourish bowl with nuts, seeds, hummus, or cheese. There are endless options for these bowls!
Get even more meal prep inspiration with these best healthy meal prep ideas!
31 Clean Eating Meal Prep Ideas for Your Week
Yield:
2-4 meal prep containers
Healthy eating can be so easy with these clean eating meal prep recipes. There are so many delicious and quick to prepare meals for your work ahead.
Ingredients
1. Salmon Meal Prep with Veggies
2. Chickpea Gyro
3. Lemon Chicken and Veggies
4. Homemade Salad
5. Red Kidney Bean Bowl
6. Protein Snack Pack
7. Chicken Farro Salad
8. Overnight Oats with Frozen Fruit
9. Low Carb Mexican
10. Vegetarian Rice Bowl
11. Chicken Burrito Bowls
12. Sweet Potato Chickpea Spinach Curry
13. Chicken Fajita Bowl
14. Mediterranean Vegan Bowl
15. Taco Salad
16. Sweet Potato Shepherds Pie
17. Vegan Protein Bowl
18. Greek Chicken Skewers
19. Chickpea Patties
20. Ratatouille
21. Vegan Minestrone
22. Chicken Soup
23. Instant Pot Chicken Stew
24. Vegan Egg Roll in a bowl
25. Coconut Broccoli Soup
26. Butter Bean Stew
27. Roasted Brussel Sprouts and Sweet Potatoes
28. Air Fryer Tofu with Broccoli
29. Mushroom Lentil Risotto
30. Greek Green Beans
31. Nourish Bowl
Instructions
Scroll up to get a bunch of easy, yummy, and delicious meal prep recipes. Don't be afraid to get creative with the ingredients. You might discover a flavor you didn't know you liked.
Get your shopping list going, and make sure you've got all the ingredients.
cooking and make your next Clean Eating Meal Prep!
Notes
Which one of these recipes was your favorite? Let me know in the comment section or on Pinterest!