Here are the best easy 200 calorie meals for your diet. Whether meat, veggies, or fun snack-worthy bites.
If you have a restrictive calorie intake, you probably know just how overwhelming it is to find decent recipes. Everything's either bland or loaded with calories.
But it doesn't have to be like that! To save you from combing through the net, I've done the work for you.
With these recipes, you will feel full and satisfied without sacrificing your weight-loss goals.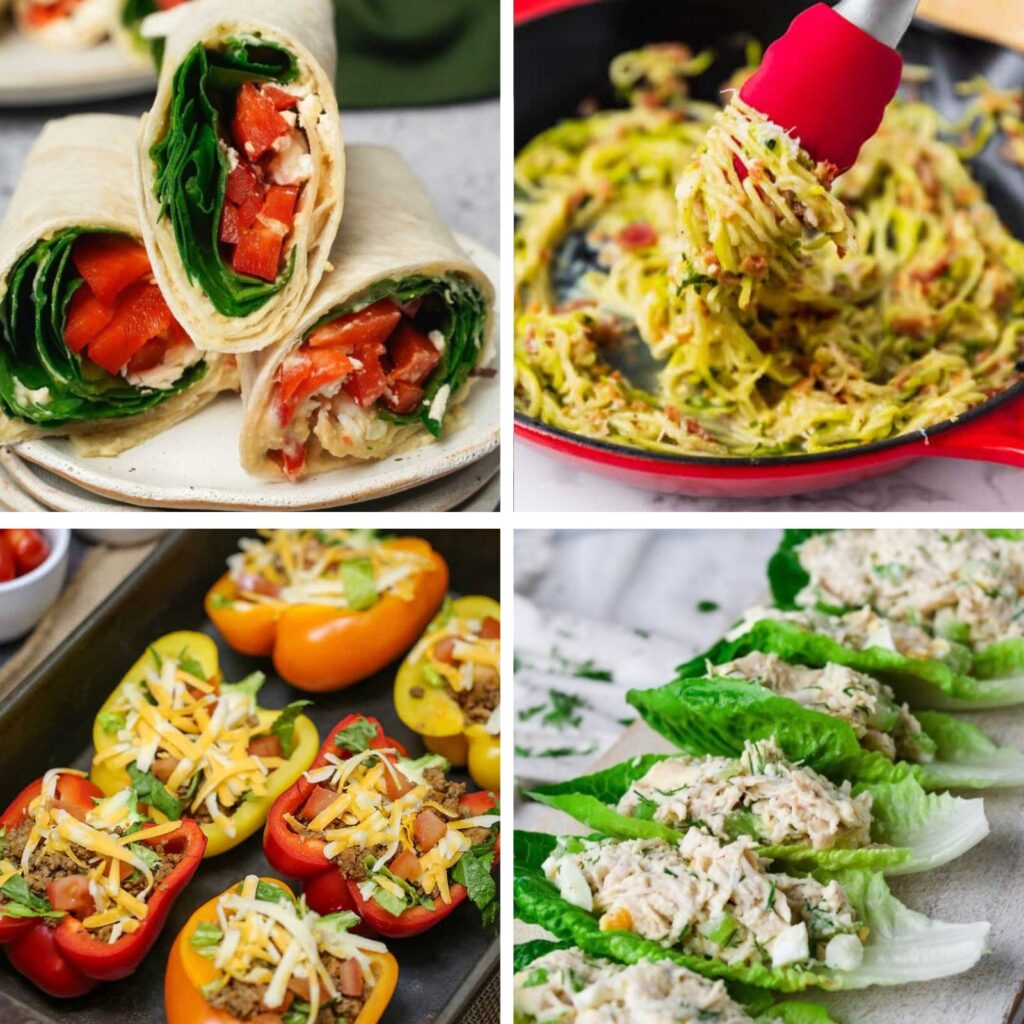 Credit: allnutritious.com
Crunchy. Sweet. Juicy. Sticky. Umami. And incredibly delicious! This lovely dish will satisfy your Asian takeout cravings and keep your calories in check.
These chicken-topped lettuce leaves are super light and filling at the same time.
Not only that, but they also look good, too. Glazed, topped with sesame seeds, and garnished with sliced green onions.
Credit: allnutritious.com
For those who cannot quite shake that fast-food addiction, here's a healthy version of fried chicken that will satisfy all of your cravings.
The meat is so juicy and moist, yet irresistibly crispy on the outside. You can serve this with a creamy dipping sauce to make it even better
Who needs KFC when you can make this at home.
Credit: allnutritious.com
Wondering what the best way to cook chicken is? This recipe will show you a foolproof method of how to get that perfect juiciness in chicken every single time.
And the truth? The recipe couldn't be simpler! Onion and garlic powder season the chicken. But it is the lemon zest that gives it that oomph that makes it so delicious.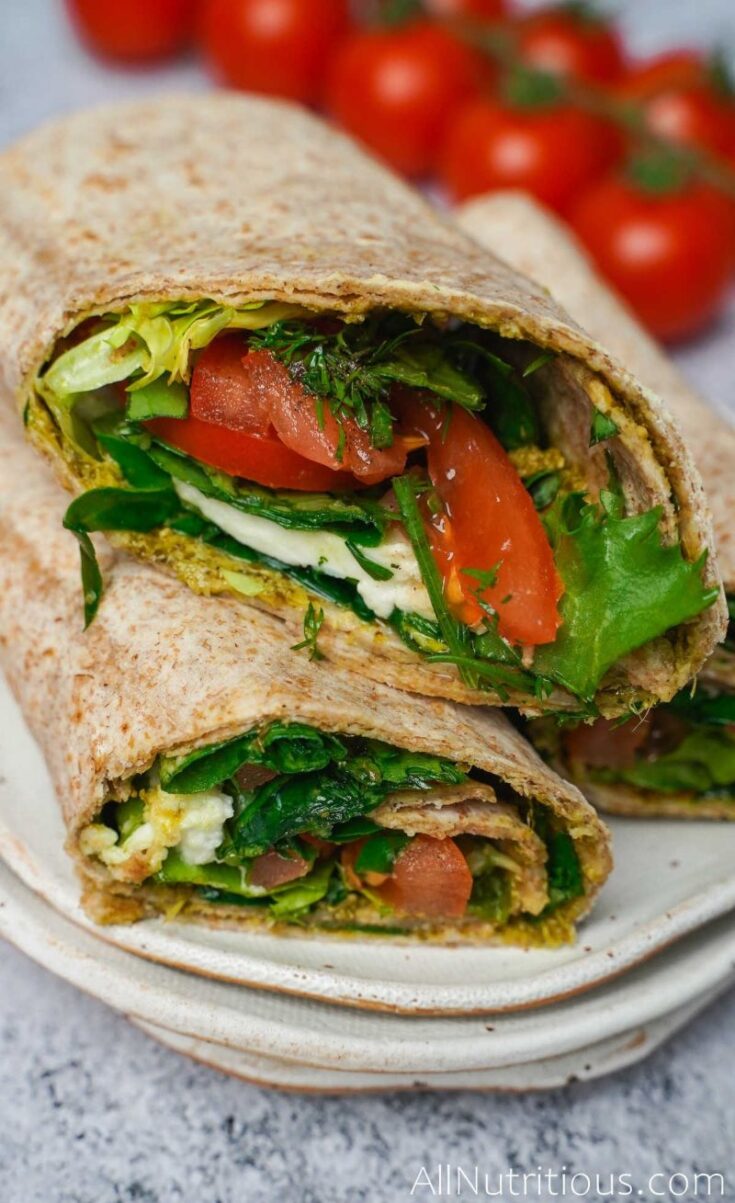 Credit: allnutritious.com
A meatless lunch dish that will show you just how incredibly tasty low-calorie meals can be.
This dish uses wholemeal tortillas, leafy greens, tomatoes, basil, and mozzarella. Plus, it has a delicious pesto spread that combines everything well.
The wrap takes 15 minutes to make, and this recipe yields 5 generous servings. Nutritious, vegetarian, and seriously healthy!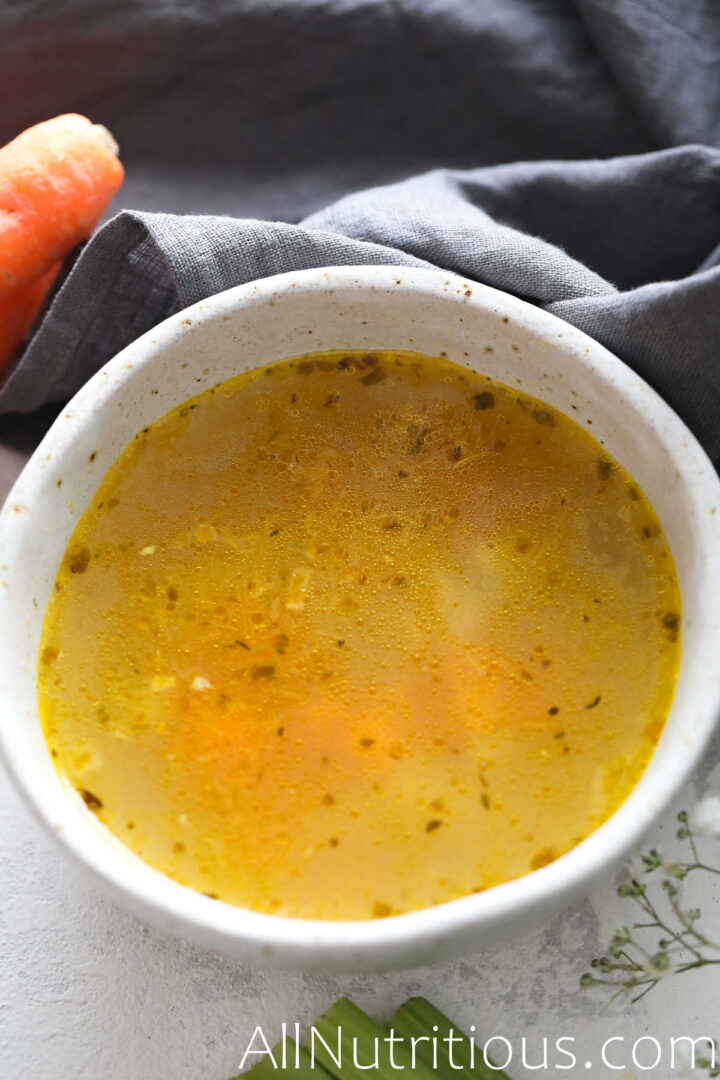 Credit: allnutritious.com
Warming, nourishing, and incredibly comforting! This wholesome soup with carrots and celery is ready in 25 minutes and will be just the thing you need on a cold fall afternoon.
It only has 79 calories, so it is also good as an in-between-meals pick-me-up. It is a vegan meal that even meat lovers will fall in love with.
Credit: allnutritious.com
Here's another wrap that is super healthy and refreshing. And it makes a great lunch option when you want a light dish to fill you up quickly.
There is also some minced garlic here, which gives it an amazing flavor. The bright red and green colors make the wrap look incredible, too.
Credit: allnutritious.com
Craving chicken and Greek flavors tonight? Then, trust me, you cannot find a better match than this Mediterranean sheet pan dinner.
It features chicken breast, zucchini, red onions, tomatoes, and garlic. Everything is arranged onto a sheet pan and roasted to perfection in the oven.
To top it all off? Crumbled feta cheese is added at the end.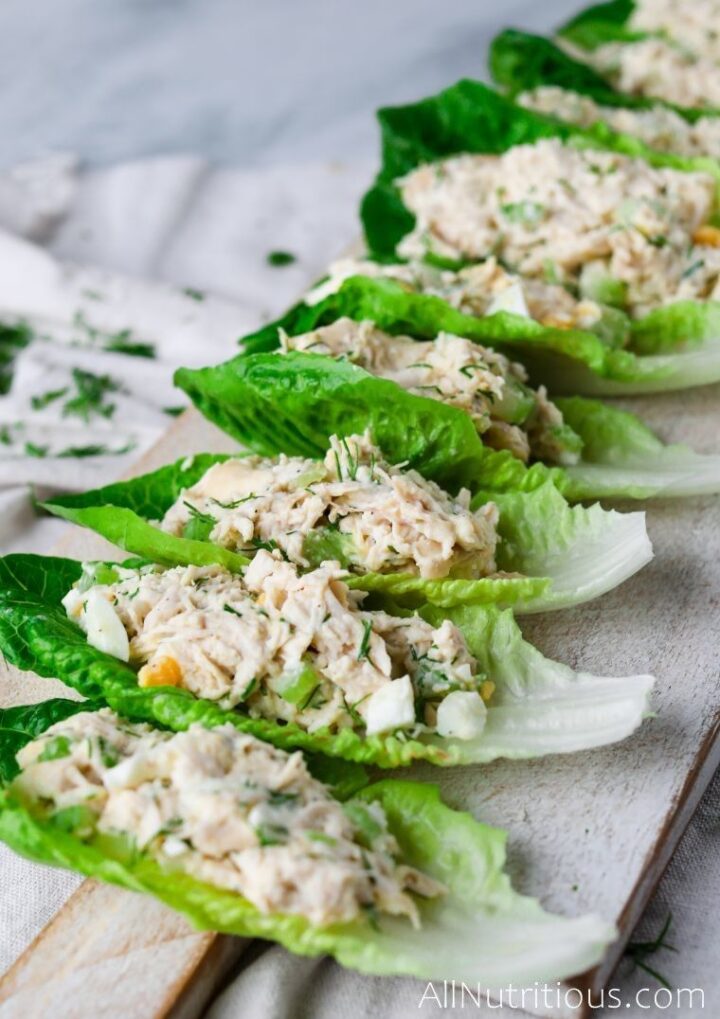 Credit: allnutritious.com
Creamy chicken salad that is low in carbs and calories.
The salad includes shredded chicken, two boiled eggs, and some chopped celery. Plus, yogurt, Dijon, lemon juice, and a combo of delicious seasonings.
It is ready in 55 minutes. But you can also use a shortcut with already-cooked chicken and make it in a jiffy.
Credit: allnutritious.com
Craving a tuna wrap? I suggest this spicy delight for lunch, then. It is nutritious, crunchy, creamy, and with enough heat to keep you coming for more.
It features cucumbers, carrots, and avocados. And it has a creamy tuna, yogurt, sriracha, and soy sauce mixture that gives it incredible creaminess.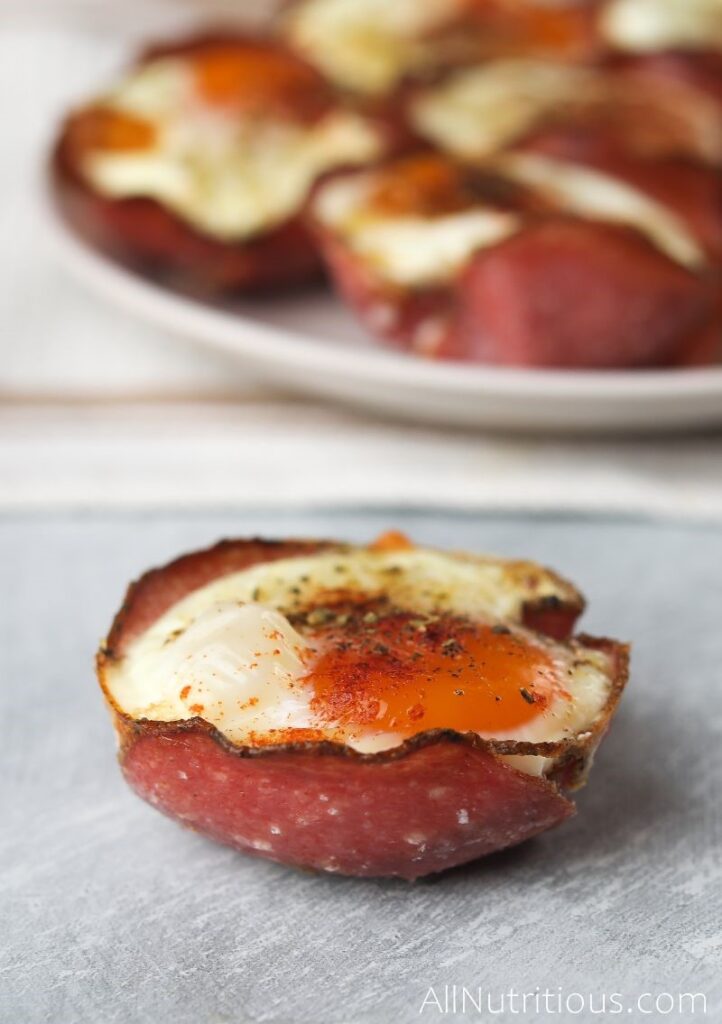 Credit: allnutritious.com
Whether you serve these as a snack, appetizer, or light lunch. These egg cups are so good, I'll even have them for breakfast.
They are a real protein bomb, too. Each of these cups has a whopping 17 grams of protein. The cups combine salami, egg, cheddar cheese, and some spices and seasonings to flavor things up.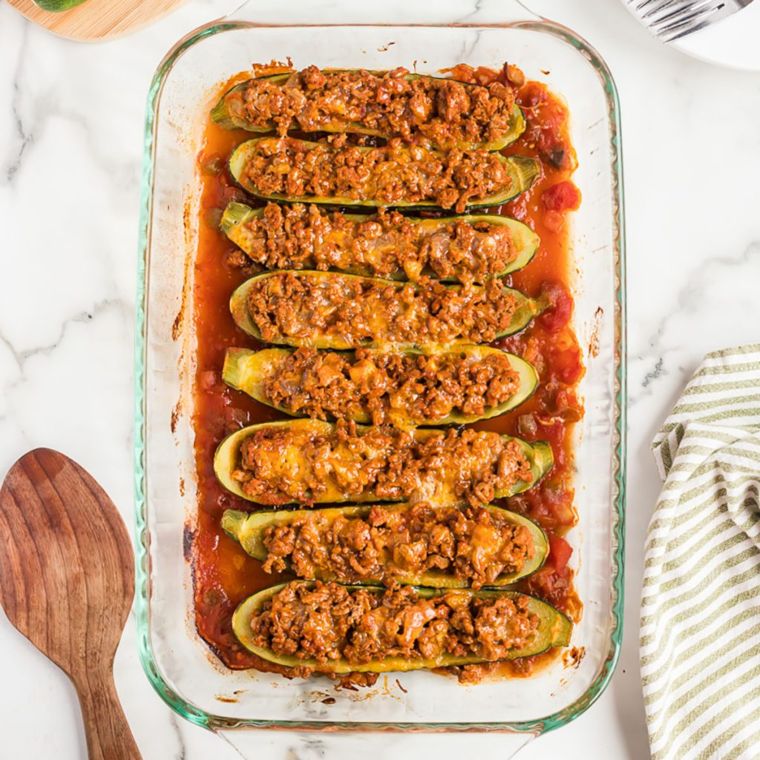 Credit: persnicketyplates.com
Looking for a low-calorie option for Taco Tuesdays? Give these zucchini taco boats a try.
They're made with ground turkey instead of ground beef. So, they contain less fat and fewer calories.
You'll be using a number of spices. So, get out your measuring spoons.
These ones are made with stainless steel. So they are rustproof and stain-resistant.
Per Serving:
Calories: 239
Fats: 7g
Protein: 34g
Carbs: 13g
Fiber: 4g
Sugar: 8g
Credit: foodfaithfitness.com
Looking for some more Mexican eats? These nachos are full of Mexican flavor, from the creamy avocado, Mexican cheese blend, and salsa.
You'll be using mini pepper halves as your chips. These give you a nice crunch without all the calories.
Besides being tasty, these nachos are a powerhouse of nutrition. They're packed with Vitamins A and C.
Per Serving:
Calories: 190
Fats: 9.5g
Protein: 15.5g
Carbs: 10.7g
Fiber: 3.3g
Sugar: 5.3g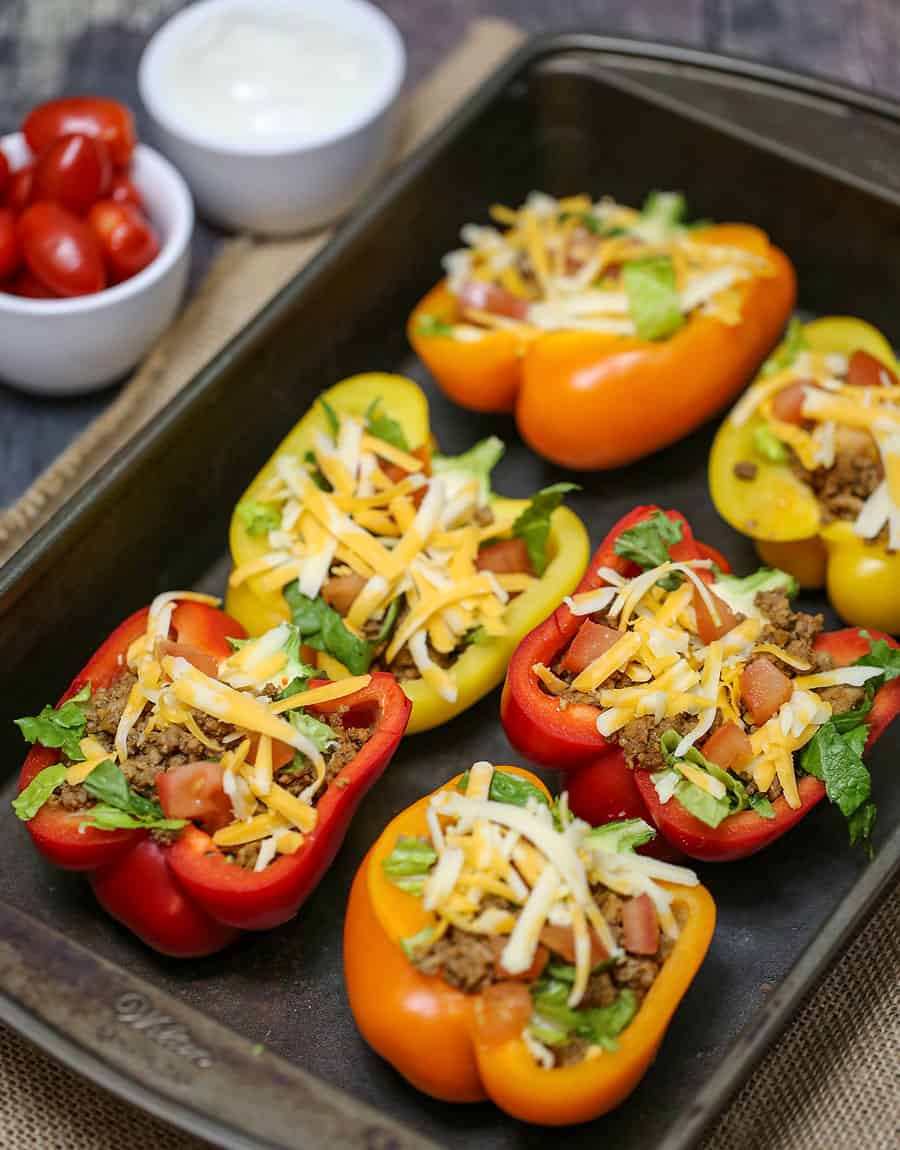 Credit: myorganizedchaos.net
Looking for another low-calorie alternative to tacos? Have some of these bell pepper stuffed tacos.
They taste just as good as they look. But even though they look fancy, they're pretty easy to make.
Fill your bell pepper halves with lettuce, ground turkey mixture, tomatoes, cheese, and bake for 20 minutes.
Per Serving:
Calories: 225
Fats: 7g
Protein: 14g
Carbs: 5g
Fiber: 1g
Sugar: 3g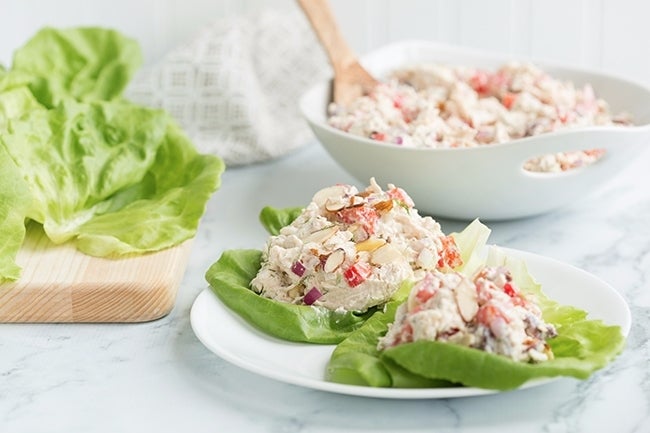 Credit: popculture.com
I love chicken salad sandwiches, as I'm sure many of you do too.
These Greek Chicken Salad Lettuce Wraps are full of protein and they taste amazing. The sour cream and Greek yogurt add creaminess, while the red onions add sweetness.
The feta cheese and kalamata olives add a nice saltiness, and the almonds add a nice crunch.
Per Serving:
Calories: 233
Fats: 10g
Protein: 29g
Carbs: 5g
Fiber: 1g
Sugar: 3g
Credit: inspiralized.com
This shrimp zucchini pasta puttanesca is savory, salty, and refreshing. The succulent shrimp really elevate the dish.
And it contains only 208 calories. That's because you're using zucchini noodles instead of regular pasta. Since one cup of cooked pasta contains about 40 grams of net carbs.
Making zucchini noodles is really easy. Put your zucchini in a spiralizer, and spiralize. This spiralizer is heavy-duty!
Buon appetito!
Per Serving:
Calories: 208
Fats: 10g
Protein: 14g
Carbs: 21g
Fiber: 6g
Sugar: 11g
Credit: seekinggoodeats.com
It's creamy, crunchy, savory, colorful, sweet, and has a bit of heat.
And not only is it low in calories, but it also contains heart-healthy fats from olive oil, peanuts, and peanut butter.
It's chock-full of fiber too. In fact, one serving provides close to 20% of your daily fiber needs.
This makes it pretty filling.
Per Serving:
Calories: 201
Fats: 16.2g
Protein: 6.1g
Carbs: 12g
Fiber: 4.5g
Sugar: 3g
Credit: bestrecipebox.com
Craving Chinese takeout? Have this Chow Mein instead.
It's flavorful and has lots of umami flavors. The homemade chili garlic sauce really ramps up the flavor…you'll want this sauce on everything.
Now the sodium in this dish is on the higher sodium. But you can reduce the sodium content by using a low sodium soy sauce like this instead.
Per Serving:
Calories: 187
Fats: 8g
Protein: 5g
Carbs: 25g
Fiber: 6g
Sugar: 13g
Credit: nestinglane.com
This stir-fry is just plain delicious. The crispness of the broccoli balances out the tenderness of the juicy beef strip sirloin.
To make it, you can use prepackaged cauliflower rice like this. Or you can make your own.
Place chopped cauliflower in a food processor and process them until they become like rice. This food processor here is pretty powerful yet is super affordable.
Per Serving:
Calories: 196.9
Fats: 6.4g
Protein: 23.6g
Carbs: 12.1g
Fiber: 0.3g
Sugar: 0.4g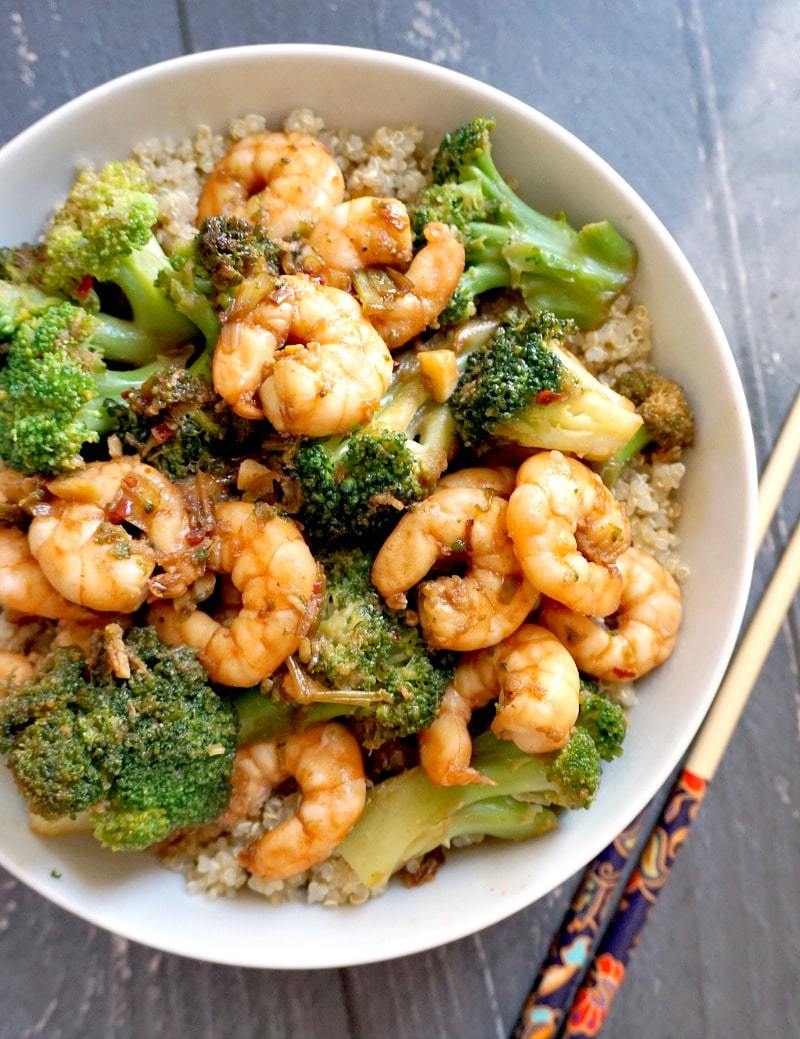 Credit: mygorgeousrecipes.com
Juicy, succulent, sweet, and spicy shrimp are paired with crispy broccoli for a taste that is Mmm, mmm good.
Besides being delicious, shrimp is good for you too. For starters, it's quite low in calories. A 3.0-ounce serving contains 84 calories.
Yet, it's pretty nutritious. It contains B vitamins, which are good for your brain.
Per Serving:
Calories: 241
Fats: 12g
Protein: 18g
Carbs: 18g
Fiber: 2g
Sugar: 10g
Credit: eatingwell.com
This spaghetti squash casserole is precisely what the doctor ordered. It is cheesy, rich, and oh so comforting…you'll think you're cheating on your diet.
It's rich in Vitamins A and C. And it contains a ton of calcium too.
Now, that's my kind of dish. This could be a great freezer meal too.
Per Serving:
Calories: 194
Fats: 10.8g
Protein: 11g
Carbs: 14.6g
Fiber: 2.4g
Sugar: 0g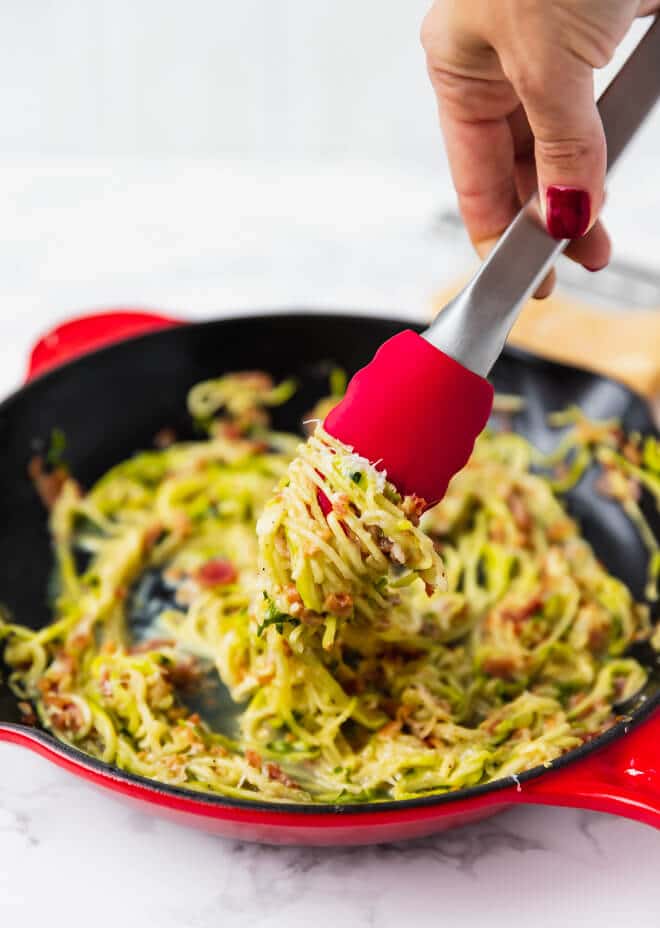 Credit: cookinglsl.com
I love Italian food, as I'm sure many of you do too.
This low carb zucchini carbonara has only 5 grams of net carbs. So, they're perfect for a low carb lifestyle.
It's also pretty tasty. The bacon, parmesan cheese, and eggs make it oh, so decadent and it's excellent for hectic weekday dinners.
Per Serving:
Calories: 252
Fats: 19g
Protein: 13g
Carbs: 6g
Fiber: 1g
Sugar: 5g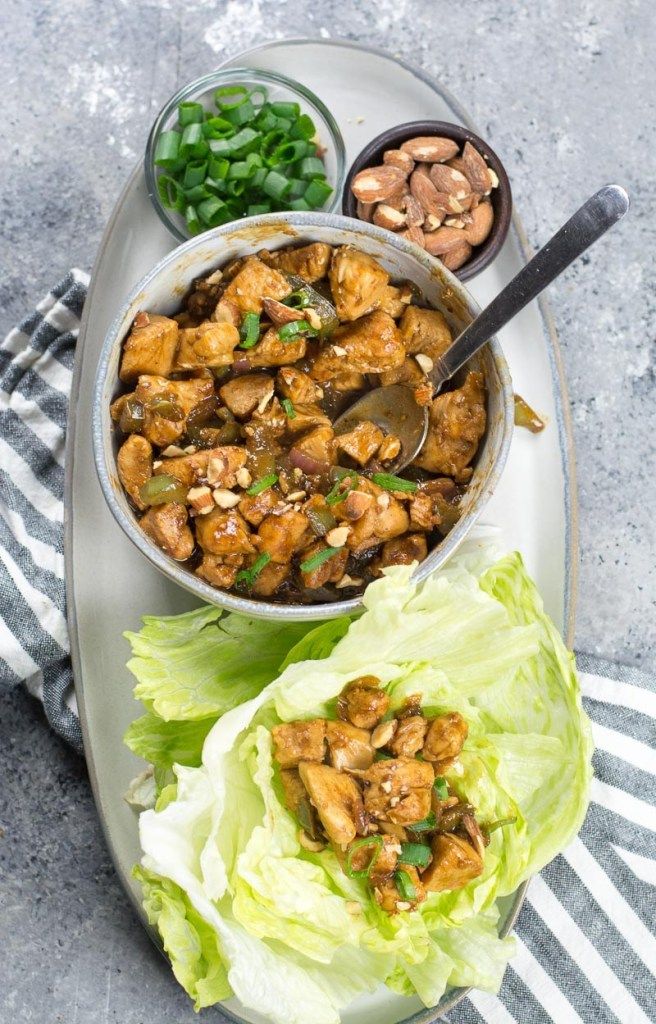 Credit: thebestketorecipes.com
Tender, juicy chicken is paired with a flavorful sauce. It tastes just like an Asian takeout but is much better for you.
To keep it fresh for days, make sure you store it in some good-quality food storage containers.
I recommend these glass containers here because they're leak-proof and good for the environment. However, if you prefer lighter containers, these BPA-free plastic containers here are an excellent choice.
Per Serving:
Calories: 198
Fats: 7.2g
Protein: 28g
Carbs: 5g
Fiber: 1.6g
Sugar: 2g
Credit: damndelicious.net
Succulent, juicy shrimp are tossed in a dreamy garlic butter sauce and served with zucchini noodles cooked al dente.
To prepare it, melt some butter in a skillet, add some shrimp, red pepper flakes, shrimp, and cook for about 3 minutes.
Add some chicken stock, lemon juice, salt, and pepper, and allow to simmer. Finally, add your zucchini noodles, and mix well.
To add some ambiance, make sure you serve your scampi on some lovely dinner platters. I like these ones here because they're chip-resistant and dishwasher-safe.
Per Serving:
Calories: 214
Fats: 8.6g
Protein: 27g
Carbs: 7.8g
Fiber: 1.9g
Sugar: 4.8g
Credit: supergoldenbakes.com
The Winter season is the perfect time to indulge in comforting dishes. And this chicken stroganoff is one of them.
It's decadent, rich, thick, yummy, and super comforting…just like a warm hug.
And what's chicken stroganoff without some pasta? To keep the calories low, it's a good idea to have some low-calorie pasta.
This one here contains only 20 calories per serving. It's also low carb.
Per Serving:
Calories: 256
Fats: 5g
Protein: 43g
Carbs: 11g
Fiber: 1g
Sugar: 5g
Credit: skinnytaste.com
Want to treat yourself like a king or queen? Have some of this Chicken Cordon Bleu.
It looks and tastes fantastic. Thin chicken cutlets are lightly fried and covered with juicy ham and creamy Swiss cheese in a delicate lemon Dijon sauce.
It's French dining at its best but without all the calories. Bon appetit!
Per Serving:
Calories: 258
Fats: 10g
Protein: 37g
Carbs: 6g
Fiber: 0g
Sugar: 1g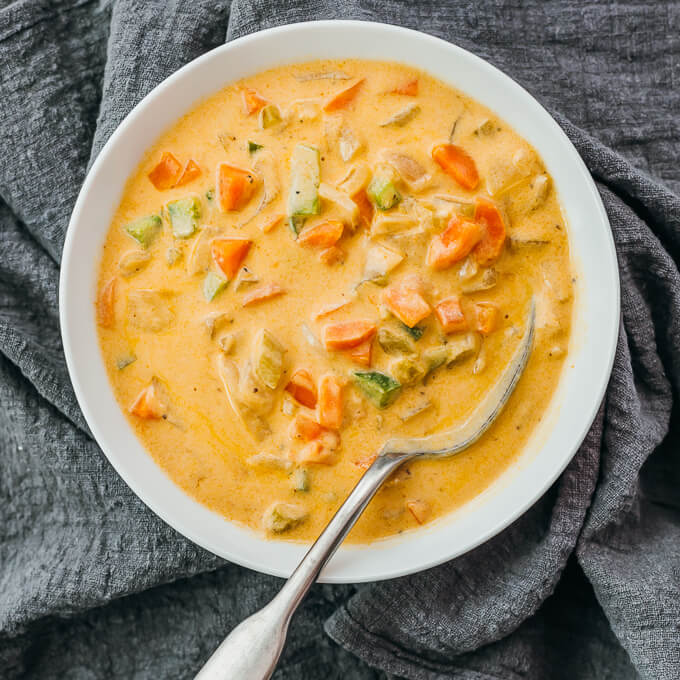 Credit: savorytooth.com
We could all use some more vegetables in our diet. But let's face it: eating vegetables can be tedious.
This vegetable soup is anything but boring. It's creamy, cheesy, and packed with vegetables.
It also has a ton of garlic.
Garlic is not only yummy but good for you too. It contains Vitamin C and antioxidants that may help your brain.
Per Serving:
Calories: 210
Fats: 18g
Protein: 9g
Carbs: 6.5g
Fiber: 1.5g
Sugar: 2.5g
Credit: thebestketorecipes.com
Looking for a low carb option for Taco Tuesday? These Keto Taco Cups are a great option.
You get all the flavors of tacos but in muffin form. Seasoned taco ground meat and cheddar cheese topped with tomatoes and green onions.
To keep these taco cups, aka taco muffins, low carb, you'll be making low carb fathead dough.
Per Serving:
Calories: 173
Fats: 7.6g
Protein: 17.9g
Carbs: 2.8g
Fiber: 0.9g
Sugar: 0.8g
Credit: joyfulhealthyeats.com
Do you have a hankering for a Philly Cheesesteak? Have these Philly Cheesesteak Stuffed Peppers instead.
Green bell peppers are stuffed with ooey gooey melted mozzarella cheese, sauteed mushrooms, red onions, red pepper, and pan-seared top sirloin steak.
To get a nice sear on your sirloin steak, it's best to use a cast-iron skillet like this.
Per Serving:
Calories: 235
Fats: 15g
Protein: 15g
Carbs: 11g
Fiber: 3g
Sugar: 5g
Credit: slenderkitchen.com
Do you like all things spicy? Then, you'll love this tuna salad.
The Sriracha adds a nice heat. This is countered by the coolness of the Greek yogurt and reduced-fat mayonnaise.
To reduce the sodium, you can use coconut aminos instead of soy sauce.
Coconut aminos contain close to 70 percent less sodium than soy sauce. If you'd like to stock up on some, you can get some here.
Per Serving:
Calories: 188
Fats: 7g
Protein: 27g
Carbs: 3g
Fiber: 0g
Sugar: 2g
Credit: easycheesyvegetarian.com
This mushroom bourguignon is hearty, flavorful, and satisfying- you definitely won't miss the meat. And it smells fantastic.
You will need red wine to make this Bourguignon. However, if you don't have any or don't want to use any, you can use some red grape juice and a splash of white vinegar instead.
Per Serving:
Calories: 184
Fats: 4.3g
Protein: 8.7g
Carbs: 24.5g
Fiber: 6.2g
Sugar: 10.2g
Credit: thelittlepine.com
This Chinese Chicken Salad tastes great. It's crunchy, and creamy.
It has a lot of umami flavors, and the ginger adds a slight heat. You'll definitely want to make extra.
What I love most about this salad is that it takes only 20 minutes to make. Most of that time will be spent shredding your veggies.
So to shave off even more time, you can simply use broccoli slaw. Enjoy!
Per Serving:
Calories: 252
Fats: 19g
Protein: 11g
Carbs: 12g
Fiber: 5g
Sugar: 4g
31 Skinny 200 Calorie Meals to Kickstart Weight Loss
Need a perfect low-calorie meal? These quick but healthy 200 calorie recipes will help you burn fat quicker and stay within your calorie range.
Ingredients
1. Zucchini Taco Boats
2. Mexican Mini Bell Pepper Nachos
3. Bell Pepper Stuffed Tacos
4. Greek Chicken Salad Lettuce Wraps
5. Shrimp Zucchini Pasta Puttanesca
6. Thai Peanut Salad
7. Zucchini Noodle Chow Mein
8. Beef & Broccoli Stir Fry
9. Healthy Honey Garlic Shrimp & Broccoli
10. Spaghetti Squash Lasagna With Broccolini
11. Low Carb Zucchini Carbonara
12. Keto Asian Chicken Lettuce Wraps
13. Zucchini Shrimp Scampi
14. Chicken Stroganoff
15. Skillet Chicken Cordon Bleu
16. Creamy Keto Vegetable Soup
17. Easy Keto Taco Cups
18. Easy Keto Philly Cheesesteak Stuffed Peppers
19. Spicy Tuna Salad
20. Mushroom Bourguignon
21. Chinese Chicken Salad
22. Teriyaki Chicken Lettuce Wraps
23. Crispy Baked Chicken Cutlets
24. Juicy Cast Iron Skillet Chicken Breast
25. Tomato Basil Wrap with Mozzarella
26. Easy Celery and Carrot Soup
27. Spinach Feta Wrap with Garlic
28. Greek Sheet Pan Chicken Dinner
29. Keto Chicken Salad
30. Spicy Tuna Wrap
31. Salami Egg Cups
Instructions
Scroll up to get a bunch of easy, yummy, and delicious recipes. Don't be afraid to get creative with the ingredients, you might discover a flavor you didn't know you liked.
Get your shopping list going and make sure you've got all the ingredients.
Get cooking and make your next low-calorie meal!
Notes
Which one of these recipes was your favorite? Let me know in the comment section or on Pinterest!