These cauliflower bites are simple to make, require only 3 main ingredients, a couple of herbs and spices, and some time! A perfect cheesy but sweet low carb, gluten-free snack, and appetizer you can meal prep and freeze!
This recipe is cauliflower re-invented. Gone are the days of flavorless, bland cauliflower.
You are really going to appreciate these cheesy cauliflower bites. They are delicious bite-sized snacks that are also low carb.
Adding cheese and a delicious herb blend make these bites tastier than some other cauliflower snacks you might find. On top of that, they're simple to make and require only a few ingredients.
Each bite contains only 26 calories, which is perfect when you're counting your calories.
So, it's a flavorful low-calorie low carb snack that you can meal prep and have with your favorite sauce!
Is Cauliflower OK on Keto?
Cauliflower is a great vegetable choice when you are following a keto diet. It's a great substitute for starchy vegetables.
Thus, you can easily replace potatoes, rice, and pasta with it. Even pizza dough crust!
All in all, cauliflower makes a great base for dressings, sauces, and dips because it doesn't have much flavor on its own.
Finally, you can eat cauliflower raw or cooked. It is more nutritious raw but may cause bloating. However, cooking it gives you more freedom to make it taste better!
How to Make Cheesy Cauliflower Bites
You'll need a few tools and ingredients to make this recipe. A mini muffin pan like this is going to be necessary to get the optimum serving-sized bites.
Ingredients You'll Need:
cauliflower florets
mature cheddar cheese
egg
oregano
garlic powder
salt and black pepper
onion powder
Step-by-step Instructions
Start by preheating the oven to 375F (175C).
Step 1: Prepare the Cauliflower Rice
First, you will need to steam the cauliflower. You will want to make sure that the cauliflower florets are pretty similar in size.
This will help them cook evenly in the same amount of time.
You can steam the cauliflower by using a metal steaming basket like this in a saucepan. This is a good tool to have when you are preparing a lot of vegetables.
It will take a total of 8-10 minutes for the cauliflower to soften up. Once it's cooked, transfer the cauliflower to a food processor.
Then, pulse the cauliflower in the food processor until it's cut up into fine crumbles. It should look like rice.
It's really important to remove all of the moisture from the cauliflower after it's processed. You can do this with your hands.
Squeeze out the moisture when you are removing the cauliflower from the food processer. You could also do this with a towel.
Pour out all of the cauliflower on the towel. Gently squeeze out all of the moisture into a sink.
Step 2: Mix All the Ingredients
Then, pour the cauliflower into a large bowl. Now add cheese, break in the egg, add herbs, spices, salt, and pepper.
Mix everything with a spoon or spatula. Make sure that everything is evenly combined.
Spray cooking oil into the mini muffin pan. This will ensure that the bites don't stick to it after they are baked.
Step 3: Form Mini Muffins
Scoop even proportions into the muffin pan. Use either a tablespoon or a cookie scoop.
Once you fill-up the muffin tin, press each bite down.
In this way, we'll flatten our bites out and make them look more consistent. On top of that, they'll cook evenly and get crispy edges.
Bake the cauliflower bites for 12-15 minutes. Check to make sure that the center of each bite is firm before removing it from the oven.
Let the cauliflower bites cool down before serving. They might fall apart if you try and take them out right away.
These are best when they are enjoyed warm. They also taste great with a dipping sauce.
A sugar-free marinara sauce or sweet chili sauce might be just the choice!
Don't Have a Food Processor?
It's ok if you don't have a food processor. You can still get the cauliflower to the right consistency.
Here are some other options:
Purchase cauliflower rice at the grocery store. This will be more expensive, but the product is already made for you.
Use a large chef knife to cut the cauliflower up into small pieces. This will take more time (and will be a little messy!), but it works just as fine.
A blender will work in the same way as a food processor.
Carefully use a cheese grater to break the cauliflower down into rice-sized pieces.
Ways to Steam Cauliflower
There are a few different ways to steam the cauliflower if you don't have a steaming basket. Don't go and boil them, though!
Cauliflower tends to absorb a lot of the water, which means that our bites will end up soggy. So, boiling is a big no-no here.
Instead, try steaming your cauliflower in these ways:
Use an Instant Pot like this
Aluminum foil – Roll up a few small balls and place them on the bottom of a saucepan. This is going to elevate the cauliflower so that it's not submerged in the water.
Microwave –Place 2-3 tablespoons of water in the bottom of a microwave-safe bowl. Place the cauliflower in the bowl and cover it with a plate or plastic wrap. Cook for 3-5 minutes.
Can You Freeze These Cheesy Cauliflower Bites?
You can definitely freeze them! However, do it before baking.
They might get soggy if you try to freeze them and thaw them once they're already baked.
So, instead, put the muffin pan with the mixture in the freezer. Then, pop each bite out once they are solid.
Afterward, just freeze in a food container or a freezer bag.
You can bake them right out of the freezer. Just add a few minutes to be sure they are cooked through.
They can be kept in the freezer for up to three months.
Other Recipes You Might Like:
Watch Full Instructions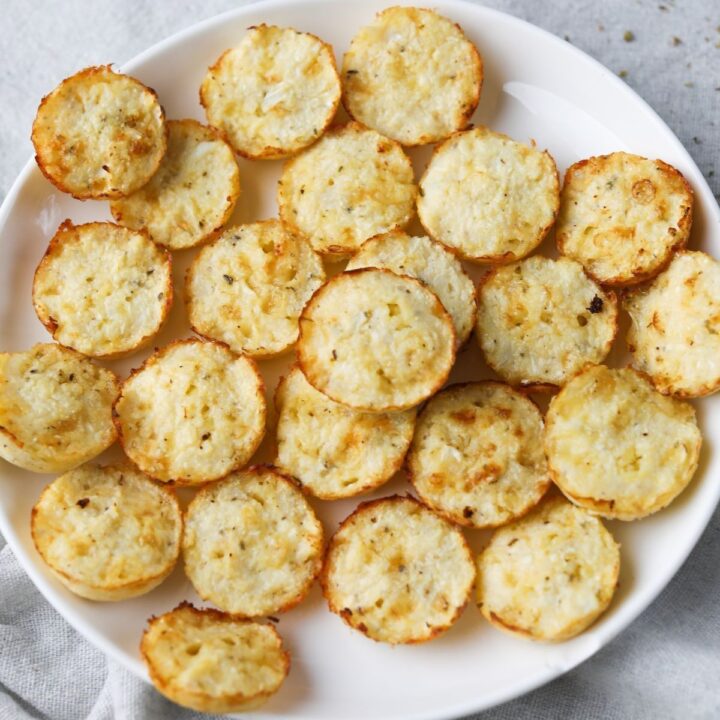 Cheesy Cauliflower Bites
Yield:
23 cauliflower bites
These cheesy cauliflower bites are naturally sweet, flavorful yet low carb. It's a low-calorie snack you can have for lunch, meal prep, and enjoy throughout the day. They're vegetarian and gluten-free.
Ingredients
2 cups cauliflower florets
1 cup mature cheddar cheese (shredded)
1 egg
1/4 tsp oregano
1/4 tsp onion powder
1/4 tsp garlic powder
pinch salt and pepper
Instructions
Preheat the oven to 375F (190C). Grease mini muffin tins with oil.
Steam cauliflower florets on a saucepan using a steaming basket. This should take around 8-10 minutes.
Pulse the cauliflower in a food processor until it becomes like rice. When removing, squeeze to drain it. Squeeze out as much water as you can.
Now, add cauliflower to a bowl, add in cheddar cheese, egg, oregano, onion, garlic, and salt with pepper.
Mix until combined.
Scoop out some into each muffin tin and flatten the mixture out. We want to create nice flat bites.
Bake for 12-15 minutes until golden brown. Make sure the middle of the bites has hardened up too.
Let them cool down before serving. Have them with your favorite sauce!
Nutrition Information:
Yield:

23 cauliflower bites
Serving Size:

1 cauliflower bite
Amount Per Serving:
Calories:

26
Total Fat:

1.9g
Saturated Fat:

1g
Trans Fat:

0.1g
Unsaturated Fat:

0.6g
Cholesterol:

13mg
Sodium:

41mg
Carbohydrates:

0.7g
Net Carbohydrates:

0.5g
Fiber:

0.2g
Sugar:

0.2g
Protein:

1.6g
Nutritional values were obtained with automatic software using the amounts of products used. To get the most accurate representation of the nutritional values, you should calculate them with the actual ingredients used in your recipe. You are solely responsible for the nutritional information obtained to be accurate.