These Velveeta cheese recipes are sure to become your favorite comfort food recipes. Whether it's creamy cheese sauce or easy mac in your casserole dish, you'll enjoy these favorite recipes.
Velveeta is a pasteurized prepared American cheese product. It was created in 1918 to make cheese last longer. Meaning you can always have a block of cheese in your pantry!
Velveeta is made from a mix of cheeses, other dairy products, and emulsifying salts. These hold the product together and help it melt.
What is Velveeta Cheese Good For?
Velveeta cheese is incredibly versatile. It's especially great for recipes that involve gooey melted cheese.
Best Velveeta Cheese Recipes
Browse below to discover the best Velveeta cheese recipes to add to your collection!
Source: thegiftedgabber.com
Cheesy sausage on rye bread may remind you of your childhood. These appetizers are great at a party or on your holiday table.
These snacks are easy to put together. Mix sausage cooked in a skillet with Velveeta, Rotel, and some seasoning.
Scoop your sausage & Velveeta topping onto rye bread and bake for 6-8 minutes. Garnish with sliced green onion before serving, if desired!
Source: thegiftedgabber.com
Beef noodle casserole – or tallerine – is a hearty Southern casserole. This will be perfect for your family gatherings!
The main ingredients in your casserole are noodles, ground beef, and flavorful veggies. You will have a kick of flavor from paprika and chili powder.
Velveeta cheese is going to bring this dish its gooey, cheesy texture! Add grated Velveeta to your mixture before oven-baking, and sprinkle more on top!
Source: 4sonrus.com
Grilled cheese is a comforting staple food. Step up your grilled cheese game with this Tex-Mex version!
What you will have is a taco, but in a great grilled sandwich form. You can use leftovers from taco night for this recipe to make it even quicker.
Your must-have for this is Velveeta. It's oozy and melty when layered with your beefy taco mix and grilled!
Source: themagicalslowcooker.com
This Velveeta bean dip involves minimal preparation. Dump all your ingredients into your crock pot and let it do its magic!
Refried beans are the main element here. Green chilies, taco seasoning, and salsa provide your Mexican-inspired flavor.
Cubes of Velveeta are your vital ingredient for that creamy texture! Serve this dip with crunchy veggie sticks or tortilla chips.
Source: 4sonrus.com
Loaded fries have become highly popular in the last couple of years. These buffalo cheese fries may just become your new favorite!
Crinkle-cut fries are the best option here to prevent them from becoming soggy. Nobody wants soggy fries underneath gooey Velveeta cheese!
You'll also use fiery buffalo sauce plus ranch to balance the heat. Bacon pieces sprinkled on top will add a salty, crunchy texture. Delicious!
Source: findingzest.com
Are you sitting there trying to figure out what Kielbasa is? So, to put it simply, it's a tasty Polish smoked sausage!
Kielbasa works a treat in this cheesy pasta skillet dish. It consists of Kielbasa, Velveeta, and four other pantry and refrigerator staples.
You'll cook your Kielbasa, Velveeta, and veggies in one pan. While this is cooking, your pasta will be cooking in another.
Source: 4sonrus.com
This chocolate cheese fudge is seriously easy to create. Also, it's ideal for wrapping and giving as holiday gifts!
You only need a few other staple ingredients besides Velveeta and cocoa powder. These are butter, powdered sugar, and vanilla extract. Pecans, too, if desired.
Your fudge will take only 15 minutes to prepare. Waiting for it to set will be challenging but worth it!
Source: windingcreekranch.org
This Smoked Queso Dip is the best smoky cheese dip you will find! Ground beef lends a delicious meaty flavor alongside the creamy Velveeta.
To gain a smoky taste, you will make this queso on your pellet grill. Choose your wood pellets for smoking with to suit your tastes.
It isn't a problem if you don't own a pellet grill. The queso can be made in the oven and still have a smoky taste. Just add one teaspoon of liquid smoke!
This tasty queso is one of the best potluck ideas to feed a crowd!
Source: cookingwithcarlee.com
Velveeta lasagna is an American take on the Italian classic. This is ideal for those days when you need warm, comforting food.
You will uncover multiple layers of oozing Velveeta and mozzarella cheese. Find these between layers of flavorful ground beef, spaghetti sauce, and tender noodles.
Sprinkle on some parmesan in the final 15 minutes for another cheesy taste.
You'll love this cheap dinner idea to feed your whole family on a budget!
Source: cookingwithcarlee.com
Creamy cheese soup is the ultimate comfort food. This recipe is also packed with nutrition from the veggies you will use.
Your creamy, cheesy soup base is produced from a combination of chicken soup and Velveeta. Onion and chicken stock will elevate the flavor of your soup.
This recipe is versatile, and you can easily make a vegetarian version. Guaranteed, it will be just as tasty and comforting!
Source: noshingwiththenolands.com
Add a pop of color to your cauliflower cheese by adding broccoli too. Your cheese sauce for this recipe is so easy to make!
You'll create your cheese sauce by combining Velveeta and camembert. That's it! Add cubes of cheese to a dish with your broccoli and cauliflower.
A flavorful, lightly spiced, crunchy panko topping elevates this recipe. Serve this up to hungry guests on your holiday table!
Source: goodlifeeats.com
Queso Blanco dip uses the white variety of Velveeta with brick cream cheese. This will create a bright white color and smooth, creamy texture.
Roasted corn, bitter kale, and diced tomato add another depth of flavor. Slow cooking your Queso Blanco means you can keep it warm when it's ready.
Crunchy tortilla chips are ideal for scooping your cheesy dip!
Source: theforkedspoon.com
Here you have another meaty variation on a Velveeta cheese dip. This time you will be using ground breakfast sausage.
Surprisingly, you will only need a few ingredients for your cheese dip. The vital one is your Velveeta, of course!
Powdered garlic, onion, cumin, and canned chili tomatoes, add a hint of spice. Evaporated milk and butter make your dip extra creamy.
Serve this for a game-day appetizer with crunchy tortilla chips!
Source: cravingcalifornia.com
"Choriqueso" is a spicy Mexican-inspired variation of your favorite queso dip! You will combine three kinds of cheese for the ultimate cheesy flavor.
Alongside the essential Velveeta, you'll be using cheddar and Monterey Jack. A fiery kick comes from Chipotle peppers in adobo sauce and a little hot sauce.
A topping of crispy fried Mexican chorizo makes your Choriqueso complete!
Source: funmoneymom.com
A Velveeta creamy, cheesy dip is incredibly versatile. So, here you have another option to try!
Ground beef and sausage lend your meaty flavor here. Choose your sausage based on your taste. Mild, spicy, or Italian sausage all work.
Making your dip in a slow cooker means you can let it do its magic. Serve with crunchy veggie sticks and tortilla chips!
Source: thetwobiteclub.com
Level up your macaroni and cheese night by using Velveeta. It will help produce the silkiest, creamiest, most cheesy sauce!
You will traditionally start your sauce with butter, flour, and milk. But I promise you that the effort is worth it.
Three types of cheese create your ultimate cheese sauce. These are Velveeta (of course), parmesan, and shredded cheddar.
This combination will leave you with a crispy, golden top to your macaroni and cheese!
Source: agrillforallseasons.com
This queso chicken is slightly different from the queso you've seen. You will use queso as a topping for juicy chicken thighs.
Cheesy Velveeta and tomatoey Rotel are going to create your queso topping. You could also add some corn in there for some crunch.
Queso chicken is versatile for mealtimes. Try it on a bed of whole-grain rice or a pile of tortilla chips!
Source: eatinginaninstant.com
Your Instant Pot will be needed for this Velveeta dish. You will have delicious cheesy chicken spaghetti in less than half an hour!
You'll produce a little flavor using the sauté function for the veggies and chicken. Then throw everything else in and pressure cook. Your Velveeta will be added at the end.
Serve your chicken spaghetti with a green salad. This balances the richness of the cheesy sauce!
Source: dinneratthezoo.com
Cheeseburger soup is the ultimate height of comfort food. You will find two of your favorites in one hearty dish.
You will find ground beef, potatoes, and nutritious veggies in your soup. Plus, Velveeta to create your rich cheesy flavor!
Top your soup with crispy bacon, diced pickles, and cubes of toasted hamburger bun!
Source: happyhoneykitchen.com
Baked potatoes are an ideal option for a cold fall or winter day. Load your baked potato with roasted veggies to fill you up.
Prepare the other ingredients for your topping as your potatoes are cooking. Broccoli, red onion, bell peppers, and mushrooms work well.
Easily create your cheesy sauce by heating Velveeta and Rotel in the microwave. Drizzle this over your veggie-loaded baked potato, and enjoy!
Source: whitekitchenredwine.com
If you're looking for the easiest soup recipe on the list, then you've found it. Of course, it's super tasty, too, with the addition of Velveeta!
All the ingredients you will be using are pantry and refrigerator staples. You will create your soup using russet potatoes, tinned chicken soup, Velveeta, and milk.
A sprinkle of fresh chives on top works with the richness of your soup.
Source: comfortcooks.com
This macaroni and cheese have a Mexican twist to it. You will be adding taco seasoning to combine two comforting favorites into one!
It's another easy recipe with minimal pantry and refrigerator staples. You will use pasta shells, ground beef, taco seasoning, and milk. And, of course, Velveeta!
Serve this flavorful taco macaroni and cheese with your favorite garnishes.
Source: persnicketyplates.com
Twisted mac and cheese is a copycat of a Hard Rock Café favorite! Your cavatappi pasta will be coated in a lightly spiced Velveeta cheese sauce.
You'll need to combine Velveeta with Monterey Jack, cheddar cheese, and milk. Cayenne and black pepper give a slight flavor kick to your luxurious creamy sauce.
Include roasted red peppers for an added bite. Sprinkle your mac and cheese with parmesan and parsley-flavored breadcrumbs!
Source: cookingwithjanica.com
This hash brown casserole is a popular Midwest potluck dish. However, it also makes a quick and easy midweek side dish for your busy family.
Your rich cheese sauce is easily created in the microwave. You do this by combining Velveeta with chicken soup and sour cream.
Cornflakes are going to add a wonderful crunch to the topping. Add shredded chicken to your funeral potatoes and serve it as a main dish!
Got some extra sour cream? Try these recipes with leftover sour cream!
Source: temeculablogs.com
A straightforward Velveeta cheese sauce is one recipe you must have. It is highly versatile for so many dishes!
Here you'll be making your copycat Velveeta with three ingredients. All you need is sharp shredded cheddar, unflavored gelatin, dry milk, and water.
Use your Velveeta cheese sauce for cheesy veggies, nachos, or baked potatoes!
Source: twopinkpeonies.com
Chili cheese dip is your ideal option for game days, potlucks, or parties. It's an excellent throw-it-all-in recipe.
You'll use a combination of Velveeta, Rotel, canned chili, cream cheese, and cheddar. Choose a chili with or without beans – it's up to you.
Serve your chili cheese dip alongside tortilla chips for dipping. Crunchy veggie sticks would work with this too!
This is one of the most easy crockpot recipes anyone can make!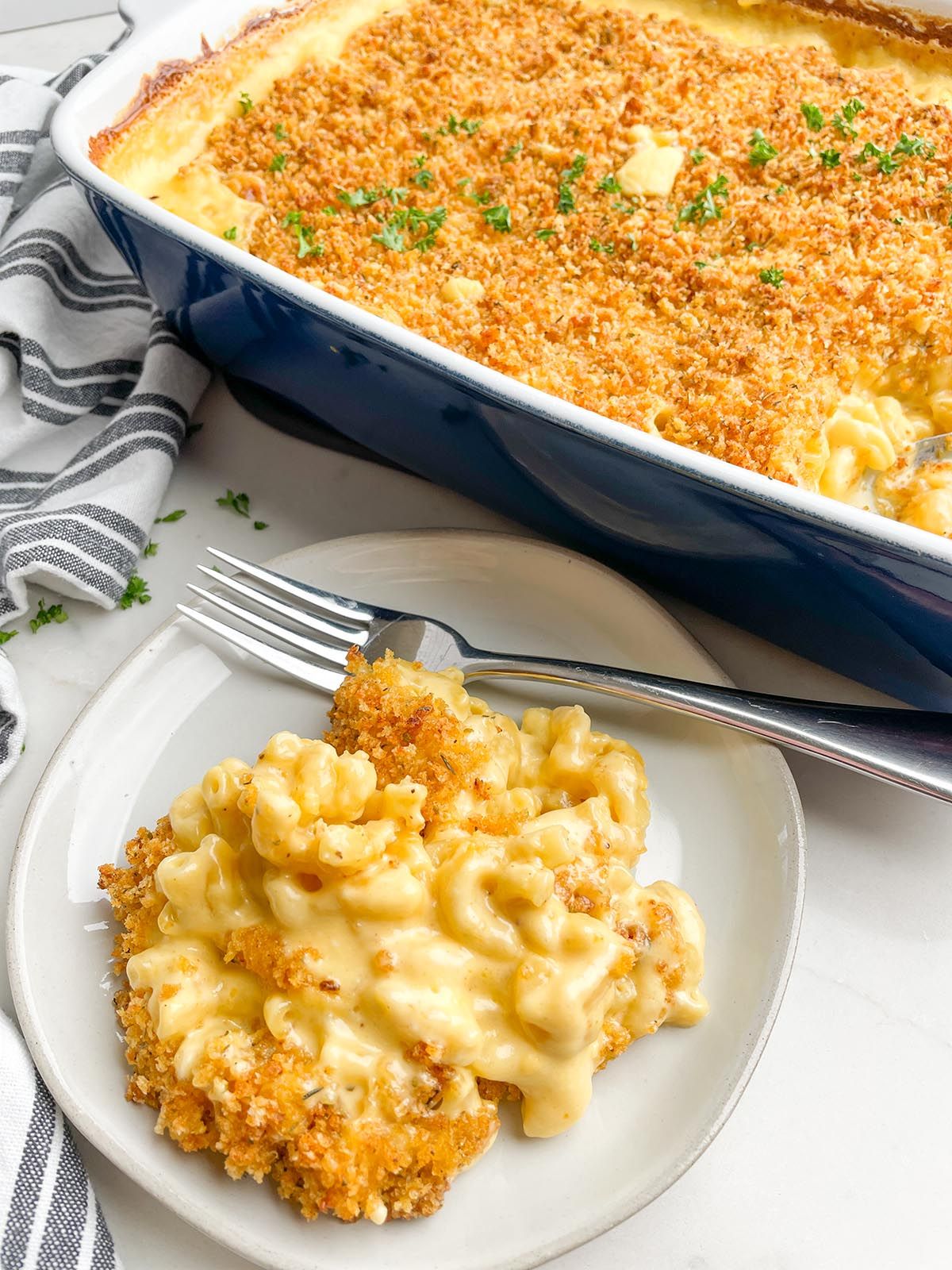 Source: midwesternhomelife.com
This super easy one-pan macaroni and cheese might just become your favorite! You don't need to boil pasta OR make a roux for your cheese sauce.
Using Velveeta and heavy cream is your secret weapon to create your sauce. You'll use chicken broth and a powerful spice combination to take it from bland to flavorful.
A lightly seasoned panko breadcrumb topping forms the ultimate crunch!
Source: simpleandseasonal.com
Cheese for breakfast? All your breakfast favorites, plus creamy Velveeta, are included in these burritos!
Prepare your breakfast the evening before by layering breakfast ingredients in your crockpot. You'll use bacon, cooked breakfast sausage, frozen potatoes, eggs, and Velveeta.
Add some chopped jalapenos if you wish to spice it up. Mix it when cooked, then serve this cheap crockpot meal in soft tortillas!
Source: thegiftedgabber.com
Cheesy chicken spaghetti is ideal for gatherings. Serve it straight from the casserole pan at your table for a relaxed party.
Cream of mushroom soup and Velveeta will produce your rich, creamy sauce. Peppers, onions, and tinned tomatoes add veggie nutrition and bonus flavor.
Add some black olives to your spaghetti mix for Mediterranean vibes!
Source: themagicalslowcooker.com
For a modern twist on a classic favorite, you need to try this hanky panky. It's a quick prep dish, perfect for busy family weekdays.
You'll combine ground beef, hot sausage, and Velveeta with herbs and spices. Worcestershire sauce, caraway seeds, oregano, and garlic powder provide a robust flavor.
Hanky panky tastes delicious, spread on brown or rye bread!
Source: therebelchick.com
Cheesy broccoli provides diversity from cheesy cauliflower. Use it in your chicken casserole to have the ideal midweek dish.
Using cooked chicken means having your dinner on the table in 30 minutes! Mushrooms, onion, garlic, and cayenne add an extra depth of flavor.
You don't need to serve anything alongside this casserole. Your rice is cooked in the pan with everything else!
Source: thegoodheartedwoman.com
Egg and cheese rolls are a vegetarian recipe you will want to try. You'll find them tasty and easy, and the whole family will love them.
You'll find garlic and olives in your creamy, cheesy, tomatoey sauce. Combine this sauce with your hard-boiled eggs, and you have a unique flavor!
You will bake your egg and cheese mixture inside crusty hollowed-out rolls. These are ideal for a cold fall day when you want something comforting.
Source: theforkedspoon.com
You'll need only three ingredients for this dip variation made with Velveeta. They are Velveeta, Rotel, and ground beef.
Your Rotel dip will be ready to tuck into in only 20 minutes! Perfect for last-minute game day gatherings. Or even a family movie night.
Tortilla chips or pretzels make excellent dipping vessels. For a healthier choice, go for chopped, crunchy veggies!
Source: thegoodheartedwoman.com
Do you want a bowl of Chili's chicken enchilada soup? But you don't want to leave your house? Then you must try this perfect copycat recipe!
This soup is a one-pot wonder with a rich, satisfying taste. Enchilada sauce and Velveeta create a luxurious creamy base for your soup.
Your soup can easily be made vegetarian. Just substitute vegetable stock for chicken stock. You can add shredded chicken on the side for meat-eaters!
Source: raisingwhasians.com
For this appetizer, you will mix Velveeta cheese with healthy spinach. It's an excellent choice for gatherings, parties, or even picnics.
Your creamy mixture will be wrapped in pre-made crescent rolls. They will be cooked until they are golden brown and crispy.
Your spinach appetizers are made even better with Italian breadcrumbs and fresh garlic!
Source: frommichigantothetable.com
Your final soup recipe is perfect for cooler spring days. You will be using fresh asparagus to establish that spring flavor!
Salty bacon and Velveeta are ideal pairings for delicate asparagus. You'll need to make a roux for your soup. It will help to create a thick, creamy texture.
Your soup can be made on your stove or in your Instant Pot. Either way, it'll be ready in under 40 minutes.
Source: littlesunnykitchen.com
For your last Velveeta recipe idea, here's something sweet. You only need a few essential ingredients to make this tasty fudge.
Your creamy base comes from Velveeta and butter. Milk chocolate chips add sweet. Vanilla extract makes the chocolate taste even better.
Add chopped pecans or walnuts to your creamy fudge to give it a crunchy bite!
37 Best Velveeta Cheese Recipes That are Easy to Make
If you're into cooking with cheese, this collection is for you. Find the best velveeta cheese recipes to satisfy those cravings.
Ingredients
1. Cheesy Sausage on Rye Bread Appetizers
2. Beef Noodle Casserole
3. Tex Mex Grilled Cheese
4. Slow Cooker Velveeta Bean Dip
5. Loaded Buffalo Cheese Fries
6. Cheesy Kielbasa Pasta Skillet
7. Chocolate Cheese Fudge
8. Smoked Queso
9. Lasagna
10. Cheese Soup
11. Broccoli Cauliflower Cheese Bake
12. Slow Cooker Queso Blanco
13. Velveeta Cheese Dip with Sausage
14. Creamy Queso Dip with Chorizo
15. Rotel Dip with Ground Beef and Sausage
16. Baked Macaroni and Cheese
17. Queso Chicken
18. Instant Pot Chicken Spaghetti
19. Cheeseburger Soup
20. Veggie Loaded Baked Potato
21. Potato Soup
22. Taco Macaroni and Cheese
23. Twisted Mac and Cheese
24. Funeral Potatoes
25. Cheese Sauce
26. Crockpot Chili Cheese Dip
27. One Pan Macaroni and Cheese with Bread Crumbs
28. Slow Cooker Breakfast Burritos
29. Cheesy Chicken Spaghetti
30. Hanky Panky
31. Velveeta Cheesy Broccoli and Chicken Casserole with Rice
32. Egg and Cheese Rolls
33. Rotel Dip
34. Chili's Chicken Enchilada Soup
35. Spinach Appetizer
36. Cheesy Bacon and Asparagus Soup
37. Velveeta Fudge
Instructions
Scroll up to get a bunch of easy, yummy, and delicious rice flour recipes. Don't be afraid to get creative with the ingredients. You might discover a flavor you didn't know you liked.
Get your shopping list going, and make sure you've got all the ingredients.
Get cooking and make your next Velveeta Cheese Recipe!
Notes
Which one of these recipes was your favorite? Let me know in the comment section or on Pinterest!