Have swordfish? Get creative with these swordfish recipes that taste absolutely delicious.
While beef steaks are great, fresh fish steaks are even better. And there is no fish steak better than thick Swordfish steaks.
The Swordfish is one of the meatiest fish and it also has the right flavour as well as omega-3 fatty acids that keep your heart healthy and strong. Here's more about Sword fishes and recipes you can try if you are a novice with seafood.
What's the Best Way to Cook Swordfish?
You may know a few ways to cook a Swordfish, but the trick is to cook it fast because the more you cook it, the more rubbery it gets.
Grill your Swordfish till the skin is nice and brown and the inside is still a bit pink, or you can Pan-Sear it for 5 to 8 minutes on each side. You can even broil your Swordfish to enjoy the juicy flavor of this meaty fish.
What Goes Well with Swordfish?
Swordfish's mild and sweet flavor goes well with several side dishes such as Veggie Kabobs, Tangy Slaw, Salsa Verde, Mustard Greens Salad, Mango Salsa, and Grilled Tomatoes. You can also enjoy your fresh Swordfish with plain or garlic rice.
Should You Soak Swordfish Before Cooking?
Soaking the Swordfish in milk is a french technique that helps reduce the strong, fishy flavours while keeping the nic meaty texture.
How Do I Know When Swordfish is Done?
If you have a cooking thermometer, you can check the temperature; a properly cooked Swordfish reads 130°F for medium, 135°F for medium-well, and 140 for well-done.
You can check your fish for flakiness and translucent coloring if you don't have a thermometer. Swordfish cooks fast, so make sure you check frequently and fast before it overcooks.
Best Swordfish Recipes
Here are some of the best Swordfish recipes you can ace even if you have never cooked or eaten Swordfish. Become a culinary expert with our easy Swordfish recipes. Swordfish will soon become your favorite fish and these will become your favorite swordfish recipes.
Source: dinneratthezoo.com
Here's one of the best ways to cook Swordfish and get the best flavor out of your fish. Marinate your fish with lemon zest, fresh herbs, garlic, and olive oil. Add salt and other seasonings if you please.
The next step is to sear your fish with the simple marinade on a grill pan or outdoor grill and enjoy it piping hot with a side dish.
Check out more low calorie dinner recipes!
Source: hintofhealthy.com
If you have never had swordfish tacos, you are missing out on some serious flavorsome dish. Swordfish Tacos are the best and light snack ever.
To make your Swordfish Tacos, you need Swordfish steaks, red onions, garlic powder, salt, black pepper, oregano, paprika, cayenne pepper, lemon juice, and tortillas. The Swordfish Tacos take about 15 minutes to prep and cook and have about 301 calories.
Source: threeolivesbranch.com
Here's a fancy and delicious easy recipe for grilled swordfish you can make for your family and friends. This Swordfish steak with Tomato Relish isn't only easy to cook, but it doesn't take much to prepare this mild-tasting white fish.
Serve your decadent Swordfish steaks with an even richer and tasty side of a savory relish made with tomatoes and lemon and enjoy so much swordfish next time.
Source: askchefdennis.com
Many people may have had Swordfish Steak in a restaurant only. And most people may think it's a complicated dish to prepare and serve. However, if you follow our lead, you will become the master of Swordfish Steak in no time and learn to cook it in the easiest ways like this easy baked swordfish.
You can serve this yummy and delightful Swordfish Steak on a bed of sauteed spinach or feather-light mashed potatoes. Once your steaks are done in the frying pan, top them with compound butter made with minced garlic, red pepper, chopped parsley, lemon peel, and ginger.
Source: yourguardianchef.com
Let's try a traditional dish from Catania in Sicily, Swordfish and Ragu Aubergine Pasta. The swordfish ragu isn't only a tasty sauce made with Swordfish meat, but it's also pretty affordable to make as the meat comes from the neck and top fin, which is less expensive than the other parts of the fish.
Prepare your Ragu sauce by stir-frying garlic cloves and fish together in a wide pan. In another pan, cut, dice, and cook your Aubergine in olive oil. Prepare your sauce, add your cooked fish, pasta, and eggplant, and fold gently. In no time, your Swordfish and Ragu Aubergine Pasta will be ready.
Source: simplelivingrecipes.com
Brazilian Seafood Stew is a simple yet flavorful delicacy from the heart of Brazil. This is the perfect recipe for you if you are a fan of comfort food and enjoy your lazy Sundays eating to your heart's content.
To make this hearty stew, there are a few ingredients you need to score, swordfish fillets,
raw shrimp, lime, garlic, olive oil, onion, bell pepper, tomatoes, coconut milk, and red palm oil, and chilli pepper. You can either enjoy your stew with a spoon or toasted bread.
Source: cravingcalifornia.com
Here's a conventional way of cooking Swordfish, make ​​flavorful Kebabs out of it and serve it with refreshing Yogurt.
Here's how you make the Swordfish Kebabs; string your swordfish cubes and lemon quarters on skewers, and add olive oil, salt, and pepper.
Swordfish cooks pretty fast, so you only need to grill your skewers for about 2 to 3 minutes on each side. Enjoy your kebabs with fresh yogurt.
Source: yourguardianchef.com
To make baked Swordfish Braciolette, you need swordfish steaks, breadcrumbs, garlic cloves, Parmesan, parsley, olive oil, and zucchini.
The swordfish recipe takes a total of 50 minutes to prep and cook, and this can become your Sunday specialty.
Source: the-pasta-project.com
Here's a treat for your palate. The key to making this Reginette Swordfish Pasta is the lemon rind that adds a distinctive flavor.
Apart from Swordfish meat, you will need pasta. The best part is that any kind of pasta goes well with this recipe. You can choose among casarecce, busiate, strozzapreti, rigatoni, or penne pasta.
Source: threeolivesbranch.com
Did you know grapefruit is low in calories but high in nutrients? Add that to your meal, and you have the perfect healthy yet delicious recipe to enjoy on a lazy Sunday?
Grilled Swordfish is what you need if you are looking for a light and fresh meal. Even if you aren't a fan of grapefruit, you can prepare this recipe with oranges.
Source: the-pasta-project.com
When in Rome, do how the Romans do, but today we are doing how the Italians do; let's cook Swordfish with Mediterranean flavor. Strozzapreti is how Italians like to cook their Swordfish with delicate and subtle flavors.
Pan fry your veggies with olive oil and garlic and add your swordfish cubes. Once the fish is cooked, add your boiled pasta. Serve hot with a refreshing drink.
Source: yourguardianchef.com
Here's what I love about Swordfish: it has enough meat to feed a party of 8 or more people and is perfect for any recipe you can think of.
This Baked Swordfish Wheel is perfect if you have invited a crowd. The recipe is easy to cook and serve. Moreover, it's mouth-watering. Your guests will fall in love with swordfish meat big time after eating this.
Source: cookingchatfood.com
If your days are busy and nights even busier, you need a healthy yet easy Swordfish recipe that is quick yet delicious to make.
Marinate your fish with soy and garlic, let it sit for 5 minutes, then grill for 6 minutes on each side. In under 12 to 15 minutes, your flavorful grilled fish will be ready. Pair it with a glass of aunty wine you like and enjoy a quick yet delightful meal on a busy day.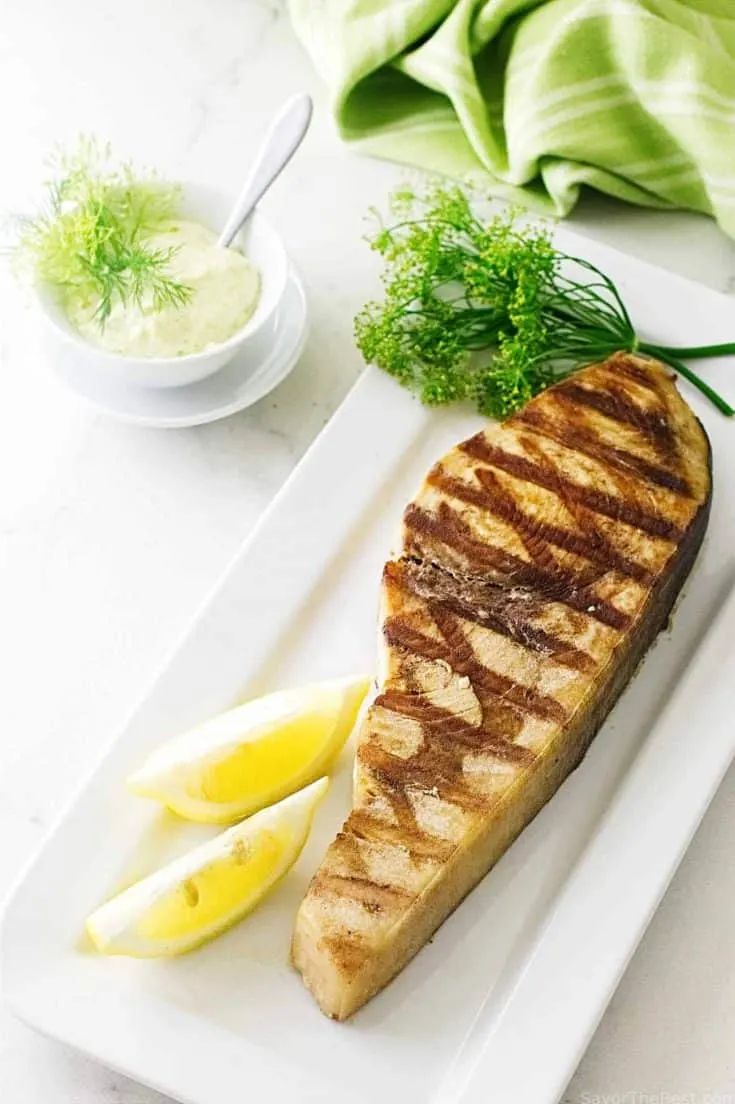 Source: savorthebest.com
Since Swordfish is firm-fleshed, its steaks are popular around the world. If you want to make restaurant-style Swordfish Steaks, you need to follow this recipe to the T.
Marinate your fish with pepper and olive oil and grill to perfection. Serve with Lemon Dill Aioli Sauce and enjoy a refreshing meal on a balmy summer day.
Source: panningtheglobe.com
Grilled Swordfish Steaks are the perfect light lunch or dinner for a busy day. However, if you want to enjoy your steaks to the fullest, you need to have an elaborated side with your steaks.
The Salsa Verde is the perfect side with Grilled Swordfish; it's both light and refreshing, a real treat to your taste buds.
Source: savoryspin.com
Here's a creamy Swordfish recipe that will make you fall in love with seafood. The best part is that this yummy dish is so easy to make that you will master it in no time.
This full-blown meal can be enjoyed with tortillas and a cool drink.
Source: jerseygirlcooks.com
Here's a heart Swordfish dinner you can make in just 30 minutes and enjoy with all of your family. This can be your go-to dinner as it's quick, healthy, and delicious.
You will need Italian Dressing Lemon Swordfish Steaks, Seasonings, Olive Oil, Tomatoes, Capers, Garlic, Parsley, and Chicken Broth.
Tired of swordfish? Check out this herb-crusted salmon.
Source: hintofhealthy.com
Looking for a fancy Swordfish recipe to impress your friend and family? Try out the Blackened Swordfish.
All you have to do is marinate your fish with olive oil, oregano, salt, black pepper, paprika, garlic powder, and cayenne pepper. Pan fry your marinated fish on high heat till the skin is blackened without burning.
Source: cookingchatfood.com
Here's a dish worthy of "Come Dine With Me". This versatile dish can easily turn into a vegetarian dish for people who aren't fans of fish.
All three elements of this dish cook side by side, so this dish is ready in about 30 minutes. Fry your fish as you cook your Orzo side by side. Prepare your pesto before you grill your fish.
Now stack up all three in the perfect sequence of Orzo, pesto, Swordfish, and a bit more pesto on the top to finish off in style.
Source: forktospoon.com
Steaks are the best dish you can get out of Swordfish as this fish has the most amount of meat on it.
You can cook your steaks any way you want, add any dressing and seasoning. However, if you want to add flavor to your steaks, it's the side dish you need to keep an eye out for.
Take this mango salsa, for instance. The exotic taste of mango goes well with the subtle taste of the fish.
Source: champagne-tastes.com
Here's a flavor-packed Sunday dinner you can cook effortlessly if you have swordfish and basil pesto ingredients in your pantry.
Before grilling your Swordfish, rub salt, pepper, and basil pesto generously. Next, grill your fish for 5 to 6 minutes on each side and enjoy with any side you like.
Swordfish is the only fish that doesn't taste fishy at all. It's one of those meats that tastes both delicate and sweet. If you know a fish or seafood hater, you need to invite them over for a Swordfish dinner to convert them.
21 Best Swordfish Recipes (Quick and Easy)
Got swordfish? These Swordfish Recipes are easy to make and taste absolutely delicious.
Ingredients
1. Grilled Swordfish
2. Swordfish Tacos
3. Swordfish Steaks with Tomato Relish
4. Ginger Garlic Pan Roasted Swordfish
5. Swordfish and Ragu Aubergine Pasta
6. Brazilian Seafood Stew
7. Swordfish Kebabs with Yogurt
8. Baked Swordfish Braciolette
9. Reginette Swordfish Pasta
10. Basil Grapefruit Grilled Swordfish Steaks
11. Strozzapreti with Swordfish
12. Baked Swordfish Wheel
13. Grilled Swordfish with Garlic Soy Marinade
14. Grilled Swordfish with Lemon Dill Aioli Sauce
15. Grilled Swordfish Steaks with Salsa Verde
16. Swordfish Tomato Curry
17. Pan-Roasted Swordfish
18. Blackened Swordfish
19. Orzo with Grilled Swordfish
20. Air Fryer Grilled Swordfish Steaks with Mango Salsa
21. Basil Pesto Grilled Swordfish
Instructions
Scroll up to get a bunch of easy, yummy, and delicious recipes. Don't be afraid to get creative with the ingredients, you might discover a flavor you didn't know you liked.
Get your shopping list going and make sure you've got all the ingredients.
Get cooking and make your next Swordfish Recipe!
Notes
Which one of these recipes was your favorite? Let me know in the comment section or on Pinterest!