Meal prep Sunday is all about making a week's worth of healthy meals. Get meal prepping with these easy Sunday meal prep and enjoy more make-ahead meals.
Monday mornings are an unfortunate part of life. You've had a relaxed weekend. But come Monday, you are back to the daily grind and don't have time to make a delicious meal.
Sunday meal prep is one way to ease that dreaded Monday feeling. Prepare your weekly meals on a Sunday. Then you have one less thing to worry about!
Meal prep does not necessarily mean having to cook everything on Sunday. There are several prep jobs you can do for your meal plan.
It could be chopping a load of veggies to use throughout the week. Or cooking up a batch of brown rice or quinoa in your instant pot.
That said, cooking up a whole batch of meal-prep recipes is the easiest option. That way, you only need to reheat and eat for an easy meal!
Best Sunday Meal Prep Ideas
Popular meal prep ideas you will find below are –
Meal bowls (such as burrito or burger bowls)
Casseroles
Chicken and rice meals
Skillet dishes
Lentil and quinoa-based meals
Go ahead and browse. You will indeed find something that appeals to you. Enjoy your Sunday meal prep!
Source: allnutritious.com
A filling main dish salad is ideal for Sunday meal prep. Particularly for hot summer days. Your main protein here will be chicken breast.
An array of oranges, beets, and broccoli adds color. You will also find a nutty flavor in the farro. This is a perfect complement to the lean proteins.
The olive oil parsley dressing finishes it nicely and complements the whole grains in a great way!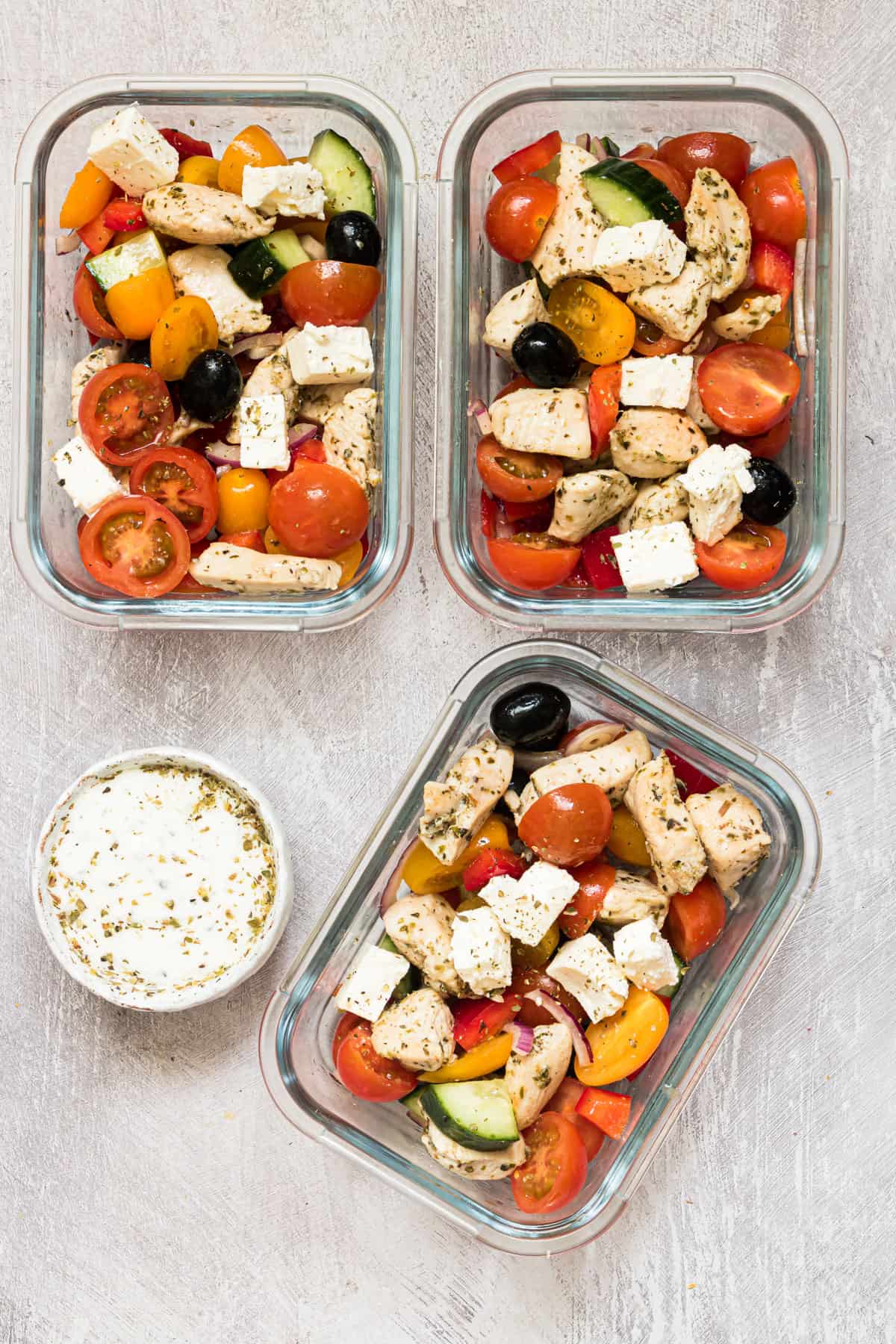 Source: budgetdelicious.com
Greek chicken will take you to the Mediterranean in a bowl for your next meal. A combination of olive oil, garlic, oregano, and lemon makes this dish shine.
Olives are a staple of any Greek meal. Juicy, fresh tomatoes add to the rainbow of color to your weekly meal prep. Bell peppers and cucumber add a crunchy texture.
Add tzatziki just before serving. This would be great in pita bread too!
Source: allnutritious.com
Fish is an excellent protein alternative to meat. Omega-3-filled salmon is the centerpiece of this dish.
Pair sweet veggies with tender salmon. Think parsnips, carrots, beets, and sweet potatoes.
You may, however, prefer less sweet veggies. Tone it down with cauliflower rice or zucchini noodles!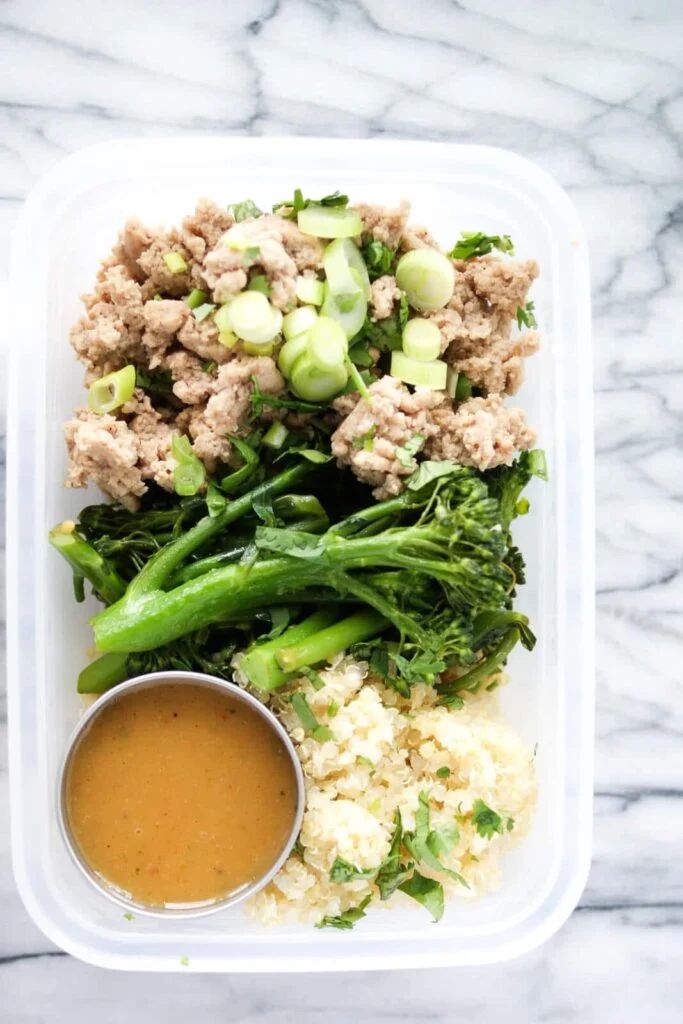 Source: myeverydaytable.com
This ground turkey recipe makes Sunday meal prep super easy! The best part is it only requires four ingredients are required to create this full recipe.
Frozen quinoa and ground turkey are the protein elements. Broccoli will be your veggie side. And Trader Joe's spicy peanut vinaigrette is all you need.
The flavors work so well together! You could sprinkle it with sliced scallions for a little crunch.
Source: allnutritious.com
Chickpeas are high in protein, thus filling you up for longer. They are bland when eaten on their own. However, it gives you countless flavors to experiment with!
This salad comprises popular summer veggies. Combine English cucumber, sharp red onion, and juicy tomatoes. Then mix with garlic, white wine vinegar, and olive oil dressing.
You can test this out with your favorite veggies. Juicier ones make for a more flavorful salad, however!
Source: smackofflavor.com
This pulled pork (and the rice) is best prepared ahead of time. Sunday is the day to do that. Then you can have your weekday meal ready in 10 minutes!
After defrosting, reheat the pulled pork, then add your toppings. This recipe uses corn and black beans. These add sweetness and protein.
Shredded cheese, salsa, and sour cream are also added. What are your go-to burrito toppings? Feel free to use those!
Source: allnutritious.com
Lemon and chicken are a flavor combination that pairs well. A dish that is otherwise savory gains sweetness from the lemon.
The veggies you will be roasting are broccoli and sweet potatoes. The caramelization gained by roasting is beautiful!
Marinating the chicken overnight produces a greater depth of flavor. Add additional sweetness with light dill cherry tomatoes.
Source: budgetdelicious.com
Here you have another spicy chicken recipe to pep up weekday meals. This time you will be using a Jerk seasoning for ultimate flavor.
Chicken thighs are recommended as they remain juicy. You'll have a bowl of zingy rice flavored with lime juice and cilantro.
Serve this with grape tomatoes and your favorite guacamole. This really is one of the best ways to use chicken thighs for meal prep.
Source: allnutritious.com
Burgers make an excellent weekday meal. Especially during summer! This red kidney bean burger bowl is a great burger alternative.
The burger bowl is protein-filled with beans. Spices add a greater depth to them. If you like them hotter, add some hot sauce!
A rainbow of veggies is a perfect pairing to these. Go for English cucumbers, carrots, and beets.
Sliced avocadoes add a softer texture too.
Source: how2doketo.com
Keto Greek salad is prepped in mason jars with this meal. That means you have an easy grab-and-go for busy weekdays!
Feta cheese and green olives are essential. They give the Greek flavors in this. Cucumber and red onion add a crunchy texture.
A Greek-style olive oil dressing completes this salad. You could add lettuce. However, do this right before eating to avoid it becoming soggy!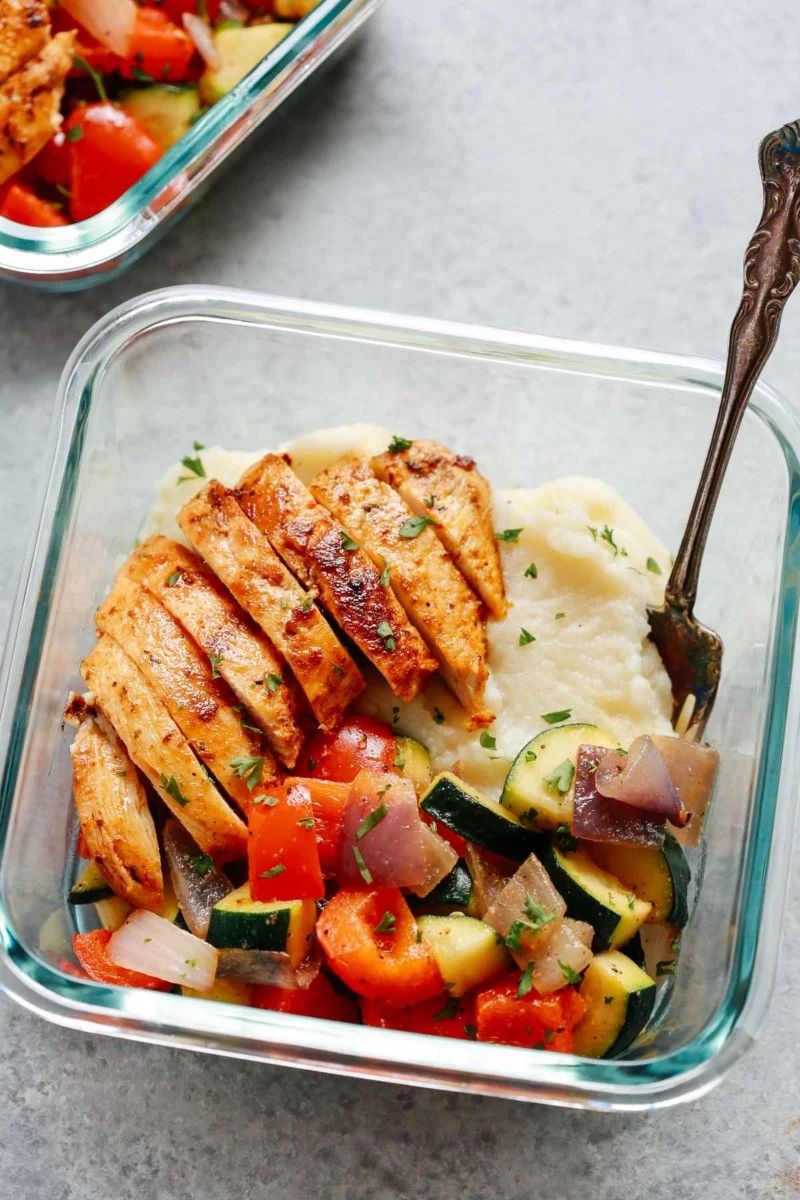 Source: primaverakitchen.com
This chicken meal prep bowl is ideal for preparing in advance. It features a twist on mashed potatoes. You will have cheesy mashed cauliflower instead!
It's loaded with green and red sauteed veggies. These include zucchini, red bell pepper, and red onion.
A paprika and oregano seasoning elevates the chicken. Crumble some feta on top for extra indulgence!
Source: thesoccermomblog.com
This soup is a super quick option for a busy weekday meal. The prep involves no cooking – only chopping!
You can prep your ingredients on Sunday. Then combine them in a freezer bag and freeze.
During the week, it is an easy task. Empty the bag into a pot and cook for half an hour. And hooray, you have tasty soup!
Serve this freezer meal prep with homemade croutons to absorb the leftovers!
Source: recipesfromapantry.com
Following WeightWatchers does not mean missing out. This chicken prep bowl is zero FreeStyleSmartPoints!
The sliced chicken will lay on a bed of spinach. Add your favorite veggies to this. Cucumbers, bell peppers, and tomatoes are good options.
Finish this with hard-boiled eggs and a tangy Greek yogurt dip.
Source: mytherapistcooks.com
For a lighter weekday meal, how about these grain bowls? This one combines chicken with farro. Slow-roasted tomatoes and salad greens join these.
Add a lemony garlic vinaigrette to this meal in two ways. Use it as a chicken marinade for cooking. Plus, a "raw" dressing on the salad.
Finish this chicken grain bowl with other favorite ingredients. Toasted pine nuts or crumbled feta works well!
Source: recipesfromapantry.com
Turkey meatballs are a good alternative for turkey-based meals. You can quickly cook up a big batch in advance.
Ground turkey is the base of these meatballs. Combine it with bell peppers and fresh herbs.
These ground turkey meal prep ideas are ideal served with cauliflower rice. Add some colorful roasted veggies to your plate
Source: allnutritious.com
There is no reason to order takeout during the week. These chicken burrito bowls will satisfy you!
Less than 30 minutes, and these burrito bowls are ready. This recipe will cover two or three days worth of meals.
Pair juicy shredded chicken with spiced rice. Serve these with grape tomatoes, black beans, arugula, and sweet corn!
Drizzle the burrito bowl with Caesar dressing. Or any sauce of your choice!
You might also enjoy these other tasty chicken and rice meal prep ideas.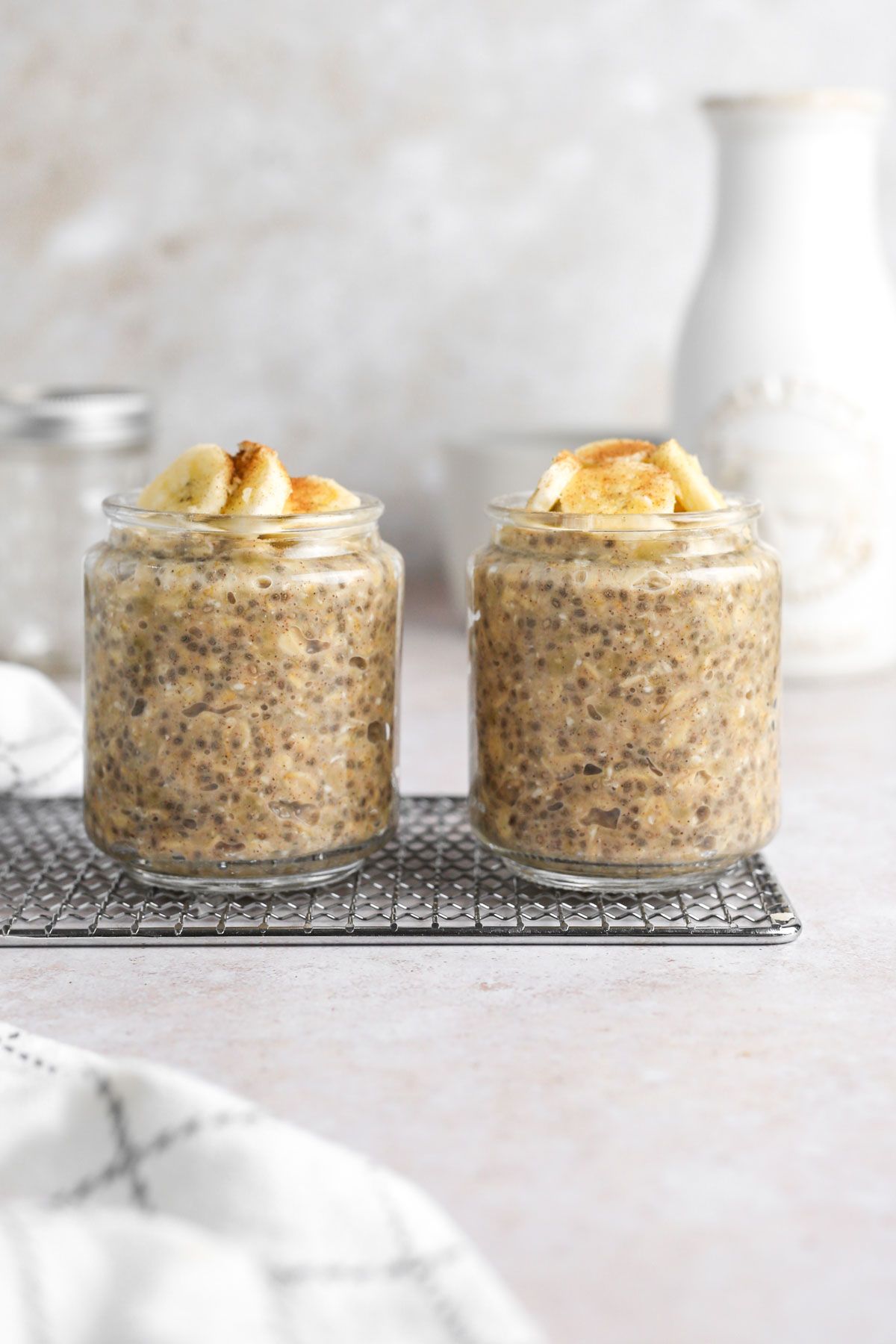 Source: savorthespoonful.com
Overnight oats make a leisurely weekday breakfast. Enough meals are usually prepared the night before. Just serve in bowls or little glass containers straight from the fridge.
This version reveals a delicious banana bread taste for busy mornings! One of the best tips is to use almond milk to produce a hint of nutty flavor.
Overnight oats are incredibly versatile. You could try coconut milk. Add almond butter to the mixture. Or add some pecans on top!
These will make the most important meal of the day even better!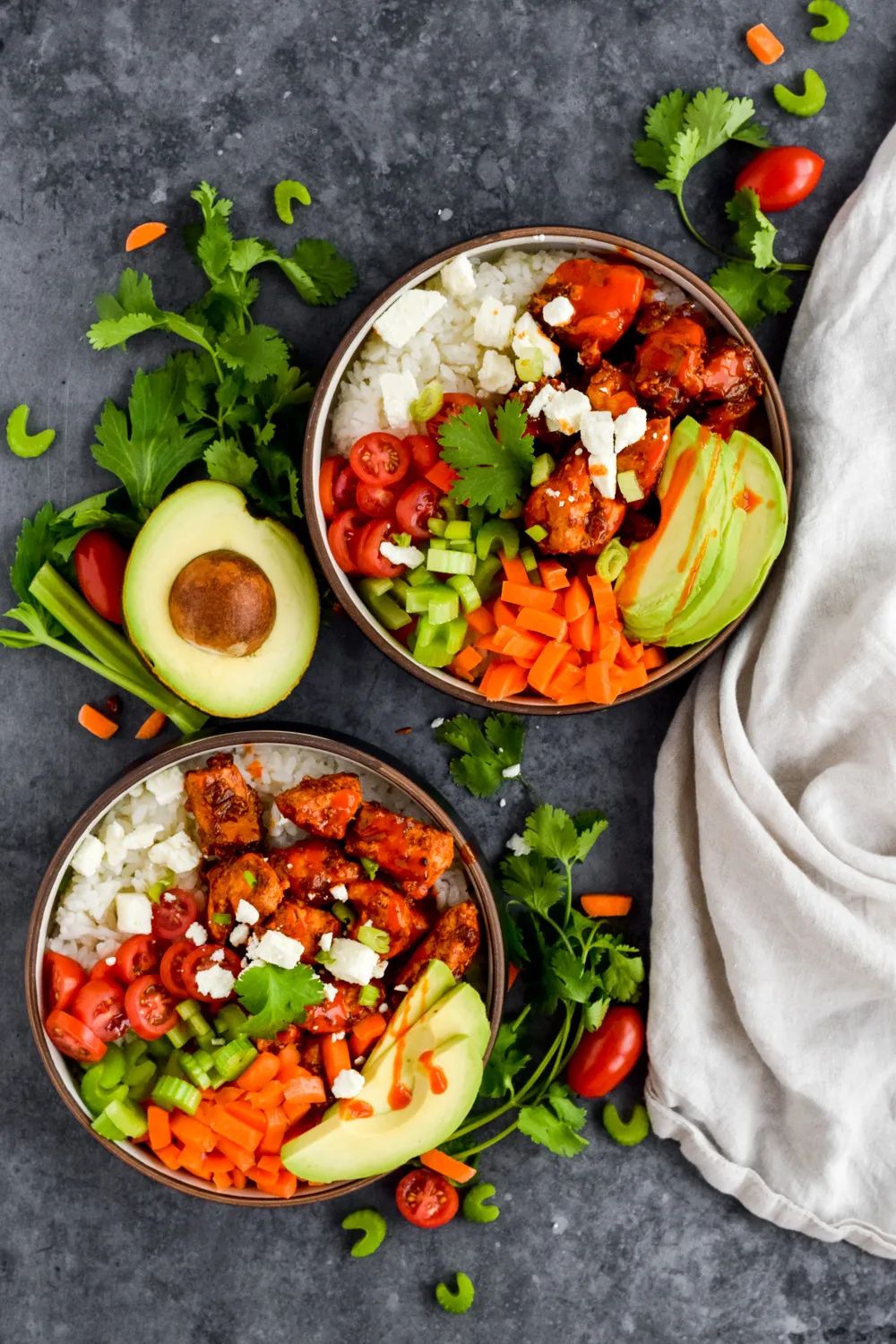 Source: apaigeofpositivity.com
Are you looking for a different type of chicken-based meal? This buffalo chicken and rice bowl are so satisfying!
Crunchy textures are found in raw, chopped veggies. Carrots, onions, and celery are good choices. Add a smoother texture with creamy avocado.
Add some salty feta cheese to the bowl. Top with more buffalo sauce for extra heat!
Source: epicveganeats.com
This is another leisurely breakfast that can be left overnight. The vibrant colors of these chia seed puddings will encourage the kids to tuck right in!
Chia seeds are combined with dairy-free milk, syrup, and vanilla. A quick kiwi puree spooned over the top pops with color.
Add kiwi, blueberries, and toasted coconut flakes. The whole family is going to love this breakfast! These don't take much time, and they make great quick snacks!
Source: nutriciously.com
Soup is an attractive option for a meal during the fall months. This vegan soup with lentils and wilted greens is ideal and packed with plant-based protein.
The red lentils and fragrant spices make this soup hearty and warm. Try adding winter squash to your grocery list for a seasonal touch during the cooler months.
Adding coconut milk will give a creamy taste to the soup. Chickpeas are a good protein option too.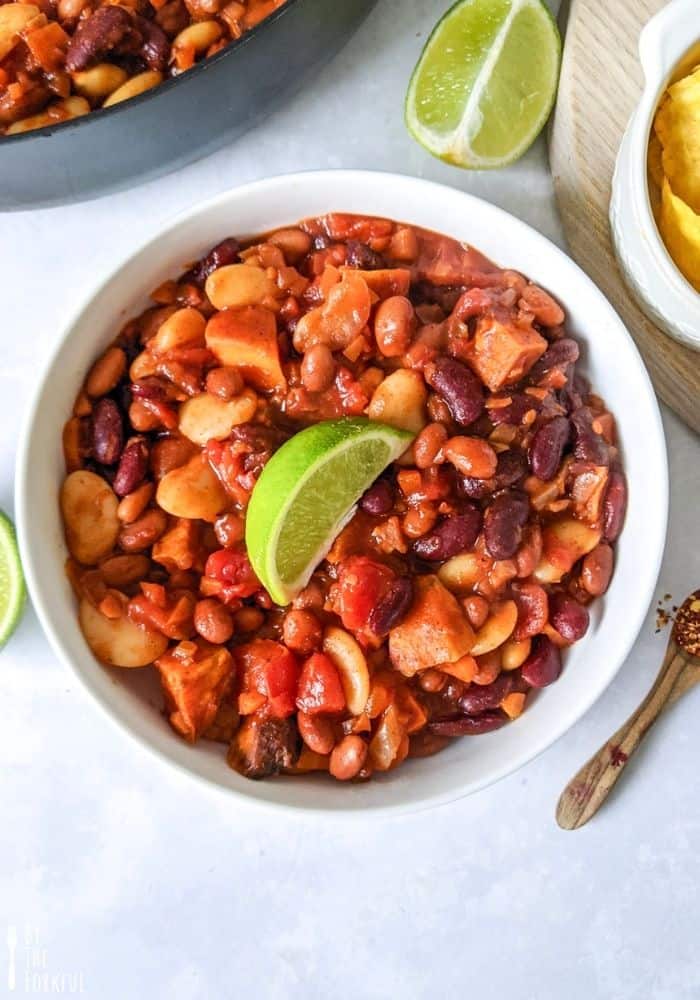 Source: bytheforkful.com
Chili is another warming option for the colder season. This recipe is packed with protein-filled beans you can grab at the grocery store.
You will find pinto beans, kidney beans, and butter beans. You can use whatever beans you have in your pantry, however!
Caramelized sweet potatoes add a precious element you will love. Serve with slices of creamy avocado.
Use crunchy tortilla chips to scoop this up, or serve it with fresh side salads!
Source: runningtothekitchen.com
Beef is another meaty option for a weekday meal. This beef skillet is filled with Southwest Tex-Mex flavors.
Beef and sweet potato are excellent pairings. Garnish with cilantro, creamy avocado slices, and lime wedges.
You can swap the beef for ground turkey if you prefer!
If you have extra beef, these healthy ground beef meal prep recipes will help!
Source: plantbasedonabudget.com
This black bean quinoa casserole is a hearty vegetarian option. It makes a perfect choice for your weekday meal.
Sweet veggies and garlic are steamed and blended. This will be the base of your flavorful sauce.
Red bell pepper and corn add color to your casserole. You can leave the jalapenos out if you don't want it spicy!
Source: healthyrecipes101.com
Mac and cheese is such a comforting dish. However, this version is much healthier! Cauliflower replaces macaroni.
The sauce is not a cheese sauce, either. Instead, you will use a creamy, flavorful sauce thickened with a roux.
You will need to part-cook the cauliflower before oven-baking it. This will help the whole dish cook more quickly!
Do not worry. You will be able to have cheese on top! Sharp cheddar is the best for this. But experiment with your favorites!
Source: thenessykitchen.com
Shepherd's pie is a perfect option for a hearty midweek meal. The pie star is a flavorful, lean ground beef and veggie mixture.
Sweet potatoes replace white potatoes. You could use white potatoes if you do not have sweet ones. However, the sweet potato will elevate the flavor.
This is tasty and nutritious enough on its own. Still, feel free to add extra veggies!
Source: withspice.com
You may wonder what a breakfast strata is. Well, it is a casserole that can be prepared the night before needed.
It needs to be stored in the fridge. Then pop it in the oven in the morning. No prep required!
This strata is perfect for the festive season. Soft buttery brioche is used as the vessel for the other delicious ingredients.
Nutty gruyere and savory sausage are the optimal flavors. Diced green apples and fennel add a sweet contrast.
It is all baked in a creamy egg custard and best served warmly from the oven!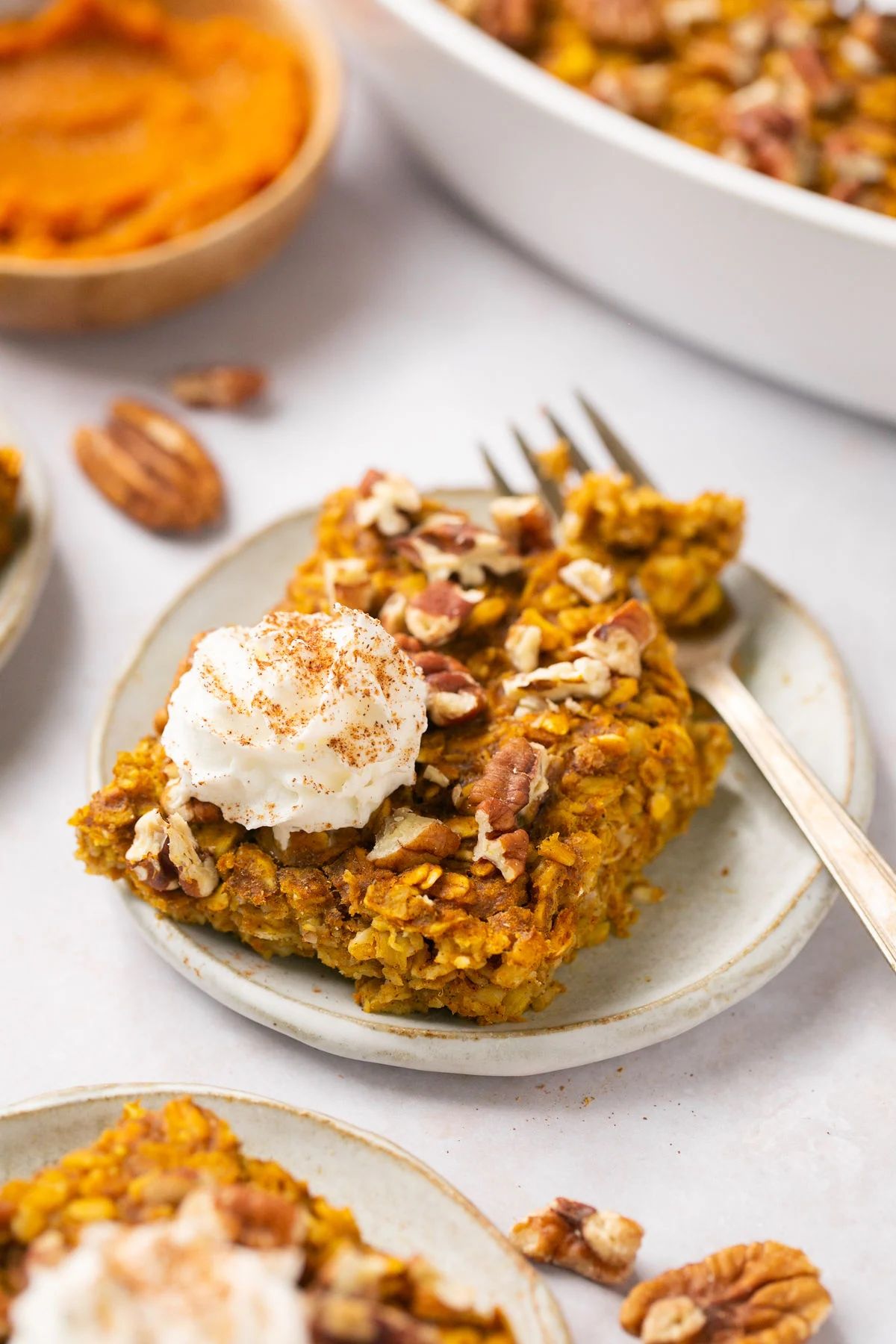 Source: maryswholelife.com
Pumpkin-baked oatmeal is another seasonal breakfast. Again, perfect for the festive season with its warming spices!
Pumpkin puree provides a creamy texture for this oatmeal. You could swap this for canned sweet potato if you prefer.
Pecan halves provide a crunchy topping for this baked breakfast. Serve with coconut cream and a drizzle of maple syrup!
Source: clankitchen.com
Stuffed peppers are the perfect Sunday meal prep. They can be frozen before cooking, so grab and go after a busy day.
They will be stuffed with ground turkey, black beans, quinoa, and brown rice.
Add a smoky taste to the filling with your spice mixture. Using smoked paprika is crucial for this.
You can omit the quinoa and use extra rice if you prefer!
Source: hurrythefoodup.com
Moussaka is one of the most loved Greek comfort foods. It's a lasagna, but Greek style.
This version is created with lentils and eggplant. Ground beef is swapped out for the lentils. And the eggplant replaces the traditional lasagna noodles.
Finish the moussaka with grated mozzarella for a creamy, cheesy topping!
Source: pureandsimplenourishment.com
Your penultimate dish is this bacon and vegetable egg casserole. It is filled with so many flavors and nutritious veggies.
Tomatoes, bell peppers, spinach, and green onions will satisfy you! Pre-cooked salty bacon adds a wonderful crunchy texture.
Experiment with the flavors of this by using your favorite veggies!
Source: zucchinizone.com
These egg muffins are ideal for a light weekday lunch. They are like mini frittatas – filled with zucchini, cheddar cheese, and onion.
Combine the fillings with eggs, salt, pepper, and basil. The muffins take around 30 minutes to cook.
Egg muffins are versatile. Try your favorite veggies – mushrooms would work well. How about goat's cheese too?
31 Sunday Meal Prep Ideas to Eat Healthy This Week
Yield:
2-4 meal prep containers
Needing some lighter meals for this summer? Try these Sunday Meal Prep recipes and enjoy having meals for days to come.
Ingredients
1. Chicken Farro Salad
2. Greek Chicken Meal Prep Bowl
3. Salmon Meal Prep with Veggies
4. Ground Turkey Meal Prep Bowl
5. Chickpea Salad
6. Pulled pork Burrito Bowl
7. Lemon Chicken and Veggies
8. Chicken and Rice
9. Red Kidney Bean Burger Bowls
10. Keto Greek Salad
11. Low Carb Chicken Meal Prep Bowl
12. Freezer Chicken Soup
13. Zero Freestyle Points Healthy Chicken
14. Chicken Grain Bowls
15. Air fryer Turkey Meatballs
16. Chicken Burrito Bowls
17. Banana Cinnamon Overnight Oats
18. Buffalo Chicken Rice Bowl
19. Kiwi Chia Pudding
20. Vegan Lentil Soup
21. Vegetarian Bean Chilli
22. Beef and Sweet Potato Skillet
23. Quinoa Casserole
24. Cauliflower Mac and Cheese
25. Sweet Potato Shepherd's Pie
26. Breakfast Strata
27. Pumpkin Pecan Baked Oatmeal
27. Pumpkin Pecan Baked Oatmeal
28. Stuffed Peppers
28. Stuffed Peppers
29. Vegetarian Moussaka
29. Vegetarian Moussaka
30. Bacon and Vegetable Egg Casserole
30. Bacon and Vegetable Egg Casserole
31. Zucchini Egg Muffins
31. Zucchini Egg Muffins
Instructions
Scroll up to get a bunch of easy, yummy, and delicious meal prep recipes. Don't be afraid to get creative with the ingredients. You might discover a flavor you didn't know you liked.
Get your shopping list going, and make sure you've got all the ingredients.
Get cooking and make your next Sunday Meal Prep!
Notes
Which one of these recipes was your favorite? Let me know in the comment section or on Pinterest!