Not sure what to cook in a rice cooker? Don't fret! These 27 perfect rice cooker recipes will definitely get you your money's worth from this appliance!
If rice is your all-time favorite grain to cook, then having a rice cooker at home makes all the sense. It takes all the guesswork away, and it provides that consistent fluff, every single time.
Whether you're just learning how to use your shiny new appliance, or you need some more rice cooker meals to enrich your recipe folder with, this post can surely help.
We will not only learn how to easily make the top 27 rice cooker dishes you can possibly find, but we'll also learn that this appliance is made for more.
Whether it's jasmine rice, basmati rice, long-grain rice, or even cake, quinoa, pancake, and pudding, you can make it all.
How to Cook Rice in a Rice Cooker?
The greatest thing about having a rice cooker is that you can just add all types of rice, set the setting, and forget about it. No watching it cook, no hassle involved.
But to be able to achieve the perfect consistency, you need to nail the ideal ratio, first.
Most rice cookers use a 1:1 ratio (1 cup of rice with 1 cup of water), but there are also some that recommend 1:1.5 (1 cup of rice with 1 ½ cups of water).
Once you find what works best, you simply place the rinsed rice inside, add the liquid, set the setting (quick, normal, etc.), and that's it.
After cooking, allow the rice to sit closed for a few minutes, then open the lid, fluff the cooked rice, and enjoy!
What Should You Add to Rice to Make It Delicious?
This depends on your preferences, really, but as a general rule, make sure to always add some spices and herbs to your rice for a better taste.
I'd also suggest you add a tablespoon of butter just after cooking the plain rice for some extra flavor and silkiness.
And, of course, you cannot go wrong with good old soy sauce or parmesan cheese on top.
If making loaded rice, add some veggies for a flavor, color, texture, and nutrition boost.
Another great trick is not to cook your rice with water but with broth, for an even more delicious result.
Japanese Rice Cooker Recipes
Having a rice cooker and not cooking some Japanese-style recipes in it is almost a crime. Here are the best Japanese rice delights to whip up in your cooker.
This recipe takes a classic carrot and pea combo and gives it a delightful Japanese makeover.
With scrambled eggs, green onion, and garlic, in a delicious oyster and soy sauce mixture, this yummy recipe is the perfect lunch or weeknight dinner for the whole family.
Plus, it is a great way to sneak some more veggies into your diet, without even realizing. Add a small onion, and shitake mushrooms and completely transform this veggie dish!
Check out other cheap dinner recipes here.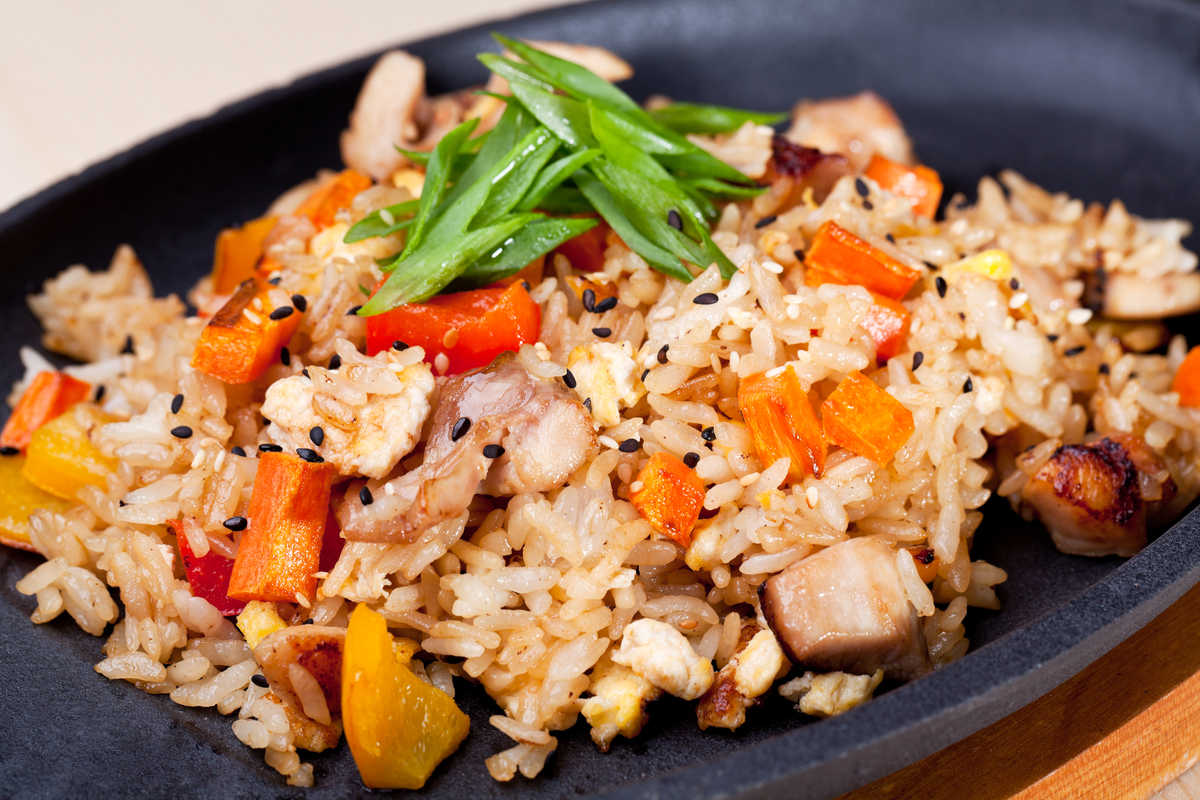 Veggies and tuna join forces with rice in this delicious, nutritious, and super-filling recipe. These key ingredients create a beautiful dish you'll love.
With some shiitake, sake, soy sauce, and hijiki, you will bring the flavors of Japan straight to your kitchen in just under an hour.
Originally called Tuna Takikomi, this rice dish is low in calories, super light, and loaded with healthy proteins. A definite keeper, don't you think?
If you've always felt intimidated to try making an authentic Japanese cheesecake, now is the time to change that.
With your rice cooker and this amazing recipe, you can easily whip up a super fluffy cheesecake with as little of a hassle as possible.
Simply follow the instructions closely, whip up everything nicely, and let the rice cooker do its thing.
Four incredible ingredients for the most exciting rice dish you've ever tried! Edamame rice for the win!
Besides rice and edamame, this recipe also depends on nametake – a seasoned mushroom that's bottled or jarred, and Ochazuke Wakame – practically a seaweed and rice cracker mixture.
As you can already guess, this recipe is loaded with texture and amazing flavors that I bet you cannot wait to try. This will definitely become one of your favorite rice recipes quickly!
Chinese Rice Cooker Recipes
Just like Japanese rice, Chinese-style rice recipes are also a must-try in your rice cooker. Here are the best choices to make your fluffy rice with pressure cooker.
Pork. Shrimp. Chinese Sausages. Shiitake. These three ingredients are the star of this recipe, and along with sticky glutinous rice, they make one heck of a one-bowl dinner.
The garlicky and gingery oyster/soy sauce infuses the whole dish in flavors that are hard to resist.
If this is too protein-packed for your taste, know that you can only choose one – pork, shrimp, or sausage – and it will still be super delicious.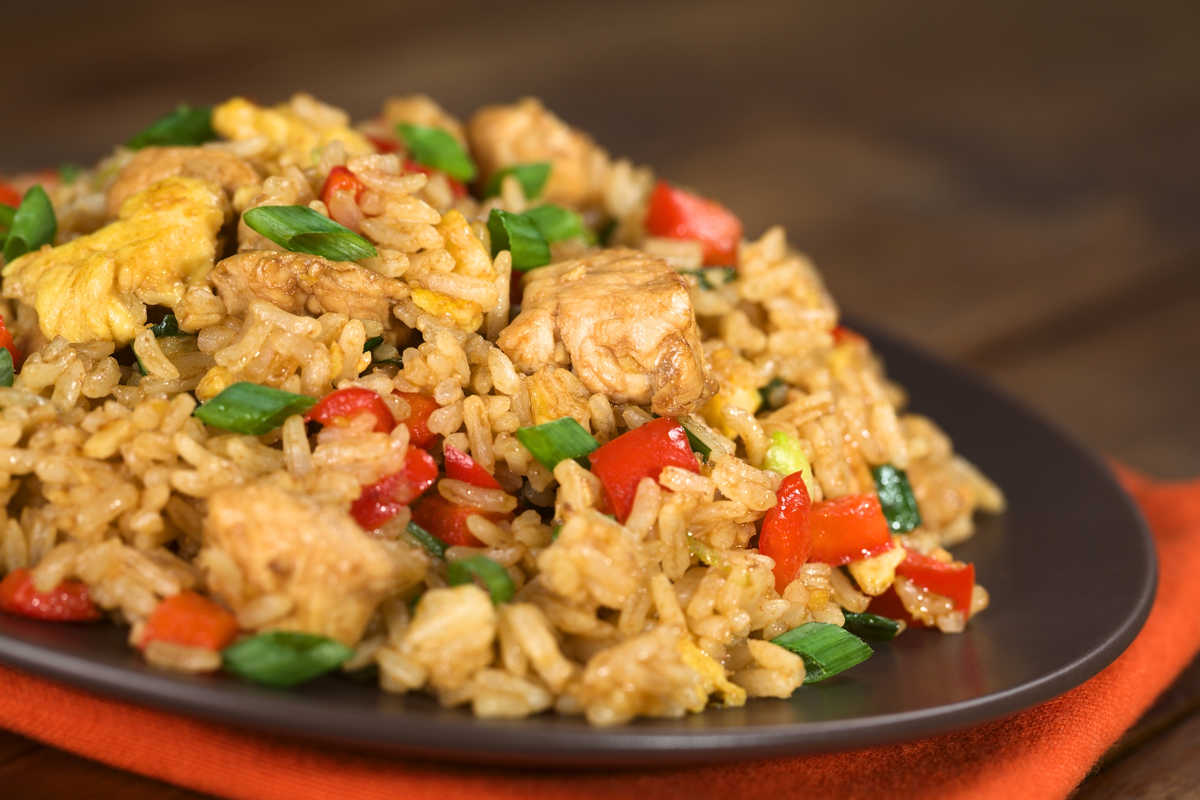 Rice and potatoes with sausage, carrots, and peas may not scream Chinese, but once you add the oyster and soy sauce, the dish takes on a whole different flavor.
So well-seasoned and chock full of delicious notes, this dump-and-forget-about-it dish is the definition of a minimal-prep dinner.
It may cook for an hour, but it really takes only 5 minutes to whip it up. Check out more Sunday dinner ideas here.
If you need a decent recipe for your "emergency recipes" folder, then this Chinese sausage with rice is the perfect safe on the busiest weeknights.
With just three ingredients – rice, Lap Cheong (which is the Chinese sausage), and water – you can have a delicious meal in just 25 minutes.
Feel free to drizzle with some soy sauce for an even more delicious taste.
Lo Ma Gai is a rice dish that also uses the Chinese sausage (Lap Cheong) as the main ingredient. If you cannot find it, though, use some other pork sausage, or even thicker pepperoni slices.
With glutinous rice, ginger, garlic, dried shrimp, and some minced meat, this sticky and saucy dish will give you your Chinese-food fix after a single bite.
Healthy Rice Cooker Recipes
Looking for healthier recipes that are not too heavy on sugary seasonings? Then you cannot find a better suit for your rice cooker than these delicacies.
Yup, in case you didn't know, you can also use your rice cooker to cook quinoa. And it will be without fail, super fluffy, easy, and always consistent!
The key to having a perfect consistency? Allowing the cooked quinoa to sit in the cooker for 5 minutes before opening the lid.
When you need some white rice to be the side dish to your entrée, you want it to be fluffy, just slightly sticky, and to really hold its shape.
And how to achieve that when you're busy stirring and whisking on the stove? With your rice cooker, of course!
And this classic white rice recipe will be the base for your many rice-cooker adventures! This is the type of rice everyone has at home and you can make it taste awesome with simple ingredients. Now, what's better than that?
Just like with white rice, with some meals, you will need to serve a decent portion of brown rice on the side.
This recipe is the only brown rice recipe you will ever need, as it can be further customized to your liking, easily.
Explained in detail how to best cook brown rice, this recipe is a must-try.
Got some turmeric powder? Rice and turmeric are always a satisfying combination, especially if you plan on serving it with some spicy, Indian-style chicken.
Deep in yellow color, super fragrant, and buttery, this silky turmeric rice cooked in the chicken broth will be a total hit on your table, every time.
Check out more side dishes for chicken.
If you are a fan of one-pot recipes, then this rice with chicken thighs and veggies will definitely be a life-saver on those busy nights when you're too tired to cook (or clean after) a meal.
A full meal with grain, protein, and steamed veggies, with the minimum amount of effort and preparation.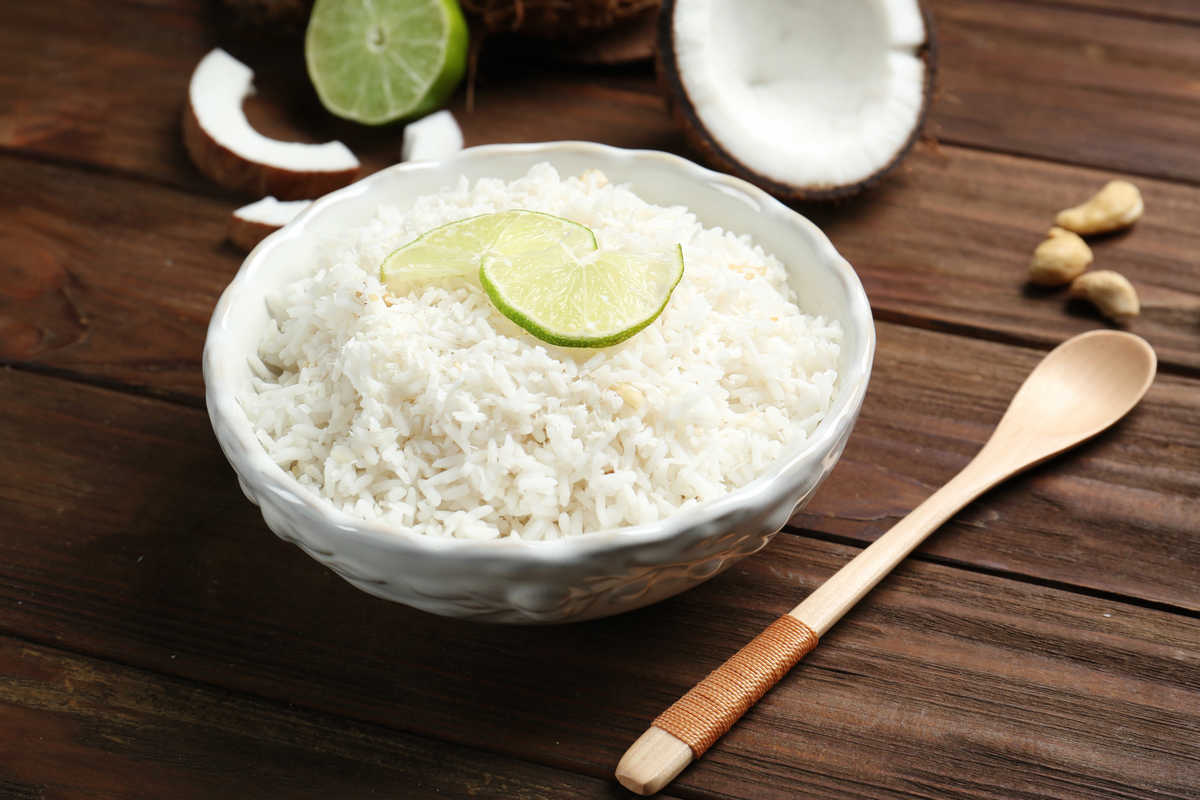 White rice cooked with coconut milk and drizzled with lime juice after being fluffed up will bring a whole new and fresh flavor to your table.
If you cannot quite cook rice perfectly, this recipe will be a total change in your game.
So healthy and fragrant, this will be the perfect side dish for different dishes. Coconut rice is just so delicious and you can prepare it with minimal effort.
Okay, let's face it. Chicken with rice and mushrooms has to be one of the main things we usually cook. This is yet another reason why you so desperately need this recipe.
Although it requires a bit more time and effort, this Chinese-style, sausage-loaded chicken and rice dish with shiitakes is something you just have to try.
Saffron is the thing your rice needs when you want it NOT to be boring. I'm talking about those special-occasion dinners when you want to serve plain rice, but don't want it to be bland.
In those times, this recipe comes to the rescue!
Buttery, saffron-y, and cooked in broth and lemon juice, this aromatic and flavorful dish makes one exciting side dish.
This is a great side dish for polish sausage recipes.
Best Rice Cooker Recipes
Why settle for the rest, when you can have the best? These are the top rice cooker recipes you simply have to try making in this appliance.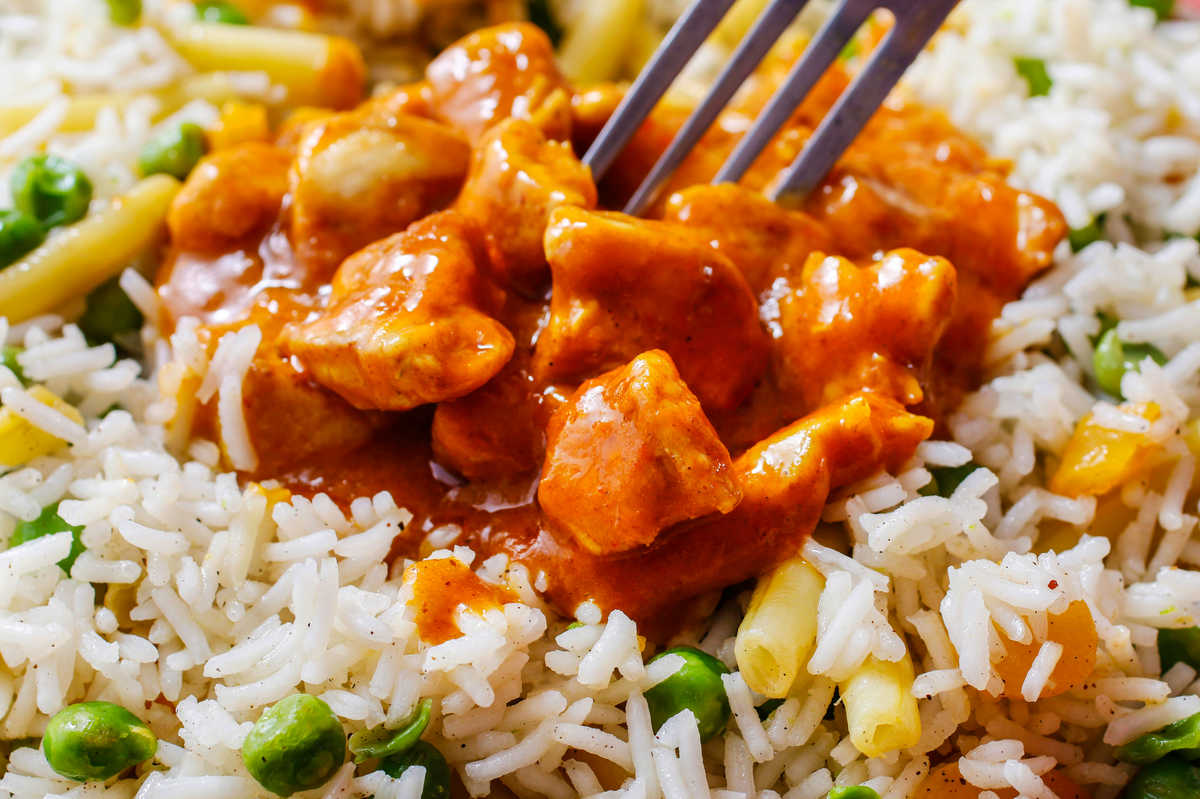 A Singapore's classic, this authentic chicken and rice dish is made in a spicy sauce with garlic and ginger. One of the best things you can make in your rice cookers, for sure.
If you don't take heat well, reduce or omit the red chili peppers (this recipe suggests a whopping 8 to 12), but I suggest adding some red chili flakes, just to at least have a spicy kick.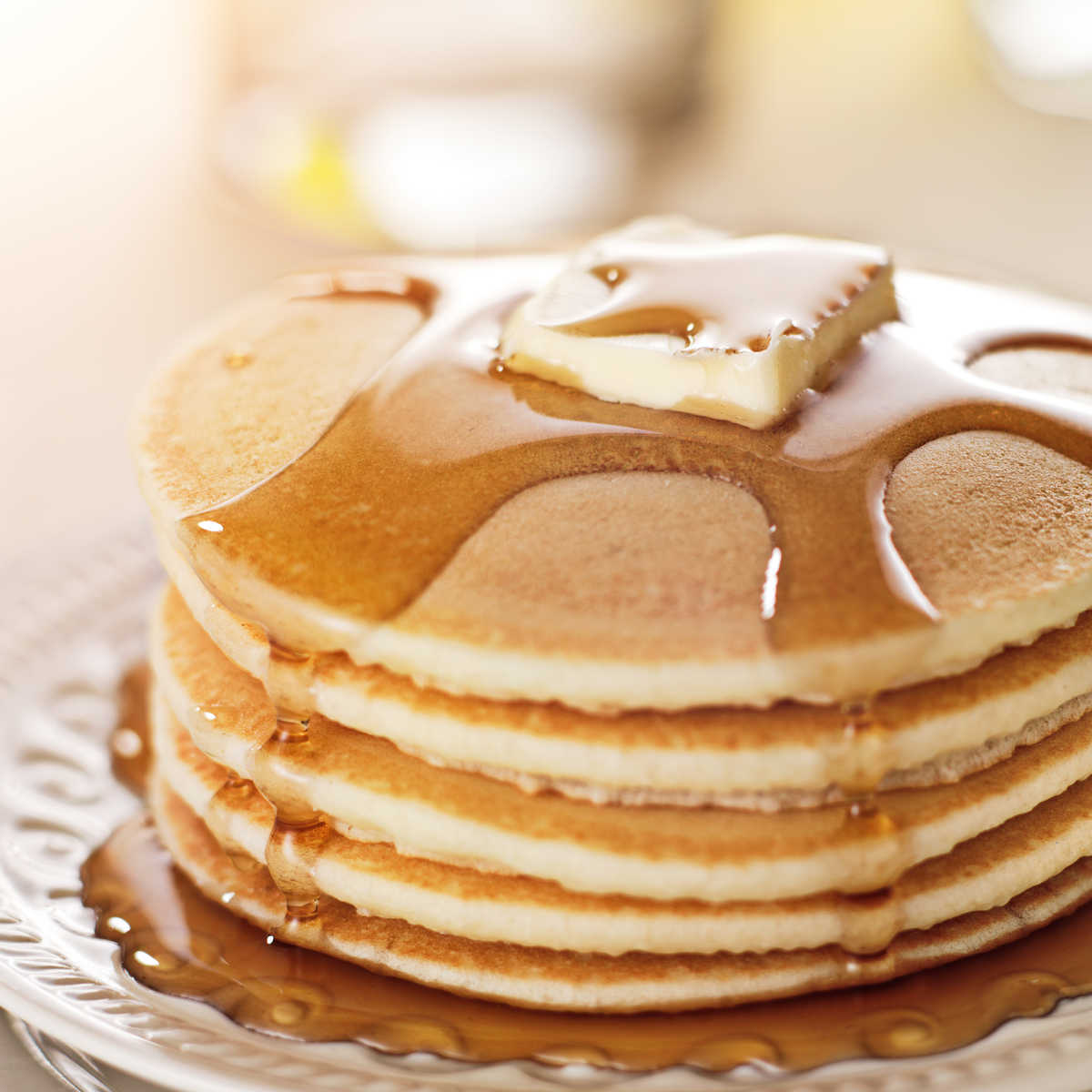 Although technically we call them pancakes, every time I make this for breakfast, I am tempted to reach for my mixer, butter, and sugar and whip up a buttercream to ice this cake.
Perfect when drizzled with maple syrup, but even more delicious with some icing or chocolate ganache on top, if you ask me.
A great recipe that serves both purposes!
We already covered one plain quinoa recipe, but this method is definitely my favorite.
I don't know if it's the bay leaf, or the fact that it uses ¼ cup of water more than the other recipe, there is just something about the taste that I absolutely adore.
Feel free to try both versions and see for yourselves, but if you ask me, this one wears the crown.
Don't have an oven? Not a problem! With this recipe, you can easily make an upside-down apple cake in your rice cooker.
Soft, fluffy, sugary, with honeyed apples on top that are more than finger-licking.
Serve with some whipped cream on the side, and I dare you to only have one slice.
A great upside-down cake that is made with plums, but also gives you three more topping options – plums, oranges, and mangoes.
The plums are definitely my favorite, as they are slightly sour, and when combined with the sugar and the softness of the cake, they make a delicious balance.
Serve warm with an ice cream scoop for the ultimate indulgence.
Milky, sweet, and vanilla-flavored, this melt-in-your-mouth rice pudding will be the perfect afternoon pick-me-up to satisfy your sweet tooth.
I love it with a dash of cinnamon on top, but feel free to serve it however you prefer.
Quick to prep, longer to cook, with an extra hour in the fridge, but it is surely worth the wait.
Rice with cheese and broccoli? Yes, please!
Cooked in chicken broth and enriched with some dried onions, garlic powder, cheddar, and butter, this rice dish with broccoli makes one filling side dish.
Feel free to also use garlic cloves! Try it with chicken, and see what I mean! This is the rice cooker meal you will not be able to stop eating!
When we say Mexican rice, we usually mean spicy, and this recipe surely lives up to the expectation.
With diced green chilies, tomatoes, onions, and a generous amount of butter, this simple yet super flavorful side dish is something you have to try.
If you want some more texture, feel free to add some beans or corn to it. Check out more Mexican side dishes here!
Have you ever tried rice cooker mac? Mac and cheese from the rice cooker is everything you can hope for.
Creamy, cheesy, milky, and with just the right amount of seasonings to make it one of your best mac and cheese recipes ever.
No pre-boiling of the pasta, no draining is needed. A truly, one-pot dish! This will soon become your favorite recipe!
Parmesan rice is just that – rice loaded with parmesan cheese. But there is actually more.
Also rich in butter and garlic, this simple rice side dish is incredibly rich in silkiness and flavor. Fragrance, too.
Perfect for meal prep for all of you busy cooks out there, this parmesan rice will complement every meat-based dinner perfectly.
Ribs and rice straight from the rice cooker is something you simply shouldn't ignore. Or should I say mustn't? Because, really, it is that good!
Gingery, garlicky, with carrots, shiitakes, and a rich soy sauce flavor, this dish delivers nothing but the most satisfying taste.
The ribs are also marinated in dark soy sauce, which gives yet a deeper flavor to this dish! Sticky and finger-licking, just how you like them!
27 Best Rice Cooker Recipes
Got a rice cooker at home? Get creative with these delicious rice cooker recipes. They're easy, yummy, and just great for dinner.
Ingredients
1. Veggie Fried Rice
2. Tuna Takikomi Rice
3. Japanese Cheesecake
4. Edamame Rice
5. Chinese Sticky Rice
6. Chinese Fried Rice
7. Chinese Sausage Lap Cheong
8. Lo Ma Gai
9. Quinoa
10. Perfect White Rice
11. Brown Rice
12. Turmeric Rice
13. Chicken Rice with Vegetables
14. Coconut Lime Rice
15. Chicken and Mushroom Rice
16. Saffron Rice
17. Hainanese Chicken Rice
18. Giant Pancakes
19. Quinoa
20. Honey Glazed Upside Down Apple Cake
21. Upside Down Cake: Pineapple, Plum, or Orange
22. Rice Pudding
23. Cheesy Broccoli Rice
24. Mexican Rice
25. Mac and Cheese
26. Parmesan Rice
27. Ribs and Rice
Instructions
Scroll up to get a bunch of easy, yummy, and delicious recipes. Don't be afraid to get creative with the ingredients, you might discover a flavor you didn't know you liked.
Get your shopping list going and make sure you've got all the ingredients.
Get cooking and make your next Rice Cooker Recipe!
Notes
Which one of these recipes was your favorite? Let me know in the comment section or on Pinterest!