The pork butt doesn't come from the pig's rear end! It's a deliciously well-marbled cut of pork that's also known as pork shoulder. These mouthwatering pork butt recipes are perfect for Sunday dinner!
If you've ever eaten a particularly good pulled pork taco or slow-cooked pork dish, chances are it was made with pork butt or also known as the shoulder of the pig!
To become a pork connoisseur yourself, knowing how to cook pork butt is essential. Luckily, there are many methods to try. I've listed just thirty-one of many tasty pork shoulder recipe ideas here.
Ready? Shoulders down, and let's dive in!
How Long Does It Take to Cook a Pork Butt?
Cooking a pork butt can take several hours at a low temperature, depending on which method you choose and how big your piece of pork butt roast is. It's quite an undertaking but well worth the effort!
One common way to cook a pork butt is to smoke it, which can take anywhere from 8 to 14 hours, depending on the temperature and the size of the pork butt. This is guaranteed to have extra flavor!
Another popular method is roasting it in the oven, which can take 4 to 6 hours at a temperature of 325°F (163°C). It's important to have a meat thermometer handy!
However you cook your pork shoulder roast, it's important that the internal temperature of the pork butt reach 195°F (90°C) to ensure that it is cooked and tender enough to pull apart with a fork.
How Do You Cook Pork Butt?
Cooking your pork butt is a skill and an art, which means there are a few different ways to approach it.
From oven baking to Instant Pot stewing, and pressure cooker, there are many ways to try and find the best way.
One of the most traditional ways of cooking this cut of meat is to roast and then smoke it. This gives the flavorful meat plenty of time to break down and become tender while gaining a ton of flavor.
Here's a quick look at the process:
Season the pork butt with your preferred dry rub or marinade, and let it sit in the refrigerator for at least a few hours or overnight.
Preheat your smoker or oven to the desired temperature (usually between 225°F to 325°F).
Place the pork butt on the smoker or roasting pan in the oven and cook until the internal temperature reaches 195°F (90°C).
For smoking, you'll want to use wood chips to add flavor and monitor the temperature and smoke levels throughout the cooking process. For roasting, you may occasionally baste the pork butt with the juices that accumulate in the pan.
Once the pork butt is cooked, remove it from the heat and let it rest for at least 30 minutes before pulling it apart with a fork.
Serve the pulled pork with your favorite BBQ sauce or toppings, and enjoy!
Best Pork Butt Recipes
Source: pressurecookrecipes.com
The pork roast is one of the best and the most traditional ways to cook a pork shoulder. That's why it's survived the test of time!
This Instant Pot pork roast is a great way to enjoy this hefty protein on a weeknight with a shorter cooking time thanks to high pressure cooking.
Cooked to tender perfection, this is delicious on mashed potatoes or rice to complete the main dish for a special occasion.
This is one of the best dinner recipes for tonight that everyone would love!
Source: corriecooks.com
Here's another take on Instant Pot pork butt. This time, the goal is to caramelize the sauce onto the pork as much as possible. This easy recipe packs the pork full of flavor and makes it wildly tender.
With a balance of sweetness and savory, this versatile pork can be a part of almost any meal paired with your favorite side dishes.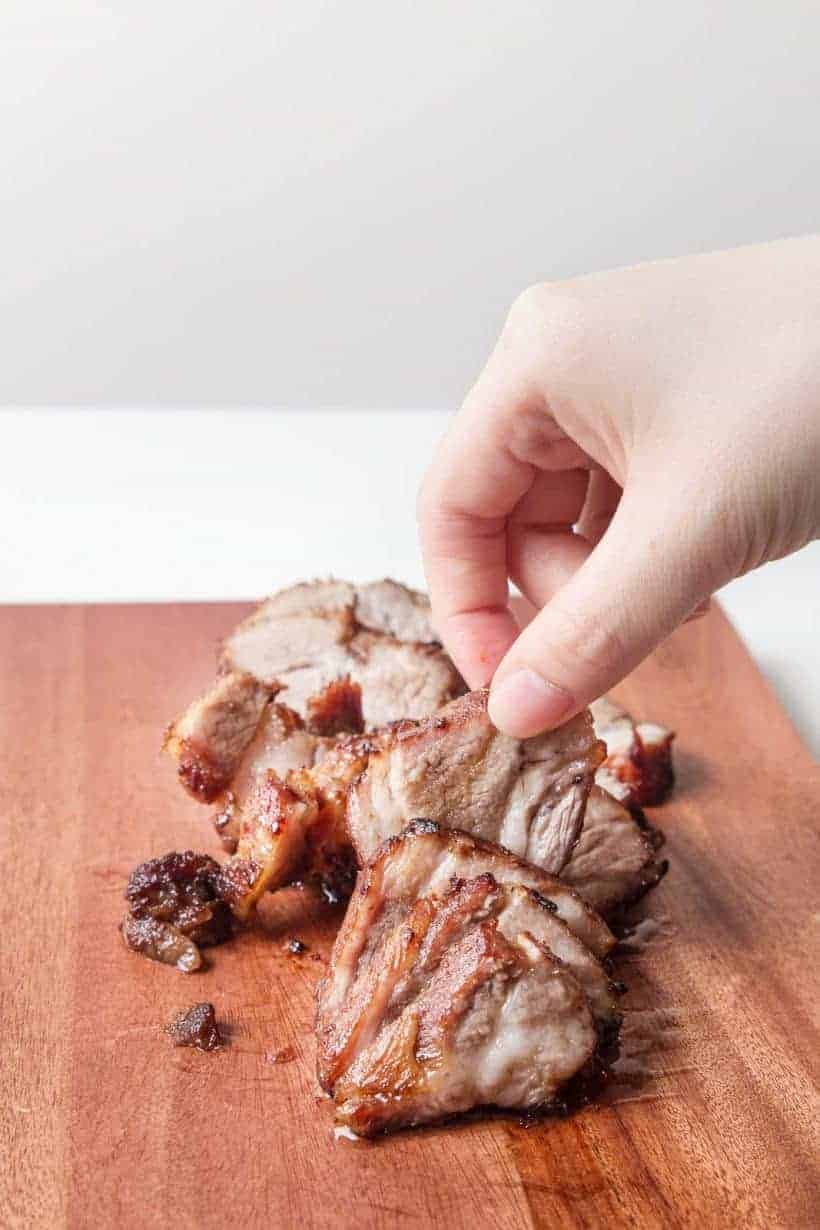 Source: pressurecookrecipes.com
Have you ever tried to make char siu pork at home? Whether you need a ramen topping or something to go with your fried noodles, this is the protein to reach for.
This super easy Instant Pot char siu puts this Chinese food delicacy within easy reach in just one hour!
Check out these other appetizing pressure cooker recipes!
Source: greedygirlgourmet.com
Also known as Tau Yew Bak, this Chinese braised pork is comfort food at its best. The braise on the pork makes it super tender, packing the marbled meat with fragrant flavor.
In Singapore, this is a weeknight comfort food dish for the whole family. You can make it with just a few ingredients, so no big night in the kitchen is needed!
Source: inmamamaggieskitchen.com
Ever had traditional tamales before? Now's the time! These green pork tamales are named for the savory tomatillo sauce you drizzle on top.
The crunch of the fresh corn husks against the shredded pork makes this dish sing. It's a great weekend recipe, needing a lot of prep time, but well worth the wait!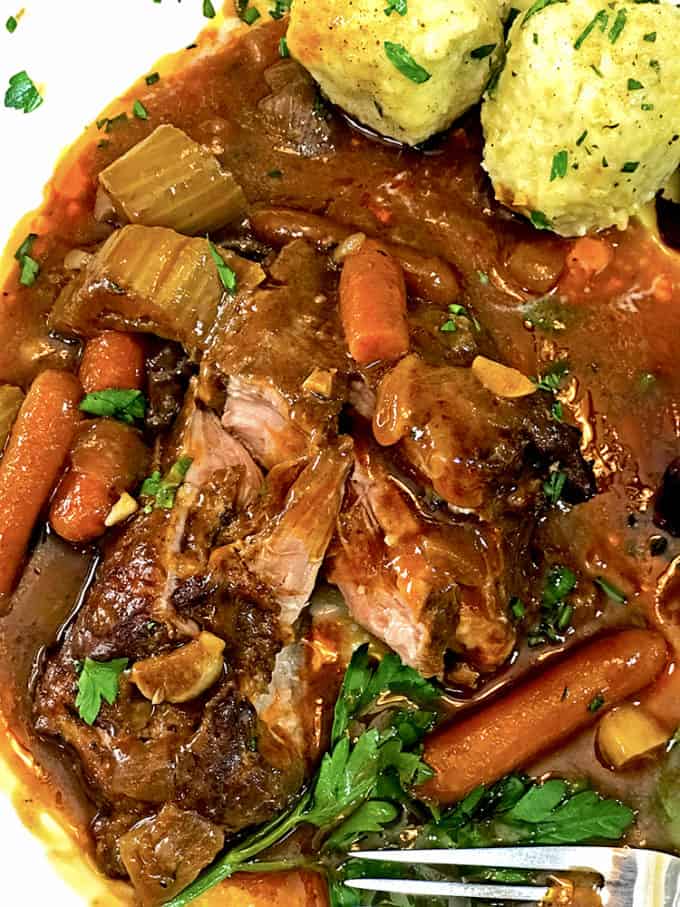 Source: plattertalk.com
If you're looking for something hearty and warming, this braised pork butt recipe has your back! This has a super thick and hearty sauce packed with French, English, and Italian influences.
This is a one-pot wonder with a ton of flavor, so it's perfect for leaving simmering for your whole weekday.
Source: cooklikeczechs.com
Oven roasting your pork shoulder promises a delicious crust of flavor baked onto the outside, with tender, marbled meat on the inside.
This recipe uses a selection of spices to create a distinctly Czech flavor. That's why it's so great with potato dumplings and a dose of braised cabbage.
This roast is one of the best fancy dinner recipes for a special occasion!
Source: balancewithjess.com
A good ragu is its own reward, and this recipe is proof! Picture perfectly shredded pork in a rich sauce tossed through tender, chewy pasta ribbons.
This is an Italian delight you can enjoy in just 90 minutes, thanks to the magic of the Instant Pot!
Source: cookeatworld.com
If you're a fan of Mexican food, then this is a recipe you need to know. Pozole rojo is a red version of a popular Mexican soup with shredded pork shoulder as its centerpiece.
With nuggets of hominy, shredded pork, and vegetables, this is a warming and healthy soup that can't be missed.
Source: madcreationshub.com
Sick of picking meat off the bone when you go to eat ribs? Never fear. There's an alternative! These country-style boneless pork ribs are sticky, tender, and flavorful.
These are so good with a simple side salad or even a handful of home fries.
Source: seasonandthyme.com
With just a few minutes of hands-on work, this recipe is one for busy home cooks. The Greek influences in this dish give it a subtle heat and herbaceous flavor you can't beat.
This cooks for six to eight hours on low, so it's an ideal Sunday roast if you don't want to put too much effort in.
Source: senseandedibility.com
Hailing from Jamaica, the flavors on this Jerk Pernil are out of this world. The spice marinade on this pork butt makes it insanely flavorful while keeping the inside tender and moist.
Smoky, spicy, and slightly sweet, nothing can quite beat the taste of this pork on a summer evening.
Source: quichemygrits.com
If you're lucky enough to own a Dutch oven, you must try this pulled pork recipe! Cooking the pork in this sealed container keeps all the steam and flavor inside, making it super tender.
Once you have your pulled pork, you can use it to make anything! From sandwiches to tacos, the world is your oyster with this recipe.
Source: balancewithjess.com
Known as 'Thit Nuong,' these Vietnamese pork skewers pack a real punch. With this recipe, the key is to slice the pork nice and thin so that it cooks quickly and stays juicy.
These skewers are fantastic for potlucks and BBQs, especially if you're low on time and want to impress!
Source: eatinginaninstant.com
Chile verde can take a while to make, but this recipe is dead simple! This could be your Saturday dinner with just a handful of ingredients – including your trusty pork shoulder.
This dish is packed with aromatics and spices that make it as bold as it is colorful.
Slow Cooker Pork Butt Recipes
Source: mykitchenlove.com
First on our slow cooker list is porchetta spiced pulled pork, a super tender and flavorful variation of slow-cooked pork. Thanks to the abundance of spices, this has tons of natural flavors.
The primary notes in this spice mix are fennel seeds, garlic, and rosemary. There's a little hint of heat in there too, which you can crank up or down as you like.
You'll love this delicious meat recipe for dinner tonight!
Source: pinchandswirl.com
Pork carnitas is an essential recipe in your back pocket if you're a fan of Mexican food. This is the ultimate slow-cook dish with just five minutes of prep time and eight hours of slow cooking.
All you need to do is toss the ingredients in your slow cooker and let them simmer. The results are delicious on tacos, sandwiches, burritos, and more.
Source: thecleaneatingcouple.com
Nail your pulled pork burgers with this amazing slow cooker pulled pork recipe. This is a deep, rich, and hearty take on protein. Every strand is covered in a sweet, smoky sauce.
Once again, there's not a lot of prep required here. Simply toss the ingredients in and let them do their thing for eight to ten hours!
Source: callmepmc.com
One of the best ways to enjoy pulled pork is in a taco. The shredded pork absorbs the sauce like a sponge, contrasting perfectly with a soft shell and some fresh salsa.
This is a wonderful treat for the whole family. Serve with salsa, some chopped vegetables, and a squeeze of lime for best results.
These tasty would make the perfect light dinner recipe on a hot summer night!
Source: themagicalslowcooker.com
That's right. You can make pulled pork with beer! Every pulled pork recipe needs a liquid of some kind, and this one uses rich beer for shortening prep time and heightening flavor.
The dark brown sugar, mustard, and spice mix combine to create a deliciously rich sauce you'll love.
Source: sugarandsnappeas.com
Pulled pork is a great Whole30 meal prep protein! You can make a ton at once and distribute it across the week, saving yourself a ton of time and stress.
Top with your favorite sauces to keep the pork moist and tender, even as the week progresses.
Source: themagicalslowcooker.com
Café Rio is well-known for having a delicious pulled pork recipe. Luckily, you can replicate the sweet pork sauce at home with just six ingredients and a few minutes of prep time!
The key? Coca-cola! The natural sugars and bubbles in the soda help break down the pork while adding flavor and stickiness.
Source: senseandedibility.com
Looking for a great weeknight dish? Look no further than the fabled mojo sauce! This is a super versatile meal with sauce that makes you want to set up camp on your tastebuds.
Crafted for busy cooks with no patience for long, involved recipes, this is a dead simple slow cooker pulled pork you need to try.
Source: burrataandbubbles.com
This recipe has an oven and slow cooker options, so you can make it no matter your equipment. Packed with flavor, this ultra-succulent pork is perfect for your next summer gathering.
Make sure you give yourself a couple of days before you want this ready. The pork needs to marinate in jerk spices overnight to make it tender, tasty, and fall-apart good.
Source: savvymamalifestyle.com
Here's another pork butt recipe that uses beer to make it extra rich! This dish also uses chipotle peppers to add an extra kick of heat.
This is a great meal-prep dish, as you can have some slow-pulled pork butt ready to use in whatever you like.
Source: fantabulosity.com
The best slow-cooked pulled pork is sweet, sticky, tender, and just a little bit spicy. That's why this recipe is so fantastic. The cherry Coca-Cola tenderizes the pork and adds a layer of sticky sweetness.
Serve as part of a sandwich, on top of a salad, or try topping a baked potato with this tender and delicious pork!
Source: slowcookermeals.com
Hawaiian flavors don't mess around; this recipe has the chops to prove it. This sweet, tangy, slow-cooked pork falls apart when you look at it sideways. That's how tender it is!
This is delicious on a bun, but you can also use it to top sticky rice to make a tasty poke bowl.
Smoked Pork Butt Recipes
Source: bbqingwiththenolands.com
Smoking your pulled pork cranks the flavor up by a million notches. While it takes a little extra time and effort, it's all worth it when you sink your teeth into the tender meat.
This smoked pulled pork sandwich takes about a day to prepare, marinating for twelve hours and smoking for another twelve hours.
Source: ohsodelicioso.com
Love tacos? This smoked pork taco recipe brings out all the best parts of a taco. It's juicy, bold, and packed with flavor. Best of all, it's super easy to assemble once your pulled pork is ready.
I recommend preparing your pulled pork beforehand to save you a lot of energy at night. It's easy to store and keep tender if you have the right sauce!
Source: whatsmoking.com
If you're looking for the down-and-dirty version of smoked pork butt, this is the recipe. Using a smoker and some apple wood chips, your pork will go fork-tender, sweet, and juicy.
The dry BBQ rub on the outside of the pork makes it ideal for pork sliders, especially with a drizzle of smoky barbecue sauce.
Source: bbqingwiththenolands.com
We're concluding the list with one of the ultimate ways to enjoy smoked pork shoulder: carnitas tacos! Imagine tender pulled pork contrasted against the crispy, crunchy shell of a hard taco.
There's almost nothing better. Pair with a creamy chipotle sauce and crunchy rounds of radish to create the perfect bite every time.
31 Best Pork Butt Recipes For Instant Gratification
Wow your tastebuds and impress your guests with these delicious and easy-to-make pork butt recipes.
Ingredients
1. Instant Pot Pork Roast
2. Instant Pot Caramelized Pork
3. Chinese Pork BBQ
4. Braised Pork in Soy Sauce
5. Green Pork Tamales
6. Braised Pork Shoulder
7. Oven Roasted Pork Shoulder
8. Instant Pot Pork Ragu
9. Pozole Rojo
10. Country Style Boneless Pork Ribs
11. Pepperoncini Pork Roast
12. Jerk Pernil
13. Dutch Oven Pulled Pork
14. Vietnamese Pork Skewers
15. Instant Pot Pork Chile Verde
16. Porchetta Spiced Pulled Pork
17. Slow Cooker Pork Carnitas
18. Slow Cooker Pulled Pork
19. Slow Cooker Pulled Pork Tacos
20. Beer Pulled Pork
21. Whole30 Pulled Pork
22. Slow Cooker Cafe Rio Sweet Pork
23. Slow Cooker Pulled Pork in Mojo Sauce
24. Jamaican Jerk Pork Shoulder
25. Slow Cooker Chipotle Pork Butt
26. Cherry Coca-Cola Slow Cooker Pulled Pork
27. Slow Cooker Hawaiian Pulled Pork
28. Smoked Pulled Pork Sandwich
29. Smoked Tacos Al Pastor
30. Smoked BBQ Pork Sliders
31. Smoked Carnitas
Instructions
Scroll up to get a bunch of easy, yummy, and delicious pork butt recipes. Don't be afraid to get creative with the ingredients, you might discover a flavor you didn't know you liked.
Get your shopping list going and make sure you've got all the ingredients.
Get cooking and make your next Pork Butt Recipe!
Notes
Which one of these recipes was your favorite? Let me know in the comment section or on Pinterest!