A fan of mini bundt cake recipes? Give these delicious desserts a try and surprise your family & friends.
Whether you're gearing up for a holiday party or looking for the perfect dinner party gift, a mini Bundt cake will have your back.
This decadent cake originated in Germany, and since then, it has gone through many evolutions. You can easily create a stunning classic Bundt and have everyone partaking be happy as a clam.
But there's something special about a modern miniature version of the delicious cake, isn't there? Discover thirty-one ways to tweak and enhance your mini Bundt cake in this list!
How Much Do You Fill Mini Bundt Pans?
Like most cakes, the Bundt cake is designed to rise and expand as it bakes. This is what gives the mini cakes its lovely crumb and moist texture.
That means you shouldn't fill your mini Bundt cake pan all the way, as this will cause them to overflow. Instead, aim for about two-thirds of the way full, thus giving your cake batter room to expand in the oven.
Now that you're armed and ready with the necessary knowledge, let's dive straight into the recipes!
Chocolate Mini Bundt Cakes
Chocolate is a rich and luscious ingredient made all the better for its inclusion in a cake. It is impressive, but imagine how good it is when you use it in all of these delicious recipes!
Source: hezzi-dsbooksandcooks.com
Chocolate and berries get along like a house on fire. Blending them in a cake is a sure-fire road to success. These miniature chocolate and berry cakes are perfect as luscious dinner party desserts.
Dripping with white chocolate chips and covered in seasonal berries, these are as good for your eyes as they are for your tastebuds!
Check out more German dessert recipes here.
Source: mygluten-freekitchen.com
If you're a fan of the mint-chocolate combination, these small bundt cakes will blow your mind. The light minty freshness of the frosting of this easy dessert is the perfect contrast to the deep, rich flavor of the chocolate cake.
This recipe is deliciously lush and moist, resulting in Bundt cakes that are almost like mini mud cakes. This amazing recipe is so good you will be cleaning the bottom of the bowl with your rubber spatula.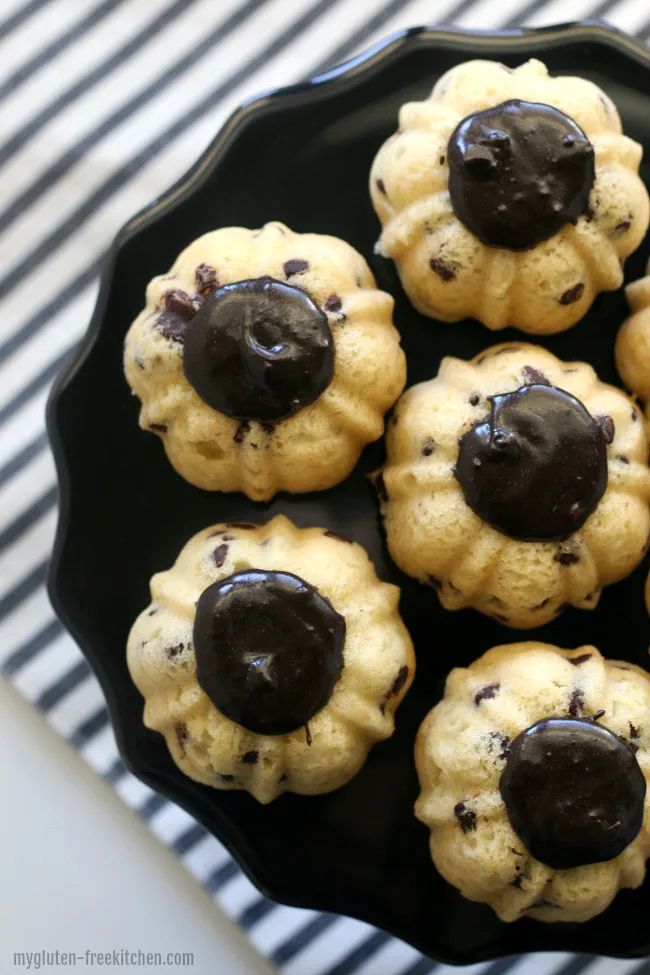 Source: mygluten-freekitchen.com
This is a slightly different take on a traditional chocolate cake, relying on chips and chocolate ganache to convey the chocolate flavor. These chocolate chip mini bundt cakes are vanilla, but trust me, there's plenty of chocolate to go around.
Delightfully, these cakes are also gluten-free. Even though they're made with gluten-free flour, the Xantham gum in this recipe ensures moist, bouncy, delicious cakes with the flavor of vanilla extract every time, creating the perfect treat next time.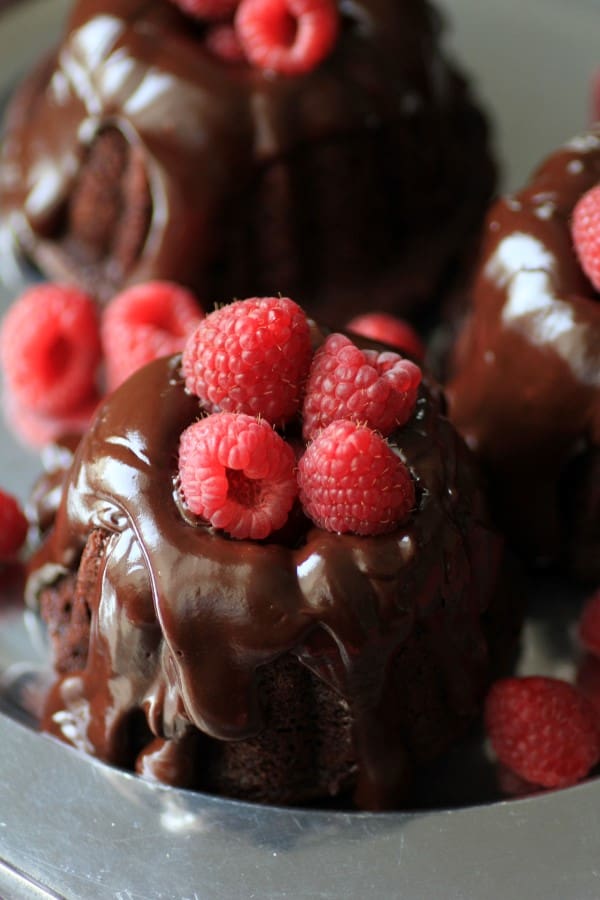 Source: noshingwiththenolands.com
Raspberry and chocolate are a match made in heaven, so why not embody that match in its tiniest, most delicious form with these mini chocolate bundt cakes? These boozy cute little cakes use Chambord, a raspberry liqueur, for a lovely kick and are full of rich chocolate.
Despite how easy these cakes are to prepare, they look like you've spent hours slaving away on them! These are the perfect holiday helper with their dark brown and red color scheme.
Source: thefreshcooky.com
Also known as 'Nothing Bundt Cakes,' this recipe lives entirely up to its name because it takes you almost no time or effort. Produce decadent, delicious desserts your guests will worship.
These delicious cakes also feature a brown sugar frosting that cuts through the rich, dark chocolate taste. Top with your favorite praline or roasted nuts for a seasonal treat with simple ingredients that chocolate lovers will be obsessed with .
Mini Pumpkin Bundt Cakes
Bring a gentle fall breeze whistling through your home with these simple, delicious, and enchanting miniature pumpkin Bundt recipes.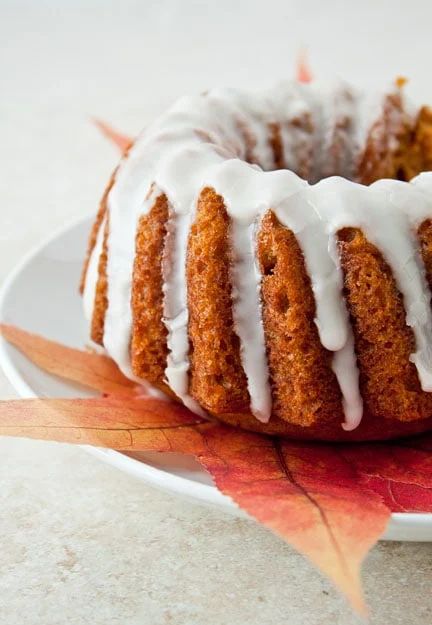 Source: dessertfortwo.com
Our first of the mini cake recipes embraces the autumnal theme, featuring a deliciously smoky bourbon glaze. These cakes are sweet, but the smoky earthiness pulls that sweetness back to earth.
The second you bite this incredible cake, you'll want another one. So, make sure you're generous with your batch size, and maybe squirrel a couple away for yourself before serving.
Source: waitingforblancmange.com
Think of the best carrot cake in the world. That sweet, foresty, nutty flavor is cut by a generous dollop of cream cheese frosting. Good, right?
Now, imagine that but with the lush earthiness of pumpkin instead of carrot. These pumpkin and cream cheese Bundt cakes promise, and they deliver.
Grab your dry ingredients, wet ingredients, and a large mixing bowl and make your own mini cake.
Find out more popular fall desserts!
Source: scotchandscones.com
Not a fan of the super-sweet craze? This sourdough pumpkin cake leans more toward the spice end of the spectrum. Embrace the warming, aromatic notes of cinnamon, cloves, and ginger.
These little Bundt cakes embody pumpkin spice, perfect for a fall holiday treat. Surprise and delight your guests with a picnic featuring these portable treats.
Source: likehotketo.com
Pumpkin pie is, unsurprisingly, a crowd favorite. The only thing that can make a pumpkin pie better is representing those delicious flavors in cake form.
That's where this recipe comes in. Drenched in a stunning glaze, these cakes are moist and perfect for making in advance. Once ready to serve, glaze to reawaken the cakes, and you're ready!
Lemon Mini Bundt Cakes
Lemon is the ultimate baking ingredient, offering a one-two punch of sour sweetness that's tough to beat. Imbue your mini Bundt cakes with this tasty citrus in various ways.
Source: ofbatteranddough.com
These lemon and cranberry cakes are the perfect summertime treat. Each bite offers a burst of tart raspberry and sugary lemon, creating an addictive cycle sure to draw you in for another bite.
Since these feature cranberries, these miniature Bundt cakes are perfect for serving around Christmastime. Use them as gifts, tea cakes, or even desserts on Christmas Day!
Source: upstateramblings.com
Sometimes simplicity is best. These mini lemon Bundt cakes lean straight into the sugary citrus flavor, cranking the moist factor of these cakes up.
Each bite is lush and summery, packed with all the bright flavors you'd want out of a lemon cake. Topped with a delicious glaze and a berry in the center, these simple treats are perfect for a picnic.
Source: gatheredinthekitchen.com
If you're a massive fan of the Hostess lemon cakes – or you love lemon – these glazed mini Bundt cakes are sure to satisfy you. Each bite is tempered by a sticky, smooth, tart lemon glaze.
The cake beneath is lovely and dense, so it can soak up all the glaze, transforming it into a moist and springy delight. Serve as-is for an outdoor summertime treat.
Source: noshingwiththenolands.com
Easter isn't just a time for chocolate eggs and family get-togethers. It's also a time to celebrate the start of Spring! What better way to do that than with a liberal serving of these lemon spring cakes?
Each cake is bathed in a delicious lemon glaze. The cakes are made with sour cream and lemon pudding, so they're unbelievably moist and just dense enough to be luxurious.
Source: theartoffoodandwine.com
These unique and inventive lemon olive oil cakes take the edge off all that sweetness. The olive oil adds great depth and richness, making these tiny cakes addictive.
Topped with a few streaks of lemon glaze, these cakes are to die for. These are great for serving up at parties or as part of a dinner menu, especially if Italian food appears.
Source: sweetandsavorymeals.com
Lemon and lime are the kind of siblings that get along beautifully, making their dual presence in a cake delicious. The tart, sharp notes of lime contrast with lighter, sweeter lemon.
The result is an addictive lemon lime Bundt cake with beautiful, pale color and summery presence. Enjoy as part of a dessert spread, or take along as your next potluck success.
Source: veggiedesserts.com
Our final lemon Bundt cake recipe is a no-yeast spin on the traditional Polish Easter cake, babeczki. Light as a feather and twice as fluffy, these cakes are just sweet enough to be addictive.
While traditionally just covered in powdered sugar for a little kick of sweetness, you can serve these however you like. Try a signature glaze or top them with fruit for a unique look.
Red Velvet Mini Bundt Cakes
Red velvet comes close to beating chocolate in terms of luxury, and that deep red color makes it look as good as it tastes.
Create some show-stopping mini Bundt cakes with these red velvet recipes.
Source: thefastrecipe.com
This traditional red velvet Bundt cake recipe celebrates the rich and moist texture of everyone's favorite red cake.
Covered with a stunning cream cheese frosting, these are as much a treat for the eyes as for the tastebuds. Celebrate Valentine's Day in style with these vibrant beauties.
Source: thebananadiaries.com
This recipe is for you if you're a vegan cake-lover craving your next hit of some good red velvet. These are ultra-moist and feature a dairy-free cream cheese glaze to cap it all off.
Trust me; even the most dedicated dairy-lover won't notice this is a vegan recipe. Serve and watch their eyes widen as the first delicious crumbs hit their tongue!
Strawberry Mini Bundt Cakes
Munch on the luxurious, creamy, beautifully balanced flavors of these perfect strawberry mini Bundt cake recipes.
Source: xoxobella.com
These delightful strawberry mini Bundts have a sweet pink color perfect for celebrating special occasions. Mark the passing of Valentine's Day or Mother's Day with these memorable treats.
Top with a liberal amount of fresh strawberries and a sweet pink glaze to knock your guests' socks off. There's nothing better than seasonal fruit with a delicious piece of cake!
Source: flavourandsavour.com
Looking for a romantic mini Bundt cake to spice up your next date night? These moist, dark, decadent morsels are the perfect host for an abundance of fresh strawberries.
Serve these dark delights as the finisher of your next date night meal, or feature them in your romantic picnic spread.
Source: juliascuisine.com
These gorgeous Fruits of the Forest Bundt cakes are the baker's answer to a stunning berry dessert. Every bite is soaked in a lovely red syrup that fills the whole cake with berry notes.
You can't go wrong with ample room for seasonal berries in the center and a delicious coulis dressing.
Source: beyondfrosting.com
This is technically a Neapolitan recipe, so it features chocolate, vanilla, and strawberry notes in each cake. All three flavors blend in this beautiful symphony of sweet, warm richness.
Not only are these unique flavors, but they also look amazing! The marbled color effect and lack of frosting make this a fantastic portable showstopper.
Best Mini Bundt Cakes
Finally, we have a roundup of the best mini Bundt cake recipes to test your mettle against.
Packed with unique, luxurious, scrumptious flavor combinations, these recipes are essential reading for any baker.
Source: upstateramblings.com
A rum cake is the ultimate holiday treat. These small rum Bundt cakes prove that you can condense flavor, as they're punchy and full of rum notes without becoming overpowering.
Topped with a single maraschino cherry for sweetness and brightness, these cakes are a delightfully seasonal mouthful.
Source: urbanblisslife.com
The second the first flowers bloom in spring, it's time for these stunning mini citrus Bundt cakes to take center stage. These are absolutely to die for, featuring lemon, orange, and vanilla.
These go beyond the usual citrus Bundt cake, incorporating multiple types of citrus with a vanilla foundation. The combination creates a rich, well-balanced flavor you won't forget!
Source: flavourandsavour.com
Celebrate fall in all its glory with these unbeatable apple mini Bundt cakes. Including apples in the batter packs the cakes full of moisture without adding density.
Each bite is light, crumbly, and perfectly moist despite a sparing amount of glaze. With cinnamon notes sparkling in that icing, this recipe is a must-try.
Source: adorefoods.com
Speaking of moist and scrumptious, the next recipe on our list is the champion of that particular category! With sweet, sticky banana forming the foundation of the batter, it's hard to fail.
Blueberries speckled throughout the cake offer little sparks of vibrant color and flavor, only adding to the deliciously fruity experience.
Find more banana dessert here.
Source: itsnotcomplicatedrecipes.com
If you're a fan of adorable pastels and Easter time, these cakes are guaranteed to make you smile. Adorned with tiny Easter eggs, these gluten-free treats are great for feeding everyone in attendance.
While they're not as good for hiding as Easter eggs, these little cakes are a brilliant way to liven up your themed Easter party.
Source: thehealthyepicurean.com
Looking for something unique to take along to your next potluck brunch? These peach upside-down oatmeal Bundt cakes are an absolutely scrumptious option.
Bursting with rich, sweet peach flavor and topped with crunchy oatmeal, these cakes are an explosion of flavor and texture. Trust me, one bite of these, and you won't be able to turn back.
Source: bakingqueen74.co.uk
Rather than filling your cakes with solid blackberries, this recipe calls for a smooth blackberry puree to join the party. The result is an ultra-moist cake with a vein of rich blackberry running through it.
These are the perfect thing to take on a picnic, as they feel self-saucing, but there's no risk of any mess or spillage as you transport them.
Source: sweetandsavourypursuits.com
Apple, nutmeg, and cinnamon: You can't go wrong with that combination. These delicious mini Bundt cakes boast a rich spice profile and a moist, sweet crumb.
Together, they promise an utterly addictive addition to any breakfast, lunch, or dinner table.
Source: hezzi-dsbooksandcooks.com
Our final recipe celebrates one of the oldest and most celebrated combinations in culinary history: vanilla and cherry swirl. Not only do these taste incredible, but they're also a visual knockout.
Featuring two kinds of glaze and a cheerful cherry to complete the image, these will happily steal the spotlight at your next neighborhood potluck.
31 Best Mini Bundt Cake Recipes
Yield:
8-14 mini bundt cakes
Ingredients
1. Chocolate Berry Bundt Cake
2. Chocolate with Mint Frosting
3. Gluten-Free Chocolate Chip
4. Chocolate Chambord
5. Chocolate Chip
6. Pumpkin with Bourbon Glaze
7. Pumpkin Cream Cheese
8. Sourdough Pumpkin
9. Pumpkin Pie Spice
10. Mini Cranberry
11. Mini Lemon
12. Lemon Glazed
13. Lemon Spring
14. Lemon Olive Oil
15. Lemon Lime
16. Lemon Babkas
17. Red Velvet
18. Vegan Red Velvet
19. Strawberry
20. Chocolate with Strawberries
21. Fruits of the Forest
22. Mini Neapolitan
23. Rum
24. Mini Bundt Cakes with Citrus
25. Apple
26. Banana Blueberry
27. Easter Bundt Cake
28. Peach Upside Oatmeal
29. Blackberry
30. Apple Spice
31. Vanilla Cherry Swirl
Instructions
Scroll up to get a bunch of easy, yummy, and delicious recipes. Don't be afraid to get creative with the ingredients, you might discover a flavor you didn't know you liked.
Get your shopping list going and make sure you've got all the ingredients.
Get cooking and make your next Mini Bundt Cake Recipe!
Notes
Which one of these recipes was your favorite? Let me know in the comment section or on Pinterest!