You can't do summer without punch! These delicious summer punch recipes are the ultimate way to enjoy the weather, friends, and social events. They are summer in a glass or a punch bowl!
This collection of recipes will inspire you to try some favorites that we all know and love, but I have also found others that will make your taste buds and your next party come alive.
So, dig out your prettiest glasses, your best jugs, bottles, or jars, and get thinking about how you can present your party punch recipe to make them the highlight of your evening.
What Ingredients Are in a Punch
But what can go in a punch recipe? Be assured that these delicious recipes I have come across are not just about alcohol.
No, punch can be non-alcoholic, too, and are just as much fun and just as tasty on a hot summer day or at backyard BBQs.
A refreshing glass of punch generally contains a base mix of any sort of drink. Beer, fruit juices, soda, wine, spirits, tea, and other mixes.
Added to this base mix can be a whole heap of fun to make a delicious punch.
You can add fruit, spices, vegetables, flowers, and herbs that can infuse and excite a punch recipe, and the concoctions are endless.
Ice is generally used in cold punches, which look nice and make your drink extra refreshing, but guess what? You can have hot punches too!
Summer Punch Recipes
Source: aubreyskitchen.com
This rum punch is a classic but so easily adapted with small changes to create even more fun.
Using a base of light rum, which can be any one of your favorite ones, and adding the tropical tastes of lime juice, orange, and pineapple creates this much-loved cocktail.
But what about adding banana and blackberry liqueur to this and creating a Rum Runner? This perfect drink recipe will inspire you.
Source: boulderlocavore.com
Hello, 4th of July! This is the summer cocktail you need in your life!
A blend of cherry, peach, lime, ginger, and cinnamon will undoubtedly cause a crack of fire in your mouth that you will be pleasantly surprised by.
This classic summer fruit punch recipe is alcohol-free, but it gives some ideas to make this an adult-only version.
Source: foodmeanderings.com
This lightly carbonated cocktail will take you straight to the strawberry patch.
It has floating strawberry slices that mix so well with a ginger and mixed fruit base, and the whole family will enjoy it.
A great idea is added to the recipe about making the mix into ice pops, too – I love it!
Source: occasionalcocktails.com
What a name! I just had to find out more and read through this really imaginative recipe.
It's a fizzy, fruity drink that will make your party come alive!
Using a mixed fruit juice, orange juice, and pineapple juice base, it's boosted with a good glug of vodka and can be easily made into a large batch if needed.
Source: www.atastefortravel.ca
This is a sparkling cocktail made from a bourbon base. It's flavored with peach, pomegranate, and ginger beer and is one to try if you want something different.
The recipe suggests it would be used as a rather sophisticated evening party or special brunch drink, and I totally agree! This one does feel rather special.
If you love peach flavor, check out these tasty crown royal peach cocktails!
Source: nourishedkitchen.com
This is a non-alcoholic, delicate cocktail that will be a popular choice for everyone. Flavored with rose petals and coriander seeds, this is rather unusual and something quite different for guests.
Using sparkling water to serve creates a refreshing sparkling punch drink.
Source: thelittlestcrumb.com
Another twist on a rum punch, this one is for the rum lovers that dream of the sun. Using triple sec or other orange liqueur to keep the rum company, this punch is not for the faint-hearted.
Papaya juice and simple syrup lift this rum punch and go well with the juicy orange taste. It uses club soda water to serve, so there's a little fizz here too.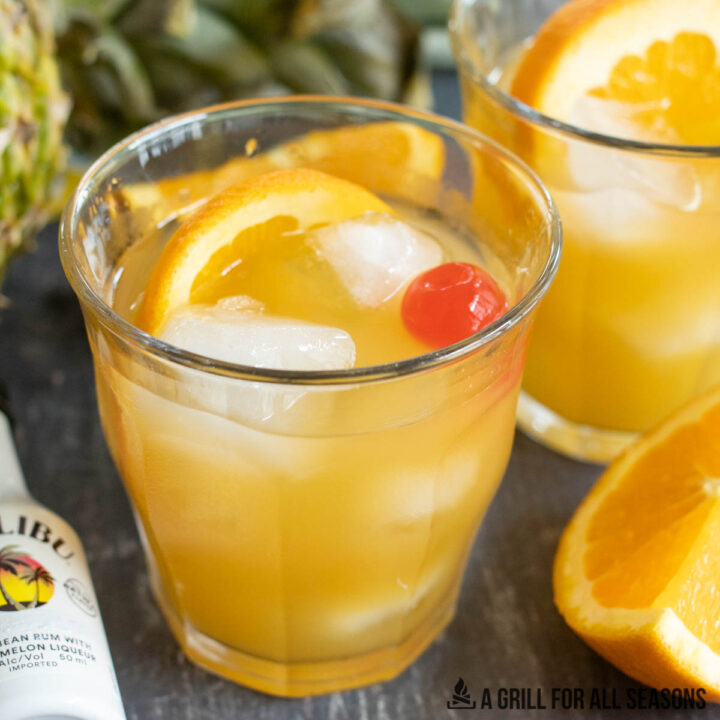 Source: agrillforallseasons.com
This is a bit of a twist on a classic punch. Adding mango to this cocktail is a great addition that will take you to tropical shores and give you a taste of the sun.
The base uses that popular coconut rum many of us love and a good helping of cranberry juice, creating a lovely fruity punch recipe full of summery tastes.
Source: inthekitch.net
The youngsters will feel grown up and sophisticated with this version of Shirley Temple. There's no alcohol in this classic drink, just an adult taste for summer parties.
So, how's it made? Just click and grab grenadine, 7-UP, and orange juice. Don't forget plenty of ice and maraschino cherries for this pretty punch.
Source: thesaltymarshmallow.com
This is a rather special punch recipe with a fruity flavor. Using a generous amount of prosecco champagne as a base, it's the perfect choice for a celebration, like an anniversary or garden party.
Pineapple, grenadine, and orange come together to make this the perfect blend, and if you need to make a non-alcoholic version, a switch from champagne to soda is easy peasy.
Don't forget to top this summer punch cocktail with a maraschino cherry!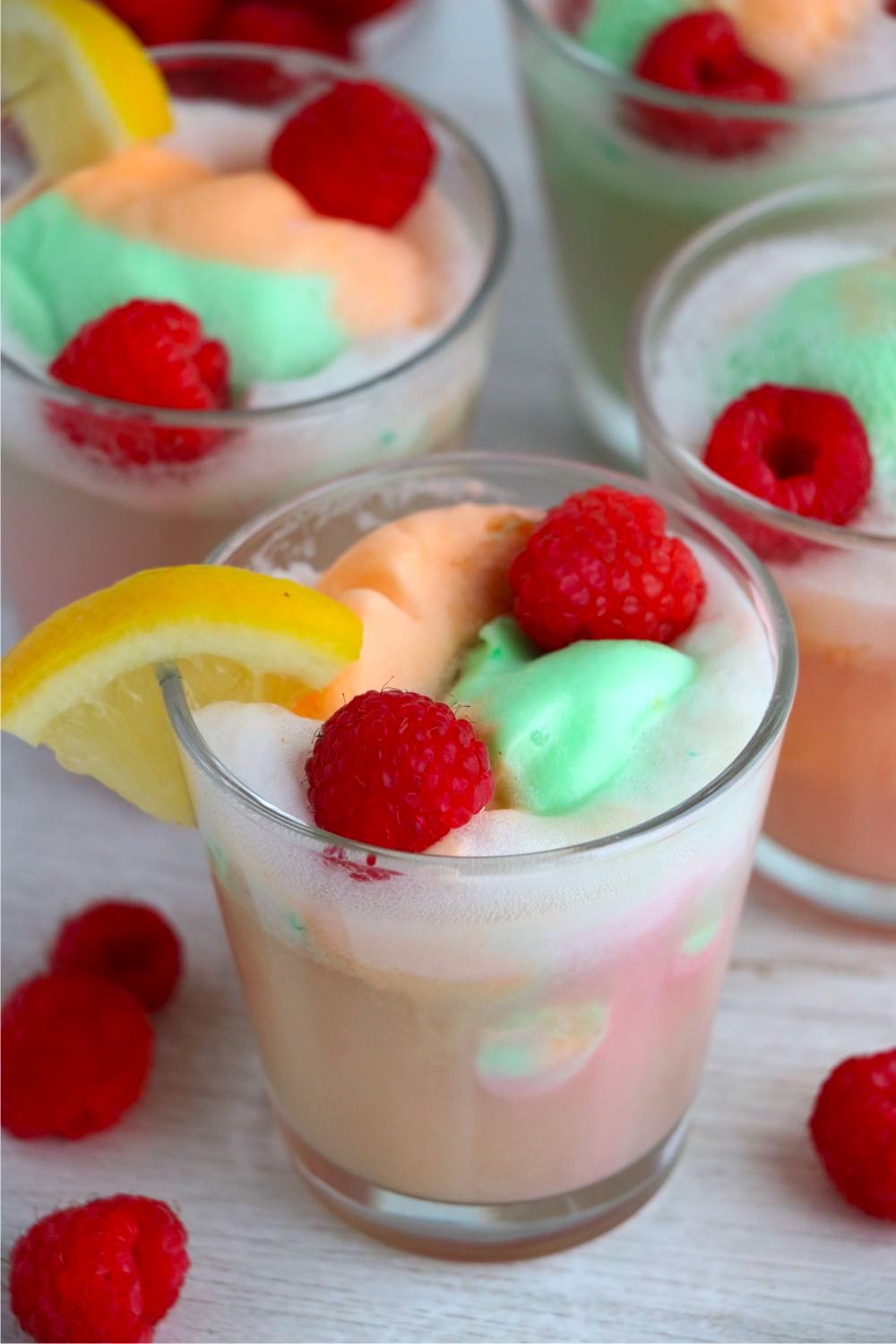 Source: bitzngiggles.com
Now, this crowd-pleasing summer punch is so different! You need to serve it up pretty quickly, but it probably won't last long.
The sherbet and soda react quite quickly and create a rainbow of fizz that will delight anyone in the best way.
There are lots of tips on serving this punch and making the sherbet, so certainly worth a look. Add some lemon slices or lime slices to finish it!
Source: recipesfromapantry.com
Keep this recipe handy and in a safe place as the holiday season comes quickly, and you will wonder where this recipe went.
The jeweled cranberries in this punch will make this drink a centerpiece. There is even a recipe for how to make an ice ring to display it, perfect for a social gathering.
Source: bitzngiggles.com
This alcohol-free punch is so much fun for children. It uses jello and juice, frozen and mixed until you have a slushy mix that everyone will love.
The colors are amazing and will brighten up anyone's party. You could use any flavored jello sachets to make lots of different versions.
Source: amandascookin.com
What makes this patriotic, I hear you ask. Well, you just need to see it! Red, white, and blue sing out in layers, and the colors make it look really quite special.
The drink is made from cranberry-raspberry, Gatorade Frost and Powerade Zero. It's a funky concoction that's quite a different experience.
There are lots of tips for other versions of this and how to get the technique correct to make this perfectly layered.
Source: fantabulosity.com
This a non-alcoholic fun drink that can have rum or vodka easily added. There is a lime soda and orange juice base that, when stirred to the orange sherbet, creates a slushy, ice sensation.
These simple three ingredients can be made up into a large batch and would be so much fun for a larger gathering of friends in the summer to keep you cool.
Source: bellyfull.net
Here is another version of the classic Shirley Temple cocktail that has been made to look as pretty as a picture.
You have just found the recipe if you are after a drink to make up as a large offering that looks amazing.
This grenadine, lime, and ginger drink will look like a delight using slices of orange and cherries to float around amongst the ice.
Source: fantabulosity.com
Fruit punch can leave you a little worried when you aren't sure what has gone in it. This one is alcohol-free, and you can make it with whatever you have to hand.
The recipe here has a fantastic color, and the idea of glasses/jars to serve it in can really create some style on a hot day.
Source: joyfuldumplings.com
Another rum punch recipe has been added here, as I firmly believe that choice is personal!
This one has all the beach-themed tastes of orange, pineapple, and lime, but it has a demerara syrup, which will appeal if you love a buttery note.
Source: www.dinneratthezoo.com
Such an easy classic that everyone loves. Who won't look at some pink lemonade and not think it looks pretty?
What makes this so special is the fact it is made from a homemade base lemonade base. The recipe is simple, delicious, and looks beautiful. My tip: Add the mint; oh my goodness!
Source: budgetdelicious.com
Oh wow, another version of this sherbet punch that looks and tastes amazing. As the sherbet melts into this, it not only creates a deeper color but it will also deepen the taste.
This is quite different and uses a raspberry ginger ale, tinned pineapple, and fresh raspberries, creating a flavor that will pop in your mouth.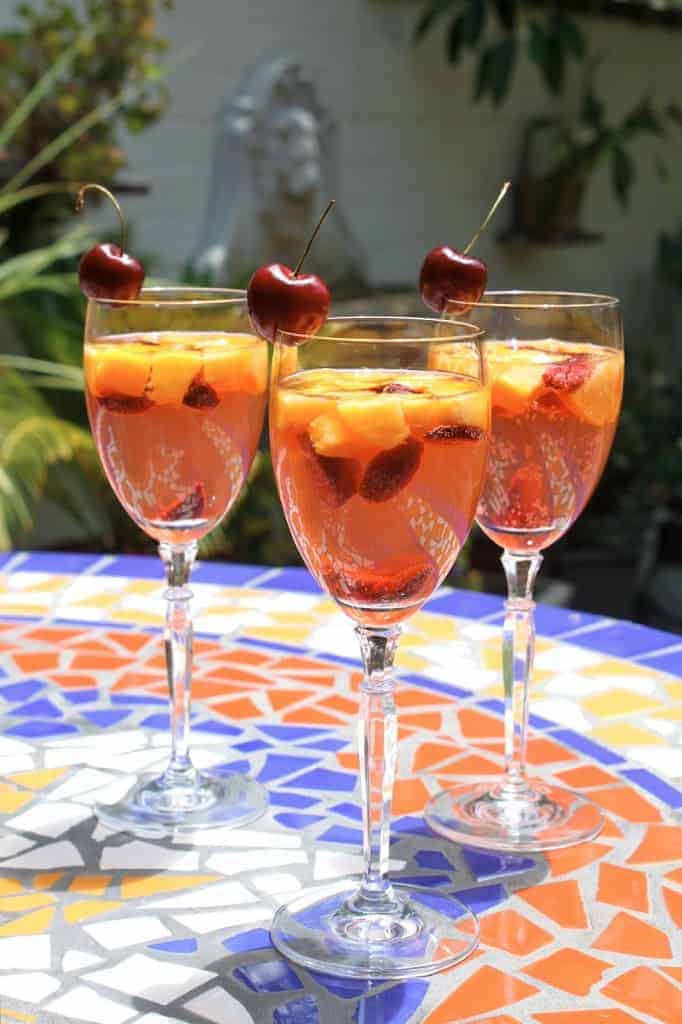 Source: www.christinascucina.com
I have found a perfect punch with white wine for this lighter version of the usually quite heavy sangria. It uses a lemon-lime soda to create a gentle sparkle.
So, if you want a sangria or spritzer, this recipe is for you. The added fruit pieces are perfect for summer evenings and make this punch look amazing.
Source: thegandmkitchen.com
This classic punch is so refreshing and combines the gin-based liqueur with lemon soda and fresh fruit.
It's an adult drink that would be easy to make ahead and one that a party of guests would be impressed by. See the recipe for some great tips!
Source: thetoastykitchen.com
Strawberries and lime are the perfect combinations if you sometimes find strawberries too sweet. The lime really balances the sweetness here and creates the most perfectly-tasting strawberry drink.
Alcohol-free, this punch can be enjoyed by everyone and the best thing? It's made from fresh ingredients of raw strawberries and fresh limes. Perfect.
Source: www.dinneratthezoo.com
Lightly sparkling and refreshing, this raspberry and lime combo will be perfect for a hot day.
Fresh mint leaves are added to the punch and add a freshness that you will love.
Fresh raspberries and lime are used in this recipe, so if you have gone a bit mad at the 'pick your own' farm, this will be the perfect way to use them.
Source: thegandmkitchen.com
Grapefruit liqueur, Aperol, strawberries, and peaches are going to give you a rather special and unique punch that you can enjoy with friends.
Using a rose wine base, this light sangria alternative looks so pretty.
Packed full of fresh peaches, strawberries, and grapefruit, it will undoubtedly create a centerpiece on any table you are setting for entertaining.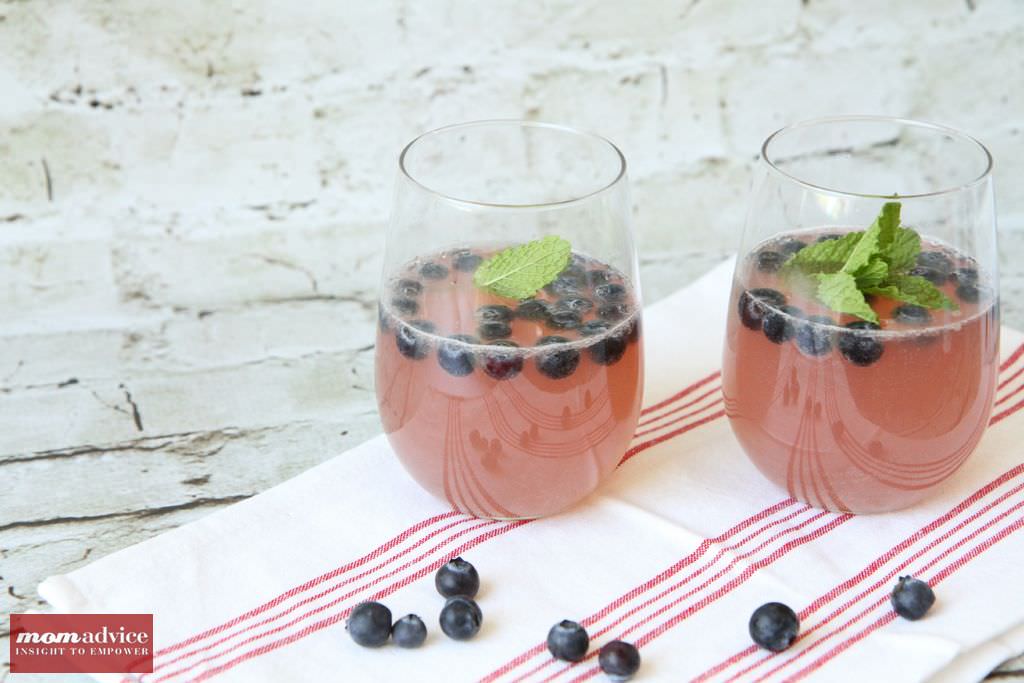 Source: momadvice.com
His utterly delightful sangria is made from a Chardonnay base, giving a pretty pink hue as the blueberries bob around.
The frozen pink lemonade also helps with the color and gives a sweetness that really balances well with the blueberries.
Source: notentirelyaverage.com
Anything pirate themed certainly needs checking out! It's sweet and fruity and tastes of the tropics.
This one is certainly for adults who like to enjoy their rum. It's a blend of amaretto, white, and dark rum mixed with pineapple, orange, and cranberry and will be guaranteed to create a bit of fun.
27 Refreshing Summer Punch Recipes to Keep Your Party Cool
Looking for the perfect concoction for a hot summers day? Cool off in style with these easy-to-make summer punch recipes.
Ingredients
1. Bacardi Rum Punch
2. Firecracker Punch
3. Sparkling Strawberry Punch
4. Hunch Punch
5. Sparkling Bourbon Peach Punch
6. Strawberry Smash
7. Papaya Rum Punch
8. Malibu Rum Punch
9. Shirley Temple Punch
10. Mimosa Punch
11. Rainbow Sherbet Punch
12. Festive Fruit Punch
13. Slush Punch
14. Patriotic Punch
15. Orange Sherbet Punch
16. Shirley Temple Party Punch
17. Fruit Punch
18. Bacardi Rum Punch
19. Strawberry Lemonade
20. Rainbow Sherbet Punch
21. White Wine Summer Sangria Spritzer
22. Classic Primm's Cup
23. Strawberry Limeade
24. Sparkling Raspberry Limeade
25. Pink Rose Grapefruit Sangria
26. Blueberry Sangria Lemonade
27. Pirates Punch
Instructions
Scroll up to get a bunch of easy, yummy, and delicious summer punch recipes. Don't be afraid to get creative with the ingredients, you might discover a flavor you didn't know you liked.
Get your shopping list going and make sure you've got all the ingredients.
Get cooking and make your next Summer Punch Recipe!
Notes
Which one of these recipes was your favorite? Let me know in the comment section or on Pinterest!