The Paleo diet is also referred to as the caveman diet. The focus is on eating foods that were readily available to ancestors. These paleo meal prep are a great way to follow your paleo lifestyle.
Foods that you can incorporate are –
Fresh fruits and vegetables
Lean meats – especially grass-fed animals
Fish – especially those rich in omega-3 fatty acids
Eggs
Nuts and seeds
Oils from fruits and nuts. These could include olive oil or walnut oil.
Likewise, foods that you should avoid include –
Grains and legumes
Dairy products
Refined sugar and added sugar and salt
Starchy vegetables
Processed foods
Best Paleo Meal Prep Recipes
Look below for the best paleo meal prep to incorporate into your diet for busy schedules!
Source: allnutritious.com
You know chicken is high in protein. However, it is bland in flavor. That is where the magic of flavor comes in for healthy meals. Think spices, herbs, and sauces.
The baked lean protein in this recipe idea is coated in a spicy mixture. Curry powder and paprika add flavor to your delicious paleo meals!
Serve this curried chicken with a selection of veggies. You could serve this paleo food with Brussels sprouts, cauliflower, and broccoli, like the recipe for a healthy dinner.
Source: runningtothekitchen.com
Here you have another chicken recipe you will add flavor to. This delicious recipe involves flavors of fall with maple syrup in the sauce!
This is a one-sheet-pan wonder packed with whole foods. That is always a winner! Accompanying your chicken breast is a selection of fall veggies.
You will use delicata squash, Brussels sprouts, and cranberries. They add a variety of colors and flavors to your delicious meal!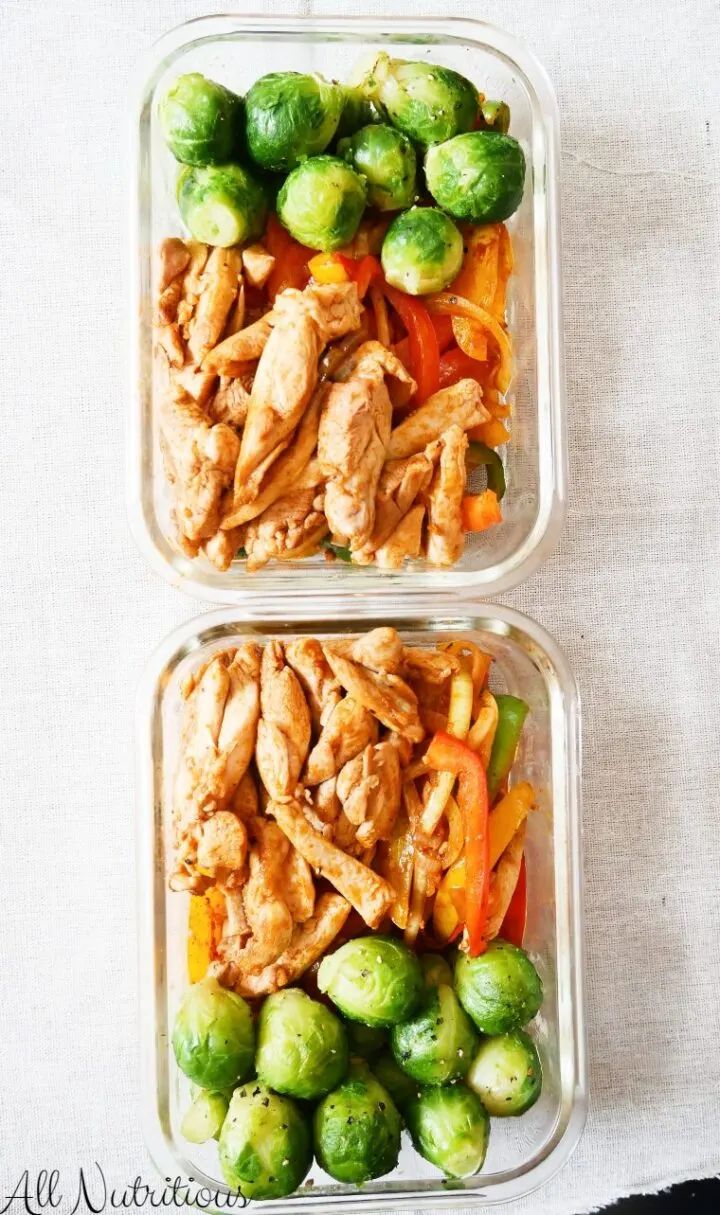 Source: allnutritious.com
Eating paleo does not mean missing out. Different cuisines can still be eaten. Your meal here is packed with flavors of Tex-Mex. But minus the carbs!
You will find a medley of stir-fried chicken and bell peppers. Chili and cumin powder, plus paprika, create a spicy flavor.
You can create a unique twist on this. Serve with naturally sweet Brussels sprouts!
Source: plantbasedwithamy.com
Asparagus is such a versatile vegetable. You could add it as a side dish at dinner. Or, eat it as a snack.
It takes up to 20 minutes to roast your asparagus! The coating of lemon, pepper, thyme, and garlic is delightful.
You could also grill, steam, or sauté the asparagus. However, the best way for this flavor is oven baking.
Source: allnutritious.com
Chicken is ideal for your paleo meal prep. Marinade the chicken overnight.
A tastier flavor can be achieved with this.
Roasting your veggies in this recipe aids caramelization. So, there is no need for refined sugars.
Your flavorful lemon chicken will taste the best. Serve it with broccoli, sweet potato, and cherry tomatoes.
Source: tastygalaxy.com
An Instant Pot is a fantastic kitchen implement. You can have a meal ready in no time.
It is also excellent for flavorsome, juicy chicken breasts! For this chicken breast recipe, you will use a homemade rotisserie-style rub.
The rub consists of garlic powder, onion powder, and kosher salt. These are combined with paprika, thyme, and black pepper.
Coat the chicken, then air fry for around 12 minutes. Sumac is optional but adds a delicate lemon flavor!
Source: allnutritious.com
For this meal prep, you have more Mexican flavors. There are no processed carbs or refined sugars here. Yet, your meal remains flavorful.
Spicy cauliflower rice replaces regular rice. Peppery arugula replaces sweet corn. Avocado gives a creamy texture to your dish.
Salt & pepper flavor the shredded chicken. Flavor bombs are everywhere else in your meal!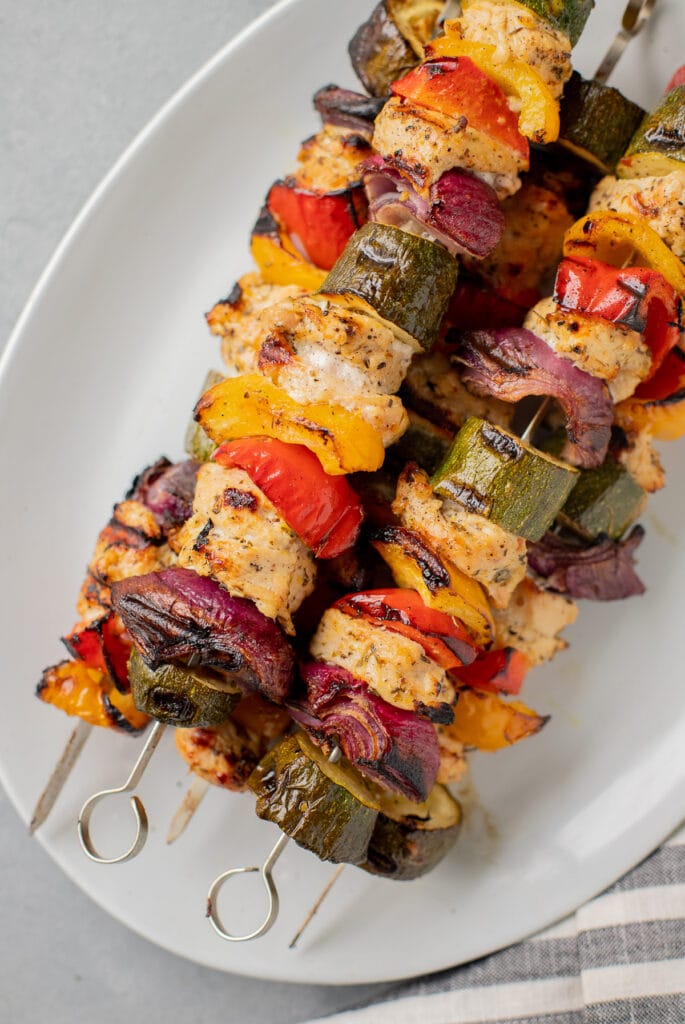 Source: thecleaneatingcouple.com
Greek flavors are showcased in these delicious kabobs. Chicken and veggies are marinated in a flavorful coating.
Red onion, bell peppers, zucchini, and chicken are skewered. Then grill until the chicken is cooked through.
Your kabobs would work well with mushrooms too. Serve alongside a Greek salad!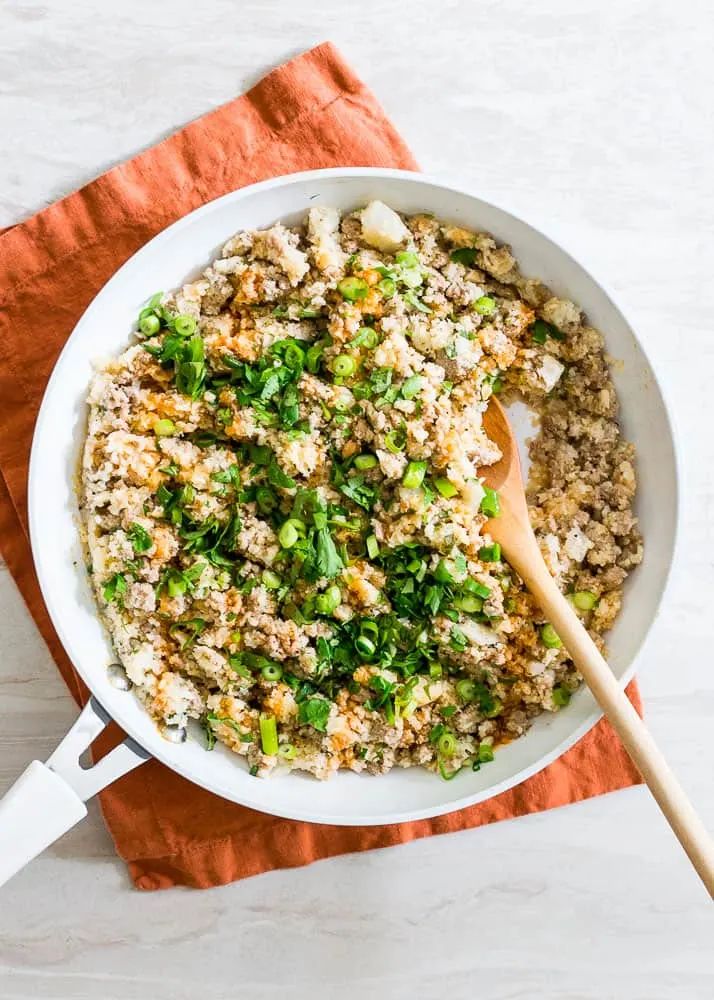 Source: runningtothekitchen.com
Turkey and cauliflower are tasteless on their own. But this buffalo flavor skillet elevates them!
You will use only four ingredients. And it is ready in 15 minutes. What is not to love? Texas Pete buffalo wing sauce is the key to this recipe!
This is a delicious meal on its own. However, you could serve it alongside some greens.
This yummy ground turkey meal prep will have you excited for your paleo meals!
Source: savorthespoonful.com
Eating paleo does not mean you are not eating sweet treats. These almond-flour banana muffins are proof of that!
Your muffins are sweetened with applesauce, coconut sugar, and banana. Using coconut oil also keeps them moist.
It is acceptable to eat these at any time of the day. That includes breakfast!
Source: thecleaneatingcouple.com
Lettuce wraps are a paleo-friendly alternative to a tortilla. These chicken lettuce wraps are perfect for your light lunch.
The seasonings in this dish produce the most fantastic flavor! It's like PF Chang's, but better for you.
You will involve some extra prep with the chicken filling. But the results will be worth it!
Source: tastygalaxy.com
Here is another chicken recipe using a homemade marinade. For this one, you will be eating unique Greek flavors.
Your marinade combines just a few ingredients. Lemon juice, olive oil, garlic, and dried oregano are key here.
Mix the ingredients, coat the chicken, and grill until cooked! A Greek salad is an ideal accompaniment to this.
If you love Greek flavors, you need to add this Greek sheet pan chicken dinner to your meal plan!
Source: saltandlavender.com
For a taste of the Mediterranean, whip up these vegan prep bowls! These can be ready in half an hour. The heart of your dish is quinoa.
Your bowl features soft textures of creamy hummus. Plus, juicy tomatoes. These are complemented by crunchy cucumber and tangy red onions.
Complete your meal prep bowls with Kalamata olives. Add protein-filled chickpeas. These will last through the week for a quick lunch!
Source: theroastedroot.net
You can't go wrong when it comes to chicken and vegetables. They are your ideal meal prep option.
With this recipe, your veggies and chicken are cooked separately. The recipe uses sweet potato, carrots, broccoli, and zucchini.
Once cooked, everything is thrown in your one prep container. You will be able to grab and go when heading out the door!
Source: carmyy.com
Sweet potato is a healthier way of eating potatoes for breakfast! Also, it is perfect for when you have a sweet tooth.
This recipe involves you cooking the potatoes in the bacon fat. This will flavor the potatoes, and they crisp nicely!
Your bowl of bacon and potatoes is topped with a hard-boiled egg. Add some avocado if you fancy, too.
Source: corriecooks.com
The Instant Pot is great for cooking whole cuts of meat. You can have it ready in less than an hour!
Your chicken skin is coated in a flavorful marinade. The elevating ingredient of this is thyme. This is a perfect pairing with your chicken.
You will be left with a perfectly juicy, whole, tasty chicken. Air fry for 15 minutes after, and have extra crispy skin too!
Source: organicallyaddison.com
Pork carnitas can be made in the Instant Pot or slow cooker. Either way, they are melt-in-the-mouth delicious!
You will cook the carnitas with a Mexican-inspired dry spice rub. This is alongside a citrus chicken broth for maximum flavor.
These are ideal for your taco or burrito bowls!
Source: mychefsapron.com
A one-pot dinner is a perfect solution for your busy midweek. Hearty chorizo stew is an ideal option for the colder months.
A thick tomato paste provides a rich texture for your stew. Chorizo sausage is already spiced, so only delicate seasonings are needed.
Sweet potatoes and bell peppers are the perfect pairings. The stew is comforting enough to serve as it is!
Source: theforkedspoon.com
This skillet recipe is the best alternative to a plain, bland steak! It is paired with creamy sweet potato and sweet bell pepper.
Your whole dish is a bomb of flavor! This is achieved mainly through cajun seasoning, cilantro, and soy sauce.
You can swap the steak for chicken if you do not eat red meat.
Source: theshortordercook.com
Your chicken thighs here have an authentic taste of Greece. It is another one-pan recipe that you love so much!
Your lemon sauce captures the taste of Greece with its ingredients. Think olives, capers, tomatoes, and artichoke hearts.
Using thighs keeps the chicken moist. You get the bonus of the rendered fat. This adds richness to your whole dish!
Get even more creative with these other ways to use chicken thighs for meal prep!
Source: plantbasedwithamy.com
This is the ideal side dish for your paleo main. It could also be used as the basis of a leafy salad.
Your butternut squash is air-fried rather than oven-baked. Air fryers are excellent for caramelizing vegetables!
You'll coat the squash in fall favorite flavors. The dish gives a pleasant aroma. Cinnamon and pumpkin pie spice deliver this.
This will be perfect for your holiday table!
Get even more inspiration for your healthy meal plan this these other healthy meal prep ideas!
21 Easiest Paleo Meal Prep Ideas
Yield:
2-4 meal prep boxes
Healthy eating is so much easier with one of these healthy paleo meal prep ideas. They are quick to prepare for the week, good for your gut and full of nutrition.
Ingredients
1. Spicy Curried Chicken
2. Maple Mustard Chicken
3. Chicken Fajita Bowl
4. Lemon Garlic Asparagus
5. Lemon Chicken and Veggies
6. Instant Pot Chicken Breast
7. Low Carb Mexican
8. Greek Chicken Kabobs
9. Buffalo Turkey Cauliflower Skillet
10. Almond Flour Banana Muffins
11. Chicken Lettuce Wraps
12. Greek Grilled Chicken
13. Mediterranean Bowls
14. Chicken and Vegetables
15. Sweet Potato, Bacon, and Egg Breakfast
16. Instant Pot Whole Chicken
17. Pork Carnitas
18. Sweet Potatoes and Chorizo Stew
19. Steak and Sweet Potato Skillet
20. Greek Chicken Thighs
21. Roasted Butternut Squash
Instructions
Scroll up to get a bunch of easy, yummy, and delicious paleo recipes. Don't be afraid to get creative with the ingredients. You might discover a flavor you didn't know you liked.
Get your shopping list going, and make sure you've got all the ingredients.
Get cooking and make your next Paleo Meal Prep!
Notes
Which one of these recipes was your favorite? Let me know in the comment section or on Pinterest!