Cutting your calorie intake doesn't mean you have to give up decadent desserts. These scrumptious low-calorie cake recipes prove just that!
A cake is one of the most popular bakes for any occasion. That could be a birthday, an anniversary, or even a barbecue.
It is often one of the easiest recipes to follow. You don't even need to make a cake from scratch.
A wide variety of box mixes can be found in the store. These include chocolate, angel cake, and red velvet. Take your pick!
Best Low Calorie Cakes
Below you will find multiple great low-calorie cakes to enjoy low calorie desserts for any occasion!
Source: kiipfit.com
Per Serving:
Calories: 211
Fats: 5g
Protein: 5g
Carbs: 34g
Fiber: 3g
Sugar: 11g
Pears have many health benefits. But they are often overlooked in favor of other fruits!
This vegan pear healthy cake is an easy recipe to satisfy your sweet tooth. It contains oat flour and oat milk rather than regular. And no oil!
Add some sliced pear and almonds on top. This delicious dessert will look extra inviting!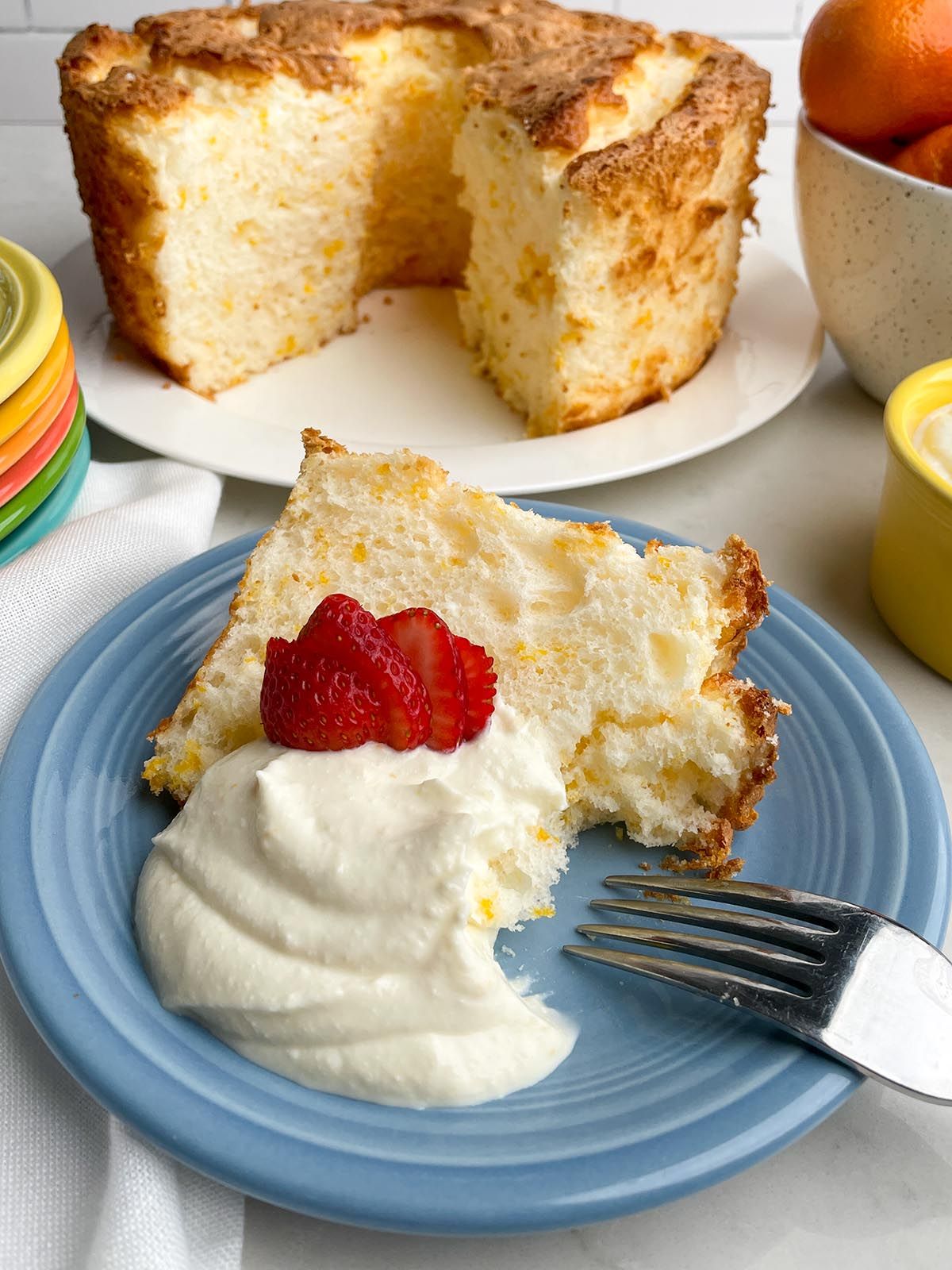 Source: midwesternhomelife.com
Per Serving:
Calories: 138
Fats: 1g
Protein: 2g
Carbs: 33g
Fiber: 1g
Sugar: 23g
Angel food cake is one of the lightest cakes out there. Throw in some mandarins for a healthy addition to it!
This 2-ingredient recipe is super quick to whip up for a hot summer day. You could also make these into cupcakes for more low-calorie desserts. Or two lovely loaf cakes!
The mandarins make these easy healthy dessert recipes a summer hit. Serve with more fresh fruit and whipped ricotta or whipped cream!
Source: likehotketo.com
Per Serving:
Calories: 243
Fats: 16.2g
Protein: 17.7g
Carbs: 1.5g
Fiber: 5.1g
Sugar: 7g
Who says chocolate cupcakes can't be healthy? These protein cupcakes are also keto-friendly and one of the favorite desserts to watch your calorie intake.
The cupcakes don't use almond or coconut flour in the dry ingredients. Instead, they combine flax meals, lupin flour, and whey protein.
The super-rich chocolate flavor comes from mixing two ingredients. The best sugar-free cocoa with a bit of espresso powder.
Best of all, they can be made in just one bowl. That includes the soft and chewy peanut butter frosting!
Source: neilshealthymeals.com
Per Serving:
Calories: 155
Fats: 6g
Protein: 4g
Carbs: 22g
Fiber: 1g
Sugar: 9g
The first cake with vegetables on our list! Carrots are a great addition to cakes. They add extra moisture. And they are a great source of fiber.
This is another one-bowl recipe. It features healthy, lower-calorie ingredients. But it still tastes delicious!
You will still find the cream cheese topping you expect. Add optional nuts for extra flavor and crunch!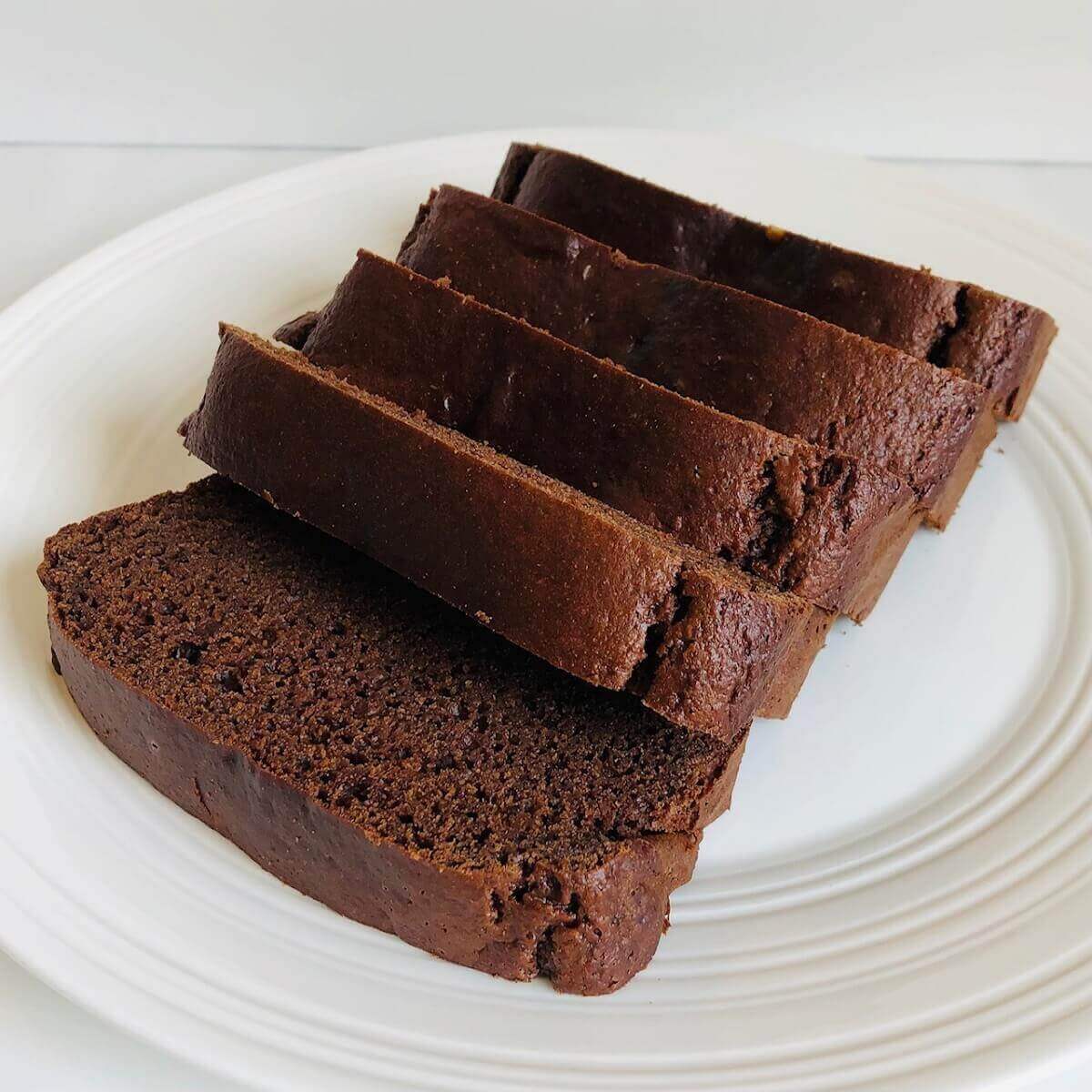 Source: asweetalternative.com
Per Serving:
Calories: 201
Fats: 8g
Protein: 6g
Carbs: 27g
Fiber: 4g
Sugar: 13g
This chickpea flour cake looks deceiving. As it just looks like a regular chocolate loaf cake! Our first chocolate cake on the list.
Chickpea flour is made from ground chickpeas. This is also known as garbanzo bean flour. It is loaded with fiber, protein, and many nutrients.
Unsweetened apple sauce replaces the dairy. Extra virgin olive oil gives a luxurious texture.
Maple syrup gives it sweetness. And unsweetened cocoa powder gives the rich chocolaty flavor!
This is one of the best dairy free desserts out there!
Source: asweetalternative.com
Per Serving:
Calories: 233
Fats: 11g
Protein: 4g
Carbs: 33g
Fiber: 3g
Sugar: 15g
Another gluten-free chocolate cake. Those with medical-related health needs don't need to miss out!
This one is made with buckwheat flour. This flour gives the cake an earthy flavor and satisfying texture!
The sweetness comes from maple syrup. But you can substitute it with other syrups—or even honey.
This chocolate cake can be served with or without a glaze. However, the chocolate glaze adds more decadence!
Source: asweetalternative.com
Per Serving:
Calories: 200
Fats: 8g
Protein: 6g
Carbs: 26g
Fiber: 8g
Sugar: 12g
Black beans aren't just for savory dishes. They're also great for making cakes! This chocolate one has a brownie-like texture.
This cake recipe uses coconut flour. Chocolate and coconut are a great flavor combination!
Experiment with toppings on this black bean chocolate cake. Perhaps sweet potato chocolate frosting? Or almond butter chocolate frosting!
Have extra coconut flour? Try this yummy coconut flour muffin recipe!
Source: myplantifulcooking.com
Per Serving:
Calories: 101
Fats: 4g
Protein: 2g
Carbs: 16g
Fiber: 1g
Sugar: 8g
Our first coffee cake on the list. This one is vegan and gluten-free.
This is a recipe that is easy for beginners. It's also another one that is made in just one bowl.
Suppose you're looking for added sweetness to your coffee cake. Then this one is topped with a crisp cinnamon streusel.
The cake can be stored refrigerated in an airtight container for a week. That's if it lasts that long!
Source: maplewoodroad.com
Per Serving:
Calories: 179
Fats: 10g
Protein: 5g
Carbs: 18g
Fiber: 1g
Sugar: 10g
Castella cake is derived initially from Portugal. It is now a popular treat in Japan, with wide varieties, including chocolate!
This cake has a different method of baking. It is baked in a hot water bath. This is what gives its light and airy texture.
Castella cake has no rising agents. So, you will need to whisk eggs into a meringue to help with this!
Due to its texture, the cake has a slight jiggle to it. This means it is fun as well as tasty!
Source: supergoldenbakes.com
Per Serving:
Calories: 183
Fats: 9g
Protein: 6g
Carbs: 20g
Fiber: 3g
Sugar: 5g
Time for a different type of fruit for a cake. Blueberries and almonds work so well together.
This cake isn't made with butter. Instead, it is replaced with grated potato! Ground almonds give the cake moisture and a light taste.
Rather than sugar, natural sweeteners are used. The extra sweetness comes from the juicy blueberries!
Serve this cake with low-fat ice cream on the side. This turns it into an extra indulgent dessert!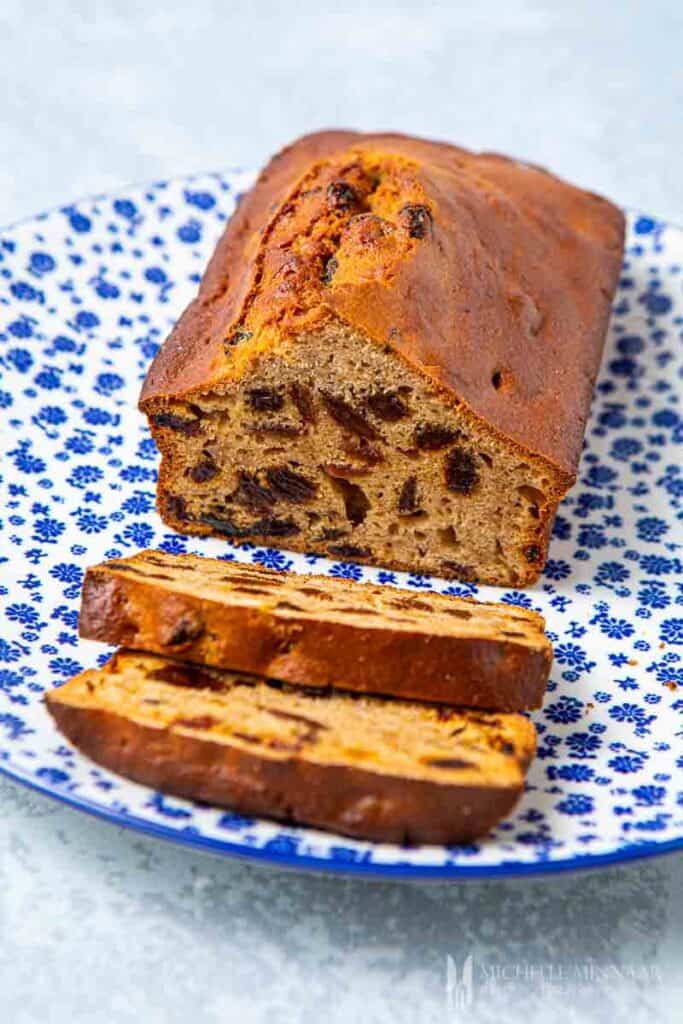 Source: greedygourmet.com
Per Serving:
Calories: 192
Fats: 1g
Protein: 4.4g
Fiber: 1.6g
Sugar: 25.5g
Weetabix is a popular breakfast choice in the UK. But it's also an excellent ingredient for a low-calorie cake!
You can lower the calorie count even further if you wish. Do this by using skimmed milk or a granulated sweetener.
Raisins are used in this cake. You could easily substitute it with your favorite dried fruit.
You could make this cake with the addition of chocolate. Simply by using the chocolate variety of Weetabix instead!
Source: whereismyspoon.co
Per Serving:
Calories: 143
Fats: 2g
Protein: 4g
Carbs: 28g
Fiber: 2g
Sugar: 8g
Apple cakes are a popular dessert worldwide. Apples add moisture and sweetness to this one-layer simple cake!
This French apple cake is low-fat. But it is also low in sugar, thanks to the use of xylitol. This replaces regular granulated sugar.
The cinnamon in this recipe adds a warming taste. Cinnamon sugar sprinkled on top gives a crunchy texture!
Serve with a scoop of vanilla ice cream. This will be best cooled slightly from the oven!
Source: skinnycomfort.com
Per Serving:
Calories: 70
Fats: 2g
Protein: 2g
Carbs: 16g
Fiber: 1g
Sugar: 1g
Yogurt is a beautiful low-calorie substitute for fat in cakes. This Greek yogurt cake is one of the easiest on our list!
Only one additional ingredient is needed for this. A 16oz box of yellow cake mix!
You can experiment by using your favorite flavor of the mix. Just make sure it's a sugar-free one to keep it low-calorie.
Top this with a frosting of your choosing. Cool Whip is an excellent choice. Even throw some fruit on top for extra color and flavor!
Source: diabetesstrong.com
Per Serving:
Calories: 217
Fats: 1.9g
Protein: 31.5g
Carbs: 17.9g
Fiber: 4.2g
Sugar: 1.1g
Another bake on our list is made with a breakfast item. You really can have your cake and eat it – for breakfast!
This turns a calorific sweet treat into a protein-filled, no-guilt option. If you have a busy schedule, this can be made in advance.
Just store it in the fridge. Then you can warm it in the microwave for just 30 seconds. Spread with a thin layer of almond butter for extra indulgence!
Source: healthyseasonalrecipes.com
Per Serving:
Calories: 217
Fats: 8g
Protein: 6g
Carbs: 40g
Fiber: 6g
Sugar: 26g
Dark chocolate is the highest tier of indulgence. This flourless cake is made with a secret ingredient for moisture. Prunes!
The prunes also add sweetness without needing sugar. This means you can keep the calorie content lower.
Like the Castella cake, this is also baked in a bain-marie. This will ensure it's cooked evenly throughout.
Fresh raspberries would work well on top of this cake!
Source: healthbeet.org
Per Serving:
Calories: 103g
Fats: 2g
Protein: 2g
Carbs: 21g
Fiber: 2g
Sugar: 8g
A low-calorie rice cake treats made in just two minutes! All you need is caramel rice cakes and two extra ingredients.
Add mini marshmallows and low-sugar chocolate chips. Then air fry for two minutes!
You can prepare these in the oven if you don't own an air fryer. The melted marshmallows and chocolate look so inviting!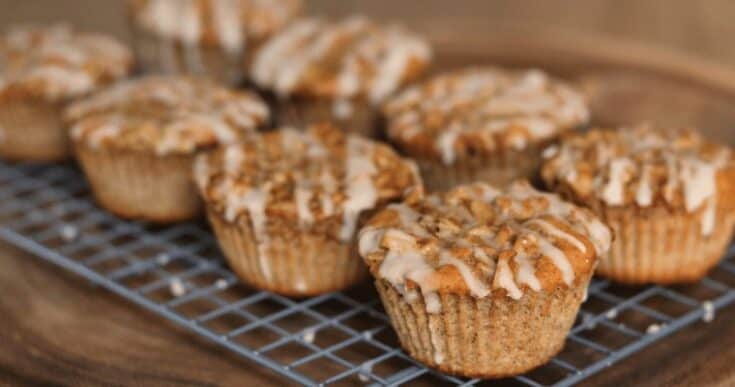 Source: masonfit.com
Per Serving:
Calories: 120
Fats: 7g
Protein: 8g
Carbs: 8g
Another coffee cake recipe, this time in muffin form. These are low in calories and high in protein.
The ingredients list for these looks lengthy and complicated. But they are easy to make!
They are topped with a walnut oat crunchy streusel. A simple sugar-free glaze follows this!
Source: supergoldenbakes.com
Per Serving:
Calories: 140
Fats: 8g
Protein: 7g
Carbs: 14g
Fiber: 5g
Sugar: 2g
Imagine indulging in a chocolate cake at 140 calories per slice. You don't have to imagine because you can!
This chocolate cake has many benefits. It's both low in calories and fat but high in fiber.
Black beans keep this cake moist. Cocoa powder gives it an indulgent chocolaty taste!
Adding some strawberries will make this even healthier. And inviting to tuck into!
This decadent cake is one of the best fancy desserts to impress guests!
Source: healthbeet.org
Per Serving:
Calories: 206
Fats: 1g
Protein: 40g
Carbs: 9g
This regular protein waffle recipe switches out vanilla extract. Swap it for cake batter extract!
The cake batter extract brings a new level to these waffles. Layer the waffles with Cool Whip frosting between.
Adding some bright sprinkles will give a birthday cake vibe too!
Source: foodmeanderings.com
Per Serving:
Calories: 160
Fats: 1g
Protein: 3g
Carbs: 37g
Fiber: 1g
Sugar: 28g
Here we have another angel food cake. This one has a tropical feel with the addition of pineapple and coconut!
Using an angel food cake box mix makes it super easy. Combine with canned pineapple and coconut milk.
Decorate this cake with pineapple rings and maraschino cherries. They will add a wow factor!
Love tropical flavors? These Hawaiian desserts will wow you!
Source: joyfoodsunshine.com
Per Serving:
Calories: 100.6
Fats: 0.6g
Protein: 2.2g
Carbs: 21.9g
Fiber: 1.4g
Sugar: 12.8g
The final recipe on our list is low in sugar and fat. But it does not compromise on taste!
The crushed pineapple elevates this from a regular carrot cake. It produces an incredibly moist cake that tastes delicious.
Don't forget the cream cheese frosting! What is a carrot cake without that?
Still looking to satisfy that sweet tooth? These low-calorie cookies should help!
21 Skinny Low-Calorie Cake Ideas for Sweet Tooths
You can still enjoy desserts whilst on a diet. These are the best low calorie cake ideas that you can make for any occasion.
Ingredients
1. Vegan Pear Cake
2. 2-Ingredient Orange Angel Food Cake
3. Chocolate Peanut Butter Protein Cupcakes
4. Carrot Cake Loaf
5. Chickpea Flour Cake
6. Chocolate Buckwheat Cake
7. Black Bean Chocolate Cake
8. Eggless Coffee Cake
9. Chocolate Castella Cake
10. Blueberry and Almond Traybake
11. Weetabix Cake
12. French Apple Cake
13. Greek Yogurt Cake
14. Baked Oatmeal Cinnamon Roll
15. Flourless Dark Chocolate Cake
16. 2-Minute Smores Rice Cake
17. Coffee Cake Protein Muffins
18. Healthy Chocolate Cake
19. Birthday Cake Protein Waffles
20. Pina Colada Angel Food Cake
21. Carrot Pineapple Cake
Instructions
Scroll up to get a bunch of easy, yummy, and delicious cake recipes. Don't be afraid to get creative with the ingredients. You might discover a flavor you didn't know you liked.
Get your shopping list going, and make sure you've got all the ingredients.
Get cooking and make your next Low-Calorie Cake Recipe!
Notes
Which one of these recipes was your favorite? Let me know in the comment section or on Pinterest!