Desserts in Hawaii are some of the best in the world! So, why not bring some of that delicious goodness to your very own kitchen with these traditional Hawaiian desserts?
The best part about Hawaiian desserts is that many different cuisines influence them.
From Japan to Portugal, many places have created the tasty landscape of Hawaii desserts. Discover which of these twenty-seven favorite Hawaiian desserts you want to try this summer below!
What is a Popular Dessert in Hawaii?
If you find yourself in Hawaii, there are many desserts with tropical flavors you need to try. One of the most popular and a classic Hawaiian dessert is Malassadas.
This is a brioche-style fried donut with a ton of good flavor.
Sinking your teeth into one of these on summer days is like inhaling a sweet, buttery cloud. In other words: heaven.
But there are plenty of other great Hawaiian recipes for desserts to try when you arrive on the island! I've listed some below:
Haupia cake: A Jell-O-like substance made with coconut and cornstarch with a light coconut flavor.
Mochi: Originally from Japan, mochi is a delicious rice flour cake that's soft and often stuffed with something sweet. Hawaiian butter mochi is popular for a good reason!
Crunch: A 'crunch' is more of a concept! This sweet treat feature a base, a filling, and a crunchy element (hence the name).
What are the Best Hawaiian Fruits?
Pineapples are the most iconic fruit from Hawaii. They're also its primary fruit export! Some other key fruits in Hawaiian horticulture include bananas, papayas, guavas, and macadamia nuts.
Each of these ingredients plays a big role in Hawaiian dessert culture. Tropical desserts with fresh fruits like fresh pineapple are bound to be on the menu when enjoying Hawaiian desserts.
The popular pineapple upside-down cake is a local favorite!
Best Hawaiian Desserts
The question is: which Hawaiian desserts are the best? Well, you can decide that for yourself! I've collected twenty-seven delicious dessert recipes inspired by Hawaiian flavors here.
Try them out to discover which of these best desserts are your favorite to satisfy your sweet cravings!
Source: cinnamonandcoriander.com
Let's kick things off with something unique. This is a truly Hawaiian version of a classic sweet potato pie! Instead of golden sweet potatoes, you'll be using purple sweet potatoes.
These are also called 'ube.' Ube appears in Japanese, Philipino, and Hawaiian food fairly regularly. Like golden sweet potatoes, they have a starchy and sweet taste.
That's what makes them so good in pies! Give this coconut-topped pie a try if you want something light and comforting.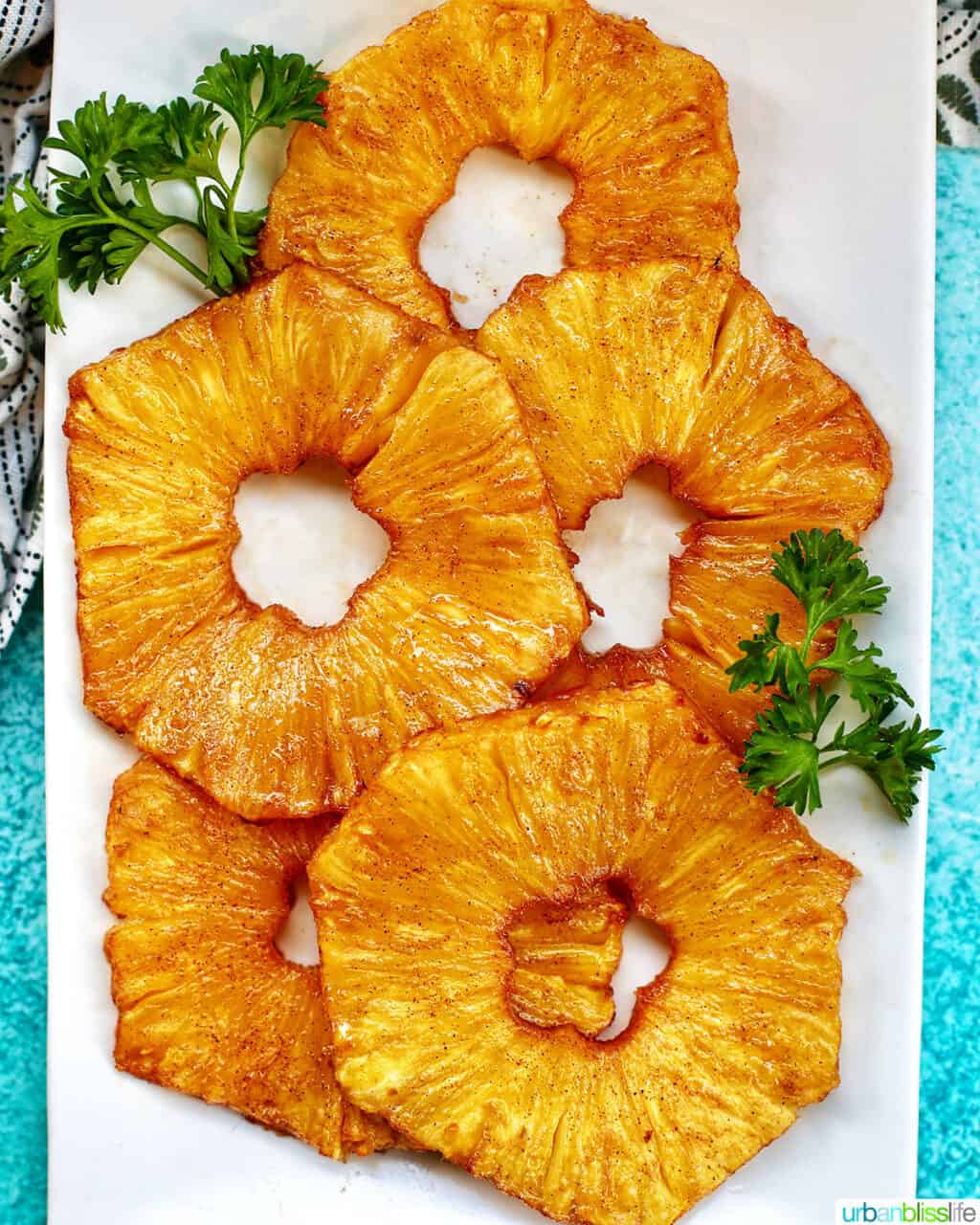 Source: urbanblisslife.com
Looking for something simple and healthy to enjoy after dinner? Air fryer pineapple is here to save the day!
This pineapple recipe is made of spiced pineapple rounds cooked perfectly by a quick bout in the air fryer.
You can enjoy these slices on their own to satisfy your sweet tooth or as part of a larger dessert, Hawaiian style.
On their own, they're juicy, slightly chewy, and addictive. If you'd like, try enjoying these as part of a fruit salad!
Get more use out of your air fryer with these other tasty air fryer desserts!
Source: thismamacooks.com
One of the ways to use your air-fried pineapple is to make a tasty ice cream sandwich! This ice cream sandwich is like no other. Every bite is packed with a juicy tropical flavor.
This is as guilt-free as an ice cream sandwich can get. Yes, there's ice cream. However, the rest of the sandwich is made of fruit and unsweetened coconut. It's a lovely balance you can enjoy at any time.
Source: noshingwiththenolands.com
Dream bars are a classic addition to any picnic or potluck. Put a Hawaiian spin on your dream bar recipe with this delicious dessert!
Inspired by Hawaiian dream cake, the secret is the crushed pineapple hiding in the middle.
Every bite of this authentic Hawaiian dessert bursts with the flavors of the tropics and Hawaiian culture.
This easy dessert is like sunshine for your taste buds in a little bar! A dusting of shredded coconut is the perfect thing to add some crunch and texture to this otherwise dreamy dessert.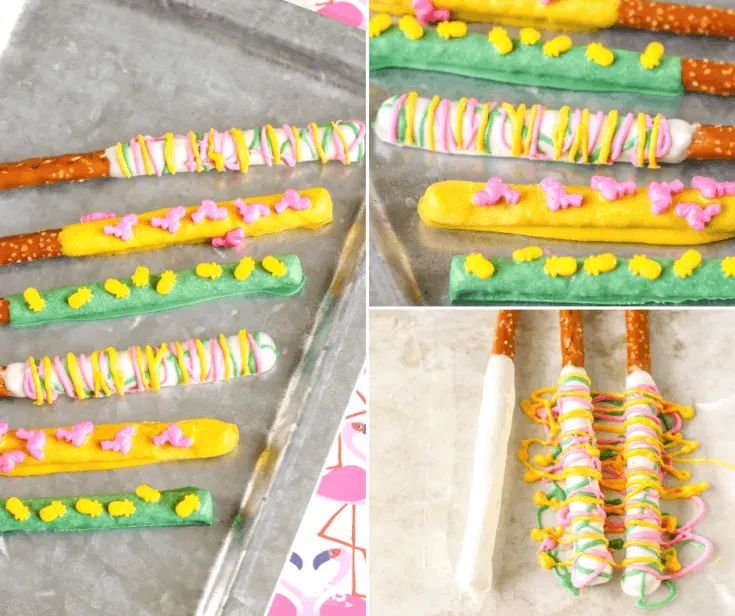 Source: 3boysandadog.com
This one goes out to the kids! Get the little ones in the kitchen to make their very own luau pretzel rods. They're colorful, crunchy, and everything kids love about a good dessert.
You can use this technique to make any pretzel rods you like. This is a great hack for Halloween, Christmas, and Easter parties with the kids. And don't worry, the adults will love them too.
Source: littleferrarokitchen.com
Lilikoi bars – or passion fruit bars – put a tasty Hawaiian spin on the classic lemon bars. These ooey-gooey delights are perfect for a summer day. Take them on a picnic or to a potluck!
First, you have the crunchy buttery base. Then comes the sweet passionfruit filling. Finally, the top is dusted with coconut and a drizzle of syrup. All at once, this is heaven in a single bite!
Source: 3boysandadog.com
Also called 'monkey bread,' this Hawaiian bubble bread technique is a must-try. The sweet bread is super moist and humming with tropical flavor. The secret? Chunks of fresh fruit and coconut.
The bread itself is designed to be sweet and fluffy. Then, baking it with the fruit creates pockets of smooth, sweet puree.
This is a super simple dessert you can whip up with whatever you have at home.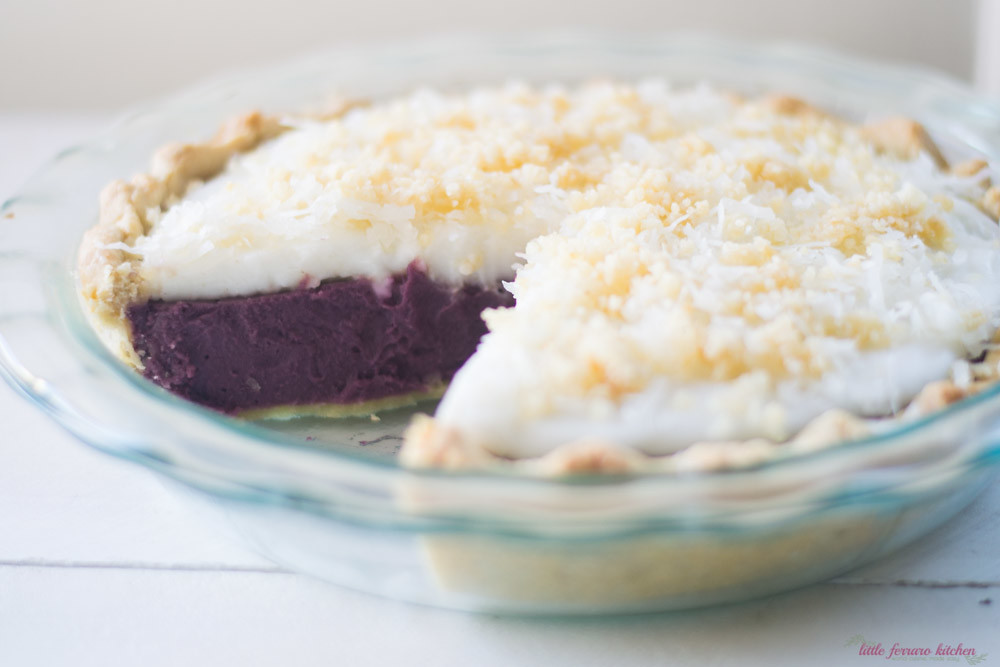 Source: littleferrarokitchen.com
Haupia is a Hawaiian coconut pudding. It's a favorite all over the island, thanks to its refreshing flavor and cool sweetness. It's also the secret ingredient in this incredible sweet potato pie.
This is another sweet potato pie recipe that uses ube. That shocking purple is a fantastic contrast to the haupia sitting on top. Earthy ube and coconut battle it out in every bite. It's sensational!
Source: hawaiitravelwithkids.com
There's something exceptional about an upside-down pineapple cake. It just looks so inviting. Like it's begging you to cut into it.
This cheesecake version is even more inviting, thanks to the incredible crust surrounding the pineapple. You've got a true winner when you add the smooth tropical cheesecake filling.
If you're searching for a spin on a classic dessert, this is the recipe to reach for.
Source: pupswithchopsticks.com
Butter mochi is a popular Hawaiian dessert usually baked in a square tin. But the thing is, everybody always fights for the chewy corner pieces! So, why not make sure it's all like chewy corner pieces?
That's where this clever recipe comes in. This way, you can make chewy butter mochi in cupcake tins to ensure every bite has a delicious edge.
One thing you need to make sure is in your pantry is mochiko. This is a sweet Japanese rice flour used to make actual mochi. However, if you can't find it, you can use glutinous rice flour instead.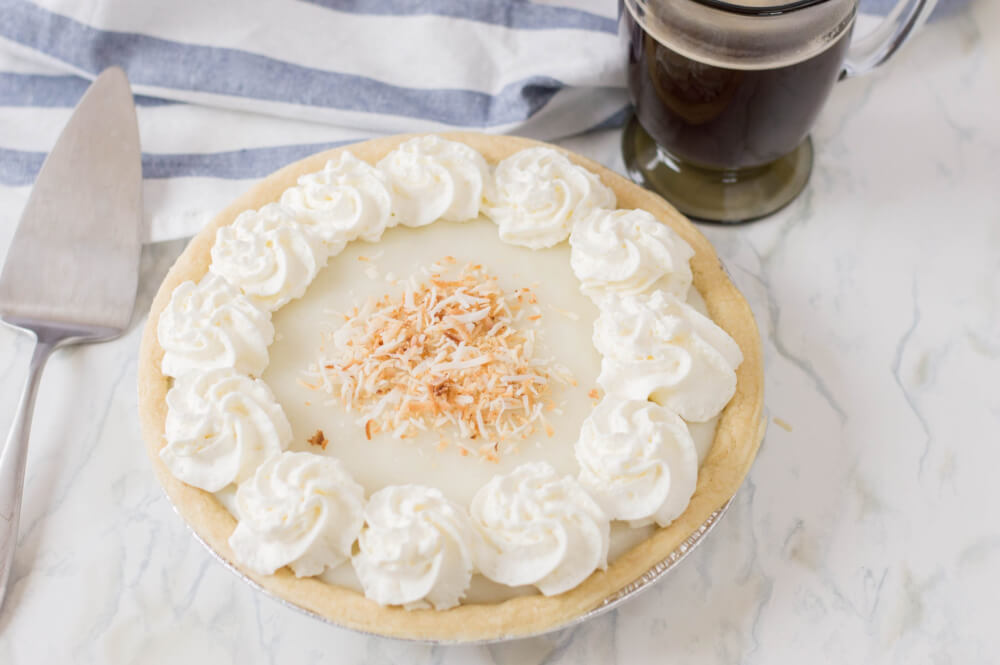 Source: hawaiitravelwithkids.com
Remember the haupia pie from earlier? This is take two! Instead of ube, this recipe calls for a tasty chocolate filling. This pie is for you if you're a fan of the chocolate-coconut combination.
The smooth haupia helps lighten the rich chocolate filling. Every bite is super balanced. So, you might struggle not to eat this entire pie in one sitting (that's just how good it is).
Source: emilyfabulous.com
Take a trip to the tropics with these super simple passionfruit bars. These are ideal if you need a quick potluck dessert. Your kids will also love these if they need something to take to school!
These are the perfect make-ahead bars. They need to chill in the fridge for at least an hour before you eat. So, you can prepare them ahead of time and let them cool as necessary.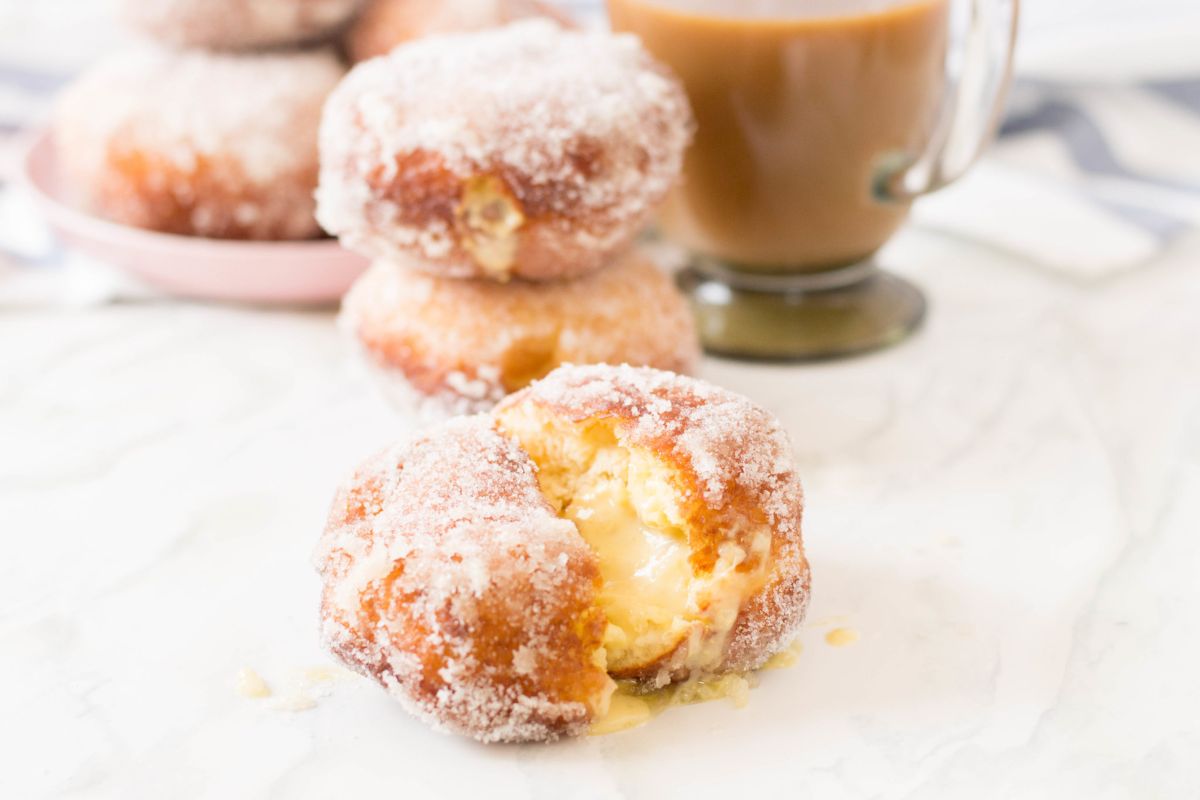 Source: hawaiitravelwithkids.com
It's the best time on any dessert list: it's donut time. These incredible malasadas are filled with haupia. That's right. They're coconut pudding-stuffed donuts!
These are like little pillows of heaven.
For best results, serve these as soon as you take them out of the fryer. Once you sink your teeth in, the warm pudding will seep out to coat the fluffy donuts.
If you love coconut you will also love these yummy coconut macaroons!
Source: balancewithjess.com
I love cheesecake bars. A buttery crust pairs with smooth cheesecake filling for a rich and delicious portable dessert.
They're great for picnics or road trips because you can take them anywhere. Now, imagine cheesecake bars with the light, sweet earthiness of ube. That's what this recipe promises!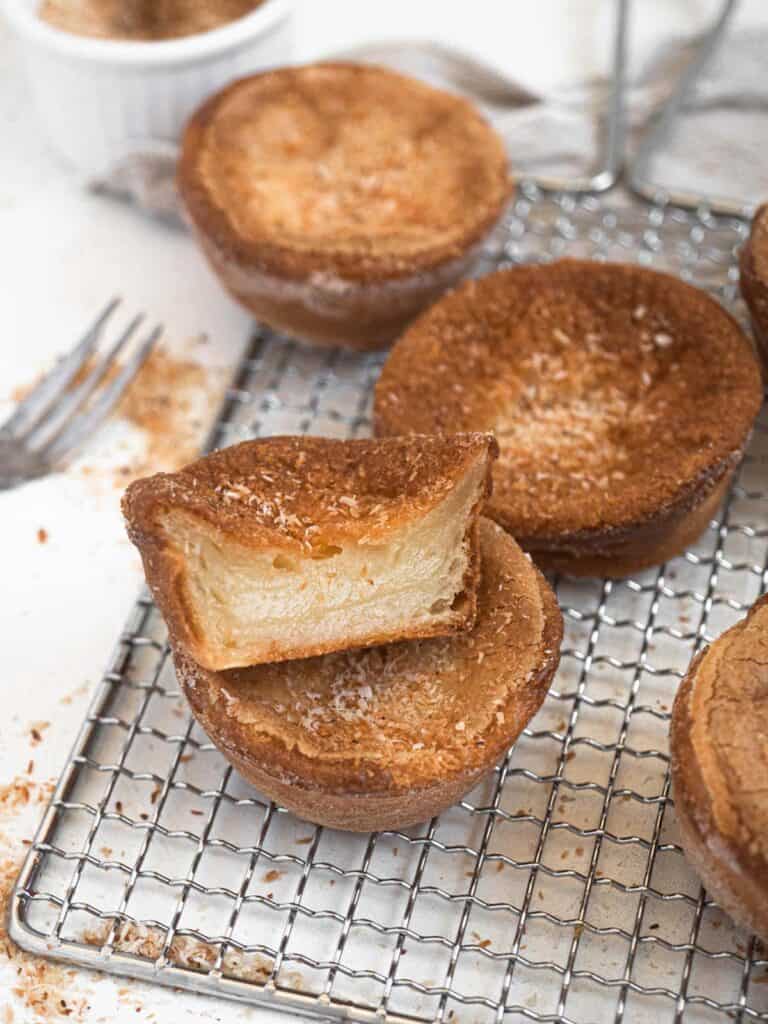 Source: zhangcatherine.com
Here's another take on the amazing butter mochi cupcakes. A simple cross-section will tell you how pillowy and crispy these little morsels are.
This recipe takes things further and dusts the tins with rice flour. That way, the outsides are even crispier! Trust me. You'll be addicted to these in no time.
Source: bakingbeauty.net
This recipe is called a poke cake because you poke holes into the warm cake. Once that's done, pour warm pineapple syrup over the top.
The syrup seeps into the holes, soaking into the warm cake to create an unbeatable flavor. This poke cake is a tropical dream waiting to happen, featuring pineapple and coconut.
If you want to kick things up a notch, make it a true pina colada! Splash some white rum into the syrup mixture for a boozier version.
Source: mykitchenlove.com
Sweet bread is a fairly common dessert across Hawaii. Think of it like banana bread: moist, dense, and rich with fruit flavor. This mango brown sugar bread lives up to those expectations for sure.
While the recipe calls for mango, you can use any fresh fruit. Brown sugar is the key to a dense crumb and crispy exterior, so don't skimp on it!
Source: barleyandsage.com
If you prefer baked donuts, I have got the recipe for you! These baked coconut donuts are light and fluffy, with an addictive coconut glaze to top them off.
Toasted coconut sprinkled on top adds an insane crunch. This topping is the perfect contrast to the cakey texture of the baked donuts.
Trust me. This recipe is so addictive. Once you know it, you can use the base donut recipe to make all your favorite flavors.
Source: urbanblisslife.com
This pineapple quick bread can be a dessert, a side dish, or breakfast item! It's super versatile. Plus, as the name implies, you can pull it together in no time.
It only takes an hour to make this recipe from scratch. The buttery crust and dense crumb feel like they took hours of work, but they're so simple to achieve!
Finish it off with a light glaze, or enjoy it as-is.
Source: barleyandsage.com
Give a nod to classic Hawaiian flavors while enjoying a familiar favorite. This tasty cupcake recipe has an incredible balance of mango and coconut flavors.
My personal favorite is the toasted coconut buttercream on top. It's not too sweet and light enough to contrast with the mango filling in the cupcakes.
You can easily prepare these ahead of time. They look as good as they taste, so they're great as a gift or birthday party platter too!
Source: urbanblisslife.com
Transport yourself to a tropical summer with this fantastic sorbet recipe. Pineapple and mango are the ultimate tropical flavor combination. It's sweet, cool, and perfect as a sorbet base.
You can enjoy this sorbet as-is, or you can use it to make other desserts. Consider this: an ice cream sandwich with tropical sorbet as the filling! I can't think of anything better.
This mango chia pudding would be a great option if you have some extra mangos!
Source: dessertfortwo.com
After something quick and easy for your Hawaiian-themed dessert? Pineapple milkshake to the rescue! This is an adult-style boozy milkshake perfectly suited to a Hawaiian-themed party.
If you're serving a large crowd, this is a great way to ensure everyone gets a taste. Milkshakes are simple to make in bulk. Plus, everyone loves sipping down something cold on a hot day.
Source: noshingwiththenolands.com
Speaking of parties, here's a recipe for a platter that will blow your guests away. Something as simple as fresh fruit can go a long way if you present it well!
This creamy pina colada fruit dip has all the markers of a tasty dessert. It's sweet, refreshing, and full of great textures.
It's super easy to adapt this to suit a kids' or adults' party by choosing what you serve with the dip.
Source: chocolatemoosey.com
Vegan and dairy-free desserts often have a bad reputation. But these refreshing pineapple popsicles prove how delicious the dairy-free life can be. Not to mention, they're dead simple to make.
Whisk together pineapple juice and sugar before freezing. The result is a tangy, sweet popsicle that quenches your thirst on a hot day.
If you like, you can crank these up a notch for adults by adding a splash of rum!
Looking for more tasty treats? Check out these other dairy-free dessert recipes!
Source: housewivesoffrederickcounty.com
This recipe is for you if you need something simple and tropical that hits the spot without much effort. These pineapple coconut cake bars are super crunchy and fluffy.
The tangy pineapple filling is the perfect thing to wake up your tastebuds. Best of all, this recipe comes together in no time. It's a great last-minute dessert when you have unexpected guests.
Source: strengthandsunshine.com
This next recipe is at home in a dessert spread as a brunch table. It's not too sweet, but the texture is chewy and decadent. The toasted coconut on top is what sells it.
This super simple recipe is great if you want to bring your kids in on the baking! With only seven ingredients to manage, you can rest easy knowing your kitchen won't be a disaster by the end.
Source: confessionsofparenting.com
Our final recipe uses a unique cooking method that guarantees tasty results. Cooking your cheesecake in an Instant Pot ensures it remains soft and smooth to the touch.
The cool sweetness of this fluffy cheesecake sets it apart from the rest. It's simple to make and doesn't take up space in your oven. So, it's great if you're hosting a dinner party and need the space!
There you have it! Twenty-seven Hawaiian dessert recipes to tickle your tastebuds. Have any of them caught your eye? Let me know which one is your favorite in the comments!
If you enjoyed these Hawaiian desserts, these flavorful Filipino dessert recipes will be up your alley!
27 Best Hawaiian Desserts That You Must Make
Hawaiian desserts are some of the best in the world. Try one of these tasty, tropical dessert recipes to serve at your next gathering.
Ingredients
1. Purple Sweet Potato Pie with Coconut Topping
2. Air Fryer Pineapple
3. Tropical Ice Cream Sandwich
4. Old-Fashioned Hawaiian Dream Bars
5. Hawaiian Luau Pretzel Rods
6. Lilikoi Bars
7. Hawaiian Bubble Bread
8. Purple Sweet Potato Haupia Pie
9. Pineapple Upside Down Cheesecake
10. Chewy Butter Mochi
11. Hawaiian Chocolate Haupia Pie
12. Passionfruit Bars
13. Coconut Filled Malasadas
14. Ube Cheesecake Bars
15. Butter Mochi Cupcakes
16. Pina Colada Poke Cake
17. Mango Brown Sugar Bread
18. Toasted Coconut Donuts
19. Pineapple Bread
20. Mango Coconut Cupcakes
21. Pineapple Mango Sorbet
22. Pineapple Milkshake
23. Pina Colada Fruit Dip
24. Pineapple Popsicles
25. Pineapple Coconut Cake Bars
26. Mango Snack Cake with Toasted Coconut Crumb
27. Instant Pot Pina Colada Cheesecake
Instructions
Scroll up to get a bunch of easy, yummy, and delicious recipes. Don't be afraid to get creative with the ingredients, you might discover a flavor you didn't know you liked.
Get your shopping list going and make sure you've got all the ingredients.
Get cooking and make your next Hawaiian Dessert!
Notes
Which one of these recipes was your favorite? Let me know in the comment section or on Pinterest!