Sometimes you want to treat yourself to something a little extra special. These impressive fancy desserts will help you do just that!
Date night? Birthday Celebration? Special occasion? Dinner party? A quiet night in of self-care?
These impressive desserts will help you do it no matter which box you're ticking. You don't have to spend hours in the kitchen to enjoy a dessert worthy of a restaurant.
Check out these forty-one gourmet desserts to take your dessert game from zero to hero!
What are the Most Delicious Desserts in the World?
It's hard to nail down the most delicious desserts in the world. There are so many beautiful desserts to choose from. Every country has its crowning jewel. Let's review some of the highlights.
You've got baklava from Turkey and Black Forest Cake from Germany. There's mochi from Japan and a trifle from England. Italy has affogato, and Brazil has brigadeiro. There are so many to choose from!
So, no matter what tickles your taste buds, there's something out there to try with these favorite gourmet dessert recipes.
Fancy Desserts You'll Want to Make Over and Over Again
Apart from eating it, there's another great thing about making fancy desserts. Making them your signature. If you have tasty treats everyone knows you for, you're the life of the party.
Are you headed to a neighbourhood potluck? Hosting a dinner party? Wondering what to make for a friend's birthday? These are all chances to show the world your signature fancy dessert.
Before you know it, they'll be begging you to make it at every turn. Because a good fancy dessert is one people want to eat again and again.
So, what are you waiting for? Let's dive into forty-one favorite dessert recipes you can keep in your back pocket.
Chocolate Fancy Desserts
Chocolate is the ultimate luxury. It's the perfect foundation for a fancy dessert. You can enjoy chocolate in almost any shape or size, so it's great for a solo night or a big party!
Source: lifecurrentsblog.com
Let's kick things off with a classic: a cheesecake. Namely, a delicious raspberry chocolate cake! This flavor combination was sent from heaven to bless mortals like us with a sweet tooth.
The rich chocolate blends with tart raspberry to create a taste you have to keep going back for. Pair that with the smooth texture and rich crust. You've got a winner for sure, perfect for special events.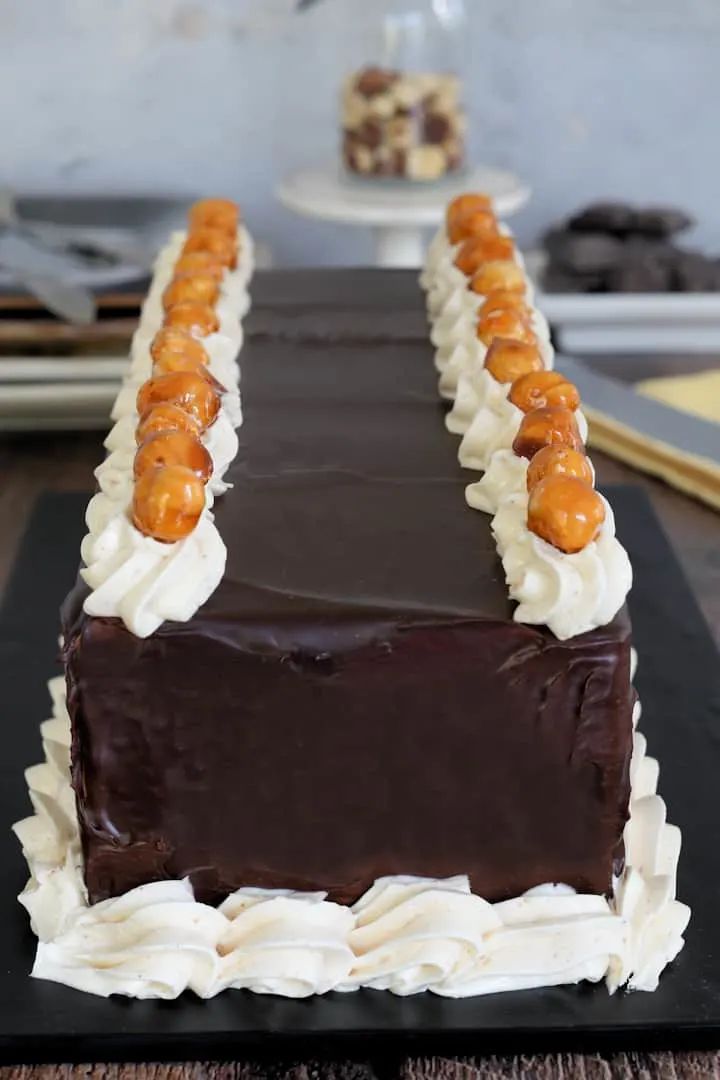 Source: baking-sense.com
Next up is a fancy French dessert that will make you swoon. You can't go wrong with layers of meringue, nut, and chocolate! This is the dessert to test yourself against if you bake often.
Bring your baking chops to bear against this recipe. It's a light layered dessert with many different flavors creating a rich tapestry.
You'll walk away with a whole bunch of new French pastry techniques!
Source: whatagirleats.com
This cake is known as 'La Bete Noir' or 'The Black Beast.' It hails from Bon Appetit! This recipe is your chance to dance with the devil and come out on top.
The rich chocolate and tart raspberry is the perfect pair. Satisfy your gluten-free friends and family with a super simple yet rich cake. This keeps super well in the fridge, thanks to the ganache.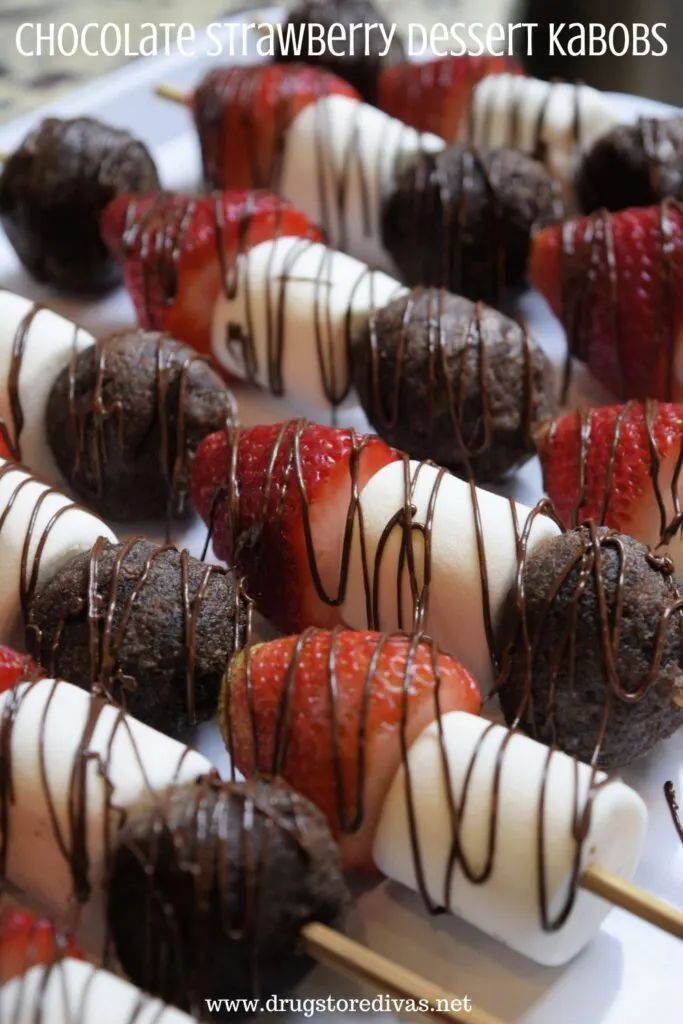 Source: drugstoredivas.net
If you love s'mores, you're going to love this one. This recipe is a great one to reach for if your kids need a last-minute fancy dessert to take to a party. They're also great for block parties!
It takes no time to assemble a large batch of these skewers. If you're low on time, you can even buy the chocolate truffles pre-made to save some time.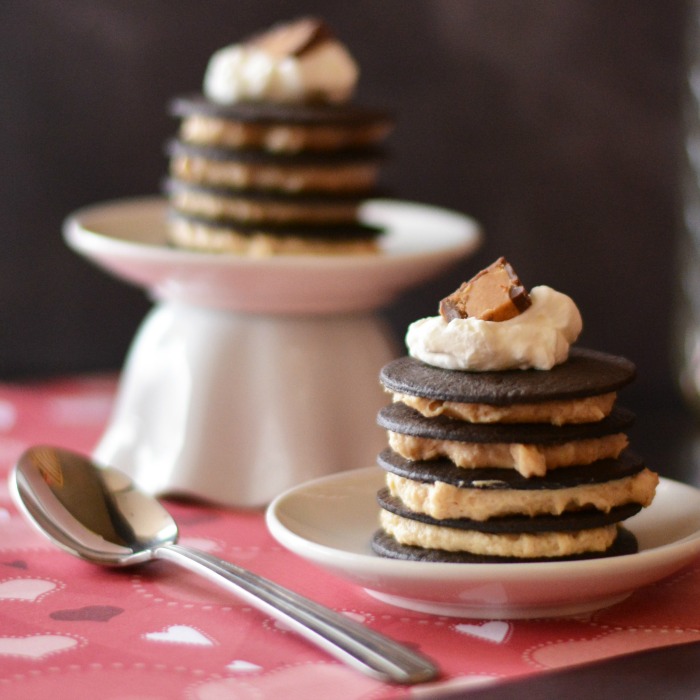 Source: mommyevolution.com
Everybody loves a good peanut butter cup. But whipping out a packet of Reese's after your fancy dinner party may not be how you want to end the night. That's where this recipe comes in.
Surprise and impress with these decadent chocolate peanut butter cakes. They look super fancy, but that's not the best part. They taste exactly like everyone's favorite peanut butter cup candy!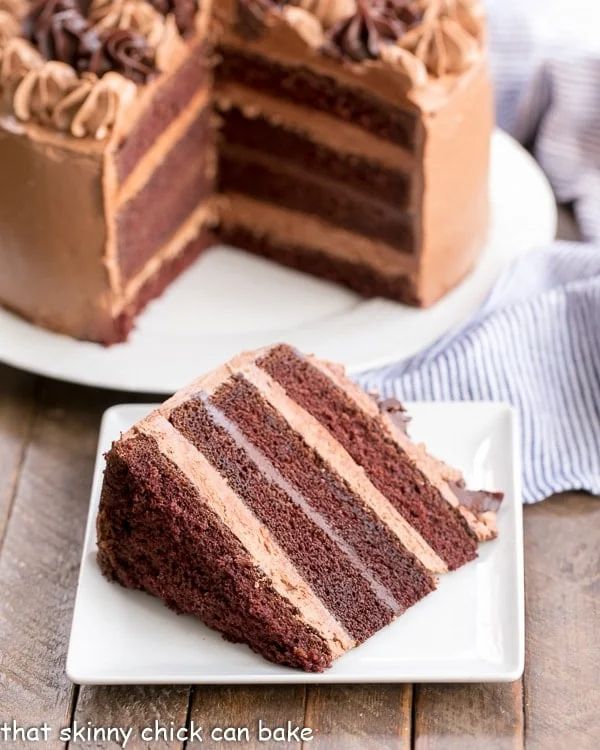 Source: thatskinnychickcanbake.com
Who needs something complex when a classic will do? This delicious six-layer cake is fancy because it's pure luxury on a plate. Turn up with this to a party, and everyone there will thank you.
It looks stunning. If you're a bit new to baking, this could be your way in. It teaches a few special techniques, but at its core, it's just a tasty chocolate cake.
If you are a chocolate lover you must make these 5-ingredient brownies!
Fancy Mini Desserts
Are you gearing up for a fun party with some friends? Impress them with one or more of the fancy mini desserts on this list! These are great to be enjoyed in one bite.
They're also easy to make in bulk. And who's mad at more dessert? Certainly not me!
Source: homemadeandyummy.com
Simple, fancy, and tasty. These apple rose puffs check all the boxes! Each elegant puff is perfect for a summer brunch party or a high tea with some friends.
The hardest part about making these is assembling the actual roses. Once the technique is down, you'll be cranking them out in the hundreds.
Source: thriftyjinxy.com
After something a little bit simpler? These mini cheesecakes taste great, and they're easy to make. Every bit is packed with honey and balsamic berry flavor for a semi-sweet kick you'll love.
I love using mini cheesecakes when I have a party coming up. You can make them the day before and store them in the fridge, ready to serve.
No hassle on the day, but all the credit for a tasty dessert!
Source: twokidsandacoupon.com
Put a tasty twist on your two favorite desserts: cheesecake and cookies. There's nothing better than blending two desserts that taste amazing on their own!
These little cups are so cute, and they taste delicious. The creamy cheesecake and the crunchy cookie crust are the perfect pair. Add the fresh fruit on top, and you've got a winning dessert.
Source: mindeescookingobsession.com
It's time to take on choux pastry. This is a great place to start if you've never worked with choux. Mini eclairs are pretty simple, and the results are a real crowd-pleaser.
The best part is that you can put your twist on the flavors you choose. Tired of traditional cream as a filling? Try a caramel or a fruit cream to spice things up. Dip them in white chocolate. Go nuts!
Source: pizzazzerie.com
Put on a gorgeous brunch with these adorable crème brulée cheesecakes. Each bite-sized morsel has all the richness of a full crème brulée. The cheesecake part adds a lovely tart flavor that's addictive!
While they look super fancy, these aren't very hard to make. Plus, you get to whip out a blow torch to brown the sugar before serving. Who doesn't love an excuse to use a blow torch in the kitchen?
Source: partylicious.net
Here's a classic that keeps coming back in style. Mini fruit tarts are loved for a reason! They're rich thanks to the custard, but the fruit keeps them fresh.
Pair that with a buttery tart shell, and you're golden. These tarts are super easy to whip up ahead of your party. Dress them with your fresh fruit before you serve to keep the fruit tart and juicy.
Love mini foods? These mini desserts will satisfy your sweet tooth.
Source: partylicious.net
Calling all experienced bakers! Here's a delicious fancy dessert you can test your mettle against. These coffee macarons are the perfect way to enjoy an after-dinner hit of coffee.
The shells crunch and crumble into the coffee buttercream when you take a bite. Seriously, these things are addictive. You might even use them in gift bags for your guests to take home!
Source: partylicious.net
These may seem super fancy, but they're one of the simplest desserts you can make! Five ingredients and fifteen minutes of prep time are nothing to sneeze at.
These little French delights are a great way to celebrate someone special. Deliver a box of these to a Valentine or gift them on Christmas Eve. They're best served fresh, so make sure to move quickly.
Easy Fancy Desserts
Making a fancy dessert doesn't have to be a mission. These easy dessert recipes will let you enjoy the fancy flavor without much effort.
These easiest desserts are great if you're looking for something last minute!
Source: 24bite.com
When the words 'Instant Pot' and 'flan' appear in a recipe, you know two things. One: it will be delicious. Two: it will be an easy recipe to bring to life!
You can dress this easy dessert up or down depending on your time. A simple side of whipped cream can go a long way. Or, if you have more time, some spun sugar would be lovely.
Source: all-thats-jas.com
A good carrot cake is its reward. Now, imagine it as a cheesecake. Have I got your attention? This recipe creates a stunning dessert that every one of your guests will love.
It's super easy to pull together the night before. Leave it in the fridge overnight to let the flavors mingle. Let it come to room temperature once you're ready to serve. It will be gorgeous!
Source: all-thats-jas.com
If carrot cake isn't your thing, try this tiramisu cheesecake on for size. Cheesecake is a super simple dessert that's great for achieving luxury on a time budget.
The tiramisu flavors laced through this gorgeous cake will make your tastebuds sing. This is the ideal showstopper following an Italian dinner party feast.
Source: mommyevolution.com
Looking for something a little fresh? Taste summer's warm days with this delicious mixed berry tart with fresh blueberries.
This gorgeous tart is super easy to pull together with the things you have at home.
Celebrate your favorite seasonal berries in style! The light glaze on top of the berries adds a pop of sweetness. Serve this creamy dessert with some vanilla ice cream to wow your taste buds.
Source: natalieshealth.com
Here's a fancy dessert that could double as breakfast! That's right. This raspberry chia pudding has all the nutrients of a morning meal. But it tastes just like a luxurious dessert.
The chia seeds in the pudding are what make this dessert healthy. They set in the fridge, so they're ideal for making the day before.
Love chia? You'll love this strawberry chia pudding.
Source: foodpluswords.com
Cut through the heat of summer with these icy mint chip bon bons. The refreshing mint flavor is the perfect way to combat hot days!
Set these up for Valentine's Day picnic or as a fancy twist on your kids' favorite treats. Trust me. Everyone will love them. You can use the same method to make other flavors too!
Source: splashoftaste.com
This is a seven-ingredient dessert you can pull together in almost no time. Everyone coming to the party will be desperate to get a piece of this fantastic cheesecake!
Whip out this recipe when you need a quick crowd-pleasing dessert you can make ahead. It keeps super well in the fridge and needs to be set overnight. So, making this the night before is ideal.
Christmas Desserts
Get ready for the holiday season with some fancy desserts. Impress your friends and family on Christmas Eve and Christmas Day with these fabulous treats!
These are great if you need to focus on the other elements of your Christmas dinner. Kill it this Christmas with these fancy holiday dessert recipes!
Source: fabfood4all.co.uk
Jump into the Christmas spirit with a salted caramel cheesecake. It's so creamy and full of rich caramel! Even the Biscoff base screams Christmas!
This is a super simple dessert you can make ahead. Spend your time on the big day with your family. Not in the kitchen stressing about a cheesecake!
Source: lifecurrentsblog.com
Bread pudding is a classic old English dessert that has survived the test of time. This one is even better than the old version because it has pockets of melted chocolate!
Imagine digging into a bread pudding and finding melted chocolate pooling on your plate. This dessert delivers on that dream. It's so warm and comforting. Perfect for Christmas!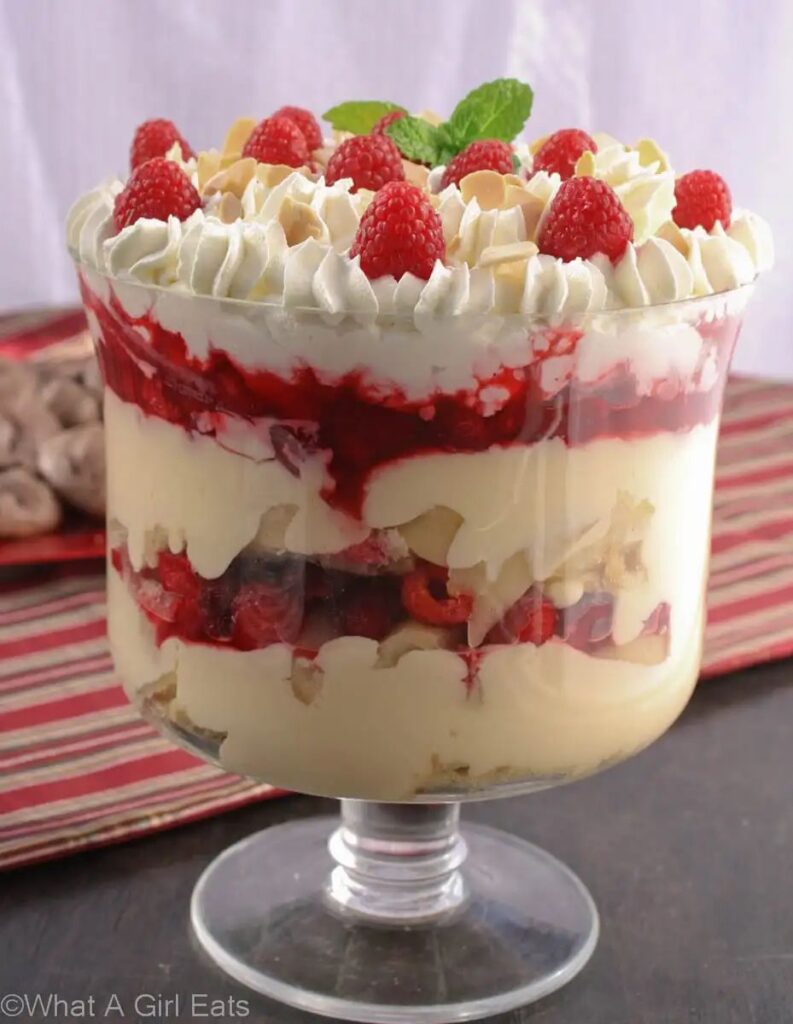 Source: whatagirleats.com
Speaking of classic English desserts, this trifle is a must-try! Layer pound cake, custard, cream, and berries to create a delicious dessert. It's so simple, but the result is so pretty.
The red and white colors make this an ideal centerpiece for your Christmas dinner table. Add a few specks of mint on top to enhance the Christmas feel!
Source: mightymrs.com
Mousse is a great dessert if you want to make your last course ahead of time. Let it set in the fridge overnight and pull it out the next day to the awe of your guests.
This is a dead simple take on mousse that won't have you scrambling for ingredients. Top with a few fresh raspberries for a festive spin!
Source: cookingwithk.net
Roasted pears at Christmas is a combination as old as time itself. This festive recipe will delight everyone sitting down to dinner, trust me. Plus, they're super elegant.
All you have to do is prepare the pears to be roasted ahead of time. When you're ready, whack them in the oven and let them go. It's so easy!
Source: ofbatteranddough.com
You've heard of the German Black Forest Cake. But why not give that idea a festive spin? This white forest cake is a lighter version of a Christmas classic, like snow dusting treetops.
The real hero of this dessert is the cherry sauce. It's spiked with amaretto for a little boozy kick that the adults in the room will love.
Enjoy more delicious German desserts that taste amazing.
Fancy Vegan Desserts
Some people think being vegan means you can't enjoy great desserts anymore. It's time to prove them wrong. These fancy vegan desserts prove just how tasty this life can be.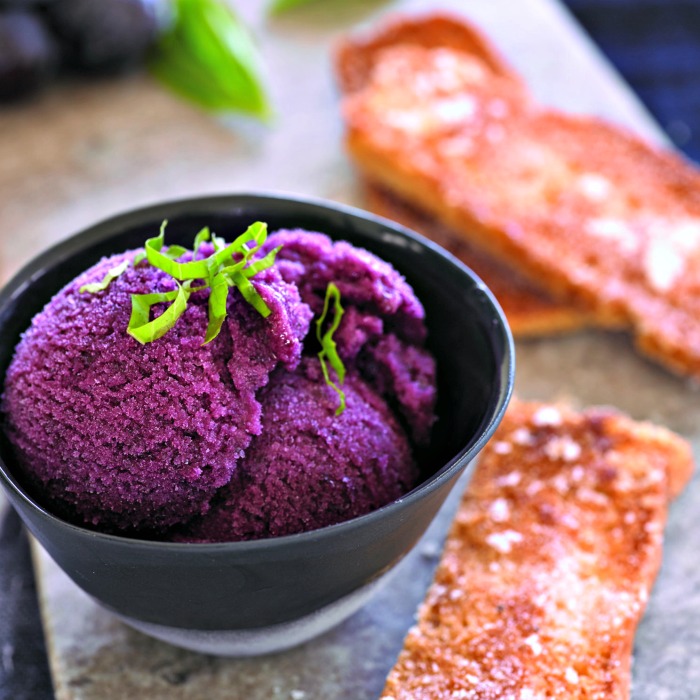 Source: mommyevolution.com
Cool off from those hot summer days with this delicious grape sorbet. Black grapes have a dark sweetness that's perfect for this treat.
If you've been living the vegan life for a while, you know how great it is to find a good sorbet recipe. Trust me. This is one you want to try.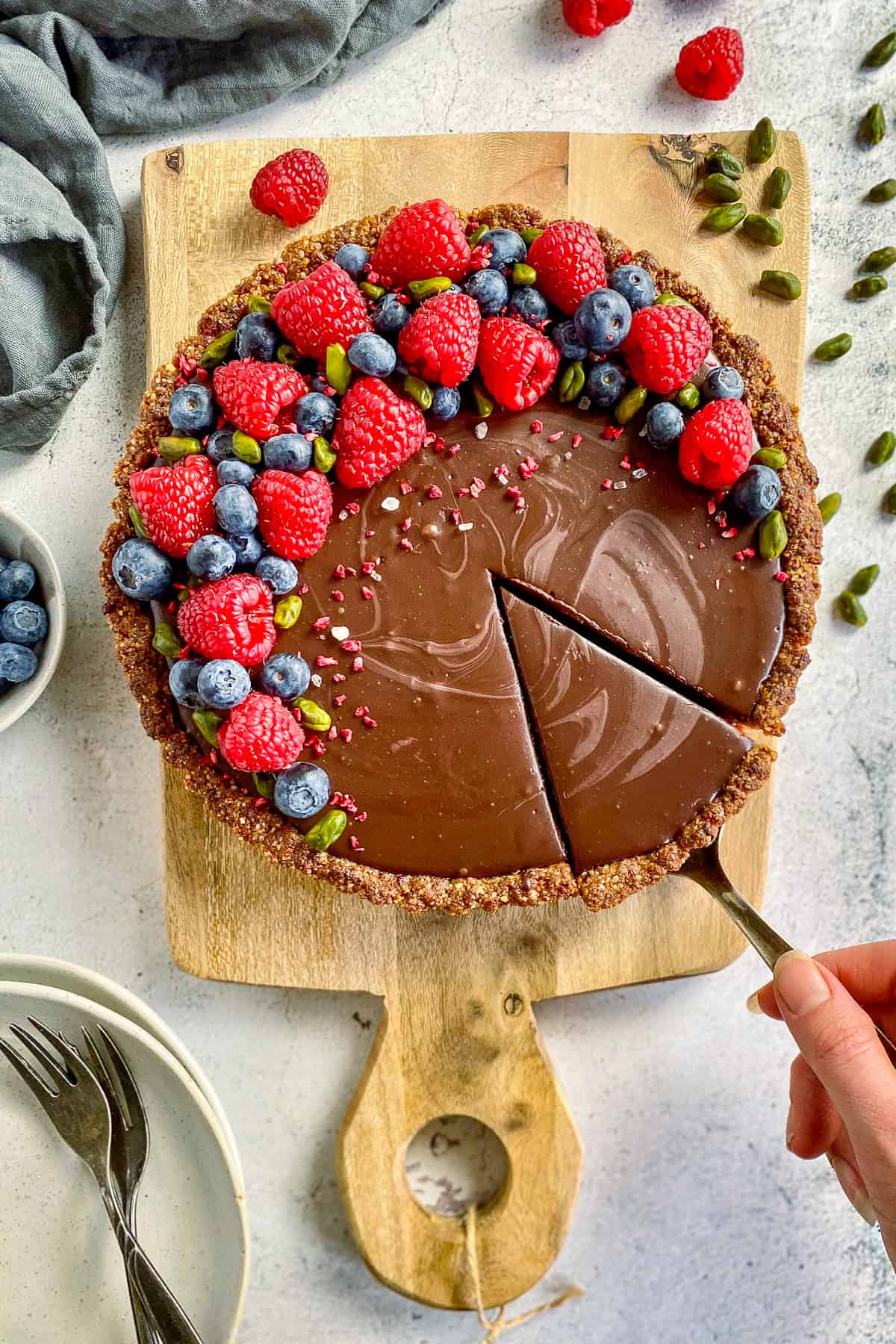 Source: nosweatvegan.com
Here's a luxurious chocolate tart that everyone can enjoy. Whether vegan or not, you'll love the rich flavors in this dessert. The berries on top help balance that rich flavor perfectly.
This could be your go-to if you're stuck for a date night dessert. It's romantic and unique but won't keep you in the kitchen the whole night.
Source: fromthecomfortofmybowl.com
Be the belle of the brunch ball with this gorgeous lemon cake. Vegan or not, your friends and family will love this cake with lemon zest. It's super moist and light, thanks to the citrus flavor!
You can also get creative with the decorations. Dried citrus fruit and yellow buttercream are all you need to create a cake that looks like it should be in a bakery.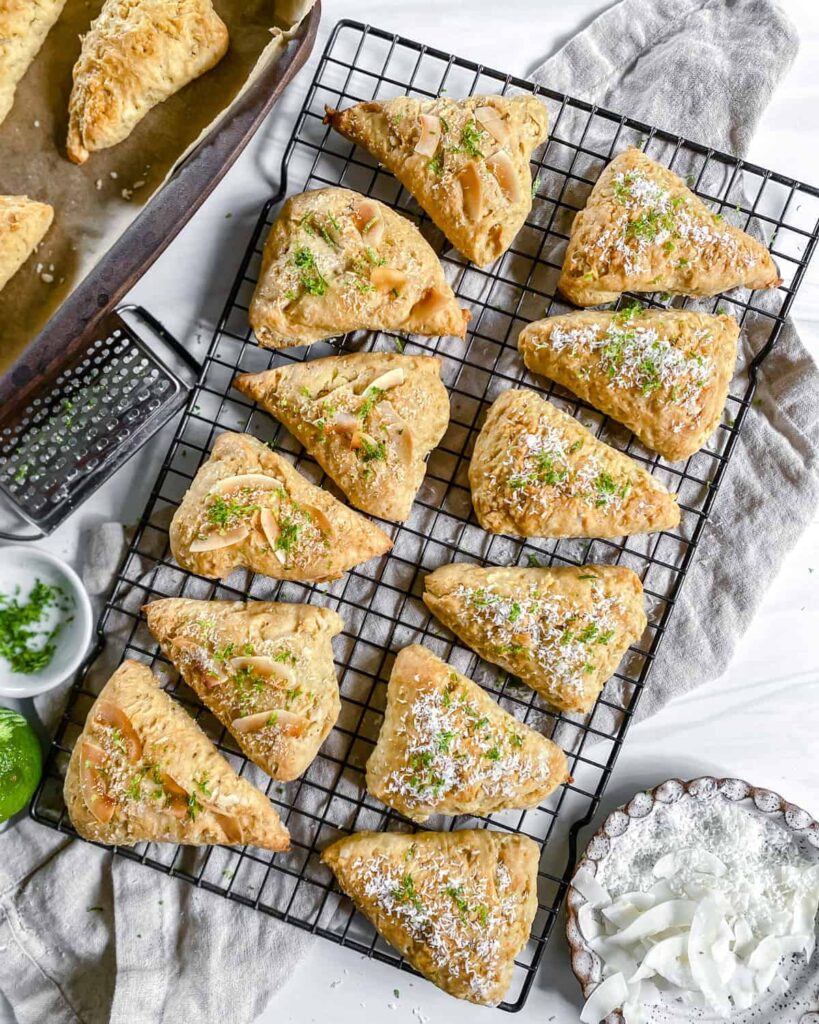 Source: plantbasedonabudget.com
These delicious scones could double as a tea treat or brunch item. Vanilla and coconut are the perfect pair in this light and tasty recipe.
You could even make a big batch and store them at home. They're great to whip out if you need a quick and easy sweet treat on short notice!
You only need simple ingredients to satisfy your sweet cravings like vanilla extract and plant-based milk like coconut milk.
Love the tropical taste of these scones? Enjoy these 4-ingredient coconut macaroons!
Source: beplantwell.com
I haven't met a person who doesn't love a good strawberry shortcake. It's the perfect dessert! Bring moist scones and sweet strawberries together with a dollop of perfectly-whipped cream.
These come together in no time. Prepare the shortcakes in advance and keep them off to the side. All you need to do is assemble the cakes when it's time to serve. Easy peasy!
Source: brighteyedbaker.com
Nothing says luxury like chocolate. I'm telling you, no one will be able to tell that these cupcakes are vegan. The chocolate and espresso in the batter keep the cakes so moist and rich!
Pair that with your favorite vegan chocolate treats, and you win. You can even make them gluten-free.
Source: bakedbyclo.com
Pavlova is made with meringue, which inherently has eggs in it. So, how do you get a vegan pavlova? You use aqua faba! It's that water leftover from when you cook chickpeas.
While it might sound strange, it leaves no chickpea taste behind. All it allows you to do is create a vegan meringue you can dress with whatever toppings you like.
Best Fancy Desserts
But the real question is, which are the best fancy desserts? Which ones will blow your socks off and make you wish you could survive on just desserts?
Discover the most elegant desserts out there with these wonderful recipes.
Source: chocolatemoosey.com
This cake brings sunshine and warmth with every bite. Making and eating this cake is all about enjoying the flavors of lemon. The tart cream cheese adds another layer of freshness.
I love serving up cakes like this at summer barbecues or brunches. They're the perfect place to celebrate the citrus flavors in every slice!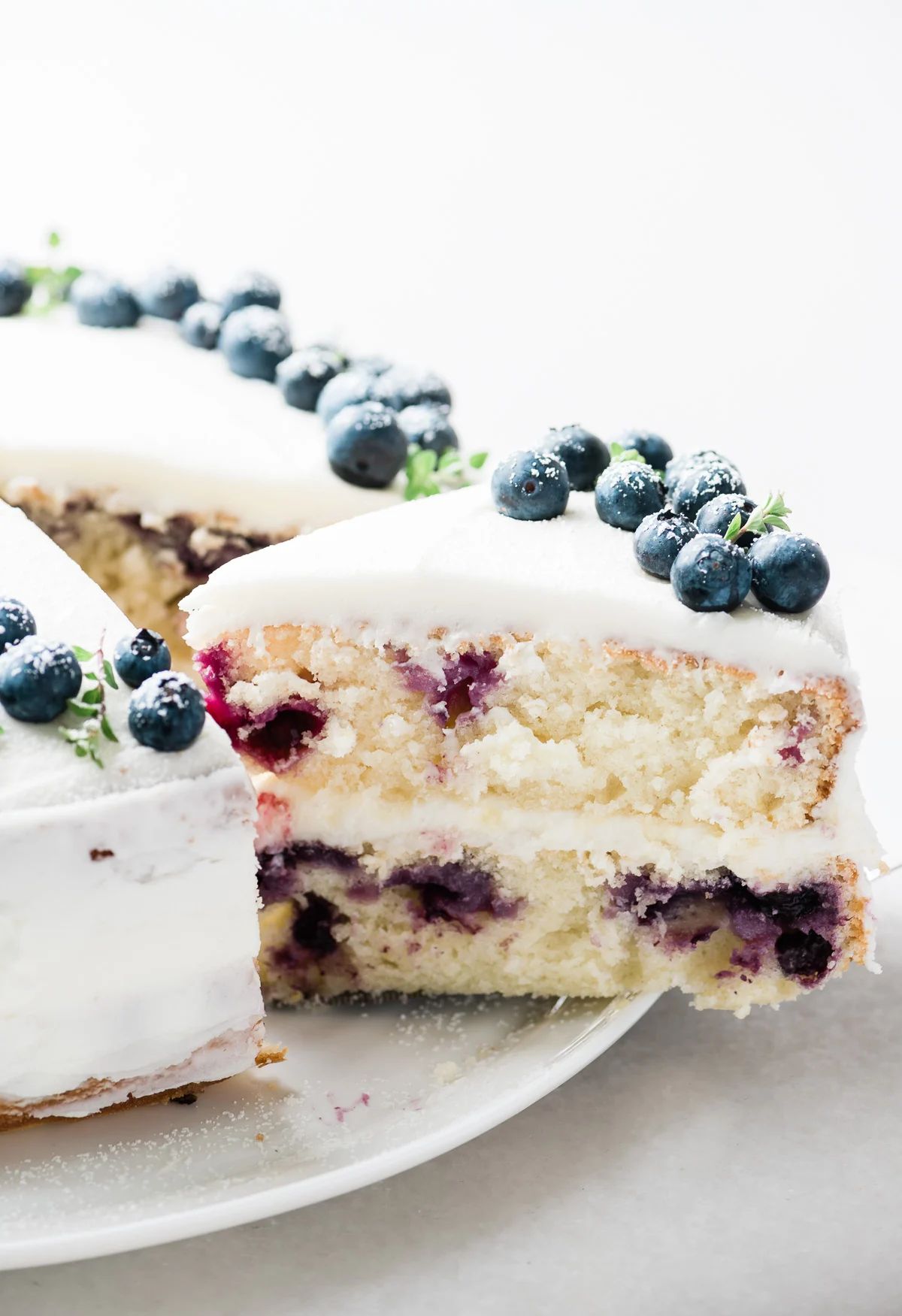 Source: theviewfromgreatisland.com
Speaking of citrus, here's another one for you to try! This cake pairs earthy blueberry with lemon to create a lovely balanced taste. It's sweet without being too sweet.
The blueberries also stand out against the yellow cake to create a vision of the perfect dessert. Whip this tasty delight up in no time at all.
Source: chocolatemoosey.com
Celebrate fresh strawberries with one of the best cheesecake recipes out there. This is a baked cheesecake. However, the texture is so smooth you'd think it was a no-bake version!
The bright splash of strawberries in every bite makes this cake sing.
Source: all-thats-jas.com
Looking for something a little more refined? This French tart is sure to impress everyone sitting down to dinner. The nutty almond filling pairs beautifully with light and bright roasted pears.
This is an autumn treat. Enjoy when the leaves change color, and the first cool breeze hits the air.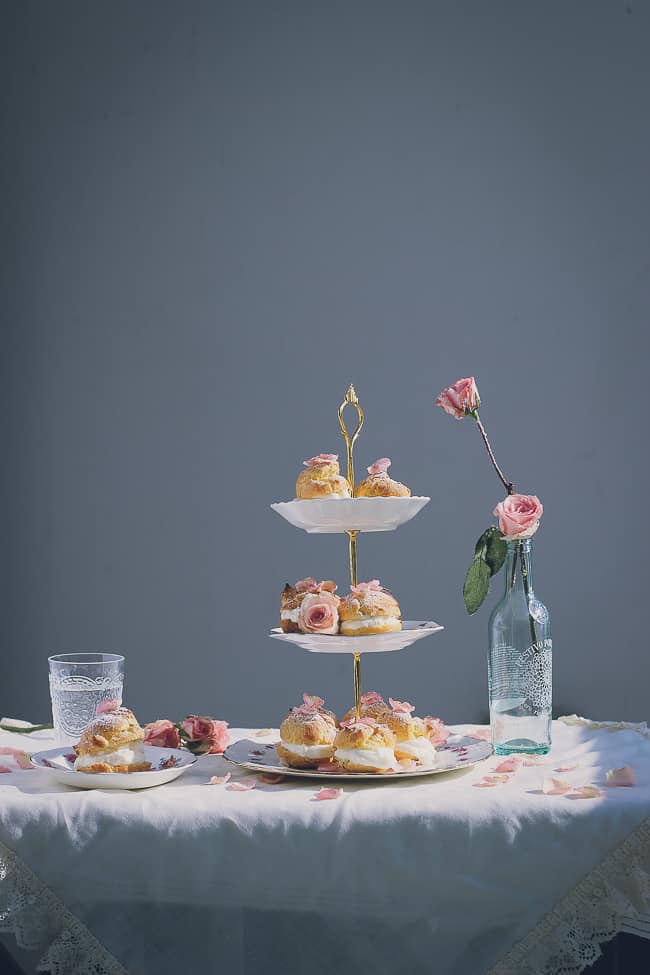 Source: honestandtasty.com
Also called Noon Khamei, Persian rosewater cream puffs are to die for. They're just as light and creamy as regular cream puffs. The amazing part comes from the hint of rosewater in the cream.
It's a delicate dish that would fit right in at a fancy brunch or as a dinner party dessert.
Source: bostongirlbakes.com
Looking for something simple yet fancy? This berry Chantilly cake will satisfy you! It doesn't take much time or effort to create, but your guests will love how it tastes.
Speckle as many berries as you like through the layers. The more berries, the more seasonal sweetness your guests will enjoy.
Source: partylicious.net
Finally, we have the French Canele. These pastries are native to France and feature a chewy crust with soft vanilla custard. In other words, they're addictive.
These are excellent party favors or gifts to help your guests remember a fantastic night. This forgiving pastry is a great place to start if you've never made a French pastry!
So, now that you've seen the list do you have a favorite fancy dessert? Which one can't you wait to try? Let me know in the comments below if you have any go-to fancy dessert recipes!
41 Fancy Desserts to Make That Impress
Want to make fancy desserts that will impress your guests? Here is a collection of gourmet dessert recipes that are so easy to make at home!
Ingredients
1. Chocolate Raspberry Cheesecake
2. Marjolaine
3. Dark Chocolate Flourless Cake
4. Chocolate Strawberry Kabobs
5. Chocolate Peanut Butter Cakes
6. Chocolate Fudge Layer Cake
7. Apple Rose Puffs
8. Mini Honey Balsamic Berry Cheesecake
9. Fruit Cheesecake Cookie Cups
10. Mini Eclairs
11. Mini Creme Brulé Cheesecakes
12. Mini Fruit Tarts
13. Coffee Macarons
14. Choux Pastry
15. Instant Pot Flan
16. Carrot Cake Cheesecake
17. Tiramisu Cheesecake
18. Mixed Berry Tart
19. Raspberry Chia Pudding
20. Mint Chip Ice Cream Bon Bons
21. No Bake Oreo Cheesecake
22. Salted Caramel Cheesecake
23. Chocolate Bread Pudding with Bourbon Butter Sauce
24. English Christmas Trifle
25. Raspberry Chocolate Mousse
26. Roasted Cinnamon Buttery Pears
27. White Forest Cake
28. Grape Sorbet
29. Vegan Chocolate Tart
30. Vegan Lemon Cake
31. Vanilla Coconut Scones
32. Vegan Strawberry Shortcake
33. Dark Chocolate Espresso Cupcake
34. Vegan Pavlova
35. Lemon Raspberry Cheesecake
36. Blueberry Lemon Cake
37. Strawberry Swirl Cheesecake
38. Poach Pear Almond French Tart
39. Persian Rosewater Cream Puffs
40. Berry Chantilly Cake
41. French Canele
Instructions
Scroll up to get a bunch of easy, yummy, and delicious recipes. Don't be afraid to get creative with the ingredients, you might discover a flavor you didn't know you liked.
Get your shopping list going and make sure you've got all the ingredients.
Get cooking and make your next Fancy Dessert!
Notes
Which one of these recipes was your favorite? Let me know in the comment section or on Pinterest!