Cajun recipes are known to be deep, spicy, and full of flavors. If you want an elaborate Southern meal, you need to cook Cajun food more often. Cajun recipes are most loved around the world.
Some of the most popular Cajun dishes are Gumbo, Jambalaya, Boudin, Boudin balls, crawfish étouffée, shrimp creole recipes, and Rice and gravy.
Here are some authentic cajun meals you can try at home and feel the Cajun people community love.
What is a Typical Cajun Meal?
Traditional Cajun dishes are heavy on creole seasoning, and it's pretty filling. A typical cajun meal comprises a couple of traditional dishes like Gumbo or Jambalaya with a side of aromatic Rice or salad and a dessert, i.e., banana pudding or pecan pie.
What are the Three Main Ingredients in Cajun Cooking?
Onion, Celery, and Bell Peppers are the three main ingredients in classic Cajun Cooking. They are most popularly known as the Holy trinity in every creole dish.
Cajun Chicken Recipes
If we have enticed your taste buds with all this talk about the profound taste of Cajun dishes, and if you are itching to try out this famous cuisine, here are some of the best Cajun recipes to make for your mardi gras celebrations.
Source: inthekitch.net
There's no such thing as a perfect dish, said no one ever while cooking Cajun-inspired recipes. It's all in the right seasoning blend. If you have your spices right, any cajun dinner ideas you cook will liven up.
This Blackened Chicken Sandwich is an easy cajun dish that can become your perfect 1st attempt at trying Cajun culture recipes. Serve this with Cajun fries and impress your folks with your knowledge of Cajun cuisine.
Source: butteryourbiscuit.com
Hearty, creamy, and a little spicy, that's how we like our Cajun Chicken and Sausage Pasta. This isn't your run-of-the-mill pasta recipe. You might never return to the traditional pasta recipe with this pasta recipe.
Loaded with delicious flavor in every bite, this pasta is also pretty quick to cook. You won't believe it, but this flavorful pasta is ready in just 30 minutes.
Source: callmepmc.com
Recipes that cook under 30 minutes are my absolute favorite. If you also love quick and easy dinners, you need to try these Cajun Butter Chicken Bites.
To cook your Cajun Butter Chicken Bites, you need to coat your chicken with paprika, salt, garlic powder, onion powder, chilli powder, thyme, oregano, brown sugar, Cayenne pepper, and black pepper. Coat evenly and fry. Take the chicken out and add butter and garlic.
Fry that for a bit and add the chicken again and stir it. This is it; your Cajun Butter Chicken Bites are ready for dinner.
Source: thefastrecipe.com
Have you ever had spicy baked wings? No, you are missing out on some serious flavor. For these Cajun Chicken Wings, you need nothing but a dry rub and a working oven. Your wings will be ready in 20 minutes, or max 30 minutes. Well, it all depends on your oven.
To make the Cajun dry rub, you need black pepper, white pepper, cumin, oregano, thyme, onion powder, garlic powder, cayenne pepper, smoked paprika, sweet paprika, nutmeg, and salt.
Source: theflavoursofkitchen.com
Here's an easy yet flavorful meal that takes less than 20 minutes to cook but less to vanish from your plate.
You can add all kinds of vegetables to this dish; Zucchini, peppers, mushrooms, and Broccoli are perfect for this recipe.
Apart from vegetables, you will also need your chicken prepared with Cajun seasoning that is prepared by mixing Paprika, Cayenne, Garlic Powder, Onion Powder, Oregano, Thyme, Ground Black Pepper, and Smoked Paprika.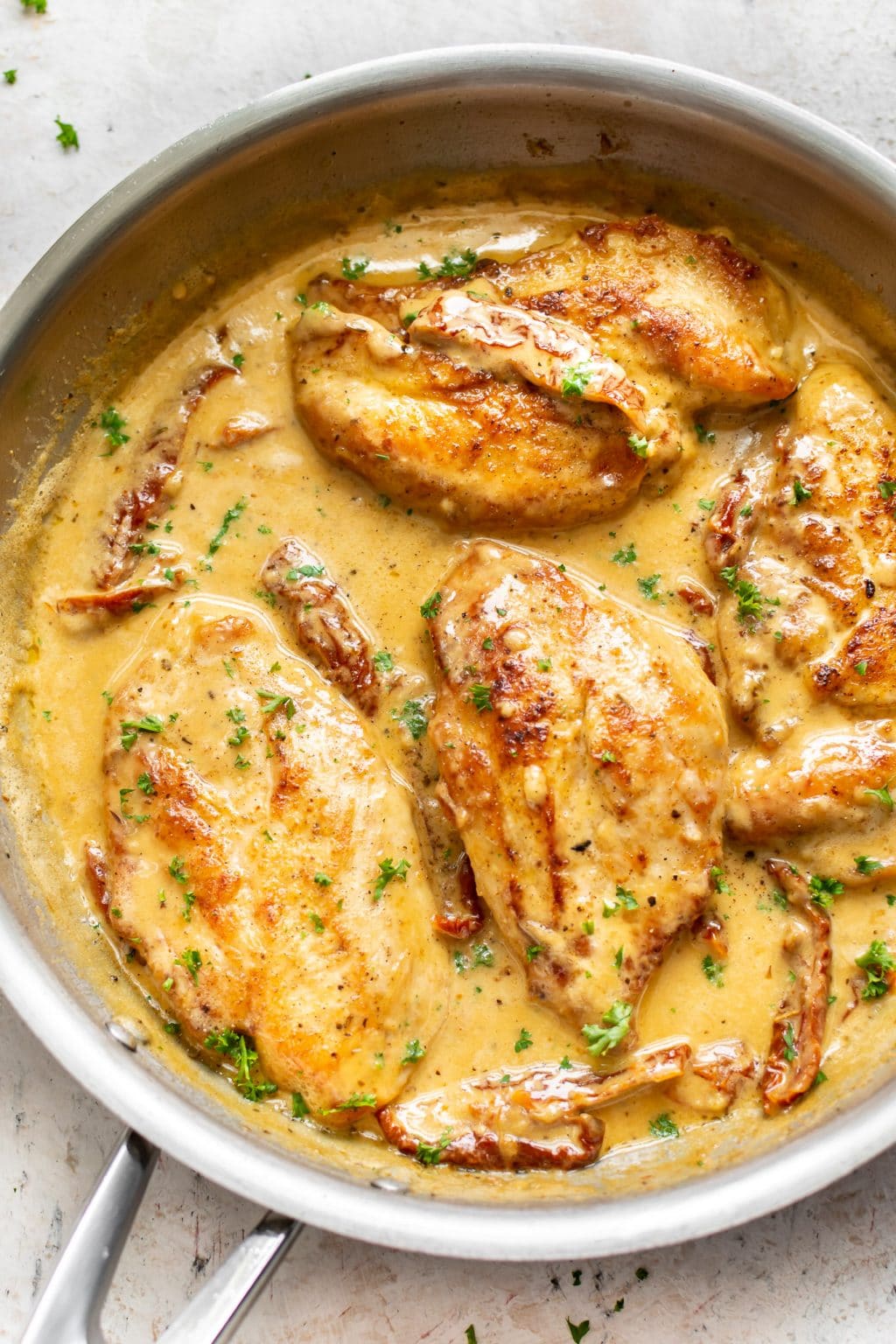 Source: saltandlavender.com
This super delicious cream cheese sauce can spice up the blandest of chicken without requiring much expertise. That said, Cajun pan-fried chicken remains underrated.
While the recipe is simple, it requires some handling to cook the chicken well on the pan. It needs to be tendered inside out without burning up. Slice the chicken breasts with a sharp knife lengthwise into two pieces, roughly 3/4 to 1-inch thick.
If they are still too thick, pound them with a meat mallet, putting them in cling wrap or a gallon zip-top bag first. This will help you cook through quicker.
Source: ohsweetcultureshock.com
If you are obsessed with Cajun recipes, you aren't alone. We all love a little spice in our lives. Turn your traditional and boring tacos into Cajun Chicken Tacos.
This recipe needs nothing but chicken boneless, breast pieces preferred, homemade Cajun Seasoning, your toppings, and corn tortillas. You can customize this recipe as much as you want, but if you want the Cajun taste, keep the homemade seasoning just as in the recipe.
Source: girlgonegourmet.com
This Cajun pasta is everything you need if you are bored with the Italian way of cooking pasta. For this spicy pasta, you will need Fettuccine, Boneless skinless chicken, Cajun seasoning, butter, Heavy cream, and Grated Parmesan cheese.
The recipe is fairly easy to cook, and it's pretty heavy on its own. You may not need a side dish to go with it.
Cajun Seafood Recipes
Cajun recipes are best when they are made with seafood, from shrimp to Crawfish; Cajun seasoning goes best with all. Here are some of the most delicious Cajun seafood recipes you must try as soon as possible.
Source: lifecurrentsblog.com
If your days are busy and you hardly ever get time to prepare a good, delicious meal, you need to try this quick and easy-to-fix Cajun Shrimp with Rice recipe.
The recipe cooks in under 20 minutes, and you can enjoy it with good wine and get rid of all the stress in your bones.
Source: daisiesandpie.co.uk
There are so many fillings that you can try with tacos, even when it comes to Cajun cuisine. If you love Cajun seasoning tacos, you will also love the Cajun prawn tacos.
To prepare these, you will need prawns, Cajun seasoning, olive oil, mango, peppers, chili, tomatoes, coriander, lime, lettuce, and tortillas. This recipe is a healthy and quick fix, perfect for busy weekdays.
Source: lowcarbquick.com
Craving Cajun species for dinner? Let's make Cajun Seafood Foils. This is a versatile dish that you can use as your main course or even as a side dish.
To make your Cajun Seafood Foils, you need to score your pantry for cajun seasonings, shrimp, crab, crawfish, asparagus, and zucchini.
Source: thishealthytable.com
The Red Snapper is one of the fanciest fishes to have for dinner, but many never attempt to cook it for fear of ruining the flavour.
But now you can have your Red Snapper with the flavor of Cajun Seasoning. If you are a grill fish lover, you will fall in love with this easy recipe too.
First, coat your fish fillets in olive oil. Next, rub all your seasoning, i.e., paprika, garlic powder, kosher salt, onion powder, oregano, cayenne, thyme, and black pepper. Grill your fish and serve with lemon wedges and chopped parsley.
Source: serenabakessimplyfromscratch.com
Flavorful and creamy pasta is my weakness, and when it comes to Cajun Pasta Shrimp Skillet, I may even forget my dieting.
To cook this bursting-with-flavor pasta, you need Peeled Shrimp fried in olive oil and Diced Onion cooked with Smoked Andouille Sausages. Next, take your Diced Bell Pepper, Cayenne Pepper, Dried Rosemary, Dried Thyme, Dried Oregano, Smoked Paprika, and Salt and add that to your sausages.
The next step is to add your pasta and cooked shrimp and fold gently. Enjoy with your favorite wine and people.
Check out more healthy pantry recipes.
Source: butteryourbiscuit.com
Whether you are entertaining or need a quick fix for your weeknights, this Cajun Shrimp Avocado Tostada is the recipe you need.
This recipe comes together in 30 minutes, and you might just find all the ingredients at home. For this recipe, you will need shrimps, Cajun seasoning, lime, salt, avocados, tomatoes, cilantro, tortillas, cheese, and sour cream.
Source: beyondmeresustenance.com
Orka is a big part of all Cajun recipes. If you have never had Orka, you need to try it with Cajun seasoning. Fayre this, you will never like Orka any other way, we are sure of that.
To cook this Cajun-style Okra and Shrimp, you need vegetable oil, okra, shrimp, garlic, broth, lemons, thyme, Cajun seasoning, and paprika. To get absolutely the best flavor, use all things fresh.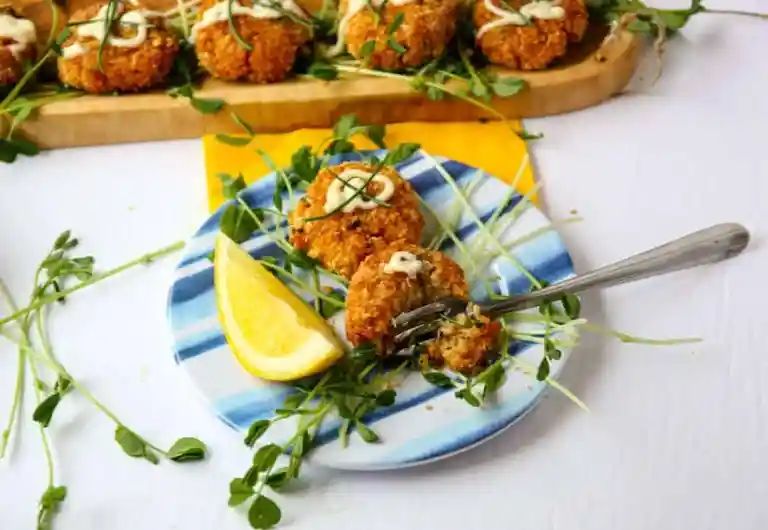 Source: thefoodblog.net
Oh, how we love our crab cakes. Did you know you can use these Cajun crab cakes as appetizers, snacks, and side dishes? Moreover, what most people don't know is that these cakes are super easy to make.
To make these crab cakes, you need to mix crab, mayonnaise, egg, panko crumbs, lemon juice, and zest. Don't forget to add your Cajun seasoning. Scoop the batter into balls and flatten them out. Coat with breadcrumbs and fry.
Cajun Crock Pot Recipes
Add a little twist to your Crock Pot Recipes by adding cajun seasoning. If you want to know how to, check out our Cajun Crock Pot Recipes and enjoy a little spice in your life.
Source: taoofspice.com
If you had all the beans in the world, what would you do with them? Well, the answer s pretty simple, you will cook the15 Bean Soup topped with Cajun seasoning because you appreciate good food.
This 15 Bean Soup is comforting, hearty, and rich in flavor. Moreover, you can make this in a Crock-Pot and enjoy the bursting flavors of all the beans in the world.
Find more cheap crockpot meals here.
Source: ihearteating.com
If you are on a diet, and you keep on compromising on flavor due to your diet, you need to rethink your dieting recipes.
Here's an inexpensive, healthy, and filling Sunday dinner recipe, Red Beans and Rice, that you can eat without putting any calories in your mouth.
Source: eatmovemake.com
Whoever doesn't love stew doesn't know how good life can be with STEW! This Cajun meat stew is an effortless recipe that cooks at its own pace in the slow cooker while you take care of the other stuff around the house.
Marinate your beef with Caribbean jerk marinade for at least 30 minutes. Add that to the slow cooker first; next goes in your potatoes, then tomatoes. Lastly, add your vegetables and enjoy the juiciest meat stew ever.
Check out more easy beef cube recipes!
Source: chickenfriedkitchen.com
If you ever go to Louisiana, you must try the traditional Cajun Jambalaya. If you can't do that, you should try out our Slow Cooker Jambalaya recipe for sure.
Jambalaya is the most popular Cajun dish ever. Our version of Jambalaya is also very easy to cook. To make Cajun-inspired Jambalaya, you need Chicken Breast, Sausage, Shrimp, Tomato Paste, Broth, Yellow Onion, Green Bell Pepper, Celery, Galic, Parsley, Basil, Oregano, and Cayenne Pepper. The Jambalaya cooks best with rice.
The prep time for this recipe is 1 minute, but the cooking time is 8 hours, so make sure you start cooking early in the morning.
Source: flouronmyface.com
If you're a fan of Crockpot recipes, you will love these Cajun Pork Chops cooked in Crockpot. If you have Cajun broth at hand, this is the easiest recipe ever.
For this recipe, you will need pork chops, Cajun Broth, garlic cloves, diced green pepper, diced onion, black pepper, and cornstarch.
Love pork? Try this ground pork stir fry!
Source: wholelottayum.com
Slow cooker recipes are the best, just throw everything in the pot, and let it cook at its own pace. However, you do need a perfect recipe to cook delicious meals in the Crockpot.
This Cajun Slow Cooked Kielbasa is one of the best crock pot recipes ever. Before adding all the ingredients to the Crockpot, you need to fry your kielbasa till it's nice and brown. Once you add your ingredients to the crock pot, forget it for 4 hours.
Vegan Cajun Recipes
Cajun recipes are for everyone; it doesn't matter whether you're a meat-lover or vegan. Here are Vegan Cajun Recipes that you can make with Cajun seasoning and enjoy the authentic food of the Caju community.
Source: saltandlavender.com
You can make any recipe tastier by adding Cajun seasoning. Take this Grilled Corn on the Cob, for instance. Make your ordinary Grilled Corn on the Cob extra ordinary by adding Cajun spices to it.
Remove the husk and coat the corn with olive oil and Cajun seasoning; now grill still until it's the perfect color.
Source: strengthandsunshine.com
Here's a One-Pot Cajun vegan dish that you will love to make every weekend. This is the perfect main course that cooks in 25 minutes.
Soften your veggies first. Next, add rice, beans, broth, tomato sauce, Cajun seasoning, and herbs over the vegetables. Let the pot boil, and then cover it and let it cook for 20 minutes.
Set the table while your rice cooks. Serve hot with chilled lemonade.
Source: serenetrail.com
Pasta is the food for the body, and good pasta is the food for the soul, so what's it going to be? This Vegan Cajun Pasta is most definitely food for the soul; it's that good.
To cook your vegan pasta, you will need Cajun seasoning, olive oil, coconut milk, cooked penne pasta, and bell peppers. This pasta comes together in under 20 minutes, and it's finger-licking good.
Source: babaganosh.org
Okra is one of the most popular and most used vegetables in Cajun cuisine. If you have never had Cajun-style Orka, now is your chance to experiment and learn a new dish.
Cajun Okra is easy to cook, and it's ready in about 30 minutes. Rinse and trim your Orka, coat it with olive oil, and rub your Cajun seasoning all over the Orka. Roast your coated Orka and enjoy it as the most healthy snack ever.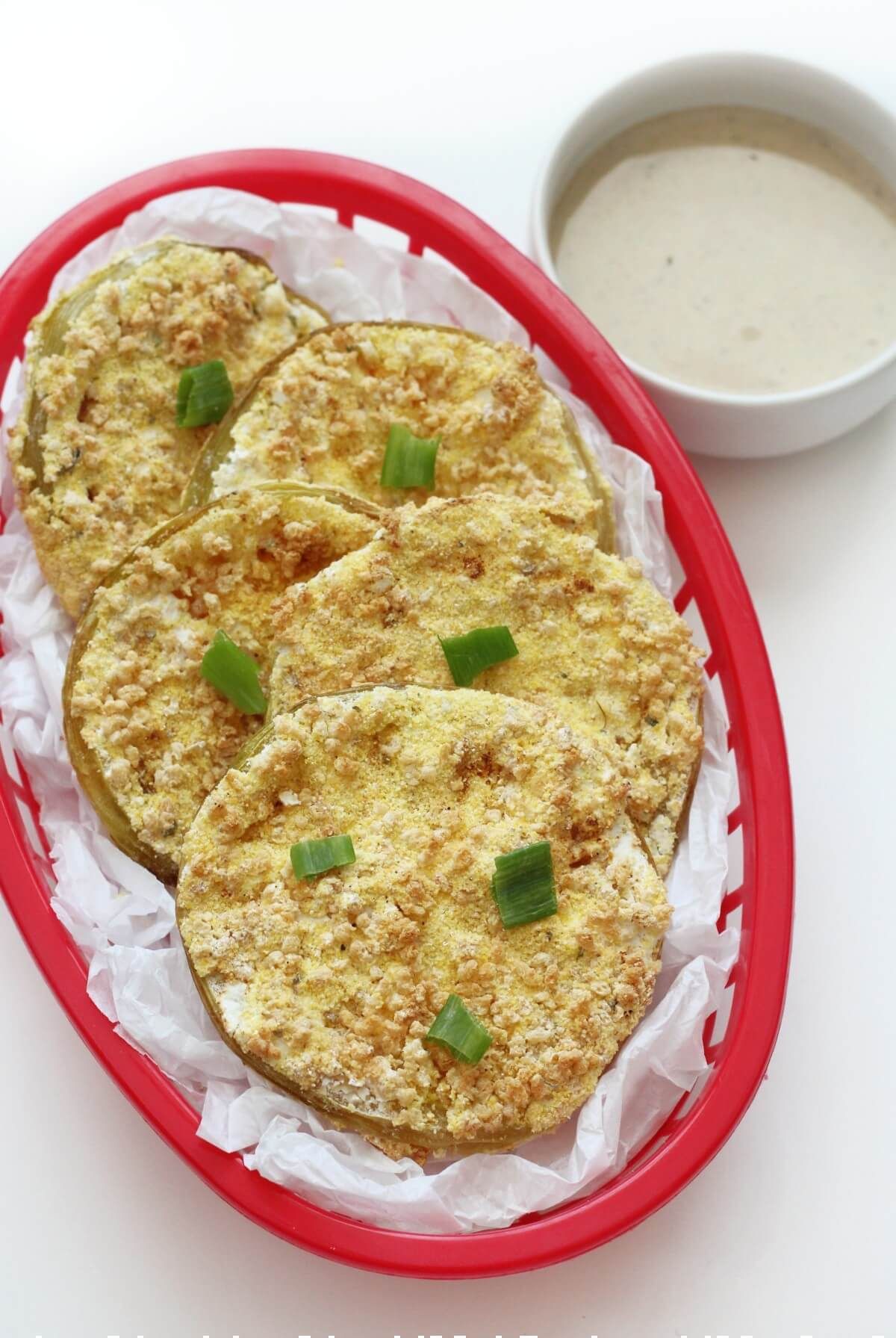 Source: strengthandsunshine.com
Firm and dry, unripe green tomatoes are perfect for AirFryer recipes. Coat your green tomatoes in buttermilk, starch, and then the seasoned cornmeal.
Air Fry and enjoy these as the perfect snack. You can also freeze the coated tomatoes for later.
Source: strengthandsunshine.com
Our dirty rice contains deep Cajun flavor, Cajun spices, a hint of smokey flavor, and plant-based goodness.
Even without the traditional meat, this recipe has all the flavor you need. Did you know dirty Rice is called dirty due to its brown hue?
Vegetarian Cajun Recipes
Here are some easy-cook Vegetarian Cajun Recipes for your vegetarian palate.
Source: pinchandswirl.com
Cajun Potatoes are perfect for snacking, lunch, or even as your cheap dinner side dish. These crispy potatoes with Cajun seasoning are perfect for kids as well as adults. You can also make them as your side dish if you are entertaining a crowd.
They are easy to make and pretty fast to cook. Drizzle olive oil and a good helping of seasoning on your diced potatoes, cover with foil and bake for 20 minutes. After 20 minutes, bake without the foil cover till crispy brown. Enjoy your spicy potatoes with your main course.
Source: thewimpyvegetarian.com
Jambalaya is one of the most popular dishes in Cajun cuisine. It's typically cooked with meat, but you can also make a hearty pot of Vegetarian Jambalaya and enjoy the authentic taste of Cajun cuisine even without the meat.
To cook your vegetarian Jambalaya, you need olive oil, celery, onion, green pepper, jalapeño, tomatoes, Jambalaya Mix, vegetable broth, cooked red beans, cheddar cheese, and parsley.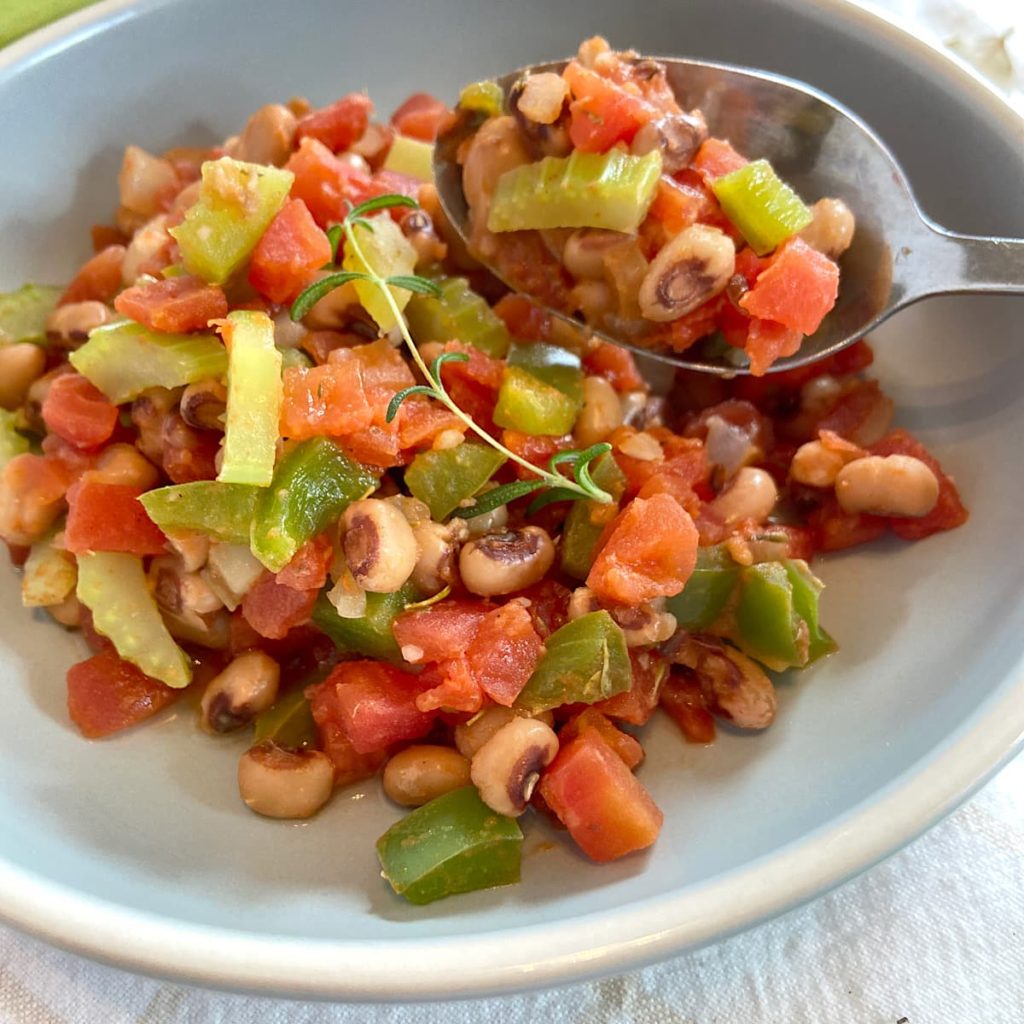 Source: fitasafiddlelife.com
Black-eyed peas are readily available in all grocery stores. You must have some in your pantry, too, if you love creative and traditional cooking. Did you know half a cup of black-eyed peas contains only 99 calories?
Well, if you are on a strict diet, this Black-Eyed Pea recipe will be the perfect one for you. Drenched in Cajun seasoning, this will be the best Black-Eyed Pea salad you will ever have.
Source: laurafuentes.com
If you want to try the best Coleslaw ever, you need to get on a plane and go to Louisiana. Or you can follow our Creole Coleslaw recipe and have a taste of the best Creole Coleslaw ever!
Apart from the regular punch of thyme, basil, and oregano, this Coleslaw also has a hint of vinegar to add that zesty taste. You can enjoy your Coleslaw with burgers or with a fork.
Source: sugarspiceneverythingnice.com
Here's a Wingstop restaurant-inspired copycat recipe of Cajun Fried Corn. This recipe yields the same result as Wingstop, but it's quicker and easier.
Heat the oil, fry your corn without the husk, and later add melted butter and Cajun seasoning to your corn and coat well. This recipe is perfect for evening snacks or even school lunches.
Best Cajun Recipes
Cajun recipes are by the bucketload. However, there are some that beat all. Here are the best Cajun recipes that you should try if you love spicy and traditional food.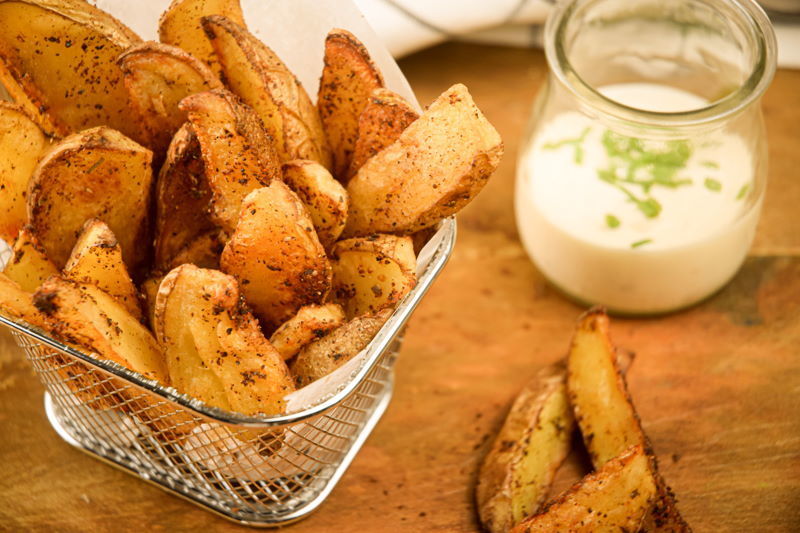 Source: inthekitch.net
Cajun Fries are simple yet delicious, and the best part is that you can adjust the level of spice you add to these fries.
To coat your fries, you will need Cajun seasoning, and to make Cajun seasoning, you will need Paprika, Garlic powder. Oregano, Cumin powder, salt, black pepper, and cayenne pepper.
To get the most crispy fries, pour boiling water over your fries, and let them soak for a bit. Next, pat them dry and add your cajun seasoning; bake your fries and enjoy the spice of life.
Source: thehealthyepicurean.com
What we love the most about pasta is how versatile it is. You can add anything to it and make it yummy. Most pasta recipes have a creamy base, but our Cajun pasta is a bit different.
For this pasta recipe, you will need Whole grain pasta, Italian sausage, Bell peppers, Spinach, Cajun Seasoning, and Italian seasoning.
To make your pasta glossy, add pasta water while mixing the ingredients in boiled pasta. This is the secret to the best and glossiest pasta ever.
Source: urbancowgirllife.com
I love how you can add bits and pieces of your cooking creativity to deviled eggs and make it a custom recipe.
For these Cajun Deviled Eggs, you will need hard-boiled eggs, celery, onion, Hellman's Mayonnaise, Creole Mustard, Cajun Seasoning, and Crystal Hot Sauce.
You can even spice it up and use this recipe as your Halloween appetizers.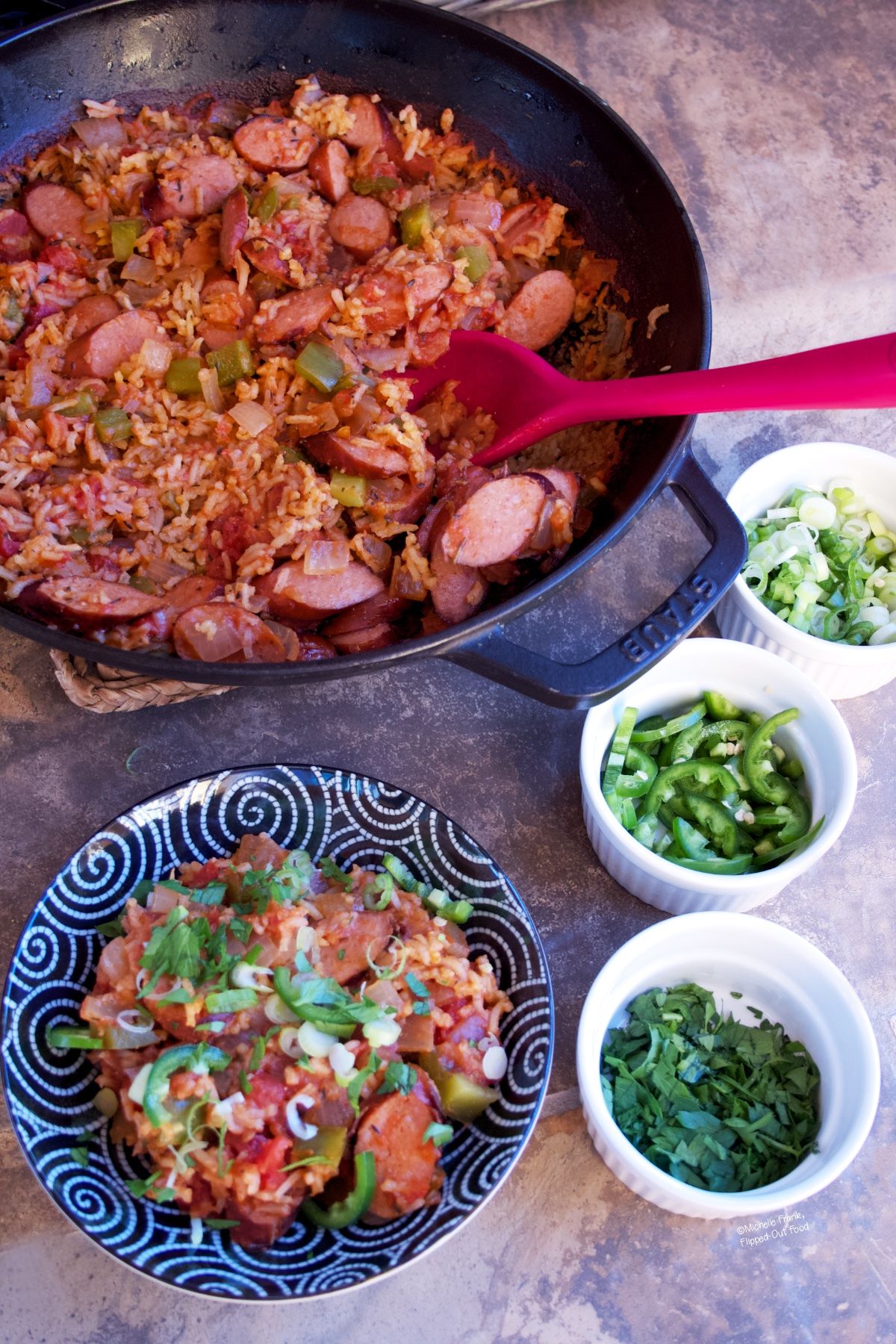 Source: flippedoutfood.com
One-pan recipes are my favorite, mostly because they are easy to cook but also because they have fewer dishes to wash.
The equipment you need is one large skillet, and the ingredients are Andouille sausage, virgin olive oil, white rice, chicken stock, white wine, tomato sauce, bell pepper, onion, garlic, bay leaves, Cajun seasoning, thyme leaves, black pepper, and parsley.
Source: thisolemom.com
If you aren't careful with this recipe, these Cajun Boiled Red Potatoes might just become a family favorite.
The best part is that you can whip these up any time of the day and have a great snack at hand in minutes.
Source: theviewfromgreatisland.com
Although this Cajun Ten Bean and Ham Soup take a couple of hours to cook, it's the most delicious and filling recipe you will ever taste.
To make your Cajun Ten Bean and Ham Soup, you will need a handful of ingredients like dried beans, olive oil, onion, salt, black pepper, dried thyme, dried oregano, sweet paprika, hot smoked paprika, cayenne pepper, garlic powder, ham bone, and chopped ham.
Since this recipe cooks for a couple of hours, you need around 8 to 10 cups of water.
Source: organicallyaddison.com
If you are craving some tender, flavorful and spicy pork chops, you need to try this Cajun Pork Chops recipe.
This is a dish that is for all meat lovers who like their beef tender and delicious. Made from Gluten Free Cajun seasoning, this recipe is a 5-star, restaurant-quality dish.
Source: ottawamommyclub.ca
Here's the lightest meal you can make with Cajun seasonings, Cajun Corn Salad. How is this any different than the normal corn salads? Well, this recipe has fire-roasted corn and spicy Cajun seasoning; these two ingredients are enough to make any food delicious.
Keep a mix of Cajun seasoning in your pantry and make any food finger-licking good by adding Cajun seasoning to it.
41 Best Cajun and Creole Recipes
Need some inspiration? These Cajun Recipes are easy, delicious, and full of nutrition!
Ingredients
1. Blackened Chicken Sandwich
2. Cajun Chicken and Sausage Pasta
3. Cajun Butter Chicken Bites
4. Cajun Chicken Wings
5. Cajun Chicken with Vegetables
6. Pan Fried Chicken with Cheese Sauce
7. Cajun Chicken Tacos
8. Cajun Chicken Alfredo
9. Cajun Shrimp with Rice
10. Cajun Prawn Tacos
11. Cajun Seafood Foils
12. Grilled Red Snapper with Cajun Seasoning
13. Cajun Pasta Shrimp Skillet
14. Cajun Shrimp Avocado Tostada
15. Cajun Style Okra and Shrimp
16. Cajun Crab Cakes
17. 15 Bean Soup
18. Red Beans and Rice
19. Cajun Beef Stew
20. Slow Cooker Jambalaya
21. Cajun Pork Chops
22. Cajun Kielbasa
23. Grilled Corn on the Cob
24. Red Beans and Rice
25. Vegan Cajun Pasta
26. Cajun Okra
27. Fried Green Tomatoes
28. Dirty Rice
29. Cajun Potatoes
30. Vegetarian Jambalaya
31. Black-Eyed Pea
32. Creole Coleslaw
33. Cajun Fried Corn
34. Cajun Fries
35. Cajun Sausage Pasta with Peppers
36. Cajun Deviled Eggs
37. Cajun Sausage and Rice Skillet
38. Cajun Boiled Red Potatoes
39. Cajun Ten Bean and Ham Soup
40. Cajun Pork Chops
41. Cajun Corn Salad
Instructions
Scroll up to get a bunch of easy, yummy, and delicious recipes. Don't be afraid to get creative with the ingredients, you might discover a flavor you didn't know you liked.
Get your shopping list going and make sure you've got all the ingredients.
Get cooking and make your next Cajun and Creole Recipe!
Notes
Which one of these recipes was your favorite? Let me know in the comment section or on Pinterest!